The 4 Types of Data You Should Have in Your CRM
This article is part of a larger series on CRM.
CRM data is the information in your customer relationship management (CRM) system that pertains to your business' customers, leads, revenue, or operational performance. CRM data is a valuable asset to your business because it enables you to make data-informed operational and financial decisions based on real information related to interests, buying habits, and likelihood of sale, as opposed to blind speculation.
Here are four types of CRM data your business should collect and maintain in its CRM system:
1. Identity Data
The first type of data your CRM system should store is identity data. This is any type of information that can be used to find a contact's record or identify a specific person or business client. It's generally the first type of information added to your CRM system in the event of an interaction with a new customer, lead, or vendor.
Common examples of CRM identity data include the name of a person or organization, physical address, mailing address, and email address, as well as home, work, or mobile phone numbers. Additionally, demographic information such as date of birth is considered identity data. If your business' CRM assigns unique account identification numbers for your clients and customers, those numbers also qualify as identity data.
Identity data is essential for organizing records and communicating with customers and leads. Popular CRMs like Pipedrive, Salesforce, and Agile CRM allow this type of CRM data to be added to contact, account, and lead records within their systems. The data can then be viewed either as an individual record or in a list style.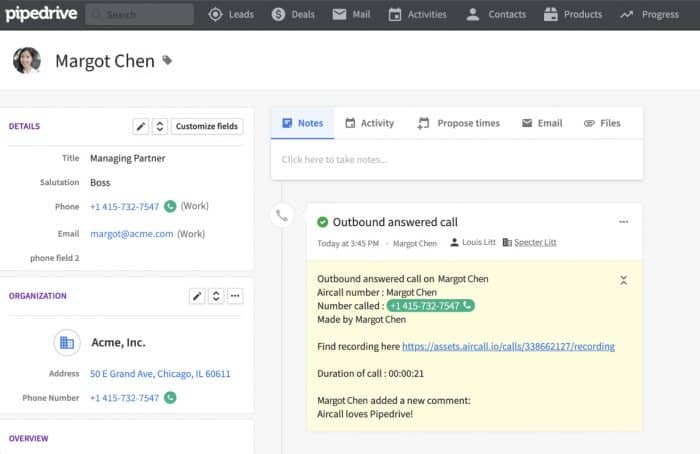 ---

---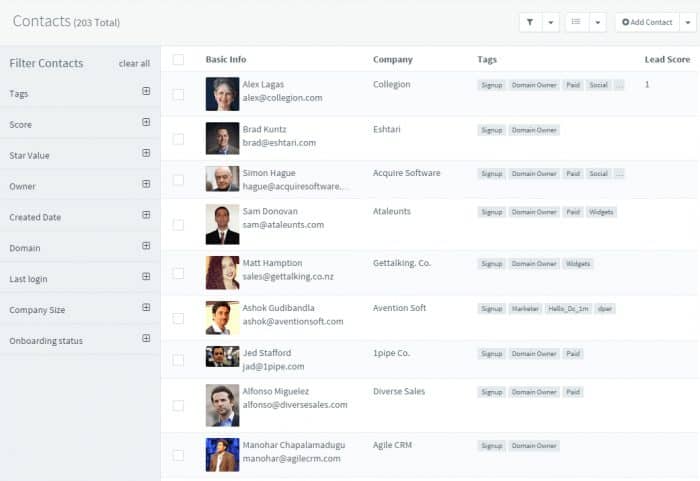 ---
2. Descriptive Data
The next type of data your business' CRM software should be using is descriptive data. Descriptive CRM data offers more personal insight on an individual or business that can be used for conversational purposes or for assisting them in specific solutions in the form of products and services.
An example of descriptive data would be marking that a contact lead is a marketing manager. This piece of information will not identify a specific lead, but can be used to better engage with them to offer custom solutions for their company.
A key difference between identity and descriptive data is that any type of identity data will only identify one record, while descriptive data can identify multiple records. A phone number, for example, only identifies one specific contact record while descriptive data fields, such as a job title, industry, ZIP code, territory, or business size (e.g., number of employees) could identify multiple records.
For example, if there's a sales opportunity for ABC Inc., a firm in the software industry with their main contact being John Doe, the CEO, your CRM would use ABC Inc. and John Doe as identity data as it can be used to identify a record. Descriptive data like the CEO title and software industry can provide more insight into the lead and opportunity, such as decision-making power and products and services they may be most interested in purchasing.
While both identity and descriptive data are used to segment market types, descriptive CRM data is more customizable to the needs of your business. Freshsales, for example, allows users to customize which descriptive data fields they want to add to a record, such as a lead's industry and business type.
Another example of descriptive CRM data in action is seen in Zoho CRM's tagging feature, which allows users to tag records with specific information such as descriptive data for where a lead came from.
3. Qualitative Data
Qualitative data in terms of a CRM data type refers to data measured by something other than quantity, such as behaviors or feelings of a customer, contact, or lead regarding interactions with your business. This type of data is more subjective and requires additional methods for collecting the information, such as surveys or direct discussions with customers.
Below are some examples of qualitative CRM data:
A customer being "very satisfied" with a particular product or service
"Contract requirement by the general contractor" is listed as the reason that a new client purchased insurance from your business
"More platform customization" being noted as a desired attribute of a software as a service (SaaS) product
A client saying they are "very likely" to purchase another printer from a company because of the quality of the printing products
This type of information can be used for gauging the thoughts and attitudes of current and potential customers. Use it to improve products or services, customer processes, marketing strategies, and customer support operations, as well as for the development of future products and services.
CRMs like HubSpot CRM allow users to create customer feedback surveys within the CRM system to easily collect qualitative data. Using the identity data already stored in your CRM, such as an email address, your business can mass deploy personalized surveys to customers. The surveys can also be segmented and filtered based on descriptive data, such as only sending the survey to CFOs on the East Coast in the retail industry.
Zoho CRM also offers the ability to create surveys for collecting qualitative data through integration with the native Zoho Survey platform. The results of the survey can then be viewed by your sales leaders to evaluate the thoughts of your customers, such as satisfaction with a service representative or overall happiness with a product.
Use cases are additional ways to survey customers in order to get insight compared to traditional questionnaires. It allows businesses to see how a customer uses a product to complete the desired goal compared to how the business initially intended, which can lead to product improvements.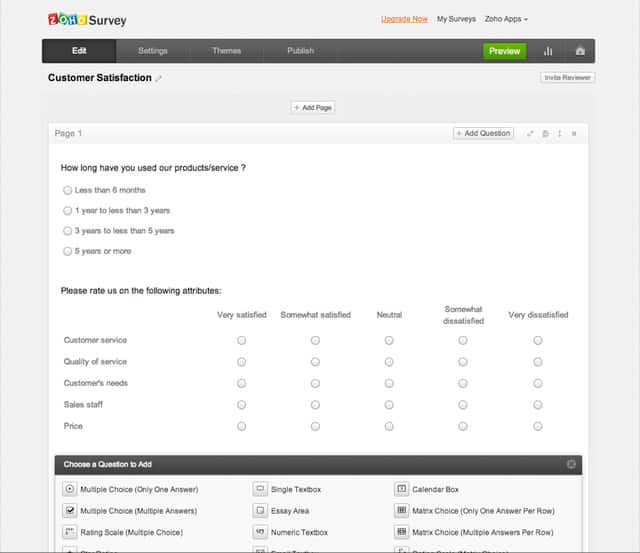 ---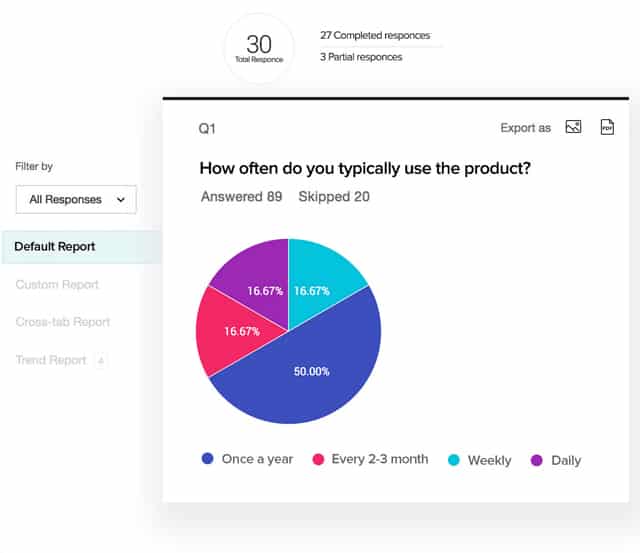 ---
4. Quantitative Data
Like qualitative data, quantitative data also points out how a customer or lead interacts with your business; however, this CRM data is completely measurable and objective. It includes information that can be viewed individually, such as the number of times a specific customer has opened a promotional email, as well as collectively, like the total revenue of all current clients.
Other examples of quantitative data businesses collect include total website traffic per day, email campaign reply rate, total service tickets filed, and cold call to appointment schedule ratio. This data can be used to see where bottlenecks are in their processes and which marketing channels are the most effective.
Pro tip: Want to learn how to create an effective cold calling outreach? Check out our article about the best cold calling scripts for salespeople.
When referring to collective data, many of the data points are viewed on a CRM's dashboard as both raw data (data that is input but not analyzed in any way), as well as data that has been further examined through CRM analytics. Salesforce, for example, offers a dashboard that lays out various collective data points such as the percentage of closed business and revenue by sales rep.
Quantitative CRM data can also be viewed on a record-by-record basis if your business wants specific, measurable data about a particular client. HubSpot, for example, can show quantitative data on an individual contact profile like the total potential revenue of a deal or the number of service tickets they've filed.
Individual quantitative data can illustrate various sales performance metrics of your business once it's aggregated. An example of this is shown with Zoho CRM, which combines individual lead data to show how well a company is managing their leads in terms of engagements and conversions over time.
Bottom Line
Your business should use CRM data to improve your products, services, marketing, sales operations, and customer support. The best CRMs collect information about individual customers or business clients in the form of identity and descriptive data. These offer in-depth insights about customers and leads, and overall operational performance can be obtained in the form of qualitative and quantitative data.
You Might Also Like….