What Is CRM Data? 4 Types of Data to Store in Your CRM
This article is part of a larger series on CRM.
Customer relationship management (CRM) data—data related to sales, marketing, or customer support—helps businesses complete tasks and remain organized. It's valuable for making informed decisions on operational adjustments, resource allocation, and activity prioritization.
Before diving deeper into the topic, it's essential to understand and answer "what is CRM data?" CRM data refers to personal, contextual, or measurable information on records stored in a CRM system. These "records" can include contacts, leads, customers, accounts, cases, deals, opportunities, activity, performance, and more.
This article explores four types of CRM data you should be collecting, how you can use that data, and how to build your CRM database into a powerful contact management machine.
1. Identity Data
This is information exclusive or unique to one particular customer or lead, such as their name, address, phone number, email address, organization name, account number, or birth date. Because the information is unique to one person or organization, identity data is mostly used to help identify a specific record within a CRM system or other database.
In addition to helping identify records, identity data helps teams facilitate communication with leads and customers as well as complete tasks. For example, before cold call campaigns, sales reps must put together a call list with identity-based information like recipient names and phone numbers. Without storing this data in your CRM, your reps will have to research each target prospect as they make their calls—which is far less efficient.
CRM tools like Pipedrive allow you to add, customize, and store identity data for records to view in a one-page profile or list format. Using CRM software lets you easily update, search, filter, and view records based on personal identifiable information (PII)—something more difficult if you manage identity data by hand or through an Excel sheet.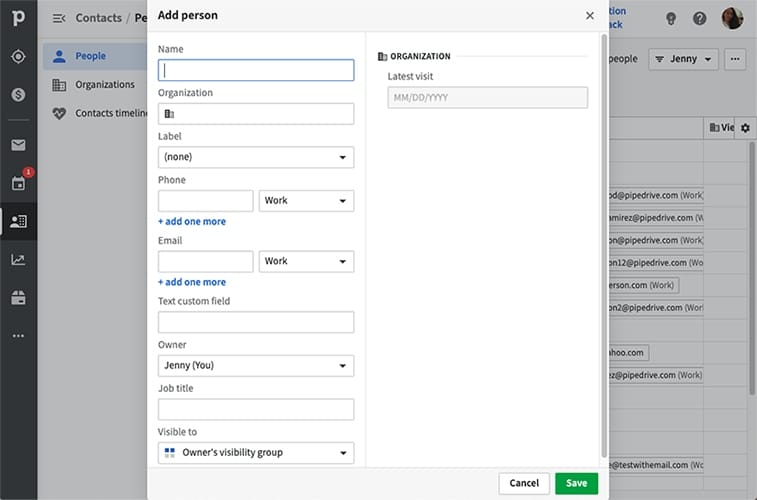 ---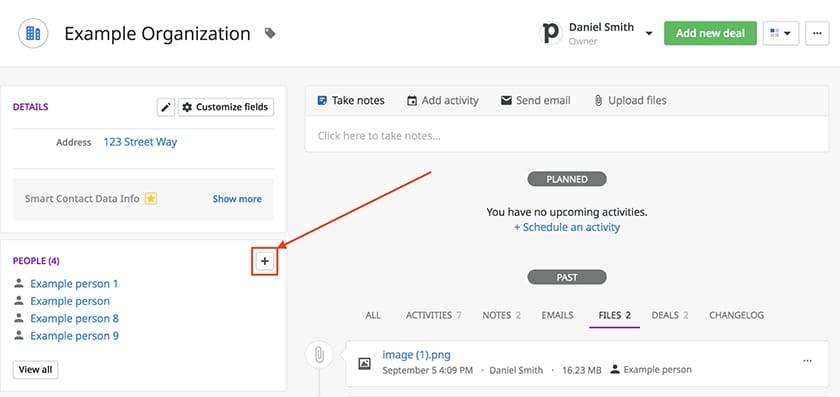 ---

---
Pro tip: Navigating the CRM marketplace can be overwhelming with all of the general-use and industry-specific options offering unique features, pricing models, and user experiences. Check out our ultimate guide to choosing the right CRM for insights into understanding your CRM goals and requirements, and then selecting the right product for your business.
2. Descriptive Data
Just as the name suggests, descriptive data describes a lead, contact, customer, or opportunity with contextual information, characteristics, or traits. Instead of using it to identify a single record, descriptive data can be used to find or filter multiple records at once because it's relevant to various leads or customers. Common examples of descriptive data include:
Job title(s)
Industry
Geographic location (territory, region, or ZIP code)
Organizational size
Lead or deal stage
Descriptive data provides personal insights into specific records to help sales, customer service, or marketing teams better engage, assist, or converse with leads and customers. For instance, knowing identity data like someone's name during sales activities helps you start a conversation with a lead, but knowing their title, industry, and company size helps you find and tailor a solution to their unique needs.
CRM platforms can store and organize this type of data within a profile or through CRM tagging and labeling features. In Pipedrive, for instance, users can add descriptive data like job titles or pipeline stages to a record or add labels that describe a trait or characteristic of a record. Regardless of how the data is added, sales reps can view it in a profile view or filter record lists based on those attributes to tailor their conversations appropriately.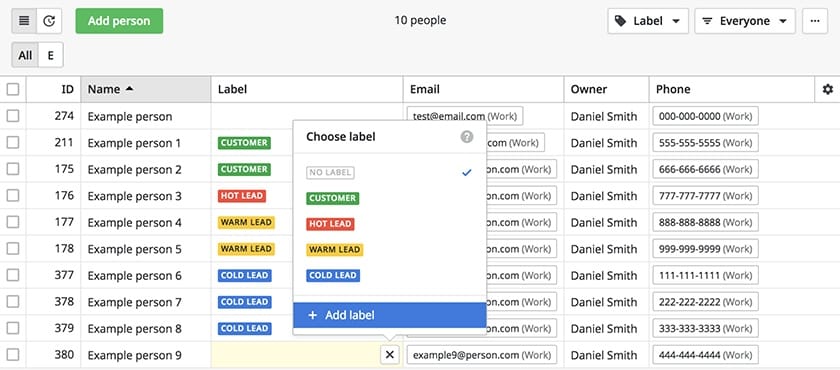 ---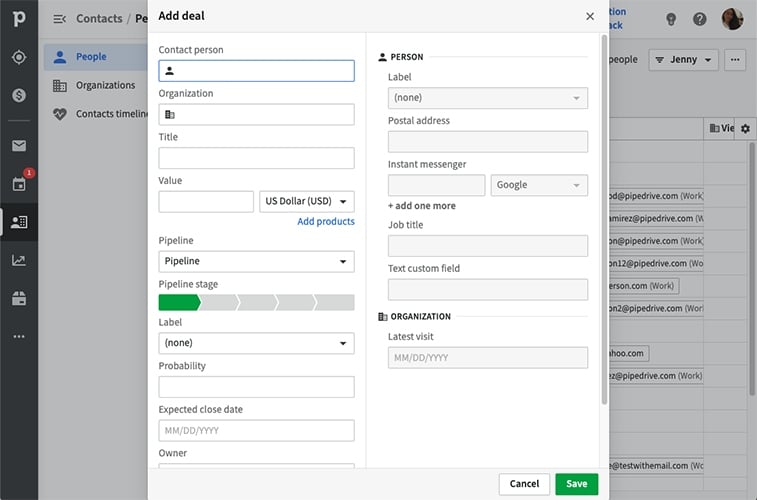 ---
Pro tip: Depending on your business' priorities, you can use a CRM to improve operational efficiency, facilitate data analytics, or enhance team collaboration. Learn more about the features and use cases for the various CRM solutions in our article on the types of CRM software to see which is right for your business.
3. Qualitative Data
Qualitative CRM data include motivations, behaviors, or feelings by a lead or customer that cannot be measured numerically. While identity and descriptive data are typically found via basic online research, qualitative data is subjective. It requires more complex methods such as surveying, activity tracking, or in-depth discussions with current and potential customers. Real-world examples of qualitative data include:
Activity information such as a lead contacting you about pricing
A customer being "very satisfied" with their recent purchase from your business
"Better usability" indicated as a desired product attribute by a customer
"Looking to improve operational efficiency" listed as a reason for a lead's interest in your product or service
While they might seem the same, the main difference between descriptive and qualitative data is the scope for which the information is sourced. Descriptive data describes what the record "is," while qualitative data describes what the record "thinks," "does," or "feels" toward a brand, product, or service.
For instance, if ABC Corp is a lead you're selling project management software to, its industry and company size represent what the record "is," while its desire to find a more affordable software solution is what the record "feels." This type of information helps gauge the thoughts of leads and customers, which helps you improve and develop products or services, enhance customer support, and optimize CRM marketing, sales campaigns, and operations.
While it's tougher to create or filter contact information based on qualitative data, CRMs like Pipedrive let you add this information to profile records as notes or activity. Users can add and view information on prior activity to better understand what a specific lead or customer feels and needs. Additionally, CRMs like HubSpot can mass deploy customer satisfaction feedback surveys to a large number of customers to make solution offerings, sales, and operational adjustments.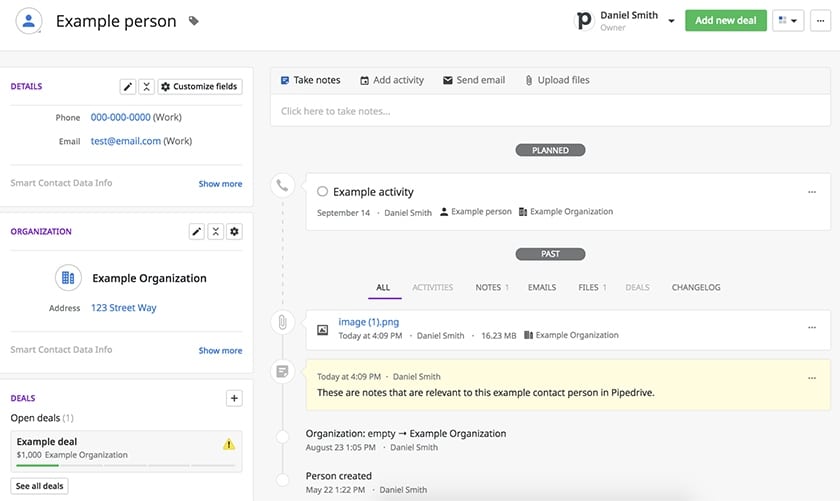 ---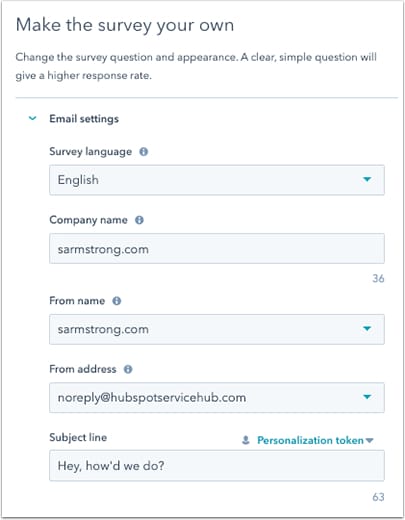 ---
4. Quantitative Data
Finally, quantitative data determines behaviors or feelings by a record objectively and numerically, e.g., the number of times a customer or lead clicks an email message, the potential revenue size of a current deal, and the total service tickets filed by a customer represent how a record behaves, thinks, or feels.
Quantitative data can be in terms of individual customers, lead, deal records, and aggregate information. For instance, total lead-to-deal conversion rates would take pipeline statuses of all current leads and calculate their percentage that became won deals. Similarly, total potential deal revenue takes the potential deal size of each lead in the pipeline and combines them into one aggregate value.
Because quantitative data is entirely numeric, it's primarily used for analytics and reporting. Teams can take measurable CRM data to identify bottlenecks in their sales process, the effectiveness of marketing campaigns, progress on complex sales goals, and how individual reps are performing.
CRMs like Pipedrive let you add quantitative data, such as potential deal value, into individual records. The system can then aggregate numeric values to provide insights through reporting or dashboarding for revenue projections, average deal size, and total deals won. For advanced analytics, users can enable the Pipedrive artificial intelligence (AI) sales assistant to provide sales or data management tips based on currently stored information.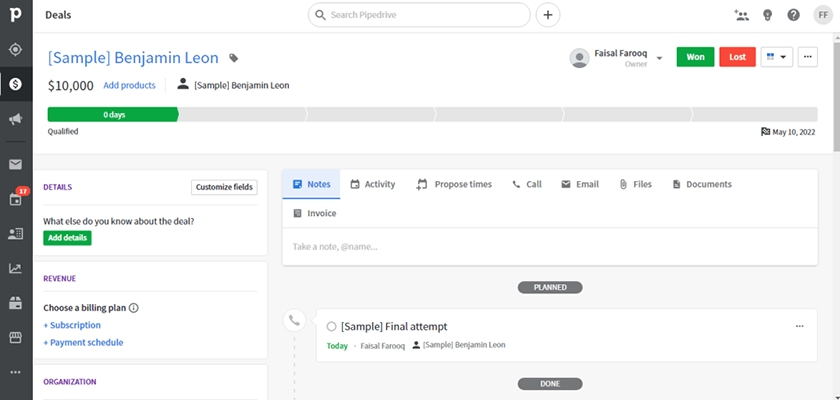 ---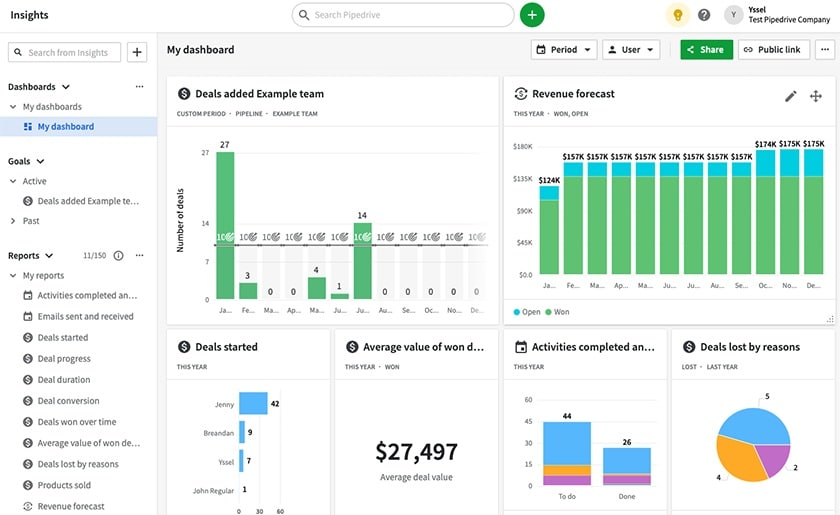 ---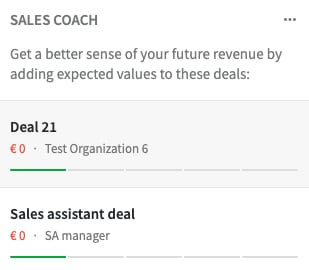 ---
Why Collect CRM Data?
CRM data helps sales teams stay organized, optimize selling, leverage marketing automation features and customer support activities, and become terrific relationship managers. The main reasons to collect and utilize CRM data include:
To stay organized: Collecting and storing CRM data makes it easy to access information needed to complete sales and marketing activities. Users can search, filter, and track information based on identity and descriptive data managed in the CRM.
To improve interactions with contacts: Storing contextual information in a CRM such as the lead's industry, job title, or thoughts, behaviors, and feelings toward your business allow you to make personalized conversations and marketing content for them. This ultimately helps build better relationships with leads and customers while getting optimal conversion rates on sales and marketing campaigns.
For simple marketing and sales segmentation: Storing data within a CRM makes it easy to filter out lead and customer contact lists based on descriptive, qualitative, and quantitative information. This type of segmentation lets you easily design and deploy targeted marketing and cold calling campaigns to desired audiences.
To enhance solution offerings: Collecting behavioral information, performance data, and customer feedback lets teams understand and improve various aspects of their solution. These include product or service attributes, customer support operations, and the way they build and maintain relationships with their contacts.
For analytics and insights: For CRM systems with analytics and reporting tools, quantitative CRM data helps show measurable performance metrics and present key performance indicators (KPIs). On a higher level, it will also provide intelligence on what parts of your sales, marketing, and customer support operations are doing well, which need improvements, and what you can do to enhance those functions.
Building Your CRM Database
Building your CRM infrastructure around collecting, storing, and managing data is necessary to obtain value from your information. That said, here's how to build out your CRM database in four easy steps:
Before you select your CRM product, you need to know exactly what information you want to collect about your leads, customers, deals, and activity. At a minimum, you should be able to identify data records using first and last names, organization names, account numbers, and possibly birthdates. Additionally, you'll need other identity data, such as phone numbers, addresses, and email addresses, to start conversations and complete tasks.
Depending on your operation and offerings, you'll need other data to help in the sales process and provide your product or service. As a CRM database example, commercial insurance agencies need descriptive data like the organization's industry, employee count, revenue size, and risk-based information to properly underwrite and procure insurance policies.
Similarly, if you're a software business, you likely need information on a customer's technology infrastructure and the number of user seats or licenses required. Additionally, you'll need to understand their goals, introduce software products that provide the best solution, and customize modules to their needs.
Lastly, collect lead or customer thoughts, behaviors, and feelings toward your business or the solutions it offers. You can collect this through both qualitative and quantitative information throughout the sales process and as you deliver your products, services, and customer support.
For all data types, always consider whether you need the information to deliver or improve your solutions and enhance revenue operations when prioritizing which data to collect first. For example, ecommerce businesses have no reason to collect Social Security numbers but have a huge operational need to collect names, shipping addresses, and emails. They also would collect the progress of their ad campaigns and demographic revenue breakdowns to help improve marketing.
---
Once you know what you want to collect in your CRM system, you're ready to set up the appropriate data fields. Most CRM products have data field customization capabilities that let you configure data field titles, data properties, requirements, and viewing privileges.
In Pipedrive, for example, users can name their data field and decide whether those fields will be text, numbers, a check box, or a drop-down selection. Additionally, they can establish who can view that data and determine whether or not it's required to complete a record submission. Once these are set in the system settings, all records for the specific contact, customer, account, lead, case, or deal module will include those data fields.
---
This step is optional, depending on how sophisticated you want your CRM system to be. In addition to simply entering and tracking CRM data, many products offer advanced data management features for more functionality or better use of your data. Some of the top advanced CRM data management features include: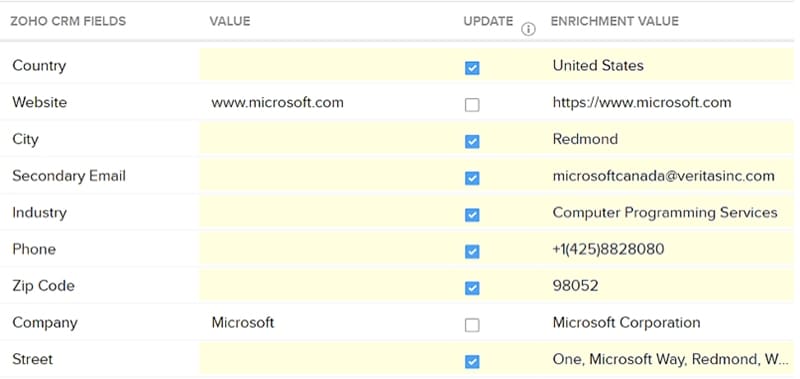 ---

---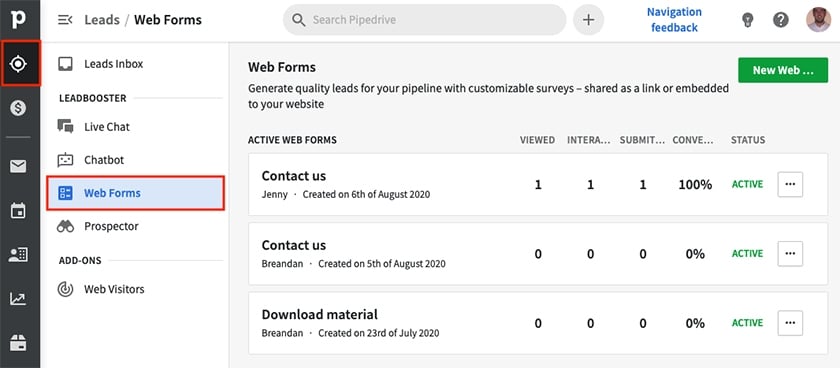 ---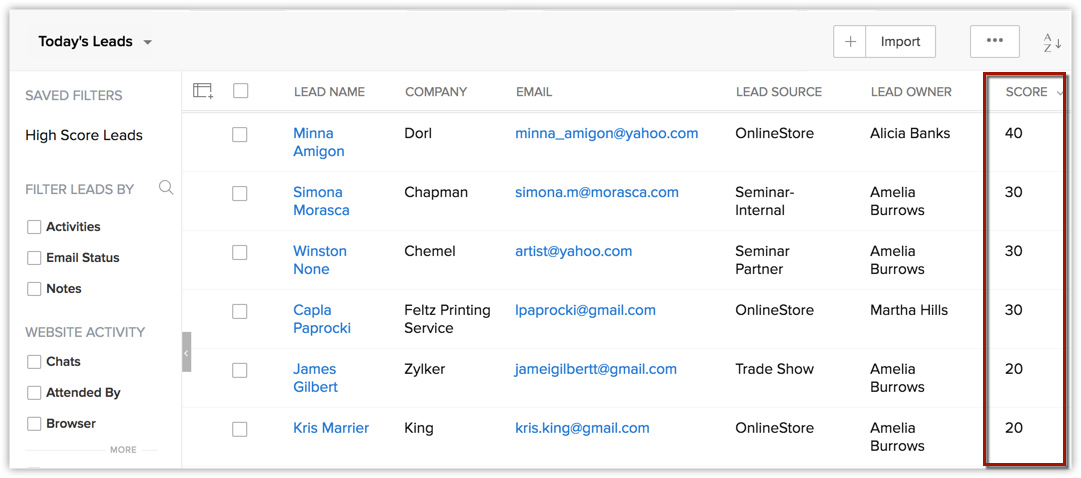 ---
---
Once you've built the system, use the data and information gathered for insights to improve sales, marketing, and support operations. For example, imagine you're tracking sales pipeline statuses for each lead. While aggregating the information into conversion rates, you found a huge dropoff of lost opportunities at the "sending proposals" stage. That tells you a critical story. Your pricing could be too high, you might be targeting smaller prospects who don't meet your budgetary requirements, or maybe you're poorly identifying leads during the qualification process.
Regardless, that information will spur you to make adjustments to optimize sales, marketing, and customer support. In sales, the data may prompt you to find new lead generation sources, other ways to qualify prospects, or techniques to close deals. For marketing, you could adjust your content and specific channels for building brand awareness, nurturing leads, and staying in touch with customers after the fact.
---
Bottom Line
CRM data collection helps teams better understand their leads, customers, and operational processes. CRMs, by default, already serve as an organized database—allowing users to easily add, access, and utilize identity, descriptive, qualitative, and quantitative information. Thoroughly managing CRM data is an excellent way to improve relationships, solution offerings, and efficiencies in sales, marketing, and customer support activity.