Most of today's leading call center software systems are internet-based and leverage voice-over-internet-protocol (VoIP) technology. Common features include automatic call distribution (ACD), interactive voice response (IVR), and support for support over email. There are also modules that let you listen in on your staff's calls and evaluate performance.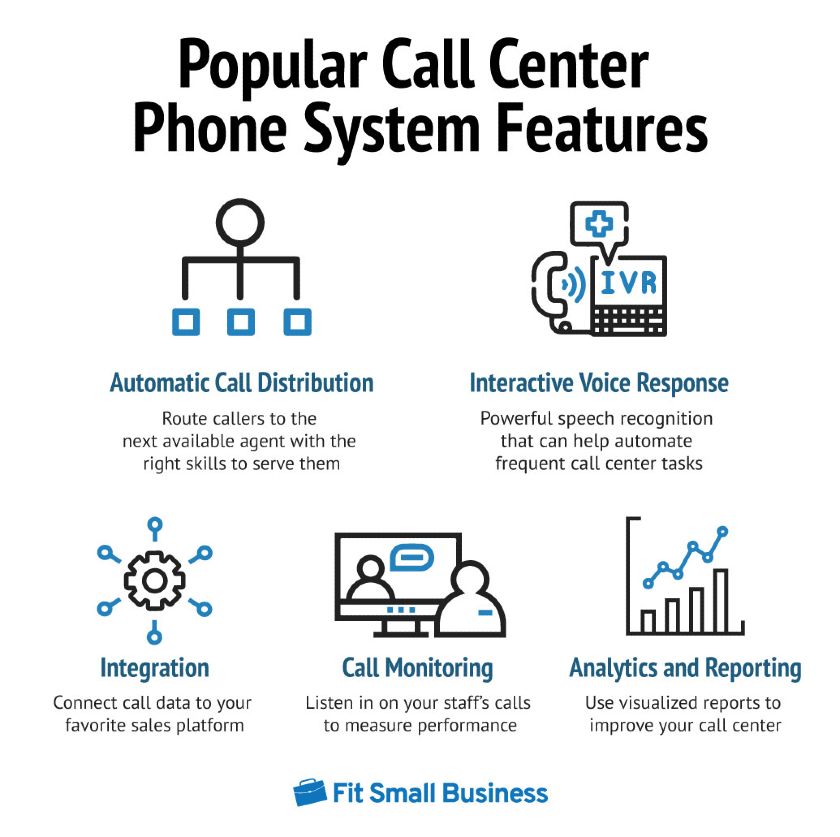 1. Automatic Call Distribution
Automatic call distribution (ACD) is a common business phone service module that routes inbound calls to employees based on a number of factors, including time zone, availability, and skill set. This can lead to better customer satisfaction.
From emergency routing features used in healthcare offices to preferred routing that can pair calls to the same agent they spoke to previously, ACDs can be transformative to a company's overall call workflows. Call centers use ACD often to make sure that customers are always connected to the right agent. For more information, check out our detailed guide to automatic call distribution.
2. Interactive Voice Response
Interactive voice response (IVR) is a technology that can automatically greet callers and understand human speech in order to help callers get assistance. IVR can either route your customers to their desired extension or answer frequently asked questions and negate the need to speak to a human entirely.
IVR can also be used for self-service. For example, you can offer a voice option for your store hours and give that information to your callers without them having to wait to get in touch with one of your staff. You can gauge sales lead interest from these responses in the form of post-call surveys.
3. Outside Software Integration
On its own, your call center phone system can be highly effective in helping your company better manage its call traffic. But when you connect your call data to a customer relationship management (CRM) system, you can make your system even more useful. Many leading platforms offer the ability to connect information about your callers to a CRM like Salesforce or Zoho CRM and then track callers as prospects to a sales pipeline.
Some systems lend themselves particularly well to work in concert with other services. Zoho Desk, for example, was designed from the ground up to connect data with its CRM, its project management software, and most of the other services in its product lineup. When all of them are used at once, they can help foster a better overall daily workflow, since all of your information carries over from one app to the next.
Some call center phone systems also offer integration with remote access software, which allows agents to temporarily take over another user's machine. This can be an especially useful feature as it allows agents to see a record of past conversations that can help diagnose a problem more quickly.
4. Call Monitoring
The best phone systems in the world cannot make up for poor employee performance. Therefore, it is important that you make use of the call monitoring tools offered by today's leading call center services. In most cases, you can listen in on calls as they happen, or listen to recordings of calls that have already taken place. These modules are helpful because you can listen to what your staff is saying to callers and make sure they are staying both productive and professional.
Call monitoring is perhaps the simplest advanced call center feature; after all, you're just listening in on calls. However, measuring the performance of your team is vital, and call monitoring is an effective way of checking in on your team members. This is especially true for new employees who may need some guidance.
5. Analytics & Reporting
On top of listening to calls, it can also be helpful to look at visualized reports on your call activity to make sure that your call center is working to its full potential. Leading services offer the ability to see data such as total calls, average call time, and survey scores in the form of charts and graphs that let you spot opportunities for improvement among your staff. Depending on what service you choose, these reports can be seen in real time or during a set period in the past.
In most cases, you'll be able to create your own reports based on what data you want to look at as well as the exact time periods of data you want to capture. For example, you could pull up a report on how busy your call center is on Monday afternoons compared to Friday afternoons. These insights can help you make better staffing, scheduling, and processing decisions.
If you are in the market for a new contact center system, you can do a lot worse than Freshcaller. The service is exceptionally easy to use with helpful built-in and customizable reports that can be used to analyze processes, the quality of conversations taking place, and to monitor team performance. They also offer a free version so you can try it out for yourself.
6. Mobile Apps
One of the biggest benefits of any VoIP phone service is that you can log into a mobile app on your smartphone or tablet and effectively take your work phone wherever you go. The vast majority of contact center solutions offer apps for iOS and Android that offer calling, email, reports, and all of the other features you'd find in the desktop versions of your favorite services. This is especially true as more workers leave physical offices in favor of remote work. You can use a call center phone handset if you want to, but the portability of an app is a huge benefit.
7. Omnichannel Support
The term omnichannel support refers to a company's ability to address customer service concerns using multiple communication platforms. However, by and large, phone conversations are still the most popular way to get help from businesses thanks to ease of use, according to a study by The Northridge Group.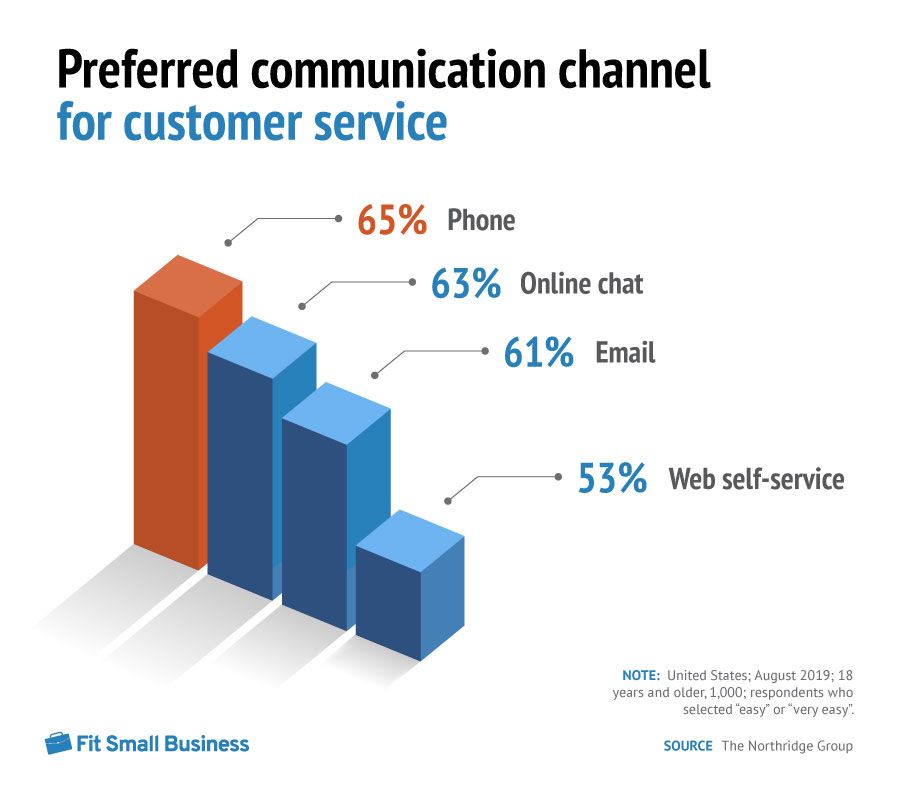 While phone calls are still the first preference of most customers when it comes to getting help, online chat is a close second, and email isn't too far behind. Even the last ranked-choice, social media, is still a preferred channel by almost 40% of customers. As such, it is important to be able to meet the customer at their preferred method of communication.
Fortunately, omnichannel support is a standard feature in most phone services designed specifically for call centers. For example, premium versions of Zendesk Talk allow you to take support over live chat, email, and even SMS text message. Accommodating your audience and letting them reach you in whatever way suits them best is important for driving customer satisfaction.
Bottom Line
Call center phone service functionality is important when it comes to helping your team handle your call volume and drive customer satisfaction. Tools like mobile apps, reports, and ACD all work together to help busy call centers succeed. Other tools like omnichannel support ensure that getting help is as convenient as possible for your audience.
There are many call center providers on the market. With that in mind, we recommend Freshcaller because it offers the best overall balance of price, usability, and functionality. Click the button below to start using the service for free.