Remote access software enables local users to take control of any mobile device, laptop, or tablet—no matter how far away it is. Whether your customer support agent needs to troubleshoot an international customer issue or your IT team needs to install new applications on employee devices, remote access software lets you get the job done anytime, anywhere.
We looked at the best solutions on the market and narrowed them down to the best six based on pricing, features, ease of use, and more.

| Remote Access Solution | Best For |
| --- | --- |
| | (Best Overall) Businesses that want robust, easy-to-use software that is quick and reliable |
| | Small to midsize businesses that need comprehensive features at an affordable price |
| | Distributed teams that want a simple, straightforward solution that scales with them |
| | Businesses that need to support customers using Macs, iPhones, iPads, and any other iOS devices |
| | Solopreneurs and small teams that need an inexpensive but reliable remote access solution |
| | Users looking for a simple, free solution to solve very basic remote access needs |
How We Evaluated Remote Access Software
With COVID-19 accelerating the remote work movement, remote access software is becoming an integral tool for businesses big and small. Thanks to remote access solutions, customer support agents can help clients worldwide or in their own backyard—without any in-person meetings. And with more and more employees working from home, it's critical they can access the files and software stored on their office devices.
To determine the best solutions, we looked at products that offer tools required for remote support, such as file sharing to unattended access to user's machines. We also considered products that made remote support more efficient by integrating with other business solutions, like call center phone systems. However, our top picks don't get bogged down with unnecessary features. Instead, to be featured, they provide the right easy-to-use solutions at the best price.
We evaluated remote support software based on the following:
Pricing: The price of each solution based on the performance it provides.
Ease of use: Services should be intuitive enough for small business users to navigate or integrate with other products.
Remote access features: Users should be able to access other devices from their machines easily.
Unattended access: A feature that allows agents to access customer computers when the device is asleep or off.
Mobile access: The ability to access mobile devices in addition to desktops.
Whiteboarding features: Collaboration features such as on-screen drawing tools, chat, and other collaboration-focused functions.
File sharing: The ability to share files with customers in addition to screen sharing.
Security measures: Systems should provide security measures like encryption and password protection to keep data safe.
Based on these criteria, ConnectWise Control Support is the best overall choice for small business owners. It offers all the essential features that agents could ever need. Plus, it's easy to use, provides high-end security, and lets you add custom branding.
ConnectWise Control Support: Best Overall Remote Access System

ConnectWise Control Support gives technicians and IT teams full remote access to desktops, laptops, and mobile devices (including Macs and tablets). This solution delivers top-notch call center phone system features, reliable connections, and comprehensive features with speed and reliability. Whether you need to gain unattended access, transfer files, or perform behind-the-scenes maintenance, ConnectWise Control Support is the top overall pick for small businesses.

| ConnectWise Control Support Strengths | ConnectWise Control Support Weaknesses |
| --- | --- |
| Easy to use and reliable | Initial setup of devices can be challenging |
| Comprehensive features for practically every use case | Expensive |
| High-end security settings | |
ConnectWise Control Support Pricing
One: $19 per month for one technician license and one concurrent session
Standard: $35 per month for unlimited technician licenses and three concurrent sessions
Premium: $45 per month for unlimited technician licenses and 10 concurrent sessions
ConnectWise Control Support Features
Unattended access: Access and support devices at any time, even if the end-user is away or the device is asleep.
Remote support: Securely connect with clients to troubleshoot, share screens, control devices, and resolve problems quickly.
Remote meeting: Collaborate with your team to view or control a person's desktop collectively.
Role-based security: Increase security by managing the permissions of each user.
Multiple device support: Support clients on desktop, laptop, tablet, and mobile (Android and iOS devices).
Visit ConnectWise Control Support
Zoho Assist: Best for Budget-sensitive Small to Midsize Businesses

Zoho Assist is a cloud-based remote access system for customer support teams that provide remote support or need unattended access. It's an affordable solution, and part of the larger Zoho Workspace ecosystem, that empowers businesses to pick budget-friendly plans that meet their exact use case—instead of paying a premium for features they may never use.

| Zoho Assist Strengths | Zoho Assist Weaknesses |
| --- | --- |
| Competitive prices and a variety of plans | Weak brand customization options |
| Full suite of remote access features | Slow file transfers |
| Quick and easy to reboot remote computers | Standard plan doesn't support mobile apps |
Zoho Assist Pricing
Standard: $8 per user, per month
Professional: $13 per user, per month
Enterprise: $21 per user, per month
Zoho Assist Features
Instant chat: Stay in contact with your customers while you're remotely controlling their device with a built-in chat window.
Reboot and reconnect: Reboot computers remotely at any time during a support session, and then automatically reconnect after the reboot.
Bulk deployment: Deploy the unattended access installer to multiple devices at once.
Customization capability: While Zoho Assist might not have all the brand customization options that ConnectWise Control Support offers, it's a great remote access solution for small to midsize businesses on a tight budget.
Integrations: Zoho Assist can be integrated with support ticket software, Zendesk (support ticketing software), Freshcaller (business phone system), and Google Workspace as well as other Zoho Workspace applications like Zoho CRM.
RemotePC: Best Remote Access System for Growing Distributed Teams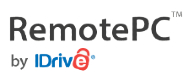 RemotePC provides remote support to empower users to take control of a customer's PC or Mac from a web browser. This solution stands apart from the competition by making it easy and affordable to scale to a large number of technician licenses and computers.

| RemotePC Strengths | RemotePC Weaknesses |
| --- | --- |
| Affordable plans made to scale | Poor mobile app |
| Flat rate for unlimited concurrent sessions | Web app doesn't have all features |
| Easy to set up | Must pay a premium for 24/7 support |
RemotePC Pricing
Consumer: $29.50 per year for one license, access to two computers, and unlimited concurrent sessions
SOHO: $69.50 per year for unlimited licenses, access to 10 computers, and unlimited concurrent sessions
Team: $249.50 per year for unlimited licenses, access to 50 computers, and unlimited concurrent sessions
Enterprise: $499.50 per year for unlimited licenses, access to 100 computers, and unlimited concurrent sessions
RemotePC Features
One-time instant access: Grant a one-time-use key to your associates to access your computer.
Access via web: Connect to remote computers from your browser—no software installation necessary.
Platform independent: Access your remote computer from PC, Mac, Linux, iPhone, iPad, or Android devices.
TeamViewer: Best for Supporting Mac & iOS Devices

TeamViewer is a cloud-based remote support software that enables businesses to provide remote support, remote access, and remote control to customers quickly and securely, at scale. While TeamViewer supports Windows, Linux, and Android machines, it's best known for its extensive support of all Mac and iOS devices.

| TeamViewer Strengths | TeamViewer Weaknesses |
| --- | --- |
| Powerful integrations with other software (like Salesforce, Zendesk, Microsoft Teams, and Freshworks) | Expensive |
| Easy to use | Mobile support requires an extra fee |
| Remote support on every device and client | |
TeamViewer Pricing
Business License: $49 per month for one license and one concurrent session
Premium License: $99 per month for 15 licenses and one concurrent session (must pay for extra—up to 10)
Corporate License: $199 per month for 30 licenses and three concurrent sessions (must pay for extra—up to 12)
TeamViewer Features
Cross-platform access: Connect from PC to PC, PC to mobile, mobile to PC, and mobile to mobile.
Robust communication: Users can communicate via voice, video, chat, whiteboard, or even 3D annotations.
TeamViewer IoT: Connect, monitor, and operate on all your machines and devices with real-time status alerts.
Splashtop: Best Low-cost Remote Access System for Solopreneurs

Splashtop is a flexible remote access solution that provides notable features and impressive security underneath a sleek, user-friendly interface. Small businesses and solo operations looking for a stellar solution at a low price will find Splashtop to be everything they need.

| Splashtop Strengths | Splashtop Weaknesses |
| --- | --- |
| Compatible with Mac, Windows, iOS, and Android | No free forever plan—only a free trial |
| User-friendly app and interface | Some features are limited to specific devices |
| Affordable plans | |
Splashtop Pricing
Business Access Solo: $5 per month for one license and access to two devices
Business Access Pro: $8.25 per user, per month and access to 10 devices per user
Business Access Pro Volume Licenses: $4.54 per user, per month for 10 to 49 users; $4.13 per user, per month for 50 and more users
Splashtop Features
Global server infrastructure: Enjoy fast, high-quality connections with award-winning reliability.
Multi-to-multi monitor: View multiple remote screens from a single- or multi-monitor system.
Remote reboot and wake: Use Splashtop to reboot or wake up a computer remotely.
Chrome Remote Desktop: Best Free & Basic Remote Access System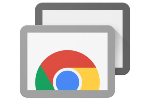 Chrome Remote Desktop is a free remote access software solution that accommodates many small businesses' basic needs. While it's limited to Google Chrome functionality, it provides excellent cross-platform compatibility packaged in a 100% free forever plan.

| Chrome Remote Desktop Strengths | Chrome Remote Desktop Weaknesses |
| --- | --- |
| 100% free forever | Lacks many of the advanced features paid solutions provide |
| Easy to set up | Can only be used with Google Chrome |
| Can support most devices | Limited functionality on mobile devices |
Chrome Remote Desktop Pricing
Chrome Remote Desktop Features
Remote support: Grant users a one-time code to access a desktop.
Browser extension: Since Chrome Remote Desktop operates as a browser extension, you won't need any other software or hardware.
Screen-sharing functionality: Easy-to-use screen-sharing control for the agent and the customer.
Bottom Line
Remote access software empowers professionals to work from home and IT teams to support computers and mobile devices from afar. However, the best solutions need to have the necessary features while remaining affordable and user-friendly.
If you're a small business in need of a one-stop shop for all your remote access needs, we recommend ConnectWise Control Support. ConnectWise Control Support delivers the complete remote access package that employees, small businesses, and IT teams need to provide universal support—anytime, anywhere.