6 Best Remote Access Software for Small Business in 2023
This article is part of a larger series on VoIP.
Remote access software allows businesses to respond to customers' technical issues as quickly as possible, reduce equipment downtime, and facilitate collaboration among remote employees. If you're looking for the best tool for your operations, consider the following factors: device compatibility, security, core functionalities, and customer support. We looked at these factors to develop our list of the best remote access software for small businesses.
Based on our research, these are the top solutions for different business uses:
Remote Access Software for Small Business at a Glance
Best Remote Access Software

Monthly Starting Price
(Annual Billing)




Core Functionality

Maximum Number of Devices Accessed on Basic Plan

FSB Rating

$10 per user; free plan and free trial available

Unattended remote access, scheduled screen sharing sessions, and multi-monitor navigation

5 computers

4.14 out of 5

$5 per user; free trial available

Desktop sharing via a web link, session recording, and remote wake and reboot

2 computers

3.98 out of 5

$18.38 per user for the first year; free trial available

Drag-and-drop files, remote sound, sessions recording, and performance viewer

1 computer

3.75 out of 5

$27 per user; free trial available

Voice-over-internet protocol (VoIP), Wake-on local area network (LAN), and sound capture

10 computers

3.59 out of 5

$6.95 per user

Concurrent connections, remote printing and sound, Wake-on-LAN

3 computers

3.52 out of 5

Free

Unattended access, screen sharing, and one-time access code

100 computers

Honorable Mention
Zoho Assist: Best Overall Remote Access Software
What We Like
Availability of a free version and free trial
Affordable entry-level plan
Integrations with Zendesk, ServiceNow, Freshdesk, and Jira
What's Missing
The video chat feature is only available on the highest-tier plans
Maximum of six simultaneous sessions only compared to others offering unlimited sessions
The file transfer size limit is 2GB, smaller than Splashtop's 64GB
Zoho Assist Monthly Pricing*
Remote Support Plans
Free: No cost for one support technician, five unattended computers, instant chat, clipboard sharing, and multi-monitor navigation
Standard: $10 per technician for file transfer, multi-monitor navigation, session transfer, and two simultaneous sessions
Professional: $15 per technician for screen sharing, scheduled sessions, and four simultaneous sessions
Enterprise: $24 per technician for session recording and audit, remote printing, video chat, and six simultaneous sessions
Unattended Access Plans
Standard: $10 for unlimited technicians, 25 unattended computers, bulk deployment, group permissions, and Wake-on-LAN
Professional: $15 for session recording, remote print, annotation, and video chat
Free trial: 15 days
*Pricing is billed annually, but a monthly billing option is available.
Zoho Assist is the overall best remote access software, offering a wide range of features even in its free version. Access up to five unattended computers and view multiple screens in one session. Instant chat and clipboard sharing are likewise available in the free version, allowing easier collaboration.
Meanwhile, the basic plan includes voice and video chat and file transfer—allowing you to provide real-time support during a session. This helps resolve customer concerns quickly and optimize agent performance in call center phone systems. With Zoho Assist's basic plan, you're able to send and receive files up to 2GB from one computer to another and schedule sessions to accommodate the most convenient time for stakeholders.
Another reason the platform is among the best remote access programs is it supports common operating systems, namely Windows, Mac, Linux, and Chrome. Its mobile apps for iOS and Android devices are easy to use. Take note, however, that this platform has limited simultaneous sessions—up to six only. If you need more simultaneous sessions, choose RemotePC instead, which allows unlimited concurrent access.
Zoho Assist Features
Swap screen: Transfer the presenter role to one of the participants in your session so they can easily show their screen.
Annotation: Add comments and draw shapes to highlight parts of the remote screen. This way, customers and colleagues are able to follow instructions easily.
Security: Zoho Assist features two-factor authentication, Secure Sockets Layer (SSL) and 256-bit Advanced Encryption Standard (AES) encryption, inactive session timeout, and action log viewer.
Splashtop: Best for Solopreneurs Who Require an Affordable Solution
What We Like
Click-and-drag file transfer is possible even between different operating systems
More affordable than the entry-level plan of top remote access software Zoho Assist
Desktop sharing via a web link
What's Missing
Lacks free plan
Limited number of computers that can be remotely accessed (Pro has 10 only)
Chat feature is available only on the Pro plan, unlike in Zoho Assist, where it's available on the free package
Splashtop Monthly Pricing*
Business Access Solo: $5 for access to up to two computers, file transfer, remote print and audio, and logging
Business Access Pro: $8.25 per user for up to 10 computers per user, simultaneous sessions, web link desktop sharing, chat, session recording, and remote wake and reboot
Business Access Pro Volume Licenses: $6.19 for granular privilege control, cloud and on-premise deployment, and single sign-on (SSO) integration
Free trial: 7 days
*All plans are billed annually.
Splashtop is the best remote access software for small businesses that want an extremely affordable platform. The provider charges $5 a month in its entry-level plan, offering remote access to two computers max, which is all you need as a solopreneur running a small-scale operation. Even its high-tier subscription is still cheaper than Zoho Assist's basic package.
But even with an affordable price, the platform has a rich feature set, offering in-session and outside-session chat, session recording, Wake-on-LAN, remote reboot, and whiteboard and annotation. Splashtop's maximum file transfer size is 64GB, bigger than what Zoho Assist offers.
However, unlike Zoho Assist, Splashtop doesn't have a free plan. It also restricts the number of remotely accessed computers to 10. If you're looking for other free options providing remote access to more than 10 users other than Zoho Assist, consider Chrome Remote Desktop.
Splashtop Features
Drag-and-drop file transfer: Drag files between computers and send them without the hassle. Splashtop supports a broad range of devices, namely Mac, Windows, and Chromebook.
Remote wake and reboot: Turn on and restart the computer remotely. The remote device you're rebooting will automatically connect with the computer you're using.
Security: Splashtop features two-step verification, device authentication, remote screen lock and blank, and password requirement options.
RemotePC: Best for Teams Needing a Scalable Remote Access Solution
What We Like
Highly affordable plans for solopreneurs and small businesses
Simple, intuitive interface, as noted by some users
Unlimited concurrent access available across all plans
What's Missing
No free version
Lacks built-in audio or video chat feature
Video recording is not available
RemotePC Pricing*
Consumer: $18.38 for one user license, access to one computer, file transfer, remote printing, whiteboard, and access via web
Consumer (with access to two computers): $37.12
SOHO: $59.62 for unlimited user licenses, access to up to 10 computers, and user addition capabilities
Team: $224.62 for access to up to 50 computers, active directory and SSO, and on-demand remote support
Enterprise: $449.62 for access to up to 100 computers, computer grouping, deployment, and access permissions for users
Free trial: 7 days
*Pricing is for the entire first year. Regular rates apply in the subsequent years. However, monthly pricing is available for the SOHO, Team, and Enterprise packages.
RemotePC is a remote support software solution for small businesses looking to scale their customer service operations. For instance, its Team and Enterprise plans enable adding up to 10,000 computers in increments of 100. These plans have robust remote access features, including file transfer, access via the web, remote printing, remote reboot, and whiteboard.
The platform also features always-on remote access, which lets you configure computers anytime as long as you have an internet connection. One disadvantage in choosing RemotePC is it lacks built-in audio or video chat capabilities, which makes it difficult to coordinate with the customers and colleagues you're trying to help. If these features are important to you, go for Zoho Assist instead, which offers these features in its Enterprise plan.
RemotePC Features
Sticky note: Save the notes you made on the remote computer screen to make reminders visible to customers and colleagues. Even after the session ends and is in offline mode, the sticky note will still be viewable.
Online messaging: Chat with colleagues and customers during a live session to provide better support. Select the "Utilities" option on the application menu to find "Chat."
Remote printing: Print documents from remote computers regardless of your location. This feature is available across all plans.
ConnectWise Control Support: Best for Teams That Want Robust Security Features
What We Like
White labeling options, including a welcome page for guests, favicon, and customizable themes
Integrations with Freshdesk, Zendesk, and Acronis
Consent and alerts sent to end-users
What's Missing
More expensive monthly plan than other remote access software
Complex setup
Limited number of integrations
ConnectWise Control Support Monthly Pricing*
One: $27 per user for one session only, 10 unattended access agents, and brand customization
Standard: $42 per user for three simultaneous connections, up to three sessions, expanded chat options, Wake-on-LAN, and VoIP audio for meetings
Premium: $52 per user for 10 simultaneous connections, up to 10 sessions, and video auditing
Free trial: 14 days
*Pricing is billed annually, but monthly billing is available.
ConnectWise Control Support is an excellent remote access software for businesses that require advanced security. It has user authentication features, like Windows, Forms, and two-factor authentication, session timeout, IP login restrictions, and an automatic lockout after a number of failed login attempts.
It offers users excellent control over which technicians have remote access and to which networks. This is possible through role-based security, session activity logging, and video session logging.
End-users have the choice to allow or deny remote access to their system—giving them peace of mind. Through call center system features like voice-over-internet-protocol (VoIP), it's also easy for team members to coordinate closely with customers. The chat and video recording capabilities enable clients to monitor the technician's actions.
While this platform is the best in terms of advanced security, it's not the most budget-friendly.Splashtop is the best remote assistance software for teams prioritizing affordability. The tool offers robust security features too.
ConnectWise Control Support Features
Consents and alerts: Update customers and colleagues when conducting background maintenance on their equipment. The software allows you to request permission to access.
Selective client survey: Decide when to roll out feedback forms for clients after a session. Previously, surveys were delivered automatically, but with this feature, you have greater control.
White labeling: Include branding elements in your guest page, so customers know they're visiting your support portal. Modify the overall theme and replace the ConnectWise Control favicon with your own.
TeamViewer: Best Remote Access Software for Small Businesses That Need Extensive Integrations
What We Like
Scalable, as it accommodates up to 500 devices
Wake-on-LAN offered in the entry-level plan
Customization options, allowing users to insert their logos and localize the language
What's Missing
Expensive business plans
Support for mobile devices not available on the basic plan (add-on to Business plan)
Difficult subscription cancellation process, according to some users
TeamViewer Monthly Pricing*
Free: No cost for support for Mac, Windows, and Linux, chat messaging, and video call
Remote Access: $6.95 for one licensed user, one concurrent connection, three managed devices, and unlimited devices to connect from
Business: $38.90 for 200 managed devices, three devices to connect from, and unlimited devices to connect to
Premium: $112.90 for 15 licensed users, 300 managed devices, and unlimited devices to connect to and from
Corporate: $229.90 for 30 licensed users and 500 managed devices
*All plans are billed annually.
Businesses that plan to integrate various tools into their remote access software will find TeamViewer the best option because it features a wider range of connected apps. For instance, you'll be able to connect it with customer relationship management systems like Salesforce, Freshworks, Zendesk, Zoho, and Microsoft Dynamics 365.
On IT service management, your app options include SysAid, ServiceNow, Atlassian, and ManageEngine. TeamViewer also integrates with the Internet of Things (IoT), enabling you to resolve equipment issues quickly. Azure, Synology, ONAP, and Advantech are just some of the IoT integrations.
One drawback you should be aware of when choosing TeamViewer over other remote access solutions for small businesses is the added expense of mobile support. Unfortunately, this feature is not available on its basic plan and will cost over $50 when you get it as an add-on to the Business Plan. If you don't want to pay a lot for this feature, Zoho Assist's Professional plan, costing $15 a month, is a better option.
TeamViewer Features
Rapid file transfer: Drag and drop files from one computer to another. TeamViewer also allows copying and pasting images and texts to send documents. Transfer speed is up to 200 MB/s.
Ultra-high-definition display: TeamViewer enables automatic resolution scaling to fit within the display of the remote computer. It also supports multi-monitor navigation.
SOS button: By selecting the "Automatically create SOS Button" on the settings, a TeamViewer icon will appear on the remote computer. When customers or colleagues click on the SOS button, they'll be able to reach out to you instantly.
Honorable Mention: Chrome Remote Desktop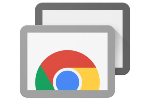 What We Like
Zero cost to use
Easy to set up and navigate
Not overwhelming to users since it only has basic remote access functionalities
What's Missing
Lacks typical remote features, like remote printing and sound
Can only be used on the Google Chrome browser
Requires a Google account
Chrome Remote Desktop Monthly Pricing
Although Chrome Remote Desktop had a low score in our evaluation rubric, it's still worth including in this list of the best remote access software because it's free and easy to use. It has basic features like screen sharing and clipboard synchronization that won't overwhelm businesses new to using this tool.
To get started on the Chrome Remote Desktop, log into your Google account via Chrome on the computer you want to remotely access. From there, install the software and assign a permanent PIN for access. After this, the computer will automatically be on your list of remote devices.
While this works for internal stakeholders, where you get to access other team members' computers physically, the setup may be difficult to apply for customers. You wouldn't want them accessing your Google account either. Fortunately, it's possible to generate a code to start a screen-sharing session.
The disadvantage of using Chrome Remote Desktop is the lack of typical remote access features, like built-in instant chat and multi-monitor support. If these are important to your operations, consider instead Zoho Assist's free version, which covers these capabilities.
Chrome Remote Desktop Features
Screen sharing: Share your screen to help a customer or colleague address a problem on their system.
Curtain mode: Prevent people physically present at host machines to see what you're doing when remotely connected. With this on, the user at the host computer will only see a lock screen.
Mobile app: Download the app on your Android or iOS device to access computers right from your mobile. This is especially beneficial for on-the-go teams that need to quickly retrieve files when outside the office.
How We Evaluated the Best Remote Access Software for Small Businesses
Remote access tools make it easy for businesses to provide hands-on technical support to customers and team members. But not all solutions in the market are created equal, varying greatly in features and cost. To determine the best remote access software for small businesses, we looked at specific criteria points in our evaluation:
25% of Overall Score
We considered the base subscription plan of each provider, evaluating their affordability. In line with this, we favored those that have lower annual pricing. We gave more points to remote access companies offering free trials and plans.
25% of Overall Score
Unattended access and the availability of mobile apps formed part of our evaluation of general features. We also assessed if the provider offers communication capabilities, similar to business phone systems, such as VoIP calling. We factored in encryption, as security is among the top considerations of small businesses.
25% of Overall Score
For this, we looked at the inclusions of higher-level communication features, namely instant chat and whiteboarding. Since easy access is a priority for small businesses, we also gave more points to providers that feature web links to connect without needing a plug-in or app installation. Those that have customization options earned more points as well.
25% of Overall Score
We checked what users say about specific remote access tools on third-party review platforms. We also noted the standout features, value for money, popularity, and ease of use of each provider.
*Percentages of overall score
Bottom Line
Remote access solutions are useful in improving customer support and facilitating collaborative work. Based on our evaluation, Zoho Assist is the best software because of its rich feature set and affordable plans.
The remote sessions on the platform are efficient thanks to a wide range of core functionalities, namely instant chat, file transfer, multi-monitor navigation, session transfer, and reboot and reconnect. Sign up today for Zoho Assist for only $10 per user, per month.