How to Set Up an Office in 5 Easy Steps (+ Free Checklist)
If you want to know how to set up an office, start by assessing your business needs vis-a-vis your company goals while considering your available budget. Once you have a plan, search and pin down office space options and design your floor plan accordingly. Next, carefully select your network and phone system provider and furnish your space with the furniture and equipment your team needs.
We have created a customizable office checklist to ensure you don't miss anything. Download our small office setup free checklist below and follow along with our steps: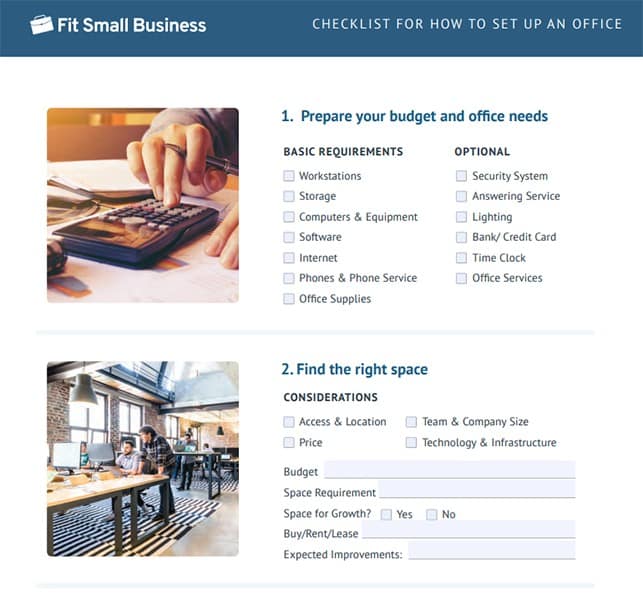 Thank you for downloading!
💡 Quick Tip:
Improve customer and team communications by choosing a business phone system, like RingCentral, that offers robust messaging, video, and phone solutions. It is a unified communications platform with team messaging and document-sharing features.
Visit RingCentral
1. Prepare Your Budget & Office Needs
Before you begin to look for office space, make an exhaustive list of everything you need—from desks and chairs to computer equipment and internet access. Your budget significantly impacts where your office will be located and how you equip the space and your team. Identify your essentials and revisit your existing equipment and supplies to minimize duplication and reduce new purchases.
Knowing your business needs helps determine the right equipment, identify the correct office size, and work out a budget based on your available resources. Here are the everyday items most small business offices need:
Workstations: This includes desks, chairs, and other paraphernalia, such as hands-free headsets, that team members will use.
Storage: This can be as simple as one or two filing cabinets and shelves or an entire stock room.
Computers and other equipment: Determine what kind of computers (desktop or laptops) and quantity depending on whether these are personal or shared devices. Other standard equipment includes printers, projectors, point-of-sales, copiers, and scanners.
Software: Determine whether you need new business tools, such as customer relationship management (CRM), payroll, or sales software.
Internet: Find an internet provider with adequate speed and reliability within your budget.
Phones: Identify if you need desk phones, cell phones, and conference phones.
Phone service: Decide whether a standard or voice-over-internet-protocol (VoIP) phone system is best.
Office supplies: Consider buying from Amazon or other shops offering direct delivery for greater convenience. Standard supplies include copy paper, desk organizers, bulbs, staplers, pens, notepads, and recycling bins.
---
When learning how to set up your small office, consider what other services and supplies your workspace will require. For example, you may need to set up an alarm system, a keypad lock on your main door for monitored entry, a phone answering service, or even credit cards for your employees. Many of these are optional based on your business model and where your office is located.
Here are some optional office services and supplies:
Security: Consider whether you need a security system or video surveillance.
Answering service: Set up an after-hours answering service, or use a service like Ruby Receptionist to save on hiring someone to answer your phones.
Lighting: Decide if you'll have provisions for individual light fixtures or maximize common ceiling lighting.
Bank accounts and credit cards: You may want to set up free or low-cost bank accounts and get your managers or sales representatives credit cards if needed.
Time clock: A time clock tracks which team members are on-site and hours worked, many of which interface directly with your payroll software.
Office services: Determine if you need outsourced services, such as janitorial services.
---
2. Find the Right Space
Once you have a plan for your office setting, the next step is finding a suitable space. For startups, solopreneurs, and small businesses, these are usually small to medium-sized commercial rentals or home offices. In either situation, location and amenities are crucial. Think about your current office configuration to determine how a new space will respond to the shortcomings of your existing space.
When choosing a space, here are some things to think about:
Access and location: Your office needs to be accessible enough for your clients to visit, with transport options for your staff.
Price: Consider whether the cost, plus miscellaneous expenses, like parking or maintenance fees, are within your budget.
Team and company size: Your office setup should match the size of your business and its expected growth. Avoid cramped, tiny spaces that affect productivity or overpaying for offices with more space than you need.
Technology and infrastructure: Determine if the rent includes internet services and assess if the space will accommodate necessary infrastructure improvements and the estimated cost.
3. Design Your Office Floor Plan
The World Green Building Council reports overwhelming evidence linking productivity with office design. Off the bat, your team will be more productive in an uncluttered space, making it crucial to learn how to set up your office in a way that makes you and your colleagues feel comfortable. Armed with your list of essentials and identified office space, it's time to consider your office layout.
Design your office layout for efficiency based on the amount of room you have and your team's workflow. Central equipment should be accessible but out of the way, and storage containers should be easy to reach. Include in your plan any meeting room or waiting areas you may need. For example, common areas may be near windows so all team members can access natural light areas.
Here are some layout options for how to set up a professional office:
Open layout: An open floor plan maximizes the usable area of the space, but at the expense of privacy and storage.
Closed or cubicle layout: A closed floor plan gives your staff more personal space, but it's less collaborative and won't fit as many seats.
Co-working layout: A floor plan highlighting common, open workstations for networking, but while more flexible, there's less individual and company privacy.
Hybrid layout: A layout that combines aspects of other layouts, offering a balanced solution to the drawbacks of open offices and cubicles. However, people are more exposed to each other, noises, and possible distractions.
---
Depending on your business needs and available space, you may need to carve out functional spaces to match your business operations. Here are optional areas you may want to plan for within your overall office setting:
Formal entrance or reception area: This is best for small businesses that interface with customers or expect walk-in clients.
Break room or kitchen: Give your employees a dedicated space for socializing during their breaks. It's helpful to have a designated space for the refrigerator, microwave, and utensils—separate from productive work areas.
Conference or meeting room: If your team huddles for regular meetings, private rooms help create spaces conducive to collaborative work or one-on-one conversations with colleagues or clients.
Lactation room: Depending on your state and your company's size, you may be required to provide a quiet room for new moms—and it can't be the bathroom.
Exercise room: Some firms provide workout equipment and amenities, such as a stationary bike, treadmill, or yoga room, to keep employees fit.
Dressing area: Service businesses often set aside space in the office for field workers to change into work clothes. A plumbing firm might provide showers too.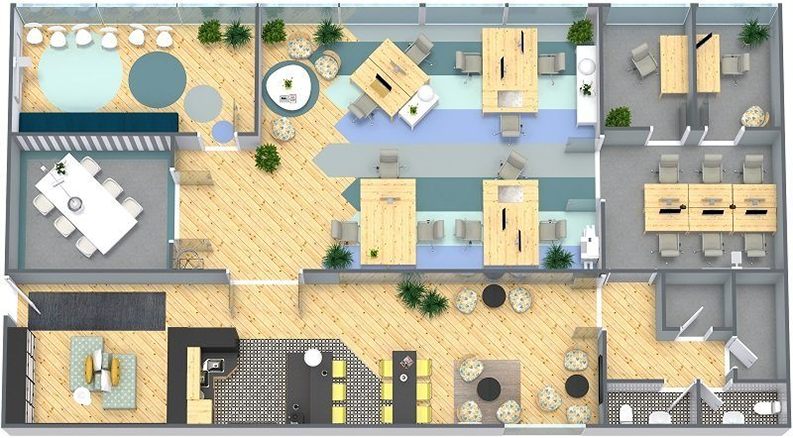 ---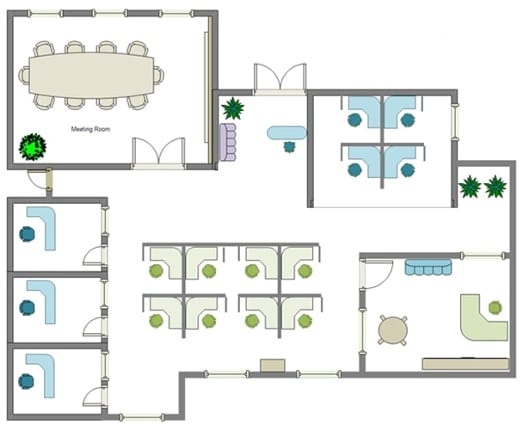 ---
Some space-saving and cost-effective alternatives for home offices or business addresses with limited space include using different paint colors or putting up dividers or shelves to separate specific areas.
---
Pro tip: Incorporate opportunities for movement in your design. Purchase ergonomic tables and stand-to-sit desks that encourage changing positions throughout the day. However, strategic equipment placement also works if this option is not within your budget. Arranging the copier or phones on the opposite side of the room from people's workstations creates reasons to stand and move.
4. Set Up Your Communications System
Before committing to any office lease, make sure the location is serviceable by a high-speed internet provider or which internet service provider (ISP) can service the area. A strong internet connection is essential to work and collaborate efficiently. Once you've determined your ISP, you'll need to set up your business phone system. Two options to consider are a landline system or voice-over-internet-protocol (VoIP).
Traditional landlines boast high call quality reliability suited for companies without access to reliable high-speed internet or experiencing power outages. VoIP solutions are best for businesses that want robust business phone systems with features like voicemail, call analytics, and automated call routing.
Need help deciding whether you need VoIP or a landline? Read our comprehensive VoIP vs landline comparison. VoIP is the best option for most companies, given its quick setup, extensive features, affordability, and flexibility. When selecting your VoIP provider, compare their plans, prices, and contracts. Also, remember that business accounts often differ from residential ones, so be careful when looking at their terms.
In determining the phone system features you need, reflect on the following elements:
As you select your communication tools, analyze your call patterns and routing system. Suppose you're a growing small business receiving a high volume of incoming calls; you'll need robust call management features. Providers like RingCentral and Grasshopper allow users to set up phone trees for efficient call routing.
5. Buy Your Office Equipment, Supplies & Furniture
Once everything is settled, the next phase in how to set up an office is buying and setting up office furnishings. Choose the best office furniture and equipment for your business needs and budget with your checklist as a reference. For some, this would be new office materials. For others, add a few missing items to your existing office desks, chairs, and dividers.
There's a saying that the layout and quality of office space directly reflect how much a business values its employees. Therefore, desks should be functional and suited for the work and surrounding space. Get desks that are the right height with adequate surface space. When selecting tables, consider the equipment placed on them; will it be mainly for typing, or will you need more space to accommodate sketching or additional screens?
Since team members will spend a lot of time at their respective desks, you should consider this an essential cost item. Ergonomics are best but are more expensive than standard office chairs. If you are playing a balancing act between quality and budget, there are plenty of low-priced office chairs on the market. Choose adjustable chairs with adequate back support so your colleagues will be comfortable.
There are three main types of office chairs you can choose from:
Task chairs: These are usually armless and compact—intended for shorter use. They are portable and easily moved around for group meetings. Task chairs cost between $40 and $350 each.
Mid-back chairs: Mid-back chairs, costing between $70 and $600 each, have arms and offer more support. These are a better option for full-time office staff who sit all day.
Executive chairs: Executive seating is typically more ergonomic and plush. They range from $200 to $1,000. Many provide ventilation with additional adjustments.
In most office settings, mid-back and executive chairs are more than sufficient, with task chairs used to supplement them at temporary workstations.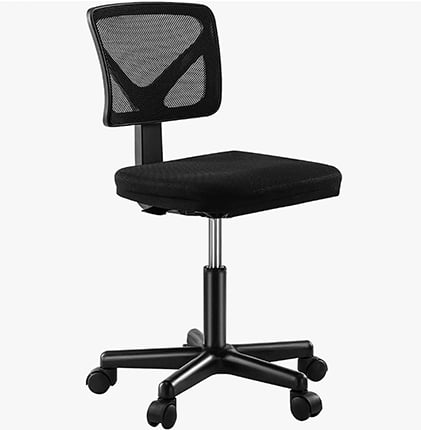 ---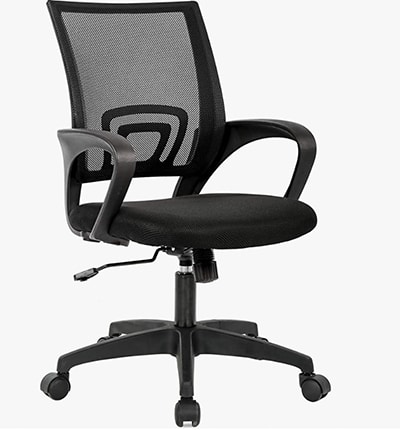 ---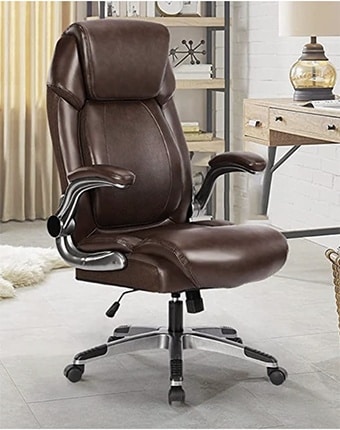 ---
---
Before purchasing your devices, you'll need to decide if you'll provide a set of computers or if they'll be buying their own. When comparing a laptop or desktop computer, desktop computers generally offer better value with more storage and better performance, but laptop computers are more portable. When planning how to set up an office, consider your team's reporting schedule, remote and fieldwork, and space when deciding.
It's best if you choose in advance which computer operating system to work on:
Apple OS X: Using Apple products is ideal for businesses like marketing or design, which use heavy graphics, video, gaming, audio editing, or desktop publishing.
Windows OS: Windows is a Microsoft product and comes preloaded on most new personal computers (PCs), making it the most widely used computer OS. It's an excellent option for everyday personal computing and office tasks.
Need IT support but don't have your own IT support organization? Consider Geek Squad as an off-premises IT support service. Geek Squad prices are very reasonable for small businesses, so consider them as a quick and easy solution.
---
You will need filing cabinets and storage containers for files, payroll or sales invoices, and supply storage. However, your requirements will be minimal if you use digital human resources and sales software. Nonetheless, you'll need a place to store office supplies like pens, copy paper, product brochures, and marketing swag.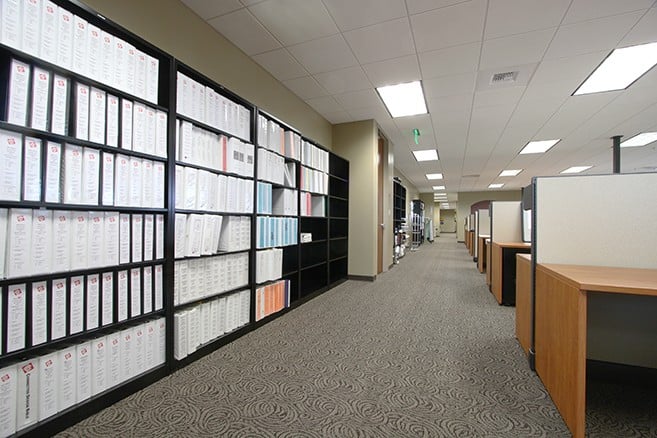 ---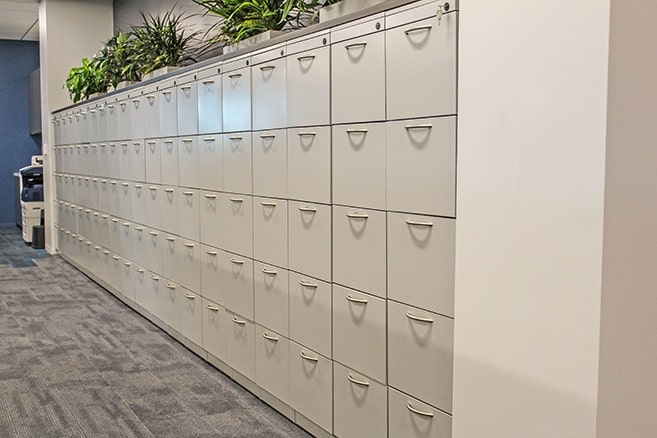 ---
When choosing your shelving and storage furniture, it's best to think vertically. For smaller offices, maximize height and elevate your storage features. Bookcases and floating shelves offer more storage space without taking up precious floor space.
If you're establishing or expanding your office, it's an excellent time to transition to digital processing of administrative and backend tasks. This lowers costs by reducing paper waste and the purchase of ink. It also ensures higher efficiency with automation, minimizing human error. If you've chosen a business phone system, say RingCentral or Nextiva, check to see if your business tools are compatible through third-party integration for increased productivity.
---
Not what you're looking for? Give your team the tools they need to contribute efficiently to company goals. Read this listicle on our recommended best and coolest office gadgets that won't cost you an arm and a leg.
Top Considerations When Setting Up an Office
When setting up an office from scratch, essential factors, such as location and cost, require careful consideration. Small businesses typically need to decide between purchasing an office space or a building, finding a property for a long-term lease, or renting a full-service suite within a more prominent established corporate locale.
Here are three considerations for your office setting:
Like residential and industrial real estate property, location is king. If you're torn between setting up shop within a business district or a niche neighborhood location, the first factor is always budget—it's best to shop for office space within your means. The next consideration is accessibility; your location should be easy for clients to visit and accessible enough for your workers to travel to daily.
If you have retail and your products and services require physical meetups and demonstrations, you will likely need to invest in a better location than, let us say, a mainly web-based business. Suppose you operate remotely and occasionally need to meet clients physically. In that case, you are better off with a virtual office that provides co-working spaces and meeting rooms as the need arises.
---
Some business owners want total control over their physical office space. If you have the resources to purchase a property that accommodates your long-term growth, then buying is for you. Purchasing a commercial building is often better in the long run than renting because it's a running investment. However, renting or leasing office space may make more sense if you're unsure how long you'll stay in one location.
Are you in need of a short-term commercial rental? Temporary offices are excellent options for solopreneurs with a seasonal project or a business needing an emergency location while the office is being refurbished. Check out our list of small businesses' best temporary office space providers.
---
When leasing, you'll need to balance your risk with the monthly cost carefully. Longer contracts are often lower than short to mid-term rentals, but with a lease, you're on the hook for monthly payments, even if you later decide to relocate. Many long-term leases contain penalties if you break the lease contract early. Make sure to thoroughly review all contracts and work with a business attorney who can review your lease to ensure there are no hidden clauses.
---
Frequently Asked Questions (FAQs)
Is it expensive to set up an office?
No. It can get costly, but it does not have to be. It's possible to create a comfortable and functional office setup without breaking the bank. Save on costs by making improvements yourself, repurposing furniture, or maximizing existing supplies and equipment. Choose low-cost, customizable phone systems, such as those of these top six cheap VoIP service providers.
Do I need a physical office address to do business in the U.S.?
No. Business paperwork, licenses, and permits often require a physical address in the U.S. Small companies, including home-based businesses that don't want to use their home address for safety reasons, should consider getting a P.O. Box or working with a virtual office service provider. They set you up with a virtual U.S. business location for between $50 and $200 monthly and offer other services, such as mail forwarding and virtual phone numbers.
What's the best paint color for an office?
According to experts, the top two colors that work best for an office are green and blue. Considering that color affects mood and behavior, these shades are calming and ideal for stimulating calm and focus for better productivity. When designing a home office, check out our article on different home office setups and see which layout best suits your workflow.
Bottom Line
Now that we've tackled how to set up an office for a small business, it's time to get down to thinking about your new layout. Like any project, the more you plan, the less painful it will be. This is where our setting up a new office checklist comes in handy. If you need to set up an office quickly, look into other options, such as virtual offices or temporary office space providers for spaces for rent, as well as answering services to ensure you don't miss client calls.