Setting up an office can be an exciting and intimidating task, especially if it's your first. In this guide, we'll share the advice of many experts as well as our first-hand experience to help you set up your office as painlessly and efficiently as possible.
If you're a home-based entrepreneur or mobile professional, leased office space may not be in your budget or even necessary. Alliance Virtual Offices offers virtual office solutions which include a commercially recognized business address, a local or toll-free number, and a receptionist who answers calls in your company name—all without an expensive monthly lease. You can even get help finding coworking spaces and booking meeting rooms in over 275 US cities. Get a free quote today.
Visit Alliance Virtual Offices
Step 1: Make a List of Everything You Need for Your Office
Make a list of everything you will need in your new office, from desks and chairs to computer hardware, as well as any tasks like setting up your internet connection.
Here are some common items most offices will need. Click on the links below to view our buyer's guide for each of the office items or services listed.
Common Small Business Office Needs
An Easier Option for Office Phones
Save time choosing office phones and a phone service with RingCentral. They offer high quality phone service using your existing internet connection, with all of the features you need, for half the price of traditional landlines. You also get a free phone when you sign up. Click here to try RingCentral free for 15 days.
In addition, you might need some of these optional items:
Optional Small Business Office Needs
| | |
| --- | --- |
| Alarm System | Compare the pros and cons of personal and professional systems |
| Insurance | A CGL policy can cover accidents, like a slip and fall in your office. To cover office property damage, however, you'll need commercial property insurance |
| Phone Answering Service | If you want a live agent answering your phone, but can't afford a full-time receptionist, check out our full guide to answering services |
| General Office Supplies | For everything else (and then some), there's Amazon |
Step 2: Design Your Office Floor Plan
Once you have a list of everything you'll need, the next step is to lay it out. This will also help you to confirm how much furniture you will need to buy.
First, start by choosing a layout type:
An open plan maximizes the usable area of the space, but at the expense of privacy and storage
A closed plan gives your staff more personal space, but it's less collaborative and won't fit as many seats
A modular plan combines elements of both, giving your staff more privacy, storage, and larger working surfaces but with open areas between seats for collaboration
You can use simple blueprint software, such as Edraw (locally installed) or SmartDraw (cloud-based), to drag-and-drop work stations, desks, and other items to help you design your office space.
Step 3: Set Up Your Phone System
You have several options when choosing which phone system is best for your business. Some of these include:
Traditional phone service, which runs on old copper phone lines
VoIP phone service, which transmits voice as data over your internet connection
Virtual phone service, which forwards calls made to your business phone number to your personal phone line
VoIP phone service is a great option for most businesses since it is more affordable than a landline and just as clear. You can also easily add or subtract as many lines as you need, and you'll be able to get phone service within minutes of plugging in your phone. One great option is RingCentral which offers a free VoIP phone when you sign up. Click here for your free phone.
VoIP Calling Features
Call waiting
Call hold
Call transfer
Conference calling
Caller ID
Voicemail
Web-based system administration
Another useful feature that most providers include is an auto-attendant, which automatically answers your incoming calls and presents your callers with a list of options to choose from. Depending on which option the caller chooses, their call will be routed according to the call tree you set up.
Here is an example of a call tree: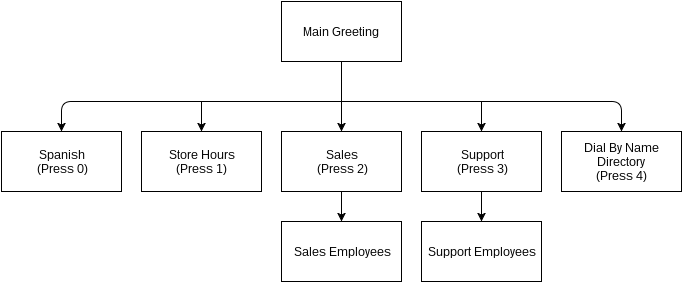 Auto-attendants can be set up with the VoIP phone service in your office or with a virtual phone service. The only difference is where it routes your calls. With a VoIP phone service, the call will be routed to the appropriate phone on the office's network; with a virtual phone service, the call will be forwarded to the appropriate personal phone line you've defined.
Step 4: Find the Best Furniture & Computers
Next, choose the best office furniture and computers for your business' needs and budget.
Office Desks
Which office desks you choose will largely depend on your office layout.
With an open plan, simple rectangular tables that you can group together will usually work the best. When we first started out at Fit Small Business, we used simple folding tables like this one. This gave us a quick, inexpensive, and flexible solution that we could easily rearrange into any layout. The downside to folding tables is they don't allow any room for storage, nor are they the particularly stylish.
For a little more money, you can buy glass, metal, or faux wood tables that usually include some storage options in their design. L-shaped tables, in particular, are great for setting up a modular plan.
Office Chairs
While there are many low-priced office chairs on the market, we recommend buying the best your budget can afford. Good chairs help to promote a happy and healthy work environment — your staff is spending most of their day on them, so investing in their comfort shows them that you value them. You might also be saving money on lost productivity — several of us at Fit Small Business have experienced great improvements in back pain after upgrading our office chairs.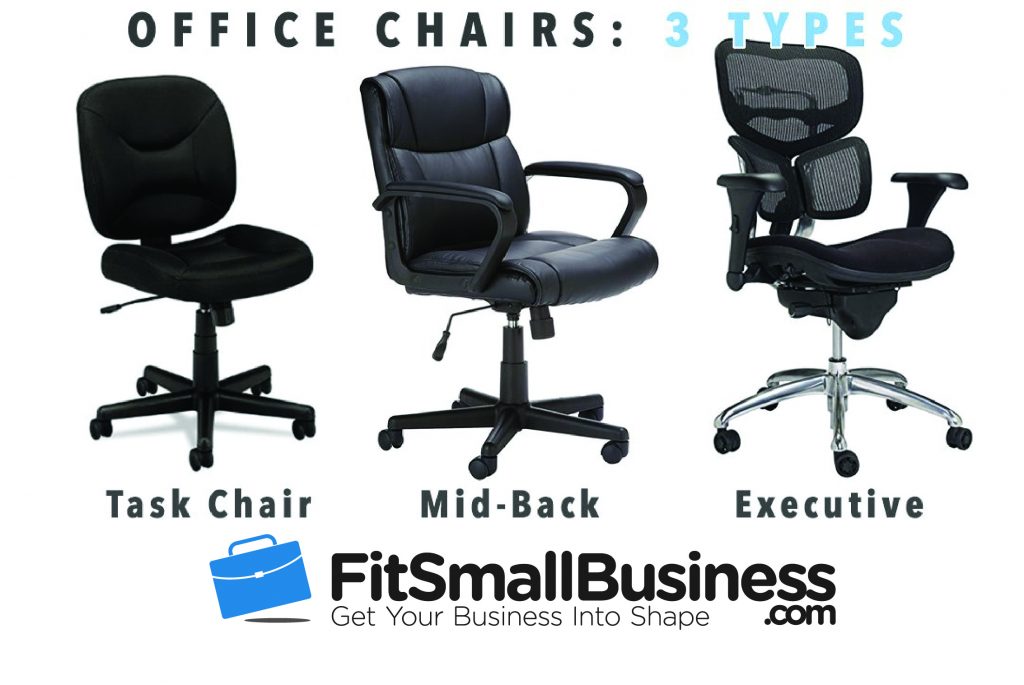 There are three main types of office chairs you can choose from:
Task chairs, which are usually armless, compact and space-saving, and intended for shorter use
Mid-back chairs, which have arms and are more supportive
Executive chairs, which are usually more ergonomic and plush
For most offices, mid-back and executive chairs will serve the bulk of your needs with some task chairs used to supplement them at temporary workstations.
Office Computers
If you're going to be providing the same, or similar, computers to your whole staff rather than letting them choose their own, the first decision you will need to make is what type of computer to buy. Desktop computers generally provide better value with more storage and better performance, but laptop computers are more portable.
Then, you will need to choose which operating system to work on:
Apple OS X is ideal for graphics, video, and audio editing and desktop publishing
Chromebooks are an inexpensive option if your business will primarily be using the Google suite and other web-based software
Windows, which is a widely-used and flexible platform
Step 5: Set Up Internet
Although we've listed it as the fourth step, you should be researching which internet service provider (ISP) to connect your office with well before you move in. Before committing to any office lease, make sure the location is serviceable by a high-speed internet provider. You can confirm this by searching the FCC's National Broadband Map.
Then, once you've found a few providers, compare their plans, prices, and contracts. Also, remember that commercial accounts often differ from residential ones, so be careful when looking at their terms.
For most small businesses, an internet connection with a minimum of 15 Mbps download and 5 Mbps will be sufficient. However, as file sizes become larger and more content is being streamed on the internet, the faster the connection the better. We recommend 50 Mbps download and 10 Mbps upload connections if they're available.
Small Business Internet Contracts
Most ISPs will require you to sign a contract with a commitment of 1-3 years. If you cancel your service before the term of the contract expires, you may be responsible for paying an early cancellation fee. Be sure to confirm these terms with your ISP before you sign.
We've compared the most common contract terms from the top ISPs in every market for you. Here is a summary of how some of them compare:
Contract Lengths and Cancellation Fees by Internet Provider
Contract Length
Early Cancellation Fee
AT&T Business
Typically 12 months
Month-to-month available at a higher cost
30-day money back guarantee
$20 for each remaining month
Comcast Business
Typically two years
Minimum 12 months
75% of your remaining balance
Time Warner Business
Typically 36 months
Month-to-month available at a higher cost
100% of remaining balance
Verizon FiOS Business
Typically 2 years
Month-to-month available at higher cost
30-day money back guarantee
35% of your remaining balance
To learn more about other ISPs, such as Charter, Frontier, CenturyLink, and Cox, you can read our full guide. In it, we compare ISPs by price, available speed, and customer service.
Bottom Line: How to Set Up An Office
Setting up your office is an involved process; but like any project, the better prepared you are and the more research and planning you do up front, the more painless it can be.
If you do need to act quickly, there are good temporary options. For example, folding tables can fill in as desks and a simple auto-attendant or phone tree in place of a full business phone system will present a professional face for your business. And as your business grows, our Starting a Business section is loaded with reviews, buyer's guides, and helpful tips for setting up your office and beyond.