Setting Up an Office in 5 Steps [+Free Checklist]
Setting up your first real office or moving to a larger space takes planning—not unlike moving to a new home. The difference is that you'll need your business to remain productive during the transition. Follow these five steps to create a productive office setting and download our free checklist to manage your office setup.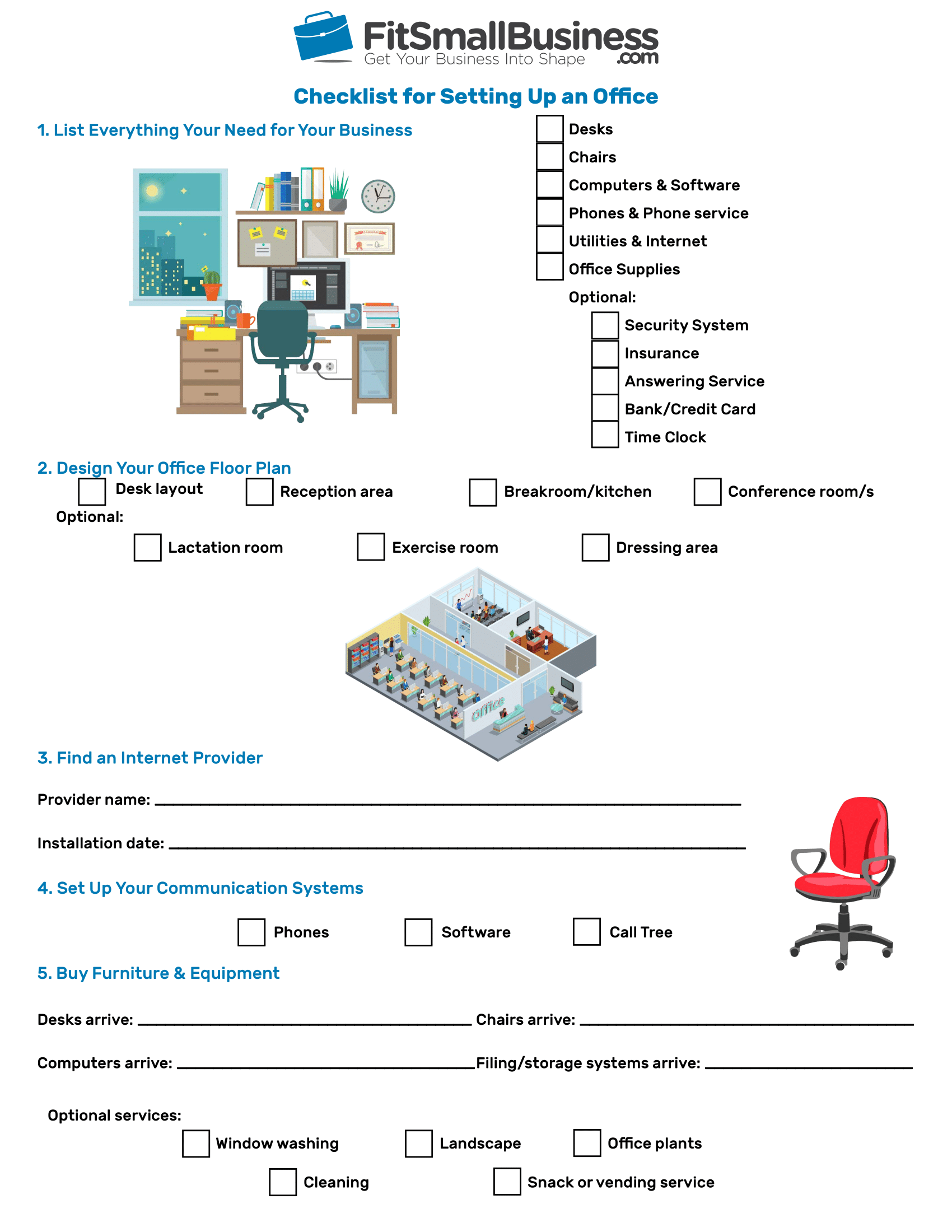 Download the checklist for setting up an office as a PDF.
One thing that can make or break an office space is access to reliable internet, phone, and network services. Once you've settled on a location for your office, head on over to Business Services Connect. There you'll find an instant-locator tool you can use to compare plans from major providers servicing your area, including Spectrum, Atlantic, and Comcast, to find the right fit for your needs.
Visit Business Services Connect
Follow these five steps to create a productive office setting:
1. Make a List of Everything You Need to Run Your Business
Before even looking for office space, you may want to make a list of everything you will need in your new office, from desks and chairs to computer hardware, as well as any tasks like setting up your internet connection. Knowing your business needs will help ensure you choose the correct office size and location to support yourself and team members who share your workspace.
Here are the common items most small business offices need:
Desks: Consider the best office desk to suit your work needs and office layout.
Chairs: There are three common types of chairs you may want to consider.
Computers: Determine how many and what kind of computers you'll need.
Software: Determine whether you need any new business software.
Internet: Find an internet provider with adequate speed and reliability.
Phones: You may need desk phones, cell phones, and conference phones.
Phone service: Decide whether a standard or voice-over-internet-protocol (VoIP) phone system is best.
Optional Services & Supplies to Support Your Office Setting
Consider what other services and supplies your office needs. For example, you may need to set up an alarm system, a phone answering service, or even credit cards for your employees. Many of these are optional based on your business model and where your office is located.
Here are some of the more common optional office services and supplies:
Security: Consider whether you need a security system or video surveillance.
Answering service: Set up an after-hours answering service, or use a service like Ruby Receptionist to save on hiring someone to answer your phones.
Office supplies: Amazon is a great place to order supplies because they'll deliver right to your office, saving you time. Consider copy paper, desk organizers, and recycling bins.
Bank accounts and credit cards: You may want to set up free or low-cost bank accounts, as well as determine whether to provide credit cards to managers or sales reps.
Time clock: A time clock can keep track of who's on site as well as hours worked. And most, like Homebase, can interface directly with your payroll software.
2. Design Your Office Floor Plan
Once you add everything on your checklist, consider the layout of your office space. This will help you to confirm how much furniture to buy. For example, do you need private conference rooms for client or employee meetings? Should managers have a desk near a window? Should your bookkeeper have their own cubicle? Based on the amount of room you have and the kind of work being done, your floor plan can maximize your office space for productivity.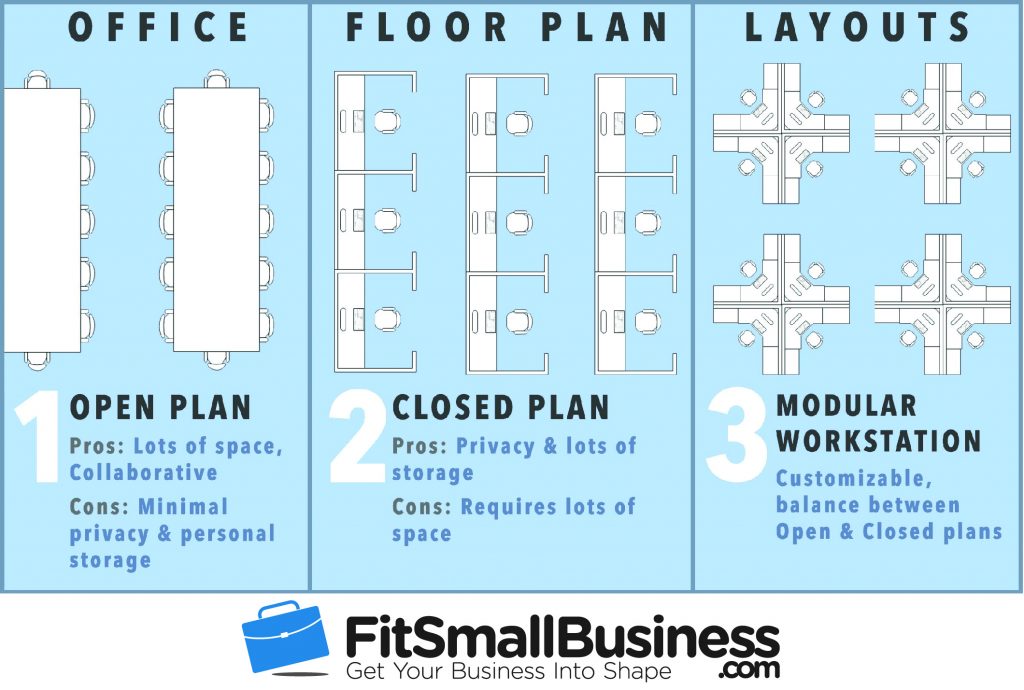 Start by choosing an office floor plan layout:
Open plan: An open floor plan maximizes the usable area of the space, but at the expense of privacy and storage.
Closed plan: A closed floor plan gives your staff more personal space, but it's less collaborative and won't fit as many seats.
Modular workstation: This layout combines elements of both, giving your staff more privacy, storage, and larger working surfaces—with open areas for collaboration.
Optional Space Considerations When Setting Up Your Office
Depending on your business needs, you may need dedicated workspace within your office, like a copy room that contains your fax, printers, and a shredder. Or, you may need to carve out a lobby or waiting area with guest seating if you expect clients to come in for meetings.
Here are optional areas you may want to plan for within your overall office setting:
Formal entrance or reception area: This is best if you expect visitors.
Break room or kitchen: It's nice to offer coffee, drinks, and snacks, and give employees a place for breaks. It's helpful to have a refrigerator, microwave, and dishwasher too.
Conference room: Conference space is crucial if your team gathers for regular meetings; private rooms are best for one-on-one conversations like HR reviews.
Lactation room: Depending on which state you're in and the size of your company, you may be required to provide a quiet room for new moms—and it can't be the bathroom.
Exercise room: To keep employees fit, some firms like to bring in a few pieces of equipment, such as a stationary bike or treadmill, or a room to stretch or do yoga.
Dressing area: Service businesses often set aside space in the office for field workers to change into work clothes. A plumbing firm might provide showers too.
You can use simple chart software, such as SmartDraw (cloud-based), to drag-and-drop workstations, desks, and other items to help you design your office space. As a bonus, many of these programs can help you create an org chart and other helpful business diagrams.
3. Find an Internet Provider
Before committing to any office lease, make sure the location is serviceable by a high-speed internet provider. Research which internet service provider (ISP) can connect your office well before you move in. Then, once you've found a few providers, compare their plans, prices, and contracts. Also, remember that commercial accounts often differ from residential ones, so be careful when looking at their terms.
Our content operations manager suggests:
Gavin Graham, Content Operations Manager, Fit Small Business

"For most small businesses, setting up an internet connection with a minimum of 15 Mbps download and 5 Mbps upload will be sufficient. However, as file sizes become larger and more content is being streamed on the internet, the faster the connection, the better. We recommend 50 Mbps download and 10 Mbps upload connections if they're available."
Not sure which communications providers service your area? Business Services Connect is a telecommunications cooperative that offers an instant-locator tool to help you find the internet, phone, TV, and networking partners in your area. You can compare plans from most of the major providers in the US, including Spectrum, Atlantic, Comcast, and more to find the right solution for your business.
Visit Business Services Connect
4. Set Up Your Office Communication Systems
You have several options when choosing your communication systems. What's important is to schedule the installs or configure your software in time for your move so that there's no disruption to your work and customers are able to get hold of you.
Here are some office communication options to consider:
Telephone communication systems: Many small businesses are switching to voice-over-internet-protocol (VoIP) phone service in lieu of traditional phone systems built on old copper wiring.
Internal communication software: Communication with your internal employees is critical, especially if some work off-site or remotely. Consider free software, like Slack.
Cell phones: Some firms provide field and sales employees with business cell phones to ensure they can be reached throughout the work day.
Virtual phone service: Consider a virtual phone number service that forwards calls made to your business phone number or email.
Other communication tools: Depending on your business model or how many employees you have, you may need email, appointment scheduling, or video conferencing software.
As you select your communication tools, it's a good time to consider how incoming calls will be routed. You might consider setting up a call tree to support your business.
VoIP phone service is a great option for most businesses since it is more affordable than a landline and just as clear. You can also easily add or subtract as many lines as you need, and you'll be able to get phone service within minutes of plugging in your phone. One great option is RingCentral, which offers a free VoIP phone when you sign up. Fill out the form below and get started today.
5. Buy Furniture & Equipment for Your Office Setting
Next, choose the best office furniture and computers for your business' needs and budget. That may mean you find used office equipment, or simply add a few pieces to existing office desks, chairs, and dividers you already have.
Office Desks
Which office desks you choose will largely depend on your office layout. With an open plan, simple rectangular tables that you can group together will usually work the best. In a pinch, folding tables can fill in as desks, giving you an inexpensive and flexible solution that you can rearrange into any layout. The downside to folding tables is they don't allow any room for storage, nor are they the particularly stylish.
For a little more money, you can buy glass, metal, or faux wood tables that usually include some storage options in their design. L-shaped tables, in particular, are great for setting up a modular plan. Standing desks are another popular option for those who spend all day at a computer.
Office Chairs
While there are many low-priced office chairs on the market, we recommend buying the best your budget can afford. Good chairs help to promote a happy and healthy work environment. Your staff may spend most of their day sitting, so investing in their comfort shows that you value them. You might also be saving money on lost productivity.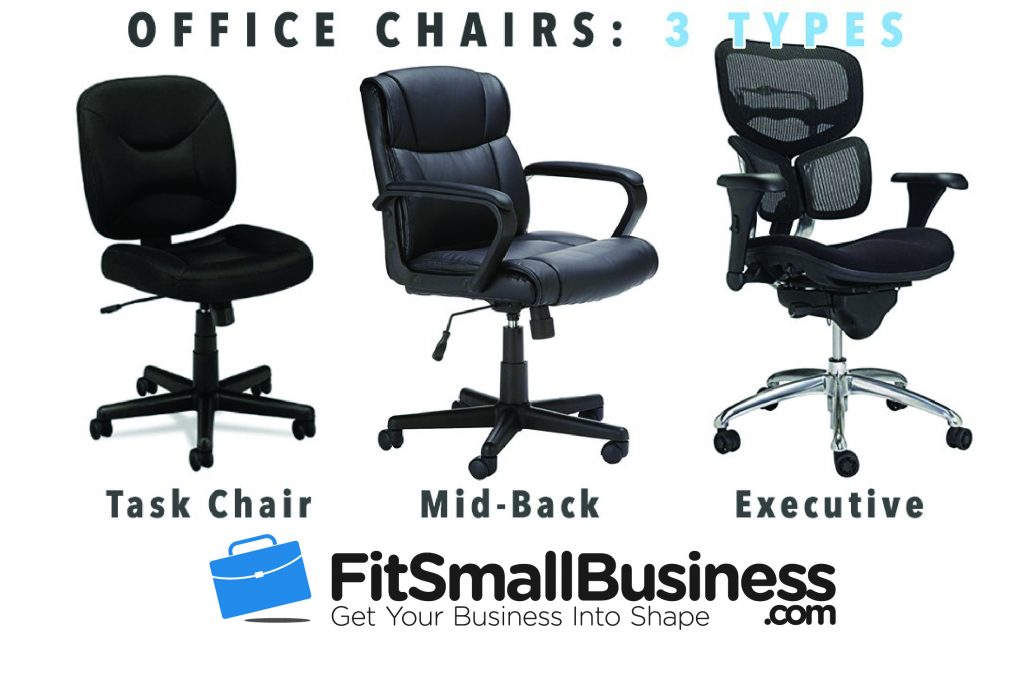 There are three main types of office chairs you can choose from:
Task chairs: These are usually armless and compact—intended for shorter use. They can be moved easily for group meetings, and cost between $40 and $350 each.
Mid-back chairs: Mid-back chairs, costing between $70 and $600 each, have arms and offer more support. These are a better option for full-time office staff who sit all day.
Executive chairs: Executive seating is typically more ergonomic and plush. They range from $200 to $1,000. Many provide for ventilation with additional adjustments.
For most offices, mid-back and executive chairs will serve the bulk of your needs, with some task chairs used to supplement them at temporary workstations.
Office Computers
If you're going to be providing a uniform set of computers for your whole staff rather than letting them choose their own, the first decision you will need to make is what type of office computer to buy.
Desktop computers generally provide better value with more storage and better performance, but laptop computers are more portable. If all your business apps are online, you might consider Chromebooks, which use G Suite software as well as web-based add-ons.
It's best if you decide in advance which computer operating system to work on:
Apple OS X: Using Apple products is ideal for businesses like marketing or design, which use heavy graphics, video, gaming, audio editing, or desktop publishing.
Windows OS: Windows is best for Microsoft Office suite, which is a widely used and flexible platform.
Filing & Storage
If your business uses an online accounting system, sales software, or cloud-based human resource (HR) and payroll services, your need for physical storage may be limited. Nonetheless, you'll need a place to store office supplies like pens and copy paper, as well as product brochures and marketing swag.
Whether you're purchasing computer equipment, coffee, or toilet paper for your office, Amazon offers excellent user reviews and great prices for your business. In fact, you'll often find cool desk gadgets on Amazon that help your office setting also feel like a fun place to work. Best of all, they deliver.
Office Services
Depending on the size of your staff and the decor of your office, you may need to budget for weekly cleaning services or monthly window washing. You may also want to have the office painted to match your brand colors prior to moving in. In fact, some firms subscribe to programs that provide, for instance, live plants to make the environment more appealing or vending machines for employees to grab drinks and snacks.
Considerations When Setting Up an Office
If you haven't yet chosen a physical location, you might ask yourself what's most important about your office in terms of its locale and cost. For example, is it better for you to buy a small office building, lease space close to your customers, or rent a suite within a larger established corporate locale?
Here are considerations for your office setting:
Office Location
Does your office need to be in a business district or is an industrial park location fine? Consider whether visitors come to your office and how far workers will need to travel to get there. Some businesses, like a restaurant, find they can carve out a small office niche within the existing building, especially if files and documents are stored online using cloud-based software. Others may prefer a virtual office that provides them with client meeting space worldwide.
Buy or Rent
Some business owners want to have total control over their physical office space. Similar to owning a home, they want their monthly rent to actually purchase something of value. Buying a commercial building is often better in the long run than renting. However, if you're not sure how long you'll stay in one location, renting or leasing office space may make more sense.
Lease Negotiation
One of the challenges of leasing office space is that you need to balance your risk with the monthly cost. You'll often get a discount in exchange for a longer-term contract. But with a lease, you're on the hook for monthly payments, even if you later decide to relocate. In fact, many long-term leases contain penalties if you break the lease contract early. Therefore, it's best to have your business attorney or an online legal service review your lease to ensure there are no hidden clauses.
Frequently Asked Questions (FAQs) About Setting Up an Office
Below are answers to common office questions you may have. If you don't see your question addressed below, please post it to our forum. We'll get back to you in a few days with an answer.
Do I need a physical office address to do business in the U.S.?
Business paperwork, licenses, and permits often require that you, as a business owner, have a physical address in the U.S. If you don't want to use your home address, or you live out of the country, virtual office service providers can set you up with a virtual U.S. business location for between $50 and $200 per month. They typically provide a USPS mailing address (not a P.O. box), as well as a U.S.-based telephone number to establish your business entity.
At what point do I need to ensure my office is ADA compliant?
All businesses must comply with the Americans with Disabilities Act (ADA). It's even more important when your business is open to the public. For example, you have to make sure your office is accessible to disabled employees as well as customers, such as by adding a ramp to your front entrance if the only way in is up a flight of stairs or ensuring the bathroom door is large enough to accommodate a client's wheelchair.
Is the cost of my office space tax-deductible?
If you rent or lease office space, your rent and any lease taxes paid are tax-deductible. However, if you own or have equity in the office building you occupy, you'll want to contact your tax advisor to determine what portion is deductible. Here is our article covering IRS approved business tax deductions.
What kind of insurance do I need for my office?
We asked our insurance analyst this question, and here's what she said:
Kimberlee Leonard, Insurance Analyst, Fit Small Business

"Landlords want to make sure they are not on the hook for building or general liability claims due to your business—often requiring at least $1 million in general liability coverage. And there are three other categories to think about when reviewing insurance needs for your office. Any one of these could lead to financial hardship for your business (or ultimately bankruptcy without the right insurance in place).

Liability: These policies cover things like slip-and-fall accidents, errors and omissions, and product liability. You may already have a business owner's policy (BOP).
Business property: Includes everything from your computers and furniture to inventory and office build-outs. Read more in our article on commercial property insurance.
Business interruption: Business interruption insurance pays your business its average revenues for the period your doors aren't open due to a claim."
Bottom Line
Getting your office setting right is an involved process. Like any project, the more planning you do upfront, the less painful it can be. That's where our checklist comes in handy. If you need to set up an office quickly, there are good temporary options, such as virtual offices that let you rent space and answering services to ensure client calls aren't missed.
A simple auto-attendant can be used in place of a full business phone system to present a professional face for your business. In fact, Ruby Receptionist can answer your phones during your transition to a new office. Try Ruby Receptionist risk-free with a 21-day, money-back guarantee.