Black Friday and Cyber Monday reach record numbers yet again. This year, U.S. retailers brought in $7.2 billion in online sales during Black Friday and are projected to make $8 billion in online sales throughout Cyber Monday. One of the biggest surprises came as Thanksgiving Day online sales increased by 24%.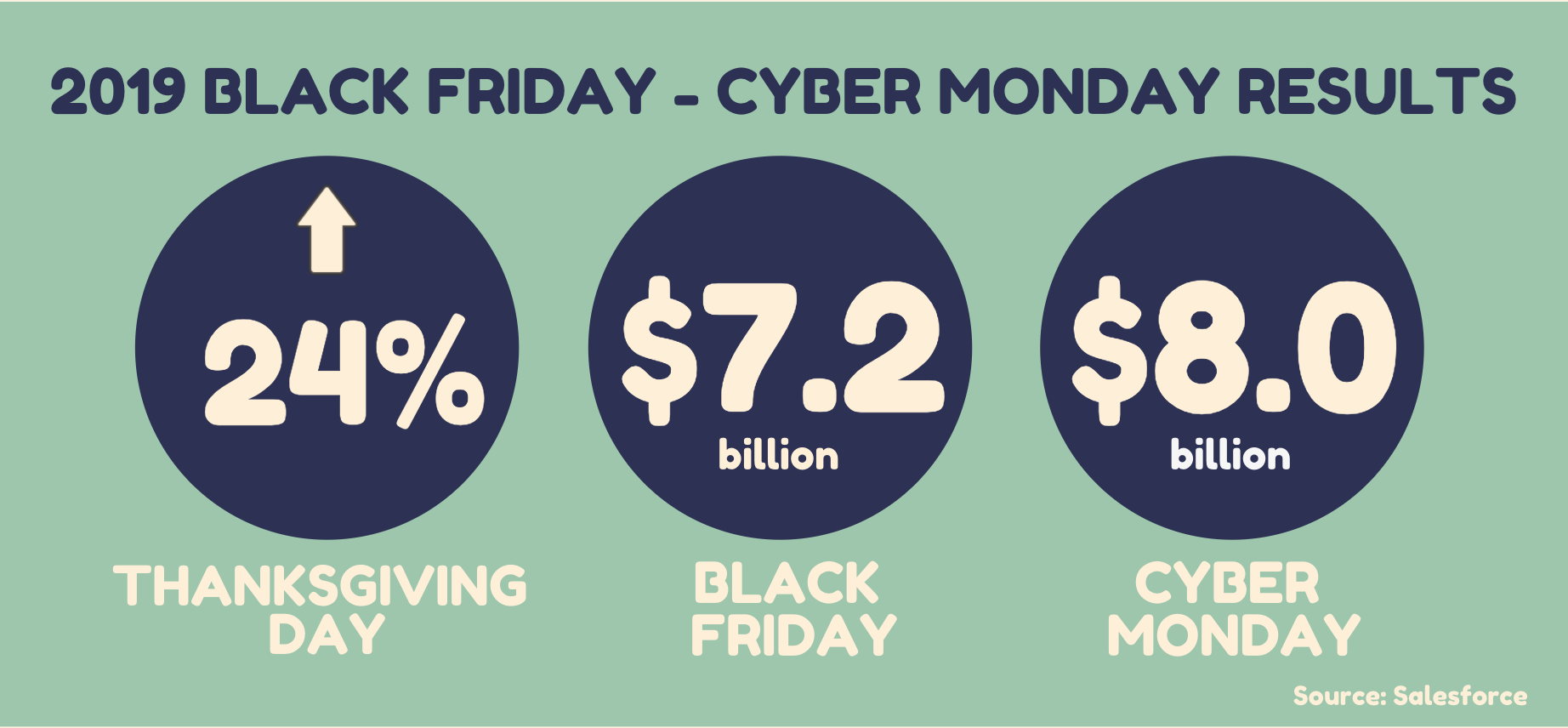 Although digital sales are growing at a faster rate than in-store sales, Rob Garf, Vice President of industry strategy and insights at Salesforce says, "The store is far from being dead. Our research showed that 83% of consumers plan to go into a physical store this holiday."
What Is BFCM?
BFCM is an acronym that stands for Black Friday and Cyber Monday. It represents the five-day shopping period between Thanksgiving Day and Cyber Monday. Black Friday is one of the biggest shopping days of the year and historically focused on in-store purchases. Cyber Monday was coined in 2005 as the digital alternative to Black Friday.
However, more and more people are shopping on Thanksgiving and Small Business Saturday (the day after Black Friday). This means the five-day shopping period has melded into a single giant sales event that makes up roughly 20% of retailers' total revenue for the holiday season.
Online Sales Reach Record Numbers
Black Friday normally means doorbuster sales, and shoppers lined up outside stores waiting to snag the best deals. This year, however, more shoppers chose to buy from the comfort of their couches. Adobe Analytics reports a record $7.4 billion in online sales on Black Friday, a 20% increase from 2018. And Adobe predicts an even bigger Cyber Monday, with sales predicted to reach as much as $9.4 billion, an 18.9% increase from a year ago.
Adobe also reports that while overall holiday sales are expected to grow 4% over last year, online sales will grow 14%, outpacing in-store sales. Smartphone shopping alone will make up about 50% of retail holiday growth.
Shorter Season Pushes Shoppers to Buy
This year, there are six fewer days between Thanksgiving and Christmas compared with last year. In fact, the 2019 calendar has the fewest number of days possible in the holiday shopping season. This means that customers are ready to buy and check items off of their lists. According to Garf, online conversions during Cyber Week were twice the normal rate, indicating that shoppers were prepping their online shopping baskets during the weeks leading up to BFCM and waiting for price drops before they click the "Buy" button.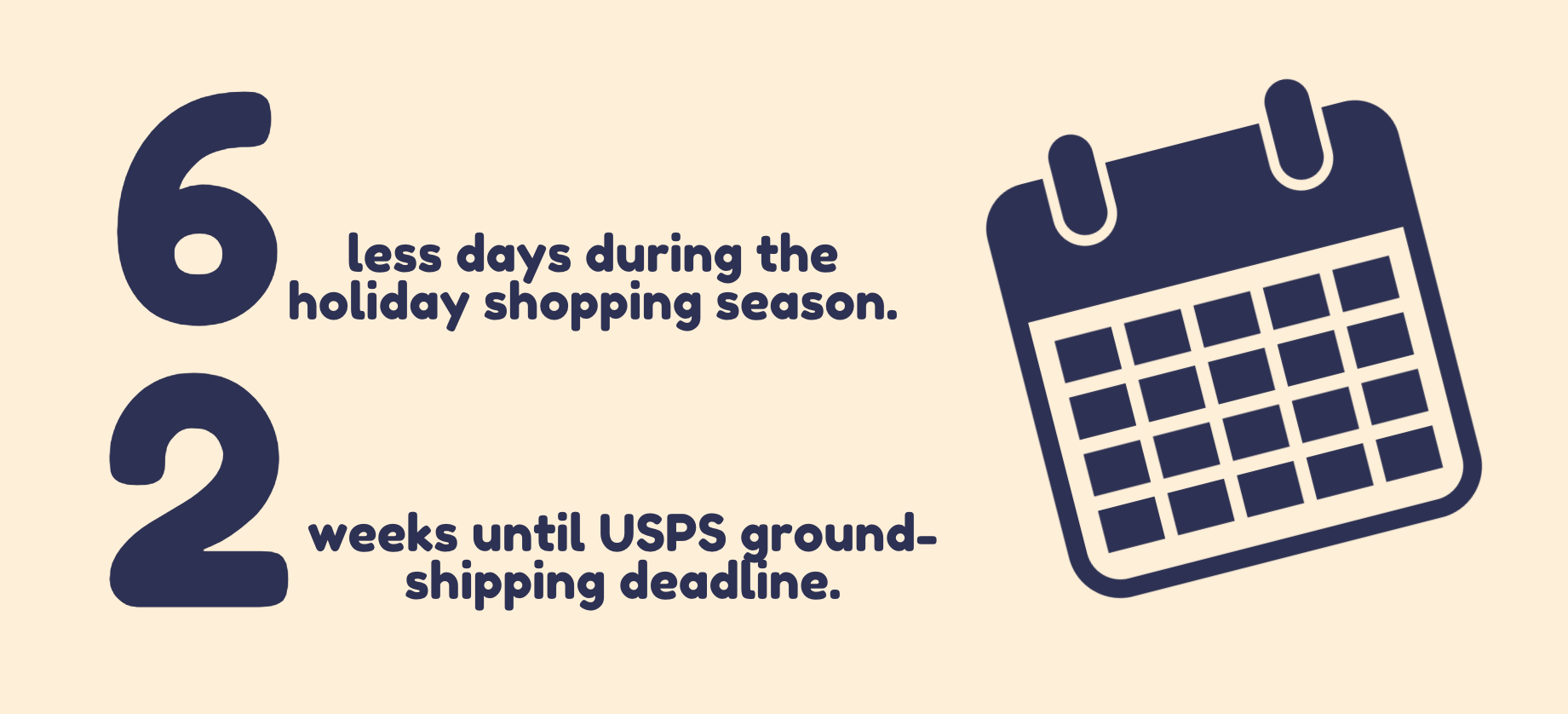 The shorter holiday season also means there are fewer shopping days before the ground shipping cutoff. The United States Postal Service (USPS) cutoff for standard ground shipping is December 14, meaning shoppers have less than two weeks to make online purchases without paying higher prices for expedited shipping.
Brick & Mortar Traffic Dips, Sales Spike
Online sales are soaring this holiday season. And, although in-store traffic numbers are down, brick-and-mortar spending is up. In other words, despite fewer shoppers walking through the doors, those who are visiting are there to buy. According to ShopperTrak, brick-and-mortar traffic fell 6.2% over last year. However, according to First Data, brick-and-mortar spending over Black Friday increased by 4.2%.
A decline of in-store traffic during what is traditionally a brick-and-mortar shopping day could be a red flag for traditional retailers. However, the strong sales numbers indicate that stores will continue to play a crucial role, especially with the shorter shopping season, as many customers will turn to physical stores for purchases closer to Christmas.
6 Retail Lessons From BFCM 2019
BFCM weekend accounts for 20% of all holiday sales. However, there are still plenty of opportunities for retailers to bring in the money. Every day in December is expected to generate over $1 billion in sales. Here are the top seven takeaways from BFCM that any retailer can use to boost sales throughout the holiday season.
1. Use Click & Collect to Convert Time-strapped Shoppers
Click and collect, also known as buy online, pick up in-store (BOPIS), is when a shopper places an order online that they can pick up from a store, typically the same day. This is an increasingly popular option for shoppers because they do not have to pay or wait for shipping, yet know that the item they need will be available when they get to the store.
According to Garf, "Providing consumers the confidence to buy online and the convenience of picking up in-store are going to be big winners whether you have one store or 500 stores; these retailers will see a 28% higher share of revenue during the five days leading up to Christmas."
Offering a click-and-collect fulfillment option is relatively straightforward for retailers that have already set up an online store. In many cases, this is as easy as adding "In-store Pickup" as a delivery option on the checkout screen. In fact, small business ecommerce platforms like Square and Shopify already have features and plugins for this option.
Of course, you'll need to designate a space in your store to pick, pack, and hold those orders for pickup. Make sure you've also trained your team to handle these orders, and schedule staffing to meet customer demand.
2. Add Buy Buttons to Convert Gen Z
For online retailers, reducing the number of clicks required to make a purchase is critical for increasing conversions. Historically, this meant adding buy buttons to product pages and simplifying checkout with PayPal and e-wallet payment options. However, for younger generations, simplified checkout means buying directly from social channels, chatbots, and over voice.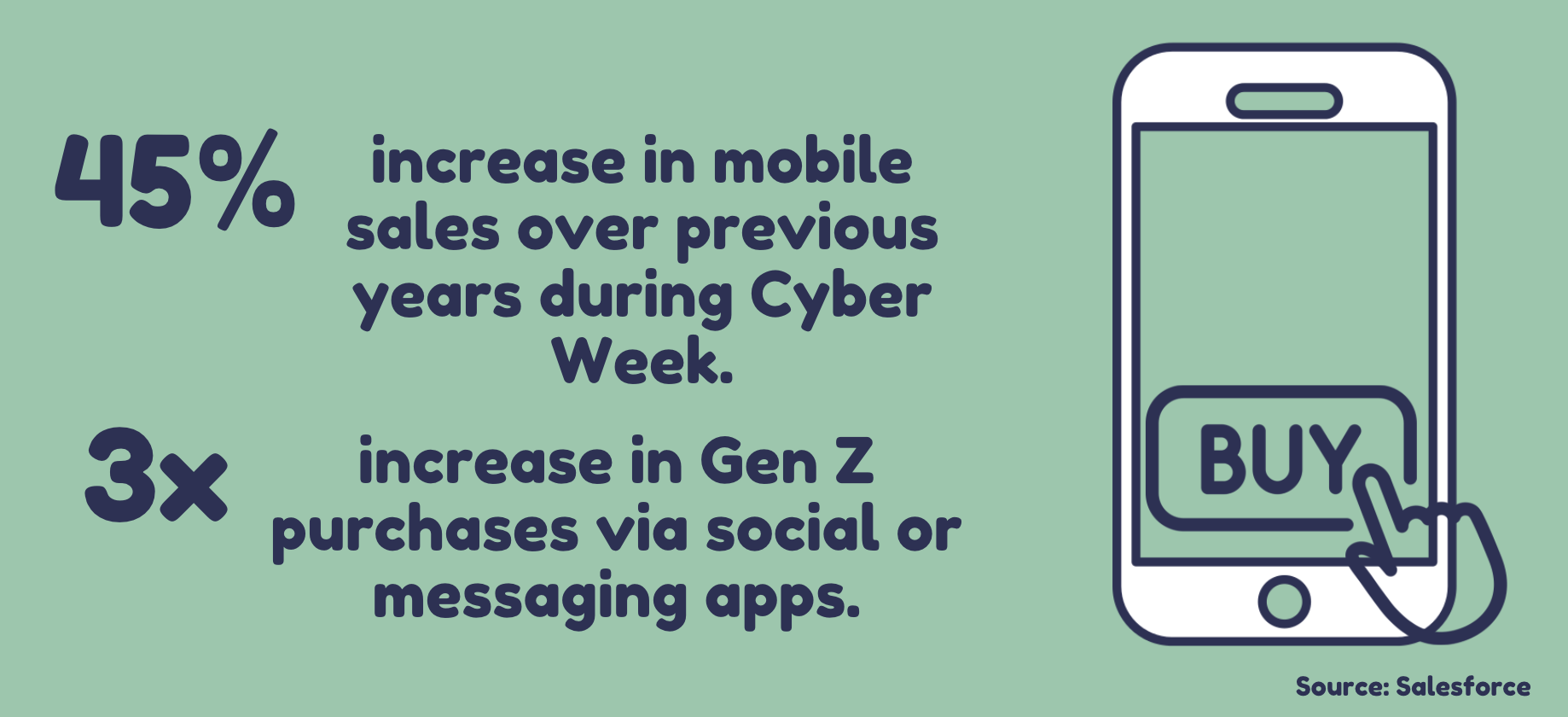 According to Garf, Generation Z (Gen Z) is three times more likely to make a purchase through one of these emerging shopping channels. This year, orders from social, specifically mobile, are 45% higher than last year's Cyber Week. Retailers using Shopify, Squarespace, BigCommerce, or Square Online Store can easily sell on Instagram and make posts shoppable by connecting the product catalog and tagging items in posts.
3. Strengthen Holiday Messaging
All retailers rely on the holiday season to bring in big sales numbers. However, according to Adobe, giant retailers with annual sales over $1 billion see a 65% revenue increase during the months of November and December. Retailers with less than $50 million in annual revenue see a smaller boost of 35% during the holiday season. This means that independent retailers have room to grow by improving their holiday messaging.
Holiday-themed ads see higher engagement levels than traditional advertisements. Shoppers also hold out for holiday deals. Salesforce reports 47% of shoppers will only buy when the items they are looking for are on sale during the holiday season, and all shoppers say sales and promo codes are the number one factor in the decision to purchase.
To strengthen holiday messaging, independent retailers can send holiday promotional emails more frequently. Shoppers are more engaged with emails that are sent during the holiday season since they are actively looking for deals. Salesforce reports 68% of shoppers pay more attention to emails during the holiday season. For example, according to Adobe, open rates increase by 6% during the holidays and click-through rates jump by 4%.
Shoppers are ready to buy, and email is still the most effective way to reach customers, especially on mobile. However, during the holiday season, 8% more emails are sent each day than during the rest of the year. Large retailers are sending emails more frequently than usual, which means small retailers need to increase the volume as well cut through the noise.
4. Host an In-store Event
According to Garf, "One-third of all shoppers will attend a store event this season." Hosting a themed event, an activity such as a craft night or a shop-and-sip, are each effective means of bringing customers into your store. Since shoppers are looking to buy during the holiday season, they are also looking for activities to help put them in the Christmas spirit.
Events do not need to be centered around shopping—you can also host a tree lighting, a toy or donation drive, or even a night with Santa—just be sure to send out invitations. The ultimate goal is to make sure you are getting people into your store.
5. Turn Returns Into Sales
Post-holiday season returns can be a retailer's worst nightmare. They reduce revenue and create a logistics nightmare. However, that does not have to be the case. For many retailers, particularly small businesses, getting shoppers inside the front door is the biggest challenge. When a customer walks in to make a return, it should be seen as an opportunity rather than a loss.
Garf says, "Two-thirds of customers who return an item in-store will actually make a purchase while they are there." Retailers can encourage these sales by offering a discount or coupon that can only be used the same day. When done well, this can be a great way to turn a lost sale into a new revenue opportunity.
6. Improve Mobile Checkout to Increase Conversions
Shoppers love to browse on smartphones. For years now, smartphones have made up a majority of online shopping traffic during the holidays. According to Garf, on Black Friday 56% of online orders came from mobile and over 70% of total traffic was on mobile. However, although mobile traffic numbers are typically high, mobile conversion rates are almost always significantly lower than desktop conversion rates.
"Retailers are finally making it less clunky and less cumbersome to buy on mobile," says Garf. "We're seeing a nice uptick on conversion rates on mobile. Overall, the mobile device really contributed to the growth on Thanksgiving. Consumers have the biggest shopping mall in the world at their fingertips."
Retailers that have high mobile traffic but low conversion rates are leaving revenue on the table. This can be remedied by improving the mobile shopping experience. Retailers need a website that is designed for mobile and has easy checkout options that include PayPal and Apple Pay. According to Adobe, smartphone shopping will be responsible for almost 50% of retail holiday growth. Not to mention, visits from retail sites from social media have tripled over the past three years, so retailers cannot afford to neglect their mobile sites.
Bottom Line
This year, the National Retail Federation is predicting that total holiday sales will grow between 3.8% and 4.2% over 2018 with total spending to reach between $727.9 billion and $730.7 billion. BFCM weekend serves as the unofficial kickoff for the holiday shopping season, and about 80% of holiday spending is yet to come. Retailers of all sizes can win big this holiday season by combining physical and digital strategies for an easy and convenient shopping experience.