Black Friday & Cyber Monday Statistics 2021: What Your Small Business Can Learn for 2022
Black Friday and Cyber Monday (BFCM) are two of the biggest shopping days of the year and among the most important for retailers' bottom lines. In fact, according to data from Salesforce, US retailers saw $62 billion in online sales alone during 2021's Cyber Week (the week/long weekend including BFCM), accounting for over 22% of online sales for the entire holiday season.
The message is clear: Consumers are ready to shop come late November and expect you to offer deals starting the day after Thanksgiving and into the following week. If you want to stay competitive for the Black Friday weekend, your business should heed that message.
Let's take a look at some 2021 Black Friday statistics, including data from Cyber Monday, and key takeaways for your business.
1. Nearly 180 million people shopped over Black Friday
A study from the National Retail Federation found that 179.8 million unique shoppers made in-store and online purchases during the BFCM holiday weekend. This exceeded the NRF's initial expectations by over 21 million people but is still slightly lower than 2020's BFCM weekend, which saw 186.4 million shoppers.
2. Thanksgiving weekend shoppers spent an average of $301.27 on holiday-related purchases
BFCM shoppers spent an average of $301.27 on gifts and holiday-related purchases such as food and decor. This figure is strong but slightly less than the $311.75 average we saw in 2020.
3. Spending was down nearly 1.5% year-over-year
According to the Adobe Digital Economy Index, consumer spending was down 1.4% and 1.3% for Cyber Monday and Black Friday, respectively, each representing about $100 million less in revenue.
4. Products sold over Cyber Week shrank by 6% due to supply chain shortages
Compared to what the US saw in 2020, the number of products sold during the BFCM weekend was down by 6% in 2021. Salesforce attributes this to supply chain issues and a lack of available products on the shelves.
5. Clothing and accessories were the most shopped gift categories over the weekend
According to the NRF, the top gifts sold over the BFCM weekend were clothing and accessories, which were purchased by 51% of survey participants. Toys was the runner-up category (32%), followed by gift cards (28%), books/music/movies/video games (27%), and electronics (24%).
6. 47% of holiday shoppers planned to take advantage of sales or price discounts to make non-gift purchases
Just under half of shoppers planned to spend an average of $118.41 on non-gift sale items in 2021. That's on par with 2020 but down from 60% of shoppers spending an average of $162.02 on sale items in 2019.
7. People shopped online more than in stores every day of the holiday week
While in-store shopping was up in 2021 compared to 2020 (which we will touch on later), online shopping channels still dominated the BFCM shopping period.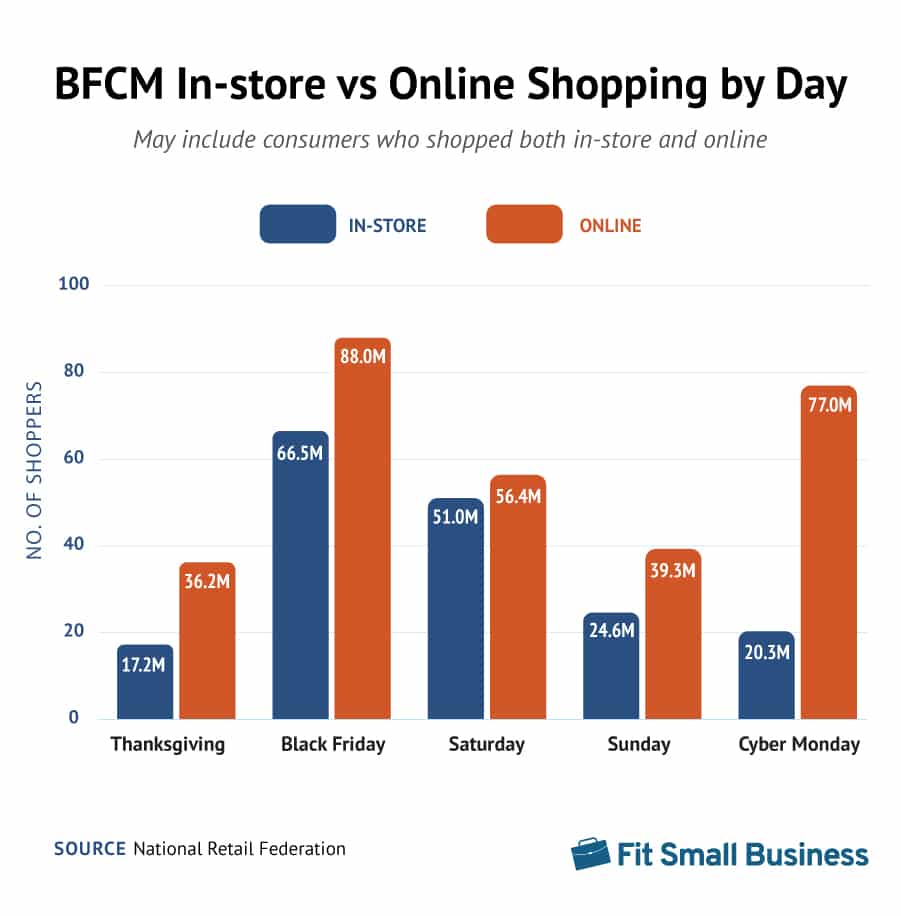 8. Supporting local businesses remained top of mind for many consumers
As small businesses struggled during the pandemic, a social consciousness to support them was born—and it didn't die out in 2021. More than 70% of consumers said they came out specifically to support small businesses on BFCM weekend's Small Business Saturday.
9. Buy Now, Pay Later (BNPL) revenue increased 21%
BNPL services are growing in popularity, which we saw over the BFCM weekend. BNPL revenue on Cyber Monday increased by over 20% compared to 2020.
10. Curbside pickup was used in 18% of online orders
Almost one in five online orders on Cyber Monday were curbside pickup orders, demonstrating that making this service available is a necessity for converting sales in 2022.
11. Retailers offering a pickup option grew their revenue by 50% more than retailers who did not
Driving home the importance of in-store pickup options, a report from Salesforce found that retailers providing curbside or in-store pick up options increased their year-over-year Black Friday revenue 50% more on average than retailers without the services.
12. In-store shopping is making a comeback with 66.5 million in-store shoppers on Black Friday
As the pandemic is winding down, people are beginning to return to stores. In fact, Black Friday saw over 66.5 million in-store shoppers. According to data from RetailNext, this was a 61% increase in foot traffic compared to the same day in 2020. While this boost is a great sign, in-store traffic was still 27% below pre-pandemic rates in 2019.
"While in-store shopping is still not back to 2019 levels, more shoppers felt comfortable visiting stores in person this Black Friday than in 2020," Brian Field, senior director of global retail consulting at Sensormatic Solutions, said. "One driver of this increased traffic could be ongoing supply chain challenges and shipping delays."
13. Retailers saw a decrease in the number of online shoppers as foot traffic rose
The BFCM weekend saw a return to some normalcy as foot traffic increased across the retail industry. In fact, approximately 104.9 million shoppers visited stores over the holiday weekend, up from 92.3 million in 2020. Not only that, the balance between in-store and online seems to be moving closer to equilibrium with a 12% decrease in online shoppers from 2020.
14. Footwear and apparel foot traffic was up the most
It seems like people are still being selective with what they are willing to go to stores to shop for, with footwear and apparel foot traffic seeing the greatest increase over 2020's BFCM weekend. RetailNext found that traffic in footwear stores and apparel shops was up 86% and 75%, respectively. Traffic is still not where it was in 2019, however, down 24% and 23%, respectively, in those two categories.
15. People used their mobile devices to shop
A growing trend in retail overall is the increase in mobile browsing and sales, and BFCM weekend saw this as well. In fact, 69% of online product discovery and browsing for the weekend happened on mobile devices compared to only 31% on laptop or desktops.
16. 42% of Black Friday ecommerce revenue came from mobile sales
Research from Adobe found that 42.4% of Black Friday ecommerce revenue came from mobile sales. This translates to about $3.7 billion—a 2% increase over the previous year and a new record for Black Friday.
17. Discounts were weak compared to previous years
Compared to previous years, 2021's discounts were much lower than usual. On Cyber Monday, average discount levels were as followed:
Apparel: 18% (20% in 2020)
TVs: 13% (18% in 2020)
Electronics: 12% (27% in 2020)
Sporting goods: 8% (20% in 2020)
Appliances: 8% (20% in 2020)
According to Salesforce's analysis, "Holiday inflation coupled with lower discounts meant deals were harder to find this year. Over Cyber Week, the Average Selling Price (ASP) was up 11% in the US and 5% globally compared to last year. Meanwhile, the average discount over Cyber Week was … down 8% YoY."
18. Global marketing communications surged over Cyber Week
Retailers were doing all they could to reach their customers on this competitive weekend, and one of their top strategies was marketing communications like SMS and email. Over the BFCM weekend, over 40 billion messages were sent to customers, increasing 34% from 2020. Not only that, but mobile push notifications grew 114% and email volume increased by 25% from the previous year.
Bottom Line
There used to be a differentiation between Cyber Monday and Black Friday. However, with the growing tendency for consumers to shop online and to do so earlier and earlier, Black Friday now marks the beginning of a weekend of deals that shoppers expect to last through the weekend to Cyber Monday (and sometimes even beyond).
Black Friday and Cyber Monday are some of the biggest shopping days of the year, and when you can capitalize on the buying intent they bring, your business stands to make a huge profit.
You Might Also Like …
A comprehensive guide to starting your retail business