Blog vs Vlog: What's the Difference & Which Is Best?
Both blogging and vlogging are wildly popular ways to make money online. The real question is, which one is right for you? If you're on the fence about whether to start a blog vs vlog, you need to understand the core differences between vlogging and blogging. You'll also want to master the best practices that today's top bloggers and vloggers use to achieve phenomenal success.
What Is a Blog?
Originally called a weblog, a blog is a log of content produced and posted online. Blogs are often created and managed by individuals but are also popular on business websites. People who write blog posts are called bloggers.
While general interest blogs exist, most blogs are directed to a specific niche market or group of people who share common interests, wants, or needs. A blog is not a static document, but rather an ongoing mode of communication that is updated regularly with new, relevant content.
Blogs typically contain dynamic links to other online content and may also include interactive or community engagement components such as a comments section. Blogs started out primarily as text documents, but today's far more sophisticated blogs often feature dynamic visuals and videos.
What Is a Vlog?
A vlog, or video log, is the video equivalent of a blog. Like blogs, most vlogs target a niche audience that shares common interests and needs. While vlogs can and should be supported by text or metadata, the star of a vlog is the person or people talking on the video.
Two things fueled the explosion of vlogging. The first was the 2005 launch of YouTube, which is still the most popular platform for vloggers. The second was a rise in popularity of the smartphone, particularly once smartphone video capabilities advanced to the point where virtually anyone can record high-quality videos from just about anywhere.
When You Should Blog vs When You Should Vlog
The key differences between blogging and vlogging are the degree to which the content creator uses video as well as where the content is hosted. If you love talking to people and feel comfortable on camera—and don't necessarily want to build a website—vlogging may be best for you. If you're a person who excels at the written word and wants to create your own website, blogging may be right for you.
Many people are choosing to blog and vlog as they find that using both text-based and video-based content helps them reach the widest audience possible.
Blogging vs Vlogging Comparison
|   | Blogging | Vlogging |
| --- | --- | --- |
| Popularity | 31.7 million bloggers in the U.S.¹ and 77% of internet readers read blogs² | 2 billion YouTube viewers worldwide and 5 billion videos are watched daily³ |
| Editing Possible After Publishing? | Yes | No, though you can repurpose previously recorded footage |
| Content Hosting Expenses | Free to $29 per month | Free via YouTube, Instagram (IGTV), Facebook, or TikTok |
| Content Length Supported | Short to long | Short to long; video lengths allowed vary by platform |
| Equipment Required | Computer or smartphone, an internet connection, and a blogging platform | Smartphone or camera with video capabilities, microphone, lighting equipment, internet connection, video editing software |
| Search Engine Optimization (SEO) Potential | Text-based content is easy to optimize for search | Video-based content is more difficult to optimize |
| Popular Monetization Options | Advertising, brand sponsorships, affiliate marketing, product, and service sales | Advertising, brand sponsorships, affiliate marketing, product, and service sales |
| Audience Demographics | Varies by niche | Varies by niche; in general, videos are more popular than text-based content with audiences under 30 |
| Earnings Potential | $0 to six figures or more | $0 to six figures or more |
¹Statista; ²OptinMonster; ³Statista
Another Option to Explore: Podcasts
I'd be remiss if I let you believe that your content development options were limited to just vlogs and blogs. Another popular way to build and connect with an audience is through podcasting. Podcasts are typically audio-based but can be audio-plus-video-based. A podcast is an ideal way to serve an audience that prefers to listen to content on-the-go.
| Use | When Your Audience Prefers to |
| --- | --- |
| A blog | Read your content |
| A vlog | Watch your content |
| A podcast | Listen to your content |
How to Get Started Blogging
There are several ways to get started blogging. You can blog on social channels, including Facebook, Instagram, Tumblr, or LinkedIn. You can also blog on general publishing sites like Medium.
If your goal is to make money as a blogger, I recommend building a self-hosted WordPress blog. WordPress is the most popular and flexible blogging platform in the world. Even better, you can launch your WordPress blog with Bluehost as your hosting provider for as low as $2.95 a month.
Choose a Profitable Blogging Niche
There are thousands of blogging niches to choose from, but some tend to be more profitable than others. To be successful as a blogger, you want to choose a niche that aligns with your interests and skills and gives you the optimal odds of accomplishing your blogging goals.
Here are the 11 most popular blogging niches:
Mom and parenting blogs
Food and cooking blogs
Lifestyle blogs
Business blogs
Fitness and wellness blogs
Entertainment blogs
Personal finance blogs
Craft, hobby, and DIY blogs
Travel blogs
Product review blogs
Fashion and beauty blogs
Create Excellent Blog Content
A blog's overall content strategy will significantly influence how well the blog performs. The secret to blogging success is to create amazing content on topics that are in high demand. When you consistently develop superior-quality content, you can build a successful blog that stands the test of time.
Your blog content can be primarily text-based—which is relatively common. The best blogs tend to mix up how they present content on their sites by adding interactive quizzes, videos, and high-impact graphics.
One way to make the most out of your blogging content development efforts is to repurpose your blog content. For example, you can transform your blog posts into scripts to record as videos for your vlog.
How Do Bloggers Make Money?
There are several ways to make money as a blogger. The income you'll make blogging will depend mainly on the type of audience you serve, how much traffic you drive to your blog, and the types of monetization strategies you choose.
Here are the most popular ways bloggers make money:
Affiliate marketing, which is when you receive a fee for promoting others' products or services
Sponsored content
Develop and sell online courses
Write and sell books and e-books
Sell professional or freelance services
Sell physical products—your own or others' products
How Much Do Bloggers Make?
Those who treat their blogs like a business and operate with a strong blog business plan make a lot more money than those who treat their blogs like hobbies. Some bloggers never make a dime, while many get stuck in the $200 to $2,500 a month range.
It is possible to make five figures or more per month as a blogger. In fact, many bloggers have shed their 9 to 5 jobs to create successful blog businesses that allow them to work from anywhere. To be honest, you probably won't make a fortune as a blogger overnight, though. It takes a lot of hard work to build a profitable blog, but it's certainly possible.
How to Get Started Vlogging
Getting started as a vlogger can be as simple as holding your smartphone in front of you, hitting the record video button, and then posting your new video on YouTube or another popular vlogging platform. In truth, successful vloggers put a lot more time and effort into coming up with their overall vlogging strategies and creating amazing shareworthy videos.
Choose Your Vlogging Platforms
The most successful bloggers typically build their blogs on their own websites. Unlike bloggers, the most successful vloggers vlog on platforms that host their videos for them.
YouTube is by far the king of platforms for vloggers due to YouTube's massive active user base. There are more than 30 million YouTube channels with 15 million creators uploading 80 million each month. About 16,000 YouTube channels have more than a million subscribers—an indication that many are making it big as vloggers.
While YouTube dominates, it's not the only place where you can vlog. You can vlog on Instagram via IGTV, which stands for Instagram TV. You can also vlog on Facebook through the social channel's live video option or host videos on Facebook via Facebook Watch.
Perhaps the most exciting and explosive trend in vlogging is TikTok, a video-sharing social networking service. Individual videos on TikTok are limited to a mere 15 seconds, though you can string four 15-second videos together for up to 60 seconds of total viewing time. The most popular vlogs on TikTok are playful and entertaining.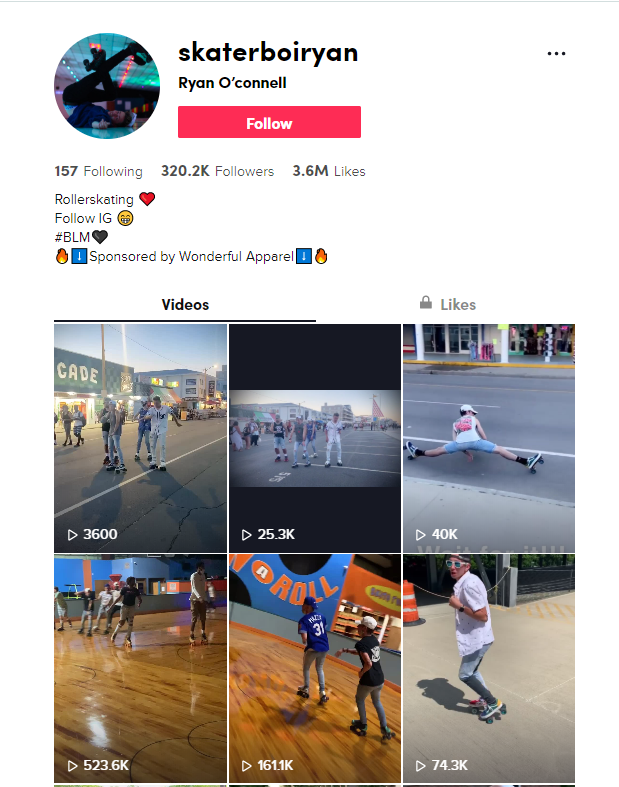 Choose a Profitable Vlogging Niche
While there is a lot of overlap in niches for vloggers and bloggers, there are also differences. Beauty, fashion, fitness, lifestyle, finance, and travel are hot niches for both blogs and vlogs. Gaming, comedy, and entertainment are other niches that tend to work exceptionally well for vloggers.
Is Your Ideal Audience Under 30?
One thing that differentiates vlogging from blogging is audience age. Millennials in particular often prefer video content over text-based content. If your ideal audience is under 30, you need to strongly consider vlogging as part of your content strategy.
Create Excellent Vlog Content
Whether you're a blogger or a vlogger, quality content is a must. How you go about creating that content, though, is vastly different.
Get the Right Equipment for Vlogging
Vloggers who are just starting out sometimes underestimate what goes into creating a shareworthy video. It's not always easy to produce the high-caliber videos today's audiences expect. That being said, a video that offers extreme value to viewers doesn't necessarily need to be as polished as a high-end Hollywood production.
Here is a list of equipment commonly used for vlogging:
A smartphone or camera with video capabilities
A microphone that can capture your voice without picking up background noise
Sturdy support for your camera, such as a tripod
Auxiliary lighting options when natural light is insufficient
Teleprompter software, which can be downloaded to a tablet or laptop
Professional backdrops
Video editing software such as iMovie, Windows Movie Maker, or Filmora9
Show Charisma on Camera
In addition to using the right equipment to create your vlogs, you'll need to work on your video delivery skills. In truth, very few people are flat-out naturals at being charismatic on video. It may take a fair amount of practice to become skilled at speaking on video with finesse and flair. As with any skill, though, the more experience you get under your belt, the more engaging you'll come across as a vlogger.
Create a Vlog Script to Save Time & Create Content
Some vloggers "wing it" when they speak on camera, but a lot more are just good at making it look like they're winging it when they're actually speaking from a script. Scripts allow you to minimize both the amount of time you spend filming your vlog and editing it. Using a script also helps you stay focused on the content you want to feature on your vlog, thus serving your audience better.
How Do Vloggers Make Money?
For the most part, vloggers make money using the same monetization techniques bloggers use, including advertising, affiliate marketing, sponsored posts, and selling all types of products and services.
Vloggers can earn advertising income through Google AdSense for content posted on YouTube. You'll need at least 1,000 subscribers and 4,000 public watch hours within the last 12 months to join the AdSense program for YouTube.
How Much Do Vloggers Make?
It's difficult to report what the average vlogger earns because very few vloggers make that information public. As with bloggers, vlogger income varies greatly—and I'm talking from $0 to millions.
Vlogger advertising payouts on YouTube average between $10 and $33 per thousand ad views. The most successful vloggers diversify their income streams, often using sponsored videos and product sales to generate the lion's share of their income.
According to a recent YouTuber survey, vloggers earn anywhere from $100 to $1,000 in sponsorship fees for videos with 10,000 monthly views. Vloggers with views in the millions each month can earn five- and even six-figures in sponsorship fees for a single vlog post.
Bottom Line
The choice between whether to blog vs vlog comes down to your personal preferences for developing content. Some people have personalities that are a natural fit for video, while others are born writers. You can make a great living as a vlogger or blogger, but to make the most money possible in today's world where audiences for nearly every niche want to consume content in multiple ways, you may want to both blog and vlog.