This article covers how to make money blogging using affiliate links, advertising, sponsored posts, memberships, and even sales of digital and physical goods. You'll learn the many ways to monetize a blog and explore how full-time bloggers combine several income streams into a river of predictable monthly income.
The first step in learning how to make money blogging is by starting a blog and building an audience. Our step-by-step guide shows you how to launch and grow a WordPress blog using our recommended provider, Bluehost. If you're new to blogging, Bluehost's simple startup process gets you up and running in no time so you can focus on growing your audience and trying out the income opportunities we cover below.
The five ways to make money blogging are:
1. Make Money with Affiliate Links
Affiliate links enable you to make money blogging by featuring products and services sold by other companies in your blog content. Affiliate links are trackable image and text links that you place within your blog posts. When your reader clicks on a link, they're sent to the affiliate business website. Once there, if your reader completes an action, usually a purchase, form submission, or email signup, you get a paid a commission. Affiliate links are an easy and fun way to monetize a blog, and new bloggers can easily get on board.
Learn how much bloggers make and how you can boost your revenue by visiting our article.
How to Make Money Blogging Using Affiliate Links
Virtually all large, mid-sized, and small online stores and service providers have affiliate programs, and the process is simple:
Sign up for an affiliate program (we list options below)
Create content to highlight affiliate companies' products or services
Insert text or image links provided by the affiliate company into your content
Promote your blog content to your audience via email and social marketing
Here's an example of Amazon affiliate links placed in a blog post:
The real key to monetizing your blog with affiliate links is targeting products that enhance your blog's brand and message and then featuring them in engaging blog content, such as:
Product review posts
Top picks and featured finds posts (shown above)
Best-of roundups or list posts
How-to's and DIY project posts
Recipe posts
For affiliate link success, it's critical that bloggers find their voice, create a consistent message and identity, and feature affiliate brands and products that closely align with the blog's focus. Bloggers occupy a unique position of providing word-of-mouth marketing, which is proven to drive online sales, but the message must be authentic. Readers are quick to discredit bloggers publishing pitchy or ill-matched promotions. Carefully connecting affiliate products to their brand helps bloggers stay "in the lane" and keep their voice authentic. – Sarah Beeskow Blay, Vice President, ShareASale
How to Find Affiliate Partners
Many large online brands and service providers have affiliate programs. Depending on your blog's focus, top names in your affiliate list might include:
Affiliate networks are another source you can tap to access a number of potential partners within one system. This is very handy for bloggers seeking the perfect fit. Plus, they ensure you get paid correctly and on time.
Here's a look at a few of the hundreds of affiliate programs listed on ShareASale, a top-rated affiliate network. Note the product-specific links on the left, which help you find the just-right fit in a snap.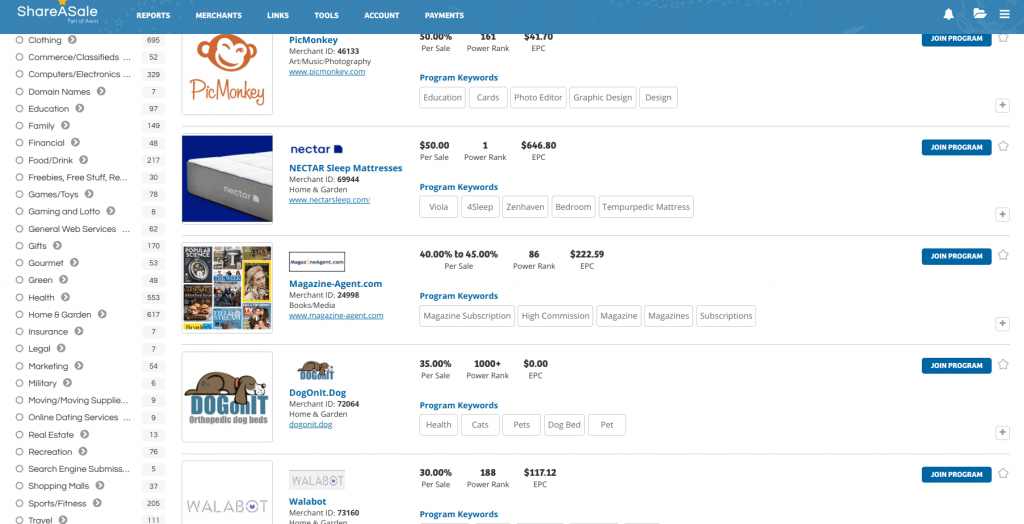 Along with ShareASale, other top affiliate networks include Rakuten, ClickBank, CJ Affiliate, and Avangate.
If you're serious about learning how to make money blogging and maximizing your blog's affiliate income potential, consider a trip to one of the Affiliate Summit trade shows. These take place in the U.S. twice each year, as well as overseas. This is an immersive affiliate event where you'll meet an array of affiliate partners looking for niche bloggers, plus learn all about affiliate marketing from the ground up.
Some affiliates have the misunderstanding that affiliate marketing is a way to get rich quick, and it's not. Patience and perseverance are two of the most important things for affiliate marketers. Affiliate Summit can help those new to affiliate marketing by introducing them to tools, tactics, and strategies in educational sessions, and providing an array of networking opportunities to people and businesses who could be their next big partner. – Shawn Collins, Co-CEO, Affiliate Summit
Affiliate Link Costs & Income Potential
As a rule, affiliate programs and networks have no upfront costs. These companies are paying you to market their products to your readers. These payments range from a percentage of a sale to a flat fee per action. Affiliate link income potential is limited only by the work you put into your blog. Many successful bloggers make six-figure incomes and more, with affiliate links a primary source. Others happily make a little each month as a side gig.
Here are some examples of blogs using affiliate links well:
Amanda's Cookin' – cooking and recipe blog builds affiliate links into recipes and kitchenware reviews
The WireCutter – tech gadget blog posts include product reviews and "Best Deals" lists with hot-selling affiliate products
SimplySmartLiving – lifestyle blog uses Amazon Associate links to create buyable product listings
Another reason affiliate marketing is so popular is that you can use it to make money blogging from day one. Unlike advertising (which we discuss next), you don't need a huge audience to make money from affiliate links. If you position carefully curated affiliate products and services in your blog posts, you can see healthy click rates and income from a relatively small audience.
2. Make Money with Advertising
Advertising is another way you can make money blogging. In most cases, you need a decent amount of traffic before you see any real income from running ads. However, it costs nothing to run ads, plus it's easy to monetize your blog sidebar or banner real estate with various advertising options.
How to Make Money Blogging Using Advertising
You can set aside ad spots in your website header, sidebar, and footer, and even insert ads within your blog content pages. Pop-ups can also be used for ads, but you don't want to overdo these or you'll frustrate your readers. Here's a good example of a WordPress blog with header and sidebar ads, plus a pop-up footer that your reader can close if they wish:
Most WordPress themes make it easy to reserve specific areas like the ones shown above. Then all you have to do is copy and paste a few lines of code that you get from your advertisers into these spots, and they take care of the rest.
How to Find Advertisers
Some online advertisers, like Google, run their own advertising program, but most bloggers use advertising networks to run a variety of targeted ads. You can also sell these spots yourself. Here's a closer look at these options:
Google AdSense – Displaying Google ads is a simple set-it-and-forget-it process, but your blog must be active for at least six months and meet other eligibility factors.
Advertising networks – Advertising networks like PopAds and RevenueHits offer easier entry for newer blogs with no minimum requirements, unlike Google AdSense.
Sponsor advertising – Sell ad space yourself to targeted sponsors and partners who pay monthly or quarterly fees to hold featured spots. Local bloggers and those with niche followings can usually find businesses that want to get the word out via sponsorship.
Affiliate link ads – Many affiliate programs that we covered above also provide sidebar and banner ads that self-refresh, so your blog always shows an updated ad for things like seasonal specials or holiday sales. Amazon Associates offers bloggers a nice selection of affiliate banner and sidebar ads, like these:
Advertising Costs & Income Potential
Like affiliate links, advertising has no up-front cost. How much you can make depends on your visitor volume and the types of ads you're running. Some ads pay based on the number of ads, or impressions, that your readers see, others on the number of times readers click on the ad. Still others operate under an affiliate model and pay when a reader completes an action, like a purchase or sign up.
Here's a closer look at your income potential for each:
Pay-per-thousand (PPM) – This type of blog advertising pays based on the number of total ad impressions your blog displays, and usually runs just a few dollars per thousand. If you don't have a lot of traffic, you won't make much using PPM advertising.
Pay-per-click (PPC) – Pay-per-click can bring in more advertising income on less blog traffic, especially if you closely target PPC ads to match your content topics. Google AdSense provides set-it-and-forget-it content matching for PPC ads.
Pay-per-action (PPA) – Pay-per-action typically pays the highest rates, but requires that your reader clicks on a link and completes an action, like filling out a form, signing up for a service, or making a purchase. These are also called performance campaigns, and some pay as much as $50 or more per completed action.
Here are some examples of blogs using advertising well:
Car Advice – high-traffic car enthusiast blog using Google AdSense to deliver sidebar advertising
Crafts by Amanda – popular craft blog builds Google AdSense and other network ads into banners, sidebars, and footer pop-ups
Dooce – hip comedic blog using Google AdSense and other network ads in sidebars and footer pop-ups
Since advertising is a volume game, few small and mid-sized bloggers make the majority of their income through advertising. But it's an income stream any growing blogger should consider. Like affiliate marketing, blog advertising is easy to match to your blog's unique message and audience, requires little upkeep month over month, and costs you nothing.
3. Make Money with Sponsored Content
We mentioned sponsor ads above, but that's not all you can do to generate income streams with select partners. With sponsored content, a company pays you to craft soft-sell blog content centering on their product or service. Most bloggers find sponsored content a fun and rewarding way to make money from blogging.
How to Make Money Blogging Using Sponsored Content
Sponsored content can be a blog post, video, or podcast that you are paid to create in order to present a specific company's product or service to your readers. Sponsored content generally matches your usual content format, with the exception that the message focuses on what your sponsor wants to convey. Because of this, it's imperative that you clearly state that you've been paid to create information on behalf of your sponsor. If you don't, you can quickly break your readers' trust with your blog brand and run afoul of FTC guidelines.
We occasionally publish sponsored posts and clearly state that fact at the top of every page and close to the beginning of each sponsored article, like this: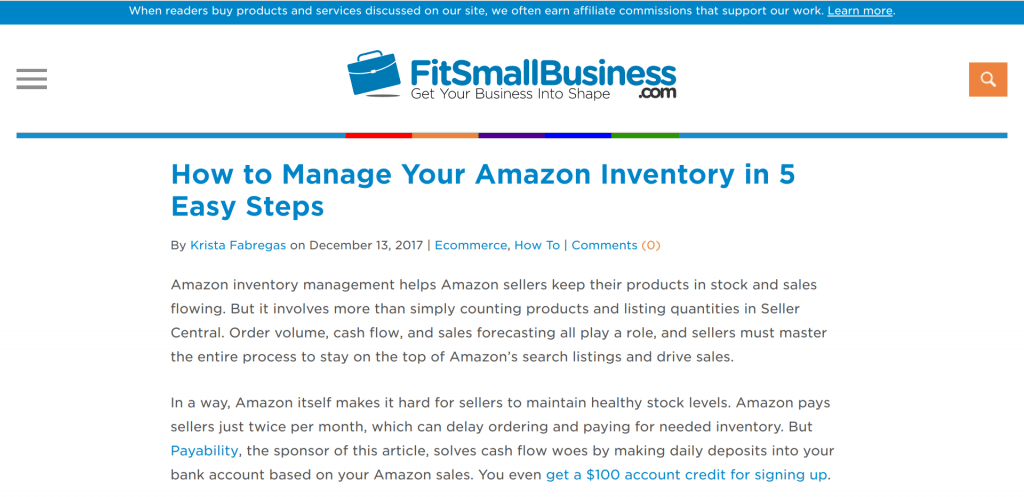 Sponsored content can take many forms and is sometimes referred to as native advertising or influencer advertising. Whatever the name, it's content that the blogger is paid to create and publish. Here are some top ways to easily and effectively slide sponsored content into your blog mix:
Write a tutorial about a service or product
Create a DIY project or recipe using the item
Make a Top Picks or Faves roundup type list
Do an in-depth product or service review
Create a review or how-to video
Match an item to seasonal use
Create a "What's New" rollout for things hitting the market
How to Find Sponsors
To entice sponsors to pay you to feature their products or services, you need to have a track record of publishing quality articles and attracting a sizable, targeted audience. Once you've been blogging for a while, have good content to tout, and can show respectable readership, you're ready to seek sponsors.
There are different ways to approach this, but most of it is good-old-fashioned research and pitching. Blogger-sponsorship matching networks like these can help you get started:
Once you've dipped your toe into sponsored content using the blogger networks, you can also research potential partners that align with your blog brand and pitch them directly.
Sponsored Content Costs & Income Potential
Acquiring sponsors and crafting posts to meet their needs takes work, but the income can meet or beat affiliate and advertising dollars if you do it right. It costs nothing to join most networks as a publisher, but you'll put time into finding sponsors and crafting posts that meet their approval. So you should place a dollar value on the time you spend to best gauge your ROI on sponsored posts.
Since you need to craft fresh content for your blog anyway, why not get paid for it? Over time, most bloggers develop relationships with a few well-aligned brands, which helps increase their per-post income plus makes approvals quick and easy.
Here are some examples of blogs using sponsored content well:
My Life and Kids – family-focused blogger creates recipes and how-to's that feature and promote branded products, like this smoothie recipe using Silk brand milk
Rachel Pitzel – personality blogger creates sponsored content covering all types of family, fashion, and lifestyle topics
The Savvy Backpacker – this travel blog funds a travel lifestyle by creating sponsored content for travel gear
4. Make Money with Memberships & Subscriptions
Many successful bloggers create educational content and earn money by selling access to members-only content sections on their website. Things like online courses, video tutorials, and subscription-based coaching work well for this income stream, as you can see on this music instruction website:
To monetize an instructional blog, you need content that's delivered in components, like lesson posts, videos, webinars, and downloadable PDF files. Plus, you need to add capabilities to your blog to present members-only content to subscribers.
How to Make Money Blogging Using Memberships & Subscriptions
To make this model work, you need to be able to lock select content away from non-members, limit access by subscription level, and process one-time or repeat payments. You can do all of this with WordPress e-commerce plug-ins that are specifically designed to manage subscription content, such as:
How to Craft Membership-worthy Content
This income-generating content can take many forms, from simple downloadable PDF files and e-books to ongoing video series, live and replayable webinars, and online classes. Typically this content is delivered in one or more paid subscription levels using the tools provided in a membership platform. Content access can also be timed-release, which is called "drip content" in membership and subscription lingo.
The key goal is to present instructional content in short bites so members continually come back for more. One tactic that's widely successful in building membership is a free giveaway in exchange for an email address. Offering a valuable bite of content for free, like an e-book or video how-to, is pure gold when it comes to building an email list. Be sure to craft a few free items to entice potential subscribers to join your email list so you can then market the benefits of your paid service.
Potential subscribers generally don't buy the first time they visit your blog or website, but they're very willing to exchange their name and email address for a giveaway item of value. Offering free downloadable gifts helps you build a marketing list and more. Done right, it identifies who your potential customer is (name) and what they want (based on the free gift they select), and it gives you a way to stay in touch (email). You can use this data to send follow-up emails with targeted content that pulls them back to your site for more. Once there, you can convert them to paying members. – Lee Blue, CEO, Cart66
Memberships & Subscription Costs & Income Potential
Most subscription management platforms have minimal ongoing costs, but creating video, webinar, or e-book content can have upfront costs. You can save money creating them yourself, but you can also find help from reasonably priced freelancers on Upwork and Fiverr.
Here are some examples of blogs using subscription and premium content well:
Web Cooking Classes – series of executive chef-led online cooking classes delivered via progressive videos
Our Worship Sound – blog delivers online music lessons on a subscription tuition basis
Timothy Sykes – stock trading pro uses paid online memberships to unlock premium content
The good news is educational products tend to be evergreen, so your money making potential is limitless. As long as the information is timely, you can make money from this content on a repeat basis with every new subscriber you gain.
5. Make Money Selling Products
Many bloggers successfully turn their viewing audience into shoppers by selling all sorts of products right on their WordPress blog. How you approach this depends on several different factors. Your audience and brand, the money you have to invest in products, and how hard you want to work all play a role in monetizing a blog through product sales.
How to Make Money Blogging by Selling Products
Here's the good news: you don't have to buy, store, pack, and ship products yourself to sell products on your blog. You can of course, and many do, but that's not your only option. Here are several ways to sell products on your blog and be as hands-off or hands-on as you wish:
Hands-off product sales options for bloggers
Sell digital products – Downloadable items like e-books, music, podcasts, WordPress themes, photos, graphic design, and artwork are easy to list and sell on a blog.
Sell print-on-demand (POD) items – Your original artwork, images, and funny or thoughtful phrases can be printed onto T-shirts, mugs, totes, and more with POD vendors who make and ship goods straight to your buyers.
Drop-ship items – Drop-ship vendors let you list products to sell, then when they sell, they ship them to your customers for you.
Hands-on product sales options for bloggers
Make products to sell – Many crafters and artisan bloggers make goods to sell on their blog, or sell crafting or recipe kits that are tied to blog content.
Private-label cosmetics and personal care items – Beauty, health, and lifestyle bloggers can easily expand their blog brand into products using private label manufacturers. Once you've developed your selection to match your brand, you can store and ship products yourself or use a fulfillment service.
Sell wholesale goods – You can buy goods to sell on your blog and store and ship them yourself or have a fulfillment company handle the storage and shipping for you.
Subscription boxes – Many bloggers find that subscription boxes are a great middle-ground. It's a tightly-branded physical product to sell, but the selling, sourcing, and shipping are done on a monthly schedule, not day-to-day, which leaves more time for blogging.
To do all of this, you need to be able to accept orders, process payments, and in some cases, print shipping labels. E-commerce plug-ins are what you use to add these functions to your WordPress blog. Visit our WordPress e-commerce guide to learn more about top options and our guide to selling on WordPress to learn just how to do it.
Product Sales Costs & Income Potential
When looking at how to make money blogging, selling products can have the highest upfront costs—or none at all. Learning how to make money blogging by selling products can provide a healthy income, but you have to balance what you make against your purchasing, fulfillment, shipping costs, and time spent managing it all.
Hands-off products have little upfront costs. Digital products tend to have the lowest creation costs and therefore the highest profit margins. Dropship and print-on-demand products carry little to no upfront costs, but vendors do charge you each time you sell a product. Plus, you have to handle customer service issues yourself, and that takes time away from blogging.
Hands-on products have higher overall costs since you need to purchase raw materials or buy goods from suppliers. Plus, you have to store and ship goods to your customers. This places you into a whole new segment of e-commerce that involves fulfillment operations and shipping costs. Many bloggers who go this route use fulfillment companies to handle the day-to-day tasks so they can focus on growing their blog and other income streams, too.
Here are some examples of blogs that have added virtual or physical product sales to their mix:
Scribbler – this monthly subscription box is the combined effort of three successful author bloggers who curate gear dedicated to the writing craft
Wil Wheaton – celebrity actor and writer blogs regularly and sells e-books and audiobooks via download
Colossal – art-focused blog has a dedicated online shop section that sells fun things for creative people
The Bottom Line
Bloggers have many different income streams at their disposal, and money-making bloggers all have one piece of advice: Variety is the key. Blogging is an ever-changing medium and your content, audience, and market are also constantly changing. In learning how to make money blogging, rule one is this: Always be ready to test new blog monetization options and adjust your strategies.
You can never put all your income eggs in one basket. As a blogger, I've earned revenue by developing products (craft kits) and writing books, as a columnist for the Chicago Tribune, and as a contributor to print magazines and large websites. At this point in my blogging career, my traffic drives revenue streams mainly from advertising, affiliates, and sponsored posts. I highly recommend diversifying income to those still new or newish in their blogging adventure. – Amanda Formaro, Founder, Amanda's Cookin' and Crafts by Amanda blogs
Plan to combine different income streams in a mix that works for your unique content focus and target audience. For some, it may be affiliate marketing and sponsored posts, for others it might be memberships and monthly subscription boxes. Whatever it is, make the most of your income streams by continually crafting content that rocks.
How do you make money blogging? Do you use any of the blog monetization strategies discussed here, or have you found another golden nugget? We'd love to hear your thoughts in the comments below.