Church Insurance: Cost, Coverage & Top Companies
Churches need to protect their assets like any other business. But getting coverage isn't as simple as asking an agent for church insurance. Rather, you need several policies, each designed for a specific risk. For instance, most churches need general liability in case a congregant suffers an injury. This policy typically costs between $500 to $1,500 per year.
Online brokers like CoverWallet make it easy for churches, mosques, and other religious organizations to get insurance. All you have to do is supply basic information, and CoverWallet matches you to a carrier that can provide your organization with appropriate and affordable coverage.
Top Church Insurance Companies
| Provider | Best For |
| --- | --- |
| | Religious organizations that want to compare offers while still getting covered quickly |
| | Churches that want broad property insurance that covers equipment breakdown and sewer backup |
| | Christian churches that want liability, property, and medical coverage for overseas missions |
| | Worship centers that want assistance with safety training to reduce claims |
| | Religious organizations that want multiple options for tailoring coverage |
Churches, synagogues, mosques, and other religious organizations face a unique set of risks—everything from equipment breakdown to allegations of pastoral misconduct—so we focused mainly on specialty carriers. These church insurance companies have industry knowledge, and that means they can typically offer coverage that provides sufficient protection at an affordable rate.
CoverWallet
Common risks in the industry, such as older buildings, high-value artifacts, and high expectations among congregations, make church insurance challenging to find, so we recommend submitting an application with online broker CoverWallet. The application is easy to fill out and often results in multiple offers to compare in minutes. This gives applicants a chance to select the option that best fits their needs.
State Farm
State Farm offers broad coverages for religious organizations, particularly when it comes to church property insurance. In addition to commercial property, churches get coverage for several common exposures, including sewer backups, equipment breakdown, and employee dishonesty. Optional coverage for cemetery liability, data breaches, and hired autos is available too.
Brotherhood Mutual
Brotherhood Mutual has been in the business of insuring Christian churches for more than 100 years. Its 350 independent agents, representing 47 states, are trained to evaluate ministry structures, liabilities, and risks so they can find churches the appropriate coverage. One unique option from Brotherhood Mutual is insurance for overseas missions, which offers coverage for liability lawsuits, ministry-owned properties and vehicles, medical payments for injured workers, and political evacuations.
Church Mutual Insurance
Church Mutual insures more religious institutions than any other insurance company in the United States and offers many property and liability insurance policies specifically designed for common church exposures. However, Church Mutual's standout offering is its library of safety resources that range from water sensors to background checks to abuse awareness training via its CM Sensors Program and MinistrySafe. These resources are ideal for churches looking to control costs by reducing claims.
Gateway Specialty Insurance
Gateway Specialty Insurance is a Berkshire Hathaway-owned brokerage that partners with 17 insurance carriers to provide quality insurance to niche markets. Its relationships with specialty insurers mean Gateway Specialty can tailor your church insurance to meet your specific needs. On top of the common insurance policies for churches, you can add coverage for equipment breakdown, business income, and special events.
Who Needs Church Insurance?
Note that we're using the term "church insurance" very broadly. In practice, church insurance applies to religious organizations of all stripes, including mosques, temples, and synagogues. It can even be appropriate for some nontraditional practices too. Essentially, religious organizations need insurance because they interact with people, often own property, and need to protect their assets.
Here are a few less common types of spiritual practices that may require insurance:
Traveling preacher: Preachers who move between locations most likely need the policies listed below, plus inland marine insurance, which covers property in transit.
Home churches: Homeowners insurance usually covers an informal prayer circle, but home churches that take donations or are connected to a larger organization need church insurance.
Yoga, tai-chi, and meditation practices: Spiritual practices like these most likely need business insurance.
How Insurance for Churches Works
Insurance for churches and other religious organizations consists of multiple policies. You identify your organization's risks and pick policies designed to cover them. Most organizations start with a business owner's policy (BOP) that covers both third-party lawsuits and damage to church property and usually costs between $1,000 to $2,600 per year.
While BOPs provide important coverage for churches, they aren't the only type of insurance that religious organizations need. Which ones your church or temple will need depends largely on the exposures you have. An exposure is the potential your organization has for loss, and that often comes from your operations.
For example, let's say your clergy offer spiritual counseling. That may be an important part of your ministry, but it also may open your organization up to negligence claims. To protect your church's assets, you can get professional liability insurance to cover your defense costs.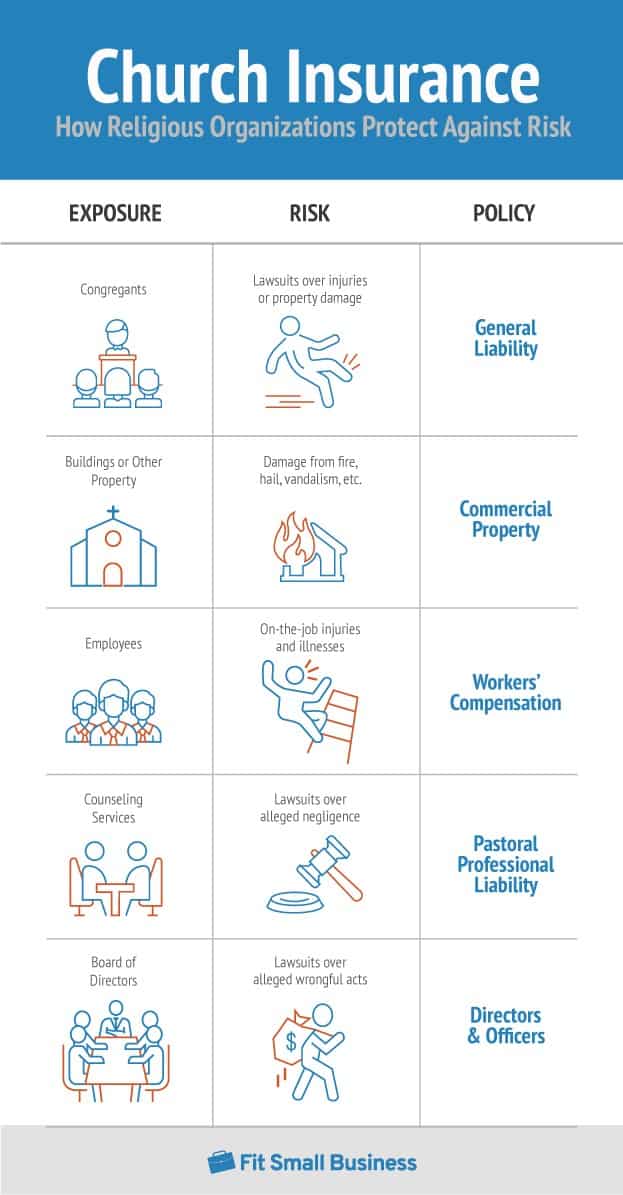 Church Insurance Costs
No two religious institutions are alike, so the insurance costs for religious organizations vary greatly. However, small churches often can keep costs down by going through an insurer that specializes in religious organizations or a broker who offers a church insurance program. By grouping many churches, brokers can sometimes get affordable coverage for organizations that insurers might otherwise decline for being too small.
Church Insurance Costs & Deductibles by Coverage Type
| Coverage Type | Coverage Amount | Annual Premium Cost | Deductible |
| --- | --- | --- | --- |
| General Liability Insurance | $1 million/$2 million | $500 to $1,500 | $0 to $500* |
| BOP | $1 million/$2 million | $200 to $1,000 | $10,000** |
| Pastoral Professional Liability Insurance | $1 million/$2 million | $800 to $1,000 | $500 to $1,000 |
| D&O Insurance | $1 million/$2 million | $500 to $1,000 | $500 to $1,000 |
| Abuse & Molestation Insurance | $300,000 | $100 to $300 | $0 to $500 |
*General liability coverage doesn't usually require a deductible. However, you may be able to request one to keep your costs down.
**Property deductible for BOP.
The table shows the typical premiums for churches with less than 300 members. General liability, pastoral liability, and D&O insurance are listed with two limits. The first is the amount insurers pay for any one claim while the second is the total paid for all claims over the policy term. Abuse and molestation coverage is listed as a sublimit because it's often added to either general liability or professional liability.
The size of your congregation impacts your premium for liability coverages, but so does:
The size of your board: Having more board members requires more insurance because it increases your risk of a lawsuit.
Your claims history: Insurers consider how often you've made claims in the past when they set your premium. You can reduce your claims with insurance waivers and other risk management techniques.
The services you provide: Group and individual counseling services can increase your premium, but so can other ministries like food pantries, daycare, and mission trips.
Your policy terms: Requesting higher limits increases your premium. Conversely, asking for a lower deductible usually reduces it.
The value of your property: A synagogue with valuable artifacts that also owns the physical structure will pay more for commercial property insurance than one that rents a storefront only.
Most Common Types of Church Insurance
| Type of Insurance | What It Covers |
| --- | --- |
| General Liability Insurance | Third-party claims of bodily harm and property damage |
| Commercial Property Insurance | Insured value of business-owned property |
| Pastoral Professional Liability Insurance | Allegations of professional negligence |
| Directors & Officers Insurance | Board members' legal defense when they are sued for actions they take for your organization |
| Commercial Auto Insurance | Costs associated with accidents in church-owned vehicles |
| Workers' Compensation Insurance | Employees' lost wages and medical bills for work-related accidents and illnesses |
| Abuse & Molestation Insurance | Accusations of sexual misconduct in a civil lawsuit |
General Liability Insurance
General liability insurance pays for third-party claims of property damage and physical injury. Third parties are people who don't work for your organization. The most common example may be congregants, but anyone who visits your church can be a third party, including delivery people and event attendees.
General liability pays out if:
A churchgoer trips on your broken stairs
Your candles start a fire in a rented worship space
A volunteer accidentally drops a council member's laptop
Volunteers can present tricky coverage situations. For the most part, the accidents they cause are covered by your general liability, so your insurer pays costs if your volunteer causes someone else's property damage or bodily injury. However, injuries your volunteer suffers aren't covered. Some states let you add coverage for volunteers as a rider to workers' compensation.
Pro tip: Volunteers get listed as insured on general liability policies. This means that while the injuries they cause are covered, the injuries they suffer are not. There are states that let you include coverage for volunteers as riders to workers' compensation policies. You may want to talk to your agent about a volunteer accident medical expense policy.
Commercial Property Insurance
Commercial property insurance covers church-owned buildings and their contents, including furnishings, fixtures, and equipment. When these items are damaged in a covered event, property insurance pays the insured value―minus your deductible―so you can have the items repaired.
Most commercial property insurance covers damage caused by:
Fire
Vandalism
Theft
Hail
Windstorms
Burst pipes
Churches may have additional property exposures to consider like outdoor signs, valuable art, and landscaping. Commercial property insurance usually includes these, but you may want to put the appropriate value on them so you know you have sufficient coverage.
Pro tip: For high-value artifacts, churches should consider adding fine arts endorsements to their property coverage. A majority of the standard commercial property policies don't allow replacement cost value coverage for these items, and they often exclude threats that artifacts are usually susceptible to, such as temperature changes and fungus.
Pastoral Professional Liability Insurance
Pastoral professional liability insurance is a type of professional liability coverage designed specifically for ordained clergy to cover accusations of negligence in pastoral care. Policies can include one-on-one and small group counseling or guidance given during a religious service.
For example, you might need professional liability if:
A couple claims your failure to provide spiritual guidance led to their divorce
A congregant says advice in your sermon caused them to make a bad investment
A member of a prayer group alleges your words caused emotional damage
Pastoral professional liability insurance covers these events by paying for your legal defense, including lawyer's fees, court costs, and court-ordered awards or settlements.
D&O Insurance
D&O insurance covers your board members' legal defense if they are sued for actions that they took on behalf of your church. These claims might include accusations of mismanagement, unfair hiring practices, and defamation and can come from current and former employees, vendors who work with your organization, donors, and even members of your congregation.
Other policies don't cover your board's actions, and that leaves members exposed to lawsuits. That can make sitting on a board unattractive, so church leaders often purchase D&O to encourage people to join. However, policies also protect the church's assets because they reduce the likelihood of board members turning around and suing the church should things go south. Since board members aren't covered by either the churches' general or professional liability policies, it makes sense to get D&O insurance. Without D&O, your board will be stuck paying all of their legal fees if faced with a lawsuit over their duties as board members.
Commercial Auto Insurance for Churches
Commercial auto insurance covers church-owned cars, trucks, and vans. Most states require businesses to carry at least liability coverage to pay damages they cause in accidents. However, you can add other coverages, such as:
Medical payments: Pays medical expenses for you, your insured driver, and passenger, no matter who is at fault
Collision: Covers damage to your church-owned vehicles caused by an accident
Uninsured/underinsured motorists: Covers medical expenses and property damage caused by a driver who either doesn't have insurance or doesn't have enough insurance
Comprehensive: Pays for repairs to your church-owned vehicles if they're damaged in something other than a collision
Roadside assistance: Covers the cost of roadside assistance like tows
Hired and nonowned auto: Covers your liability for cars you lease, hire, or borrow
Commercial car insurance follows your autos even when they cross state lines but driving while on overseas mission trips may not be covered through standard policies. Ask your agent about options for the vehicles your church owns or uses in other countries.
Workers' Compensation Insurance
Workers' compensation insurance is a state-mandated insurance policy that covers an employee's doctors' bills and partial lost wages after an on-the-job illness or injury. A few states exempt clergy from the requirement, but for those who need it, policies typically cover:
Traumatic injuries like falling from a ladder while decorating the synagogue
Repetitive strain injuries like carpal tunnel
Occupational diseases like lung disease after exposure to asbestos
There are two workers' compensation concerns that many religious organizations need to pay attention to:
Overseas employees: These employees usually aren't covered by workers' compensation insurance, so churches with foreign ministries may need foreign voluntary workers' compensation for overseas staff.
Volunteers: While laws vary per state, most policies don't include volunteers. Hence, you may want to ask your agent about volunteer accident medical insurance.
Abuse & Molestation Insurance for Churches
Abuse and molestation insurance covers accusations of sexual misconduct by church employees. These policies seldom cover the criminal aspect, but they do protect your church by covering the cost of a civil trial.
Some abuse and molestation policies cover a civil trial whether the allegations are true or false. Others may only cover your church as the employer but not the alleged perpetrator, or the policy may require you to pay back legal fees if the perpetrator is found guilty. There are lots of variations in the coverage, so it's important to ask questions before you buy a policy.
Religious organizations and spiritual practices may be nonprofits, but they are still businesses and need insurance like any other.
Bottom Line
Religious organizations face risks like any other business. They may have a greater likelihood of being sued because of laypeople's high expectations. Most churches would struggle to survive an expensive lawsuit, and that makes insurance for churches, synagogues, and other religious institutions essential.
One way you can control costs is to get quotes from CoverWallet. As a broker, CoverWallet can submit your religious organization's information to multiple carriers so that you can compare premiums and policy terms.