Special Event Insurance: Coverage, Providers & Costs
Special event insurance covers your liabilities when you host events. The type of events covered depends on who is buying the policy. Private individuals may want coverage for weddings, but business owners need it for events that are outside of their normal operations like fundraisers. Basic one-day event insurance costs start at $50, but premiums go up based on the number of factors.
If you want an easy way to get your event properly insured, use an online insurance broker like CoverWallet. It offers fast, free online quotes, and experts are available to provide specialized guidance to ensure you're properly protected. Visit CoverWallet to complete a no-obligation online questionnaire and get covered in minutes.
How Event Insurance Works
Special event insurance is designed to cover the host's financial losses and liabilities should problems arise during special functions. Depending on the specific event, hosts may suffer losses because of:
Cancellations: Nonprofit organizations may owe refunds to participants and be out of security deposits and permit fees if they cancel.
Participant injuries: Newlyweds may be on the hook for guest's medical bills and their own legal fees if the injured party sues.
Alcohol-related accidents: Losses can include the property damage and injuries an overserved party guest causes other people.
Vendor issues: Last-minute substitutions for vendors often mean more expensive bills for the host.
Bringing together large groups of people increases the chance for things to go wrong. As the host, you can be held responsible if a partygoer turns an ankle on the dance floor or the DJ's amplifiers spark a fire. However, you also have to protect your investment. If bad weather causes you to cancel a music festival, you're still on the hook for money spent on deposits.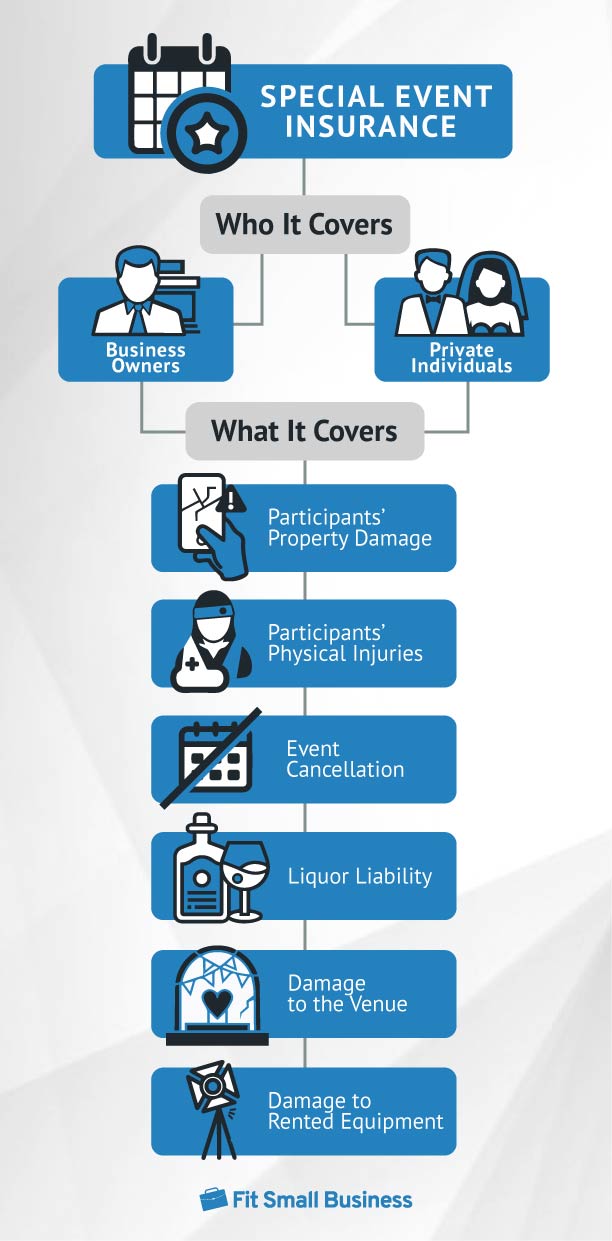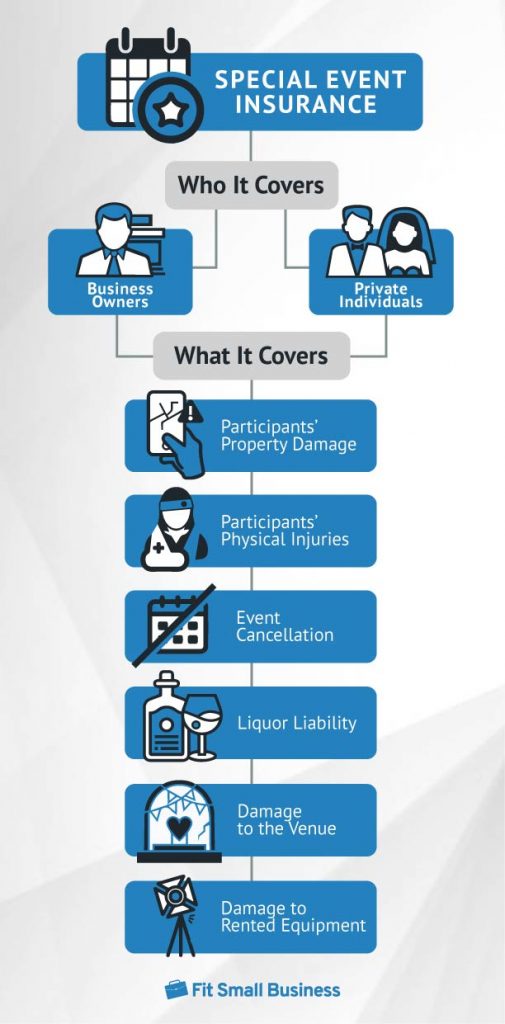 What Event Insurance Covers for Small Businesses
Small business owners may need event insurance if they host functions that are significantly different from their daily operations. These function might include:
Fundraisers
Sales or marketing events
Conferences or trade shows
Holiday parties
Networking events
Company picnics
Employee retreats
While general liability may cover some of the issues that can pop up during special functions, event insurance is a good idea for larger, more expensive events. At the very least, special event insurance protects your general liability limits if it's written as your primary coverage. This way, claims stemming from your event are covered by your special event policy first and only subtract from your general liability limits after you reach your special event coverage limit.
Basic special event policies focus mainly on liability coverage and may cost around $100 for one-day policies. However, these usually limit the number of guests and don't include coverage for liquor liability or cancellations.
In general, small business owners who need event insurance should look for policies that include:
Liability coverage: Pays a participant's medical bills or repair cost; also covers your legal fees if the participant sues for damages
Liquor liability: Covers damages an over-served guest causes other people, whether those people attend your event or not; as the business entity serving the drinks, you can be held responsible for an inebriated guest's action
Rental coverage: Pays for repairs or the replacement of rented equipment
Cancellation coverage: Reimburses you for nonrefundable deposits and out-of-pocket expenses when situations beyond your control cause you to cancel an event, such as extreme weather or a vendor's failure; some insurers also cover lost profits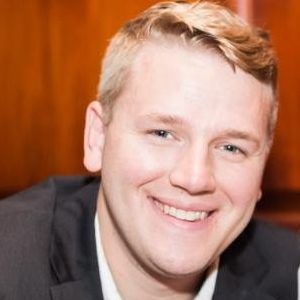 "It's important to remember that most special event insurance policies only cover the specific loss events that are outlined in the purchased policy, meaning any incidents that occur outside of these parameters are not covered. Because of this, before you purchase any type of special event coverage, you should talk to your insurance agent to make sure you understand what is and isn't covered in a specific policy."
―Kevin Drews, Head of Sales, Insureon
Event Insurance for Vendors
Vendors who work special events also need liability insurance to cover their assets if a client or venue owner accuses them of causing bodily injury and property damage. However, vendors may also want to invest in accidental medical expense insurance. This is a no-fault policy that covers an injured person's immediate medical bills regardless of who caused the accident. Vendors can often get covered through the same organizations that offer special event policies for businesses and individuals.
What Special Event Insurance Covers for Individuals
Business owners aren't the only people who may need event insurance. Private individuals often insure major events, especially when they pay a lot for it or expect a large number of people. Wedding event insurance is probably the most common private coverage, but people might also insure:
Retirement parties
Bar mitzvahs and bat mitzvahs
Quinceaneras
Family reunions
Anniversary parties
Special event insurance for private individuals covers many of the same risks you might find in policies for small businesses. Two fundamental components are liability coverage and event cancellation. Just like in a business policy, liability covers your guest's injuries and property damage, and event cancellation covers costs if you have to cancel or postpone. However, hosts who want to serve alcohol should definitely add on liquor liability coverage.
Hosts may have a hard time understanding why they need special event insurance, but imagine the costs if:
The mother-of-the-bride slips on the dance floor and breaks her hip
A partygoer knocks over a candelabra and the venue goes up in flames
A hurricane forces you to cancel your wedding, leaving you responsible for nonrefundable deposits for the venue and vendors
An inebriated guest crashes his car into a light pole on the way home from your retirement party
Some wedding event insurance also covers damage to special attire, deposits lost to vendors that go bankrupt, and lost or stolen gifts.
People with homeowner's insurance may have sufficient liability coverage for special events. This is more likely true if the event takes place in your residence. However, the cost of cancellations and liquor-related accidents may not be covered.
Notice: Event insurance, whether written for a business or a private individual, typically does not cover cancellations due to communicable disease, including COVID-19. Prior to the pandemic, you could purchase a rider to cover these cancellations but most insurers have stopped offering them.
Policyholders with communicable disease coverage need to show they were forced to cancel. For instance, they need to show that travel bans or restrictions on mass gatherings made hosting impossible. Fear of the coronavirus generally is not a covered event.
Top Special Event Insurance Providers
| Provider | Best For |
| --- | --- |
| | Low-cost special event insurance coverage and quick access to certificates of insurance |
| | Nonprofit organizations that want to compare event insurance quotes online |
| | Vendors who want annual coverage for an unlimited number of events |
| | Hosts of athletic events who need high liability limits |
| | Individuals looking for broad single-day coverage that can be extended to the next morning |
| | Wedding hosts who need event coverage immediately |
The best special event insurance providers allow you to get insurance for your special event online in a matter of minutes. Many of them also offer add-ons that let you customize coverage based on the type of event you are holding and any particular needs you have. If you're looking for special event insurance, be sure to consider these top providers.
CoverWallet
As an online broker, CoverWallet works with multiple insurance carriers that understand the coverage needs of small businesses and solopreneurs. Applications for event insurance often result in offers from more than one carrier, giving business owners an opportunity to compare costs and terms quickly. CoverWallet clients can bind online and receive certificates of insurance (COI) remarkably fast.
Insureon
Nonprofit organizations is a top industry for Insureon. Not only can nonprofits save money by quoting event coverage with Insureon, but they get to work with United States Liability Insurance Group (USLI), an insurance company that specializes in the industry and offers a package that includes special events and liquor liability. This coverage plus the experience USLI offers can be invaluable to a nonprofit looking to protect its assets.
Event Insurance
Event Insurance, a division of RVNA, is an ideal choice for vendors who regularly work special events because it offers an annual policy that covers an unlimited number of events. When you opt for RVNA's annual policy, all the events you work are covered for one premium. Vendors can get liability limits up to $5 million with free host liquor liability and an unlimited number of free certificates of insurance.
Philadelphia Insurance Companies
Philadelphia Insurance Companies is the right choice for any small business or nonprofit that occasionally hosts sporting events. Because of the high risk for participant injury, athletic competitions can be challenging to insure, but Philadelphia Insurance Companies has a long list of covered classes that range from archery tournaments to Zumba classes. Liability limits go up to $1 million per occurrence and $3 million aggregate. Premiums start at $175 in most states.
Travelers
Travelers, a well-known and financially stable insurance carrier that offers the Protector Plan® to individuals hosting weddings and other private parties. You can choose from 10 preset coverage levels, each with separate limits for key coverage types, including cancellation, special attire, and lost deposits. Hosts who opt for Traveler's single-day event liability can better protect their investment by extending their extended to 2 a.m. the day after the event.
WedSafe
WedSafe specializes in wedding event liability insurance and works with top insurance providers, including Aon and Nationwide. The company offers six limit levels for your liability coverage, ranging from $500,000 to $5 million. Plus, WedSafe can bind your policy on your wedding day and email a copy of your certificate of insurance (COI) to your venue.
Special Event Insurance Costs
Event liability insurance rates vary widely depending on the event type, length, and number of attendees. Premiums for a one-day event with 100 attendees are about $100 to $400. The rate for a three-day trade show with 2,000 attendees is closer to $1,000―more if the venue requires higher limits.
1-day Special Event Liability Insurance Costs for Businesses
Number of People

Coverage Amount

Premium

100 people

$1 million per occurrence /
$2 million aggregate

$100 to $400

1,000 people

$1 million per occurrence /
$2 million aggregate

$200 to $550

2,000 people

$1 million per occurrence /
$2 million aggregate

$240 to $700
One reason the premium range is so broad for one-day special event insurance is we had to account for liquor liability coverage. Businesses that either aren't serving alcohol or are providing it for free should see prices toward the lower end of the range. Businesses that sell alcohol take on more liability, so their event insurance costs more.
Liquor liability affects costs for individuals too. However, most people who buy event insurance for a party or a wedding get host liquor liability coverage, the type that covers service, but no sales. Host liquor liability often is included in special event insurance for private individuals.
The more interesting comparison is between policies with or without cancellation insurance. A one-day wedding event policy for 150 attendees typically costs between $100 to $200. Add cancellation coverage, and your costs may be around $250 to $400.
Tip: Business owners can get separate event policies when they host multiple events, but most find that inefficient. Usually, the better choice is to get an annual special events policy that covers all of your events throughout the year. The dates for each event must be listed on the event insurance policy for coverage to be in place.
Factors that Impact Your Special Event Insurance Costs
Insurers consider a number of factors when determining your event liability insurance costs, including:
Alcohol service: Serving or selling liquor increases the likelihood of trouble, so your premium goes up.
Expected turnout: Every guest is a potential lawsuit, so the more you expect to attend, the more you pay for insurance.
Location: Outdoor events usually cost more because you risk damage from inclement weather and uninvited guests.
Type of event: Certain events, such as music fest or sporting events, are more likely to invite trouble, so they can be more costly to insure.
Venue requirements: Many banquet halls and party venues require hosts to carry a specific amount of liability coverage.
Limits: Increasing your limits provides extra protection but also increases your premium.
Deductibles: Your willingness to pay more out of pocket can lower your overall cost.
Deductibles are a little tricky when it comes to event insurance. Event liability insurance policies don't usually require a deductible. However, some insurers have one for the third-party property damage portion. These typically start at $500, but you can usually request a higher deductible to save on your overall cost. Just remember that means you need to have that money on hand should you have to file a claim.
Tip: Some venues want to know you have insurance with the appropriate liability limits within a month of your wedding date. Others may want you to have coverage for setup and tear-down dates. Most want to be listed at an additional insured on your special event policy. Any of these can add to your costs, so talk to your venue before you compare policies.
Bottom Line
Considering most venues require a $1 million occurrence and $2 million aggregate liability insurance policy, special event insurance is a no-brainer. Even without that requirement, the risk for vendors to go bankrupt or severe weather to hit makes special event insurance plus cancellation coverage a smart investment.
If you're looking to get coverage fast, try CoverWallet. It utilizes technology to compare multiple quotes from top carriers quickly and find a low-cost option that's right for you. Get started today by filling out a free, no-obligation questionnaire online.