Special event insurance is a type of insurance that covers businesses' liabilities when they host events outside of their normal operations, like trade shows and fundraisers. Basic one-day event insurance costs start at $50, but premiums go up based on the number of days and attendees, location, and planned activities.
To get your event properly insured, check out CoverWallet. CoverWallet is an online insurance broker that makes getting special event insurance easy. It offers fast, free online quotes, and experts are available to provide specialized guidance to ensure you're properly protected. Visit CoverWallet to complete a no-obligation online questionnaire and get covered in minutes.
Top Commercial Event Insurance Providers
| Provider | Best For |
| --- | --- |
| | Low-cost special event insurance coverage and quick access to certificates of insurance |
| | Nonprofit organizations that want to compare event insurance quotes online |
| | Vendors who want annual coverage for an unlimited number of events |
| | Event hosts who want to add cancellation coverage to their event insurance |
| | Hosts of athletic events who need high liability limits |
The best special event insurance providers allow you to get insurance for your special event online in a matter of minutes. Many of them also offer add-ons that let you customize coverage based on the type of event you are holding and any particular needs you have. If you're looking for special event insurance, be sure to consider some of these top providers.
As an online broker, CoverWallet works with multiple insurance carriers that understand the coverage needs of small businesses and solopreneurs. Applications for event insurance often result in offers from more than one carrier, giving business owners an opportunity to see where their premium dollars go. CoverWallet clients can bind online and receive certificates of insurance (COI) remarkably fast.
CoverWallet utilizes technology to allow you to quickly compare multiple quotes from top carriers and find a low-cost option that's right for you. The platform is well-known for being easy to use and simplifies much of the information so that small business owners understand how to choose the proper coverage.
Insureon
Nonprofits (NPOs) is a top industry for Insureon. Not only can NPOs save money by quoting event coverage with Insureon, but they get to work with USLI, an insurance company that specializes in the industry. That kind of experience can be invaluable to a nonprofit looking to protect its assets.
Insureon is a digital insurance agency focused solely on small businesses. It claims customers in 23 industries can get fast quotes that save them between 10% and 20% when using its online application.
RVNA is an ideal choice for vendors who regularly work special events, including conferences, festivals, trade shows, and weddings, because it offers an annual policy that covers an unlimited number of events. When you opt for RVNA's annual policy, all the events you work are covered for one premium.
Through RVNA, vendors who work multiple events can get coverage limits up to $5 million with free host liquor liability and an unlimited number of free certificates of insurance. RVNA also offers a number of important add-ons that are typically excluded from special event insurance, such as coverage for other people's property when it's in your care, custody, or control and collapse of temporary structures.
Markel Specialty writes special event insurance that features a broad range of policy features. For instance, event liability insurance occurrence limits start at $500,000 and go to $2 million, and premiums start at $75. Moreover, you can add event cancellation protection to cover non-refundable deposits and other non-reimbursable expenses for just $50.
Another nice feature of Markel's special event insurance is the option to add your venue to your policy at no additional cost. Venue owners usually want to be named additional insureds to protect them if your event creates liabilities at their location. Many insurers charge an extra fee for this endorsement.
Philadelphia Insurance Companies (PHLY) is the right choice for any small business or NPO that occasionally hosts sporting events. Because of the high risk for participant injury, athletic competitions can be challenging to insure, but PHLY has a long list of covered classes that range from archery tournaments to Zumba classes. Liability limits go up to $1 million per occurrence and $3 million aggregate.
PHLY has the added benefit of specializing in niche markets, particularly health and wellness, sports, and nonprofits. This experience means business in these industries can trust that PHLY underwriters can identify their unique risk and write coverage to guard against it.
What Special Event Insurance Is
Special event insurance is designed to cover the host's financial losses and liabilities should problems arise during special functions. Small business owners and nonprofit organizations may need coverage for events that are outside of their day-to-day operations, especially if they plan to serve alcohol, attract a large number of attendees, or hire vendors.
Depending on the special event, hosts may suffer losses because of:
Cancellations: Business owners may owe refunds to participants and be out security deposits and permit fees if they cancel.
Participant injuries: A business owner may be on the hook for a participant's medical bills and their own legal fees if the injured party sues.
Alcohol-related accidents: Losses can include the damages and injuries an over-served party guest causes other people.
Vendor issues: Last-minute substitutions for vendors often mean more expensive bills for the host.
Bringing together large groups of people increases the chance for things to go wrong. As the host, you can be held responsible if a partygoer turns an ankle on the dance floor or the DJ's amplifiers spark a fire. But you also have to consider your investment. If bad weather causes you to cancel an event, you're still on the hook for money spent on deposits.
While general liability may cover some of the issues that can pop up during special functions, event insurance is a good idea for larger, more expensive events. At the very least, special event insurance protects your general liability limits if it's written as your primary coverage. This way, claims stemming from your event are covered by your special event coverage first.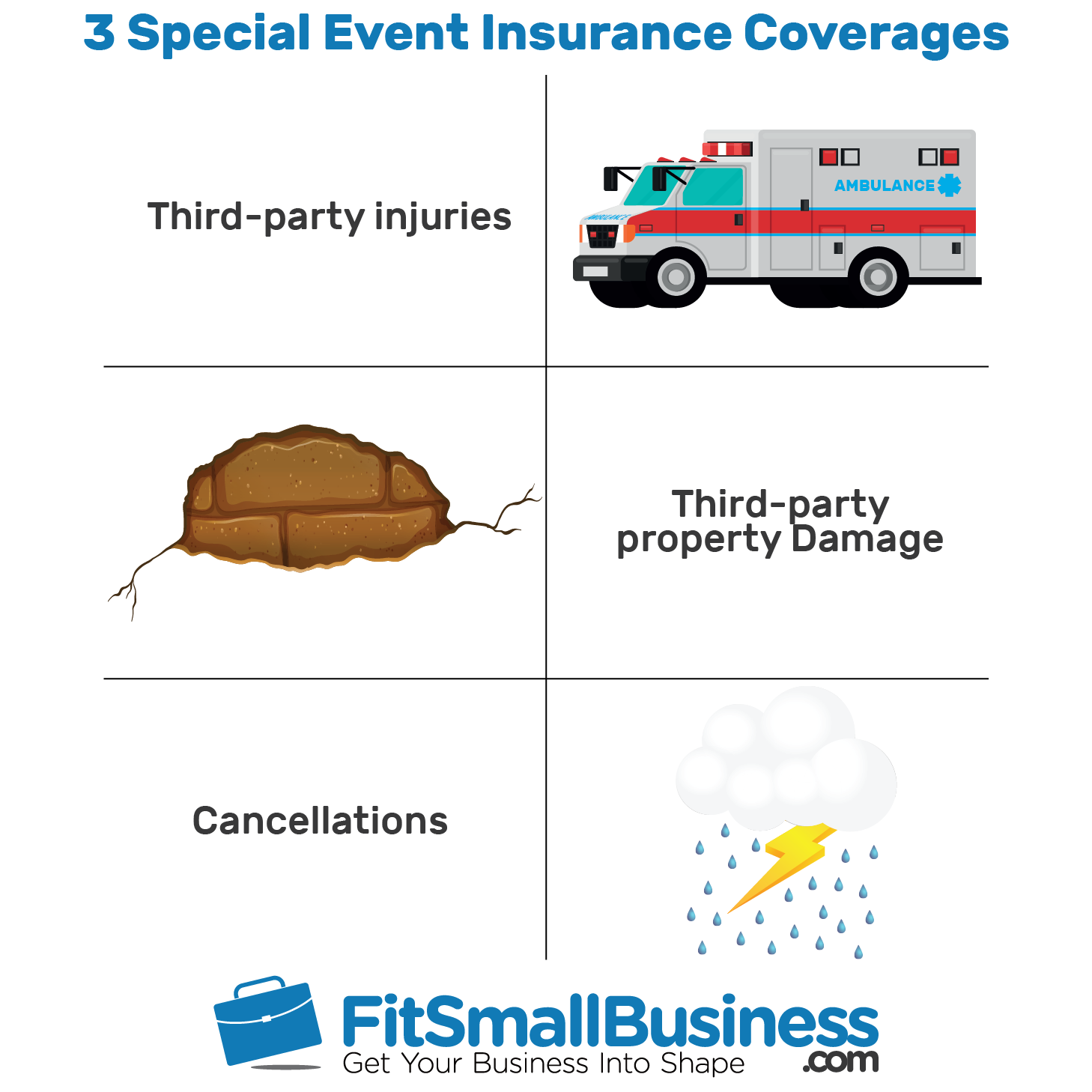 What Event Insurance Covers for Small Businesses
Special event insurance policies can be written to fit your particular event, but most focus on liability coverage. You can find one-day policies for under $100, but these usually limit the number of guests and don't include coverage for liquor liability or cancellations.
Liability insurance pays for third-party claims of:
Bodily injury: A participant's injury during the company's annual 3-on-3 basketball tournament.
Property damage: Damage to a guest's smartphone during the company's holiday party.
"It's important to remember that most special event insurance policies only cover the specific loss events that are outlined in the purchased policy—meaning any incidents that occur outside of these parameters are not covered. Because of this, before you purchase any type of special event coverage, you should talk to your insurance agent to make sure you understand what is and isn't covered in a specific policy."

— Kevin Drews, Head of Sales, Insureon
Special Event Insurance Costs
Event liability insurance rates vary widely depending on the event type, length, and number of attendees. Premiums for a one-day meeting with 100 attendees are about $100 to $200. The rate for a three-day trade show with 2,000 attendees is closer to $500—or more if the venue requires higher limits.
Special Event Liability Insurance Costs & Deductibles
| Policy | Coverage Amount | Deductible | Typical Premium |
| --- | --- | --- | --- |
| 1-day event insurance for 100 people | $1M per occurrence / $3M aggregate | $1,000 | $100 - $200 |
| 1-day event insurance for 1,000 people | $1M per occurrence / $3M aggregate | $1,000 | $250 - $400 |
| 1-day event insurance for 2,000 people | $1M per occurrence / $3M aggregate | $1,000 | $425 - $500 |
The chart above shows how the number of guests impacts your event liability insurance costs. Premiums go up with the number of attendees because more people usually means more chances for lawsuits.
Other factors that impact your event liability insurance costs include:
Alcohol service: Serving or selling liquor increases the likelihood of trouble, so your premium goes up.
Location: Outdoor events usually cost more because you risk damage from inclement weather and uninvited guests.
Limits: Increasing your limits provides extra protection but also increases your premium.
Deductibles: Your willingness to pay more out of pocket can lower your overall cost.
Deductibles are a little tricky when it comes to event insurance. Event liability insurance policies don't usually require a deductible; however, some insurers have one for the third-party property damage portion. These typically start at $1,000, but you can usually request a higher deductible to save on your overall cost. Just remember that means you need to have that money on hand should you have to file a claim.
Additional Event Coverages for Small Business Owners
Event liability insurance only covers your liabilities when your business hosts a special event, but other problems may arise. For example, you may have to cancel an event that required tickets. Or you might have an offsite event. Some of these issues can be addressed with additional insurance.
Here are a few coverages small business owners might need when hosting an event:
Cancellation coverage: Reimburses you for nonrefundable deposits and out-of-pocket expenses when situations beyond your control, such as extreme weather or a vendor's failure, cause you to cancel an event; some insurers also cover lost profits.
Liquor liability insurance: Covers damages an over-served guest causes other people, whether those people attend your event or not; as the entity serving the drinks, you can be held responsible for an inebriated guest's action.
Inland marine insurance: Pays to repair or replace business property damaged while it's being moved to or stored in a location not listed on your property insurance; business owners who haul valuable equipment to off-site events need this coverage.
Hired and non-owned auto insurance (HNOA): Covers your liability for vehicles your rent, hire, or borrow for your business, such as damage to an employee's personal car caused by an accident they're in while running a work errand.
Cancellation coverage and liquor liability are usually added to your special event insurance. Inland marine and HNOA can be purchased as a standalone policy or added to other coverages your business already has.
Special Event Insurance for Individuals
Business owners aren't the only people who may need event insurance. Private individuals often insure major events, especially when they pay a lot for the event or expect a large number of people. Wedding event insurance is probably the most common private coverage, but people might also insure retirement parties, bar and bat mitzvahs, quinceaneras, and family reunions.
Wedding Event Insurance
Wedding event insurance has two main components: liability coverage and event cancellation. Liability coverage pays for people's injuries and property damage, and event cancellation covers the costs that come with cancellations and postponements. Together, these policies cost between $100 and $300, depending on the number of guests.
You can also add host liquor liability to your wedding event insurance. It pays for damages an inebriated guest causes.
Here are a few events wedding event insurance typically pays for:
Guest injuries: A slip-and-fall on the dance floor.
Property damage: A fire from a knocked-over candelabra.
Cancellation costs: Non-refundable deposits, last-minute venue changes, or a ruined wedding dress.
Damages and injuries caused by drunk guests: A car crash on the way home.
Top Event Insurance Providers for Private Individuals
Looking for a personal lines carrier is much like looking for a commercial lines carrier. You want to work with an insurer that is financially stable and that has a range of coverage options so you can find a policy that works for you and your venue. These three insurers fit that description.
Travelers, a well-known and financially stable insurance carrier, offers the Protector Plan® to individuals hosting weddings and other private parties. You can choose from 10 preset coverage levels, each with separate limits for key coverage types, including cancellation, special attire, and lost deposits. Travelers' event insurance covers lost deposits for you and your immediate family even if you buy the policy after putting money down.
WedSafe specializes in wedding event liability insurance and works with top insurance providers, including Aon and Nationwide. The company offers six limit levels for your liability coverage, ranging from $500,000 to $5 million. Plus, WedSafe can bind your policy on your wedding day and email a copy of your certificate of insurance to your venue.
Created by RVNA and backed by global insurance carrier Allianz, Wedsure offers some unique benefits for couples insuring their trip to the altar. The first is customizable coverage, where you select the dollar amount that best fits your needs rather than choosing from preset limits. However, Wedsure's most unusual inclusion is change of heart cancellation coverage. It protects your investment if someone gets cold feet.
Wedding Event Insurance Costs & Deductibles
Wedding liability insurance doesn't have to be expensive. You can find coverage for as low as $125, and even lower if you're willing to drop cancellation coverage. Picking the coverage that suits your wedding is a good way to control costs. Considering that Business Insider reports the average U.S. couple spends over $30,000, controlling costs is key.
For example, rates go up as you add coverage. Adding $7,500 in cancellation coverage to one-day liability insurance increases your costs to about $150 to $250. You can find bare-bone policies for less than $100, but those policies limit the number of attendees, typically don't include cancellation insurance, and may even skip liquor liability.
Tips on Getting Special Event Insurance
Whether you're planning a wedding or an award ceremony for your top sellers, special event insurance protects your investment. Here are four tips for getting the appropriate policy.
1. Check Your Current Insurance Policy
Before you buy event insurance, be sure to review your current coverage with an agent. Your general liability insurance may have enough coverage for small special events. Similarly, your homeowners insurance might cover liability for weddings hosted in your home. Plus, home insurance policies cover personal property, so damaged gifts and attire may be covered. However, the risk that comes with serving alcohol may make additional liquor liability insurance a good idea.
2. Read Your Venue Rental Agreement
Some venues want to know you have insurance with the appropriate liability limits within a month of your wedding date. Others may want you to have coverage for setup and teardown dates. Knowing what you need sooner rather than later gives you time to compare policies.
3. Get a Certificate of Insurance
A certificate of insurance (COI) is a document that acts as proof of insurance. It lists key policy information, such as coverage dates and limits. Most venue owners want to see your COI so they know you're meeting their requirements. Before you get your COI, talk to the venue manager. Some want special wording added, and you will need to make that clear to your agent.
4. Include Additional Insureds
Most venues require you list them as an additional insured on your event insurance. This gives them limited protection under your liability coverage. For example, the venue's legal fees may be covered if your wedding turns into a fiasco that results in multiple lawsuits. Some insurers charge for each additional insured.
Similarly, you might want to require your vendors to name you as an additional insured. That way, you're covered if their negligence causes damage.
Event Insurance Frequently Asked Questions (FAQs)
Below are a few of the most frequently asked questions about event coverage. If you don't see your question, post it in the comment section below and someone will get back to you.
Who needs event insurance?
Anyone hosting a special event can benefit from event insurance. This includes private individuals, business owners, and nonprofit organizations. Even people who don't own businesses often get event insurance to cover their weddings and other special occasions.
What kinds of events does special event insurance cover?
Private event insurance is designed for invitation-only special occasions hosted by an individual. Weddings are a common example, but so are retirement parties, family reunions, and first communions. Business owners also need event coverage anytime they host activities that are outside of their day-to-day operations, such as conferences, fundraisers, and investor dinners.
Do I need wedding liability event insurance if I have a homeowners policy?
The liability component of your homeowners insurance may cover your wedding. That's more likely true if the wedding is taking place in your residence. However, the cost of cancellations and liquor-related accidents may not be included.
Will wedding liability event insurance pay if my wedding is canceled?
Wedding liability insurance only covers your responsibility for property damage, physical harm, and paying legal fees and medical bills. Event cancellation insurance is separate from this. It reimburses you for costs that come from canceling your event, like nonrefundable deposits and last-minute replacement vendors or venues.
Does my business need event insurance if I already have general liability?
Most businesses and NPOs need unique coverage for special events. General liability insurance often excludes certain activities associated with special events, like selling alcohol. Policies that don't exclude special events may not be enough coverage for the increased risk.
Do I need special event insurance if I only host one event each year?
Business owners can get separate event coverage when they host multiple events, but most find that inefficient. The better choice is to get an annual special events policy. This way, all of their events are covered throughout the year. The dates for each event must be listed on the event insurance policy for coverage to be in place.
Bottom Line
Considering most venues require a $1 million occurrence and $2 million aggregate liability insurance policy, special event insurance is a no-brainer. Even without that requirement, the risk for vendors to go bankrupt or severe weather to hit makes special event insurance plus cancellation coverage a smart investment.
If you're looking to get coverage fast, try CoverWallet. It utilizes technology to quickly compare multiple quotes from top carriers and find a low-cost option that's right for you. Get started today by filling out a free, no-obligation questionnaire online.