6 Best Crypto Payment Gateways for Small Businesses
This article is part of a larger series on Payments.
Cryptocurrency payment gateways allow small businesses to accept cryptocurrencies (such as Bitcoin) as a payment method. Big names in commerce such as Microsoft, AT&T, Overstock, and Amazon have been accepting cryptocurrency as a mode of payment through these payment gateways.
The best cryptocurrency payment gateways offer currency conversion, have flexible settlement options and affordable transaction fees, and are easy to add to your existing website or online store. Based on our evaluation, the best crypto payment gateways for US merchants are:
What is cryptocurrency? Cryptocurrency is a decentralized digital currency built on blockchain technology. It only exists online and is not regulated by a government or other entity.
A digital wallet stores and transfers cryptocurrency from one owner to another. There are different cryptocurrency types, but the most popular and widely accepted are Litecoin, Ethereum, and Bitcoin. According to a survey by HSB, at least one-third of small to midsize US businesses accept cryptocurrency as a form of payment.
Best Crypto Payment Gateways Compared
Merchant Fees

Accepted Cryptocurrency Types

Supported Fiat Currencies

Ecommerce Plugins and Integration

Settlement Options

From 1% + 25 cents–2% + 25 cents

15 including Bitcoin, Ethereum, and Litecoin

8 including USD, CAD, and EUR

14 including WooCommerce, Shopify, and Magento

Cryptocurrency, fiat currency, transfer to local bank

1%

150+ including Bitcoin, Ethereum, and Litecoin

100+ including USD, GBP, and EUR

Shopify, WooCommerce, Primer, and Jumpseller

Cryptocurrency, fiat currency, transfer to local bank

$0

Bitcoin, Ethereum, Cronos, USD Coin

USD, EUR, AUD, GBP

Shopify, WooCommerce, Opencart, Ecwid

Cryptocurrency, fiat currency, transfer to local bank

$0–$30 (PayPal fees), 3.49% + 49 cents

Bitcoin, Bitcoin Cash, Ethereum, and Litecoin

100+ including USD, CAD, and EUR

eBay, WooCommerce, Magento, Amazon

Cryptocurrency, fiat currency, transfer to local bank

20+ including Bitcoin, Ethereum, and Litecoin

100+ including USD, CAD, and EUR

Built-in website builder and automation tools + eBay, Amazon, and Zapier

Cryptocurrency, fiat currency, transfer to local bank

0.99% (free for nonprofits)

7 including Bitcoin, Ethereum, and Litecoin

Most currencies including USD, CAD and EUR

WooCommerce and WordPress

Cryptocurrency
BitPay: Best Overall Cryptocurrency Payment Gateway

Pros
Simple QR code invoice
Daily payouts
Locked-in exchange rates
No free processing for low-volume transactions
Cons
Tiered transaction volume limits
Reports of passwords disabled without notice
BitPay Pricing
2% + 25 cents processing fee for businesses with under $500,000 in monthly transactions
1.5% + 25 cents processing fee for $500,000–$999,999 in monthly transactions
1% + 25 cents processing fee for at least $1 million in monthly transactions
Higher fees apply to high-risk merchants
BitPay Key Features
QR code payment
Daily payouts through local bank transfers and cryptocurrency wallets
Integrates with ecommerce platforms such as Shopify, WooCommerce, Magento, and 3dcart
Integrates with QuickBooks
Offers volatility shield by locking in exchange rate
Allows multi-user access
Can set two-factor authentication
Gateway features include creating payment buttons, accepting donations, setting up mobile POS checkout, creating recurring billing and invoice
BitPay is one of the earliest cryptocurrency platforms offering both cryptocurrency trading and merchant payment gateway solutions. Users like BitPay for its easy-to-use platform and customizable settings for security and payouts. However, what sets it apart is its volatility shield function. BitPay locks in the exchange rate applicable at the point of the transaction so users get the exact value they requested deposited into their account.
This makes BitPay ideal for merchants that only want to accept payments for goods and services and avoid having to deal with currency fluctuation that can result in loss.
How BitPay Lets You Accept Crypto Payments
BitPay allows you to set up payment and donation buttons, design hosted checkouts, and create invoices you can embed on your website. You can even set up recurring billing for subscription customers. It also has a mobile point-of-sale (POS) function if you wish to provide a cryptocurrency payment method to customers at the cash register with the BitPay checkout app. Payouts are processed daily, and you can track them from your BitPay dashboard.
How to Add Crypto Payments With BitPay
BitPay integrates with popular ecommerce platforms such as WooCommerce and Shopify by creating an API token on your BitPay dashboard and linking it to your ecommerce platform account. For POS, you only need to download the BitPay mobile app for Android or iOS and pair your app with your BitPay merchant account with an API token.
Coinbase Commerce: Best for Accepting Multicurrency Transactions

Pros
No transaction limits
Quick account set up
Accepts over 150 cryptocurrency types
Cons
Requires a Coinbase account for payouts
Limited ecommerce integration
Coinbase-managed account limited to US merchants
Coinbase Pricing
1% processing fee
Free currency conversion and settlement
Coinbase Key Features
Requires only an email address to set up
Provides invoicing, customized payment buttons, and hosted checkout pages
Coinbase Commerce is Coinbase's merchant services feature that allows small businesses to accept cryptocurrency as an alternative payment method. As the largest centralized cryptocurrency exchange market in the US, Coinbase supports a long list of cryptocurrency options. This means small merchants can accept more cryptocurrency types as payments from customers. A large exchange market also means Coinbase has the capability to insure merchant funds if they let Coinbase manage their account.
How Coinbase Lets You Accept Crypto Payments
Coinbase enables you to accept payments from your website with various options depending on your business size. Small merchants can create invoices, simple hosted checkouts, and Coinbase payment buttons. It also provides APIs for more customized payment processing. For ecommerce stores, Coinbase can be integrated with Shopify and WooCommerce.
However, unlike BitPay, Coinbase doesn't support mobile POS functionality. It also offers fewer ecommerce platform integration options.
How to Add Crypto Payment With Coinbase
With a self-managed funds plan, you only need an email address to sign up for a merchant account. Once your email address is confirmed, you can start accepting payments. Ecommerce integration options can easily be added to a website with a few clicks. Developer-friendly APIs are also available for a more customized payment processing flow.
Did You Know? According to one Deloitte survey, many businesses believe accepting crypto will improve the customer experience, grow their customer base, and give them a competitive advantage. As many as 83% believe it will be considered legal tender within the next 10 years.
Crypto.com Pay: Best for Merchants Accepting Invoiced Payments

Pros
Partners with several online shops
Integrates with multiple ecommerce platforms
No merchant fees
Cons
Not available for merchants in New York
Limited cryptocurrency types
No lock-in conversion rate feature w/third party transactions
Crypto.com Pay Pricing
Monthly fees: $0
Transaction fees: $0
Withdrawal/payout fee:

Fiat currency: varies based on bank intermediary
Cryptocurrency: 0.01BTC to 100 USDC
Crypto.com Pay Key Features
No transaction fees for accepting payments
Includes ecommerce integrations with easy-to-use APIs
Partnerships with online stores
Supports invoicing, recurring payments, and subscriptions
Accept in-person payments with QR codes
Pay is Crypto.com's digital wallet that allows merchants to accept cryptocurrency payments both online and in-person. While fiat and cryptocurrency selections are limited, Crypto.com has developed a solid payment processing platform that supports ecommerce platform integrations, invoicing, recurring payments, and subscriptions making the system very useful for online businesses and service professionals.
However, Crypto.com Pay does not support a lock-in conversion rate feature if your customer pays using a different cryptocurrency wallet, so there's a tendency for merchants to be underpaid or overpaid. Merchants based in New York are also prevented from using this platform.
How Crypto.com Pay Lets You Accept Crypto Payments
Accepting payments with Crypto.com Pay is as simple as with any popular digital wallet like PayPal. Customers can go to your website to purchase a product and choose to pay via cryptocurrency. This will display your Crypto.com Pay checkout page where customers can scan a QR code or receive a digital invoice. The customer is charged the equivalent value of your product in cryptocurrency which will be then credited to your Crypto.com Pay wallet.
Crypto.com Pay partners with over 150 brands and online shops for seamless transactions.
With Crypto.com Pay, merchants are not charged any transaction fees for accepting payments. The platform earns from trading, conversions, balance top-ups, and withdrawals. You can choose to withdraw your balance and send it to your bank or your own cryptocurrency wallet.
How to Add Crypto.com Pay
Crypto.com Pay offers a plug-and-play solution for online merchants. It has pre-made SDK codes for creating checkout and subscription buttons, page redirection, and page banners. There are also pre-made APIs that set up your entire payment procedure from creating a payment object to authentication, flagging of errors, generating a payment ID, canceling a transaction, and processing a refund. It also lets you set up customer profiles.
All you need to do is copy the code that's provided in Crypto.com's knowledge base and follow the instructions on how to paste it on your website.
Did You Know? As far as making cryptocurrency a "normal" accepted form of payment, AT&T is credited with leading the way. The phone/cable/internet service provider offered its customers the option to pay with Bitcoin in 2019.
PayPal: Best for PayPal Users

Pros
Supports its own cryptocurrency wallet
Easy signup process
Converts crypto to local currency at no extra cost
Tons of brand awareness and trust among consumers
Cons
Expensive transaction fees
Monthly fees depending on transaction type
No volatility shield
PayPal Pricing
Monthly fees:

PayPal account: $0–$30
Virtual Terminal: $30
Recurring Billing: $10
Recurring Payment Tool: $30
Payment Gateway: $0–$25

PayPal Payments Online: 3.49% + 49 cents
Chargeback fee: $20
Converts cryptocurrency to fiat currency when accepting payments
PayPal Key Features
PayPal has a cryptocurrency wallet that allows users to trade and complete purchases using their cryptocurrency balance. Merchants using PayPal with or without a cryptocurrency account with PayPal can offer checkout with crypto as an additional PayPal payment method. There are no extra fees for accepting cryptocurrency payments, and PayPal does not charge for conversion to fiat currency. Moreover, merchants accepting this type of transaction get 24/7 fraud protection and purchase protection for qualified items.
How PayPal Lets You Accept Crypto Payments
Crypto will automatically display for customers with a sufficient PayPal cryptocurrency balance in their wallet. During payment, their cryptocurrency holdings will be converted into fiat currency equivalent to the outstanding transaction amount at no extra cost.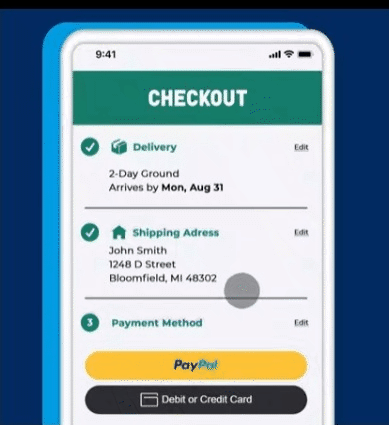 How to Add Crypto Payments on PayPal
Checkout with crypto is automatic as long as the customer has a PayPal cryptocurrency account and sufficient funds equivalent to the transaction amount in the local fiat currency. Merchants receive the payment in USD or their local currency.
Note that this type of transaction falls under the PayPal Payment Online category and merchants will be charged 3.49% plus 49 cents in transaction fees.
Shopify: Best Ecommerce Platform for Crypto Payments

Pros
Best-in-class ecommerce software
Easy signup
Integrates with multiple cryptocurrency payment gateways
Cons
Charges third-party fees
Requires a Shopify plan
Not a native cryptocurrency payment processor
Shopify Pricing
Shopify Monthly Fee: $39–$399 (billed monthly), $19–$299 (billed annually)
Shopify Commission Fee: 0%–2%
Supports multiple third-party payment gateways for cryptocurrency payments:

Crypto.com
Coinbase
BitPay
DePay
OpenNode
Strike
Shopify Key Features
Unlike PayPal, Shopify is not a cryptocurrency platform, but most online merchants recognize Shopify as the gold standard when it comes to building an ecommerce business. It comes with a native website builder and ecommerce automation tools along with best-in-class omnichannel features. Shopify can also integrate multiple third-party payment gateways, including some of the top cryptocurrency platforms.
It waives its commission fees if you sign up for a Shopify Payments plan, so it is the best option for merchants who already have a Shopify merchant account.
How Shopify Lets You Accept Crypto Payments
Shopify allows you to accept cryptocurrency payments like any other additional payment method on the platform. Your customers will recognize cryptocurrency payment gateways that support their cryptocurrency type, and if you have one available as a payment method, your customers can easily choose that option during checkout. This will take them to the crypto platform website to complete the payment and return to your store once the transaction is completed.
How to Add Crypto Payments on Shopify
Shopify offers direct integration to a long list of third-party payment gateways including cryptocurrency platforms. Note that you need to have an account with whichever cryptocurrency platform you intend to include on Shopify. Choose the platform from the list you will find on your Shopify dashboard, and the system will guide you through linking your cryptocurrency account with your Shopify account.
If you don't find your cryptocurrency platform on the list of direct integrations, you can also create a custom app using Shopify's API, which you can install on your Shopify store.
ALFAcoins: Best for Nonprofits Accepting Cryptocurrency Donations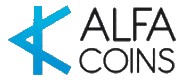 Pros
Free payment processing for nonprofits
Low transaction fees for cryptocurrency payments
Fix rates for 15 minutes whenever you send funds
Cons
No option for fiat currency payouts
No option to convert to different cryptocurrency
Limited ecommerce integrations
ALFAcoins Pricing
0.99% processing fee
0.5% for accepting donations
0% processing for registered nonprofits
Network fees only for withdrawing cryptocurrency to your wallet
0.99% + network fee when using your cryptocurrency to make payments
Deposit fee for some state-based blockchain
Network fee depending on blockchain
ALFAcoins Key Features
ALFAcoins makes our roundup as the best option for registered nonprofits. Merchants can accept donations with a 0.5% transaction fee, while nonprofit organizations can contact ALFAcoins to accept cryptocurrency donations free of charge. It also does not charge any withdrawal fees (except for network fees levied by the blockchain network).
Note, however, that ALFAcoins currently does not support currency conversion (neither for fiat currency nor other cryptocurrency types). This means it also does not have the ability to deposit funds into your bank account.
How ALFAcoins Lets You Accept Crypto Payments
ALFAcoins allows you to accept cryptocurrency payments through invoicing, payment buttons, and shopping cart plugins. You can create and send invoices to your customer's email or direct them to your website where the payment/donate buttons are located. ALFAcoins can accept Bitcoin, Bitcoin Cash, Litecoin, Ethereum, Dash, Tether ERC-20, and XRP with a 0.99% transaction fee. It also offers a volatility shield by keeping the exchange rate fixed for 15 minutes from the time a transaction is initiated.
How to Add Crypto Payments With ALFAcoins
ALFAcoins provides its users with a step-by-step guide to creating payment buttons, invoices, and shopping cart plugins. It also supports a range of APIs for a more customized design. The merchant section of your ALFAcoins dashboard includes an integration option that you can then customize—from the cryptocurrency types you prefer to receive to how the payment button would look on your website.
What to Look for in a Crypto Payment Gateway
When looking for a payment gateway solution to accept cryptocurrencies, make sure to consider the following:
Check for legalities. Before anything else, make sure that a crypto payment wallet or platform is valid to use in the country or state where your business is located. While most crypto payment gateways support US dollar conversion, it's still important that you check the terms of service.
Evaluate trustworthiness. Because crypto payment gateways are unregulated by nature, it's important that you research the platform's history/background for any complaints or legal actions.
Identify security functions. Look for security features such as two-factor authentication, temporary lock-in rates during transactions, and even reliable, responsive 24/7 customer support in case issues come up with your account.
Check for integrations and partnerships. Crypto payment gateway can integrate with website builders and online marketplaces and partner with online stores that provide you access to a larger customer base.
Easy withdrawal and deposits. Not only should you make sure that your crypto payment gateway provides you with the fastest deposit times. It should also allow you to choose among different withdrawal options such as banks, cards, and even digital wallet balances for instant access. You should also be able to choose between fiat and cryptocurrency withdrawal options. Don't forget to compare fees.
Crypto Payment Gateway: Frequently Asked Questions (FAQs)
No. While most providers support conversion to US dollar currency, it does not automatically mean that the gateway is available for US merchants. CoinGate, for example, is only available for merchants within certain US states (Alabama, Arkansas, Arizona, Iowa, Kentucky, Maine, and Mississippi).
Meanwhile, NOWPayments' user agreement section 4.1 includes the United States of America (including all US territories) among its list of prohibited jurisdictions. Make sure to check the provider's website for this type of restriction beforehand.
---
Cryptocurrency payments are not subject to chargebacks, so you don't need to worry about chargeback fees or fraudulent transactions. You can also opt for payment gateways like Coinbase that offer to insure their user's funds.
---
Yes, most crypto payment gateways support conversion into your preferred fiat currency and even deposit your funds into your local bank account via ACH or wire transfer.
---
Like most payment gateways, it takes two to three business days for withdrawn funds to reflect in your bank account.
---
Choose a crypto payment gateway
Register for a merchant account
Validate your account
Integrate the payment gateway with your website or send invoices via email
---
Bottom Line
One report found that nearly 80% of crypto consumers already send money via a Bitcoin payment gateway to pay for online and in-person purchases. Merchants need to begin adopting this payment method to enjoy a share of the revenue. If you have a small business, there are a number of reliable crypto payment gateway solutions that can help you start accepting cryptocurrency payments in no time.