A well-designed interactive voice response (IVR) system creates a better customer experience, directing calls efficiently to the right departments and agents. To optimize the caller's journey, follow these IVR design best practices: map out the call routing plan based on common customer needs and keep menu options straightforward. You can also give callers the option to do self-service, request a call back, or speak to an agent right away.
If you need a refresher on IVR technology, we previously discussed what IVR is and how it works. The article also outlines the top voice-over-internet-protocol (VoIP) providers with IVR systems.
Tip #1: Map Out the Experience
Before you create an IVR menu, reflect on your call center setup, including the different departments and the common concerns you receive. This exercise visualizes the structure of your IVR call routing plan, which will help you create an efficient flow with minimal transfers.
Learn more about creating phone menus by reading our four-step guide on how to set up a phone tree. Once you've identified the priority options, use a pen and paper or graphic design software like Canva to map the structure. Canva is a user-friendly platform where anyone can create beautiful graphics, including phone menus.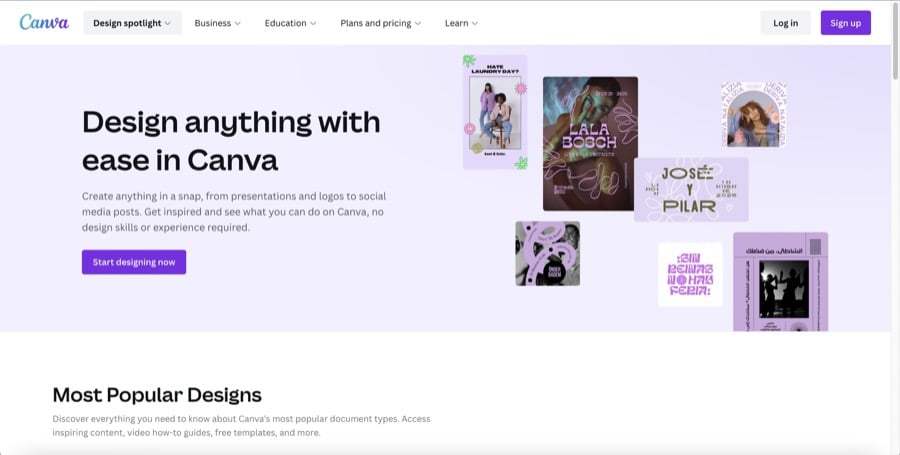 ---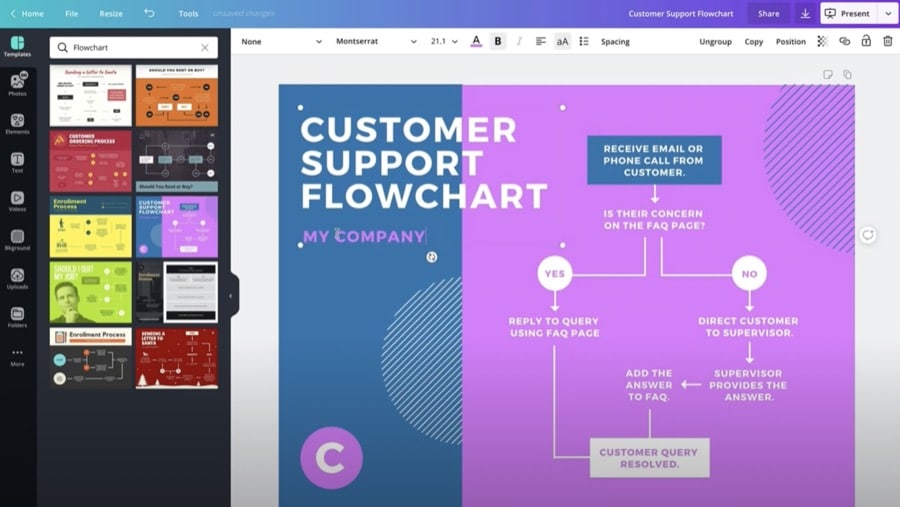 ---
Tip #2: Keep Messages Short & Simple
One of the best call center IVR best practices is K.I.S.S, or "Keep It Short and Simple." The longer and more complex the menu, the more likely customers will lose their patience and abandon the process.
Consider limiting the number of menus, each taking no more than a few seconds to play back each selection. Don't create menus with more than five top-level entries. Be concise and limit introductory messages to eight seconds and each menu option description to four seconds.
Tip #3: Use a Natural, Realistic-sounding Voice
Set the tone for the customer journey by carefully selecting the voice used in your IVR. Using a realistic voice will make the conversation more natural and put callers at ease. When recording IVR prompts, your options include text-to-speech (TTS) voices, human voice actors, or a combination of the two.
The VoIP phone system RingCentral allows companies to upload their professional audio recordings or use the TTS tool for custom phone greetings. With more control over your virtual receptionist prompts, you'll ensure that the messages are clear and understandable to customers. Learn more about the platform by reading our comprehensive RingCentral review.
Tip #4: Include Departments in Your Main Menu
Your main departments should be in the top-level menu so the callers will instantly know which key press to choose for their concerns. The exact options depend on your customers' frequent concerns, but in general, you might need to include sales, technical support, and billing. Once that's established in the main menu, use the submenus to provide more detailed options.
Tip #5: State the Menu Option Before the Expected Action
When configuring the menu, it's best to highlight the option and then the action. For example, while saying, "Press 1 for sales" is acceptable, "For sales, press 1" is easier to follow. By presenting the option first, you highlight the need followed by the action, making it easier for a caller to remember which number to press.
Tip #6: Allow Customers to Barge In During Prompts
When creating a simple call flow menu, consider including a "barge-in" option that allows returning customers to opt out of the menu when they already know which extension or number to dial. Pay careful attention to how you word messages so that customers know they do not need to wait until all options are provided before making a selection.
Tip #7: Offer Both Spoken & Keypad Options
Many IVR systems allow customers to reply with a voice command, but some callers may have an accent or a dialect the system does not understand. Part of IVR design best practices is allowing customers to press number commands on their phone's keypad or switch to a number-press menu. This ensures all callers interact in the method most convenient for them.
Tip #8: Always Give the Option to Speak to an Operator or Agent
Most businesses overlook offering the option to go to live agents immediately. Some make the mistake of burying this choice in submenus, causing customer distress. According to IVR best practices, it's important to always allow callers to speak to a human service representative in case the menu doesn't include the department or agent the customer is looking for.
Note that some may not be able to use the system effectively or fully understand which menu option to choose. Others may not feel comfortable relaying their issues using an IVR system. In such cases, talking directly to an agent lets customers clarify their concerns quickly.
Tip #9: Address Commonly Asked Questions
While many customers call businesses for complex concerns and requests, some reach out only to ask for or confirm basic information, such as the company's operational hours and locations. By including these questions in your menu options, you'll free human agents from several calls and let them focus on more complex requests. That said, review call recordings to come up with a list of commonly asked questions, then include that in your IVR design.
Tip #10: Make the Waiting Time Bearable
A 2021 survey shows that 44% of customers get frustrated when they're put on hold for five to 15 minutes. In 2021, the average waiting time was 46 seconds. All these figures prove that lengthy waiting times ruin customer experience, and callers expect quick service from businesses. However, long hold times are inevitable in some instances, especially when you're running promo campaigns and receiving a large number of calls.
The best IVR strategy to deal with long waiting times is to make them as pleasant as possible. Play feel-good music or broadcast informative but engaging messages. Aim for variety, as repetitive soundtracks and announcements are equally annoying for callers.
Tip #11: Use a Phone System That Displays Customer Profiles
IVR systems collect customer information to distribute phone calls to the right agents. For example, it allows customers to key in their account numbers before being connected to the live agent. Sometimes though, callers still need to repeat their information to the human service representative for confirmation. If they've been on hold for a long time, offering repetitive information like this only increases frustration.
With robust phone systems like RingCentral, your agents do away with asking for information because the platform automatically pulls up the caller's corresponding customer profile from the database.
As the information is readily laid out, your team answers the queries with proper context and understanding of the concern, reducing the average handle time (AHT) and creating better overall customer service. That said, consider connecting customer relationship management (CRM) systems to your phone as you create call menu flows.
Tip #12: Offer Callbacks
When planning the call flow design, always add the callback option so customers don't have to wait in the queue and waste precious time. Aside from avoiding customer frustration, this helps your team manage high call volumes, reducing the number of customers on the line.
Tip #13: Refer to Surveys & Analytics
Customer surveys are the best tools for knowing exactly how effective your IVR system is, as it's direct feedback from your audience. RingCentral integrates with the third-party app Postcall, which lets you send out customer satisfaction, net promoter score, and your own customized polls. After the call, the phone system automatically sends the customer an SMS. Use the survey insights as you strategize how to create an IVR.
Similarly, look at your business phone system's analytics. Measure the IVR containment rate to see how many of your incoming calls are successfully handled by the system without human intervention.
Tip #14: Test Your IVR
Part of IVR best practices is trying out the system you designed. Test it out on different calls for specific departments or various types of customers—from VIPs requesting technical assistance to ordinary callers asking about sales promos. During this process, you must ensure that the three most essential elements are accurate: call routing, dual-tone multi-frequency (DTMF) input, and retry options (the system's response when the customer doesn't answer).
Tip #15: Update Your IVR Menu Options
As your business changes over time, your IVR system must reflect the latest information about your operations. The departments, products and services, and frequently asked questions must be up to date. Otherwise, customers might not find what they're looking for or, worse, develop a distrust of your company because of discrepancies in your communication services.
Benefits of a Well-designed IVR
A well-designed IVR system improves overall customer satisfaction, as calls are routed to skilled agents more efficiently. Moreover, it aids in customer service team efficiency and brand-building efforts. These are the specific ways an excellent IVR system benefits businesses:
With an automated call distribution system, you don't need to hire a human receptionist to receive and transfer calls to the right departments. More importantly, since IVR can be configured to handle menial requests from customers, you won't have to add more live agents to your team. Over time, this significantly lowers operational expenses.
---
An IVR system connected to a CRM intelligently distributes calls to the best service representatives available. It sends customers to the last agent they talked to or one who speaks the same language. In the case of VIP customers, the IVR automatically places them in front of the call queue. This efficient system helps address customer concerns faster and, thus, cuts down the number of people waiting in queues in high call volume scenarios.
---
The IVR system allows businesses to customize broadcasted messages while customers are on hold. This provides the opportunity to highlight your brand, informing people who you are and what you do. The business also improves its professional image among customers, as IVR systems operate 24/7, offering support to callers even after the company's business hours.
---
IVR analytics provide a wealth of insights for improving your call flows. It's easy to identify customer behavior patterns, such as which prompts cause callers to opt out of the system or why they choose to speak to an agent instead of following the menu instructions. Aside from informing your call flow design, these insights help improve overall customer service strategy.
---
Most IVR systems facilitate self-service among customers. They answer commonly asked questions and enable callers to complete tasks, such as checking order statuses and bank balances, paying bills, and scheduling appointments. Some customers prefer interacting with automated systems rather than human agents because it's faster and more straightforward. Improve your agentless solutions by checking out these IVR self-service best practices.
---
Frequently Asked Questions
---
Not necessarily, but they do use natural language processing to route callers to different departments. However, it's possible to infuse artificial intelligence (AI) technology into your IVR system and produce a conversational IVR. Conversational IVR employs machine learning, which analyzes customer intent and takes into account conversational context to provide appropriate, accurate answers to customers' queries.
---
There's no hard and fast rule for the number of IVR options. Ideally, the menu shouldn't exceed four options and three levels. Otherwise, it may be too long and complicated for customers.
---
Bottom Line
An optimized IVR system is critical for running smooth call center operations. Design the caller journey according to your customers' needs to ensure they reach the proper departments and agents. Simplify menu options and make the waiting time a pleasant experience.
More importantly, always offer the option for callbacks and live human agents. By following the mentioned IVR design best practices, you'll cut down operational costs, enhance branding, and improve call routing efficiency.