IVR Design Best Practices & Tips: How to Optimize Your Menus
This article is part of a larger series on VoIP.
Poorly designed interactive voice response (IVR) systems confuse callers, leading to frustration and potential client attrition. To avoid this, enhance your IVR's performance and usability with a few simple improvements: include a callback option, an option to speak to an agent, or call surveys. This guide outlines the top IVR design best practices and tips to improve caller experiences and outcomes.
Here are the best ways to establish a well-designed IVR—guiding callers in accessing information and finding answers to their concerns without having to speak to an agent.
Tip 1: Map Out the Experience Beforehand
Before you create an IVR menu, reflect on your call center setup, including the different departments and the common concerns you receive. This exercise visualizes the structure of your IVR call routing plan, which will help you create an efficient transfer flow with minimal transfers.
Learn more about creating IVR menus and voice-over-internet-protocol (VoIP) phone trees by reading our four-step guide on how to set up a phone tree. Once you've identified the priority options, use a pen and paper or graphic design software like Canva to map the structure. Canva is a user-friendly platform where just about anyone can create beautiful graphics, including IVR menus.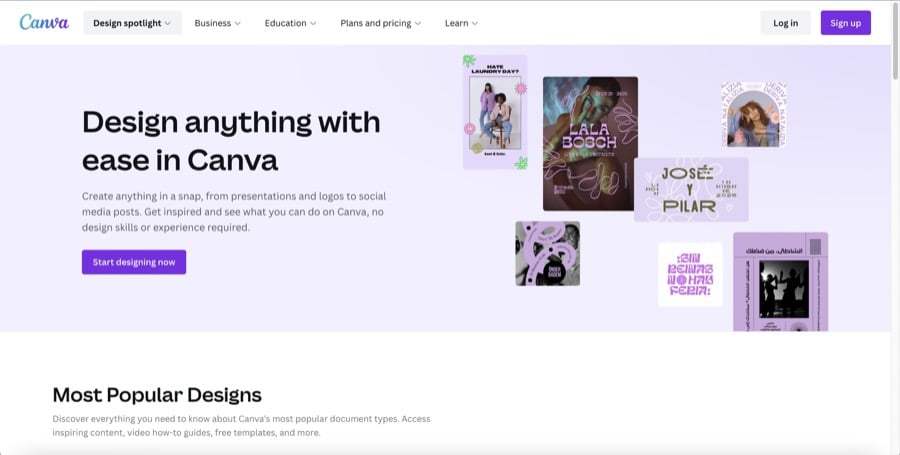 ---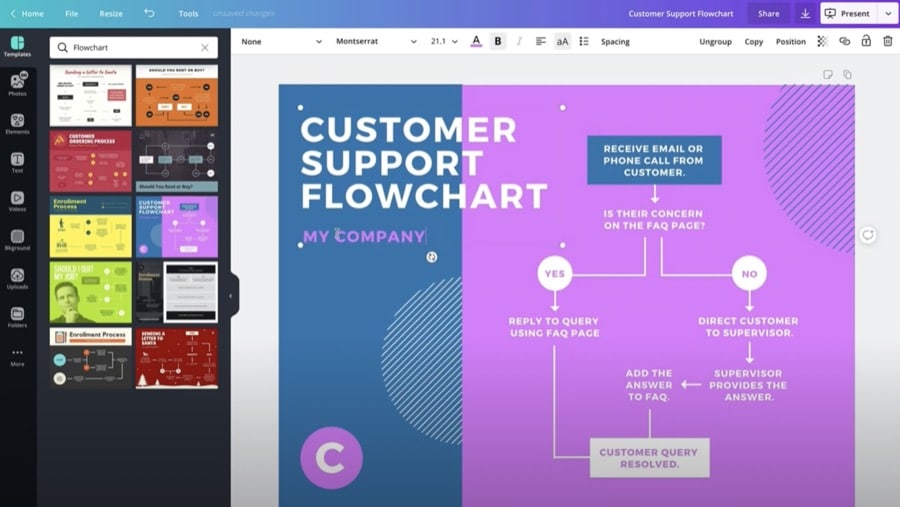 ---
Tip 2: Use a Natural, Realistic-sounding Voice
Set the tone for the customer journey by carefully selecting the voice used in your IVR. Using a realistic voice will make the conversation with customers more natural and put callers at ease. When choosing the voice for your IVR, your options include text-to-speech (TTS) voices, human voice actors, or a combination of the two. Read our list of best call recording apps to find out what options are available.
Tip 3: Keep Messages Short & Simple
One of the best call center IVR best practices is K.I.S.S, or "Keep It Short and Simple." The longer and more complex the menu, the more likely customers will lose their patience and abandon the process. Consider limiting the number of menus, each taking no more than a few seconds to play back each selection.
Don't create menus with more than five top-level entries; add options for other departments and self-service choices in the submenus. Be concise and limit introductory messages to eight seconds and each menu option description to four seconds.
Read our top IVR self-service best practices to find out how to maximize this feature of your business phone system.
Tip 4: Allow Customers to Barge In During Prompts
When creating a simple IVR menu, consider including a "barge-in" option that allows returning customers to opt out of the menu when they already know which extension or number to dial. Pay careful attention to how you word your messages so that customers know they do not need to wait until all options are ready to make a selection.
Tip 5: State the Menu Option Before the Expected Action
When configuring your menu, it's best to highlight the option and then the action. For example, while saying, "Press 1 for sales" is acceptable, "For sales, press 1" is more direct. By presenting the option first, you highlight the need followed by the action, making it easier for a caller to remember which number to press.
Tip 6: Allow Both Spoken & Keypad Options
Many IVR menu systems allow customers to reply with a voice command, but some callers may have an accent or a dialect the system does not understand. Ensure your IVR design best practices allow customers to press number commands on their phone's keypad or switch to a number-press menu. This ensures all callers interact in the method most convenient for them.
Tip 7: Always Give the Option to Speak to an Operator or Agent
Most businesses don't give the option to go to live agents immediately. According to IVR best practices, allow your customers to use self-service options first. With that said, you don't want to bury the option or have your customer going around in circles. Provide a live agent option if the IVR menu doesn't include an option that fits their needs.
There will be callers who cannot use the system effectively or fully understand which menu option to choose. Also, some customers may not feel comfortable relaying their issues using an IVR system. In such cases, talking directly to an agent lets customers clarify their concerns quickly.
Live answering services are excellent for small businesses needing to provide customers with 24/7 customer service. Check out our guide on the best answering services to learn about the features offered by top providers, such as custom scripting and call routing.
Tip 8: Maximize Customer Hold Times
Nothing good comes out of extended wait times, especially if customers are already aggravated. Another way to improve customer satisfaction is to enrich the on-hold experience. Make queues as pleasant as possible by playing on-hold music for the callers to listen to while waiting. Consider filling the silence with informative messages telling the customer the estimated wait time and short promotions, such as new products or special offers.
Play music and information in spaced intervals. Balance playing music and making announcements, as hearing the same promo repeatedly or listening to monotonous elevator music could annoy callers. The best solution is to keep your customer wait times at a minimum. According to a recent survey, 44% of callers get irritated or angry if put on hold for five to 15 minutes. Currently, the average wait time (AWT) within contact centers is 46 seconds.
Tip 9: Use an IVR System With Information Capture
Many IVR menu systems gather information to route the call to the correct department or extension. For example, a caller inputs their account number or the phone number associated with their account. Still, once connected with a live agent, the receptionist asks for the same information to access the account.
Customers who are already frustrated hate repeating themselves, so it's best to work with phone service providers like RingCentral, offering a Screen Pop feature. It captures client information, which is accessible to agents. This helps reduce the caller's frustration, makes your company look professional, and leads to better customer experiences.
Suppose you're looking for a way to integrate your phone system with your customer relationship management (CRM) software. In that case, RingCentral is one of the best business phone systems offering advanced call handling features. It integrates with over 300 third-party applications that help your sales and support teams improve call handling and customer interactions.
Tip 10: Include a Callback Option
Another IVR design best practice is including a callback option that shows your callers you value their time. Your clients are free to go about their day, and an agent will contact them once available. Callback options are invaluable to businesses that handle high call volumes because callback options reduce call queues and customer wait time.
Tip 11: Test Your IVR
Applying best practices is essential, but once you have a working system, it's crucial to properly test the system under real user conditions. As you introduce your new or enhanced IVR menu, it's best to go live in stages by using it to receive a few calls. Then review the results and revise the system as needed. Continue this process until you're confident enough to implement it fully.
Tip 12: Use Caller Surveys & Analytics
Surveys are a great way to gauge client satisfaction and understand their call purpose. Once you have this information, you are better able to design an efficient and effective IVR menu. Not only will improvements enhance the customer experience, but requesting their feedback also lets your callers know that you value what they say.
Review your system's analytics regularly to improve your IVR design. If customers are routinely hanging up during the third level of options, tweak and shorten your menus to minimize call abandonment. Some providers offer an analytics dashboard feature that allows you to dive deeper into where customers seem to have issues with your IVR menu.
Top Benefits of Well-designed IVR Menus
A properly designed IVR helps resolve customer concerns and reduce live agent call queues. IVRs are revolutionizing the customer journey by offering an effective self-service tool and clear messages that align with the organization's branding. Optimizing your IVR means regularly updating the script, including options, company announcements, and products mentioned in the recordings.
Here are the benefits of following IVR design best practices to improve your system:
By offering more self-service options, you unload your agents' workload by allowing customers to take action and resolve their concerns independently. An IVR is an affordable alternative to adding more agents, effectively increasing your return on investment.
---
Small companies integrate IVR services into their phone system to accurately route callers to the most appropriate agent, department, or extension. This saves the time of both your customer and your agent.
---
Depending on your service provider, IVR systems often allow you to record customized messages and guide callers through the menu. Greet your customers and engage them professionally with a tone and greeting that match your company's branding.
The voice you select matters and impacts first impressions and customer mood. Choose from our list of the best professional voicemail greeting providers and enhance each customer's calling experience.
---
IVRs significantly increase first contact resolution because callers are allowed to address their routine concerns, such as bill payment and account information inquiries. Further, with efficient routing, customers are directed to the appropriate agent or department most able to meet their needs.
Customer satisfaction and call center productivity are essential to a company. To measure the effectiveness of your IVR system, review your IVR call containment rates. This data refers to the number of calls an IVR menu handles without needing the intervention of a live agent. Many phone service providers offer IVR reporting, including call containment rates.
---
Want to learn more about measuring call center performance? Read about our call center metrics and key performance indicators (KPI) your business should measure. Improve your customer and agent experiences by understanding the types of data you should be tracking.
Frequently Asked Questions (FAQs)
What can I use to design my phone IVR system?
Use a design approach or software that is most comfortable for you. In addition to using pen and paper or Canva, some other options include Microsoft Word's SmartArt, Paint, Visme, and Adobe Spark. Suppose you're looking for a provider with built-in IVR programming; RingCentral's IVR Designer enables users to create basic to complex IVRs using IVR Studio's drag-and-drop interface.
How much does an IVR cost?
The cost of an IVR solution varies among providers, with IVR services typically included in business communication packages. Most VoIP business phone packages are paid monthly, with prices somewhere between $15 and $35 per user. Check out our list of the best IVR systems to find the best solution for your business.
Are IVRs & auto-attendants the same?
The terms auto-attendant and IVR are typically used interchangeably, but they're not the same. The primary function of an auto-attendant is to play a static message, route calls, and play music while a caller is on hold. On the other hand, an IVR provides interactive prompts that feed the caller information and collect their response into a database.
Want to know more about IVRs? Read our introduction to IVR article that gives an overview of the technology. IVRs allow customers to handle routine phone transactions without a human operator. Self-service options for everyday tasks help reduce agent call volumes, lower operational costs, and reduce customer wait times.
Bottom Line
A well-designed IVR menu system provides better customer experiences and efficient workflows for your agents. Plus, integrating an IVR into your phone system helps your agents triage customer needs. When setting up your IVR, maximize advanced features, such as conversational artificial intelligence (AI) and more robust analytics, to equip agents with the right tools to handle callers' concerns faster and more effectively.