A phone tree is a menu-driven phone system that routes callers to an extension or person as well as sends messages to a large group of people. Setting up a phone tree is a three-step process that includes drawing out your tree, assigning employees to call groups, and programming the tree into your VoIP service.
How a Phone Tree Works
Before internet phone systems became popular, a phone tree was simply a list of phone numbers you were responsible for manually dialing during an emergency to ensure important messages were quickly disseminated. However, the term "phone tree" now describes a built-in feature set up in voice-over-internet-protocol (VoIP) phone systems, which automatically routes callers to the destination they are trying to reach based on predetermined rules you define.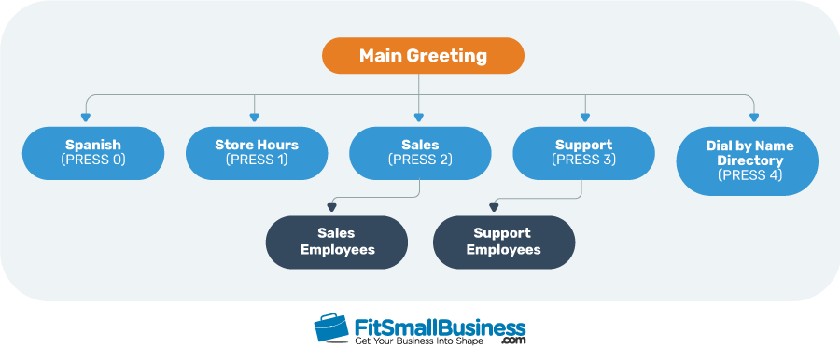 Modern phone trees found in many of today's business phone systems do this by greeting callers with a series of voice menus. Callers respond to a phone tree's menu prompts either by pressing phone keys or saying specific words or phrases. The system recognizes these tone presses or phrases and then routes callers based on your programmed rules to the right number or extension. Outgoing emergency phone trees can also be set up, using the same feature, to connect callers without human intervention.
Phone trees are designed to help businesses save money as it minimizes, if not eliminates, the need for a full-time live receptionist and can create the impression your business is much larger than it actually is. Also, while a phone tree's auto-attendant may not be as personable as a receptionist, it reduces the risk of a call being sent to the wrong person or wrong department due to operator error.
In addition, it can also minimize leads being sent to voicemail. This is an important benefit as the majority of callers sent to a business' voicemail don't leave a message. For example, rather than relying on callers to leave a detailed message, phone trees can route calls to an alternate line, like a mobile phone, when the call is placed outside of regular business hours.
Phone Tree Providers
Most of the leading VoIP services on the market will allow you to set up and deploy phone trees for your callers. However, if your service does not, you should know that there is a wide range of options available to suit virtually every type of business and budget to consider as an alternative to hiring a third-party answering service or sending all your calls to a single generic voicemail.
For example, RingCentral is one of the leading voice-over-internet protocol (VoIP) providers today thanks in part to its powerful, multilevel automated attendant functionality. The company's software makes it easy to configure phone trees that suit the unique needs of your business. RingCentral also offers a 15-day free trial so that you can see what it has to offer before making a commitment. Visit RingCentral's review page to learn more today.
How to Set Up a Phone Tree
Before programming your phone tree, draw up a rough draft of how you want your voice menu to behave. You will also want to assign your employees to different call groups. After you've visualized your phone tree, go into your VoIP service's administration portal and program the tree. We've broken the process down into steps, using RingCentral as an example.
There are three important steps to follow when setting up a phone tree:
1. Draw Up a Phone Tree
Before you configure a phone tree in your VoIP system, it's helpful to draw out a flowchart laying out what sort of options you want to offer your callers. You can either use a program like MS Paint or Canva to perform this step or draw one by hand on a piece of paper. This flowchart should include key components such as your main greeting, language options, call groups, keypad options, directory, and department extensions.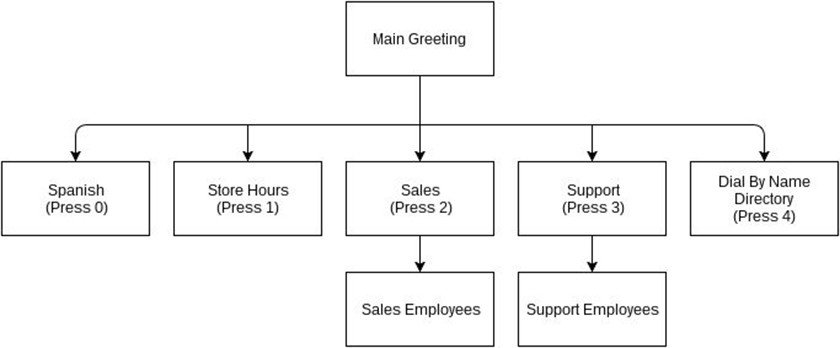 The common components of a phone tree are defined per the following:
Main Greeting
The main greeting will be the first thing that customers and associates hear when they call your organization. This greeting will identify the company so that callers know they've dialed the number correctly. It will also provide all of the voice menu options, listing each option that the caller can press at any time. Most VoIP business systems will have one or two different voice options for menus.
Language Options
It's a good idea to offer your voice menu in multiple languages so that navigating the voice menu is easier for non-native English speakers. Make this the first voice menu option so that these callers can hear the rest of the menu in their preferred language. Many systems, including RingCentral, allow you to configure your voice menu in English, Spanish, and other languages.
General Information
Sometimes, your customers may call to find out general information, such as store hours or directions. Rather than taking up your staff's time to answer these routine questions, you can provide that information automatically with your phone menu. Your automated attendant can say "press two for store hours," for example, and callers can then press two to hear when your business will be open.
Call Groups
The most important part of your phone tree is offering callers an option for reaching different departments in your organization, otherwise known as call groups. In most cases, you'll want to provide voice menu options to quickly reach your sales and support teams. However, you might also find it useful for your organization's needs to route callers to departments like accounts payable or sending and receiving.
Dial-by-Name Directory
In addition to routing callers to call groups, a phone tree gives your customers the ability to reach individual employees at your company. This dial-by-name directory can ask callers to enter the three- or four-digit extension they want and quickly be routed to the person they wish to speak with.
2. Assign Employees to Call Groups
Once you have your phone tree drawn into a flowchart, the next thing you should do is note which employees will be part of each call group. This will help when you program your auto-attendant into your VoIP system and have to assign employee extensions to every department. You can either write these assignments in your flowchart bubbles or as a list below your phone tree.
For the most part, this process will be straightforward: Salespersons should be placed in your sales call group, and customer support agents should be in a support call group. Some systems will also let you assign one employee to multiple call groups, which can be beneficial in cases where employees float between different departments.
3. Set Up Your Phone Tree in a VoIP System
Once you have your phone tree drawn out and you have figured out what call groups your employees will be part of, it is time to program the voice menu in your business VoIP system. To demonstrate how this is done, we will be using RingCentral as an example. However, these steps require you to have already set up your VoIP system. If you are changing providers and need help with the initial setup, consider downloading our guide on the subject.
Here is the process of programming a phone tree:
Open the Automated Attendant Menu
Depending on what service you have, your phone tree may be referred to as an automated attendant, voice menu, or virtual receptionist rather than a phone tree. Find this option on your phone system's management portal to get started. If you are using RingCentral, go into the Tools drop-down menu and select IVR.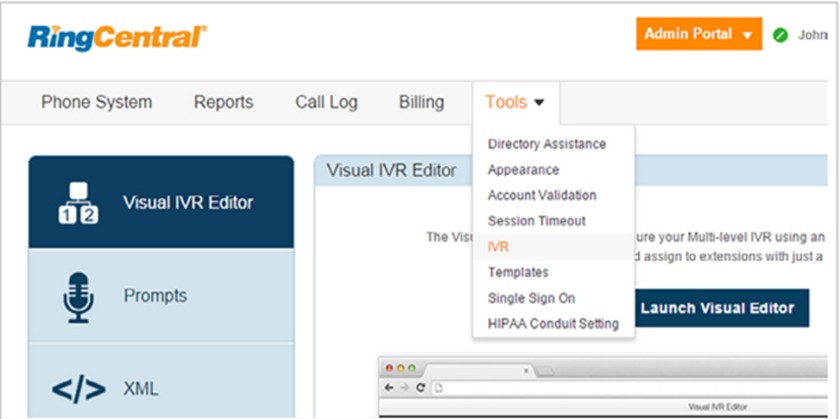 From there, your VoIP system should have an option for adding a new menu. In RingCentral's case, you will be greeted with options for editing existing menus or creating a new one in this menu.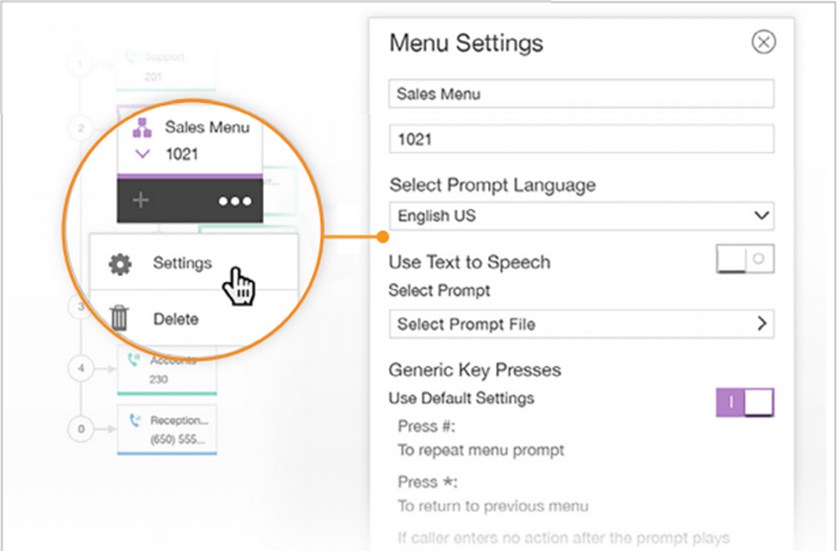 Configure Phone Tree Settings
The next step in the process is to configure your phone tree options. Using your written chart and call group assignments to guide the options, flow, and scheduling of your automated attendant. You will likely find equivalent options in your VoIP systems, but this is how you would complete the configuration process in RingCentral:
Next, you will need to define how your calls should be routed. These are also known as your phone trees option settings. For example, you may be able to specify that the system route calls to extensions, virtual receptionists, call groups, call queues, or an outside number from a recorded list of options.
RingCentral's drag-and-drop builder menu allows you to add the following to your phone tree:
Extension: Add a specific individual extension to your menu
New Menu: Deploy a new menu as an option in your existing phone tree
Existing Menu: Copy the tree structure of a different menu
External Transfer: Send callers to an external number
Directory: Attach a dial-by-name directory to your voice menu
Voicemail: Send users to a voicemail inbox
Depending on how your system is set up, you can also enable more advanced options:

Advanced Phone Tree Options
Description
Record Business Hours Greeting

Lets you record a greeting that advises callers of your regular business hours

After-hours Virtual Receptionist

If you decide to configure separate options for non-business hours, you can specify whether a live operator picks up a call first and where to route the call

Non-business Hours Greeting

This option lets you record a greeting to let callers know that the office is closed

Virtual Receptionist Schedule

You can specify whether the system will use a 24 hours a day, seven days a week answering service or configure separate options for non-business hours

Manual Schedule Override

This option allows you to bypass the schedule in place and is only available after you set up and save your virtual receptionist

Last updated on 04/14/20
Define Scheduling & Complete Setup
If you want your virtual receptionist to be available 24 hours a day, seven days a week, then your setup is complete. However, if you want to create other voice menu options for off-hours, you can usually configure that in the management console. In RingCentral, you can configure this option in your IVR settings menu.
Frequently Asked Questions (FAQs)
Do I need to record my phone tree menu audio?
Most VoIP phone systems will come with at least one voice for your virtual receptionist. However, RingCentral and other vendors also have professionally recorded greetings that you can upload to your phone system. You can also upload your own voice if you think that it sounds professional enough to represent your company.
What is the difference between a phone tree, automated attendant & virtual receptionist?
Software providers use different names for phone tree features for marketing purposes. Your VoIP system might refer to a phone tree as an automated attendant or a virtual receptionist, but they are just different terms for what amounts to the same thing.
Are there phone tree templates available?
If you do not have time to draw up your own phone tree, we have developed a wide range of premade phone tree templates that can get you up and running. On the other hand, RingCentral and other systems are intuitive enough that you can build a simple voice menu in just a few minutes that you can add more options to later.
Other than voice menus, do phone trees have other uses?
In addition to greeting callers and voice menus, phone trees can also be configured to send out emergency notifications to a preconfigured list of phone numbers. An example of this would be a company sending out a message to all employees that the office is closed due to inclement weather. These messages can be voice calls, SMS, or both.
Bottom Line
An effective phone tree is both comprehensive enough to route callers to all areas of your business and simple enough that it does not confuse callers. Fortunately, RingCentral and other VoIP business systems make building phone trees a simple and relatively painless task.