A phone tree is another term used to describe the organization of automated menus offered by most voice-over-internet-protocol (VoIP) systems, which help callers reach their desired departments, extensions, or individuals. Most of today's leading systems offer tools to build your phone tree through the administrative portal in just a few steps.
We go into each step using RingCentral's top-rated system as an example, but expect each VoIP service's management portal to look slightly different. It is also worth noting that setting up a phone tree is only one step you'll need to complete when implementing a new phone system. This is why we recommend those new to VoIP check out our more comprehensive guide on how to set up your VoIP system before moving on to phone tree creation.
1. Draw Your Phone Tree Diagram
A phone tree diagram is a flow chart showing your caller's options, which will help you visualize the caller's journey. It doesn't have to be a fancy document. You can use programs like Canva or MS Paint, or select an online template that opens in Microsoft Excel or Google Sheets to make it. Of course, you also can draw your flowchart on paper, or check out our list of phone tree examples for some inspiration.
No matter what it looks like or how you create it, the important thing is your phone tree diagram addresses the following elements:
Main Greeting
When your customers call your business phone system, the first thing they hear is your main greeting. It lets callers know your business name and provides voice menu options. Callers can transfer to a department or reach a member of your team by pressing a number. Depending on the size of your company, you may have one or more menu options.
Language Options
The first option most callers hear is a language selection. This allows non-native English customers to listen to menu choices in a familiar language. You may offer the choice of English or Spanish. But many systems provide other language selections as well.
General Information
Your phone tree can include an extension to hear general information, announcements, or promotions. For instance, you can add an option to listen to store hours. Your callers will hear "press two for store hours." Upon pressing two, the auto-attendant routes callers to an extension where they hear your business hours. This is an essential part of the call routing process.
Call Groups
Call groups are your business departments, and it's vital to include these options when configuring your phone tree. Companies often offer menu choices, such as sales, customer service, or finance. However, if you get frequent calls for technical support or need to provide details for emergency assistance, you can add these options.
Dial-by-Name Directory
Each employee at your company can have a three- or four-digit extension. Although you may give callers the option to choose call groups, known as business departments, it's also a good idea to provide a dial-by-name directory. Callers can dial the extension if known or use the dial pad to select the first letter of the employee's first or last name to hear a list of extensions.
2. Assign Employees to Call Groups
After you design your phone tree, it's time to define which employees should be reached under each voice menu option. You can add these details to your flowchart using bubbles, or call-out boxes, in the design or make a list below each element.
You should write down the name and extension of all employees that fall within a call group, even if they are temporary employees or staff who float between departments. For example, a team member who answers customer support calls during the week but covers the finance department on weekends should be listed under both options. This is because some VoIP services let you assign team members to several call groups.
3. Set Up Your Phone Tree in a VoIP System
Now your flow chart lists everything you need to program your phone tree in your business VoIP system. All voice menu setups are slightly different, so the following instructions may vary, depending on your VoIP provider. To arrange your menu, you need an active subscription for business phone services, or you can practice setting one up during a free trial.
RingCentral provides a user-friendly phone tree editing tool, making the whole process easier. Depending on your plan, you can opt for a single or multilevel auto-receptionist, allowing you to scale your voice menu as your company grows. This is why we've chosen it to illustrate the remaining steps; however the process will be similar for most providers.
Open the Automated Attendant Menu
Most VoIP services provide an administrative portal where you can access your phone tree settings. The menu option may be under a tab for an automated attendant, virtual receptionist, interactive voice response (IVR), or voice menu. For example, RingCentral provides a Visual IVR Editor tool for creating a new menu. All you have to do to create a new phone tree is:
Log into your account as an administrator
Click on Phone System, then Auto-Receptionist
Tap IVR Menus to see existing phone trees or click New IVR Menu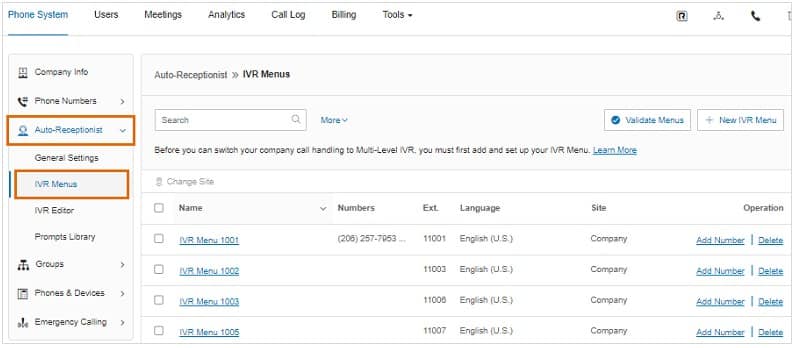 Configure Phone Tree Settings
Once you've created a new menu, you can add phone tree components using your flowchart. Many programs let you click on an icon or flowchart element to add various destinations and an associated number key. Methods vary by VoIP provider, but you can complete the setup in RingCentral using the drag-and-drop editor.
Configure your phone tree option settings by selecting the various call groups, extensions, call queues, or external numbers to correlate with each numerical choice. In RingCentral, you can choose from:
User extension: List specific employees and their extensions
New menu: Send callers to a second menu or sub-menu for more options
Existing menu: Use the setup from a current menu
External transfer: Direct callers to a mobile phone or another external number
Directory: Add a dial-by-name guide to your menu options
Voicemail: Transfer callers directly to voicemail
Your phone tree system also may support advanced options, such as a message-only extension or announcement-only extension. Other features may include:

| Advanced Phone Tree Options | Description |
| --- | --- |
| Record Business Hours Greeting | Share your business hours with callers |
| After-hours Virtual Receptionist | Configure call rules for non-business hours |
| Non-business Hours Greeting | Create a different greeting for after-hours |
| Virtual Receptionist Schedule | Choose a 24/7 configuration or select a menu for non-business hours |
| Manual Schedule Override | Bypass the existing schedule until you finish the phone tree setup |
Define Scheduling & Complete Setup
The basic setup makes the virtual receptionist available 24 hours a day, seven days a week. But some systems support a second menu for use during non-business hours. RingCentral offers this option in the IVR settings menu, and Office Standard, Premium, and Ultimate plans let you create up to 250 IVR menus.
Frequently Asked Questions (FAQs)
How do you make a phone tree template?
You can make a phone tree diagram using Google Sheets, Microsoft Excel, or Canva. However, many small businesses have a simple menu setup, so you can model your configuration using premade phone tree templates. With tools, such as RingCentral's IVR editor, you can drag and drop your options onscreen and easily edit them as your business grows.
Can a phone tree support outbound calling?
Some VoIP services support emergency notifications to a preset list of numbers. You can input phone numbers individually or upload a CSV file of contacts. Small businesses use an emergency phone tree to notify employees of an office closure. The automated service may send messages via voice calls or SMS.
Should I record the audio for phone tree menu options?
Most VoIP providers offer one or more voice options for your virtual receptionist, so you don't need to record the audio. However, you can opt for professional voice recordings, which is a nice touch for adding announcements. If you prefer to use your voice for the phone tree audio, some services provide this option.
Bottom Line
A phone tree system improves customer experiences by routing callers to the right department. With a simple setup, you can reduce call waiting times and deliver answers to frequently asked questions without tying up your phone lines. Moreover, voice menu use can connect customers to in-house or remote team members.