An interactive voice response (IVR) system, also called a phone tree system, is an automated menu that efficiently routes a caller to the right department or extension. Learn how to set up a phone tree system by creating a call routing diagram, assigning call groups, and configuring your phone system's settings, including the operating hours. Knowing how to set up a voice-over-internet-protocol (VoIP) phone menu ensures your customers' calls are routed to the correct agent.
Follow these steps on how to create a phone tree for your VoIP business phone system:
1. Create a Call Flow Diagram
A tree begins with a diagram that maps out all the elements and individuals that take part in the customer's journey from the time they call you until the resolution of their concern. When designing your call routing flow, consider the participating departments, language options, the extent of self-service options, and at what point calls will be transferred to a live agent.
The diagram should be able to provide details for the customers and answer questions, such as the department the customers need or the extension of the person they wish to call.
When setting up your diagram flow, make the instructions and options easy to understand using simple, straightforward language. Make sure to look at the process from the customer's perspective. Fortunately, there is no shortage of online resources to help you design a call flow diagram, such as Canva, Visme, Adobe Spark, Crello, and even Microsoft Paint or PowerPoint. Developers even often put pen to paper and draw out how you visualize the process.
To help you along, we have created customizable diagram templates for small businesses that are free to download. Take inspiration from our eight templates, which serve as a starting point for your sales teams, support centers, and outbound call agents.
Thank you for downloading!
💡 Quick Tip:
RingCentral has a dedicated multi-level interactive voice response (IVR) system that you can use to guide customer interactions with your company. Check out this feature as well as their entire suite of business communications features with their 14-day free trial!
Visit RingCentral
---
Regardless of how you create your phone tree diagram, here are a few components of your tree that should be present:
The main greeting sets the tone for a customer's interaction with your business. Once a customer dials in, they'll be greeted with a prerecorded message that should include your business name and other packets of information, such as the main menu options, your service hours, and your intent to record the call.
When constructing your message, it's best to keep it short and straight to the point. This avoids taking up too much time for a possibly irate client. We recommend including a concise reassurance statement emphasizing your commitment to helping, such as, "We are here to help."
Pro tip: The best business phone systems will let you create multiple menu prompts for your customers. You'll want these to be clear and concise menus, which is why some businesses have their prompt scripts professionally recorded. You can also use text-to-speech to have a computer-generated audio file for your phone menu prompts.
---
Your language options should immediately follow your main greeting. This helps non-English speakers navigate through the process in the language that is most convenient for them. Be sure to include non-English submenus with all the proper counterparts for each language.
Need bilingual receptionists? Bilingual receptionists offer small businesses distinct advantages like reducing communication barriers and expanding client bases to non-English speaking customers, building customer loyalty, and boosting your professional image. Read our guide on best answering services, which includes providers offering bilingual receptionists.
---
Many businesses include an extension for company announcements, including special promos, statements about common concerns, and service reminders. Businesses also opt to record statements right before offering submenu options. For example, once a customer chooses bills payment, include an announcement on cut-off times for processing payments or what information they should have on hand for efficiency.
Pro tip: Your IVR recording directly translates your company's brand and level of professionalism. The tone depicts your empathy and enthusiasm for customer service. Consider hiring professional voice talents to ensure your message creates a positive atmosphere for your business. Fiverr is a platform for freelancers where professional voice actors charge between $10 and $100, depending on length, complexity, and the voice actor's experience.
---
Call groups determine where calls will be routed, and in this stage, you need to identify and group the business departments your customers will engage. For example, your submenu will allow your client to press "1" for the sales department or "2" for the billing team. This submenu is dynamic and will continue to expand as your business grows.
---
Agent or representative directories allow clients to have immediate and direct access to their points of contact. Customize your tree to include a dial-by-name directory where agents have a specific extension number for customers with existing relationships with particular team members. This shortens the customer's waiting time and connects them with someone familiar and knowledgeable about their account.
---
2. Assign Phone Tree Call Groups
Once your diagram is completed, the next step is to classify your employees by their respective departments. Call groups are assigned to specific departments, so it's crucial to ensure employees are assigned to the correct department to avoid misrouting calls. For example, a customer intending to reach customer support would find it frustrating to be routed instead sent to someone from the sales department.
When you set up your menu, it's best to list all the names and extensions of employees who fall within a specific call group. Ensure to include temporary and floating staff to make the directory as accurate as possible. With some providers, including RingCentral, you assign agents to multiple call groups.
3. Configure Settings in the IVR Menu
Now that all your staff and departments have been identified and laid out, the next step is configuring your interactive voice response (IVR) menus. The process varies from provider to provider, but typically, it would entail using its web portal and a visual hierarchy for IVR configuration. In the portal, account managers would outline each menu item identifying the action corresponding to each key press.
For example, following the welcome message, each key press would have a corresponding action, e.g., "0" sends the caller to voicemail, "1" sends them to the call queue, and "2" sends callers to agent extensions. Other programmable details include the number of times the options are repeated, and with no valid input after the third cycle, the call will be disconnected.
To illustrate the process, we are citing RingCentral as one of our phone tree examples, as it currently has one of the best IVR systems on the market. Its IVR solution is part of a cloud-based call center solution with a Visual IVR Editor, which provides a clean user interface with drag-and-drop menus for users. This makes the process of setting up a menu simple and easy.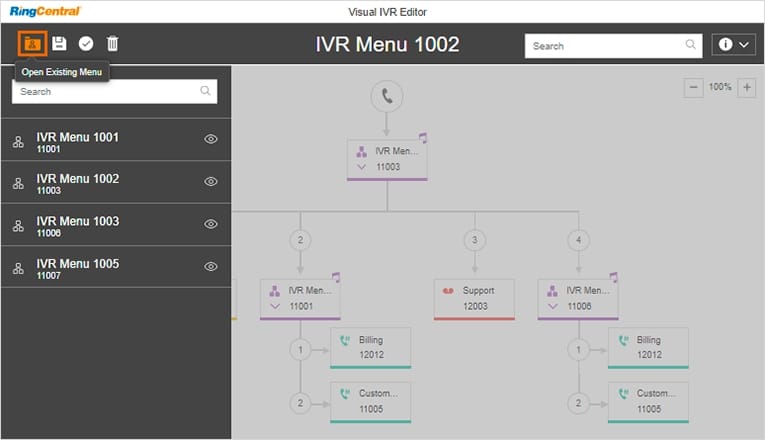 ---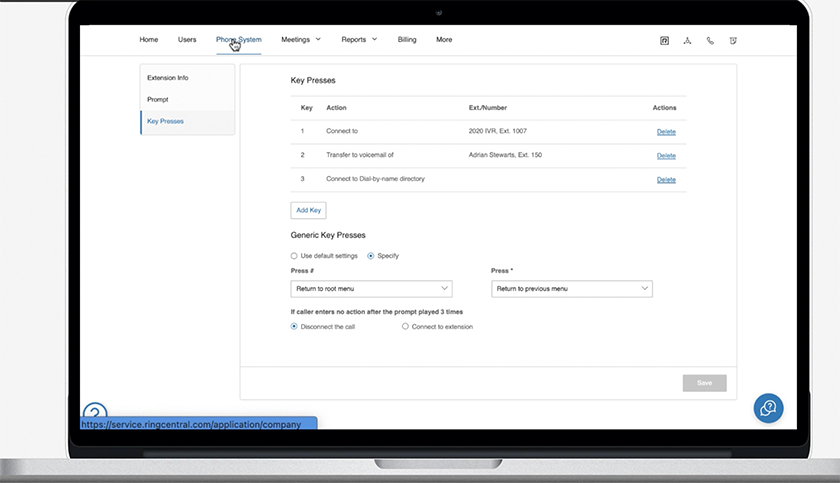 ---
Pro tip: We recommend keeping your IVR menus to a minimum of three key press options and a maximum of five, ensuring clear and short messages. Make sure to run through your menu recordings, paying close attention to clarity.
4. Set the Hours of Your Phone Tree Menus
Not all companies, especially small businesses, have the capacity to run a service hotline 24/7, and this is where an IVR phone system comes in. By default, IVR systems operate round-the-clock, but certain providers, like RingCentral, offer a second menu that will be active after business hours. Its Ultimate Plan allows for programming up to 250 options at a time.
A separate after-hours IVR script and menu informs your customers of your business hours and will enable them to leave queries via voicemail. Having an IVR system available outside operating hours allows clients to lodge product inquiries for the sales team to follow through and report service issues. IVR systems capture concerns, take messages, and facilitate clients' receipt of callbacks.
Recommended IVR Providers
IVR systems help businesses increase first contact resolution through enhanced self-service capabilities. IVR lets callers resolve issues through an automated process that traditionally would have required interaction with a human agent. Great IVRs incorporate call forwarding and routing prioritization, voice recognition, and third-party integrations. Below are three IVR system providers to consider as you develop your IVR automated system:

RingCentral MVP (messages, video, and phone) is a complete cloud phone system that includes IVR tools for efficient call routing. Its tools include an easy-to-use Visual IVR editor that helps configure menus and import/export extensible markup language or XML files. It offers multilevel auto-attendants, multiple options for creating IVR menus, and excellent voice recognition features.
RingCentral MVP offers four plans: Essentials, Standard, Premium, and Ultimate. The Essentials plan comes with automatic call distribution and IVR. Unfortunately, RingCentral does not publish its rates for its MVP plans on its website. Similar services offered by other providers range from $20 to $30 monthly, per agent.
RingCentral MVP is an excellent fit for businesses with high call volumes looking for an IVR system with a multilevel auto-attendant. Read this RingCentral review to learn more about this cloud-based communications platform and what services it can offer your business.

Grasshopper is a VoIP business phone service provider offering businesses virtual telephony features, including IVR systems, to improve customer service. Its call routing features include business hour schedules, call transfer, and forwarding, allowing users to create team extensions for efficient routing.
Grasshopper offers three plans: Solo, Partner, and Small Business, with its base plan starting at $34 monthly for one phone number and three extensions. All of its plans come with business phone numbers, call forwarding and transfer, simultaneous call handling, extensions, and voicemail.
Grasshopper has released a True Solo plan that's designed to provide solopreneurs with a virtual phone system, and it costs only $14 per month.
This provider offers some of the most affordable plans, ideal for solopreneurs and small business teams. It's best for companies with low call volumes looking for a budget-friendly virtual phone system with an auto-attendant. Learn more about this cost-effective VoIP platform by reading our Grasshopper review.

CloudTalk offers an IVR system with comprehensive features, including speech recognition, customer relationship management (CRM) integration, and outbound IVR. Its call flow designer lets you customize your IVR process and is an intuitive call flow designer. Create different menu branches, send calls to voicemail, and forward IVR calls to specific phone numbers.
CloudTalk offers three plans, Starter, Essential, and Expert. The Starter plan, which starts at a monthly price of $25 per user, billed annually, comes with unlimited inbound and intracompany calls, automated call distribution, and unlimited call queuing. CloudTalk offers skills-based routing features in its higher-tiered plans for advanced features.
Based on our evaluation, CloudTalk is the top provider in terms of its range of IVR tools. Its key features include intelligent detection, IVR surveys with email reports, and the earlier-mentioned designer software. Learn more about CloudTalk and its services and pricing options by reading our CloudTalk review.
Frequently Asked Questions (FAQs)
What makes a good phone tree?
Based on the steps outlined above, a good tree is carefully designed with the customer journey in mind. Messages are short and straightforward, menu options are clear and well categorized, and give customers the chance to speak to an operator or agent at some point. Check out our guide on IVR design best practices to improve caller experiences and outcomes.
Is a phone tree automated?
Yes, they are automated VoIP features that connect callers to appropriate extensions and agents. Using a preprogrammed IVR system, callers are typically greeted and prompted to answer menus to ascertain their purpose and concern and route accordingly. The system recognizes commands based on predetermined protocols and programming and routes callers to appropriate departments, ring groups, or call queues.
How much does this type of menu cost?
Popular phone solutions with IVR and automatic call distribution (ACD) usually cost $20 to $75 per user, paid monthly. IVRs are typically included in business communication phone systems offered by different VoIP providers.
What types of businesses need a phone tree?
This feature is used by companies of all sizes needing automated call routing solutions. Small businesses use this service to support lean customer service teams and provide 24/7 hotline availability. Companies in healthcare, finance, banking, retail, and other sectors that need round-the-clock answering services use IVR solutions.
Bottom Line
When setting up a phone tree, keep the process simple and your customer in mind. Consider how you phrase statements because a well-planned flow maximizes self-service, ensuring your agents are focused on the calls that maximize their skills. Now that we've learned how to set up a phone tree, it's time to fit it into your VoIP communications system. Read our guide on how to set up a VoIP system to learn more.