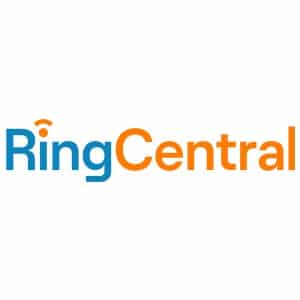 RingCentral is a communications platform that helps businesses connect with their customers and teams. It is often used by companies that are looking for a scalable and robust voice-over-internet-protocol (VoIP) solution. RingCentral is among the best small business phone systems because of its tiered pricing plans with comprehensive features that come with reasonable prices.
What We Recommend RingCentral For
RingCentral provides a comprehensive cloud-based platform for managing communications across channels, such as voice, voicemail, fax, and text. It offers various subscription options that are great for businesses looking for a budget-friendly and easy-to-use phone service. There may be cheaper alternatives, but RingCentral features the most comprehensive system, perfect for those looking to scale.
Moreover, RingCentral provides useful features like vanity and toll-free numbers, document sharing, and unlimited calling in the U.S. and Canada in all of their plans. Other providers offer these in their premium subscriptions or at additional charges.
In particular, RingCentral is best for:
When RingCentral Would Not Be a Good Fit
Small businesses and teams with limited needs and low budgets: RingCentral features advanced capabilities and inclusions that come at higher subscription rates. Those not looking to scale any time soon and need a basic and budget-friendly VoIP solution can check out Ooma instead.
However, freelancers and companies with teams of less than 20 may find Dialpad to be a better provider for their needs. It may not support conference calls for large audiences, but it does offer unlimited calls in the U.S. and Canada.
Want to check out other options? Read our guide to the best VoIP apps for business to determine which product matches your needs.
RingCentral Overview
| Pros | Cons |
| --- | --- |
| Supports various communication channels, such as video, text messages, and team messaging | Has tons of features that may be overwhelming to some |
| Great for high call volumes with features like IVR and multilevel auto-attendants | No professional audio greetings included |
| User-friendly for all skill levels | More expensive than its alternatives |
| Free demo videos available | Occasional system lags during peak operation hours |
| Wide range of third-party app integrations | Users reported poor customer service |
| Multiplatform support | |
Use the link below to schedule a call with RingCentral to learn how they can benefit your small business.
Schedule Call with RingCentral
RingCentral Pricing
RingCentral has four different pricing plans. All plans include visual voicemail, desktop, and mobile apps, document sharing, call management, team messaging, and more. The main differences between the plans are the maximum numbers of users per account, toll-free minutes, and video meeting participants allowed per session, among others.
Essentials

Standard

Premium

Ultimate

Best For

Businesses that need messaging and phone capabilities

Those who need phone, messaging, and video features

Teams needing a solution with communication and open platform functions

Enterprises that need a complete communication and open platform solution

Monthly Pricing
($/User/Month)*






$39.99

$49.99

$59.99

$69.99

Annual Pricing**
($/User/Month)






$29.99

$39.99

$49.99

$59.99

Toll-free Minutes

100

1,000

2,500

10,000

Video Meeting Participants per Session

N/A

100

200

200

Maximum Number of Users

200

Unlimited

Unlimited

Unlimited

Visual Voicemail

✔

✔

✔

✔

Unlimited Internet Fax

N/A

✔

✔

✔

Multisite Admin and Management

N/A

N/A

✔

✔

Device Status Reports and Alerts

N/A

N/A

N/A

✔
*Rates are based on a subscription with one user only. The more users subscribed to the account, the lower the per-user fees will be.
**Annual plans are paid in full at the beginning of the billing cycle.
RingCentral Add-ons
You may add extra vanity numbers for a one-time fee of $30 each.
An additional toll-free or local phone number costs $4.99 per user, per month.
Purchase a new international number at a starting price of $5.99 per user, per month.
An international toll-free number is available for $14.99 per user, per month plus a one-time $25 fee.
RingCentral allows international calls at added per-minute rates that range from 1 cent to 16 cents. Calls to the U.S., Mexico, and Puerto Rico are already included in its plans. Additionally, it offers three cloud-based contact center plans for those looking for a solution with inbound voice, inbound voice and omnichannel, and inbound and outbound voice with omnichannel capabilities, respectively. Prices for these subscription options are available upon request.
RingCentral Glip—a free team messaging and video conferencing software—is also available. This software features a 24-hour meeting duration, support for up to 100 participants, an unlimited number of meetings, and integrations with Microsoft 365 and Google Workspace, among others. Those who need to host up to 200 participants may subscribe to a premium plan ($14.99 per user, per month when billed monthly).
RingCentral Hardware
RingCentral users can purchase or lease communications hardware, such as VoIP phones, conference tools, and headsets. Comparison tables are also available on its website to aid those looking for the best option for their needs. Most hardware is available for rental for those with multiyear RingCentral MVP subscription contracts.
Moreover, you can utilize your existing VoIP phones, such as Cisco, Polycom, or Yealink, with RingCentral. A list of the tested phones—supported in the U.S., Canada, and the U.K.—with its platform is available on its website.
VoIP Phones
Choose from various VoIP phones, including desktop, cordless, adapter, and receptionist, with RingCentral. Brands available are Unify, Polycom, Cisco, and Yealink, and prices range from $3.99 to $34 per hardware, per month, or $129 to $569 (one-time fee). Those interested may contact its sales team for more information.
Conference Hardware
RingCentral offers Polycom conference phone rentals at $34 to $80 per month, or $699 to $1,699 (one-time fee). These phones provide a 7- to 20-foot microphone pickup that is ideal for small to large conference rooms.
Headsets
Seven types of headsets from either Voyager or EncorePRO are available. However, the prices aren't published on its website. The features typically include active or enhanced noise canceling, dynamic mute alert senses and alerts, smart sensor technology, Bluetooth connectivity, and wideband audio.
RingCentral Features
RingCentral is a cloud-based business phone system accessible across various devices. It is recommended for businesses with accelerated needs that do not mind its pricier subscriptions for the included premium features, even in their base plans.
Unlike some of its competitors, it provides unlimited calls within Canada and the U.S., unlimited business SMS, team messaging, visual voicemail, toll-free minutes, and document sharing on all plans. Though it has a wide range of advanced features, some users may find it overwhelming and complicated trying to learn them all.
Apart from RingCentral's core capabilities, it also features the following:
Call recording: RingCentral offers two call recording types—on-demand and automatic—that depend on the plan. On-demand call recording allows Standard plan users to manually record calls through their IP phone provisioned with RingCentral, RingCentral phone for mobile, or a forwarding number. On the other hand, automatic call recording enables Premium and Ultimate plan users to set up its phone system to automatically record inbound calls for departments and both inbound and outbound calls for individuals.
Number porting: Transfer your existing phone number to RingCentral for free. You may check out our five-step guide on number porting for businesses, where we utilized RingCentral as an example.
Audio conferencing: RingCentral allows Standard, Premium, and Ultimate plan users to host an unlimited number of conference calls. It supports up to 1,000 attendees and provides every user with a unique participant and host access code. RingCentral is our best overall pick in our best conference call services guide.
Third-party integrations: Integrate your existing tools with RingCentral for enhanced productivity and to maximize its capabilities. Its app gallery includes Slack, Salesforce, Canvas, Microsoft Dynamics 365, Zendesk, Zoho CRM, and more.
Analytics: Its analytics portal displays insights on usage, adoption, and quality of service. You may also set up automated alerts to monitor critical parameters and key performance indicators (KPIs), customize real-time dashboards, track all offline and online devices in real time, and more.
RingCentral Call Management
Multilevel auto-attendant
Call screening
Call forwarding
Call flip
Call logs
Call transfer
Call park
Overflow call queues
Call monitor, whisper, barge, and takeover
Answering rules
RingCentral features a robust set of call management features, ensuring that all calls are answered and customers' needs are met. You can stay connected anytime and anywhere, as you can access its platform through a VoIP phone, mobile phone, or any computer.
Businesses with large call volumes will benefit from RingCentral's multilevel auto-attendants. This feature acts as a virtual receptionist that greets callers and directs them to the most appropriate department, number, or employee, according to their specific needs. You may choose customized audio or professionally recorded greetings that will be played to your customers.
Those handling retail businesses can utilize shared lines, allowing any available employee to pick up incoming calls on the nearest RingCentral Polycom phone. This feature makes it easy for mid-size retail and grocery stores, as well as restaurant chains, to handle calls. RingCentral allows up to eight lines and 16 desk phones per group, without limitations on the number of shared-line groups you need.
RingCentral automates call forwarding to any of your phone numbers, such as your personal mobile, home, or office phone number, as well as a group, department, or an extension sequentially or simultaneously.
RingCentral is among our top recommendations for call forwarding providers. You may check out our guide on how call forwarding works and how to utilize it.
RingCentral Phone Number & Extensions
Local phone numbers with over 200 area codes
800, 855,866, 877, and 888 toll-free numbers
Toll-free vanity phone numbers available
Phone extensions
Free phone number porting
All RingCentral MVP plans include business phone or toll-free numbers. Those subscribed to a Standard plan have access to these numbers in over 100 countries. Not all cloud-based business phone systems provide both international calling and phone numbers. That's why businesses with a global presence will appreciate RingCentral's international calling and phone number features packed with robust private branch exchange (PBX) software.
Users may purchase a toll-free vanity number that is easier to remember. You may also easily add, remove, or edit extensions for individuals and departments at various locations and across devices.
Those who want to utilize their existing phone numbers may request number porting on RingCentral for free. Get more clarity on business phone numbers through our extensive guide on virtual phone numbers and local, 800, and vanity numbers.
RingCentral Visual Voicemail
Access from any device
Voicemail preview
Voicemail-to-email
Voicemail greetings
Voicemail-to-text
RingCentral provides each department and phone extension with its own voicemail inbox. Users may access voicemail messages anytime and anywhere through their email, desktop app, desk phone, mobile device, and RingCentral online account. Its software keeps up to 200 combined voicemail messages saved in your account for 30 days.
Notifications are sent to you via email or the app to alert you as soon as your customers leave messages, enabling you to either view or hear them wherever you are. RingCentral also lets you set a default or personalized voicemail greeting.
RingCentral's visual voicemail displays all the essential information, such as the contact name, duration of the message, caller ID, and more. The first 60 seconds of your voicemails are also transcribed to text for easier review. Messages are sent to your email with the transcription and audio file. Moreover, users may forward any voicemail message to their teammates.
Desktop & Mobile Apps
Cloud PBX
Team messaging
Unlimited file and document sharing
Video conferencing with advanced screen sharing
Team collaboration capabilities
RingCentral's desktop and mobile apps are compatible with Mac, Windows, Android, and iOS devices. These apps enable you to stay connected with your team or customers from anywhere with an internet connection.
Integrations
Native integration with Office 365
Connect calls with CRMs like Salesforce or Zoho CRM
Add customer service functionality with Zendesk integration
Integrates with Snap Recordings
Its mobile app lets you manage all communications even when you're on the go. You can access a wide range of features through your tablet or smartphone, allowing you to configure the company directory, manage greetings, set up call handling rules, and more. You may also access your faxes and voicemails, communicate with your teammates, handle incoming and outgoing calls, and attend video meetings.
RingCentral Ease of Use
24/7 support, starting with the Standard plan
Phone and chat support channels available
Easy setup
Minimalist, straightforward interface
Compatible with desktop and mobile devices
Guides, demos, and so on
RingCentral is an intuitive and user-friendly software for users of all skill levels. However, since it comes with a wide range of highly customizable features, setting them all up according to your needs may take a while. Note that these configurations are worth the time to set up to make it work best for your specific business needs.
RingCentral is easier to manage and configure than traditional phone systems as it does not require technicians for setup. Moreover, many feature customizations that can be done from the mobile app, not limiting you when working remotely or away from your desk.
RingCentral Alternatives
| | | |
| --- | --- | --- |
| Best for: Smaller organizations looking for a powerful yet affordable virtual phone system | Best for: Companies wanting a solid package with a free, professionally recorded voice greeting | Best for: Teams looking to make calls to many different countries at no extra cost |
| Starting price: $29 per user, monthly | Starting price: $21.95 per user, monthly | Starting price: $12 per user, per month |
Not sure if RingCentral is right for you? See how it compares with other popular small business phone systems.
What Users Think of RingCentral
Users and other experts agree with our RingCentral analysis being an excellent virtual phone system with VoIP for small businesses. At the time of publication, RingCentral has earned the following scores on our and other popular user review sites:
GetVoIP.com features a Customer Satisfaction Algorithm that collects user reviews, comments, and opinions on the software and analyzes the data to calculate a score. According to its algorithm, RingCentral has an overall 3.9 out of 5 rating based on 356 reviews, and 69% of users recommend it.
When reading through user reviews, here are some of the trends that I noticed:
| Users Like | Users Don't Like |
| --- | --- |
| Stable and easy to use | Complicated to set up compared with alternatives like Jive and Grasshopper |
| Competitive pricing | Poor customer service |
| Great VoIP clarity and quality | Occasional software crashes and bugs |
| Has a comprehensive set of features | |
Bottom Line
RingCentral provides a comprehensive communications platform that unifies messages across channels like calls, faxes, voicemails, texts, and emails. Its tiered pricing plans work best for businesses with growing needs. It features an impressive set of call management features that match those with high call volume.
RingCentral's pricing points may be more expensive than its alternatives in the market. Note that it offers valuable capabilities and third-party app integrations. It also provides premium features in its base plan, such as unlimited calls within the U.S. and Canada, unlike other providers that charge extra fees or offer them with their higher-tiered plans.
Visit RingCentral to request a demo to see it in action and determine if it matches your business needs.