Digital menu boards are electronic screens that show menu options, pricing, and images. They can take many forms, including overhead displays, kiosks, and wall-mounted screens. Digital menu boards are popular in quick-service restaurants, coffee shops, groceries, delis, and food halls. These screens can also be adapted and customized to show video, directions, weather, or entertainment.
Digital menu displays are an easy, high-impact way to show nutritional information, current promotions, new items, or information that helps customers navigate your shop. The screens themselves can be pricey— ranging from $325 to $1,400— but the ongoing cost for software can be as low as $20 per month.
With advances in smart TVs and streaming devices, it has never been easier to set up digital menu boards and displays. If you're thinking about adding some to your shop, here's the easiest way to do it:
1. Gather Your Hardware
Televisions and media players have come a long way in recent years, and most small restaurants and retailers can piece together a digital display system easily. All you need is a screen, a compatible digital signage player, mounting hardware, and cords to connect these components.
Screens
Most digital menu boards operate on smart TVs. Either LCD or LED screens will work; you just need to be sure that the screens you purchase have HDMI ports, as most digital sign players connect via HDMI. The number of screens you need is entirely up to you. It will vary based on the size of your menu, what you want to display, and how much space you have. For reference, check out a local McDonald's; you'll usually see four to six screens. Your neighborhood coffee shop, however, may only have one or two.
Tip: Some large-scale, wall-size displays operate via projectors. If you want signs that are larger than standard television sizes or want to project signs onto glass, you shouldn't DIY the installation. Check out our list of providers below instead.
Digital Sign Player
Converting a television to a digital menu board requires a digital signage player. These are small devices, similar to a Roku or an AppleTV. Many digital signage companies provide their own signage players. Often, the cost is factored into your monthly fee, or you'll pay upfront. Alternatively, several cloud-based digital signage platforms like SignPresenter, ScreenCloud, and Xogo, operate via Amazon FireSticks, which retail for around $40 each. You'll need a digital sign player for each menu screen.
For a super low-cost digital menu board, you can use a thumb drive with your menu image in lieu of a digital sign player. Just make sure your television has a USB port to accept the drive. Some menu design platforms, like DSMenu, allow simple USB users to use their menu design templates for free. So if you are on a tight budget, this is the least expensive strategy. Your menus will be limited to static images, but for truly small operations this may not be a problem.
Did You Know?
Several studies show that the expense of digital displays is worth the boost to your business. A Nielsen survey found that 80% of grocery stores that used digital signs experienced up to a 33% increase in sales. In another study, 64% of retail businesses said that digital displays increased their customer engagement. Digital signage increases the average purchase by 29.5%.
Peripherals
You'll need to buy mounting gear to install your TVs, as well as compatible connecting cables. Depending on your layout and other cloud-based tools, you may also need internet signal boosters, routers, or wireless access points to ensure your digital signs never lose connectivity.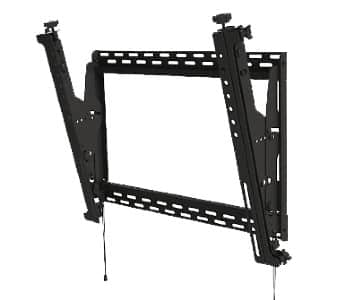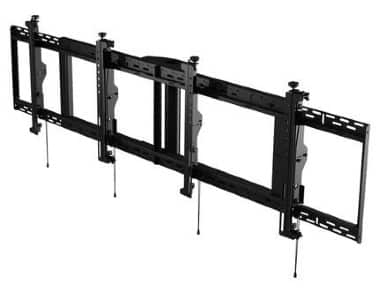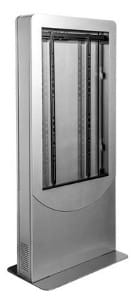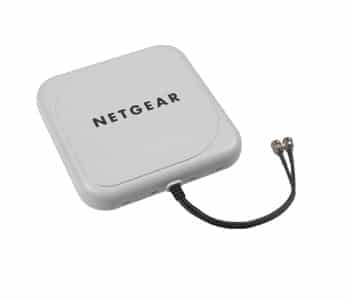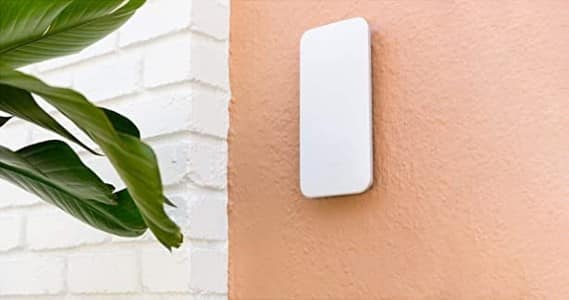 2. Choose Your Software
For the most straightforward, do-it-yourself menu boards, you can't go wrong with one of the many software options that work on a Firestick or USB thumb drive. SignPresenter and ScreenCloud are popular options that include an easy-to-navigate, cloud-based design dashboard and several pre-loaded templates. Folks who use a simple USB-drive setup can use DSMenu's free design tools to create simple, static menu images (dynamic menus with animated functions require an annual subscription).
Most digital sign software providers support many different business types, from restaurants to doctor's offices. However, a few specialize in specific industries like real estate or specific display styles like large-scale video walls or outdoor digital displays.
Digital Display Providers
Provider

Cost

Specialty

Hardware: Any Smart TV or TV with USB upload
Software: $0*-$399 annually

*

basic tier is free

Visually captivating restaurant menu boards with optional design services

Hardware: Proprietary, Custom-quoted
Software: Custom-quoted

Restaurants, stadiums, casinos, amusement parks, retail kiosks; supports an optional integrated POS

Hardware: Custom-quoted
Software: Custom-quoted

Outdoor signage, large scale installations, restaurants, retail, hotels, healthcare, government, nightclubs, stadiums, transportation

Hardware: Operates on iPads (~$400) and 1080p Samsung Smart TVs ($325-$1,400), with proprietary sign player (custom-quoted)
Software: Starting at $99 per month for the POS, add-ons are custom-quoted

Restaurant and retail POS system supports fully integrated digital displays and digital menu boards

Hardware: Any smart TV ($325-$1,400), a variety of third-party USB or HDMI external drives ($120-$300 each)
Software: custom-quoted

Hardware: Any 16:9 widescreen display with an HDMI port, including TVs and computer monitors (costs vary), proprietary ScreenRay sign player (price not publicly listed)
Software: $0-$59 per month

Restaurants, retailers, hotels, car dealerships, gyms, healthcare, real estate, casinos

Hardware: Smart TV with HDMI port ($325-$1,400 each), Brightsign Media Player (~$350 each)
Software: Starting at $30 per month

Restaurants, hotels, healthcare, education, government

Hardware: HDMI-enabled smart TV (prices vary), Amazon Firestick (around $40-$120)
Software: $10 per month for a single screen
Offers a free trial

Restaurants, retail, education, transportation, service businesses

Hardware: HDMI-enabled smart TV (prices vary), Screenly Player ($129.95)
Software: $35.95 per month for up to two screens
Offers a free trial

Restaurants, retail, service businesses, intra-company communications

Hardware: HDMI-enabled smart TVs (prices vary), Raspberry Pi player (provided free for annual subscribers)
Software: $7.99 per screen, per month (after the first screen; software for one screen is included free)

Restaurants, retail, hotels, healthcare, transportation, events, intra-company communications

Hardware: HDMI-enabled smart TV (prices vary), Enplug player (around $250)
Software: $32 per screen, per month

Restaurants, retail, real estate, banks, gyms, service businesses, healthcare

Hardware: Custom-quoted
Software: Custom-quoted

Large-scale installations for multi-location restaurant, retail, and hotel operations, outdoor signage, healthcare, special events, transportation

Hardware: Custom-quoted
Software: Custom-quoted

Large-scale installations for realty offices, multi-location restaurant, retail, and hotel businesses

Hardware: Smart TVs or iPads, proprietary sign players (custom-quoted)
Software: Custom-quoted

Real estate

Hardware: Smart TVs (prices vary), a variety of Android and Chrome compatible media players, ranging in price from $55-$400 each
Software: $20 per screen, per month
Offers 30-Day Free Trial

Restaurants, retail, hotels, healthcare, transportation, service businesses, education

Hardware: Custom-quoted
Software: Custom-quoted

Car dealerships and automotive service businesses
3. Create Menus and Playlists
If you have design experience or a designer working for you to create menus and other content for your digital menu, you can upload your own images, menus, and other information to the software. Alternatively, most digital signage platforms have a gallery of images and content widgets to help you create dynamic images, animation, or even videos to enliven your displays.
If you lack the administrative bandwidth to design displays yourself, you might prefer to work with a platform like Reach, which includes design services for subscribers. Alternatively, you could hire a freelance designer from Fiverr to create templates you can reuse.
Decide What Media to Display
Most digital sign players have several content widgets to choose from. Beyond simple menus, you can display trivia questions in waiting rooms or bars, videos, weather forecasts, or maps to local attractions. You can present a single static image or add several images to a playlist that will scroll through current specials, sales, or other promotions.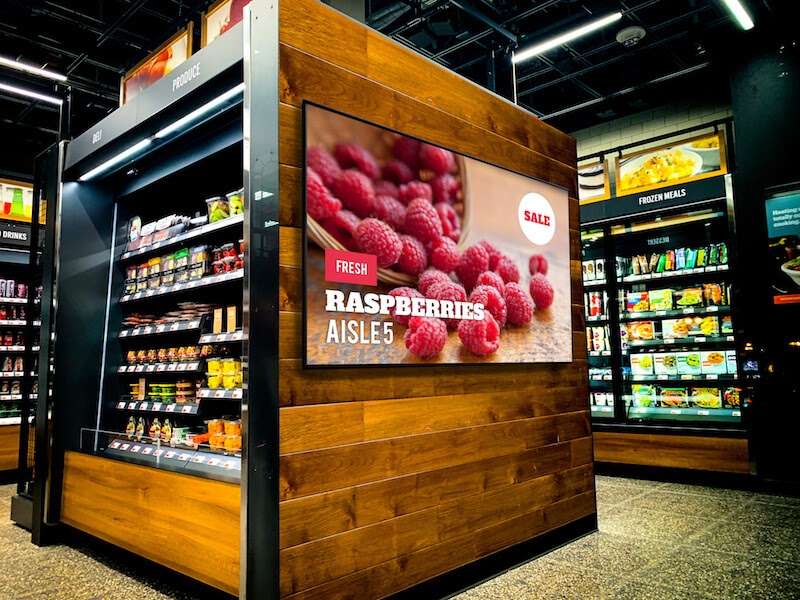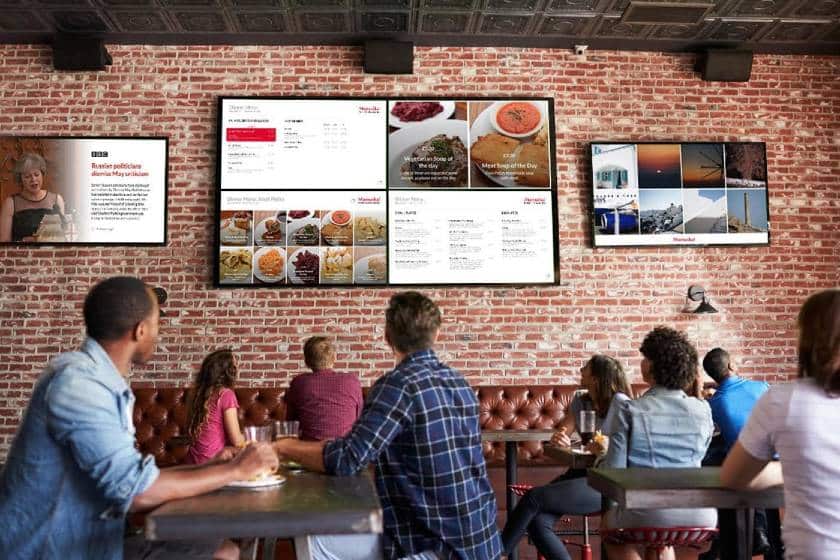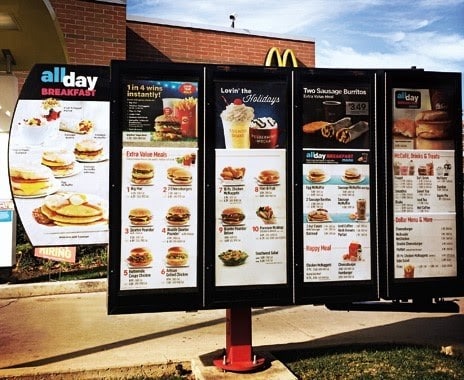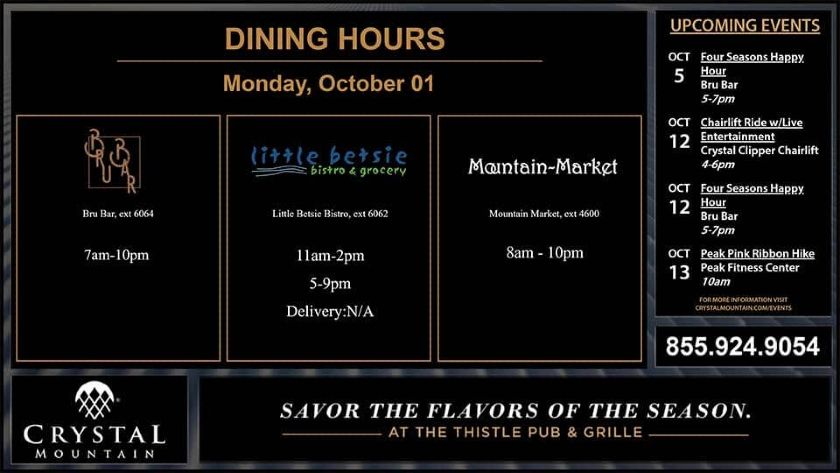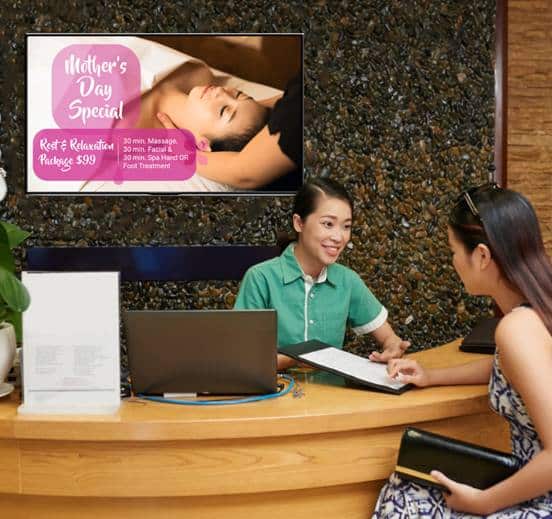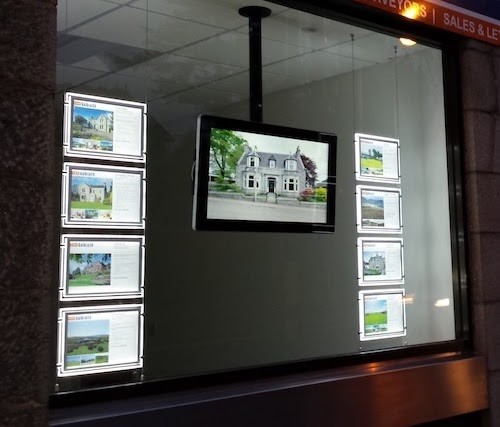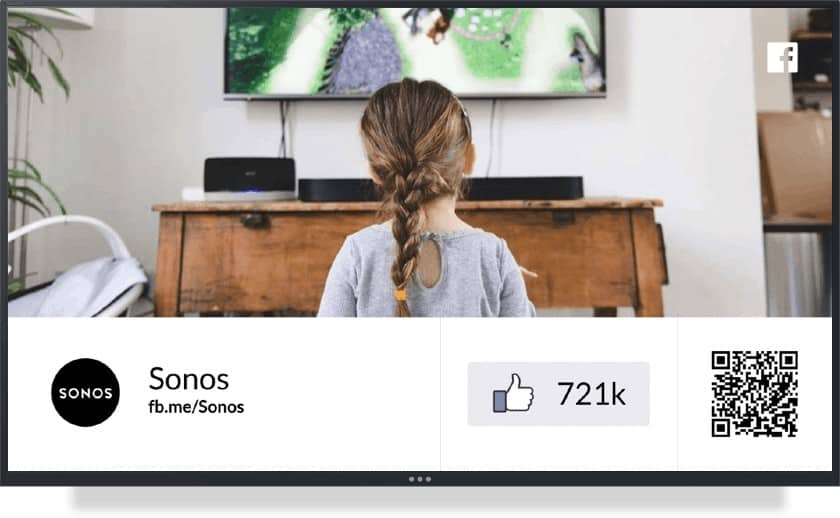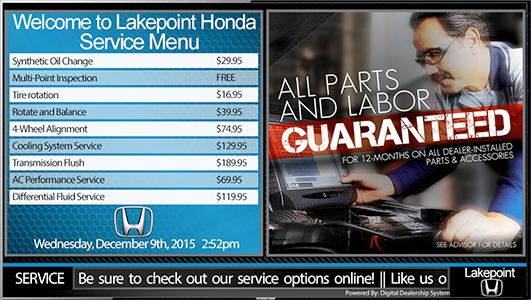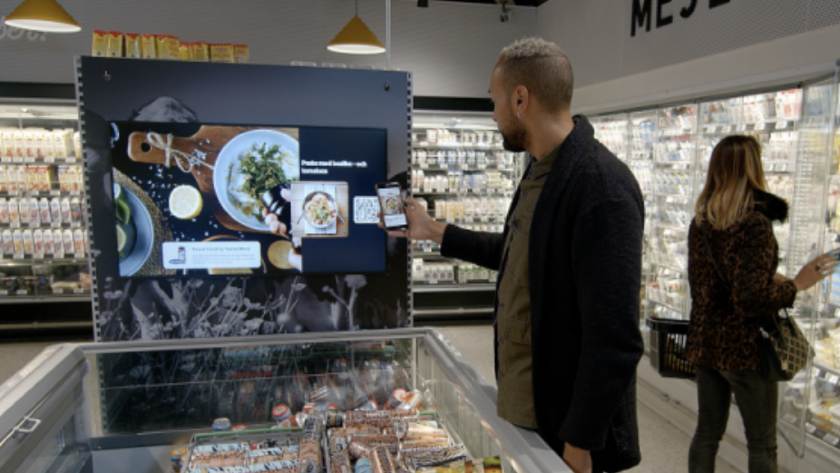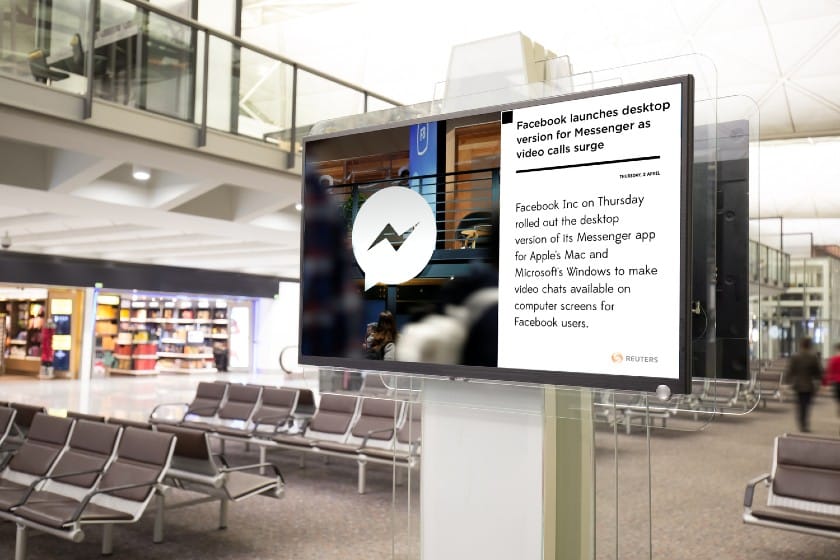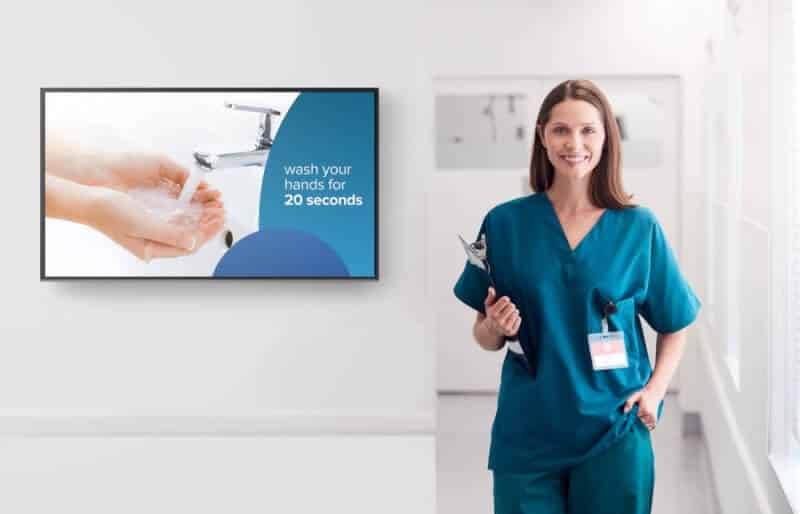 Understand Menu Styles
The beauty of a digital menu board is that you can use bright colors and eye-catching graphics to capture your customers' attention and guide them through your menu. Depending on your service style and business type, various menu formats may be best. These are a few of our favorites.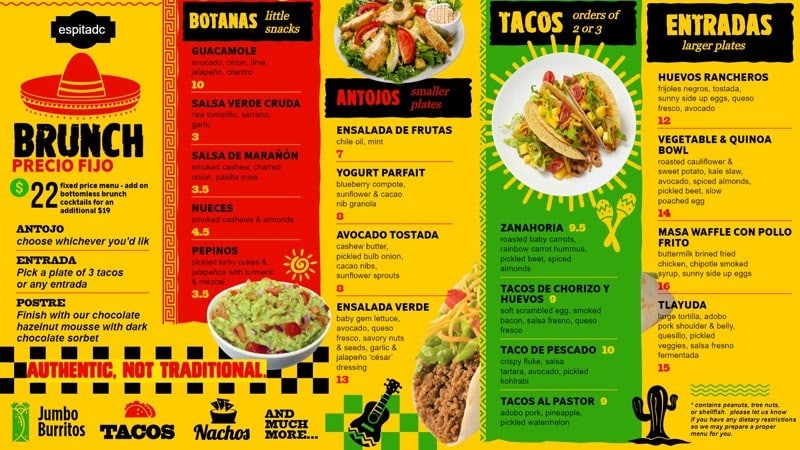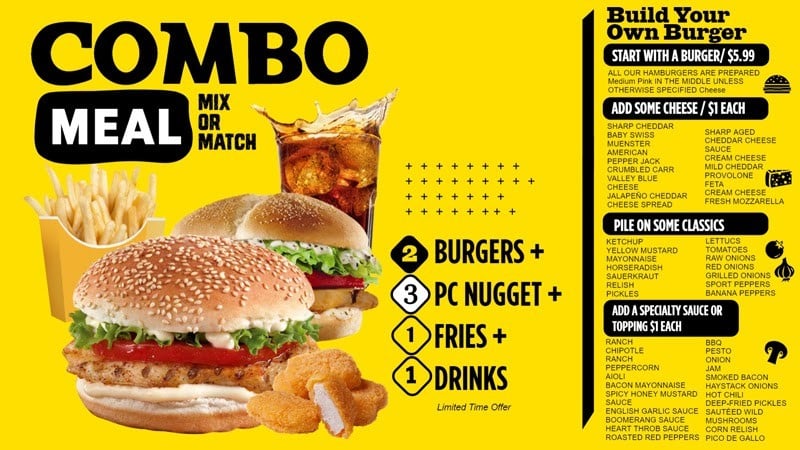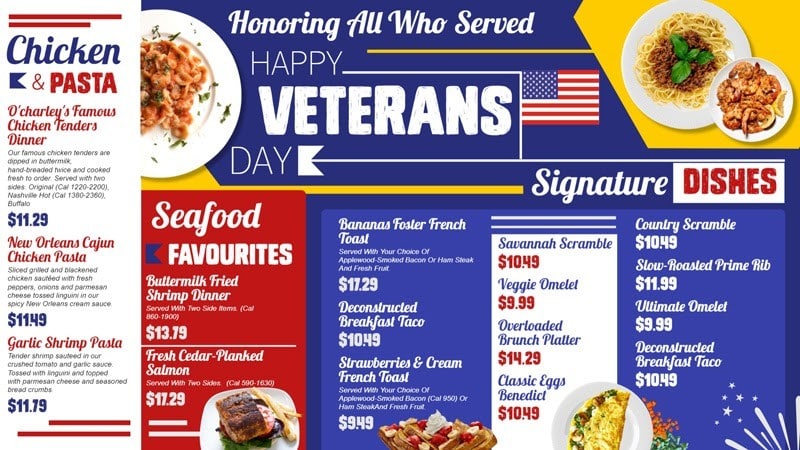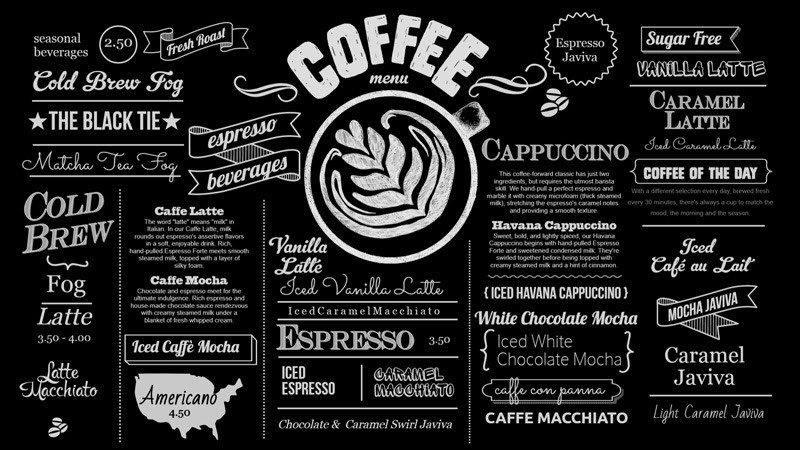 4. Mount Your Screen
With your hardware in hand, you're ready to mount your screens to the wall. Before you grab your level and power drill, you should find the ideal location for your screens. Sure, you want your digital menus to be visible in high-traffic areas where your customers can see them. But there are a few more variables to consider.
Find the Ideal Location
In addition to being placed in a customer-facing location, your digital menu boards should be placed:
Near electrical outlets. Your screens (and sometimes your sign player too) will need to be plugged in to electricity. You'll want to place your screens within 3-6 feet of a grounded wall outlet.
Near a Wi-Fi signal. If you use a USB thumb drive, this won't be an issue. But most digital sign players operate via the cloud. To ensure your content reliably shows up on your displays, you'll need to have a stable internet connection.
Away from glare. Light fixtures and light from windows can cause glare on your screens. You can reduce this by purchasing anti-glare screens, moving light fixtures, or adjusting your screens' tilt.
Away from heat and water. Restaurants and other service businesses should be mindful of the temperature near their screens. Water and steam are also a concern.
In a stable wall. Mounting your screen to wall studs is the most stable setup. Brick or concrete is also good (though it may require specialized tools).
Depending on your shop's layout, mounting your screens from a ceiling or soffit may make the most sense. Or for window displays, poles that attach to the floor and ceiling might make the most sense. The slideshow below illustrates several mounting options to help you make the best choice for your business.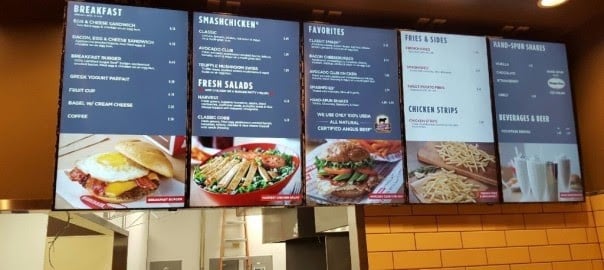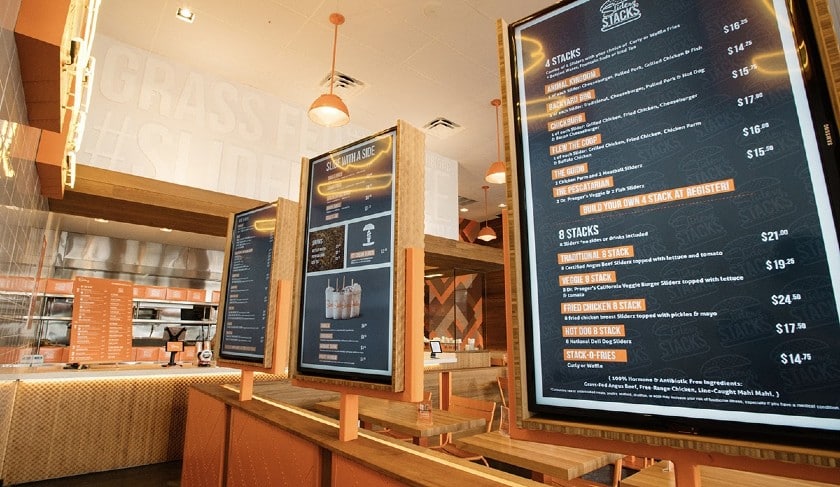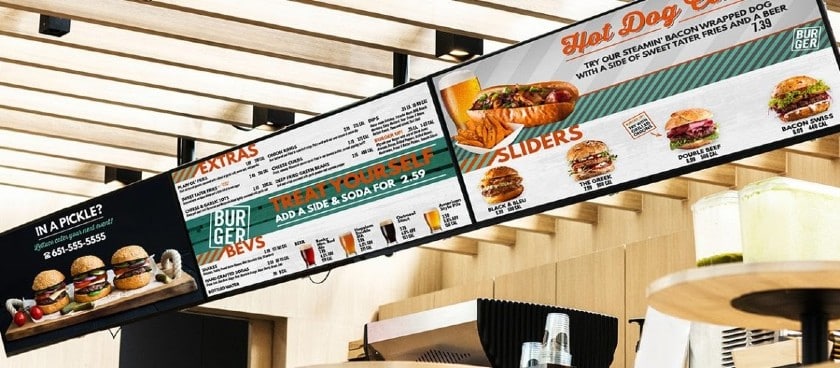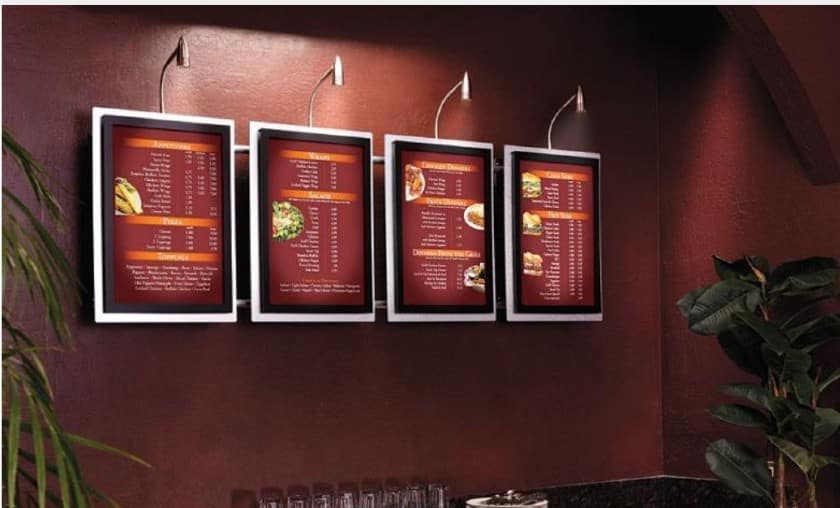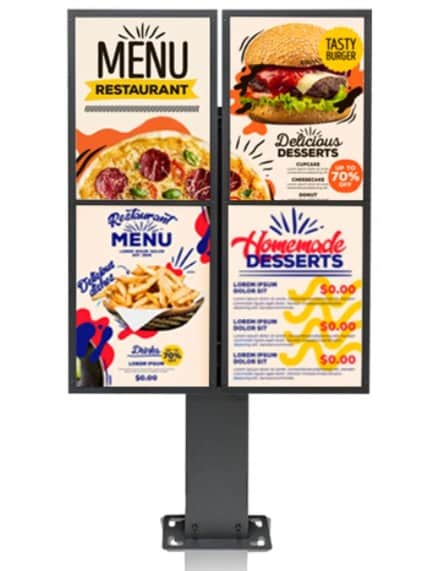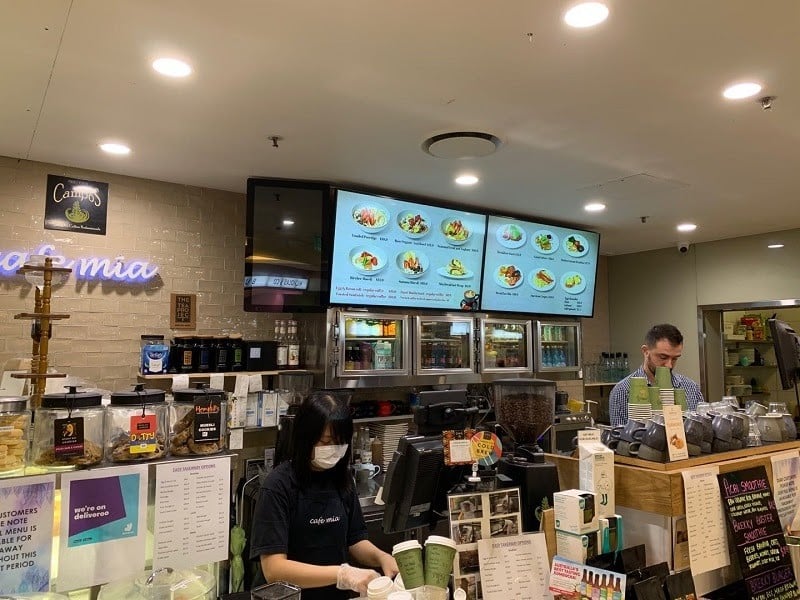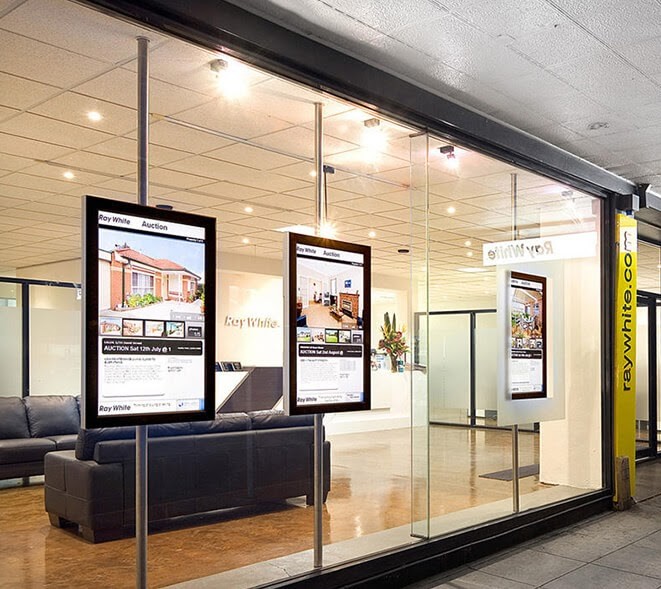 Tip: If your screen location is more than 6 feet from an electrical outlet, call an electrician to wire a new plug. You might be tempted to rely on extension cords, but that can be a fire and trip hazard.
When to Call Professionals
Smart TVs are getting lighter every year, but they are still expensive, sensitive equipment that can do some real damage if they fall. If you are even the slightest bit stressed about installing screens yourself, call a licensed professional. If you buy your screens from a big-box retailer like Best Buy or Home Depot, you can use their referral tools to find a local, independent installation technician. These professionals tend to focus on basic wall-hanging installations; you may need to shop around for more complex, ceiling-hung installations.
All of the large-scale digital sign platforms like Samsung, Peerless AV, and WindowAgent provide professional installation for a fee. Rates will vary depending on the complexity of your installation. When hiring a professional installer, it is important to ensure that your technicians are licensed and insured. Using an unlicensed installer may violate the terms of your lease or liability insurance or void hardware warranties.
Digital Menu Board Costs
Clearly there are a few different costs associated with digital menu boards. Most small businesses can expect to pay about $400 to $1,700 for a single digital menu board with all its necessary components. The biggest cost variance comes from your choice of screens. The larger your televisions and the higher their resolution, the pricier your setup will be.
Here's what you can expect when purchasing digital menu boards and associated software:
Media player: Pricing for a media player can vary wildly, depending on the brand, amount of memory, and whether you purchase it directly from a provider or from a third party; costs range from $40 to $300 each. In most cases, you'll need one media player per screen.
Screens: Costs will vary depending on the brand, specifications like LCD or LED, size, and bulk discounting; costs range from $325 to $1,400 each for 43-inch to 65-inch displays.
Software: Cloud-based software comes with a monthly fee, and some require a contract; typical prices range from around $8 to $30 per month, per screen. Some platforms that cater to small businesses also offer free basic subscriptions.
Peripherals: Mounting hardware is unavoidable, and prices range from around $30 for a basic, flat wall mount up to $550 for a complex ceiling mount. If you need to boost your Wi-Fi signal, antennas and mobile access points range from $50 to $350 each.
Installation: Depending on the complexity of your set up, and whether or not you need to wire new electrical outlets, your installation costs can vary from around $300 to over $1,500.
Implementing digital signage can be an affordable upgrade from the paper or plastic sign solution you have now. If you're outfitting your space with multiple screens, it could be a sizable investment. The average cost of a full-scale, multi-screen restaurant installation is around $12,000. But many small businesses find that their systems pay for themselves in 12 to 18 months. This makes sense as you'll be saving on printing and design services and have increased potential for upsells.
Pros & Cons of Digital Menu Boards
When it comes to the pros and cons of digital menu boards, the positives stack up quickly. Using a digital menu board can help drive sales, they're more convenient, and you can display calorie counts easily, which is required in some cases. Yes, it's a pricier option than print, but it's an investment that will likely pay off within a year.
PROS

CONS

Increases upsells
Upfront costs can be high
Digital menus can be updated quickly if prices or offerings change
Many systems require internet access
Can display complex information
Here are the pros of going green and getting a digital menu board:
Drive sales: An overwhelming majority (over 80%) of small businesses noticed an uptick in sales after they installed digital signage.
Customer engagement: 64% of retailers that use digital signage report increased customer engagement, including improved branding, reduced perceived wait times, and reduced walkouts.
Convenience: Printed menu boards can be difficult to change, and you have the time factor to consider; a digital menu can change as often as you'd like, and it's as easy as filling out forms online.
Timesaver: Spend less time changing menus, ordering menus, and waiting for them to be delivered.
Nutritional info: It's far easier to display nutritional information on your food menus with a digital menu board; if you make any changes to a menu item, you won't have to reprint a menu with the new calorie count.
The negatives of introducing a digital menu board are fewer, such as:
Cost: To get started with digital menu boards, you'll have to spend a sizable amount for TVs or monitors and media players, and you'll have an ongoing monthly fee. Plus, if you want professional photos or graphics, you'll have to hire talent for it.
Outages: If your internet connection goes out, your menus are down; it's a good idea to have a mobile hot spot ready to go as a backup, but this could come with extra costs as well.
Bottom Line
A digital menu board can be used to entice customers to engage with your restaurant, retail store, or other business. These boards are easy to operate and a relatively affordable solution to the static menus, directories, maps, and in-store advertising you may currently use. Not only do digital displays give your business some extra polish, but they have also been shown to drive sales and increase customer affinity for your business. You can find plenty of freestanding solutions, or integrate with your POS system.