As you consider hiring employees to help with your business, you'll need to take into account the additional employment tax responsibilities that come along with it. You need a good grasp of what your business and your employees are responsible for paying. Legally, you're the collector and gatekeeper of both payroll and income taxes, and you can face penalties (financial and criminal) if you don't act accordingly.
Although employers pay their taxes on different schedules, I suggest not waiting until the deadline to calculate the total funds you'll need to send out; In my 5+ years of working with payroll, I've seen too many employers get into hot water doing this—they wait until the last minute only to realize taxes are more than they anticipated, and they don't have enough to pay.
Keep in mind that employers are legally responsible for paying taxes on all income their employees receive as well as withholding money from their employees' paychecks to cover the employee portion of payroll taxes. Federal taxes like Social Security and Medicare are straightforward (a flat 6.2% and 1.45%, respectively, for both employers and the employees), but state and local taxes can vary depending on where your business operates.
If you're like most small business owners doing payroll, you're probably also interested in knowing what you can do to minimize the employment taxes you owe or even avoid them altogether. There's not a lot you can do in this regard if you need employees; however, you can pay independent contractors to do the work, and you won't be required to pay employment taxes on their earnings. This can be a slippery slope though, and you'll end up paying more money if you classify them as contractors when they're really employees.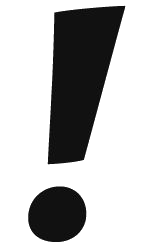 Although you define the finished product, you don't control how an independent contractor works to get it done. You should also be careful that you're not monopolizing their time to the point that they can't work for other clients. When it comes to employees, you determine when and how they work, and whether they have time to get a second job isn't anything you legally have to be concerned with.
What Are Employment Taxes and Who Pays Them?
Payroll taxes, employment taxes, and income taxes are terms that get thrown around so much you can easily become confused. So let's think of it this way: All taxes related to payroll are employment taxes, and both you and your employees are responsible for paying a portion of them.
Getting more specific, employment taxes include payroll taxes, unemployment taxes, and income taxes. Some states also require you to carry disability insurance for your employees, and they treat it like a tax.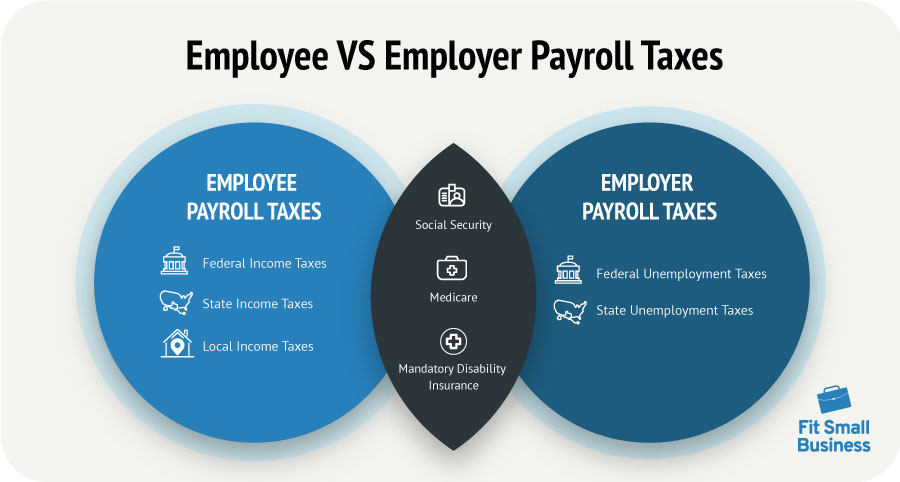 Employer payroll taxes consist of both the Social Security and Medicare taxes (known as FICA taxes collectively). You must pay an amount equal to 7.65% of your employees' earnings out of your business bank account and also withhold the same amount from their paychecks. As for unemployment taxes, you're solely responsible for paying them, but when it comes to federal, state, and local income taxes, you're only responsible for collecting the money from employees and sending it to the appropriate agencies. The federal rate is 6% on the first $7,000 an employee earns, and the state may vary.
FICA Taxes
FICA taxes are the only taxes that are shared by the employee and the employer. Both pay half of the 12.4% Social Security tax (6.2% of wages/salaries paid) and half of the total 2.9% Medicare tax (1.45% of wages/salaries paid). These are important, because in the future, the federal government will calculate each employee's retirement benefits (medical and income) based on the amounts contributed.
Note: If you're a sole proprietor or do freelance work as a contractor, you're not an employee of your business. This means you're not technically responsible for payroll taxes, but you will owe self-employment taxes, which cover Social Security and Medicare.
Unemployment Taxes
As the employer, you're solely responsible for paying unemployment taxes on both a federal and state level. The Federal Unemployment Tax (FUTA) rate is a flat 6%. However, if you pay state unemployment tax (SUTA), then the federal rate is typically reduced to 0.6% (giving you a credit of 5.4%).
State unemployment tax rates are not as straightforward as federal unemployment tax rates. SUTA rates are set by each state and are specific to each employer. It is based on the number of employees you have fired and how many of those employees have filed unemployment claims—the more claims that have been filed, the higher your rate.
Take note that FUTA tax is only assessed on the first $7,000 of an employee's salary (not the entire amount). SUTA taxes vary, depending on the state.
Income Taxes
As for income taxes, your only job is to calculate, withhold, and pay them to the appropriate agency. You do not have to pay income taxes on your employees' income using your business funds.
State Disability Insurance
Some, but not most, states require employees to pay for disability insurance. As the employer, you're responsible for withholding the funds from their paychecks in the same manner that you handle their other employment taxes. Disability insurance will pay an employee a percentage of their income if they become injured or ill to the point where they can no longer work. Unlike workers' compensation insurance, disability insurance only covers illnesses or injuries that take place outside of the workplace.
If you are an employer in one of the following states, you are required to provide short-term disability insurance to your employees. On average, state disability insurance rates run between 1% and 3% of annual gross income. For example, disability insurance for an employee who makes $30,000 annually will run between $300 and $900 a year. You can withhold employee contributions to help cover costs; just be mindful of the maximum amount your state will let you withhold.
States Requiring Employer Disability Insurance
| State/Territory | Rate | Max You Can Withhold | Wage Max |
| --- | --- | --- | --- |
| California | 1% | $1,229.09/year | $122,909/year |
| Hawaii | 0.5% | $5.60/week | $1,119.44/week |
| New Jersey | 0.26% | $350.74/year | $134,900/year |
| New York | 0.5% | $0.60/week | $120 (weekly) |
| Rhode Island | 1.3% | $939.90/year | $72,300/year |
| Puerto Rico | 0.3% | $54/year | $9,000/year |
How to Pay Employment Taxes
It's best to set aside money for employment taxes each pay period, even if you're only required to send payment monthly. You should definitely need to withhold money from your employees' paychecks each period.
You will either need to deposit payroll taxes on a monthly or semiweekly basis. If you owed $50,000 or less in taxes for the prior year, you can pay monthly; anything more than that puts you on a semiweekly pay schedule. If you're a new employer, you're automatically placed on a monthly deposit schedule. For employers with very little payroll tax obligation, less than $2,500 a quarter, deposits can be made quarterly with the 941 tax return.
If you're interested in estimating how much in employment taxes your business may have to pay when you start hiring employees, use Gusto's free employer tax calculator.
Federal Employment Tax Due Dates
If you determine your business needs to be on a monthly deposit schedule, you'll need to deposit your employment payroll taxes (FICA and federal income taxes) by the 15th of the following month for which they're due. Semiweekly schedules require that taxes for wages paid Wednesday, Thursday, or Friday be made by the following Wednesday. For wages paid on other days of the week, tax payments should be made by the following Friday.
Semi Weekly Deposit Schedule
| When payday falls on a: | Deposit taxes by the following: |
| --- | --- |
| Wednesday, Thursday, and/or Friday | Wednesday |
| Saturday, Sunday, Monday, and/or Tuesday | Friday |
One important thing to note is that if you accumulate $100,000 or more in taxes, regardless of your deposit schedule, you must deposit the taxes by the next business day.
Withhold Payroll Taxes From Employee Paychecks
When you calculate your employees' paycheck amounts, the amount they earned vs the amount they should receive, you should immediately route the money they owe in taxes to a separate account (if you're using one account out of which payroll and general business expenses are paid). You need to ensure you don't accidentally spend the funds.
File Tax Forms
To file employment taxes with the IRS and other agencies, you'll need to use specific payroll tax forms so it's clear what and how much you are paying; the forms have formulas that will help you calculate how much you owe, and the typical filing requirement is quarterly or annually.
You'll need the following payroll forms when you file your employment taxes:
IRS Form 941 or Form 944 for federal income and FICA taxes
Form 940 for federal unemployment taxes
State income and/or disability tax forms, if applicable to your location
Municipal or local tax forms, if applicable to your location
You must deposit the taxes by the respective due date to avoid interest and penalties and maintain compliance with payroll laws. If you pay independent contractors, you won't need to pay or file taxes for them, but you will need to send in a 1099 form to the IRS (and the contractor) to show the total earnings you paid them throughout the year.
Consequences of Not Making or Being Late on Employment Tax Payments
If employers fail to remit payroll tax payments or send them in late, it could have the following impact:
Employers may face criminal and civil sanctions
Employees may lose access to future Social Security or Medicare benefits
Employees may lose access to future unemployment benefits
If you're late making deposits for FICA or federal income taxes, you'll be charged penalties:
Penalties for Late Employment Tax Payments

| Penalty | Reason Charged |
| --- | --- |
| 2% | 1 to 5 days |
| 5% | 6 to 15 days |
| 10% | 16 or more days but before 10 days from the date of the first IRS notice |
| 10% | Amounts that should have been deposited, but instead were paid directly to the IRS or paid with your tax return |
| 15% | Amounts still unpaid more than 10 days after the date of the first IRS notice or the day you receive notice and demand for immediate payment |
Before paying employees, it's important to have a good grasp of your payroll and employment tax responsibilities. The penalties for not complying can be costly to your business and its employees.
Bottom Line
Before you start paying employees, be sure you have a good understanding of the employment taxes you are legally required to pay and manage. It gets more complex if you or your employees are subject to state and/or local taxes, so you'll need to do your research. You should always expect to pay FICA and unemployment taxes. Also, be ready to withhold money from employees' paychecks to cover their income tax liabilities.
When you're ready to hire that first employee, we recommend using a tool like Gusto to handle the payroll tax calculations for you. All you have to do is provide the hours worked for each employee, and Gusto will calculate paychecks, pay both employee and employer payroll taxes, and file the payroll tax forms for you. If you're looking for a cheaper alternative and you're willing to file your own year-end reports and pay the taxes yourself, Patriot Payroll's Basic plan may work best for you. It even has a low-cost Full-service plan (comparable to Gusto), if you don't need the onboarding support.