Form 941 is a quarterly tax form that tracks FICA (Social Security and Medicare) payments made by employers throughout the year. Employer FICA tax payments (6.2% for Social Security and 1.45% for Medicare) are typically due monthly or semiweekly, and Form 941 is due quarterly.
Since filling out the Form 941 can be time-consuming and confusing, let's go through each of the sections and cover what you need to do. Once complete, filing your tax return electronically is the easiest route, but if you prefer to mail it in, check out our mailing address by state table further down in the article.
1. General Information & Form 941 Reporting Period
In the top section of the form, you will provide general information about your business such as business name, tax ID, and mailing address. You will also indicate the quarter for which you are filing the return.
2. Form 941 Part 1, Lines 1 Through 15

---

---

---

---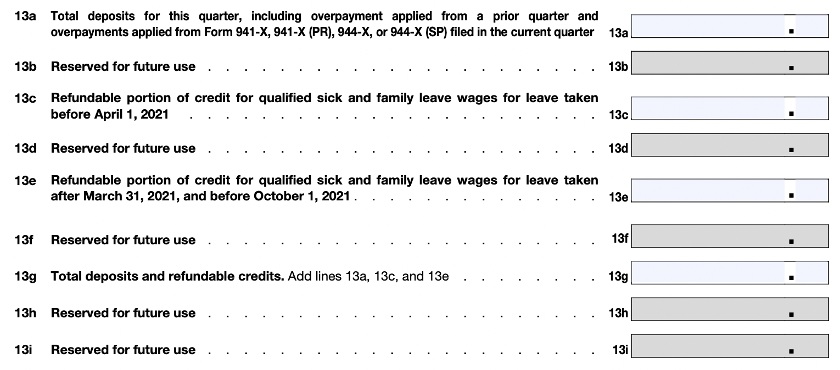 ---

---
3. Form 941 Part 2, Line 16
In this section, you must select the type of depositor you were for the quarter (monthly or semiweekly). If you were a monthly depositor, you will enter the FUTA tax liability for each month. If you were a semiweekly depositor, you must also complete Schedule B.
4. Form 941 Part 3, Lines 17 & 18
If your business closed during the year or you let all of your employees go, you need to indicate the date you closed your business and/or stopped paying wages to employees. In addition, if you are a seasonal employer that does not have to file a quarterly 941 form, you need to indicate that information in this section as well.
Lines 19-28 are specific to organizations with qualified health plans or qualified leave wages. If this does not pertain to you, then you can skip ahead to part 4.
5. Form 941 Part 4
According to the Form 941 instructions, you can give permission for the IRS to speak to someone about this form on your behalf. For example, you could put your CPA as a third-party designee. Be sure to include their complete name and telephone number. If you don't want to designate anyone, you can select no.
6. Form 941 Part 5
In this section, you will sign and date Form 941 indicating that you agree with the information that has been included on this form and that, to your knowledge, it is accurate.
Form 941 Basics: Who, When & Where
As an employer, you are required to withhold taxes from your employees' paychecks. Generally, these taxes include income taxes, Social Security, and Medicare taxes. The IRS requires that you report these taxes quarterly on Form 941. The employer's share of FICA taxes is reported on Form 941 along with the employee's share.
You must use Form 941 to report the following:
Wages you paid to your employees
Tips your employees reported to you
Federal income tax you withheld from employees' paychecks
Both employee and employer share of Social Security and Medicare taxes
If you only use independent contractors, you don't have to file Form 941. To learn more about the benefits of independent contractors versus full-time employees, check out our guide on hiring employees and freelancers.
When To File Form 941
The due date to file Form 941 is the same for all employers, regardless of whether you are a monthly or semiweekly depositor of FICA taxes. Form 941 is due on the last day of the month that follows the end of the quarter. If the due date falls on a weekend or holiday, the due date is the next business day. You will submit Form 941 four times per year.
Below you will find a summary table of the due dates for Form 941:
Quarter

Due Date

1st Quarter

(January 1–March 31)

April 30

2nd Quarter

(April 1–June 30)

July 31

3rd Quarter

(July 1–September 30)

October 31

4th Quarter

(October 1–December 31)

January 31
Where To Mail Form 941
The best way to file tax forms is to use e-file. This service, offered by the IRS, allows you to file your tax returns electronically for free. Filing your tax return electronically will ensure that it is received on time.
If you prefer to mail in your tax forms instead, the state you live in will determine where your tax return is mailed. Refer to the table below for the address to mail your Form 941 return. Remember that information may change, and it's always best to verify the mailing address before sending anything.
Form 941 Mailing Address by State
State

Without a Payment

With a Payment

CT, DE, DC, FL, IN, ME, MD, MA, NH, NJ, NY, NC, OH, PA, RI, SC, VT, VA, WV

Department of the Treasury

Internal Revenue Service

Cincinnati, OH

45999-0005

Internal Revenue Service

P.O. Box 804522

Cincinnati, OH

45280-4522

GA, IL, KY, MI, TN, WI

Department of the Treasury

Internal Revenue Service

Kansas City, MO

64999-0005

Internal Revenue Service

P.O. Box 806532

Cincinnati, OH

45280-6532

AL, AK, AZ, AR, CA, CO, HI, ID, IA, KS, LA, MN, MS, MO, MT, NE, NV, NM, ND, OK, OR, SD, TX, UT, WA, WY

Department of the Treasury

Internal Revenue Service

Ogden, UT

84201-0005

Internal Revenue Service

P.O. Box 37941

Hartford, CT

06176-7941

No legal residence or principal place of business in any state

Internal Revenue Service

P.O. Box 409101

Ogden, UT

84409

Internal Revenue Service

P.O. Box 37941

Hartford, CT

06176-7941
Form 941 Late Filings
Failure to file Form 941 and/or make your tax payments by the due date will result in penalties and interest. In general, penalties are typically a one-time payment, but interest will continue to accrue until your tax payment is made.
If you don't file Form 941 on time, you could be subject to the following penalties and interest.
Each month that the form has not been filed, a failure-to-file (FTF) penalty of 5% of the unpaid tax due with that return will be assessed. The maximum penalty is generally 25% of the tax due.
If you have a balance due that should have been paid with your return (e.g., outstanding employer FICA payments that you need to make), there is a failure-to-pay (FTP) penalty of 0.5% per month of the amount of tax. This penalty is assessed for each month that the payment is late. The maximum amount of the penalty is also 25% of the tax due.
If both penalties apply in any month, the FTF penalty is reduced by the amount of the FTP penalty. The penalties won't be charged if you have a reasonable cause for failing to file or pay. If you receive a penalty notice, you can provide a written explanation of why you believe reasonable cause exists.
---
In addition to any penalties, interest accrues from the due date of the tax on any unpaid balance. If income, Social Security, or Medicare taxes that must be withheld aren't withheld or aren't paid, you may be personally liable for the trust fund recovery penalty.
Keep in mind that even if you use a third-party payer, such as Gusto, that doesn't relieve you of the responsibility to ensure tax returns are filed and all taxes are paid or deposited correctly and on time. However, most payroll services will reimburse you for any interest and penalties that you may incur if they are indeed at fault for filing and paying your taxes late.
---
Bottom Line
As you can see, there is a lot that goes into reporting Social Security, Medicare, and federal income taxes for both you as an employer and your employees. By following these instructions to file and pay your payroll taxes you can avoid penalties and the headache of IRS notices.
If you'd rather not manually fill out Form 941, consider using a payroll software like Gusto. Gusto will automatically pay FICA taxes and complete all payroll form filings on your behalf, so you don't have to worry about doing it yourself. Check them out for a free 30-day trial.