Although many would argue that payroll is straightforward, payroll laws vary by state, and regulations change often. This article addresses how payroll tax rates, workers' compensation, and more evolve. We also acknowledge how the IRS and United States Department of Labor (DOL) look upon many of the most critical compliance areas within payroll processing.
Payroll Compliance Laws That You Need to Know
Not all payroll regulatory compliance laws are noted within this resource. However, these nine topics are essential to remain knowledgeable of and, just because you have read about it once does not mean it will change, as many often do. Note the resources listed throughout each topic and be mindful of the fact that there are affordable third-party options, such as payroll software out there that specialize in this arena―we will point a few out as we go.
1. Payroll Tax Rates
When doing payroll, you must withhold the correct amounts of federal income taxes. Specifically, you need to withhold the following taxes from employees' paychecks:
Income tax: The amount withheld depends on the employee's W4
Social Security: (6.2% of the employee's gross pay)
Medicare: 1.45% of the employee's gross pay
Federal Unemployment Tax Act (FUTA): FUTA is 6% on the first $7,000 in wages that an employer pays an employee during the calendar year. After the first $7,000 in annual wages. For example, FUTA tax for an employee who receives $7,000 in annual wages would be $420
State Unemployment Tax Act (SUTA): Generally speaking, for SUTA an employer multiplies the percentage of required SUTA tax by the employee's gross wages, including all tips, commissions, and bonuses; if your SUTA rate is 5.4 percent, and the employee's wages are $400, your SUTA tax for that employee is 5.4 percent of $400, or $21.60
2. Employer Payroll Taxes
Although they look and sound similar, payroll taxes that employees pay and employer-paid payroll taxes are different. You're responsible for withholding and paying 15.3% of earnings from each employee's paycheck to cover their share of Social Security and Medicare taxes (FICA) in addition to a matching amount from your business bank account.
Note that if you are a business owner and you pay yourself income, then you need to be mindful of the self-employment tax rate that you will be responsible for. It is made up of Social Security and Medicare. The IRS states that the self-employment tax, for 2019, is 15.3 percent on the first $132,900 of net income plus 2.9 percent on the net income in excess of $132,900.
We also want to mention worker's compensation insurance. In addition to the payroll tax obligations that you carry as an organization, you are also required to maintain active workers' compensation insurance. Workers' compensation insurance covers on-the-job injuries by employees.
There are very few exceptions to the workers' compensation requirement. So, if you are a new business, do not skip this step. Although in most states, workers' compensation is funded through private entities and is regulated and overseen by the state.
There are other required deductions from employees' pay beyond taxes. A payroll service can help ensure you're withholding voluntary and involuntary deductions.
Here are a couple of involuntary deductions you may be responsible for collecting:
Court-ordered garnishments: Several different garnishments or earnings withholding orders can be delivered to an employer to execute upon. An employee may need to pay child support, repay debts, and so on.
Tax liens: Employees who owe back taxes or other related tax obligations may also be forced to pay through payroll.
Here are a couple of voluntary deductions you may be responsible for collecting:
Retirement or 401(k) plan contributions: Not only 401(k)'s but 403(b)'s, and other retirement-related products.
Health insurance premiums for medical, dental, and vision plans: These voluntary deductions are the most common to withhold from employees' paychecks.
Life insurance premiums: Along with many healthcare-related benefits, insurance premiums are also withheld through the payroll process.
Contributions to pretax flexible spending account (FSA) and health savings account (HSA) programs: Although not all employers utilize these tools, they are great benefits for employees. Each has their specialties, but both help with pretax medical, dental, vision and, in some cases, childcare.
Short- and/or long-term disability plans: Although many offer these benefits, some pay for one or both like short- and/or long-term care while others choose to offer them but entirely at the employee's expense.
Union dues: Some union dues may be automatically deducted from an employee's paycheck.
Charitable contributions: Employees may elect to deduct money for charitable causes like the United Way or Red Cross.
Money owed to your company: An employee may owe money for uniforms, tools, loans, and more.
Uniform and/or tools: Although these are common deductions, be mindful of limitations that employers have of how much an employer can deduct for reimbursement from a single paycheck.
Tuition and/or certification deductions: Note that if continued education or certification renewals are required for a position than the employer should pay or it or compensate the employee. If it was voluntary, then the same paycheck deduction rules apply as with uniform and tools.
One additional note regarding retirement plans; these deductions are a little different as employer-sponsored 401(k) or 403(b) plans are managed to more of a schedule that is outlined by the IRS.
Employees contribute pretax funds from their paycheck that are deducted every pay period throughout the year. Employees select their 401(k) plans when they choose the percentage of salary that they want to contribute pretax and how the plan manager needs to invest the money. 403(b) plans are similar but are designed by the IRS for employees of nonprofits or 501(c)(3)s.
Processing payroll and withholding and paying the required taxes for employees (vs contractors) is essential. However, it is important also to be aware of tax filings and employee wage reporting to the IRS. You will need to submit your employer federal tax return―usually each quarter―and any state or local returns per regulations. You are also responsible for preparing your annual filings and W-2s at the end of the year.
When you classify a position "exempt" or "nonexempt," you are classifying the role within your company, not the employee in that role. This might be confusing to read, but the function, or the nature of the position and role it has on your team, is what is being classified.
The Fair Labor Standards Act (FLSA) governs which positions, based on functionalities, are exempt and nonexempt. There is a test that you can take to assist you in this endeavor. Be sure to classify your positions accurately. If you classify a position, for example, as exempt when it should be nonexempt, then there is a chance that you could owe overtime wages to employees within that role during the time it was misclassified.
The FLSA is referred to several times throughout this article due to its importance in payroll regulations and staying compliant as you run your business. You are responsible for several recordkeeping requirements for payroll, which may not seem intuitive when thinking about payroll.
For example, timekeeping management―through time clock or timesheet tools―is an essential part of retaining proper payroll records. If you were ever to be audited by the DOL or its state affiliate, one of the first things they will ask for are signed timesheets or time clock records. Do not be caught unprepared in this area.
Employers may use any timekeeping method they want to, but records must be complete and accurate and, mostly, untampered with by the employer, aside from a supervisor sign-off. Employers may not alter timecards. The following is a sample time card format employers can use. Be sure to include total hours worked, meal and rest times, and the employee's signature.
8. Holiday Pay
Although holiday pay is not a required law, if you want to retain top talent throughout your company, you may find this benefit as a competitive advantage over others. If you do choose to offer holiday pay, then you are required to administer it fairly and equitably.
If you choose to have a holiday policy, be sure you complete the following steps:
Get your policy in writing
Roll your policy out to all employees at the same time
Think through how you are going to manage salaried (most often exempt) and hourly (nonexempt) employees in this policy
Generally, time-and-a-half is the rate of holiday pay. However, there are no federal or state regulations that require specific hourly amounts. Offering this, however, is a common practice.
If you operate within the foodservice industry and if some of your employees receive tips or are part of a tip pool, then you need to be aware of tip reporting laws. This is incredibly useful if tipping pools are a part of your business.
One common challenge that many foodservice employers encounter is how minimum wage can be governed within jobs that also are eligible for tips. If you are new to this arena, it is a huge deal. For example, many states can pay their tipped employees at a rate that is below the state's required minimum wage, with the concept being that these employees get paid from the restaurant plus their tip "wages."
Some states do not allow this practice; these states are known as "equal treatment states" and include Alaska, California, Hawaii, Minnesota, Montana, Nevada, Oregon, and Washington. Other tip wages differ significantly from state to state, so research your state laws carefully.

How to Remain Current With Payroll Compliance Laws
According to the National Small Business Association (NSBA), the top two burdens on small businesses are income and payroll taxes. These administrative- and financial-related burdens can be so time-consuming and complex, due to their evolving nature, small business owners often find themselves spending an excessive amount of time completing them.
One common solution we point small business owners toward is a resource such as When I Work. When I Work offers automated scheduling and time tracking so that you know when and how much your employees are working, which then integrates with several third-party payroll resources like Gusto, Paychex, ADP, and Square. Tools like When I Work guide business owners and managers through payroll regulator's growing and complex changes.
If you have chosen not to employ a third-party payroll firm to assist you with these regulatory responsibilities, then you'll need to learn how to do payroll. Plus, you'll have to stay abreast of any changing laws.
We recommend that you take the following actions on an annual basis:
Hire an auditor to review your payroll records, processes, and procedures. You can also conduct your own payroll audit.
Sign up for the e-newsletter from the Small Business Administration (SBA).
The DOL offers useful, easy-to-find payroll regulatory information on the FLSA and other payroll-related laws.
Although you will need to maintain an annual membership, the Society of Human Resource Management (SHRM) retains a wealth of knowledge regarding payroll compliance laws, including details of the FLSA. Annual SHRM membership costs $209.
The American Payroll Association (APA) provides solid resources listed that no small business owner should be without. For example, we like the Compliance Calendar, which outlines critical payroll filing dates that are challenging to find anywhere else.The Compliance Calendar is a terrific tool that helps small teams stay on top of the many evolving tax filing rules and their dates throughout the year
Agencies That Regulate Payroll Laws: IRS & DOL
The institutions that govern payroll law nationwide, the IRS and DOL, are what we look to as payroll laws evolve. The IRS oversees, in large part, that taxation portion of payroll compliance. The DOL manages the aspects that differ from state to state but, more specifically, how the FLSA impacts payroll processing.
IRS Focal Points
If you have tax-related questions regarding payroll, then visit the IRS website, which outlines what you need to know as it relates to what taxable income is for employees, how to maintain tax records properly, how payroll taxes are affected by company mergers, how to report payroll tax of a deceased employee, and more.
DOL Focal Points
If you have questions about the ever-expanding FLSA, then visit the DOL website, which helps you navigate the payroll regulations that can vary significantly from state to state. For example, in the states of Alabama, Arkansas, Florida, and Mississippi, employers are not required to offer pay stubs to employees while approximately 25 other states do require that employers provide pay stubs to employees.
The DOL's website lays out how the FLSA impacts payroll law compliance for the average employer. These payroll categories range from the minimum required (paid) rest periods and minimum wages from state to state to agricultural employment-related payroll regulations. The DOL's minimum wage guide easily helps employers determine what their wage responsibilities are to their employees.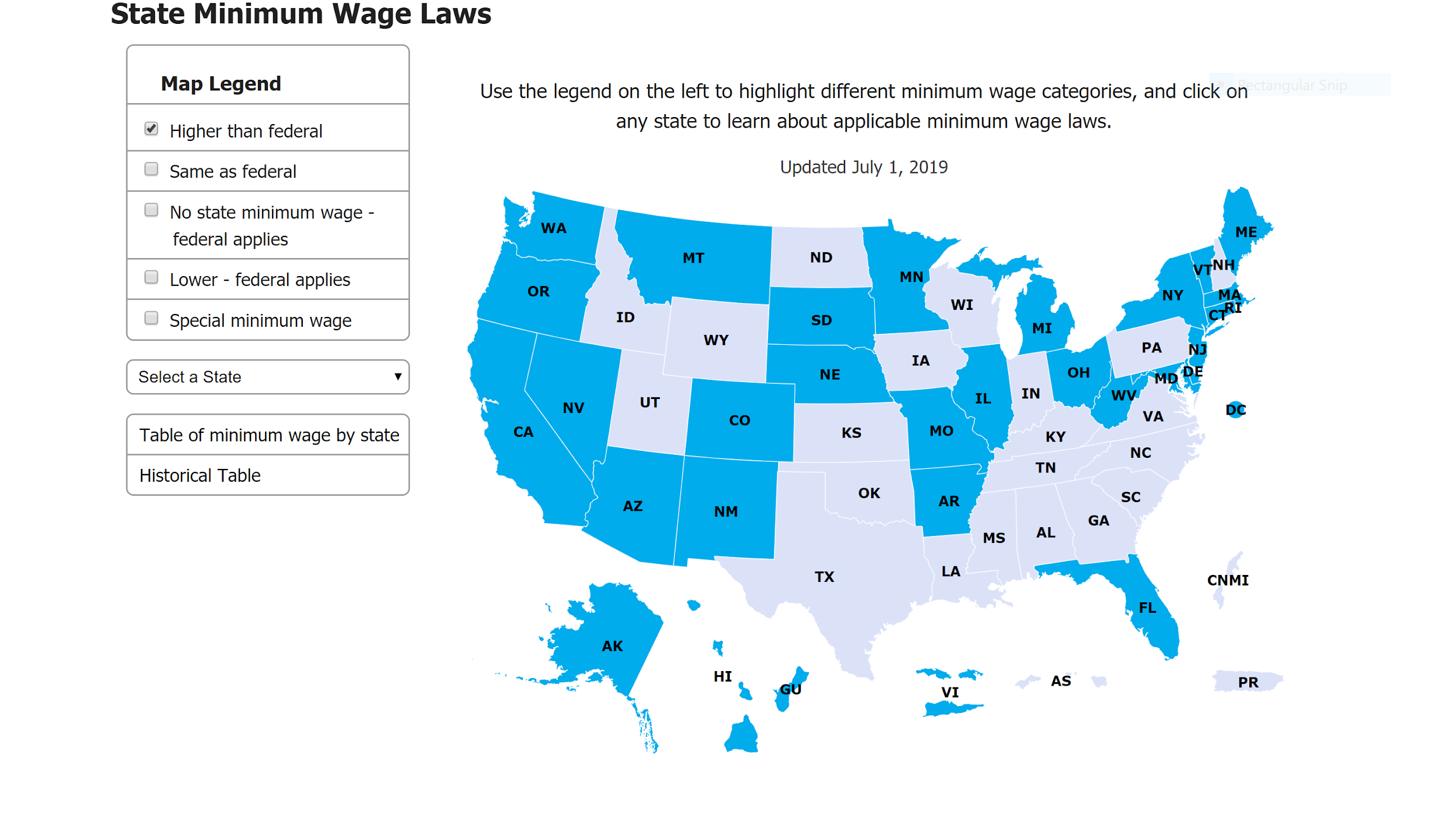 This is a useful map from the DOL that quickly assists you in finding the states with higher minimum wage rates than the federal minimum wage as well as offers more useful information after clicking into the state that you want to learn more about

Frequently Asked Questions (FAQs) Relating to Payroll Compliance
There are almost endless questions you could ask about processing payroll and remaining current on all of its regulations. If you're considering payroll software or a service, it can help to start by reading payroll provider reviews.
Will my business be affected by the new federal overtime rule?
The answer to this question depends on how much your employees are paid. Beginning January 1, 2020, any employee earning less than the new salary threshold, $35,568 per year for a full-time worker, will be eligible for overtime pay. The other way to calculate this is by assessing the standard weekly salary level, which was raised from $455 to $684.
Must young workers be paid the minimum wage?
Under the FLSA, covered employers are allowed to pay employees age 20 and younger a "youth minimum wage" of no less than $4.25 an hour for a limited period of 90 days. The eligibility period runs for 90 consecutive calendar days beginning with the first day of work for an employer.
Other programs that allow you to pay less than the full federal minimum wage apply to workers with disabilities, full-time students, and student learners.
What happens if state law requires you to pay a higher minimum wage than federal law?
In most cases, federal law trumps state law. However, in situations where state laws are more favorable toward the employee, the state law will commonly rule. So, in the case of minimum wage pay rates, when state law requires a higher minimum wage than what the federal mandate calls for, that higher standard applies.
When do I need to file W-2s and 1099s?
W-2 and 1099 forms are different payroll and tax documents. W-2s are for employees and 1099 forms are for nonemployees, independent contractors. If your company has paid at least $600 to a vendor for a product or service, you must issue a 1099-MISC form to that vendor, which includes independent contractors and freelancers. The IRS also requires employers to mail 1099-MISC forms to vendors no later than January 31 of the year following the end of the tax year.
Am I required to have labor law posters?
The short answer is, "yes." There are state and federal labor law poster requirements for businesses, regardless of the industry you are in. These posters address more than just minimum wage, but also workers' rights related to equal employment rights, worker safety, and more. Companies can purchase "all-in-one" posters for both federal and state labor law requirements. It is important to place your labor posters in a conspicuous place like the break room or copier room.
Do I have to pay my employees using direct deposit?
There is no requirement that companies must pay their employees via direct deposit. Most employers offer direct deposit as it is easier to process payroll, as well as allowing employees to get their money faster. Approximately 82 percent of employees receive their pay via direct deposit.
Bottom Line
Payroll processing and its related compliance requirements can be complicated to manage in the long-term, due to a multitude of payroll laws that are complex and ever-evolving. Helpful resources and payroll partners can help. Although the IRS and DOL offer copious amounts of resources, they each are somewhat unforgiving when it comes to oversights or ill-conceived practices through expensive penalties for even unintentional oversights.