The Department of Labor (DOL) Wage and Hour division specifies that payroll records need to be retained for three years; payroll tax records, such as unemployment taxes, need to be kept for four years; and some states, like California and New York, and agencies like ERISA, require some records be kept for six years.
The format in which these records need to be kept varies by agency. We'll provide a best practice list of payroll documents to keep with detail on how long to keep payroll records in order to meet the various, and sometimes conflicting, requirements. If you're looking for payroll software to manage your payroll and tax records online, consider looking at Gusto. They can help you create a paperless document management system to ensure you retain the right information for all your payroll records.
Disclaimer: Fit Small Business does not provide legal or tax advice. Please confirm document retention requirements with HR, payroll, legal and/or tax professionals in your state.
What Documents to Keep & For How Long
Unlike a candidate's job applications and interview records which need to be kept for only one year, payroll documents should be kept for three years once a person is hired. Best practice examples of documents to retain include hiring documents that provide the employee's full name, address, and social security number, as well as I-9 forms, time cards, and paystubs.
Best Practice Document Retention — What to Keep & For How Long
| | Less than 3 Years | 3 Years | More than 3 Years |
| --- | --- | --- | --- |
| Hiring Documents | | ✔ | |
| I-9 Documents | | ✔ | |
| Time Cards | | ✔ | |
| Paystubs | | | 4 Years |
| Employee Handbook | | ✔ | |
| Merit Increases and Pay Grade | 2 Years | | |
| Tax Documents Like W-4s | | | 4 Years |
| FMLA Leave Details | | ✔ | |
| Retirement Income and 401k Plan Details | | | 6 Years |
| Termination Information | | ✔ | |
| Any Documents Relating to a Payment or Employment Dispute | | | Varies |
There are some exceptions, such as tax documents that need to be kept for four years and retirement income documents that need to be retained for six, which we will describe in more detail below. In addition, any time you have a termination dispute with an employee, it's a best practice to hold on to payroll documents until the dispute is resolved.
State-Specific Payroll Documentation Retention
Most states abide by the payroll document retention guidelines provided by the DOL and other federal agencies. However a few states — California, New York, Illinois, and Washington — have enacted legislation that affects what payroll records to keep and how long to keep payroll records. Here are those state's specific requirements, with links to more information.
Because state laws may change, be sure to confirm any unique payroll document retention requirements in your state.
What Kinds of Payroll Records NOT to Keep
Some business owners wonder if there's risk to keeping documents longer than required. The answer is yes. Financial or personal information related to payroll that's no longer required, such as bank account information, credit reports or photocopies of a social security card should be destroyed after the retention timeframe to prevent confidential data being misused.
For example, I-9 forms, typically kept in a separate folder by date, should be kept three years, but no longer.
How to Store Payroll Records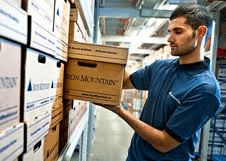 In most cases, you have three storage options for payroll records that you need to keep. You could keep the files yourself, box up and store the paper files offsite, or maintain the documents and data electronically, like with payroll software. Here are some considerations for paper versus electronic payroll file storage.
Store Required Payroll Information on Paper Documents
There are storage companies like Iron Mountain that will maintain your paper documents securely if you don't have room to keep them onsite. The benefit of a secure off-site storage facility is that you don't have to worry about storage space, or maintaining confidential health information such as leave request forms, from being accessible to staff in violation of HIPAA law.
Store Required Payroll Information Electronically
Most HR and payroll software has document storage capabilities, either allowing you to upload scanned files like I-9 forms. Or you can input employee data directly into the system. In fact, Gusto manages all onboarding and payroll documentation electronically … keeping all of your required files in one place and making document retention easy.
There are also companies like Docusign that store electronic data for you. However, you'd need to verify the online data storage account is secure because payroll data contains sensitive information like birth dates, bank accounts, and social security numbers.
Who Determines What Payroll Information to Keep
In addition to what payroll documents to keep, the Society for Human Resource Management (SHRM) provides a complete list of all document retention requirements by current employment and anti-discrimination laws. We've provided only those agencies, like DOL and IRS, that affect what payroll records to keep and how long to keep payroll records:
DOL Wage and Hour Division, Fair Labor Standards Act (FLSA)
The FLSA requires payroll information to be kept for three years. It doesn't specify any particular document be kept, but does require specific information such as employee name, address, social security number and pay rate. Most of this information can be found in hiring docs, paychecks or paystubs and time cards, including:
Full employee name
Social security number
Full residence address with zip code
Gender
Job Role (Job Title or Function)
Pay Type (Hourly, Salaried, Commission)
Hours Worked
Pay Rate
Earnings by Type (Regular, Overtime and Additional)
Total Net Earnings
Date of Payment
Work Period (Pay Period)
Internal Revenue Service (IRS)
The IRS requires employee/employer tax documents to be retained for four years including W-4s, payroll tax payments, and any W-2s that were returned undelivered. While DOL requires payroll information be retained only three years, since payroll tax deductions need to be kept four years, you may want to hold on to paper paystubs for four years unless you have the data stored electronically.
Equal Employment Opportunity Commission (EEOC)
The EEOC requires payroll information to be kept from one to three years, and includes information such as merit increases and rationale for pay rate changes to prevent discrimination. For example, job evaluations need only be kept for two years, which is the length of time a current or former employee has to review their personnel folder and dispute a salary increase, according to the Fair Pay Act. Retain:
Pay Scales
Pay Increases (and Rationale)
Employee Retirement Income Security Act ERISA
ERISA requires that retirement plan documents like retirement payments and 401k plans need to be retained for six years. However, they also state that payment records need to be keep for as long as it's possible for the retirement plan to be audited, including:
Enrollment Documents
Payment Documents
Payroll Deductions Taken
Family Medical Leave Act (FMLA)
The FMLA requires payroll information such as the leave policy documents, requests for leave, and leave payments to be retained for three years, consistent with the DOL payroll record retention requirements. This information is typically available in your employee handbook, leave documents or on employee paystubs:
Leave Policy
Leave Requests
Leave Balances
Leave Payments
Common Payroll Documents to Keep
We'll describe below how many of the common documents below meet multiple agency's requirements, such as a job application that has most of the employee information included or paystubs that contain important hours, earnings, and tax data.
Hiring documents such as an offer letter, include DOL-required data about the employee, their residential address, their job title, and their pay rate. If you don't already have one, you may wish to create and maintain an employee data sheet that also includes required information such as the employee's gender.
I-9 documents include information about the employee's eligibility to work in the US and includes DOL-required information such as the employee's full name and social security number.
Paystubs show information such as pay period, pay rate, and deductions and typically display hours worked each work week, the basis for which wages are paid, as well as regular hourly or salary pay rates, overtime, and deductions.
Time cards show hours worked, including unpaid lunch breaks and overtime hours. They can be paper or electronic, as long as the required data is retained for three years.
Termination documents show last date worked and any final payments such as unused paid time off or severance. It's important that you can show you made the final payment in accordance with your state's payroll law.
Job evaluations and salary reviews show rationale for pay increases and merit increases as required by EEOC. This could come in handy if you ever face an employee discrimination lawsuit.
Leave documentation shows leave dates and any leave amounts paid as required by FMLA. It's important to keep track in case you ever need to prove you didn't violate any employee leave rights.
Retirement income statements that show payment amounts and plan documents as required by ERISA, including 401k savings plan enrollment and statements that show employee contributions.
Employee handbooks often describe everything from pay dates and holidays to termination and severance. It's a best practice to hold on to your employee handbook for at least three years.
Personnel files often contain much of this documentation. Therefore, a simple way to remain compliant is to box up personnel files after an employee leaves the company and save those files for three years. However, if employee tax documentation is stored in the employee personnel file instead of separate payroll and tax files, then you'll want to retain them for four years.
How to Destroy Payroll Documents
The most important thing to remember when destroying files after their retention date has passed, is that they must be destroyed securely. You can shred them in your office, or if the volume is large, you may want to use a company that picks up and shreds business documents at your location or off site, like Iron Mountain.
Keep a Log of What You've Destroyed
You'll also want to keep a log of what documents were shredded and when. It can be as simple as a spreadsheet that lists the kind of documents destroyed, how they were destroyed — shredded, incinerated — and when they were destroyed. It's also best to add a signature or initial and date, so that if you have questions about destroyed documents, you can contact the person who destroyed them.
Other Documentation Retention Considerations
Although three years is sufficient for payroll record retention in most states, SHRM suggests the following guidelines for employee personnel records in general, and errs on the conservative side to accommodate variations between state and federal agencies. They recommend the following:
2 years — the minimum length of time to keep hiring records after you have hired someone
3 years — the maximum length of time to keep I-9 records due to confidential information
6 years — the length of time to keep any record related to medical benefits, plans and deductions
7 years — the length of time to keep termination records
In addition, the Lilly Ledbetter Fair Pay Act allows workers to examine their own personnel file for up to two years after termination. The National Women's Law Center advises employers to keep payroll and employment records up to five years after the employee has terminated in case you need to defend yourself from a Fair Pay Act claim.
Bottom Line
You'll need to follow DOL rules as well as state and other federal agency requirements when retaining documents. Keep payroll documents as long as needed, but no longer — to protect confidential information from being released. And once the 'destroy after' date has passed, be sure to shred them to prevent unwanted access to confidential information.
Of course if you don't want to worry about payroll record retention, consider using an all-in-one HR, benefits and payroll service with electronic document storage, like Gusto.