Facebook is the largest social media platform, which makes it ideal for real estate agents to capture leads. Using it strategically, agents can continually nurture leads and clients, expand their reach, and build a strong brand and reputation. To help you share real estate Facebook posts that are relevant and interesting, we've curated a variety of examples to inspire your own.
Creating graphics for your content is incredibly quick and easy with Canva. Canva is a design platform with hundreds of thousands of fonts, colors, images, graphics, and templates. You can customize every graphic with your branding or simply use one of the Facebook post templates to plug in text and images. Canva is free to use and can transform your Facebook marketing! Start using Canva for free.
Here are 13 real estate Facebook post examples and ideas that work for lead generation, conversions, and brand-building:
1. Dispense General Real Estate Advice & Tips
As a real estate professional, people expect you to be an expert in your field. In fact, your real estate leads need to see that you are knowledgeable and skilled in order to trust you, and sharing tips in your Facebook real estate posts is a great way to show them. Ensure you consistently include tips for buyers, sellers, investors, and other niche real estate leads within your social media strategy.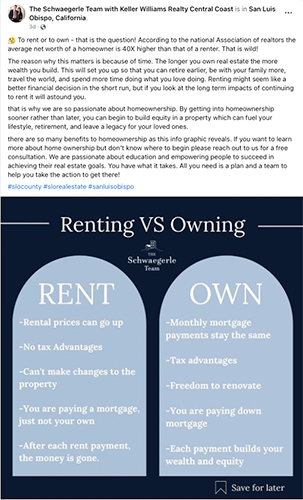 ---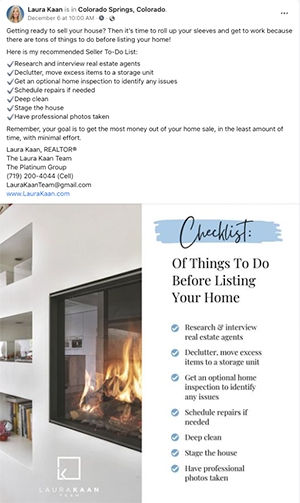 ---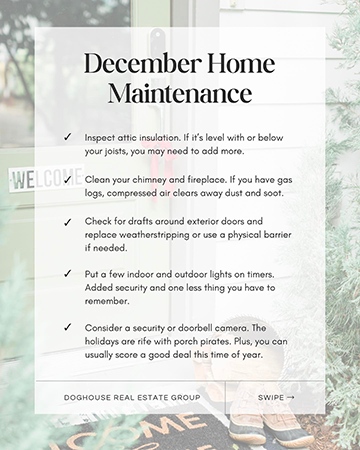 ---
Make sure your realtor posts are well-organized to appeal to the target audience and remain clear. As you write your social media content, focus on providing the most value to your audience by staying focused, answering common questions and concerns, and using graphics to demonstrate the information.
2. Show Off Your Personality
Although it's important to show that you're a professional real estate agent, you're also a human. Social media is generally a casual and fun way for people to connect with others, so you should take the opportunity to show your unique personality in your real estate Facebook post ideas. For example, real estate memes are an easy way to make your followers laugh, and have even been shown to have a 12% increase in engagement and a 16% increase in users when used consistently.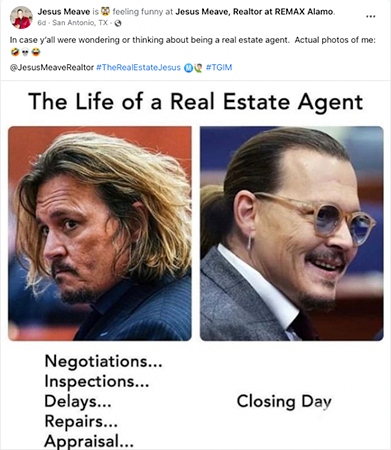 ---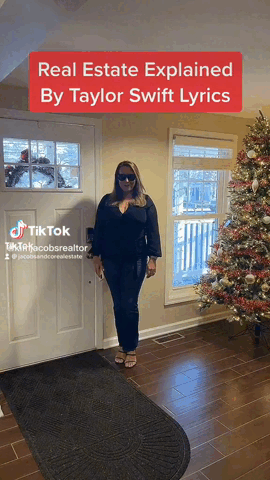 ---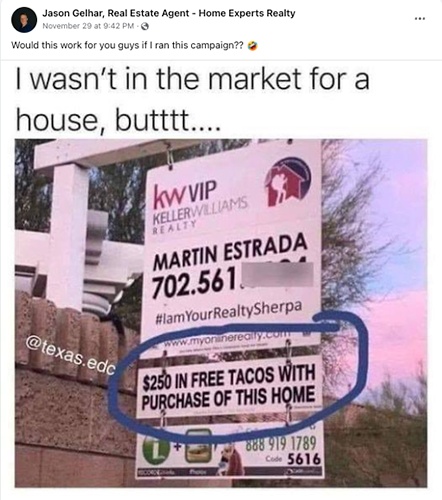 ---
3. Display Client Success Stories
One of the simplest real estate post ideas for Facebook is congratulating clients after a successful closing, when they've accepted an offer, or had an offer accepted. These are somewhat common, but that's partially because they are perfect examples of real estate Facebook posts that work. They accomplish multiple purposes: sharing a win you've gotten for a client and giving your clients an opportunity to share your posts online. This is an excellent strategy to expand your online reach and generate real estate leads from Facebook.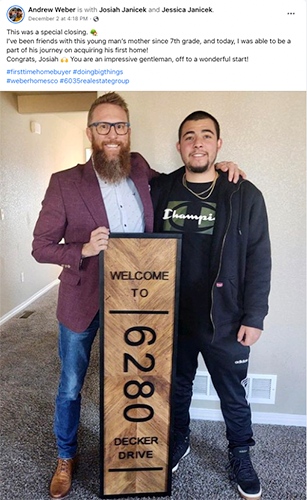 ---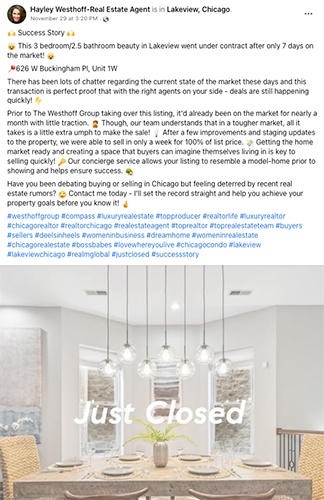 ---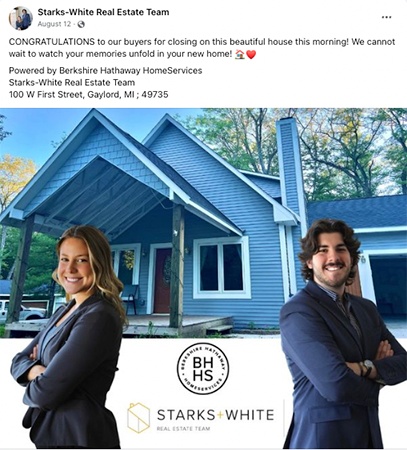 ---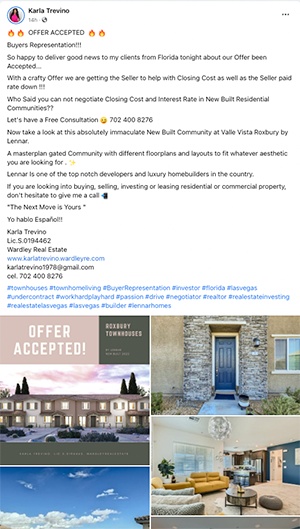 ---
While a picture may be worth a thousand words, you can also sneak in some facts about how your client found you, extra efforts made to facilitate a transaction, and interesting tidbits about the neighborhood or area you specialize in. This will personalize the post, build your connection with your clients, and demonstrate your professional value to other leads.
Pro tip: With their permission, tag your clients in these posts. That way, the post will appear on their feed so their friends, family, and colleagues can see and like it. This often produces referral business as a social media lead generation source.
4. Post New & Upcoming Listings
With 2.96 billion Facebook (FB) users, publishing real estate Facebook posts of your listings is a somewhat obvious choice. It's important to do so for several reasons, like proving that you are actively working as an agent. Sharing listings in real estate FB posts also drives interest and engagement in your listing for potential buyers while simultaneously showing potential sellers how you market properties for sale.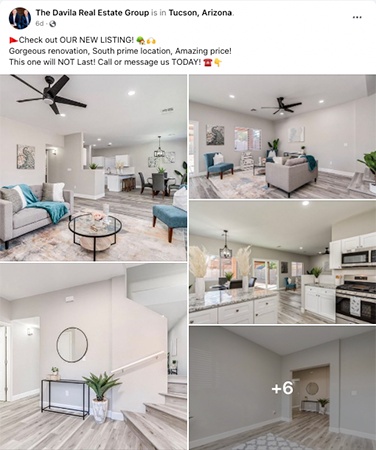 ---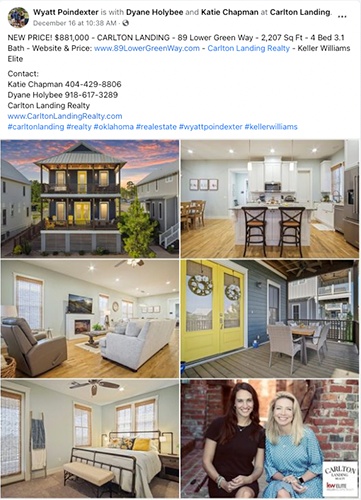 ---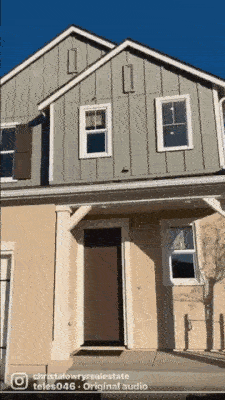 ---
Don't stop after just one post. Share "coming soon" listings before they go live on the market, when you schedule an open house, when they go under contract, and after they close. The average engagement rate across Facebook is only 0.07%, so it's unlikely you'll reach your audience if you only share your listings one time. Instead, create a wealth of content by sharing different photos of the property, taking videos, highlighting home features, and creating graphics.
If creating and editing photos and videos isn't in your wheelhouse, there are many simple and affordable solutions. For example, Fiverr is a freelancer site that allows you to pick from thousands of qualified candidates to help create branded content like custom graphics, social media content or strategy, and edited videos. Fiverr services start at just $5, and you can hire an expert to manage your entire social media strategy on an ongoing basis or for one-off work to make a particular post stand out. Start searching for an expert on Fiverr for free.
5. Share Your Successes as a Real Estate Agent
Although you don't want to become or appear boastful, sharing your professional successes can make great Facebook posts for realtors. After all, winning awards or getting recognition in real estate is a huge accomplishment, and your network should be aware of your skills. Real estate is dependent on relationships, and celebrating wins is an essential part of genuine relationships and friendships.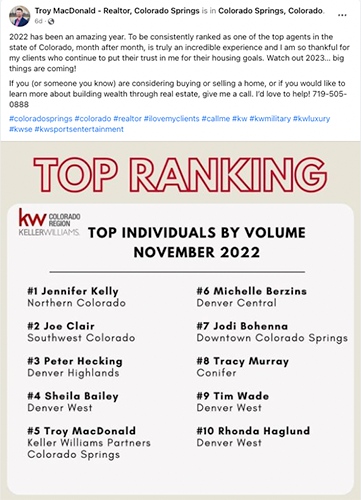 ---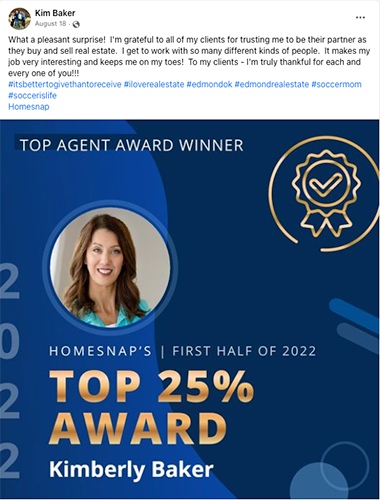 ---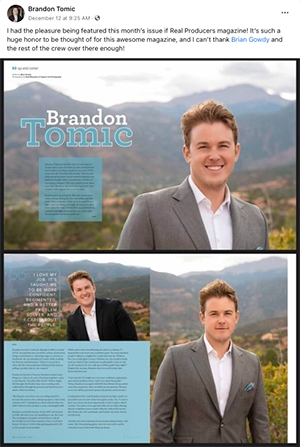 ---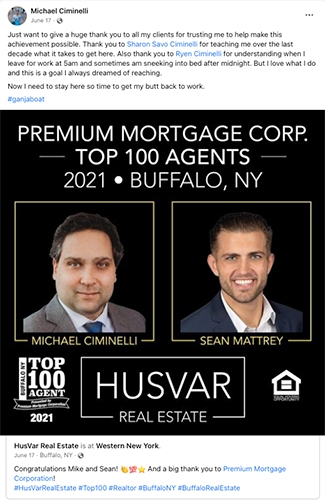 ---
In the following real estate Facebook post examples, the agents share their success in real estate by thanking their clients and team. Doing this shows that you are still humble and care about people, and it helps your audience feel that they are appreciated and are a part of your success.
6. Feature Client Testimonials
In addition to sharing your professional accomplishments, make sure you also share the positive feedback you receive from others. Testimonials are firsthand evidence that you know how to close successful real estate transactions and help your clients reach their goals. Make sure to gather client testimonials after every transaction and schedule them to be posted consistently.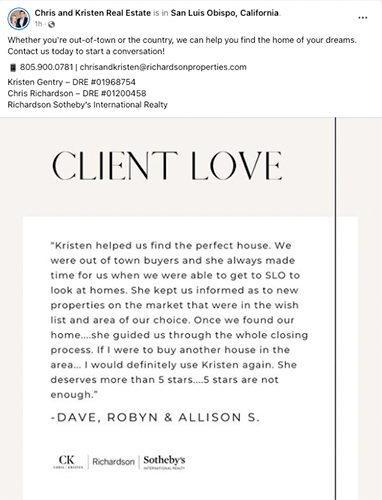 ---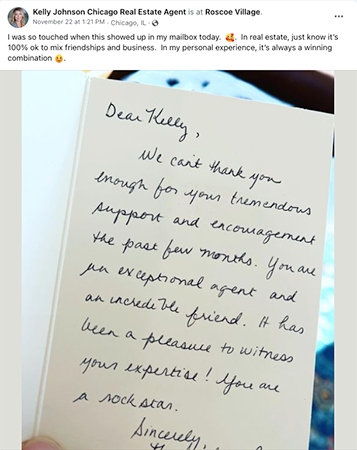 ---
Pro tip: Apart from creating great Facebook posts for real estate agents, gathering honest feedback from clients is vital for your business growth. New real estate agents, in particular, need to hear from clients how the experience could be improved and what works well for them. Make sure you personally follow up with every client and give them an opportunity to privately provide honest feedback about the positives and negatives of their experience.
7. Enjoy Seasonal Celebrations
Even though the purpose of real estate Facebook posts is to generate leads and grow your business, they don't always have to be solely focused on real estate. In fact, posting about relevant dates, events, and holidays is a great strategy to increase engagement. You don't have to post for every single holiday, but keep a sense of inclusivity in mind. For example, you may celebrate Christmas, but don't shy away from posting about Hanukkah, Dia de Muertos, or the Spring Festival.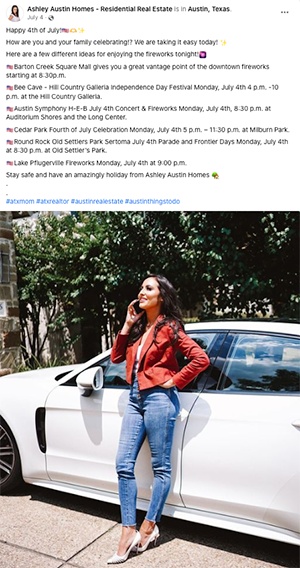 ---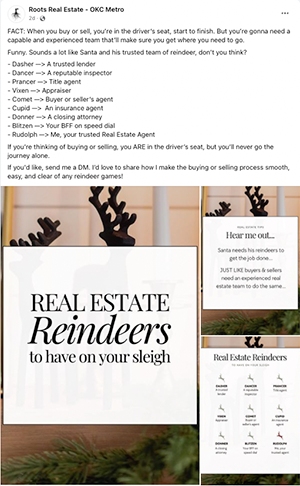 ---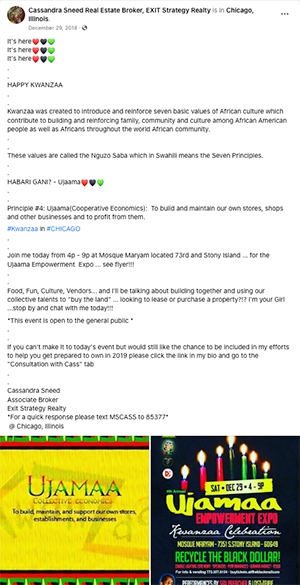 ---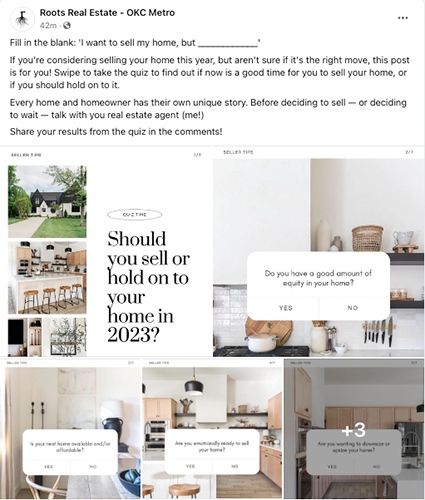 ---
8. Demonstrate Neighborhood Knowledge
Another powerful idea for realtor Facebook posts is to gather and present neighborhood-specific information. For example, you could share quick facts, home types, local events, businesses, and real estate market information about small neighborhoods within your farm area. Real estate posts like these are not extremely common, which establishes you as a regional expert.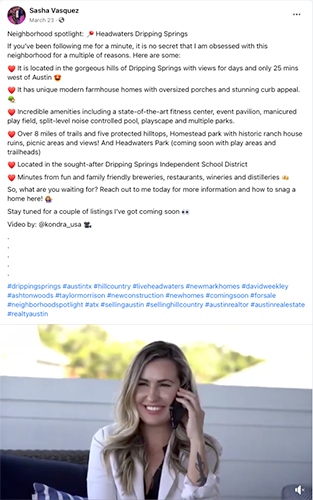 ---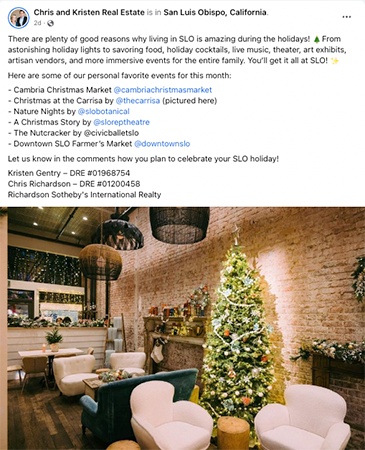 ---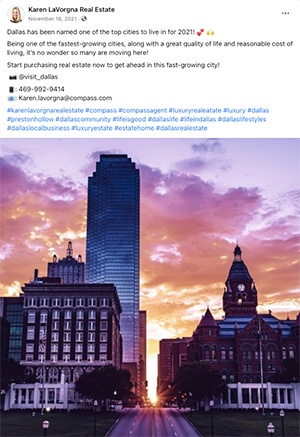 ---
Neighborhood content is one of the top real estate Facebook post ideas because it's highly valuable information that isn't commonly shared or easily accessible online. For instance, buyers in any location can search "steps to buy a house" and find plenty of information. However, buyers trying to figure out which neighborhood in the suburbs of Chicago best fits their young family, outdoor lifestyle, and budget can't get that information from a Google search. They need a local expert who knows the ins and outs of the area—that's where you come in.
There is an endless supply of neighborhood content ideas for your Facebook real estate posts, but consider making at least one video for each neighborhood you want to cover. Real estate video marketing has been shown to generate 66% more leads than all other mediums. Plus, it's extremely easy to do with a tool like Animoto. Animoto is an easy-to-use video editing platform with multiple video templates designed specifically for real estate videos. You can even create a professional video by uploading images and using a ready-to-use template. Start using Animoto for free.
9. Present Local Real Estate Market Updates
Many people are interested in the real estate market but don't know how to find reliable, up-to-date information about the market in their area. It's easy to find news articles with national data and real estate statistics, but not so easy to find information about home sales and trends in their neighborhood, making market reports a top real estate Facebook post.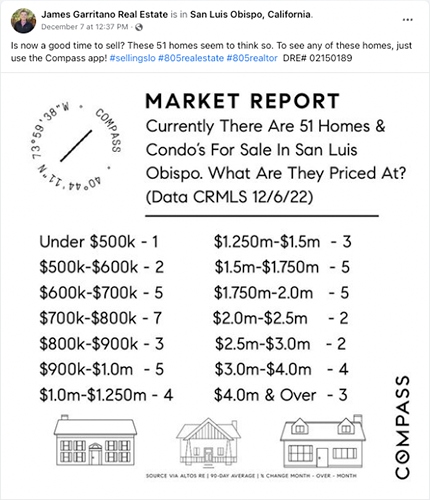 ---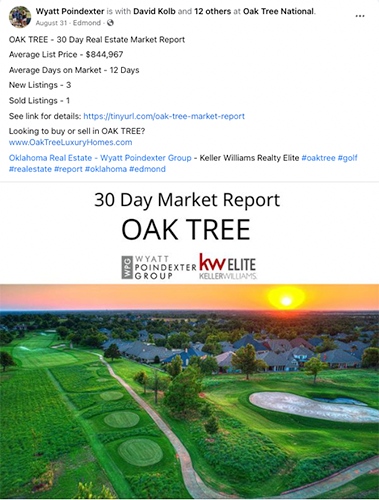 ---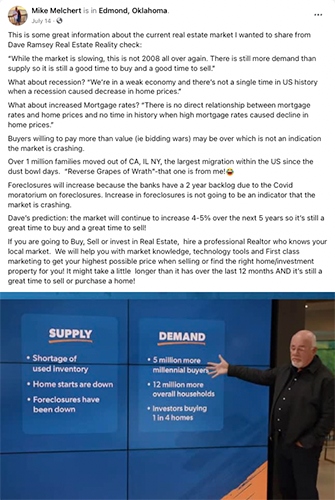 ---
If you already send real estate newsletters, it's even easier to compile that information into a real estate post for Facebook. Since social media posts are generally smaller than newsletters, you can focus on just one statistic or piece of data. The real estate Facebook post examples above focus on data like the supply of homes, the prices of homes currently for sale, average list prices, and average time homes spend on the market. Plus, offering a newsletter can become a lead generation tool. Along with your market report post, provide a link for visitors to sign up to receive a regular newsletter by email.
To make compelling market reports for Facebook content, use a photo editing tool like Canva. With Canva, creating a simple market report can be done in just a few minutes. There are thousands of templates for Facebook posts or newsletters, and they can be easily customized with your brand colors, fonts, and headshot.
10. Promote Local Businesses
As you build your reputation as a regional real estate expert, you'll be viewed as the go-to source for all things local. In addition to highlighting individual neighborhoods, use your real estate Facebook posts to highlight local businesses and share about their events. This is a convenient way to support your community by helping small businesses grow. It also allows you to build relationships with business owners who may have plenty of opportunities to refer their customers to you.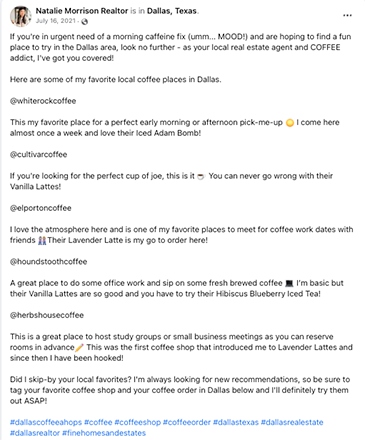 ---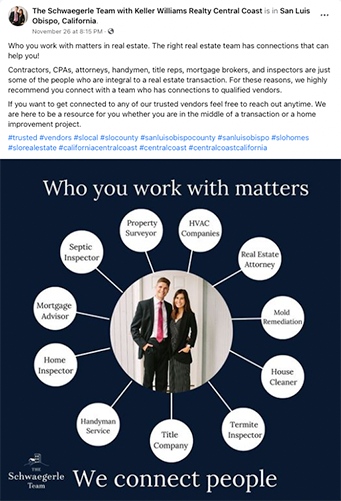 ---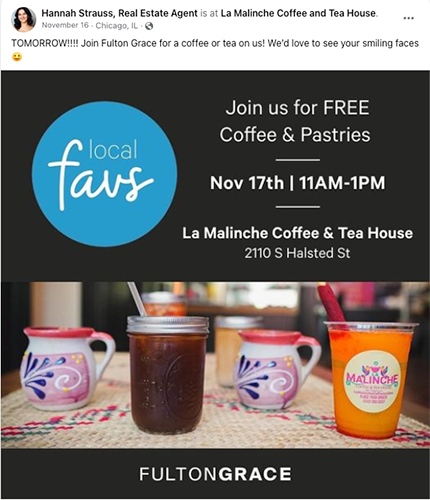 ---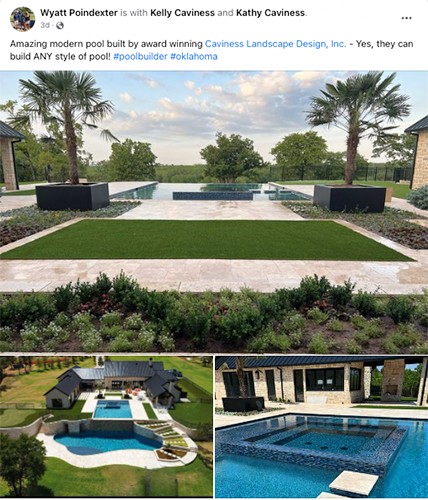 ---
As your relationships with business owners grow, increase your real estate lead generation strategy by creating pathways for owners and customers to reach you. For example, ask owners of physical businesses if you can leave your business cards by the register. Offer to share about them on social media or purchase your clients' closing gifts from their shop.
11. Exhibit Decor & Design Ideas
Decorating and interior design is a great topic for real estate social media pages. Since all of your previous and future clients are currently living in a house, this keeps your content relevant to their needs and interests. Knowing what local homeowners and buyers are interested in or struggling with can help your Facebook posts get more attention and engagement.
To relate your design topics back to your real estate expertise, consider regularly sharing tips on:
Home staging: Share tips to make houses look more appealing for buyers. You may even use a virtual staging company and share before and after images of listings.
Home improvements: Homeowners often wonder which home improvements are best to increase the value of their home. Share home upgrades or renovations that positively impact the value of homes in your area, including examples when possible.
Curb appeal: A home's curb appeal affects potential buyers' first impression of the home. Plus, it can be relatively simple to improve. Give your followers and leads simple or unique curb appeal ideas based on the season or design trends.
Home maintenance tips: Home maintenance tips are extremely important for homeowners, even if they aren't planning on selling their homes soon. Make sure you share maintenance tips specific to the climate and type of home in your area to attract local followers.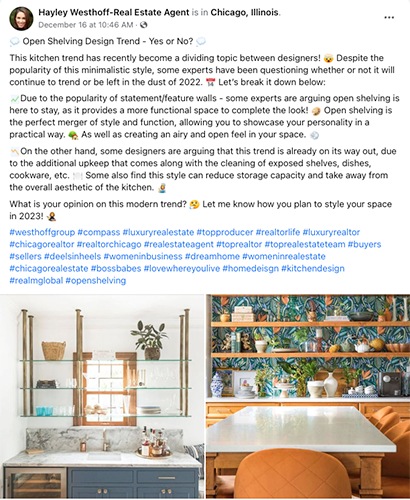 ---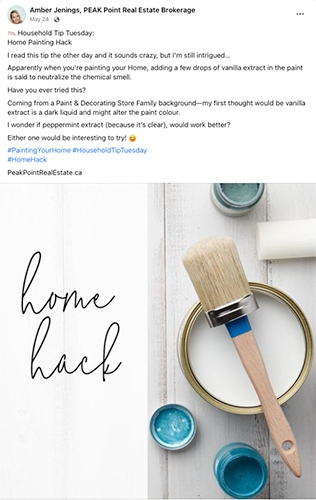 ---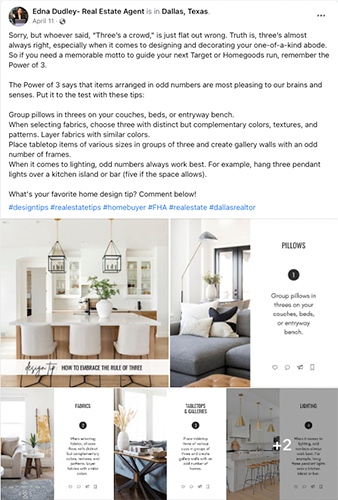 ---
You don't have to guess what your audience is most interested in with the right social media management tool. Sprout Social uniquely provides a Social Listening tool that identifies popular keywords within a topic and provides insights to help you target your audience and capture their attention most effectively. It also provides detailed analytics on your social media accounts so you can easily identify what's working to build your business. Sprout Social could be the key to unlocking more engagement and leads from your Facebook posts—try it today.
12. Highlight Unique Features & Architecture
One of the most exciting and interesting parts of working in real estate is the uniqueness of each property. This is also why many people spend hours looking on Zillow for homes, maybe even some they can't afford. Take advantage of this element and post photos of homes with unique features, even if it's not your listing. People like to see images or homes that make them say, "Wow! That's my dream home!"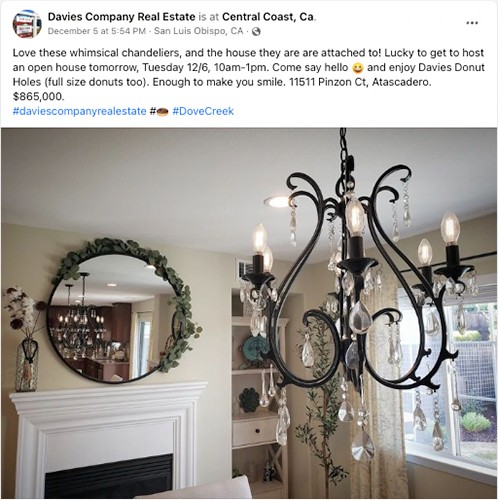 ---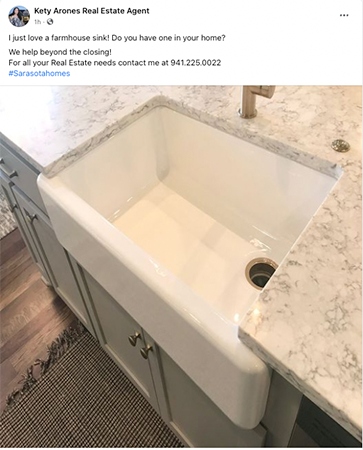 ---
If you do have a listing with unique elements like cathedral ceilings, an infinity pool, or a lush outdoor space, highlight those features in beautiful, professionally shot pictures. Not only can you post these images on Facebook, but you also want to include them when you run real estate ads on platforms like Facebook or Zillow.
On the other hand, you can connect with active buyers searching for a listing by becoming a Zillow Premier Agent (ZPA). ZPA provides powerful tools like a client relationship manager (CRM), market reports, and a personalized agent page to enhance your business. You can even receive messages directly from interested or prospective buyers through Zillow. Since 80% of recent real estate clients worked with the first agent they contacted, ZPA is an ideal tool to put you in touch with potential buyer and seller clients before your competition.
13. Showcase Community Involvement
Being a real estate agent is more than buying and selling houses. It's also about helping people and contributing to your community. Show your Facebook audience how you are involved in the community and what you do in your personal time that helps you be a better agent. This can include participating in a charity event, going to events with your kids, or attending a real estate conference to build your knowledge.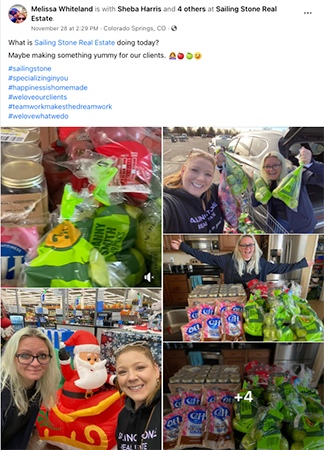 ---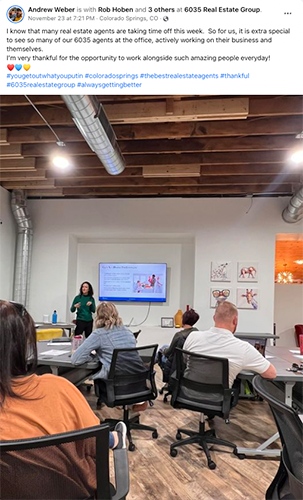 ---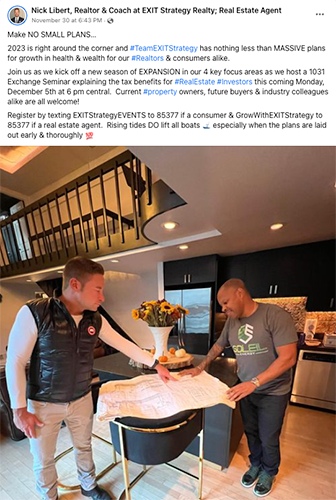 ---
If you're part of a real estate team, take pictures of team events and share them in your real estate Facebook posts. These posts show that you aren't just a corporate businessperson, but that you and your team are fun, hard-working, valuable members of the community. It also makes your leads want to be involved.
Bottom Line
Since Facebook is still the most-used social media platform, it's necessary for real estate professionals to maintain an active presence. Using the real estate Facebook post examples and ideas listed here, you can consistently share relevant and engaging content that builds your audience, generates leads, and increases your sales and income.