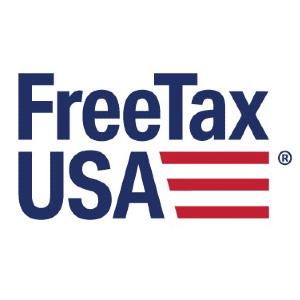 FreeTaxUSA is an online tax preparation software that lets you electronically file federal returns directly to the IRS for free and process state returns at a low cost. Its features include tax return backup, unlimited amended returns, accuracy guarantee, a refund maximizer, priority support with live chat, and more. You can file federal taxes for free and add state tax returns for $14.99.
What We Recommend FreeTaxUSA For
FreeTaxUSA should be one of your top choices for tax preparation if you are on a tight budget. Its Free Edition lets you access a wide range of IRS forms and schedules, making it ideal for filers that deal with various tax situations regardless of complexity, such as small business owners, landlords, and investors with multiple capital gains or losses. FreeTaxUSA is also a top contender if you need some helpful guarantees when filing your income tax return.
FreeTaxUSA Is Especially Good For
Employees with high income seeking to prepare their own taxes: Taxpayers can prepare their federal income tax return for free regardless of their income level.
Self-employed business owners who need free federal filing and low-cost state tax filing: FreeTaxUSA gives you access to all major tax forms and more than 350 deductions and credits without extra cost. Federal tax filing free and add only $14.99 to file your state tax returns.
FreeTaxUSA Is Not a Good Fit For
Professional return preparers: As mentioned earlier, FreeTaxUSA is a do-it-yourself (DIY) tax preparation software and is not for professional tax professionals that prepare individual and business returns. For your tax preparation business, check out our article on the best tax software for tax preparers.
Corporations and limited liability companies (LLCs) that file Forms 1120, 1120S, or 1065: While FreeTaxUSA supports most forms that an individual will need, it does not support any forms for small businesses, other than sole proprietors, which file on the owner's individual tax return.
Filers who need personalized advice from a tax expert: One of the trade-offs to its free service is that it does not offer advanced customer options and personalized advice from a tax professional. In this case, you may need a more robust tax preparation software like TurboTax.
Are you looking for something different? Read our guide to the best small business tax software to see what works best for you.
FreeTaxUSA Pros and Cons
PROS

CONS

Supports all major individual tax forms for free without the need to upgrade
Doesn't support partnership or corporate tax return preparation
Unlimited amended returns are free with the Deluxe Edition
Support is limited for free customers
Includes tax return backup if you need to print old returns
No phone support (email only)
Integration of previous returns from other tax software
Weak importing capabilities
FreeTaxUSA Pricing
FreeTaxUSA lets you file federal returns for free and add state tax returns for $14.99. Upgrade to Deluxe Edition for $6.99, and you will get access to advanced features like amended returns, priority support, and live chat.
| Service | Pricing |
| --- | --- |
| Federal Tax Return | $0 |
| Tax Extension | $0 |
| State Tax Return | $14.99 |
| Deluxe Edition Upgrade | $6.99 |
FreeTaxUSA Features
Whether you are a self-employed individual or have rental income, FreeTaxUSA supports the most common tax forms that you need to file your individual and state tax returns. Check out its top features below to help you determine if FreeTaxUSA is for you.
Prior-year Returns
FreeTaxUSA lets you access, print, and file past-due tax returns from 2013 to 2019. If you filed prior-year returns with another tax preparation program, you can upload a PDF of your return to save time in preparing your current tax return.
Unlimited Amended Returns
You can prepare and file amended returns to correct returns that have already been filed with the IRS. If you are a Deluxe user, you can file as many amended returns as needed for free.
Audit Assistance
Available in the Deluxe Edition upgrade, the audit assistance feature gives you access to a specialist who will help you get through an IRS notice or the audit process.
Accuracy Guarantee
Just like other tax preparation services, FreeTaxUSA offers a guarantee on their tax calculations. Should an error occur, they will be responsible for paying any penalties and interest to the IRS.
Pay with Your Refund
FreeTaxUSA offers you an option to pay your fee with your tax refund, provided you are eligible. To qualify, your refund should be greater than your total fee, plus the processing fee of $19.99.
Live Chat
FreeTaxUSA offers live chat support to users subscribed to the Deluxe Edition. A real person will respond to your queries from Monday to Friday during extended business hours.
Customer Service and Ease of Use
FreeTaxUSA's interface is clean and easy to navigate with no downloads or special plug-ins or add-ons required. Upon logging in, you will be redirected to a page where you can set up your account information easily. It also includes user-friendly navigation tabs that let you jump to particular information, income, miscellaneous topics, deductions and credits, and a tax filing page.
You can seek help via email or search for support topics on its Customer Support page and question and answer database. Unfortunately, FreeTaxUSA does not offer phone support, and the fastest way to contact a representative is to upgrade to its Deluxe Edition, which gives you access to its live chat feature.
FreeTaxUSA Alternatives
| | | |
| --- | --- | --- |
| Best for: Filers who need an inexpensive tax software for corporate and partnership returns | Best for: Filers who want advice from credentialed tax professionals. | Best for: Business owners seeking a cloud-based program to prepare corporate and partnership returns |
| Business returns from $119.85 for federal and state | Self-employed returns from $255.00 for federal and state | Business returns from $159.80 for federal and state |
Bottom Line
Overall, FreeTaxUSA is an extremely affordable solution for individuals and sole proprietors who want to file their own taxes. Its free service may come with some trade-offs, such as the lack of advanced support and personalized advice from an expert, but it offers nearly everything that you expect from DIY tax software.
If you love saving money on your tax filing process, you should try FreeTaxUSA today.