Best Small Business Tax Software for 2022
Small business owners can prepare their own tax returns for a fraction of the cost of tax professionals, as most certified public accountants (CPAs) charge a minimum of $500 for a business return. Below, we've identified the best small business tax software based on price, features, and ease of use.
DIY Return With Schedule C

Federal State

$64.95

$44.95

$74.95

Includes 1 State

$145

$36.99

$119

$49

$54.95

$39.95

$0

$14.99

Assisted

Federal State

$139.95

$44.95

N/A

N/A

$199

$49

Included

Included

$6.99

$6.99

Full Service

Federal State

$229

$36.99

$389

$49

Features

Audit Guidance and/or Defense

✔

✔

✔

✔

✔

✔

Schedule C Business Income & Loss

✔

✔

✔

✔

✔

✔

Data Import

✔

✔

N/A

✔

N/A

N/A

Deduction Finder

✔

N/A

N/A

✔

N/A

N/A

Guidance From a Tax Pro

✔

N/A

✔

✔

✔

N/A

S Corporation (S-corp) & Partnership Returns

✔

✔

N/A

✔

N/A

N/A
TaxAct: Best Overall Small Business Tax Software
TaxAct is our choice for best overall tax software for small business owners because you can prepare both your individual return and business return in its online program. TaxAct is the only software reviewed that offers online preparation of both individual returns (Form 1040) and business returns (Forms 1120, 1120S, and 1065). The biggest drawback to the online program is that the price includes only one return, whereas desktop programs can be used for multiple returns. The typical C corporation (C-corp), S-corp, or partnership owner will spend $264.80 for their individual and business returns.
TaxAct

What We Like
Online preparation of Forms 1040, 1120, 1120S, and 1065
Import income and expense accounts from any software as a comma-separated values (CSV) file
Save time by importing stock transactions
What's Missing
Price includes only one return, so it becomes expensive if you have multiple businesses
No special cryptocurrency support
No tax pro assistance for business returns
Pricing
$64.95 per Federal Form 1040 individual return
$44.95 per state individual return
$109.95 per Federal Form 1120, 1120S, or 1065 business returns
$44.95 per state business return
Features
TaxAct is ideal for businesses that want one-on-one tax assistance and also businesses that need to file corporate or partnership returns. It also provides an accuracy and maximum refund guarantee, a tax calculator, and a deduction maximizer. Its mobile app lets you electronically file (e-file) your returns and also track your IRS refund.
Accuracy/Maximum Refund Guarantee: If you receive a reduced refund, increased tax liability, or have to pay a penalty or interest due to a TaxAct error, your fees will be covered by TaxAct. It will refund your software costs and pay any difference in your lower refund or higher tax liability.
Mobile app: The TaxAct Express app lets you e-file your federal and state tax returns, file free federal extensions, track your IRS refund, and capture W-2 data. You can also switch seamlessly from the app to the desktop, picking up where you left off.
Deduction maximizer: Using a question and answer format, TaxAct will provide you with a step-by-step guide to assist you with completing your returns while also maximizing your deductions. This tool is beneficial for self-employed individuals, who will be able to identify common deductions that are specific to their work.
Tax calculator: TaxAct's tax calculator allows you to look ahead to future years by creating what-if scenarios in your current return. You can also project changes to the data to estimate your tax liability for current or future years.
Data import: You can import your previous year's tax return as a PDF, regardless of whether you used TaxAct or another tax software.
Our Expert Opinion
TaxAct has a dashboard that shows all your current and prior-year returns filed with TaxAct Online. You can start a new return of any type with one click that begins the TaxAct interview process. Start as many returns as you like and only pay when you're ready to file. The dashboard also provides useful tools like a quick tax estimator and tax planner.
Income and expenses can be imported from virtually any bookkeeping software by means of a CSV file. TaxAct provides a link from the interview to the help section that explains exactly how to format your CSV file or spreadsheet for import. You can get answers to your tax questions in its Answer Center, but you can't talk directly with a tax professional.
Many small business tax programs offer some kind of audit support, whether that's providing advice, consulting, or defense. While TaxAct does provide audit defense via its partner company Protection Plus, the cost is $49.95 and covers three years of audit services. However, if you're only looking for audit assistance, TaxAct is lacking in this area, with only an FAQ page on its website. For a better option, check out TurboTax. Its Audit Support Guarantee gives you free one-on-one audit guidance from a trained tax professional and assistance with what to expect and how to prepare for the audit.
H&R Block: Best Inexpensive Desktop Tax Software for Corporate and Partnership Returns
With H&R Block desktop software, you can prepare the entire bundle of required returns for business owners for a low fee. For just $89.95, H&R Block Premium and Business will prepare and e-file both your personal federal and state returns (Form 1040) and your federal and state business returns (Forms 1120, 1120S, and 1065).
H&R Block

What We Like
Up to five federal e-files included
Import your prior-year return from any tax software
Free in-person audit support
What's Missing
Desktop software requires downloading and installation
No live tax pros with the desktop software
Return cannot be accessed from a mobile app
Pricing
Premium Tax Software: Best for self-employed

$74.95 to e-file up to five federal individual returns, including Schedule C
Includes e-filing one state individual return—$39.95 for each additional

Premium and Business Tax Software: Best for owners of C corporations (C-corps), S-corps, and partnerships

$89.95 includes e-filing all required returns:

Personal, federal, and one state return. Additional state returns are $39.95. E-filing of state business returns is not available in all states.
Federal C-corp, S-corp, or partnership return
State business return included
The prices above include a $19.95 e-filing fee for each individual and business state return.
Features
H&R Block offers multiple guarantees for its services and has many useful features, including a tax calculator. Its expat tax services are also notable, as well as the Tax Identity Shield, which helps protect against identity theft.
Maximum Refund Guarantee: H&R Block provides a Maximum Refund Guarantee, which guarantees that if you discover an error in the tax preparation software that entitles you to a larger refund or smaller liability, H&R Block will refund your software fees. You can also use the software to amend your return at no additional charge.
Audit guarantee: If, after filing your return, you receive an IRS or other tax notice related to the return you filed with the tax preparation software, H&R Block will provide assistance with understanding it. You'll also receive guidance as to the steps to take in responding at no additional charge.
Tax calculator: Answer a few questions about your life, income, and expenses, and H&R Block's tax calculator will estimate your filing status and taxable income.
Tax Identity Shield: With the goal of protecting you from identity theft, H&R Block's Tax Identity Shield includes a dark web identity watch, credit report access, and identity monitoring. If you do become a victim of tax fraud, they offer assistance from a specially-trained agent to help you recover your refund.
Our Expert Opinion
H&R Block offers small business owners the option to file either online or with downloadable desktop software. We recommend the desktop software. Not only is the desktop software considerably less expensive, but the business returns (Forms 1120, 1120S, and 1065) aren't available in the online program.
The downside of the desktop software is that it doesn't include assistance from a live tax professional, which is available with the online program for individuals. If you would like the option of tax assistance for business returns, we suggest checking out Block Advisors, which matches you with a dedicated accounting professional. H&R Block provides partial or full support for Schedule C returns, but only full support for 1120, 1120S, and 1065 returns.
Block Advisors: Best for Having Your Business Return Completed By a Tax Professional for a Low Price
H&R Block is known for its tax preparation services, and it also offers financial support all year round with Block Advisors. Focusing specifically on small businesses and self-employed individuals, it allows you to either partially or fully outsource not only your tax prep but also your bookkeeping and payroll. Block Advisors is affordable and offers plans for different budgets, depending on how involved you want to be. You can work with your financial expert on the phone or online and can customize a package that will fit your needs.
Block Advisors

What We Like
Access to a financial professional near your home or business
Ability to tailor a package that includes taxes, bookkeeping, and payroll support
Customize reports including profit and loss (P&L) statements and structural analytics
What's Missing
Pricing isn't totally transparent and requires a $50 consultation for more information
Desktop software not available
DIY option isn't available for corporate and partnership returns
Pricing
Self-employed: Starting at $195 to do your own and $229 to work with a pro
S-corp, C-corp, and partnership: Starting at $250 to work with a pro
Personalized consultation: $50
Bookkeeping: Starter plan starting at $50 per month, full-service plan starting at $150 per month
Payroll: Self-employed services starting at $59 per month, One+ Employees plan starting at $70 per month plus $10 per employee per pay run
Features
In addition to its accessible support options and personalized tax help, Block Advisors provide year-round accounting assistance that includes bookkeeping and payroll services. This is offered due to its partnership with Wave, which provides free accounting software. Block Advisors also guarantees its services with the 100% Accuracy Guarantee.
Personalized tax help: With Block Advisors, you'll receive unlimited live support from a tax advisor who has specialized training in small business taxes. They're available year-round and have an average of 12 years of experience.
100% Accuracy Guarantee: If Block Advisors make an error on your return, they'll reimburse you for any resulting penalties and interest. To qualify, the error must not be due to incomplete, inaccurate, or inconsistent information supplied by you.
Accessible support: Block Advisors are available via phone, live chat, or video call.
Year-round accounting assistance: In addition to its tax services, Block Advisors also provide bookkeeping and payroll support. For other options, check out our recommendations for the best online bookkeeping services.
Wave partnership: Wave offers a tax filing integration with Block Advisors, which allows you to seamlessly file your taxes based on your accounting data in Wave.
Our Expert Opinion
Block Advisors is a branch of H&R Block, and most of its services are provided either online, over the phone, or through an H&R Block office. You have the option of handling most everything yourself with some outside support or handing everything off to an accounting expert. Because you'll be assigned to a dedicated Block Advisor, you have the benefit of a personal relationship with someone who may be able to offer tax and money-saving strategies.
For all of its attractive features, Block Advisors doesn't offer you the ability to file unlimited amended returns. If this is something you're after, we suggest FreeTaxUSA, which does have this option. FreeTaxUSA offers inexpensive state return filing and supports a variety of business forms.
TurboTax: Best Small Business Tax Software for Freelancers and Self-employed
TurboTax Live is our choice for self-employed and freelancers because of the ability to consult with a tax professional. The price also includes a line-by-line review of your return by the tax professional. Unfortunately, owners of corporations or partnerships will have to separately purchase TurboTax Home & Business desktop software, which doesn't include consultation with a tax pro. TurboTax Live Self-Employed is $89 plus $39 per state.
TurboTax

What We Like
Year-round access to tax pros
All tax pros are either enrolled agents (EAs), CPAs, or lawyers
Import cryptocurrency transactions
What's Missing
Owners of C-corps, S-corps, and partnerships must purchase two programs
Additional state returns cost $55 each
Expensive compared to programs without access to tax pros
Pricing
TurboTax Live Self-Employed: best for self-employed and freelancers

$89 federal Form 1040 individual return
$39 state individual returns
Total cost of $128

TurboTax Business (desktop): best for C-corps, S-corps, and partnerships

$160 includes five federal business returns
$50 per state business return
Owners of C-corps, S-corps, or partnerships will need to purchase both programs for a total cost of $338.
Features
TurboTax is a great option for freelancers and self-employed professionals who want to consult with a tax expert. TurboTax Live offers this option, and there are many other appealing features, such as a deduction maximizer, donation calculator, and a mobile app, which lets you file your taxes on the go.
Deduction maximizer: TurboTax can search over 350 tax deductions and credits to ensure that you're able to find every available opportunity to maximize your refund. It also provides step-by-step guidance to turn your investments into tax breaks.
Mobile app: The TurboTax mobile app lets you use your mobile device to file your taxes on the go, including the ability to talk live on-screen with one of TurboTax Live's tax experts. It also allows you to take a photo of your W-2 and upload it to the app.
Donation calculator: Available with the Deluxe, Premier, and Self-Employed plans, ItsDeductible is a free online tool that uses market data from online thrift stores, retail shops, and auction websites to estimate the dollar value of your donated items.
TurboTax Live: With both assisted and full-service tax assistance options, TurboTax Live gives you the option of access to expert advice or a tax expert who'll prepare and file your taxes for you.
100% Accuracy Guarantee: You can easily fix errors before you file with TurboTax's CompleteCheck, which checks for missing, incomplete, or conflicting information. It guarantees that all calculations are 100% accurate, or it'll cover any penalties or interest that's charged by the IRS.
Our Expert Opinion
TurboTax Live Self Employed is a good option for self-employed taxpayers that are unsure of their ability to file their own taxes. You'll have access to a tax pro year-round, not just while you're filing a return. TurboTax Live Self Employed has many features you wouldn't expect from tax preparation software, such as preparing W-2s and 1099s for your employees and a year-round tax estimator for midyear tax planning.
If you own a C-corp, S-corp, or partnership, you'll also have to purchase and download TurboTax Home and Business to prepare your business return. You can import your income and expenses from QuickBooks Desktop and receive on-screen guidance to maximize your business deductions. While you don't have access to tax pros for business returns, you can contact customer support via telephone. TurboTax has many attractive features for small business owners, but it's not the most affordable option. We recommend TaxSlayer instead, which is good for self-employed taxpayers looking for assistance from a tax pro at a lower cost.
TaxSlayer: Best Inexpensive Tax Software for Freelancers With Advice From Tax Pros
TaxSlayer is ideal for self-employed persons who need a value-priced program to file Schedule C but still want the ability to speak with a tax professional. If you own a corporation or partnership, you cannot use TaxSlayer to file your business tax return. TaxSlayer Self-Employed features priority customer support, a simple interface, guidance for deductions, and audit assistance. Most self-employed people or freelancers will pay $94.90 to file both their federal and state returns.
TaxSlayer

What We Like
Live support from a tax professional
Inexpensive
Cloud-based program can be accessed from mobile app
What's Missing
Cannot file C-corp, S-corp, or partnership returns
Cannot import Schedule C income and expenses
Cannot import capital gain transactions
Pricing
$54.95 per federal Form 1040 individual return with Schedule C
$39.95 per state individual return
Features
TaxSlayer has many features that'll assist self-employed taxpayers who are looking for an inexpensive option that includes advice from a tax professional. These features include a tax refund calculator, a mobile app, and IRS audit assistance. You're also guaranteed the maximum refund and can import PDF files of your tax returns.
Guaranteed maximum refund: With the exception of the Simply Free plan, TaxSlayer will refund your purchase if you don't receive the maximum refund that you're entitled to, as long as you're able to prove that it cannot be attributed to data that was entered incorrectly.
Tax refund calculator: You can estimate your tax refund using your paycheck or W-2 with TaxSlayer's refund calculator. It'll also give you an idea of your potential taxable income and assist with finding credits and deductions that you can claim.
Mobile app: TaxSlayer's mobile app lets you file your taxes, view the status of your return, and receive updates with personalized notifications.
PDF file import: TaxSlayer allows you to import tax returns that are stored as PDF documents, even if they were prepared with other online tax preparation programs. It supports forms 1040, 1040A, and 1040EZ.
IRS audit assistance: Available with TaxSlayer's Premium plan, you'll have access to TaxSlayer's staff of IRS-certified professionals and enrolled agents (EAs). This service is available for up to three years after the IRS accepts your file.
Our Expert Opinion
TaxSlayer is a good cloud-based tax preparation software app for individuals that are self-employed or freelancers. It provides access to live tax professionals with expertise in the self-employed tax area. It has many of the features you expect like a deduction finder and tax tips. Its support section provides professional answers to common tax questions and can be browsed by either tax topic or tax form.
The biggest drawback of TaxSlayer is that you cannot file corporate or partnership returns. Other missing features include the ability to import your Schedule C business income and expenses as well as import your capital gain and loss transactions. If you buy and sell stock frequently, it can take considerable time to enter all the transactions by hand. As an alternative, we recommend TaxAct, which can import stock transactions from a spreadsheet.
FreeTaxUSA: Best Free Small Business Tax Software for Freelancers
FreeTaxUSA is ideal for self-employed people looking for free tax software to file their individual federal tax returns, including Schedule C. FreeTaxUSA isn't a scaled-down version of a paid subscription. This is a full-featured tax preparation software program that includes all forms that most self-employed taxpayers will need. However, FreeTaxUSA cannot prepare C-corp, S-corp, or partnership returns.
FreeTaxUSA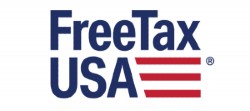 What We Like
Import your prior return from TurboTax, H&R Block, or TaxAct.
Free federal return and inexpensive state returns
Input data through an interview process, similar to paid programs
What's Missing
Cannot consult with CPAs or EAs
Cannot import income and expenses or stock transactions
Customer support options are very limited
Pricing
Free to file federal Form 1040 individual return with Schedule C
$14.99 to file each state
$6.99 for priority support with live chat, unlimited amended returns, and audit assist
Features
FreeTaxUSA has many features that make it an attractive option for self-employed business owners who need free federal tax filing and low-cost state tax filing. It also provides features, such as tax return storage and audit assistance, and the ability to file prior-year and amended returns.
Prior-year returns: You can access, print, and file past-due federal tax returns from 2014 to 2020 for free, and state tax returns for $17.99 each. If your prior-year returns were filed with another tax preparation program, you can upload a PDF of your return to FreeTaxUSA.
Audit assistance: Available with the Deluxe Edition upgrade, FreeTaxUSA offers audit assistance, which includes access to a tax specialist who'll help you with audit notices and/or the audit process.
Unlimited amended returns: You can prepare and file an amended return to correct a return that has already been filed with the IRS. The fee for Free users is $17.99, and Deluxe users can file as many amended returns as necessary.
Tax return storage: As a FreeTaxUSA user, your tax returns will be stored securely in your account for up to seven years. If you use the software two years in a row, the prior year's information will automatically be carried into the current year's taxes.
100% Accuracy Guarantee: FreeTaxUSA stands by its services with its 100% Accuracy Guarantee. If you end up having to pay a penalty or interest because of a calculation error after using the service, it'll reimburse the amount.
Our Expert Opinion
FreeTaxUSA is a great option for taxpayers that are confident in their ability to file their own tax returns. The software supports nearly any self-employed business situation as well as other common tax items like itemized deductions and rental houses. There are very few, if any, taxpayers that couldn't file with FreeTaxUSA.
The biggest drawback to FreeTaxUSA is its limited customer support. There's no access to a tax professional. It also doesn't have a self-help database to consult. Your only option for customer support is to send a message and wait for a response. However, for a $6.99 upgrade, you can live chat with customer support. If you have foreign-earned income, are a resident alien, or live outside the United States, you won't be able to file with FreeTaxUSA. We suggest H&R Block instead, which offers expat tax services.
How to Choose the Best Small Business Tax Software
When deciding on a business tax software, you should consider the other business systems your small business requires and try to select a combination of software that best fits your needs. To choose the best small business tax software, you need to understand which returns you must file. How your business is organized for tax purposes will determine the required returns to file.
Filing Requirements for Self-employed, Sole Proprietorships & Freelancers
Self-employed taxpayers, sole proprietorships, and freelancers are treated the same for tax purposes. These businesses must report their income on Schedule C of the individual tax return, Form 1040. There's no separate business tax return.
Filing Requirements for C-corps
C-corps must report their business income and tax liability on a corporate tax return, Form 1120. All business income is taxed on the corporate return and has no effect on the individual tax return unless the corporation pays dividends to the owners.
Filing Requirements for S-corps & Partnerships
S-corps and partnerships are required to report their business income on a federal tax return filed separately from the owner's return. S-corps must file a Form 1120S, and partnerships must file a Form 1065. Both Form 1120S and Form 1065 include a Schedule K-1, which shows each owner's share of the business income. The income on Schedule K-1 is commonly referred to as flow-through income and reported on the owner's individual return, Form 1040, Schedule E.
Filing Requirements for a Limited Liability Company
A limited liability company (LLC) may be treated as a sole proprietorship, C-corp, S-corp, or partnership.
Costs & Features to Consider
In addition to federal returns, most individuals and businesses must file state returns. When comparing the cost of small business tax software, be sure to include the cost for all your required returns.
Most small business tax software now includes the option to consult with a live tax professional. The software can only produce accurate returns when you enter accurate information. Answering a question incorrectly can have a dramatic effect on a tax return. The more complicated your return, the more important it's that the software provides a tax professional to consult with during the preparation.
The key features you should look for in small business tax software are:
Cost: Owners of corporations and partnerships generally require at least four returns, and sole proprietors require at least two returns.
Support for tax forms: The tax software can prepare business entity returns for S-corps (Form 1120S), C-corps (Form 1120), partnerships (Form 1065), sole proprietors (Form 1040, Schedule C), and rental property (Form 1040, Schedule E).
Data import: Tax software can import data from bookkeeping software and financial institutions.
Deduction finder: The tax software helps business owners find deductions for their industry and pick the best way to deduct depreciation and car expenses.
Error checking: The tax software must have diagnostics to check for mistakes and potentially missing data.
Live tax professionals: Consultation and perhaps even a review by a tax professional is critical for complicated returns. Simply clearing all the issues from the error check doesn't guarantee the return is correct. Preferably, tax professionals should be either CPAs, EAs, or lawyers, instead of somebody trained by the software provider.
Ease of use: The tax software must be relatively easy to learn and navigate.
Customer support and help resources: The tax software must provide an online knowledge base and customer support by phone or email.
Bottom Line
Small business owners should consider their needs carefully when choosing tax software for preparing their business and personal tax returns. If your business is a corporation or partnership, you need software that will prepare Form 1120, 1120S, or 1065, in addition to your personal Form 1040. You want software that will make it easy to transfer your accounting data, maximize your tax deductions, check for errors, provide unlimited customer support, and allow you to consult with a tax professional when you need it.