Billboard advertising costs roughly $1,500 to $4,000 in most small- to mid-size US cities, though it can dip as low as $250 in rural areas and can reach $14,000 or even higher in larger markets such as New York City.
Want to be a local celebrity and promote your business without spending several thousand dollars on a billboard? Try IndoorMedia–they will put your business in the public eye by placing your ads on shopping carts and backs of grocery receipts. Click here to sign up for more information.
How Much Billboard Advertising Costs
| | Spokane, WA | Atlanta, GA | New York, NY |
| --- | --- | --- | --- |
| Cost | $1,800 | $3,000 | $14,000 |
| Adult Population | 1,063,000 | 6,211,000 | 18,945,000 |
| Weekly Impressions | 1,747,267 | 5,000,000 | 8,000,000 |
These are the rates to rent standard 14' by 48' billboards for 4 weeks for a small, medium and large sized city, as offered by Lamar Advertising:
What Affects Billboard Costs?
Many different aspects can affect how much you will pay for billboard advertising. The three primary factors are:
Circulation: The total volume of traffic that passes the billboard, which is derived from transportation authorities. The circulation does not take into account whether passersby see your ad or not.
Demographics: The breakout by age, gender and income level of people who typically pass by a billboard. Expect to pay more to advertise to people with higher income levels.
Impressions: The number of people who actually see the ad, based on the size of the billboard, visibility, the speed at which people are passing, etc. This is derived from the circulation and the geo-positioning of the billboard.
Together, these factors make up the Out-of-Home (OOH) ratings of a billboard, which is the standard set of measurements used by ad agencies. For more on these ratings, you can check out the out of home ("OOH") advertising ratings organization, Geopath.
Additional Costs To Keep in Mind
You will also need to consider the cost associated with producing and designing your billboard advertisement.
Vinyl is the standard material used for the ad itself because of its resistance to weather. Printing an advertisement on vinyl for a bulletin billboard (14' by 48', or almost 700 square feet of material) will cost between $300-$500.
There will also be costs to designing the billboard. Budgeting $500 to $1,000 for billboard design would be wise. We usually recommend hiring a designer from a freelancer site, however in this case you probably want a designer with extensive experience creating billboard ads. We put together a list of the 5 Best Billboard Design Companies where you can find our top recommendations.
The reason we recommend going with a professional designer with experience in billboard design, is because designing a billboard is unlike any other form of advertising.
"The reality is, you have about 1.5 seconds to present the name of the company/brand and identify engaging content through a clever tagline or interesting visual about the company/brand. The more information you add to a billboard doesn't provide you with a better billboard or more results." —Eric Lanel, Creative Director, GWP Advertising
View our billboard design tips to learn more about the considerations to keep in mind with billboard design.
Billboard Advertising Benefits Some Businesses More Than Others
Now that you understand how much billboard advertising will cost you, let's walk through if billboard advertising is right for your small business. Billboard advertising works best for businesses who are advertising a nearby location, or boosting brand awareness.
Advertising a location.
Restaurants and shops often advertise next to the closest major highway. These ads are extremely actionable, since they're promoting something that is just minutes away. (For more tips, check out our guide to the top local marketing ideas.)
Chris Seferyn, who owns several restaurants, said that billboard advertising was the "best ad format that [he] has ever used." This is not surprising since billboards typically work really well to get people to a restaurant right off the highway.
Boost brand awareness.
Many real estate agents, law firms, banks, plumbers and HVAC services benefit from this type of advertising. The goal here is not so much to convert buyers on the spot, but to boost general awareness of their brand.
If you don't fall under one of these two categories, you may want to think twice about billboard advertising. With the exception of restaurants and physical shops, billboards are typically not very actionable. This is OK if you just want to build name recognition and stir some buzz. However, if you want to generate more leads directly from an ad, you'll want to consider advertising online via Facebook or another platform.
We spoke with Ivana Gigovic, co-founder of a menswear company, who said that she tried billboard advertising and would probably not do it again.
"We learned from our experience that it is extremely hard to measure whether your investment paid off. We paid upwards of $40,000 for a month's worth of billboard advertising, and were unable to determine whether the campaign was successful. We find with social media advertising we can measure our return almost immediately."
Here are a few additional questions you can ask to determine if billboard advertising is right for you:
Does my product pass the 8-second rule? If you can't make your pitch in 8 seconds, then billboards are not for you. Also, if your pitch requires "personalizing" (i.e. "we noticed you're using an outdated POS – let us replace your system") then the stagnant nature of billboards will not work. Examples of products that should not be advertised on billboards are self-published books and some B2B services.
Is it relevant to a mass audience? If your product is only relevant to 10% of the population, you'll be wasting a lot of money on "unnecessary" impressions. For example, let's say you're a distributor of vegan food products. Since only 7% of Americans identify as vegan (and an additional 6% as vegetarian), roughly 90% of your impressions are going to waste.
However, while the product may be relevant to only 10% of people on the street, it's probably relevant to 100% of people searching "vegan food" online, or who like a vegan recipe page on Facebook. This is why online advertising can be a more effective option for niche markets. Click here to make your Facebook ad in minutes via a free tool from Waymark.
Choose Your Billboard Location Wisely
We spoke to dozens of advertisers and small business owners who have done billboard advertising before, and almost all of them said that the location of your billboard is the most important consideration when buying a billboard.
There are several factors that play into how desirable a billboard spot is:
How fast people are going by – People are way more likely to see your ad if they are on a congested highway versus a train route where travelers pass at 40 mph.
Proximity of the billboard to the road – This has to do with visibility of your billboard to the people passing by.
Where typical travelers are going – Are you advertising your law firm to locals, or people that are just passing through the town? Also, are people headed to the shops on the way home from work? This would be a desirable spot for a store.
You should be able to get this type of data from the company selling the billboard space. It's also a good idea to check out the location personally before advertising.
"Get data on who is driving by, at what speeds they drive by at that particular stretch of road (the difference between an effective billboard and a useless one can be the difference between 45 mph and 55 mph), who walks by and what they're doing while they walk (immersed in their phone, speaking with friends, etc.), and more about your particular billboard. If you can't buy this data from a research firm online, set aside an afternoon and go collect it yourself. " —Jordan Bishop, How I Travel
Make sure that you analyze where your customer base is coming from and put the billboard exactly where they are most likely to see it.
"Have a firm idea of where your most likely customer resides, and advertise in the slowest traffic area you can, even if it means using a smaller billboard space." —Sean Desilva, Every Last Spot
Also consider buying a billboard directly across from your competitor. This billboard from McDonald's is poking fun at Starbucks' sky high prices. Imagine the effect this sign would have if you were considering purchasing a $4 coffee drink, and then realize that McDonald's can offer the same thing at a much lower cost.
Digital Billboard Costs & Benefits
The cost per impression for digital billboards is typically more than for traditional print ads.
| | | | |
| --- | --- | --- | --- |
| Location | Spokane, WA | Atlanta, GA | New York, NY |
| Cost | $2,100 | $4,200 | $8,633 |
| Adult Population | 1,063,000 | 6,211,000 | 18,945,000 |
Despite the higher cost, there's a few key advantages to using a digital billboard instead of a traditional print billboard:
More dynamic –  With digital ads, you can have a moving image. This works to capture pedestrians attention far more than a standard billboard.
More targeted – By showing different ads during specific times of day, you can target people on their lunch break or during the after work commute, and adjust your message accordingly.
More flexible – You can make changes to your creative at no additional cost. You can also stream live data and user-generated content from your website/social media in real time.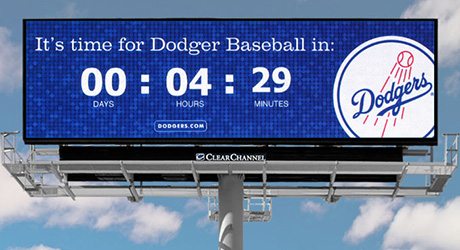 How to Rent a Specific Billboard
If there's a specific billboard you have in mind, check for the the advertising company name next time you pass the sign. The company name is usually listed below the billboard image on the structure itself.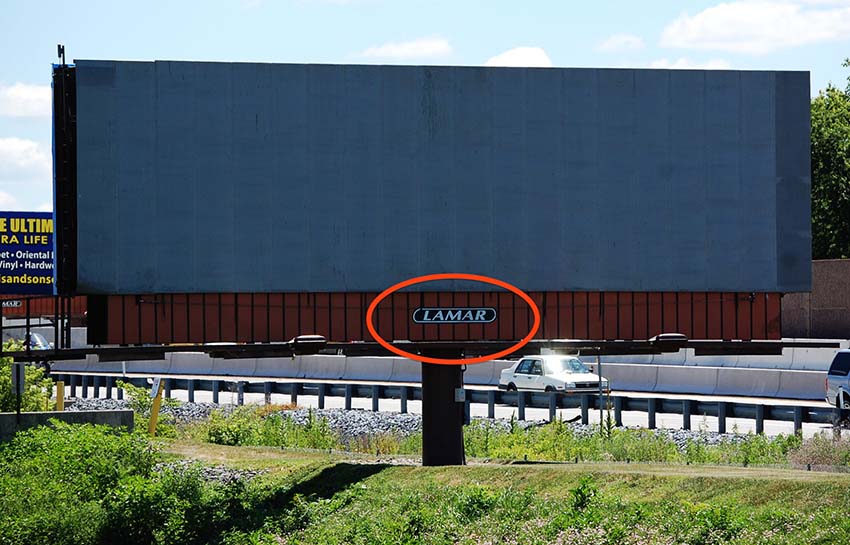 Some of the largest billboard companies in the U.S. are Lamar, Clear Channel and CBS Outdoor, although there's also many local and regional providers.
OutdoorBillboard.com has a state-by-state directory of billboard companies with contact information.
Installing a Billboard on Your Property
If you're interested in installing a billboard to advertise your business or lease to other businesses, the first thing you should do is check local ordinances. Depending on where you live and how your property is zoned (commercial, residential, industrial, etc.) there may be different regulations. Try calling the office of your local city or county government.
If it's legal to build on your property, you have one of two options:
Install the billboard yourself
Lease your property to an advertising company.
If you go the latter route, the advertising company will handle everything – from construction to client acquisition, replacing the ad, etc. You can expect to earn around 15% to 20% of the net revenue yielded by the sign (or 30% to 35% in a major city). For more on billboard leasing, Frank Rolfe has an excellent guide on NuWire Investor.
Most billboard advertising companies actively seek new locations to lease (see Lamar Advertising and Lang Media).
Alternatively you can install and manage the billboard yourself. Factoring in all material and construction costs, a 14' x 48' billboard can range from around $15,000 – $20,000 for a wooden structure and $40,000 to $100,000+ for a steel structure. The exact cost depends on the height of the sign (distance from the ground) and whether it's double or single-sided. (Quotes are from North Carolina's 2015 Billboard Structures Valuation Guide)
The Bottom Line on Billboard Ad Costs
Billboard advertising cost is worth it if you are trying to drive traffic to a nearby location, or boost brand awareness. However, if you don't have a physical location, or have a niche audience, then billboard advertising is not the best method to generate leads.
If you're not sure if billboard advertising is the right option for you, consider smaller options as you get started. IndoorMedia can literally get information straight into potential customers' hands by printing your ads on their grocery store receipts–click here to find out more.