A QuickBooks ProAdvisor is someone familiar with the QuickBooks product line who has joined the QuickBooks ProAdvisor program and passed a certification exam. There are four primary certifications: QuickBooks Pro/Premier, QuickBooks Online, QuickBooks POS and QuickBooks Enterprise Solutions. Becoming a QuickBooks ProAdvisor is completely free as are all the study materials and exams from QuickBooks.
You don't need an accounting or bookkeeping background or any type of formal education to take the certification exam. To become a certified QuickBooks Online ProAdvisor, you must successfully pass a 55-question exam with a passing score of 80 percent or better. Most people should plan to invest at least 12 to 16 hours of studying to prepare for the exam. You can take the exam multiple times if you don't pass on your initial attempt.
In addition, there are advanced certifications available for both QuickBooks Online and QuickBooks Desktop. Our focus is on the core QuickBooks Online certification. If you are interested in learning more about the QuickBooks desktop certifications, you need to add QuickBooks Desktop to the Your ProAdvisor membership. For more details, head to the Your ProAdvisor Profile section.
The three steps to becoming a certified QuickBooks Online ProAdvisor are: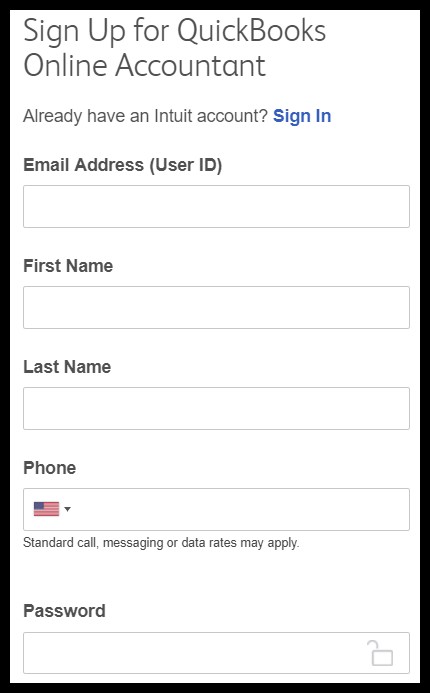 1. Sign Up for QuickBooks Online Accountant
The first step is to provide some basic information to create a free QuickBooks Online Accountant (QBOA) account. You will be asked to provide your:
Email address (user ID)
First name
Last name
Phone number
You'll also be asked to create a password. No credit card or other sensitive information is required.
2. Prepare for the QuickBooks ProAdvisor Certification Exam
Once you create your QuickBooks Online Accountant account, you have access to all of the study guides, webinars (live and recorded) and exams for free. Like any exam, you need to study in order to pass the exam successfully. The extensive training is broken up into seven modules, which are about 6.5 hours of time that you will spend watching the webinars and go through the study guides.
I recommend downloading the study guides to your computer to follow along and take notes as you watch the webinar. If you can't finish a webinar in one session, the program will save your progress so that you can pick up where you left off easily.
To access the training materials and certification exams, log into QuickBooks Online Accountant, click on the ProAdvisor tab on the left and Training as indicated in the screenshot below:

The main topics covered in the ProAdvisor certification training are:
Setting up clients: In this course, you learn how to select the right company settings, how to create new customers and vendors, how to create the chart of accounts and more
Supporting your small business clients: In this course, you learn how to manage customer payments, deposits to the bank, journal entries and more
Banking and tools: In this course, you learn how to connect bank accounts and credit card accounts to QuickBooks, how to reconcile a bank account and recurring transactions
Reports: In this course, you learn how to edit, customize and run reports like profit and loss, balance sheet and sales and expense reports
Managing your work: In this course, you learn all about the practice management features in QBOA; you can set up projects and track them for QuickBooks and non-QuickBooks clients
Preparing client's books: In this course, you will learn how to prepare a client's books for the year-end close
QuickBooks solutions for clients: In this course, you will learn how to determine which QuickBooks subscription is right for your client
I also recommend that you have QuickBooks open. I'm a hands-on learner so, sometimes, I will pause the webinar and practice doing something that I just learned. If you prefer live instruction, you can check the schedule for a list of all upcoming QuickBooks workshops. Before you attend a live workshop, be sure to download the study guides to your computer so that you can follow along with the instructor. Both the live and recorded webinars allow you to earn continuing professional education credits (CPE) that can be used to renew your certified public accountant (CPA), enrolled agent (EA) or certified bookkeeper credentials.
3. Take the QuickBooks Certification Exam
You can access the QuickBooks certification exams in the same place where the training materials and webinars are located. There is no cost to take the exam which has a total of 55 questions, which are broken down into seven sections. Of course, this will vary but it should take approximately two hours to complete all seven sections. I recommend that you tackle the sections you feel the most confident at first. Don't underestimate the sections that have fewer questions — those tend to be the most challenging.
You must answer at least 80 percent of the questions in each section correctly to obtain your certification. You have three attempts to pass the exam. If you fail the exam three times, you must wait 60 days before you can attempt to retake it.
QuickBooks Certification Exam Breakdown
| Section | Number of Questions | Estimated Time |
| --- | --- | --- |
| Section 1: Setting Up Clients | 17 | 43 minutes |
| Section 2: Supporting SMB Clients | 10 | 25 minutes |
| Section 3: Banking and Tools | 5 | 13 minutes |
| Section 4: Reports | 6 | 15 minutes |
| Section 5: Managing Your Work | 5 | 13 minutes |
| Section 6: Preparing Clients' Books | 7 | 18 minutes |
| Section 7: QuickBooks Solutions for Clients | 5 | 13 minutes |
As a ProAdvisor who has been certified for the last 10 years, I recommend that you have your study guide open to the section of the exam that you are taking. While this is an open book exam, you do not want to spend a lot of time looking up answers so make sure that you study. You should also have QuickBooks open so you can access it easily if you need to.
Your ProAdvisor Profile
There are many benefits that come with being a Certified QuickBooks ProAdvisor. In addition to discounts on products and services and a dedicated telephone and chat support, you are added to the Find-a-ProAdvisor online directory listing. More than 700,000 small businesses visit this website to find a local ProAdvisor. I average about two leads per week from this site every year between January and April.
You will also receive a certificate of completion and a certification badge that you can download and use on your website, have printed on business cards and include in your profile of other directories like our very own Fit Small Business Bookkeeper Directory.
Be sure to complete your profile as soon as possible. Your profile includes the certification badges you have earned, an about me section, number of years in business, services that you offer, any industries that you have experience in and your social media links. I have included my QuickBooks ProAdvisor profile below as an example: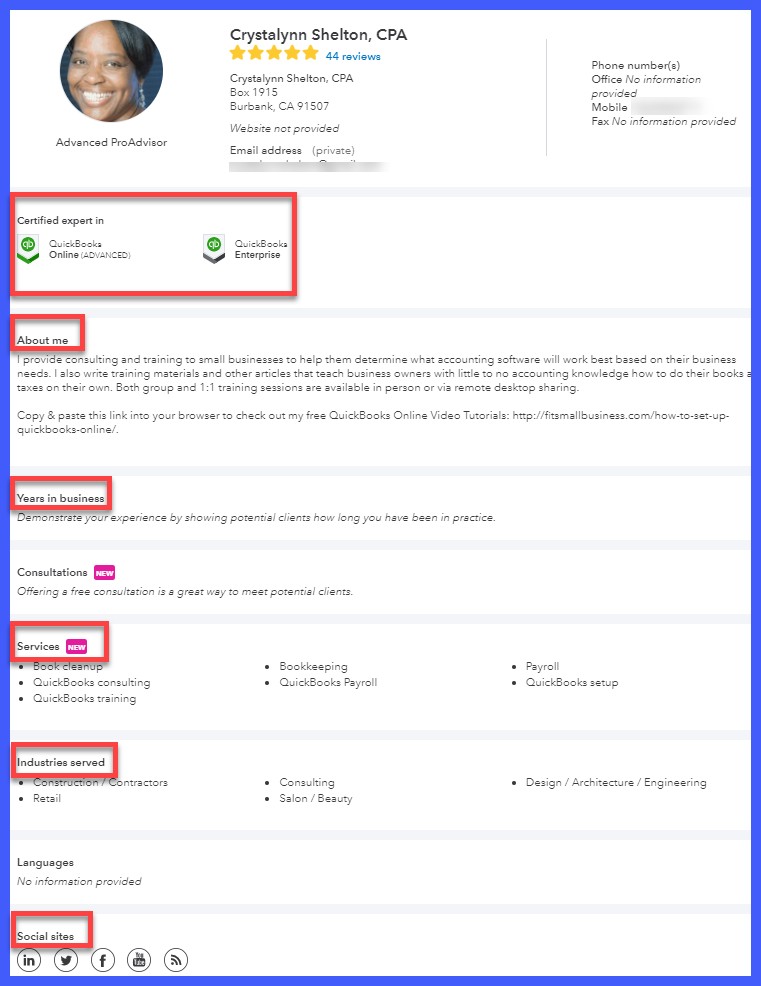 If you plan to support clients who use QuickBooks Desktop products, you can add QuickBooks Desktop to your membership for $549 a year. In addition to the benefits we've discussed, you also receive the following:
$5,000 worth of QuickBooks Desktop software
30% discount on QuickBooks software that you can pass this along to clients
Expert United States-based chat and phone support
Training materials for QuickBooks desktop products
Access to certification for QuickBooks desktop products
If you are a bookkeeper or accountant who offers bookkeeping and payroll services, it is a no-brainer that you need to become certified in QuickBooks. QuickBooks has more than 85 percent of the market when it comes to the accounting software small businesses use most often. That means the majority of your clients will use QuickBooks. During my conversation with Naveena Bereny, Global Training & Certification Leader at Intuit, she shared the following:
"In 2017, more than 27,000 people in the U.S. alone got certified in QuickBooks Online. Small businesses want their bookkeeper and accountant to be certified in QuickBooks so that they are confident the person knows what they are doing. More than 1 million small businesses visit the Find-a-ProAdvisor site every year looking for qualified accountants who can help them get their bookkeeping, payroll and taxes done."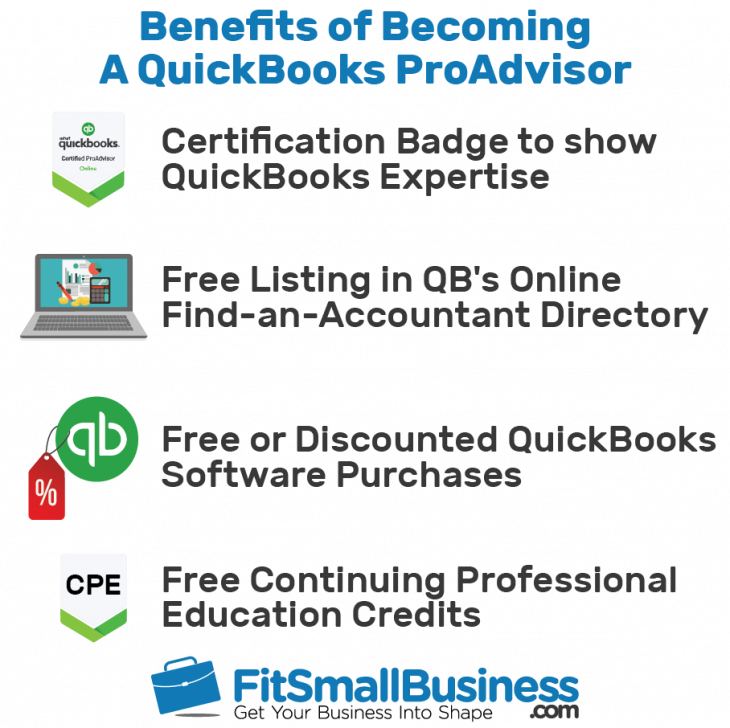 Frequently Asked Questions
1. How Often Do I Have to Take the Certification Exam?
During my conversation with, I addressed this question to her. Her response to this question was:
"One of the improvements made to the certification exam released in March 2018 was a simplified recertification process. In the past, the recertification date was based on your anniversary date as a ProAdvisor. Now, we have made it simple by having everyone recertify by July 31 each year. In addition, the recertification exam only includes information about new features and functionality that has been added within the last year. The new recertification exam takes approximately one hour to complete."
2. Am I a Certified Bookkeeper After Passing This Exam?
Unfortunately, becoming a certified QuickBooks ProAdvisor does not make you a certified bookkeeper. It simply says that you are knowledgeable in QuickBooks products. However, if you are interested in becoming a certified bookkeeper, check out How to Become a Certified Bookkeeper.
3. Is the QuickBooks Desktop Add-on Fee of $549 a One-time Fee?
The additional $549 you pay to add QuickBooks Desktop to your ProAdvisor membership is not a one-time fee. This is an annual fee that you can pay in one lump sum or pay $49.99 monthly. In return, you receive all of the new desktop software for that year as well as immediate access to updates to QuickBooks Online Accountant.
4. Do I Have to Sign a Contract?
There are no contracts to sign. You can cancel your membership at any time.
The Bottom Line
By now, you should have more than enough information to take that next step and become a QuickBooks ProAdvisor. If you're on the fence, just complete step one to sign up for your free QuickBooks Online account. There is no requirement that you get certified. However, if you want to increase your knowledge and skills in QuickBooks, you should complete the remaining steps to become certified.
Be sure to check out our free QuickBooks Course. It includes 39 free video tutorials that teach you how to use QuickBooks Online. I also recommend that you use these videos to train your clients on how to use QuickBooks.