One often overlooked menu in the restaurant industry is the bar menu. While food is the main showcase for most restauranteurs, the menu that highlights your beverage program should be just as salient and intriguing to order from. The profit margin and overall sales volume from alcohol can be quite large for those in the restaurant space, and it is super important to offer a menu that makes customers want to purchase these beverage options.
Use our steps below to create a bar/cocktail menu that is exciting, highlights the best aspects of your beverage program, and is designed in a way to make you the most money.
Step 1: Tailor Your Beverage Program to Your Concept
A beverage menu needs to be tailored to the type of business you operate and the kind of customers you are trying to attract. For example, if you have a craft, speakeasy cocktail bar, then ingredient-focused cocktails with literary names will fit this style over a large, multi-category menu full of cocktail images. If you are a sports bar trying to draw in larger crowds on game day, deals on beer, sections for on-tap options, and large selections of popular liquor should all be displayed on your bar menu.
Another aspect of building out the tone or style of your bar menu is the food and dining experience accompanying it. If you are a fine-dining Italian restaurant, utilize not only a cocktail menu but also a wine by-the-glass and by-the-bottle menu. This allows you to offer a focused selection of drinks at your bar while showcasing your best wines as well.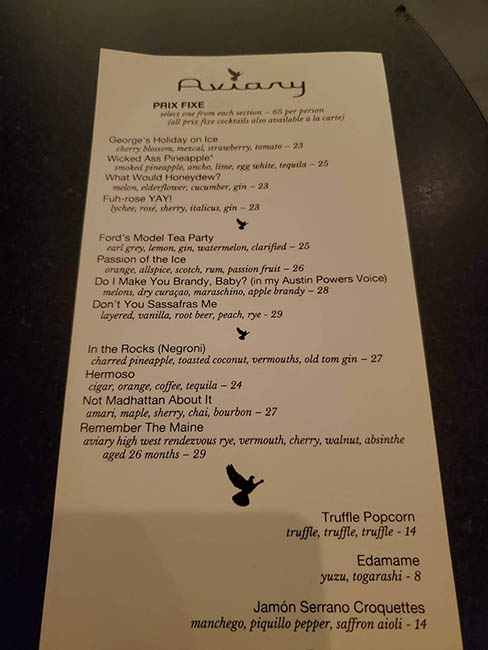 ---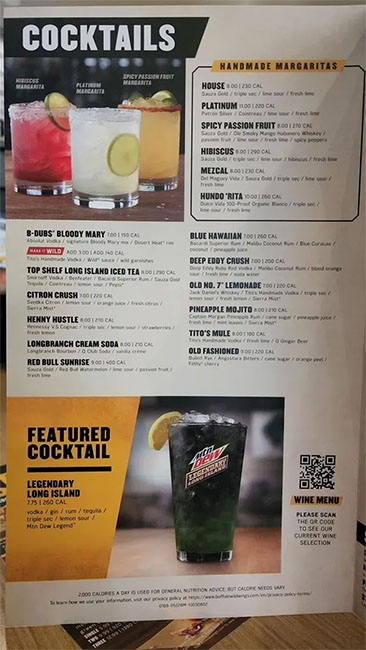 ---
We can compare the cocktail menu from one of the most acclaimed cocktail bars in the world to one from a successful and large chain restaurant group. The Aviary menu focuses on interesting names, highlights unique ingredients, and aligns with their voice and unique service style. For Buffalo Wild Wings, we see bold drink options and brand-sponsored choices as well. The cocktails are classics or easily approachable and are relatively inexpensive.
Step 2: Write A Balanced Menu
There are a couple of keys to balancing your bar menu. Start by considering the sections you need to include. These are some common sections you'll see in most cocktail and bar menus:
Signature cocktails: First off, what are the mixed drinks or cocktails you will be offering? Solid cocktails are what many customers look for, so being sure to know what you want to offer is necessary.
Available spirits: Liquor served by single serving should also be available to customers if you are offering this.
Beer: You can serve nationally popular brands or super niche craft brewery selections. Your beer offerings should be in line with the rest of your menu and how local it is to your region.
Wine by the glass: Wine-by-the-glass options should be popular wine varietals that many customers would consider buying. Try keeping these options in an affordable price range, and use wines that are easy to make a profit on with grape varietals that are popular to the everyday consumer.
Wine by the bottle: Blend this with popular wine varietals and winemakers with more niche and higher-priced wine bottles that you may want to bring in. This section should both offer accessible options and some higher-end "splurge" bottles customers can choose from.
Nonalcoholic beverages: According to Nielsen, nonalcoholic drink sales rose 20.6% between 2021 and 2022. This section of beverages is growing rapidly, and if you are an operator looking to stay on top of trends, then this is a must-have addition to your menu offerings.
Food: Food for a bar should be easy to create, simple to serve, and inexpensive. Think a nice snack or a medium-sized plate of food that can go with your beverage offerings.
The sections you include and the overall balance of your menu will vary based on the type of restaurant, bar, or cocktail bar you are running. Wine bars will naturally have several wine sections and no cocktails, while craft cocktail bar menus will have large cocktail sections with smaller wine and beer sections. Customers expect neighborhood bars to have all the sections covered.
You do not have to have 50 different cocktails, but having a few well-crafted options based on different liquor types is a great idea. The taste of what people drink varies greatly, so the more you can cater to different taste profiles, the better.
Step 3: Determine Ingredients to Make In-House
The next step in creating your cocktail menu is understanding the sourcing of your ingredients and what you will and will not make in-house when it comes to cocktail ingredients. While beer, wine, and liquor are pretty straightforward, your cocktails are where you cannot only shine in recipe development but also save money.
You also need to be aware of your employee skillset. If your bartenders are able to prep more complex ingredients for cocktails with ease and accuracy, you may be better off utilizing them to make ingredients that you can save money on.
But, say, you are a bar that is expecting limited sales on cocktails but does have an emphasis on beer and wine; it may make more sense to save the labor and cost and buy pre-made drink mixtures. A popular pre-made mix would be a margarita mix. While this simple mix could be made with lime juice, sugar, and water, buying it pre-made on a limited-need basis could help with costs due to longer shelf life and less need for staff to work on this product.
When it comes to what you will make in-house and what you will not, I would weigh the cost of the ingredient and also the importance of it to your menu. If you are a craft cocktail bar with a high emphasis on technique and skill in your cocktails, then housemade cocktail ingredients are expected. But if you are a dive bar serving the occasional margarita or errant cosmopolitan, then pre-made ingredients will be your best bet.
Step 4: Design Your Drinks
After you have a rough idea of the menu, the scope of the technique, and the ability of your staff to perform your bar or cocktail menu, then it is time to really drill down and decide on the drinks you will serve. You always have the risk when innovating drinks or alienating customers if they do not hit the mark. It is a pretty tight balance between offering unique cocktails to your own location while also nailing the classics that some might crave.
In bar menu design, it is essential to understand:
Current trends: For example, agave-based drinks increased by 15.9% in 2020, surpassing rum to become the third-largest alcoholic beverage category behind vodka and whiskey. If I were writing a bar menu today, with that information, I'd at least have one or two tequila-focused cocktails and another mezcal-based cocktail to cater to changing consumer demands.
Customer demographics: Knowing your demographic and the potential customer base you are serving is key to understanding what you will be serving. A bar in a college town will serve mostly college students, while a neighborhood bar near a golf course will see more millennials through Baby Boomers.
Customer tastes: Learn what your target customer likes. For example, Gen Z consumers will tend to order cocktails or liquor-based drinks over beer or wine, with 48% of their purchases being liquor-based. Gen Z consumers are also more willing to try new drinks and options, so keeping this in mind is important.
With all of this in focus, designing your drinks to suit your customer base becomes a lot easier. You know what style of bar or beverage program you have. You know the tone and voice you are trying to represent. And you understand what your capacity is to create ingredients in-house versus outsourcing them. With this and your customer base in mind, you are now able to design drink selections to their taste preferences and the kind of business you are operating.
Step 5: Set Your Menu Prices
It is crucial to price your drinks in a way that is fair for your customers but also makes you a significant profit. The standard liquor cost for a bar should be 18%–24%, so you should build that profit margin into your menu prices. Alcohol sales are some of the best ways to drive profit, and these sales are what help you cover other expenses within your business. If you are running a restaurant, a well-established beverage program can do wonders in helping your financial situation in a positive way.
When coming up with your bar menu prices, consider:
Your target customer: Understanding your target customer and demographics is key so that you understand what they will be willing to spend. Knowing your customer base and at what price to sell them liquor and other selections off your bar menu will help you get more sales if the prices are in line with their expectations.
Your costs: The best way to know what to price your products at is to know the cost. You should know the cost of every bottle of beer, wine, pre-made cocktail, and also the cost of housemade drinks on the menu. Knowing your costs gives you a vantage point of how expensive they are to make and what you need to price in order for it to truly have an impact on your business. The best way to know what to price your products at is to know the cost. You should know the cost of every bottle of beer, wine, pre-made cocktail, and also the cost of housemade drinks on the menu. Knowing your costs gives you a vantage point of how expensive they are to make and what you need to price in order for it to truly have an impact on your business.
The competition: A great way to see what pricing is acceptable is by going to other bars in your area and seeing how they price their drinks and other bar menu offerings. This will give you a good idea of what the acceptable range is on popular beer and wine, popular cocktails, and a general willingness on behalf of your customers on what to spend.
The style/concept of your bar: Finally, the voice of your bar menu and the overall design of your business comes into play. If you are running a sports bar, you may offer deals on certain popular beer brands during popular sports events to drive business volume and make more in other menu items. If you are a speakeasy cocktail bar, the expectation of quality and ingredient sourcing will let you price single cocktails in the $14–$18 mark, depending on your location and what it is you are offering.
Here are some average prices per style of bar you can use as a benchmark:
Craft Cocktail Bar: Expect cocktails priced around $14–$18 for craft cocktail bars. These cocktails are seen as luxurious and "hand-crafted" and beckon a higher price point.
Sports Bar: As you will see more beer sold here than anywhere else, the average price for a beer is around $5–$8, depending on the brand and beer type.
Wine Bar: The average wine-by-the-glass price is around $12–$14, depending on the varietal, producer and vintage. It can change greatly depending on the perceived quality and rarity of the wine, but this price range is common for many popular and approachable wines.
The best way to understand your costs is to stay on top of your inventory counts. Read our guide on how to do bar inventory to learn how to streamline your inventory process.
Step 6: Create Descriptions of Your Items
The next important step in making and designing your bar menu is to set accurate descriptions of the items you are selling. For beer, you can often just name the brand. If it is an unknown brewery, then naming the beer style, brewery name, and where it is from is ideal. For wine, the grape varietal, country or region of origin, and the vintage year are key. You can also have breakout sections for red and white wines.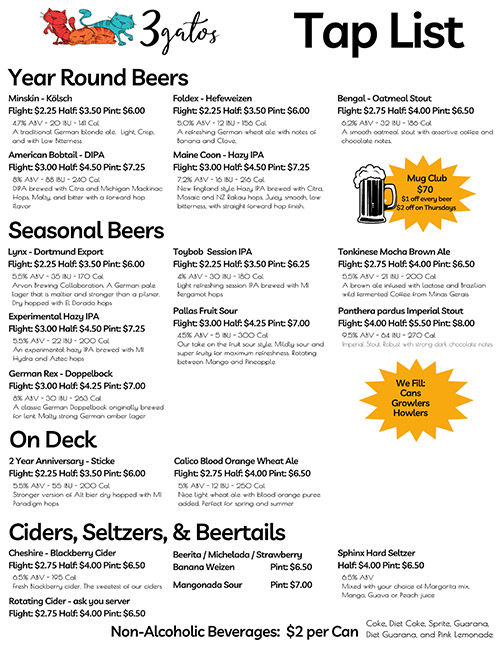 ---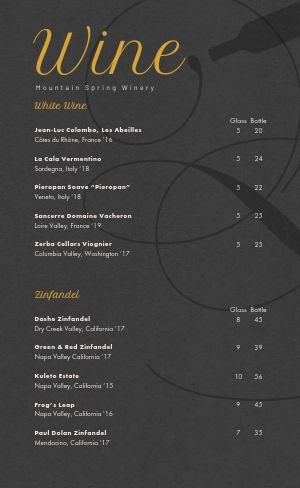 ---
When it comes to cocktails, you have a few different ways to go about describing your cocktail. A popular way is to give it an interesting or unique name, and then in the description, you will provide the liquor(s) and other ingredients involved in a cocktail. If you are describing a cocktail that has a backstory or is more traditional, you can also share the city in which it was created or a brief story on why it came to be.
But the basics to describing your cocktail is to highlight the key flavor profile it will provide along with the main liquor type. For nonalcoholic cocktails, share the name of its alcoholic inspiration or the main flavors in the drink itself.
You should be creative with naming, but also have classics like a martini or old-fashioned for customers who want their go-to drinks.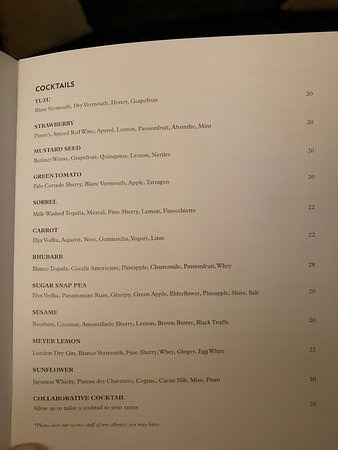 Another popular section to name in the menu is a section for the rarer selection of liquor you may have in-house. For example, a speakeasy bar near me, Northcott Liquorette, offers a "Rare Acquisitions" section for their harder-to-find and higher-priced items. Pictured below, you can see rarities such as a 20-year pour of Pappy Van Winkle or a MaCallan 25-year pour. Notice in the description how they upsell these two. For the MaCallan, it is the "Rolls-Royce of single malts." Descriptions that upsell, especially on high-end alcohol, really deliver on the product and prestige and make it an option guests want to try.
Step 7: Consider Food Items
A food bar menu can be a very big draw for those looking for a quick bite or those who cannot find a table or reservation on a busy night. The great thing about a bar menu is that you can put delicious, high-performing, and larger profit-margin items on this menu. Paired with the assumption that each guest will order a drink or two with their items, the rewards for having food can be endless.
And the best part is that bar food does not need to be fancy or overly designed. It can simply be a solid bowl of mac & cheese, a really good burger and fries, or even a small charcuterie board. The bar menu should be quick for your staff to make during a busy service rush and should be easy and quick for the guest to consume in limited space due to the dining area of a bar seat versus a traditional table.
For example, Gilt Bar is a local Chicago restaurant I love with a small bar that I can stroll into on a busy night, and with luck, find a seat. I then can order one of its many delicious plates, such as a generous portion of homemade pasta or one of its delicious starters. The fact that I, a single diner, can walk in and have a great experience with food and drink makes this bar more appealing than sitting in the dining room.
Step 8: Create the Final Design & Print
One of the last steps is to design your menu into its final form in order to send it to print and be ready for customers to use. Depending on the amount of alcohol selections and other menu items, you may design just one connected menu or a couple of different menus. It is common to have just a cocktail and spirits menu, just a beer and wine menu, and just a food menu. You could also print these separately and bind them together to make it easier for the customer to navigate.
At the end of the day, your design should make it simple for customers to view what you have to offer and allow them to order with ease. One of the best bar menu templates we found is this one from Canva: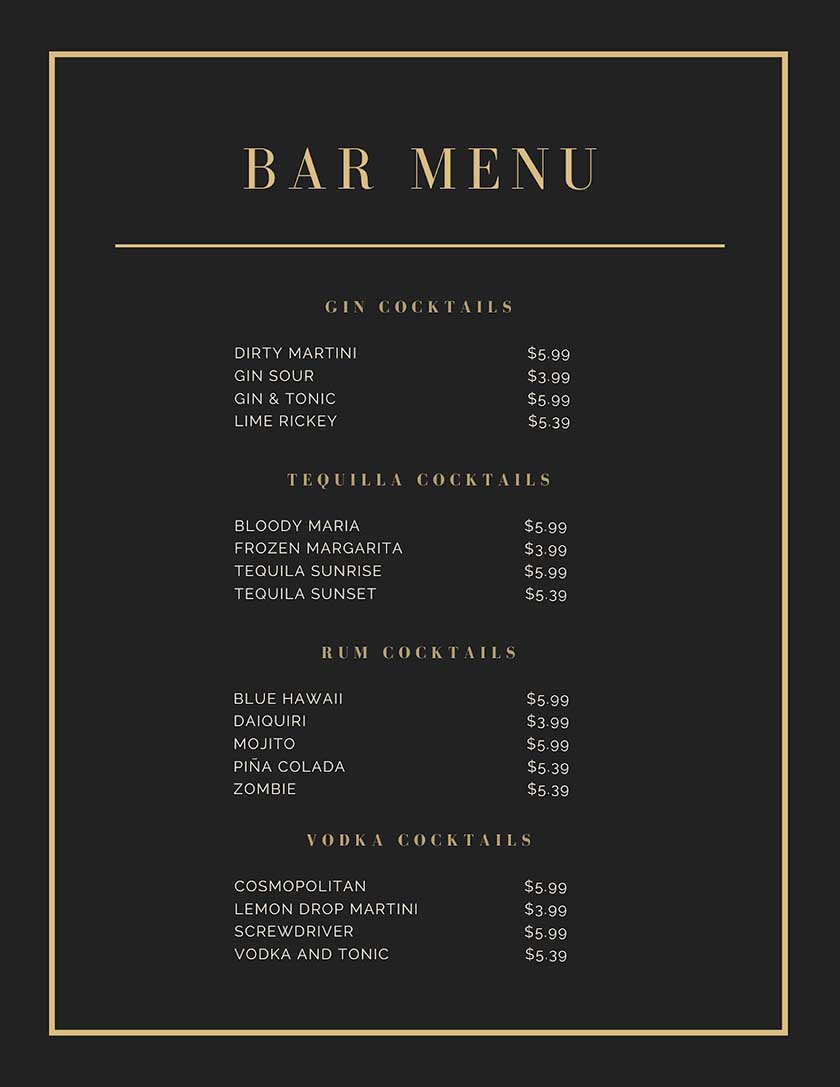 Visit Canva for this template
You can also check out Must Have Menus for more resources, or look to our roundup of the best restaurant menu templates.
Below are some sources on where to print your menus once they are ready to go:
Bottom Line
Creating a bar/cocktail menu can be challenging; there are so many options to showcase. The bottom line is you need to highlight the drinks you think customers will enjoy purchasing and design the menu around them. This entails spirit types, beer and wine selections, nonalcoholic options, and the food menus you may pair with them. A great bar menu offers an easy drink choice for many guests to make while keeping the voice and style of the restaurant in the mind of the customer ordering. Use our guide above when building out your bar menu ideas.