How to Do Bar Inventory: 2023 Guide
Your bar inventory is the total supply of beer, wine, spirits, mixers, and other beverages that your restaurant or bar has on hand. The phrase "bar inventory" also refers to the process of physically counting that supply. Profitable bar programs count inventory once a month, and the best bars count inventory once per week.
There are two main ways to manage your bar inventory: using an inventory app or using spreadsheets.
How to Do Bar Inventory With an Inventory App
Using an inventory app to manage your bar inventory saves you time, reduces errors, and gives you more detailed reporting faster than a spreadsheet system. For this article, the images are all from the MarketMan inventory app.
We chose MarketMan because it earned the top spot in our ranking of restaurant inventory software and integrates with several of the most popular bar and restaurant POS systems.
Using an inventory app requires a bit of setup. We'll walk you through the steps required as if setting up your app for the first time, then go into the steps to perform your physical inventory count.
Step 1: Set Up Your App
Inventory apps are used to order products as well as count them, so you'll start by adding your vendors, items, and item storage locations to the app. In most cases, you can bulk upload your vendor and item information from spreadsheets. Alternatively, you can add items one by one.
Whether you upload items in bulk or one by one, you'll need to include:
Item name
Storage location (may have multiple locations)
Vendor you purchase from
Product code from vendor
Price
Unit of measurement (bottle, case, ounces, etc.)
Number of items in a pack
Item category (beer, wine, liquor, non-alcoholic beverage, etc.)
When adding your vendors, be sure to include your sales representative's name, cellphone number, and email address, along with order minimums, cutoff times, and delivery days. This way, anyone on your team can place an order or reach out to the sales rep if problems arise.
---
Step 2: Create Count Sheets
Once you've entered your items, you need to create count sheets. Small bars might only have a single count sheet. But, there's really no limit to the number of sheets you can have. Create a sheet for each storage area and input the items in the order they appear on your shelves to speed up your physical counts.
You can typically include multiple units of measurement like "case" or "bottle" for each product directly on the count sheet—so you won't have to wonder if that "1" means "1 case" or "1 bottle."
If you count high-value or high-volume items daily, create a separate count sheet for daily counts. This makes it easier to perform off-cycle counts while still keeping tabs on expensive and popular spirits.
---
Step 3: Count Liquor Inventory
With your count sheets complete, you're ready to count some bottles! In your app dashboard, navigate to the Inventory Counts screen. Select "Add count." You'll typically be prompted to add the date of the count and record whether you are counting at the day's start or end.
If you store the same product in multiple locations—cases of liquor in a storage room and individual bottles behind the bar, for example—you'll record counts in each location's count sheet. The app will automatically add like items together to give you an overall on-hand count.

---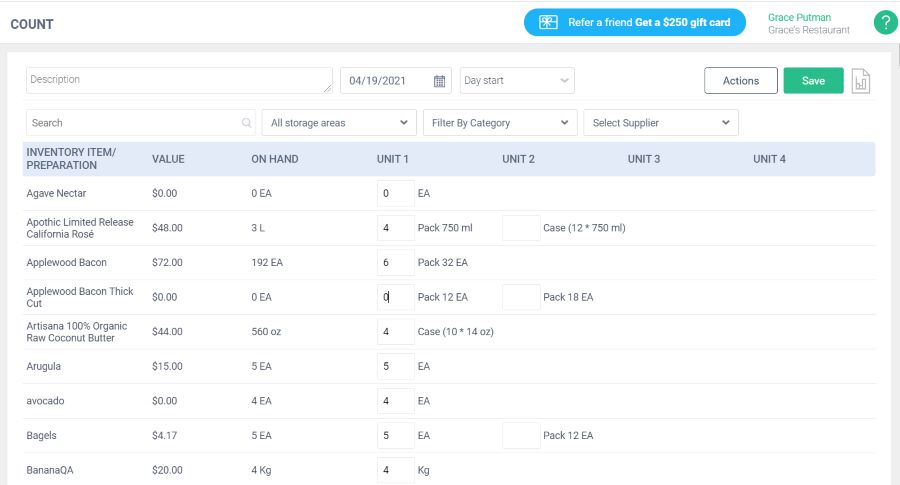 ---
When performing a physical count, there are some best practices to keep in mind:
Count when the bar is closed: This does not have to mean counting into the wee morning hours. Many bars split the inventory count between closing one day and opening the next day. The closing manager and bartender count the back storage and walk-in refrigerators one night. Then, the opening manager and bartender count the stock in the bar and reach-in refrigerators the following morning.
Spread the workload: Use multiple devices to perform the count. Many inventory apps have a smartphone extension for counting that enables you to set permissions for different individuals to count certain sections of your inventory.
Count before pending deliveries arrive: You need a static inventory count to compare to invoices for the same time period. Your sales and costs need to be in the same timeframe, so a strict cutoff point is important. It is easiest to just avoid scheduling deliveries for days that you are counting inventory.
Count in pairs: Two sets of eyes better ensure accuracy. More than anything, however, counting in pairs prevents potential theft, or the appearance of it.
Use the same team to count inventory: At every inventory interval, schedule the same team to perform the physical count; they will get faster and more efficient.
Feel like you're constantly counting the same bottles? If you have a glut of a certain spirit and need to clear space in your inventory room, try a drink special. Create a cocktail that pairs a slow-moving spirit with a popular one (or a pricey spirit with a cheaper one) to move out slow-moving alcohol.
---
Step 4: Analyze Reports
With your count complete, it is time to analyze the data. Data analysis is the main reason for counting bar inventory in the first place. This is the step where an inventory app saves you a ton of time and prevents the most errors.
---

---
All you need to do to get detailed analytics is navigate to your inventory app's reports menu in the management dashboard. Most apps will show you the value of your current inventory, how much your inventory has changed over time, and how your actual inventory compares to your expected inventory (also called variance).
If your inventory app integrates with your POS system you'll get even richer information based on your sales data. This allows you to quickly see if you have missing inventory. If you bought items and didn't sell them or count them, then you could have a problem with theft, breakage, or spoilage.
---
Step 5: Place Orders (Optional)
Accurate ordering is the other major reason to perform regular inventory counts. When you complete this step will depend entirely on your inventory counting schedule. When managing bars, I counted inventory weekly, Monday nights into Tuesday mornings. So, I placed my liquor orders right after I finalized the count Tuesday morning. Ordering on a Tuesday got my orders delivered Thursday, in plenty of time for the weekend.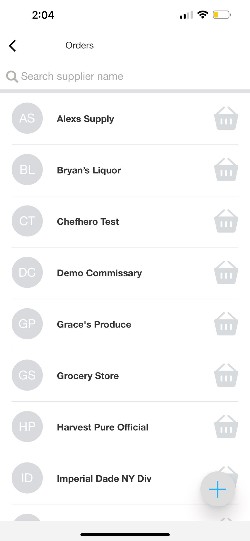 ---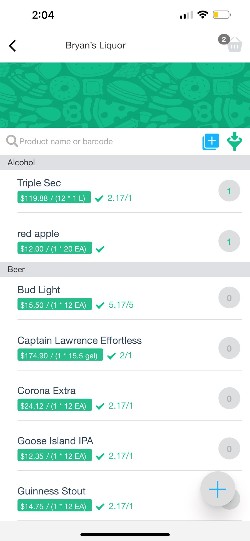 ---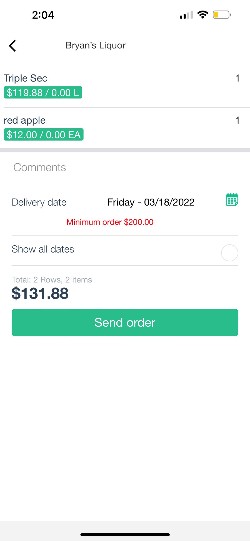 ---
Most inventory apps will automatically suggest orders to bring your stocks up to par (MarketMan does this with a blue "par up" button on the order screen). You can then adjust these numbers based on your sales forecast or upcoming events like private parties or holidays.
By placing your orders through your inventory app, the app will update in real time as you receive supplies and sell new stock. It will also update your reports with the actual price you paid for each item, so your cost of goods sold (CoGS) report will always be accurate.
---
How to Do Bar Inventory With a Spreadsheet
Inventory apps are relatively new. Before the age of apps, bar inventory was counted by hand and tracked on spreadsheets. Many small bars and restaurants still count inventory without apps. You can get an accurate inventory count this way; it just takes a bit of planning.
Whichever method you choose, the most important thing is that all of your managers know and use the same system. Bottom line: sloppy inventory management costs your business money.
Here's how to count bar inventory using a spreadsheet:
Step 1: Create Your Spreadsheet
This is the sheet that you will use to count your physical inventory. It should include product information, like the price and the unit size, and an accurate product description. Arrange your sheet in categories: beer, wine, spirits, and non-alcoholic beverages.
After you have separated your inventory sheet by product type, take a moment to arrange each section the same way you organize the items in your bar or storage room so it is easy to count. If you arrange all items alphabetically on the shelf, in all storage areas, and on your inventory sheet, counting will go faster. Once your items are arranged in an organized fashion, your last step will be to ensure that you have included a column for each of your storage locations.
With spirits in particular, it is a good idea to have multiple storage locations in your establishment, most of which remain locked. Because of its high cost and potential for dependency, liquor is highly prone to theft.
---
Step 2: Count Liquor Inventory
With your updated liquor inventory template in hand, you are ready to start your physical inventory count. Depending on the size of your inventory, the size of your bar, and the number of storage locations you have, counting inventory can take a couple of hours. It is important to set aside plenty of time; mistakes are more common when you rush.
The process of counting physical inventory is the same whether using spreadsheets or an inventory app. The only difference is where you record the information—on a sheet of paper or on a smart device. The same best practices described in step 3 of the previous section, apply.
---
Step 3: Enter Invoices and Sales Information
Your inventory count isn't complete until you analyze the data. The first step toward analysis is adding your total purchases and your total sales, separated by product category. Total sales can easily be found through your POS reports while total purchases will come from your invoices for orders you placed between inventory counts. If you perform inventory counts monthly, you'll need all the invoices from the preceding month.
Add these numbers to the appropriate sections of your inventory count sheet, or set up your sheet to automatically calculate them (as our inventory template does). With your total inventory, total sales, and total purchases figured you can begin to see how well your bar program is performing.
Save time by recording your sales and purchases on a daily basis. Make it part of your closing managers' duties to enter each day's sales and invoices in the appropriate section of your spreadsheet file. This will save you time on inventory day, and help you see patterns in sales and ordering.
---
Step 4: Figure Variance
With your counts, sales, and purchases entered, you can now figure your beverage costs and assess how close you are to meeting your beverage cost targets. This analysis is the main reason to do the work of performing physical inventory counts in the first place.
Beverage cost: The actual cost of your beverage ingredients, expressed as a percentage of sales.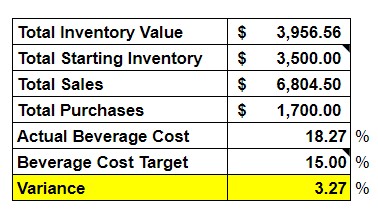 Most bars try to hit an overall beverage cost of around 21%. But, your margins and targets may vary based on your location, sales volume, and bar style. You subtract your target cost from your actual beverage cost, and this shows how close you are to meeting your target.
To figure your actual beverage cost, the math is easy; you just divide your total costs by your total sales:
(Total Costs) ÷ (Total Sales) = Actual Beverage Cost
You can program your spreadsheet with the formula so your costs and variance will automatically populate as you update your inventory. You're likely to always have some variance from your target. But, so long as your variance is no more than 2% to 3%, your bar is doing fine.
Many bars track the variance between actual beverage cost and theoretical beverage cost. This is difficult to do without an inventory app since you'd need to note the exact cost of each beverage along with individual sales figures for all beverages during the inventory timeframe. Most bars using spreadsheets compare actual beverage cost to a target beverage cost instead.
---
Bar Inventory Frequently Asked Questions (FAQs)
How often should a bar take inventory?
Bars and restaurants should perform a physical inventory count at least monthly, though many of the top bar programs choose to perform weekly inventory as a standard operating procedure. Weekly inventories give you a deeper sense of how efficiently your bar program is operating than any other change you make. If you are struggling to keep your costs in line and hit your targets, a weekly count of your physical inventory is necessary to identify where you need to shore up your operation.
---
How do you take alcohol inventory?
The best way to take alcohol inventory is via an inventory app or a spreadsheet. Either system can be tailored to match your storage areas and unique bar supplies, which will speed up your inventory counts.
If counting with an app, you can record counts on a smartphone or tablet. If using a spreadsheet, it is best to print a physical copy of the spreadsheet, record counts in writing, then enter the counts into the spreadsheet program on your computer.
Apps record each entry, so it is easier to spot counting errors. You can also typically see exactly who performed the count in the app, so know who to contact with questions. If you use spreadsheets to track your inventory, the written count sheets are your back up. So, you can reference them if there is a question or a discrepancy.
---
How do you measure partial bottles during bar inventory?
There are two ways to measure partial bottles during inventory counts; visually by tenths or physically by weight. To measure by tenths, you visually divide the bottle into 10 equal sections. Then when you count the bottle, record the bottle's fullness to the closest tenth. So if a bottle is half full, you would record 0.50 (or 5 out of 10) on your inventory sheet.
Some inventory apps will scan partial bottles with a smartphone camera and automatically generate the volume. This is, essentially, just automating the tenths of a bottle system. Alternatively, you can weigh each bottle on a scale to count it. This can be a little fussy because you have to subtract the weight of the bottle (which varies by beverage type and brand).
---
How much profit do bars make on alcohol?
A well-managed bar program can expect to make 30% to 40% profit on spirits, after costs and expenses are accounted for. An individual bar may be different, however, as the costs of liquor licenses and rent vary widely based on location.
---
Do I need to physically count my bar inventory if I use an app?
Physical inventory counts are the gold standard of bar inventory. Your inventory app will save you time in counting and analyzing your inventory, but if you want to spot breakage, theft, or spoilage, you absolutely must perform physical counts.
---
Bottom Line
Maintaining bar inventory is a necessary task in a well-managed restaurant. It requires attention to detail and the consistent participation of your whole team. Though it can be a big undertaking, the good news is that the more you perform physical inventory counts, the faster they get. If you do not currently have an efficient inventory process, the most important step you can take is simply to begin.
A POS-integrated inventory app like MarketMan can be an incredible partner in helping maintain your inventory. It can improve accuracy, save time, and provide detailed reports that might be tedious to develop on your own. MarketMan integrates with virtually every popular restaurant POS system. Visit MarketMan to learn more.