20 Best Restaurant Menu Templates
A well-presented menu has a significant impact on how customers perceive your food and what they are ordering. Menus should offer concise information on what a dish is, how much it costs, and a second-level descriptor of its components.
Below are 20 of the best menu templates you can use to communicate the food and drinks you are serving in a voice that is unique to your restaurant.
1. Best Overall Menu Template
This template is the perfect example of how simplicity and intention in using the menu space results in a crystal clear experience for the guest. It not only offers the base menu for customers to view but includes space for any specials or dishes you want to highlight on any particular evening.
The template offers you space to share your phone number, website, and even your logo so customers can easily contact you. The font is large enough for most to read and the item description has great space, making everything on this template generally easy to read and understand. A menu that is clear, easy to read, and highlights your food and business is the best, and this template covers that.
2. Best for Large Menu Coffee Shops
Coffee shops are becoming more and more popular due to the wide variety of drinks and beverages they offer. Many shops also now go for a more sleek, minimalistic look to their interior design, which offers a focused, welcoming, and open space for people to meet and work. This menu reflects that and is great for a coffee shop with many menu items.
The spacing on this menu makes it easy to read. The different sections give you the ability to list teas, coffee drinks, and different types of espresso-fueled options separately. And if you do not serve coffee-based cocktails, you could swap that section out for any baked goods or food items you may offer. This is the ideal template for a coffee shop with much to offer that needs to relay that information quickly, especially during the morning customer rush.
3: Best for Limited Menu Cafes
Smaller coffee shops truly only need a couple of menu item lines to share what they are serving. This could be the perfect menu for a shop only serving specialty coffee, a small stand, or a kiosk-based shop. The menu efficiently and simply tells the customer what you serve and how much it is. You could add a breakout column for multiple sizing options, but this is perfect for a small coffee shop with only a few offerings.
4. Best for Brunch
The bright, colorful top picture showing the different types of brunch options is what makes this brunch menu stand out. The sleek black-and-white color scheme only adds more visual pop to the food in the top section. What is great about this template is that it breaks down the menu items by cuisine type and gives them a general price range for each. This simple design makes it easy for customers to order quickly; brunch is crazy enough!
5. Best for Breakfast
Visit Edit.org for This Template
This menu template offers breakfast and brunch options, but this would be great as just a standalone breakfast menu. Sub out the Burgers and Wraps sections for more breakfast items, and you have a stylish yet clean space to put many menu items. The challenge with breakfast menus is just how many items customers can order. The space and organization this menu provides allows you to give a full explanation of the breakfast items that can be ordered at your restaurant.
6. Best for Business Lunches
The business lunch can be some of the best times for a restaurant due to the short serving window, limited menu options, and guaranteed set price on all food served during that time. This menu offers a simple three-course offering, with a refined design and great font to highlight the sophistication a working group can expect from the restaurant.
Business lunches can be where colleagues meet, new deals are made, or even where managers take their subordinates for a nice meal. This sleek menu design gives a limited entree choice, allowing for a great descriptor to be placed under each menu item. Add in your own prices and your restaurant's name at the top, and you can start using this template.
7. Best for Sandwich Shops
Sandwich shops are simple yet delicious places to eat. They succeed in making crave-worthy menu items that are meant to be eaten in a quick fashion. That is why this menu template is perfect for a sandwich shop with pre-built sandwiches that a customer can easily order. The menu is broken up into two sections and highlights the type of sandwich, and also clearly states how much it is.
It is shown that yellow stimulates the metabolism, and this menu provides beautiful graphics and illustrations of subs and club-style sandwiches. You could add a third section below to include sides such as chips or french fries, and you also have space to fit a logo or website shoutout. This is a simple yet effective menu for a sub shop with pre-built and ready-to-order sub options.
8. Best for Pizzerias
This pizzeria menu template is excellent because it gives a rustic, chalkboard look that highlights the playfulness and nostalgia that pizza provides. The mushrooms, onions, and tomatoes illustrated up top gives you a sense of freshness and the quality of the ingredients the pizza is being made with. The pizza illustration in the bottom left corner reminds you of what you will be eating and makes you crave a well-baked pizza.
This pizza menu is broken up into five sections and offers a variety of options. Many pizzerias have extensive menus, and therefore, you need a good amount of real estate on the menu to convey all you may have to offer. This template allows customers to see clearly what they can order while invoking the nostalgic feeling that eating at a quaint pizzeria can bring.
9. Best for Sushi
Bright, fresh fish draped over rice makes this sushi menu template pop with color. The menu offers the customer the rolls they can buy with breakout sections with the number of pieces they can order. This breakout of the different amount of pieces a customer can order is vital. It allows customers to try smaller portions, which can actually lead to higher sales. A curious customer simply might not order an entire 8-piece sushi roll, while the 4-piece option feels more manageable.
10. Best for Burgers
This retro-themed burger menu is fun to look at and gives an old-school diner vibe that really connects with customers. The illustrations remind you of a burger stand in the 70s or 80s and the font also complements them. The menu is broken up into sections for the burgers and then for the sides. It also highlights extra toppings and the amount they cost in a very fun way.
What stands out is the excellent breakout of sizing on the menu items to give options and customizability in portions to the customer. Also, the great placement under the French fries for the business phone number and address gives a call to action for customers not in the dining room to order takeout. This is a fun, unique and eye-catching template that can highlight any burger you may offer.
11. Best for Ramen Shops
This ramen menu is an excellent example of what intentionality behind the design can do for your restaurant. Illustrating your specific menu items is a great way to catch a customer's attention and give them an idea of what they are specifically ordering. Notice how the ramen photos include a clear photo of the egg. Or how the nigiri photo shows what "nigiri" actually is to customers who may not be familiar with sushi terminology.
The menu is simple and informational at the same time. Any design space is used to tell a story about the food and set the expectations for guests that order it. If you have the ability to customize or have illustrations drawn for your food, then you should go for it. It makes aesthetically pleasing dishes such as sushi and ramen pop on the menu.
12. Best for Bakeshops
Bakeshop menus can be tricky since they need to include both savory and sweet categories. This menu splits them down the middle and clearly indicates what flavor profile to expect from the baked goods. The additional note that items can be boxed by the half dozen is a natural upsell for a customer who may be looking to feed a couple of people when visiting your bakery. This is a great example of a subtle note that can lead to a more significant check value due to clever communication with the customer.
13. Best for Large-volume of Dinner Options
If your restaurant has an extensive dinner menu, say like a 100–200 seat Italian restaurant, then this is the perfect menu for you. This menu template gives you a ton of space to list all your items, with second-level descriptors and prices that are easy to read. When you have many menu items, it is essential for them not to seem cluttered. They need to be easy to read so that customers can make the best choice. That is why this menu template works so well.
14. Best Kids Menu
Kids menus are essential for any business that allows children to dine with parents. Kids menus are also often a separate menu given upon request, so this gives you the option to get creative. The template above offers not only colorful pictures but a simple and easy-to-read font for a kid to pick whichever meal they want. This fun design and straightforward menu offering is great for kids and communicates to parents simply how much each item is.
15. Best for Sports Bars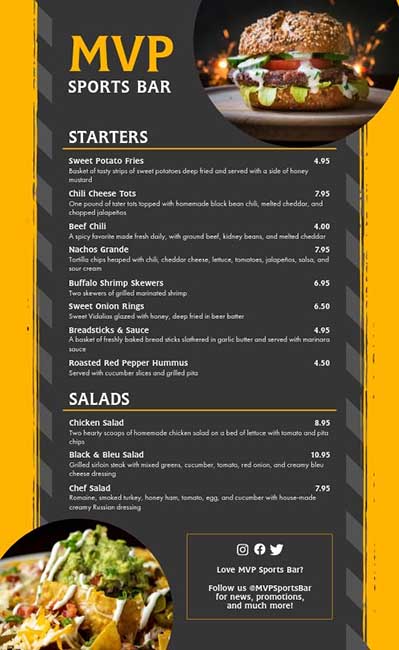 ---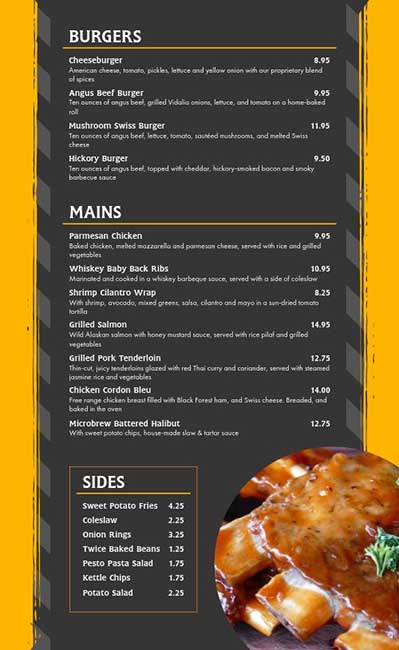 ---
Visit Must Have Menus for This Template
Sports Bars are known for having a variety of options. They are meant to be places to gather to watch the big game, and customers with all tastes will come in and enjoy your food while watching a sports event. This large menu template is perfect for any sports bar or events-based restaurant with many menu items.
You will note that the menu is broken up into sections, with many offerings in each. There are pictures of delicious food to capture attention as the customer reads the menu. A shoutout to social media pages and your website on the front makes it easy for customers to know how to share your account if posting about your restaurant. This menu gives great dish information to your guests while promoting your restaurant simultaneously.
16. Best Bar Menu
Many restaurants have a separate bar area. It is a good idea to have a separate menu, specifically if your bar has many different drink options. You can use this sleek black and gold style for any bar and input various categories to suit your offerings. This menu specifically sorts drinks by alcohol type, making it easy for guests to know the base of a drink.
17. Best for Holiday Events
Visit Must Have Menus for This Template
Holidays often lead to restaurants being super busy, especially holidays like Mother's Day and Father's Day. This menu template offers an organized prix fixe menu that is the perfect way to present holiday-only dining options. There are clear instructions at the bottom on what you can choose from, and even pricing by age. Each menu item has enough space for a description, and the bold, black lettering on the white background makes it easy to read. Use this template for any pre-set holiday services.
18. Best Happy Hour Menu
Visit Must Have Menus for This Template
Happy hour is a great time to introduce new guests to your establishment due to the lower-priced food options and general playfulness of this time of service. Often your customers will be coming after work and are looking to have a light drink to unwind from a long day's work. This menu is dominated by a cold, frothy beer that symbolizes the treat a customer gives themselves after a hard day's work.
The color scheme can be changed to suit your business, and you could even use some sections to list lower-priced food options you offer during this time. Happy hour menus should be simple and fun, with a limited selection to make ordering seamless for your customers. This menu template gives them enough information to make their decision with a great illustration promising them their drink ahead.
19. Best for Wine
Visit Must Have Menus for This Template
If you have wine on your menu then a wine list is handy. The elegant cursive font gives the name of the wines on this template, and the descriptor shares the region it's from and the vintage of each wine. This menu is broken up into grape colors, and then the bottom is dedicated to Cabernet Sauvignon. This is due to how popular a varietal Cab Sauv is for general consumers. Use this template to elevate your wine list and the ordering experience for customers.
20. Best for Takeout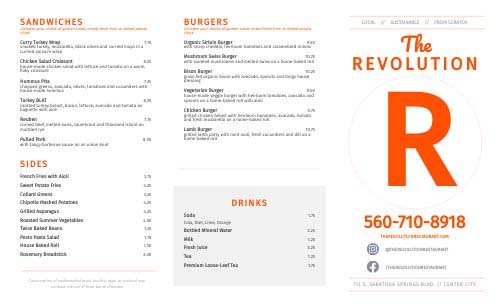 ---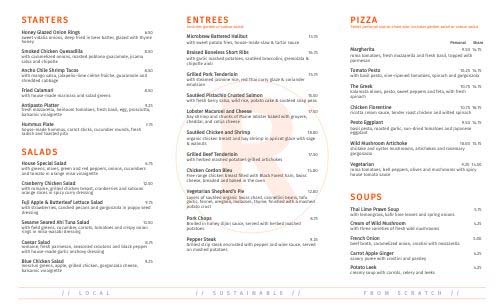 ---
Visit Must Have Menus for This Template
Last on our list is an ideal takeout menu. Virtually any style of the restaurant can use this template. This is set up to be folded in thirds so it is easy to store and pass out to customers. The menu offers a large space for your logo and contact information underneath. The clean background also lets you share the food you are offering in an easy-to-read menu. This is a great example of a takeout menu that is functional and efficient for customers using it.
Where to Build Your Menu
There are a variety of websites on which you can build your menus. We took multiple templates in our list above from Must Have Menus and Canva, two websites where you can easily join for a low fee and start building out your menus from the templates provided. You will then have to use a printing service to print them out, which is relatively simple to do. You can also find sites, such as Menu Masters, that will allow you to use consultants to build your menu for a more premium fee. There are many options in building your menu, and it all comes down to your comfort level of making them and your budget for the project.
Bottom Line
The menu is arguably one of the most important aspects of a customer's experience. It relays the food and drinks you are serving, what those items consist of, and their prices. Having menus styled to fit your restaurant and the products you serve is integral not only to selling food but creating a seamless experience for customers to enjoy your food. Use the templates above to build a menu highlighting the food and drink you serve in a unique and exciting format.