Before a customer ever eats your delicious food, you need to appeal to their sense of sight. But what if you don't have the budget to commission a menu design from scratch? Fortunately, high quality restaurant menu templates are now available online.
Want to design and print your menus from one convenient location? Vistaprint offers hundreds of eye-catching templates and styles to suit both casual and fine dining establishments, and professional designers to help you customize your menu. Right now you can get 50 menus for just $15. Click here to start designing your menu.
Here are the top 25 restaurant menu templates:
---
With over 187,000 downloads, this popular free restaurant menu template comes in a clean, classic layout that's very customizable in terms of fonts, color and photos. The large size gives enough space to include your menu offerings and prices. You can download the file in .psd (Adobe Photoshop format) absolutely free.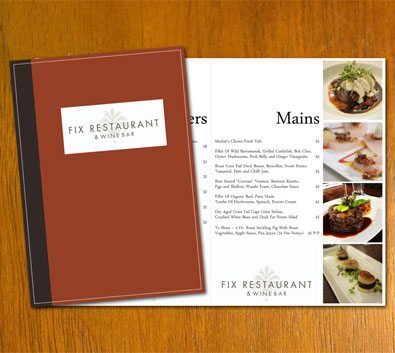 ---
Cost: $5
For pizza lovers, there are few things more appealing than a great, mouthwatering pizza photo. This restaurant menu template uses a theme that emphasizes photos in a dark backdrop to catch the customer's eye, and then draws your attention to the details. The layout has been created using tables and cells, as well as background developed with layers in Photoshop for making it easily and fully customizable. Purchasing the license gets you 2 labeled .psd file and 1 readme .txt file detailing text and graphic sources.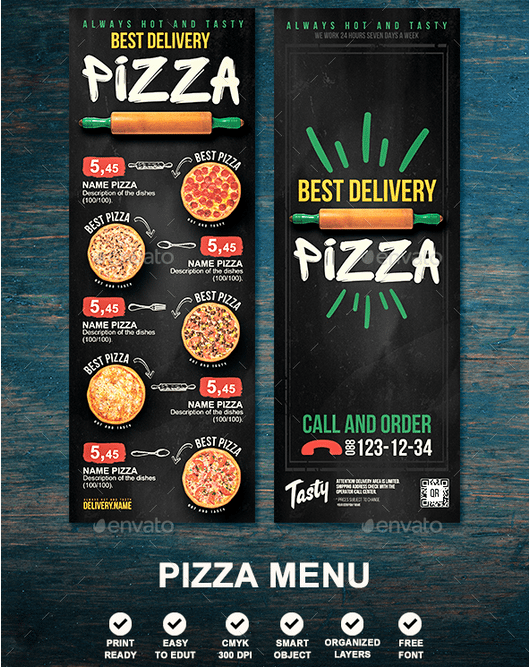 ---
Cost: $6
For restaurant owners, event organizers, and even for DIY wedding planners, this very professional wedding menu template is definitely a must see. The template is designed with a bouquet of pink flowers and an abstract decorative wallpaper pattern on a textured background. Purchase of the license gets you a hi-res JPG file without text for easy customization.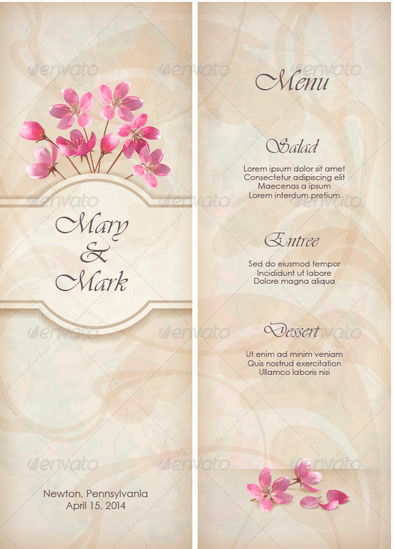 ---
Create an Eye-Catching Digital Menu: An increasingly popular way for restaurants to display their menus is by using digital menu boards inside the restaurant or as a window display. Mira Screen Signage offers free hardware and easy-to-use templates can help you turn any TV into a digital menu or specials board for as little as $24/month per screen. Click here to try a free demo.
---
Start your customer's dining experience on a good note with a well presented wine list. This menu template is both classic and elegant with a clean layout to showcase your cellar. The template is fully editable via Canva's online editing platform so you can quickly change any element to match your company brand. This wine list menu template is free from Canva upon sign up.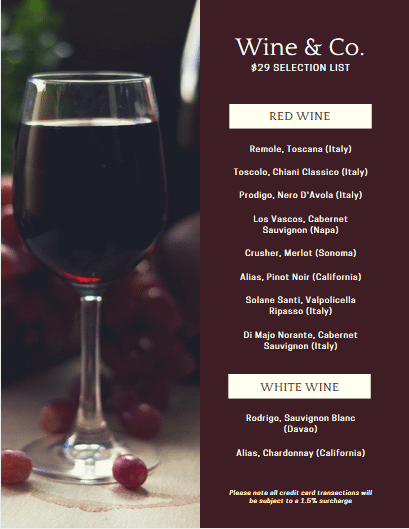 ---
Whether you're opening up your own dessert shop, or just looking for a better dessert menu layout, take a look at this free dessert menu template we found for you. This layout aptly uses the visual appeal of desserts with overlaid details of each dish in large easy to read font. Use Canva's online editing platform to change the background colors, add your own photos and even create an additional page.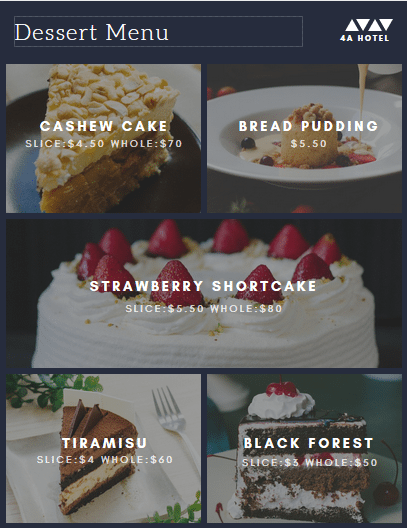 ---
Fit Small Business Tip: Offer Beautiful Self-Order Menus with Lightspeed Restaurant
Give your customers an exceptional ordering experience with Lightspeed Restaurant. Customers can place their own orders with an iPad or kiosk at their table and send their request directly to the kitchen. You can update digital menus in minutes with stunning photos and dish details, like wine pairings, or ingredients for those with food allergies. Try Lightspeed Restaurant free for 14 days.
---
Complete the relaxed, cozy mood with this monochromatic themed coffee shop menu template. The layout features a simple and clean design with easy to read font and enough space to add photos of your brews and pastries. Change the colors, fonts, and even add more pages with the same layout using Canva's online editing platform. This menu template is completely customizable and downloadable for free from Canva upon sign up.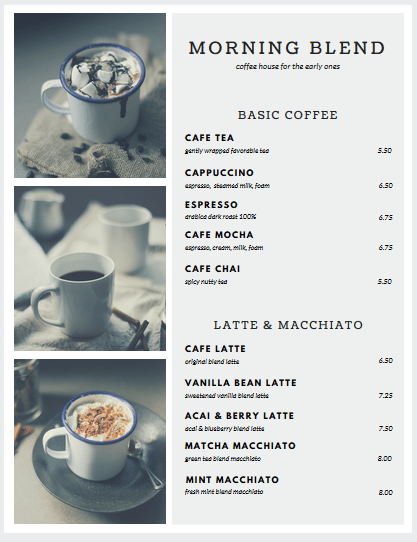 ---
Cost: Free
Restaurants need to take a different approach for their online menu. Because visitors will access your website from laptops, tablets, and mobile phones, your menu needs to be responsive, which means it will shift to look good on screens of any size. Check out our article on Fit Web Themes: Restaurant Edition, a free WordPress template designed specifically for restaurants. We'll walk you through the entire set-up process, getting your site live in less than an hour. Get started here.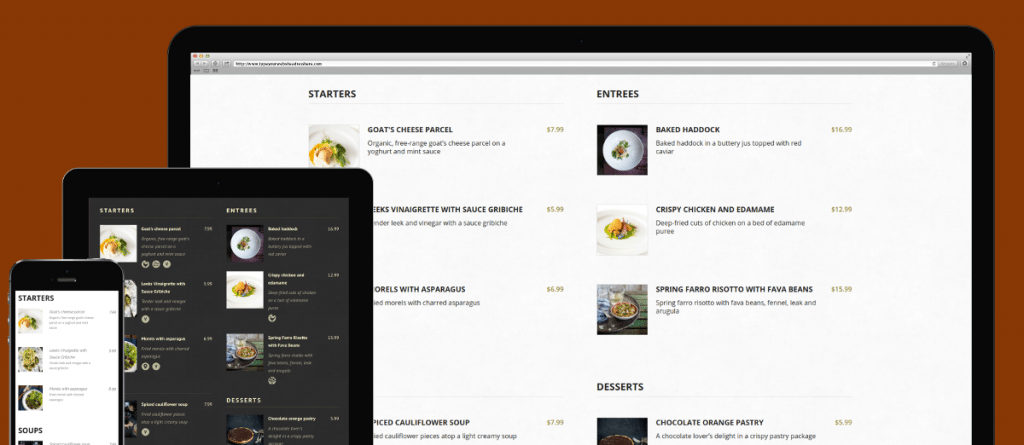 ---
Cost: $12
One of the more popular restaurant menu template available online is the blackboard restaurant menu template. This layout, featuring a blackboard texture and white font, has an industrial and casual vibe and will work great for any bistro or upscale burger joint. The file includes menu templates in tri fold and bi fold versions, using Adobe CS4 format, and available to download with purchase of its regular license fee.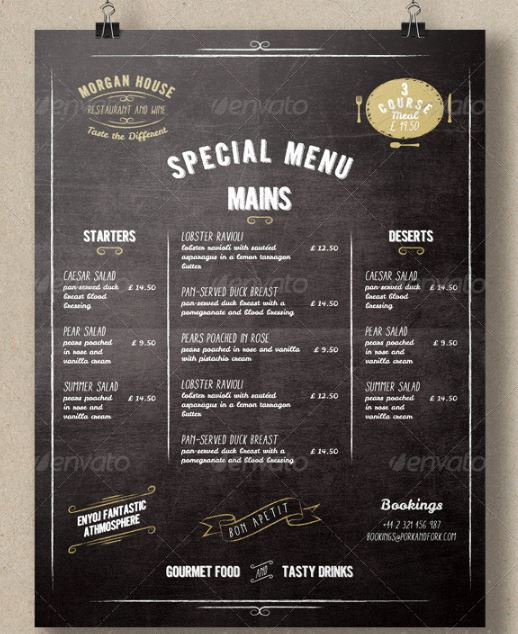 ---
Cost: $12
Check out this modern vintage restaurant menu template if you're looking for a rustic vibe. This is perfect for restaurants that serve Mediterranean cuisine, especially Greek and Italian foods as it's the perfect balance between old world opulence and casual eatery. This menu template is easily customizable with its smart object layers function and fully editable text. Purchasing the regular license fee gets you a print ready A4 size menu template in.psd format, a font download link to match the vintage feel, as well as a user guide that you can work with as you add your personal touch.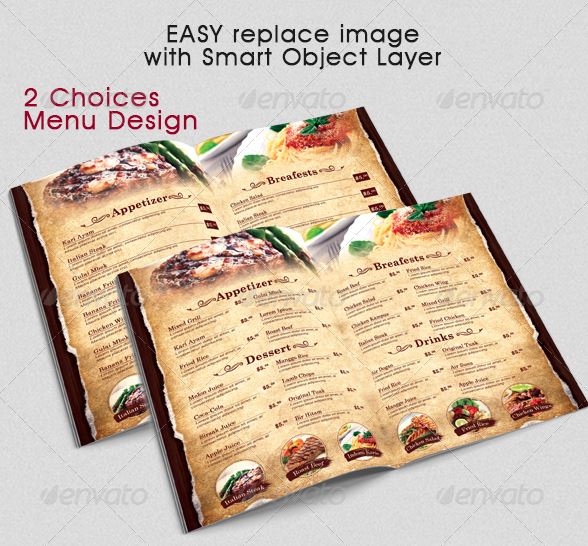 ---
Cost: $9
Even fancy restaurants don't need to spend so much on an elegant menu. This tri fold, A4 size elegant food restaurant menu template exudes vintage with a twist, and a bold and graphic color scheme of orange and black, with easily customizable text and graphics. This layout comes in a set with an A3 menu poster, table tent, a personal card and stamp templates.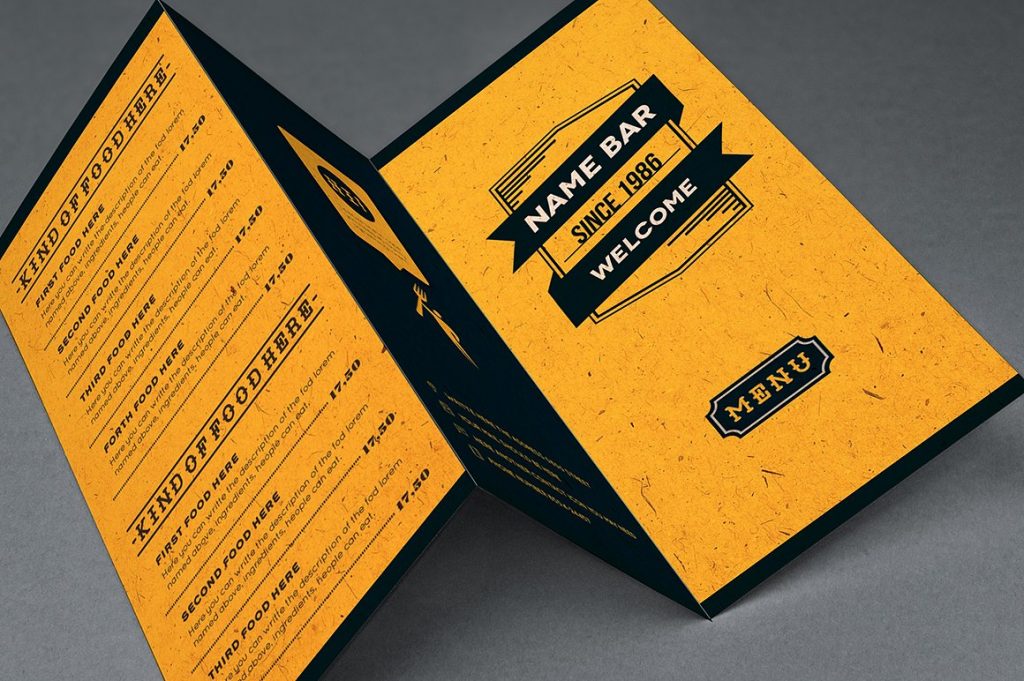 ---
This menu template will work great in any kind of French themed food establishment. You can change up the background and the color theme but this chic layout features very light and refreshing shades of blue with equally chic fonts and space to add in photos of your dishes. All the components can be edited using Canva's design tool upon sign up and can be downloaded for free as well.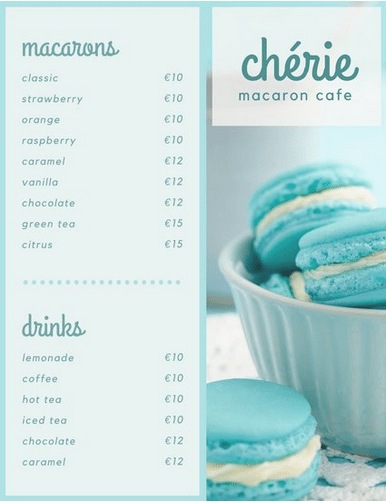 ---
Cost: $17
Designed for the minimalists out there, this beautiful restaurant menu template showcases your fresh ingredients to complement your list of dishes on the menu. The fonts are playful, allowing your content to stand out in the simple yet elegant background. This restaurant menu template comes in a print ready bundle that includes a brochure, tri fold and bi fold menu versions, as well as table tent and posters format. It even has a business card template to complete your marketing requirements.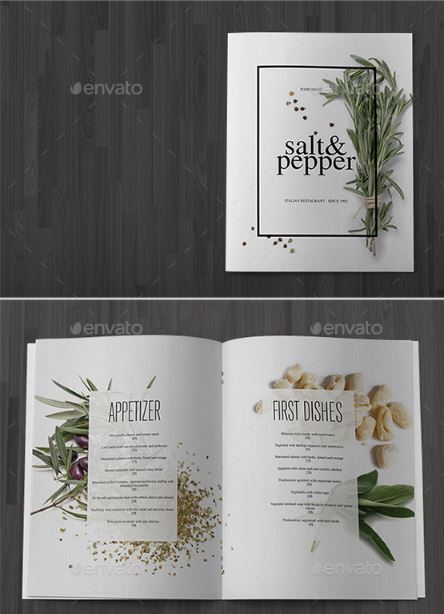 ---
Kids would rather run around and play than sit down to read a menu and order their food unless you can catch their attention. The colors and playful graphics in this template may do the trick. The layout features colors and photos that appeal to children's imaginations while the content is easy to read. Of course this menu template is fully customizable on Canva's design tool when you sign up so you can change each component to match your brand.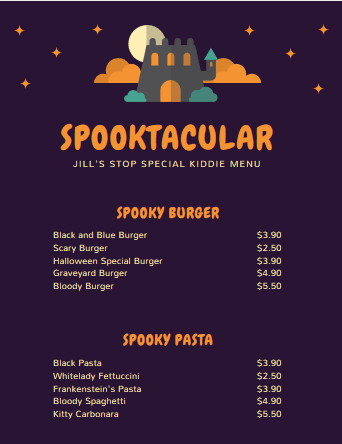 ---
Cost: $9
For restaurants offering a tropical vibe, you need to check out this 6-page, colorful, balmy and vibrant restaurant menu template. It uses 300 dpi CMYK color code to help keep that bright summer tone to your menu, and comes in US Letter size with free fonts and content that are fully editable. Get this layout in Adobe InDesign format when you buy the license fee.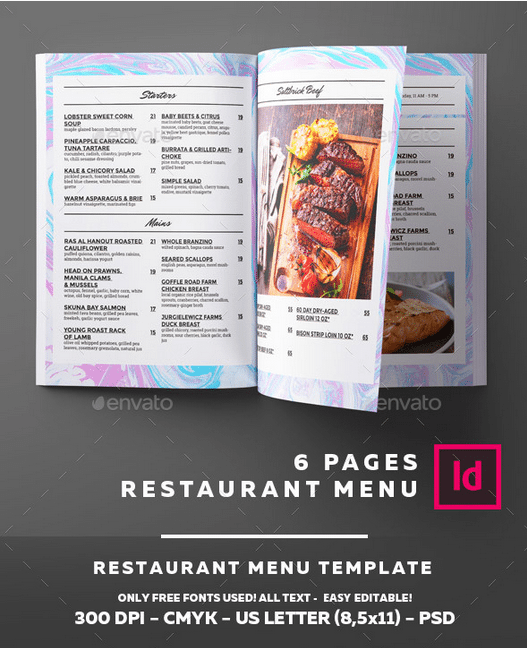 ---
This bright and colorful Mexican restaurant menu template will surely set the right tone for your customers once they sit down to order. The color block design makes for a nice presentation of your dishes and if you feel like you need to make it sync better with your brand, change it up to fit your own theme, from background to colors and fonts. This restaurant menu template can be edited using Canva's design tool upon sign up.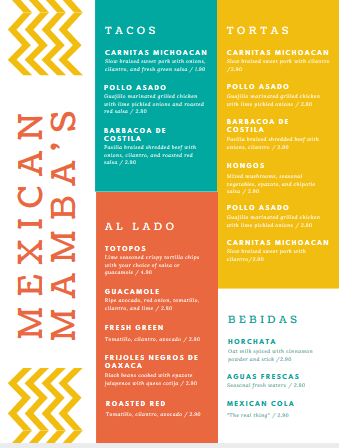 ---
Cost: $9
This sophisticated cocktail and bar menu template will surely impress your customers. It uses a black and gold theme set to highlight vibrant colored photos. Add more pages if you also sell food items. Layered and customizable, this cocktail menu template is 8.5×11 in size, using CMYK color code and includes 2 .psd files with images and free fonts. Download this menu template by purchasing its regular license.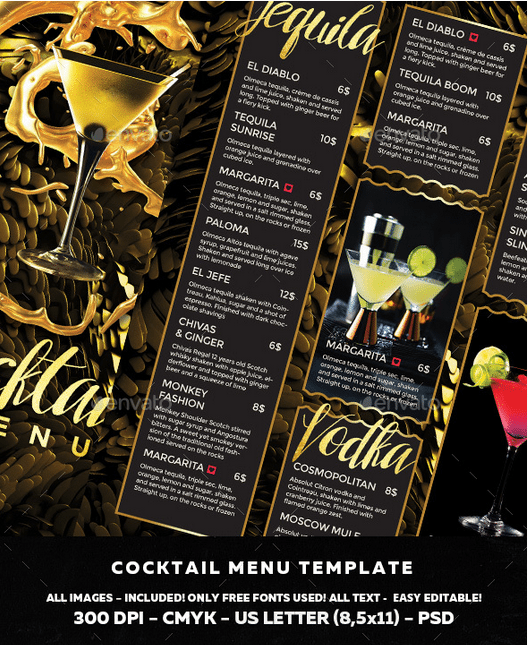 ---
Part of an Italian restaurant's charm is its unique character, and what better way to emphasize this than by a well presented restaurant menu. The classic color theme and font on this restaurant menu template sets the right tone for a classic Italian dining experience. It's completely customizable in Canva's design tool and free to download right after.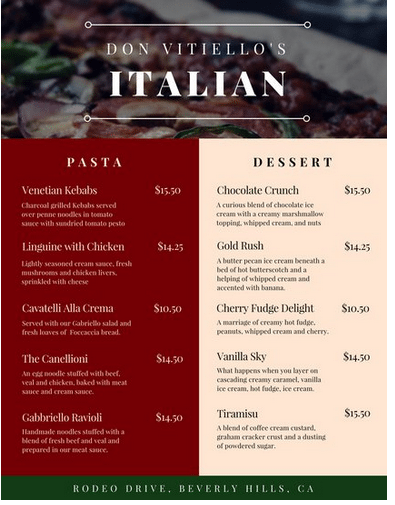 ---
Cost: $8
This Caribbean restaurant menu template is for any restaurant that needs a takeout menu with an island theme. It features bright tropical colors that are both fun and engaging. The menu template is easy to edit with its organized layers and is print ready. The regular license will get you the 8.5×11 Indesign menu template in both CC and C4 versions.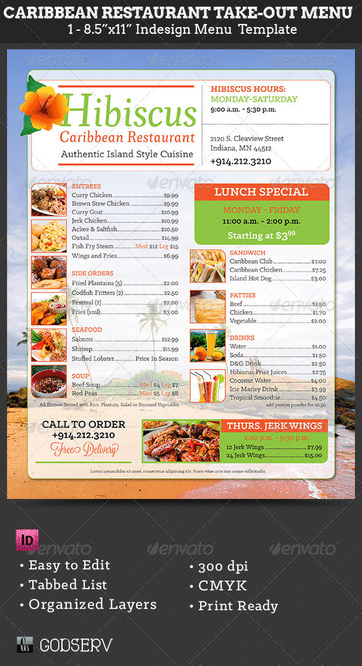 ---
Cost: $8
This 4-page restaurant menu template fits right into the vegetarian vibe with its shades of green color theme. The colors and photos will make your customers want to order right away. The layout uses free high quality fonts and with the standard licensing fee, you get a complete set of this menu template that includes 4 pages A5 size as 2-fold A4 paper, and an A3 size poster. You will need an Adobe Illustrator editing program to customize your menu template.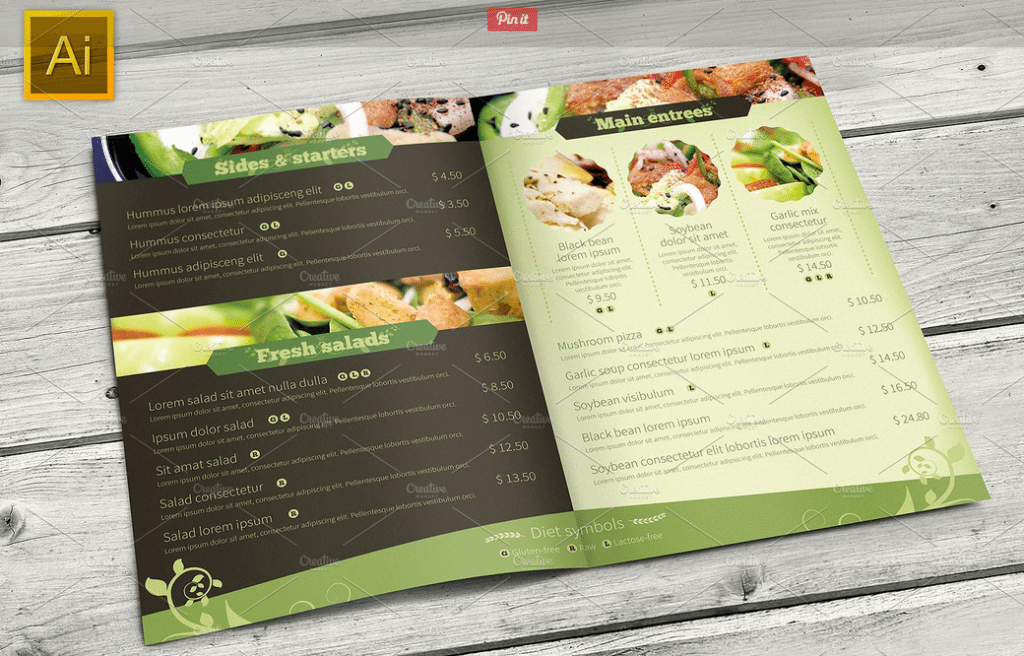 ---
Whether it's authentic or fusion Indian cuisine, this Indian restaurant menu template is a sure way to complete your theme. The black backdrop with elegant gold fonts add a nice touch, and all you need is an Adobe Illustrator program should you want to make some changes to the layout to fit your needs. This restaurant menu template can be downloaded for free from Freepik.com and can be used at no extra charge with proper crediting.
---
Thai restaurants have started to gain popularity, and this menu template is a great way to greet customers looking for an authentic Thai dining experience. The layout is clean and elegant with gold, classic, Asian inspired borders and can be fully customized using Adobe Illustrator.This restaurant menu template is free to download with proper credit to the host website Freepik.com.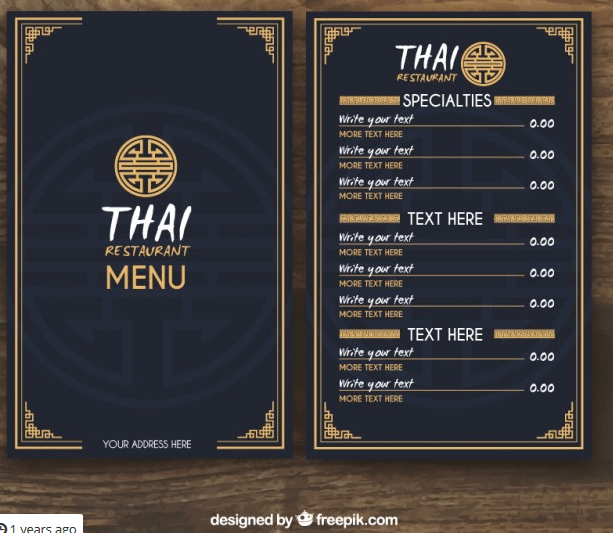 ---
Cost: $9
Black and white gives off a classic vibe in this restaurant menu template that works well for bistros and fusion restaurants. This menu template gives off a laid back feel with a clean layout that effectively highlights your content. It uses A4 size paper with 300 dpi resolution in CMYK color code and free fonts that are all easily editable.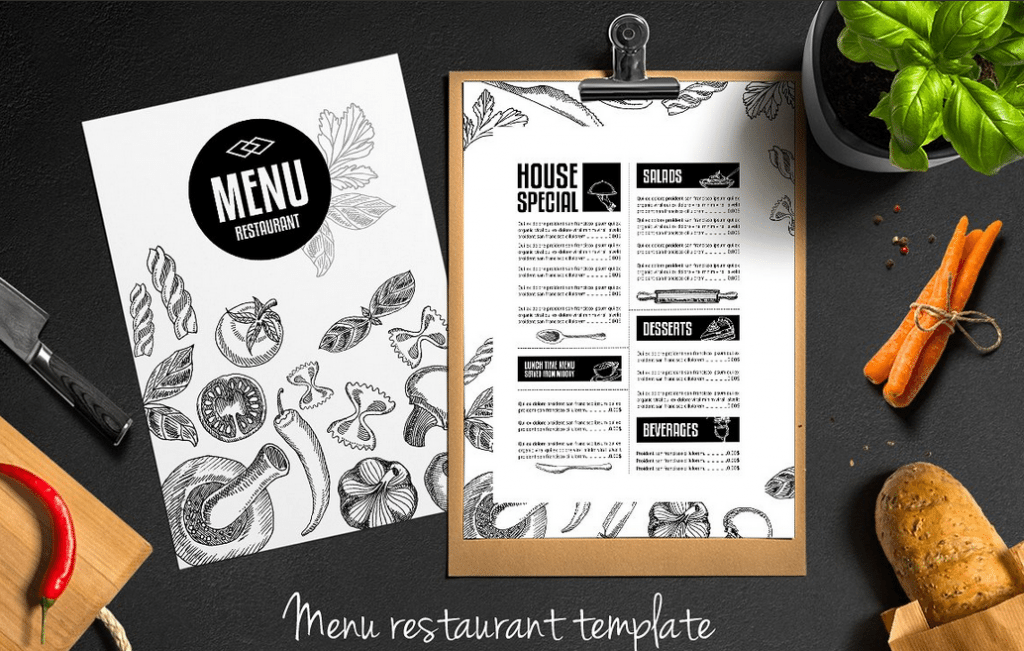 ---
Cost: $9
This menu template features a fun contemporary design that works well especially for seafood restaurants. It's also easily editable using Adobe CS where you can replace any component to fit your needs. The file comes with template menu front and back in EPS, PSD format, PSD seafood doodles with transparent background, EPS seafood doodles and a PDF help file PDF.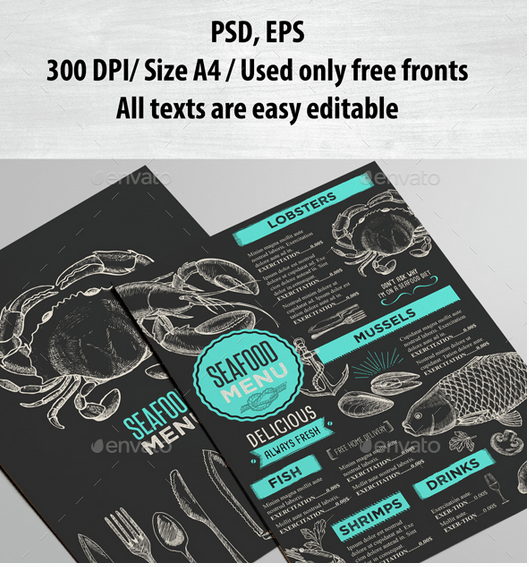 ---
This restaurant menu is classy with an elegant feel with the dark backdrop in the content layout. You can just add in your menu and keep the design as is or you can make it your own by customizing everything from the background to the graphics in DesignBold's online editing tool.This restaurant menu template is free to download upon sign up with Designbold.com.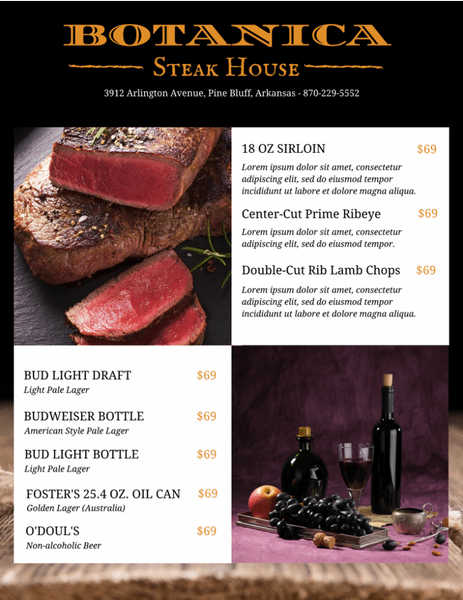 ---
This fast food menu template is sure to catch your customer's attention with its large graphics and festive red, white, and orange theme. The layout has space for photos of your dishes, but there isn't a lot of room to add text (text is limited to price and the name of the food item). This restaurant menu template can also be edited to match your brand using DesignBold's online editing tool and download free after sign up.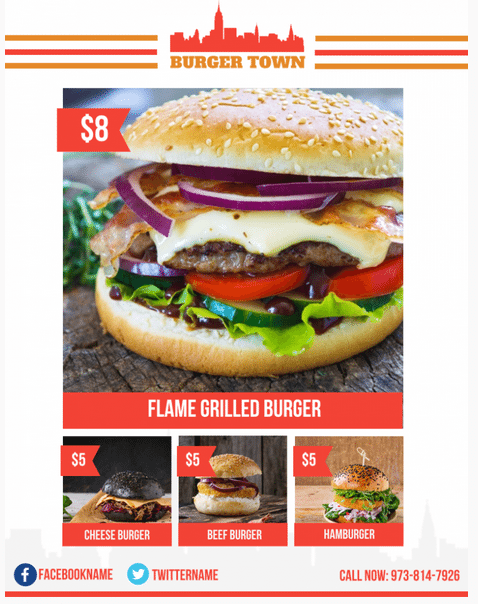 ---
Cost: $9
This Jamaican Restaurant Menu Template is designed for restaurants that need a unique look. It can be printed as a flyer or as a poster depending on what you need. The text are editable and you can also change colors and drop your photo in place with ease. All layers in the files are arranged color coded so it's quite simple to edit with Adobe CS3 and Photoshop.

---
Over to You
As you can see, great looking restaurant menus don't have to come at such a steep price. With the right restaurant menu templates, tools and resource, you can easily have a dynamic restaurant menu that will always reflect your company's brand as it grows. And remember, you can get help from a graphic designer on Fiverr for as little as $5.
Did you find any favorites from our list? Have your own restaurant menu template you'd like to share? Let us know in the comments below.