How To Pass the Real Estate Broker Exam in 8 Steps
All broker candidates must pass the real estate broker exam before submitting an application and moving forward with a career as a real estate broker. To prepare, aspiring brokers must review their state's exam requirements, take exam prep courses, and understand the exam structure. You should also adhere to a strict study schedule and employ test-taking strategies like finding clues within the test and working backward to the correct answer to be confident on exam day.
Keep reading for actionable steps, resources, and exam prep providers to help you prepare to pass the real estate broker exam on the first try.
1. Review Your State's Exam Requirements
To qualify for a broker's license and register for the exam, you must first meet the broker licensing requirements. Most states require applicants to demonstrate one to two years of experience as a licensed agent, meet prelicensing education requirements, and complete the necessary paperwork before being able to take the broker licensing exam.
For instance, to obtain a broker license in Texas, you must have at least four years of active experience as a licensed real estate sales agent or broker during the 60-month (five-year) period and take 270 hours of prelicensing broker courses. In comparison, aspiring agents based in New York only need two years of experience as a salesperson or at least three years of experience in the general real estate field and meet the state's experience points minimum.
2. Understand the Exam Structure
A broker's exam is divided into two sections, national and state-specific, and candidates are expected to pass both. It usually lasts two to four hours and consists of 100 to 150 multiple choice questions, 60 to 80 state-specific questions, and 80 to 100 questions about generally universal real estate concepts like fundamentals of property ownership and codes of ethics and responsibilities.
Here are the topics covered in the broker's real estate licensure exam:
Contracts: Common contracts like listing agreements, offer and purchase contracts, promissory notes, and purchase and lease options are included in the exam.
Transfer of property: Property transfers are the basis of the real estate industry, so concepts like title insurance, deeds, escrow, and tax implications and requirements are an essential part of the broker exam.
Property ownership and land use control: Be prepared to answer questions about classes and characteristics of a property, how to describe the property, encumbrances, and government rights in land ownership (e.g., eminent domain).
Laws of agency and fiduciary duties: Agency portions of the exam will focus on topics like how to create and terminate agency relationships, agent duties, and necessary disclosures for homebuyers hiring an agent.
Property valuation and financial analysis: The real estate broker exam covers financial and property valuation questions, some of which require a simple calculator.
Financing: Understand types of loans, financing, credit laws, and financial documents like mortgages and promissory notes.
The practice of real estate and disclosures: Aspiring brokers should study elements of real estate practice such as truth in advertising, fair housing, ethics, property management, and disclosure statements.
Similar to your salesperson exam, you can find your state's specific exam structure and contents in the Candidate Handbook provided by your testing institution, typically PSI or PearsonVUE. To find your state's Candidate Handbook, take a look at our article How to Get a Real Estate License in Every State, click on your state's "how-to" article and find the handbook in the section entitled "Schedule Your Exam."
The broker exam is administered on the computer at an on-site facility. Candidates should arrive 30 minutes before their exam appointment. This extra time is allotted for sign-in, identification, and familiarization with the examination process. Aside from that, only non-programmable calculators are allowed during the examination day. Phones, tablets, bulky clothing, and hats are not permitted at the examination site.
You will be given an introductory tutorial before you start your test. After that, the proper exam will start, where one question will appear on the screen at a time. You are able to skip questions and return to them during the exam. In addition, the minutes remaining will be displayed at the top of the screen and updated as you record your answers.
3. Create a Study Plan
Once you confirm that you've met the broker licensing requirements, you're ready to put together a study plan. A study plan boosts productivity by allowing you to outline your daily tasks and evaluate how you spend your time. Then, you'll be able to break down studying into manageable time slots, making it easier for you to know when to complete tasks.
To create a Specific, Measurable, Attainable, Relevant, and Time-bound (SMART) study plan, you should plan a schedule of balanced activities, plan enough time for studying each subject, provide for spaced review, and leave some unscheduled time for flexibility.
Here's a sample study guide that you can use as a reference:
In creating a study plan, it is recommended that you set aside at least one hour twice a week to review real estate broker exam subjects. Depending on your schedule and priorities, you can study different topics on different days, but you must devote at least one day per week to an overall review. For these study sessions, it's best to use the exam prep materials like flashcards, practice tests, and simulations with your exam prep coursework.
If you're unsure of what to focus on, take a practice test to evaluate your strengths and weaknesses, determining where to direct most of your time. This way, you'll have plenty of time to learn and review each subject and make a study schedule that prioritizes complex subjects.
4. Take a Real Estate Broker Exam Prep Course
A broker exam prep course contains recent information required to pass the current broker's exam, like the real estate market and rules and regulations. Exam prep schools provide valuable study resources, such as webinars, live lectures, flashcards, course outlines, and videos, to assist varying learning styles.
Consider enrolling in an online course provider like PrepAgent or Colibri Real Estate. They offer study groups, 1:1 instructor access, highly rated courses, and comprehensive study materials for various states. Best of all, you can study from the comfort of your home office at your own pace.
We have listed the top exam prep providers that may be the best fit for you:
Exam Prep Providers

Key Features

Livestream, on-demand video, and self-paced learning formats
Pass guarantee and full refund guarantee
Online group webinars in real time

Customizable exam prep tools and package
"Pass or Don't Pay" guarantee
Multiple question banks and practice exams

Affordable courses
95% exam pass rate
Unlimited practice tests and test simulations

Interactive course features and instructor-led courses are available
Assessment tests before and after the course
Large online question bank (QBank) and flashcards

Starting Price

$59

$99

$39

$69

Learn More

Use Promo Code: FSB20 for 20% off) or

(Use Promo Code FSB25 for 25% off) or

or

(Use Promo Code: Kapre5 for 5% off) or
5. Take Timed Practice Tests
Working within time constraints is challenging for the real estate broker exam. To prepare for your exam day, take timed practice exams and learn how to pace yourself. This will help you understand and adapt to the exam structure, identify knowledge gaps, reduce anxiety and stress, keep you from lingering too long on difficult questions, and finish on time.
If you want to take a timed practice test, check out Real Estate Exam Scholar. Its courses include timed practice tests, 1,200+ questions, full explanations for each answer, flashcards, and state-specific test questions. Aside from these, Exam Scholar offers affordable exam prep courses and has a 95% pass rate.
Visit Real Estate Exam Scholar
Aspiring brokers can use a free Online Timer app and create timers with optional alarms, simulating exam timing. These apps are ideal for taking quizzes and practice tests with the same time constraints you'll experience on the actual exam day.
6. Apply Test-taking Strategies
On the actual real estate broker exam day, your test-taking strategy can help you save time and energy while also keeping you confident. Develop good test-taking strategies while studying, so you'll be ready to use them on exam day.
Here are some great real estate broker's exam tips and test-taking strategies:
Do all the "easy" questions first and temporarily skip the "difficult" ones: Doing the easier questions first allows you to build momentum and review the items before moving on to the more complicated questions. If you don't know the answer to a question, skip it and return to it later. Spending too much time on a single question diverts valuable time away from other questions you may answer more quickly. If you are taking a timed test, this method allows you to answer more questions.
Find clues within the test: Test questions sometimes provide clues to other questions as the topics may be related or some terms may have been mentioned already. Thus, be attentive to questions since you might find a clue to the answer in another section.
Work backward to the correct answer: Use the elimination method to remove answers or choices you know are wrong. This method increases your chances of selecting the correct one from the remaining options if you are unsure of the answer.
Take your time: Although the real estate broker's exam is timed, you must concentrate at your own pace to answer questions carefully and correctly. You should take your time answering complex questions and don't be concerned if others finish before you.
7. Simulate the Test-taking Experience
Simulating the test-taking experience during study time is an excellent way to experiment with "what if" questions and scenarios without changing your strategies. It plays a vital role in identifying constraints during the actual exam day and determining which factors are most important to your performance.
For example, if one of your major concerns is "What if I run out of time and don't know the answers to the questions that are left?" Think of a contingency plan that will solve this problem on exam day, like answering B to any leftover questions once you have five minutes of time left. Studies have discovered that on four-choice tests, with A, B, C, and D as multiple choice answers, B was most likely to be correct 28% of the time.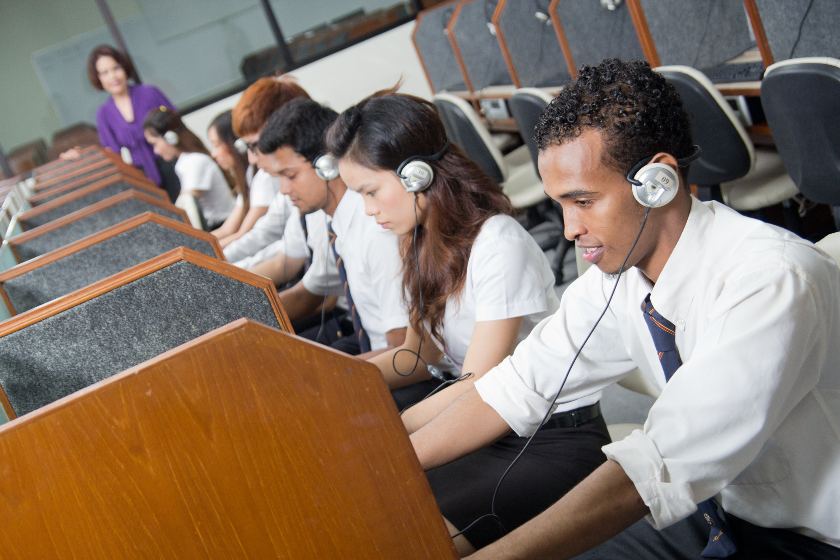 In addition, while doing your practice tests, only use a simple or non-programmable calculator to answer math questions since most states won't allow you to access a mortgage calculator and study guides on the exam day. Aside from that, setting a timer and removing all gadgets like phones and laptops from your table will give you more of a realistic examination experience.
8. Pay Attention to Your Health & Relax
Taking the real estate broker licensing exam can be a very stressful experience. Take time to check and focus on your mental and emotional health while studying for the exam and in the days leading up to it. Include breaks in your study schedule, make time for activities you enjoy, maintain an exercise routine, spend time outdoors, and get a restful night's sleep.
Furthermore, you should take steps to relax and plan your exam strategy. To calm your nerves, take a deep breath or a sip of water when you arrive at the exam center or before the test starts. Arriving at the testing center 30 minutes early will also help you to relax and get situated. Then, put your previously developed test-taking strategies into action.
Bottom Line
Real estate broker exams vary by state, but enrolling in exam prep providers, developing a study plan and test-taking strategies, and taking timed and simulated practice tests will boost your confidence and help you pass the exam. However, to ensure your eligibility, review state requirements before registering and taking the real estate broker exam.