How to Compose a Job Rejection Letter + Free Templates
This article is part of a larger series on Hiring.
A job rejection letter serves to notify a potential candidate that you are no longer considering them for your open position. It may also provide reasons you didn't hire the candidate and serves as legal documentation. The type of rejection letter you send depends on the candidate's stage in the hiring process.
We have provided four templates for your use: simple and advanced post-interview job rejection letter samples and simple and advanced applicant job rejection letter samples. All templates are brief and straightforward; however, the advanced templates mention a specific reason the candidate wasn't chosen and keep the door open for a future relationship. You can customize these templates to your needs.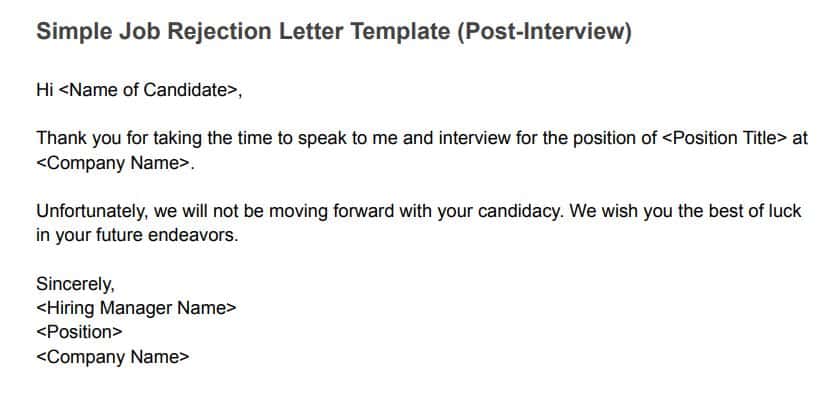 Thank you for downloading!
💡 Quick Tip:
If you're hiring, we recommend advertising on Indeed, the #1 job board for small businesses.
Indeed makes it easy with a $50 free credit toward advertising your job postings to move them to the top of the job seeker's search results.
Click here to get started.
What to Include in a Job Rejection Letter
When writing a job rejection letter, keep it simple and send it within 24–48 hours of the interview. It's typical to send job rejection letters via email so candidates learn about your decision as soon as possible. Generally, rejection letters should include the following:
Address the Candidate
Be sure to address the candidate by name at the top of your job rejection letter (i.e., Hi Michelle). This personalizes the letter specifically to the candidate, instead of a general rejection letter. A salutation sets the tone for the rest of the letter.
Next, thank them for applying for the position. Be specific and list the actual position applied for and also mention your company name (i.e., Thank you for taking the time to speak to me and interview for the position of Marketing Manager at ABC Company). This acknowledges the time they took to apply for the position.
State the Reason for the Letter
Once you have addressed the candidate and thanked them for applying, it is now time to get to the reason for the letter. This can be done in one of two ways. First, you can simply let the candidate know that they are no longer being considered for the position (i.e., Unfortunately, we will not be moving forward with your candidacy). This method is efficient and gets right to the point.
Another way to let the candidate know they are not being considered for the position is to explain that you are going in a different direction (i.e., Unfortunately, you were not selected to continue in the hiring process. We have decided to move forward with other candidates that more closely align with our job requirements and needed skills). This version lets the candidate know the reason why they weren't selected.
You can customize the letter to include specific reasons, such as a clear skill deficiency (not enough marketing or technical knowledge). Cultural or personality fits are more delicate issues. For example, saying in a rejection letter that "you wouldn't fit in with the team" could be construed as discriminatory if your candidate is in a protected class—someone over age 40 or a minority, for example. We recommend keeping the letter skill-focused or not mentioning a reason at all.
Leave the Door Open
Following the reason for the rejection letter, you can add verbiage that leaves the door open for future opportunities (i.e., We will keep your resume on file should we have a role open in the future that more closely matches your skills and experience). Your business's hiring needs could change, and perhaps a candidate who isn't a good fit now could be in six months or a year.
Additionally, this is how you build a talent pipeline, which saves time on recruiting and gets you quality hires. And, if candidates have a good experience interviewing, they may also help you find someone for your open roles in the future and become a referral.
Close the Letter
When closing out your letter be sure to include your name, position title, and company name. The rejection letter should come from the person who interviewed the candidate, making it more personal.
What to Avoid in a Job Rejection Letter
A job rejection letter should be straight to the point. This will help you avoid any legal issues during the hiring process. Keep the following in mind when composing your rejection letter:
Don't mention any personal details, such as the fact that the candidate has three kids gives you pause on his commitment to the role. Such comments walk a fine line if the candidate falls into protected classes (gender, race, ethnicity), and you are putting yourself at legal risk.
Don't say that someone was a top candidate until this round or something similar. Unless you have something productive and constructive that will help the candidate in their job search, don't say anything at all other than the minimum. Keep the email professional.
Don't assume the candidate will know they weren't selected if you don't send a job rejection letter. This can lead to a bad experience overall. Be sure to respond to all candidates promptly.
Using structured interviews, taking notes during phone screens, and keeping documentation can help you avoid legal implications.
Documenting Your Job Rejection Letters
You should document all stages of the hiring process, including job rejection letters. If you have an applicant tracking system like ZipRecruiter, you can send and store these letters right through the software. If you don't have one of these systems, track all stages in an Excel spreadsheet or a Word document.
Clear documentation protects your company from possible Equal Employment Opportunity Commission (EEOC) discrimination laws. These laws make it illegal for an employer to deny employment to a candidate based on age, race, sex, religion, natural origin, and pregnancy.
Bottom Line
Sending a job rejection letter to a candidate letting them know they are not a fit for your open position is a good business practice. It lets them know that you appreciate the time and effort they invested in applying and/or interviewing for the position, and protects your company from possible legal issues. Be sure to keep documentation on all correspondences you send.