Federal and State Jury Duty Leave Laws + Sample Policy
It is likely an employee at your business will get called to jury duty. They will have a court-ordered document requiring them to serve. Businesses must provide time off for employees to fulfill their civic duties during jury duty. While federal law does not require employers to pay employees for jury duty, some state regulations do require payment. Having a clear policy in place and understanding your specific local laws will make the process easier.
Download Sample Jury Duty Policy
Jury Duty Leave Laws by State
In addition to federal jury duty requirements that instruct an employer to provide unpaid time off, employers are not responsible for paying employees any compensation for absence due to jury duty—unless there is a company policy, contract, or collective bargaining agreement or state law that applies.
The following states have guidelines in place outside of the federal requirements regarding jury duty leave and whether or not you must pay your employees for this leave.
Creating a Jury Duty Policy
Adding a jury duty policy to your existing company handbook will help your employees understand their requirements and keep your business compliant with federal and state laws. When creating your policy, follow these simple rules:
Follow All Federal and State Laws
US law is clear about what you need to do as an employer when your employee is summoned for jury duty. As an employer:
You must excuse the employee from work to attend jury duty
You may be required to pay an exempt employee their regular salary while on jury duty
You may not be required to pay a nonexempt employee for work hours missed
You may ask the employee to notify you in advance
You may ask the employee to postpone jury duty based on a business need
You may request an employee to "return to work" if dismissed/excused before the end of the business day if they're not selected for jury duty
Spell Out Your Payment Policy
When creating your jury duty policy, be sure to state if you will pay your employees while they are serving on jury duty. Be aware of any state laws that require you to do so; if there are no specific state laws in your area, you should consider the following:
Who is eligible? This typically includes full-time salaried employees. You can decide if you want to pay part-time or hourly employees while they are on jury duty.
How much will they be paid? You must decide if you plan to pay your workers their full salary or a portion thereof. Some employers pay the difference between an employee's salary and the stipend they receive from the court.
How long will the employee be paid? Some businesses put a cap on the number of days an employee will be paid for jury duty. If their service is required beyond those days, the employee can use paid time off (PTO) or unpaid time off. Again, there are specific state laws that prevent you from requiring your employee to use PTO, so be sure to check your state.
Will employees be required to return jury duty payments? Anyone that serves on jury duty will receive a small stipend per day for their service. Some employers allow employees to keep this payment along with their regular salary, whereas others may require employees to reimburse the company for the total amount provided by the courts.
Unless your business is in one of the states that requires you pay your employees, you may not be required to pay workers while they're out on jury duty. However, 68% of employers supplement the wages paid by the court up to the employees' full pay.
State Employee Requirements
You will need to determine and state in your policy what an employee is required to do when summoned to jury duty—such as, but not limited to, the following:
Notify supervisor immediately upon receiving a jury duty summons
Provide a copy of the summons to HR
Must use PTO to serve on jury duty (i.e., after a certain number of days). See State requirements below.
Must reimburse the company for the amount of jury duty pay received by the courts
Must return to work following a partial court day
You can download and customize our sample jury duty policy to suit your business needs, such as how employees should request time off for jury duty, what documentation you need from them, and if and how the employee will be paid while on jury duty.
Download Sample Jury Duty Policy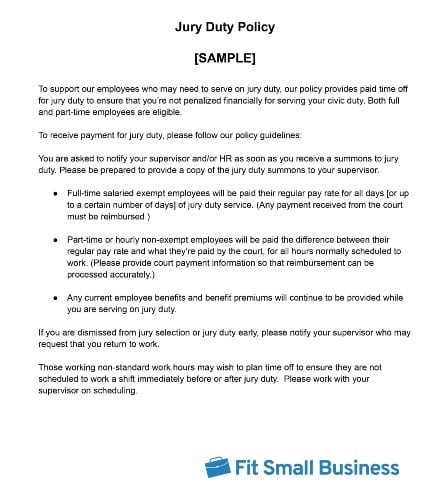 We recommend using an all-in-one HR management software like Bambee to help track time off requests for jury duty, store your policies, and properly handle onboarding for employees.
Sample Business Letter to Excuse Employees From Jury Duty
You can write a letter to the courts in an attempt to excuse your employee from jury duty if it will cause severe hardship to your business. If you choose to do this, then you must explain in the letter how the employee serving on a jury will impact your business. Courts still have the final decision on this, and your letter does not guarantee that your employee will be released from jury duty.
Some possible examples for your employee to be excused from jury duty include:
Valid business reason: The employee is your only "licensed agent" on staff
Valid business scheduling conflict: The employee is scheduled for a business event or trip that cannot be postponed
Financial hardship: Your business risks losing income if the employee is out
Seasonal business: Your business is seasonal and/or you do not have enough employees
We've provided two sample letters to help you request a judge postpone or reschedule jury duty for your employee based on business needs.
Download Sample Business Excuse Letters
Caution! Do not risk fines or jail time for your employee or your business by misrepresenting your needs in order to help an employee get out of jury duty.
Bottom Line
Adding a jury duty policy to your employee handbook is a best practice. This clearly communicates to your employees what is expected of them and whether or not they will receive compensation from the business. Be sure to include any state-specific laws in your policy and follow through with paying employees where it is required.
Certified HR specialists at Bambee can create a jury policy fully compliant with all federal, state, and local laws. You get a certified HR manager who will work with you to craft, implement, and securely store the HR policies your business needs.