An employee handbook serves as a document covering the rules and conduct expected of your employees. It's a reference for questions that workers may have about your business expectations and key policies, such as benefits, dress code, and work schedules. The easiest way to create one is to start with an employee handbook template.
While a template is a good starting point, you need to make sure you're employee handbook is worded properly to avoid any costly legal issues. A certified HR specialist from Bambee can help you draft an employee handbook and other HR documents that are compliant with all federal, state, and local labor laws for just $99 per month.
Disclaimer: Since policies and the specific wording within your employee handbook can have legal ramifications for your business, we also recommend that you consult with an attorney before finalizing your employee manual.
How an Employee Handbook Is Used
In general, an employee handbook is provided to the employee on their first day at work, either as part of orientation or as a take-home document to review. It's a non-legally binding company communication that clarifies expectations and benefits for your employees in plain language.
Most include information so that employees know what benefits and perks they get, such as time off for sick leave, or PTO. In fact, specific policies included within an employee handbook may be used to defend your business against legal action, such as a wrongful termination lawsuit.
An employee handbook also serves to set the stage for your business' culture by showcasing your mission, vision, and values. It reduces organizational friction and noise as employees become clear on expectations for themselves and co-workers.
To ensure compliance, it's best to obtain each new hire's signature documenting that they reviewed and agree to the terms within your employee handbook.
Free Employee Handbook Sample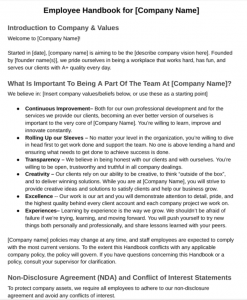 Our free downloadable employee handbook sample covers policies and sections all businesses should consider including. We picked these sections because they're valid for small business owners in all 50 U.S. states. However, ours doesn't cover your specific workplace policies and may not be in-depth enough, especially in states that mandate sick leave or add to EEO protected classes (e.g., sexual orientation or identity).
Free Employee Handbook Template (PDF/Word/Google Doc)
Before you finalize your handbook, check local laws as well—like those governing sexual harassment or commuter benefits—to make sure that your handbook is complete.
Who an Employee Handbook Is Right For
An employee handbook serves a surprising number of audiences. For you, the business owner, it ensures employees are given the same information regardless of the manager they work for. It also helps supervisors maintain consistency in how they manage employees.
An employee handbook serves five distinct audiences:
You and your leadership team: The words within the handbook become a consistent voice clarifying company rules, policies, and benefits; you approve what's in there.
Employees: New employees learn company policies upon hire; after that, each time the manual is updated, employees are made aware of any changes affecting them.
Managers: Managers use the employee handbook as a reference manual when coaching, disciplining, or helping to support employees on the job.
Contractors: Many of the policies within an employee handbook, such as anti-discrimination and work hours, may apply to independent contractors as well.
Your attorney: The employee handbook helps your attorney mount a defense should your business be party to an employment lawsuit.
An organizational employee handbook is really a must-have tool to manage a business effectively, whether you have one employee or hundreds. If you haven't yet created yours, considering downloading our employee handbook sample and customizing it with your work expectations, policies, and details. Your employees and managers will appreciate the clarity, and you'll find it makes managing people easier. Here's what one software executive says:
"An employee handbook has been the 'go-to' resource many organizations leverage to convey important information to employees. Sadly, many employees rarely know how to find it in their organization and when they do, often wonder whether it's the latest version. Organizations rolling out a new employee handbook should ensure it's housed properly within a company's onboarding center for both new hires and existing employees, along with other essential on-the-job training and frequently asked questions."

– Mike Hicks, CMO & Strategy, Igloo Software
Employee Handbook Costs
The cost of creating, customizing, implementing, and maintaining an employee handbook depends very much upon how much you want to do yourself. Ultimately, the policy decisions are yours. If you start with an employee handbook sample and customize it yourself, your costs will be little more than your time invested.
Here are costs to consider when building an employee handbook:
If you outsource: HR outsourcing firms and lawyers may be happy to create a customized employee handbook for you. You could pay up to $5,000 for this service.
If you start with an employee handbook sample: Starting with a sample like our free template keeps your document costs near zero.
Legal review: Companies like LegalZoom offer packages that can provide policies that should go in your handbook. In addition, they will review documents for compliance; rates can range from $39 and up.
Implement: The cost to implement your employee handbook depends on how complex it is, but in general, each new hire should be given an hours' worth of time to review it.
Maintenance: Each year, you may want to spend a day updating your employee handbook, have your lawyer re-review it, and managers retrain employees on it.
Overall, the costs vary greatly depending on whether you outsource the creation of your employee handbook or you do it yourself. If you download a template, customize it, and implement your employee handbook yourself, the costs are your time and your managers' and employees' labor hours.
To ensure your employee handbook passes the legal sniff test, it's best to have it reviewed by a licensed labor law attorney familiar with workforce rules in your state and county. Consider LegalZoom, as they provide business legal services with prices that start at $39 per month. View documents for free on LegalZoom.
Where to Get an Employee Handbook
Before you start developing an employee handbook from scratch, consider that you may already be working with a provider that can offer you an employee handbook sample. Like our template above, each of these providers will need your involvement to customize the employee handbook so that it's specific to your company policies.
Here are some of the best places to find an employee handbook:
1. HR Software
Many human resource information system software vendors include a sample employee handbook in their offerings. Prices run about $2 to $12 per employee, per month for HR software. For example, if you use Zenefits as your HR provider, they provide an employee handbook sample template and can help you customize it to your company-specific policies. View a demo of Zenefits.
2. Payroll Service
To support their customers' needs for HR tools, many payroll services offer an employee handbook sample as an add-on service. Payroll services run from about $2 to $12 per employee, per month in addition to monthly fees. But not all offer HR features, so you may want to check with your payroll service provider first.
3. Professional Employer Organization (PEO)
While significantly more costly than HR software or a payroll service, a PEO is a nice option for business owners who find the entire employee and HR compliance thing stressful. A PEO partners with your business to manage the back end of HR, including payroll, benefits, and resources (such as org charts and employee handbooks). It's like having your own HR person.
Justworks is one of the more affordable PEOs, with prices ranging from $39 to $99 per employee, per month, depending on the size of your business. Request a demo of Justworks.
4. HR Consultant
A human resources consultant or outsourced HR service can help you write or refine your handbook policies and look over your final draft. HR consulting firms may charge $125 to $200 an hour. Some offer package prices, such as helping you set up your personnel files and building an employee handbook for a flat rate of a few thousand dollars. However, you can often find freelancers with HR expertise who do this at a more reasonable price.
5. The Society for Human Resource Management (SHRM)
It's not a bad idea, if you're in an HR department of one, to sign up for a membership to SHRM. As the industry leader in HR best practices, SHRM provides free downloadable HR policies, templates, and tools, such as an employee handbook sample, as well as education and resources about all things HR. Prices start at $209 per year with discounts for students. View SHRM's website.
10 Sections Every Employee Handbook Should Include
In our employee handbook sample, we put in ten sections that we view as critical to any company handbook. They cover the company culture information as well as legal documents like nondisclosure agreements and policy statements to protect you and your employees.
Here's the list of ten sections we think should be included in any employee handbook:
1. Introduction to Company & Values: Your company's mission statement, why and how you were founded, and some insight into your culture can go here.
2. Confidentiality & Nondisclosure (or Noncompete): A nondisclosure agreement focuses on confidentiality, and a noncompete prevents terminated employees from taking your clients or starting a competing business.
3. Anti-discrimination Policy: This keeps you compliant with federal law. Some states extend protections to pregnant moms and individuals who identify as another gender.
4. Employment at Will: This is where you'll mention at-will employment, which means either the employer or employee are free to terminate the employment relationship.
5. Compensation & Benefits: Everyone wants to know how they are paid and what benefits they will receive. Include your pay schedule and payday along with any other perks you offer, like flextime or commuter benefits.
6. General Employment Information: This makes clear the probationary period (if your business has one) and what steps should be taken when an employee wants to quit.
7. Computers & Technology Policy: Spell out your employer rights to view electronic documents; suggest employees keep passwords secure. Clarify your cell phone policy.
8. Leave Policies: Let employees know what your paid time off, sick leave, parental leave, and other leave policies are and what they can be used for, as well as jury duty and holidays (this will save you loads of time answering questions).
9. Progressive Discipline Policy: For the business owner, this is a good section to lay out steps for discipline and demonstrate your commitment to fairness. It should also make prohibited behaviors clear and reduce the risk of an employee winning a lawsuit for wrongful termination. In it, make sure to include a reminder that at-will employment remains in effect, regardless of the discipline policy.
10. Signature: The signature section verifies that the employee received a copy of the handbook, read it, and understood it. That makes the employee take it more seriously and may help as a defense in case of a wrongful termination lawsuit.
The sections above provide the backbone of a good handbook that can protect a business owner in hiring and firing decisions, as well as covers things like at-will employment, computer use, and confidentiality.
Below are some optional items you may want to include depending on your culture, employee demographics, business model, and location.
Additional (Optional) Employee Handbook Sections
| Potential Section | Why You Might Need It |
| --- | --- |
| Health Insurance | List any medical benefits provided and how much you will contribute toward employee premiums. |
| Time & Attendance | Document your business' work hours, shifts, and policies on timekeeping or tardiness. |
| Break & Lunch Times | Consider offering 10- to 15-minute paid breaks and an unpaid lunch break. |
| Employment Classification | Clarify employment types, full- or part-time, exempt/non-exempt contractor, etc. |
| Expense Reimbursement | Spell out your policy for reimbursement of travel, events, tools, or approved purchases. |
| Travel Guidelines | For teams that travel, outline policies like booking flights, hotels, and tracking mileage. |
| Safety & Security | Include information about keys, badges, exits and who to contact if the alarm goes off. |
| Working Remote | Clarify what you expect of employees working remotely, such as frequency of communication. |
| Ergonomic Guidelines | Provide remote or office workers with guidelines to prevent back pain or eye strain. |
| Dress Code | Add for newer employees, professional services, or if clients visit your the office. |
| Alcohol Use Policy | Outline what is appropriate and what isn't for work and client events. |
| Weapons Policy | Prohibit employees from bringing guns or weapons to the workplace. |
| Marijuana & Drug Use Policy | Prevent workplace abuse of substances that can impair a worker's performance. |
| Employee Assistance | If you offer an EAP, provide contact instructions and explain how it works. |
BONUS: Employee Document Storage Solutions
Once you have your employee handbook, you'll need an easy way to share it with your staff and keep it up to date. Fortunately, most payroll and HR software let your employees sign and access new hire documents online for paperless, secure, and efficient onboarding. Use the comparison tool below to see which our reviewed software fit your business size and budget.
Pros & Cons of Customizing Your Employee Handbook
You may have discerned some the benefits of an employee handbook by reviewing our employee handbook sample. It clarifies expectations and reduces conflict by having your business policies in writing. But, it's something that you must take care to maintain.
Pros of Customizing Your Employee Handbook
Here are the benefits of customizing your employee handbook with relevant business policies:
Reduces bad behavior: Your handbook eliminates an employee's excuses for not knowing the rules; the rules are clear, printed in plain ink, and they've signed the document.
Makes firing easier: Including a statement of at-will employment protects you in case of an involuntary termination that results in a wrongful termination lawsuit.
Improves dialog: Managers and employees are on the same page and can address issues as they come up, like employee jury duty or a family member illness.
Supports your employment brand: Clarifies your values and sets the stage for your work culture.
Protects your business: Details like a nondisclosure agreement (NDA) or noncompete provide additional protections.
Cons of Customizing Your Employee Handbook
There are some downsides to customizing an employee handbook:
It must be maintained: An outdated employee handbook may be worse than not having one. As labor laws or your work practices change, you need to keep it updated.
It must be understood: If your handbook is in English and your workers speak Spanish or don't understand what it says (or means), it will be difficult to enforce.
It must be retained: As a policy document, it's important to retain versions of your employee handbook for three to five years in case of a workplace audit.
Mistakes are costly: Including inappropriate information, such as being too specific about termination reasons, may backfire in case of a wrongful termination lawsuit.
Your behavior sets an example: You and your managers need to uphold the policies within the handbook, and that means playing by the rules you set.
Mike Hicks, CMO & Strategy, Igloo Software, added:
"The most confusing part of an employee handbook tends to be the navigation of the handbook itself, or even finding it. Your employee handbook should be an integral part of your employees' digital workplace—the digital destination they go to each morning when they start their day—and easily accessible through intuitive navigation.

"It shouldn't be a static document that gets saved in an email folder on an employee's desktop. In addition to providing company overviews, company vision, values, policies, and expectations of employees, incorporate helpful quizzes, on-demand training, professional development resources, employee rewards programs, and more to develop a better employee experience."
Alternatives & Additions to an Employee Handbook
While most businesses benefit by providing an employee handbook to their staff, it's not for all businesses; for example, if you solely hire independent contract workers, a contract may suffice. Other alternatives and additions include documenting some (or all) of the information in individual employment agreements or even keeping some company policies as separate documents.
Here are three examples that may suffice in lieu of an employee handbook:
Employment Contract
An employment contract is typically used in a professional setting, such as when hiring a senior manager, lawyer, medical professional, or other highly-educated or salaried executive staff member.
Independent Contractor Agreement
When you hire an outsourced consultant, freelancer, or other independent contract workers, it may be best to use an agreement to specify the work being done, rather than the company expectations and perks. That's especially true if the freelancer works offsite. However, if the contract worker is working side-by-side with your existing staff, you may want them to abide by both documents.
Individual Policies
Rather than create an employee handbook, some businesses prefer to document, provide, and have each policy signed separately. That way, they're able to update each policy as the need arises, such as when anti-discrimination laws change. However, unless you're using online document storage and e-signature, the challenge is keeping track of who has read and agreed to which policies as you add staff.
Whether you prefer to manage policies or agreements separately, rather than in one employee handbook document, it's often helpful to use a software provider that offers document storage. For example, Zenefits can keep track of each individual document and track who has e-signed it in an electronic document library.
4 Considerations When Creating Your Employee Handbook
In order to determine what sections to include in your employee handbook, think about the following four factors:
1. Requirements in States That Your Employees Work
Consider your work locations when choosing sections you need to include in your employee handbook. Some examples of location-specific requirements are:
Does your city or state require sick leave? New York does, so does California.
Is marijuana legal in your state? It's legal in states like Alaska, Oregon, Maine, and Colorado, and more states are legalizing recreational cannabis use every year.
Is it legal to carry a firearm in your state? Arizona, Vermont, and Kansas allow unrestricted rights and more states are adding gun laws annually.
Are their specific break and lunch requirements in your state? As an example, California requires two lunch breaks for employees who work 10-hour shifts.
2. Size of Your Business
You'll want to consider the number of employees you have when thinking about what sections to include. Here are a few examples of federal labor laws based on company size:
Adding to this, many state and local laws have workplace requirements that kick in based on company size. For example, if you have 20 employees in Seattle, Washington, you have to provide commuter benefits. In California, pregnancy benefits must be provided for employees in businesses with as few as five employees.
3. Employee Demographics
You'll want to consider the demographic makeup of your employees (e.g., age, gender, tenure with the company) when thinking about what sections you need to include. Some examples are:
Part time-employees: You may need to clarify how break, lunch, and paid time off policies apply to them.
1099 contract employees: You will want to be clear on what parts of the handbook, such as medical benefits, don't apply to them.
Younger employees: You may prefer to be very specific with rules about cell phones on the job, dating co-workers, or what's considered appropriate work apparel.
Employees over 40: You may want to describe retirement benefits available to them.
Employees with families: You may want to offer flex scheduling options.
Remote workers: You may want to clarify how they are to stay in touch.
These considerations may also affect you if your business has hourly workers for whom you need to provide overtime as part of payroll, or if you need to have policies based around alcohol at social events. A lot of things can come into play when you look at the demographics of your team.
4. Company Culture
You'll want to consider your company culture when thinking about what sections to include. In addition, consider revising the wording to create the kind of workplace vibe you want to create within your document: Some examples are:
Do you really need a dress code? Or, do you trust employees to choose their own work apparel?
Do you entertain clients? Do people regularly meet them for dinner or drinks?
Do you encourage social media sharing? Do you want to encourage or discourage social media posts about company happenings?
Do work schedules matter? Does your business operate based on work performance or hours worked physically at the job site?
Do you offer incentives? Does your business provide unique bonuses, such as paying employees for customer or employee referrals or offering safety incentives?
Once you have decided what sections you need for your handbook, use our free employee handbook sample and add on where necessary.
Launch Your Employee Handbook
It's best to hold a company-wide face-to-face (or video conference) meeting to launch your employee manual. An hour should be plenty of time for this training, and having snacks at the meeting can make the policy review a little more palatable.
Explain why you're implementing a new employee handbook, answer questions about it, and distribute it. You will also want to collect signature pages within 48 hours of this meeting and document them in personnel files either electronically using HR software like Zenefits, or by keeping a checklist with names.
Some companies only have an acknowledgment form and leave it up to the employees to read the handbook. However, it is our best practice recommendation to host an actual meeting with employees, especially if you run a business like a restaurant, hair salon, or a real estate agency with part-time or off-site workers.
That's because your handbook may provide details that differ from what is happening in the office, and you'll need to be crystal clear that policies have changed. Conducting a meeting is a better way to help employees understand, ask questions, and take the changes seriously.
Hicks confirmed that communication is critical, saying,
"The new employee handbook should be communicated to staff as well as expectations for how they should be leveraging this resource. Also, consider tracking acknowledgment of understanding, as this can be critical when dealing with policy violations. Doing this reduces the ability of employees to claim ignorance as an excuse for their behavior. A digital workplace can help with all of this, as well as automatically provide updates to employees whenever there are notable updates to the handbook."
Maintain Your Employee Handbook
One of the most important aspects of having an employee handbook is keeping it up to date. You need the handbook to remain current with federal, state, and local laws. For example, paid sick leave laws have been added in many states, and in some cities like San Francisco and New York. If you do business in those locations, you'll want to add a section explaining how that works.
Here are four steps to follow when updating your employee handbook:
Step 1. Review Your Employee Handbook Annually
At least once a year, read your entire employee handbook to ensure your policies are in alignment with your company's norms and values—and with updated state, local, and federal laws.
If you find that you need to update something, continue with steps two through four.
Step 2. Write Up Changes or Additional Policies
Make the change in the handbook with clear, concise language. It's not a bad idea to add an example. Then review any changes with managers to ensure they understand, are able to answer questions, and can explain the new policies to employees. Be sure to keep at least one copy on file of prior handbooks (for up to five years) in case you need to refer back to them.
Step 3. Communicate Any Policy Changes
For a large change, such as a change in compensation or leave policy, you will again want to hold a company-wide meeting. You will want to explain the policy, answer questions, and provide the most up-to-date version. If it's a very controversial policy, you may even have your employees sign and date that they received and understand the update. Keep a copy of that signed document in your electronic or paper files. If the changes are minor, managers can schedule smaller meetings to review what's new with their team members.
Step 4. Provide a Copy
For a small change or something that is more informal or already done (e.g., the texting example above) and just needed to be written down, you can send an email announcement to the entire team announcing the policy change. Regardless, provide a link to the latest handbook so employees can refer to it themselves.
Enforce Your Employee Handbook
If you are implementing your first employee handbook or updating policies amid some chaos (which might be why you are doing it), be prepared to answer questions and address resistance. However, as long as your new policies are reasonable (e.g., receiving expense reimbursements on time, or getting break time under control), your employees will adapt—as long as managers support your workplace rules.
Here are ways to get your managers to support your employee handbook:
Provide Manager Training
Train your supervisors on the handbook and allow them to ask questions. Once everyone has understood the new policies, draw a hard line as a business owner. Be firm that this handbook applies to everyone, period.
Hold Managers Accountable
Your managers need to lead by example and follow the rules set out in the handbook in order for the rest of the staff to take them seriously. For example, if you own a cafe, and your manager is always late, but everyone else is now subject to a progressive discipline policy for being tardy per the new handbook, you might have some morale issues.
Frequently Asked Questions (FAQs) About Employee Handbooks
Employee handbooks can serve as both a communication tool and coaching in case employees claim they don't know about a policy or procedure. Some common questions about employee handbooks have been answered below.
Are employers required to provide an employee handbook?
No. There's no law that states a business must provide an employee handbook to its workers. It's a best practice and is the easiest way to document federal and state mandated workforce policies. For example, you must document your business work hours, payroll cycle, and pay date. If you offer benefits, those must be documented. Why not put all these documents in one place?
Do I need a lawyer to review my employee handbook?
Once you've finalized your employee handbook based on a template, then yes, consider having your attorney look it over to ensure there are no issues before you implement it. This is especially true if have businesses in multiple states where state and local workforce and anti-discrimination laws may come into play.
Can an employee handbook be changed?
Yes, an employee handbook can be changed. It's a living document that represents your business policies. Anytime you change an employee benefit, company policy, or business practice, you should update your handbook to keep employees in the loop.
Are employee handbooks legally binding?
An employee handbook isn't meant to be a legally binding document in the sense that it's not written in legalese. Instead, it's meant to explain many legal concepts, like overtime and sick leave, in easy-to-understand language. It may contain legally binding documents, such as a nondisclosure agreement signed by employees.
However, if you have a dispute with an employee about a workplace policy or practice, especially if it's not one mandated by law, a judge will likely want to see what your employee handbook says. That's to ensure you're not discriminating against an individual or failing to comply with your own written guidelines. Whenever the policy isn't clear, the judge is very likely to side with the employee, not the employer.
What is the best way to introduce an employee handbook to my team members?
To roll out the handbook, you can do something fun, like bring in bagels and juice for a breakfast meeting to explain the policies or play handbook trivia. What's important is to have everyone sign that they've received the handbook. The week after the handbook is implemented, consider a Q&A session over lunch with pizza provided. A few weeks after, you may want to thank employees for their cooperation with the new policies by hosting an afternoon ice cream social.
How often should the employee handbook be updated?
At a minimum, you'll want to review your handbook annually to ensure the information in it is up to date. That's because work practices and labor laws change frequently. For example, perhaps your managers have informally agreed that employees can text in if they are sick. If your handbook currently says texting is unacceptable (like in our template), you will want to change your handbook.
What should I do if managers won't abide by the employee handbook?
One of a manager's core responsibilities is to support and enforce company policies. If you have a manager who won't demonstrate compliance, you'll need to treat that behavior like you would any other disciplinary issue. Employees will follow the manager's lead.
How can I address resistance to new policies in the employee handbook?
Some employees need time to understand and digest new policies. That doesn't mean they're resistant, but rather they need to understand the why and how. Allow managers and employees to voice their concerns. Answer their questions. If necessary, adapt your policies based on feedback from the users it impacts most—your staff. However, once you've determined the policy is valid, you'll need to enforce it consistent with how you enforce any expected workplace practice.
What is the risk if management doesn't abide by the employee handbook?
If you and your leadership team don't abide by the policies in the employee handbook, you'll be undermining your own rules and running the risk of them not being taken seriously. In a worst-case scenario, you may be accused of discrimination. Therefore, notice whether there has been favoritism or criticism going on that feels unwarranted.
Make an effort to rectify this as soon as possible. For example, if Jenny always gets to work from home on Friday, you may need to offer that perk to other office staff. Or if you, as the manager, often cross the line with inappropriate jokes, your employees may think that's acceptable too. They'll mimic your behavior rather than follow the handbook, potentially creating disciplinary havoc or even potential legal issues at work.
What's the difference between an employee handbook vs employment contract?
An employee handbook is not a legal agreement, whereas employment contracts are legal and valid signed documents that can be upheld in court. They look very different than an employee handbook. Nonetheless, if an employee handbook isn't written properly, you may be creating an implied contract that violates the at-will doctrine.
Here are three ways an employee handbook differs from an employment contract:
Audience: An employee handbook goes to everyone and supports a group work environment. In contrast, an employment contract is a one-off agreement made with one person only, such as an executive.
Language: An employee handbook is meant to be comprehensible by all employees. It's not written in a lawyerly language. An employment contract often contains legal jargon and official terminology.
Topics: An employee handbook covers a range of topics from discipline to how to call in sick. An employment contract tends to cover higher level performance issues like confidentiality, severance pay upon termination, and penalties for non-performance.
Bottom Line
Employee handbooks are useful to have since they not only protect the business owner, but they also provide a good baseline for employees to understand your company culture, what's expected of them, and how things work at your firm. Having a good handbook can save you time, money, and headaches in answering employees' questions. A well-written handbook can also serve as a defense in case of a wrongful termination lawsuit.
Remember that you can avoid costly compliance issues by creating your employee handbook with a qualified legal or HR professional. Bambee's certified HR specialists can create policies and documents for your business that are fully compliant with all state, federal, and local labor laws.