Employee Handbook: Sections to Include [+Free Sample]
This article is part of a larger series on Hiring.
An employee handbook is a document that covers the rules and conduct expected of a business employee. It also serves as a reference for employees to learn about key policies like benefits, dress code, and work schedules. For business owners, maintaining an up-to-date employee handbook ensures employees have access to the same information regardless of their manager or department. Likewise, a comprehensive handbook can help supervisors manage employees more consistently.
Drafting an employee handbook may seem intimidating at first, but a template can simplify the process and ensure you include all of the necessary sections. You can also use a dedicated employee handbook builder or work with your current HR system to draft a handbook that fits your needs.
Download a Sample Handbook to Get Started
Free Employee Handbook Sample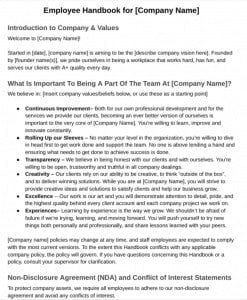 Our free downloadable employee handbook sample was created by one of our in-house HR experts and covers policies all businesses should consider including in their own handbook. We picked these sections because they're valid for small business owners in all 50 US states.
Free Employee Handbook Template (PDF/Word/Google Doc)
Keep in mind, however, that the sample doesn't cover all of your business's unique policies. What's more, it may not be in-depth enough to meet certain state requirements like for mandated sick leave or Equal Employment Opportunity (EEO) protected classes (e.g., sexual orientation or identity). Before you finalize your handbook, check local laws—like those governing sexual harassment or commuter benefits—to make sure that your handbook is complete.
Sections to Include in Your Employee Handbook
There are several sections that business owners should include in their employee handbooks. For example, make sure the handbook addresses corporate culture and important legal documents—like nondisclosure agreements and policies—that will protect you and your employees.
When drafting an employee handbook, consider including these sections:
Introduction to Company and Values: Use the beginning of the employee handbook to share your company's mission statement, why and how you were founded, and insight into the company's workplace culture.
Nondisclosure and Noncompete Agreements: A nondisclosure agreement (NDA)—or confidentiality agreement—protects a business's proprietary information by limiting the information an employee can share with others. A non-compete prevents terminated employees from taking your business's clients or starting a competing business.
Anti-Discrimination Policy: This portion of an employee handbook helps you comply with federal labor laws that aim to prevent discrimination in the workplace. Use a portion of your company's employee handbook to outline relevant federal anti-discrimination policies, as well as any additional requirements imposed by state law.
Employment at Will: Use your company's employee handbook to detail the concept of at-will employment. If your company hires at-will employees, you or the employee is free to terminate the employment relationship at any time and for any reason.
Compensation and Benefits: An employee handbook is also a convenient place to detail how the company pays employees, how frequently, and on what day(s) of the month. The document is also an excellent place to detail additional perks like flextime, commuter benefits, and health insurance.
General Employment Information: This section should clearly define a company's probationary period (where applicable) and the steps that should be taken if an employee wants to quit.
Computers and Technology Policy: Use your employee handbook to spell out your rights as an employer to view electronic documents and otherwise access company electronics like computers. This is also a good place to establish a policy for updating passwords, provide tips for keeping passwords secure, and clarify your cellphone policy.
Leave Policies: Let employees know what your paid time off, sick leave, parental leave, and other leave policies are and when they apply. This is also a good place to list company holidays and define the jury duty policy.
Progressive Discipline Policy: For the business owner, this is a good section to define steps that will be taken under the company's progressive discipline policy. It should also clearly identify prohibited behaviors and include a reminder that at-will employment remains in effect, regardless of the discipline policy.
Signature: The signature section of an employee handbook verifies that the employee received a copy of the document, read it, and understood it. This step makes the employee take it more seriously and may help as a defense in case of a wrongful termination lawsuit. Services like LegalZoom can help you draft an employee handbook acknowledgment form.
Depending on the nature of your business, it may also make sense to include some or all of the following sections:
Attendance policies
Expense reimbursement procedures
Alcohol, weapons, and drug policies
Dress code
Remote work guidelines
What to Consider When Creating an Employee Handbook
Keep your company's employee handbook relevant by including content that's tailored to your business's size, location, culture, and types of employees. Consider these factors when choosing what to include in your employee handbook:
State Requirements in All Work Locations
Consider your work locations when choosing sections to include in your employee handbook, and be sure to include relevant provisions for every state in which you have employees. Some examples of location-specific requirements are:
Sick leave requirements: If your city or state requires employers to provide employees a minimum amount of sick leave, include that information in your company's employee handbook. For example, California requires employers to provide employees at least one hour of paid sick leave for every 30 hours worked.
Legality of marijuana use: In states where marijuana is legal—such as Alaska, Oregon, Maine, and Colorado—outline your company's policy on its use by employees.
Gun laws: If your state allows the open or concealed carry of firearms or other weapons, consider using your business's employee handbook to detail when (if ever) an employee may carry a firearm in the course of employment. For example, Arizona, Vermont, and Kansas allow the open carry of firearms without a permit, and more states are adding gun laws annually.
Break and lunch requirements: Neither the Department of Labor (DOL) nor the Fair Labor Standards Act (FLSA) imposes specific break and lunch requirements. However, some states enforce their own break time laws. As an example, California requires two 30-minute meal breaks for employees who work more than 10 hours a day.
Business Size
When deciding which sections to include in your employee handbook, also consider the number of people your business employs. For example, if you have 50 employees or more, you must abide by the Family Medical Leave Act (FMLA), and you will need to provide health insurance, per the Affordable Care Act (ACA). Companies with 15 employees or more must abide by the Pregnancy Discrimination Act, and, depending on the size of your company and its location, you may need a maternity leave policy.
Many state and local laws also impose workplace requirements on businesses above a certain size. For example, employers with 20 or more employees in Seattle, Washington, must provide commuter benefits. In California, pregnancy benefits must be provided for employees in businesses with as few as five employees.
Types of Employees
Also take time to evaluate the types of workers your business employs when deciding what to include in the employee handbook. Relevant considerations include whether your business has:
Hourly employees: If you employ hourly or part-time workers, you may need to clarify how break, lunch, and paid time off policies apply to them. Likewise, use the employee handbook to describe how the company compensates for overtime.
1099 independent contractors: Clearly state which policies and parts of the handbook, such as medical benefits, don't apply to contractors.
Remote workers: Now more than ever, it's necessary to include details about remote employment in your employee handbook. Consider clarifying whether remote employers are entitled to any additional benefits and whether they're required to work specific hours.
Company Culture
Company culture is an expression of a business's personality and atmosphere. Use the employee handbook as an opportunity to describe the leadership style, mission, values, and other elements of the company's identity. When incorporating your corporate culture into the handbook, start by asking these questions:
Do you really need a dress code? Or, do you trust employees to choose their own work apparel?
Do you entertain clients? Do employees regularly meet them for dinner or drinks?
Do you encourage social media sharing? Do you want to encourage or discourage social media posts about company business and events?
Do work schedules matter? Does your business operate based on work performance or hours worked physically at the job site?
Do you offer incentives? Does your business provide unique bonuses like safety incentives or payouts for customer or employee referrals?
Once you decide what sections to include in your handbook, start with our free employee handbook sample and add to it as necessary.
Employee Handbook Costs
Creating an employee handbook for your company may involve working with in-house HR professionals, a consultant, or an attorney specializing in employment. There are also annual costs associated with the maintenance of an employee handbook, but they are worth it because your employees will have access to the most up-to-date resources. You may encounter these common costs and services when drafting an employee handbook:
Outsourced HR services: If you don't have an in-house HR team, HR firms and attorneys can create a customized employee handbook. By hiring a third-party who specializes in human resources and employee communications, you can protect yourself from problems that can result from a vague, incomplete, or misleading employee handbook. Depending on your needs and location, you could pay up to $5,000 for this service.
Legal review: Employee handbooks that are written by business owners or HR professionals may benefit from legal review. This type of review can ensure compliance with relevant employment law and protect business owners in case of an employee lawsuit. However, an attorney may charge hundreds of dollars an hour—especially in a large market. If you don't want to hire an attorney, companies like LegalZoom offer packages that make it easy to create a handbook by answering a few simple questions. The Business Advisory Plan starts at $31.25 per month, and LegalZoom's specialists can also review documents for compliance.
Maintenance: In addition to drafting an employee handbook, commit time every year to updating the document to reflect current policies and legal requirements. Then, have your lawyer review the updated version, and schedule employee training to make sure everyone is on the same page. Again, if you don't want to incur legal fees, consider a monthly membership like the one available through LegalZoom.
Where to Get an Employee Handbook
Before you start developing an employee handbook from scratch, consider that you may already be working with a provider that can offer you an employee handbook sample, like our template above.
HR Software
Many human resource information system (HRIS) software vendors include a sample employee handbook in their offerings. For example, Zenefits users get access to an employee handbook sample template that its team can help you customize. If you don't already use HR software, consider viewing a free demo of Zenefits.
Payroll Service
To support their customers' HR needs, many payroll services offer an employee handbook sample as an add-on service. However, not all services offer HR features, so check with your payroll service provider to see if handbook templates are available—or find out if employee handbook assistance is included with a service before you sign up.
Professional Employer Organization
A professional employer organization (PEO) is an outsourced HR service that partners with businesses to manage the back end of HR necessities like payroll, benefits, and resources—including employee handbooks. While significantly more costly than HR software or a payroll service, a PEO is a nice option for business owners who find employee and HR compliance stressful. Its team will not only help you put the handbook together but advise you on legal matters regarding policies as well.
Justworks is one of the more affordable PEOs, with prices ranging from $39 to $99 per employee, per month, depending on the size of your business. Request a free Justworks demo to get started.
HR Consultant
A human resources consultant or outsourced HR service can help you write or refine your handbook policies and review the final draft. HR consulting firms may charge anywhere from $95 to $200 per hour, with an average cost of about $142 per hour. Some consultants also offer flat-rate services like building an employee handbook for a few thousand dollars. That said, you can often find freelancers with HR expertise to help with your employee handbook at a lower price.
Employee Handbook Builders
Alternatively, if you prefer not to work with an HR or payroll provider, consider a dedicated employee handbook-building tool.
If you're in an HR department of one, it may be helpful to sign up for a membership to SHRM. As the industry leader in HR best practices, SHRM provides free downloadable HR policies, templates, and tools. You can also purchase the SHRM Employee Handbook Builder for $350 to create a custom handbook for every state where you have employees.
AirMason is an employee handbook creation, maintenance, and management tool that includes the ability to customize multiple handbooks that can be accessed on any computer or mobile device. Pricing starts at $62.42 per month (when billed annually) for the Startup plan, which covers businesses with between one and 99 employees. The Small Business plan costs $83.25 per month and is suitable for businesses with 100 to 199 employees. Custom pricing is available for larger companies. Try AirMason's free seven-day trial or book a demo to see if the tool is a good fit for your business.
Handbooks lets small business owners create a detailed employee handbook that includes current and HR-approved language. The tool can be used in all 50 states and can be saved and edited as a Word Document. Users can choose from the free version, which includes a basic handbook with 16 pages of the most essential policies, or the comprehensive version for $19.95. With the more advanced package, users get access to 28 pages of policies, guidelines, and standards—as well as an extra handbook for independent contractors.
Bottom Line
Employee handbooks are an important way to protect business owners while helping employees understand company culture, job expectations, and current policies. Having a good handbook can save you time, money, and headaches in answering employees' questions. What's more, a well-written handbook can serve as a defense in case of a wrongful termination lawsuit.
You May Also Like …