Late rent occurs when tenants cannot afford the payment or simply forget to send their payment. A past-due or late rent notice is an excellent approach to remind your tenants of owed rent and inspire future on-time payments. Your letter needs to be assertive, yet professional, and follow state laws and requirements for compliance. Keeping a late rent notice template handy will guarantee landlords are prepared to minimize profit loss for their properties.
Use our late rent notice template below to create the document you need and avoid making mistakes that could result in further past-due rent. Simply click the button below to open the template on Canva, and make a copy to edit and personalize for your tenants.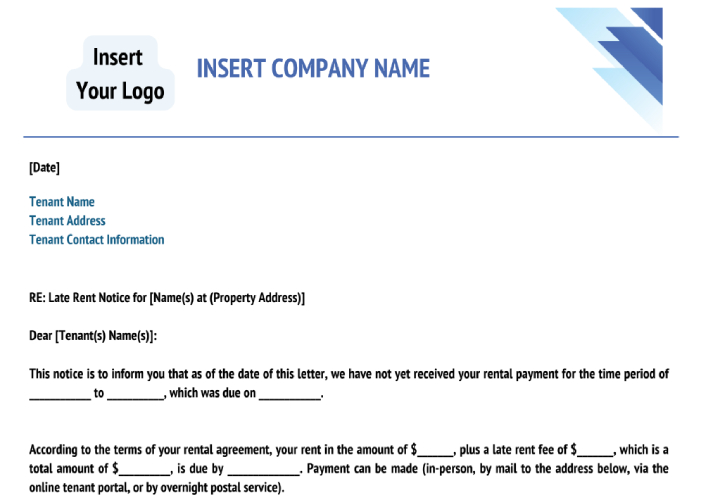 What Is a Late Notice for Rent & Why You Should Use It
A late rent notice, also known as a notice for late rent payment, is a formal way of telling a renter that they have failed to pay their monthly rent. It serves as a warning to the tenant but does not serve as an eviction notice or mark the start of eviction proceedings automatically.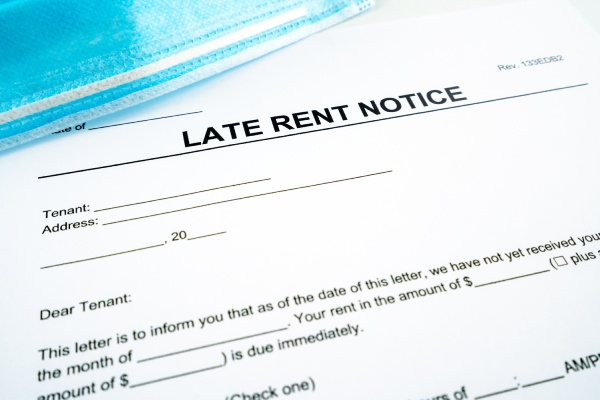 A notice for late rent payment also informs your renter that their nonpayment has become an issue and that action is required or the situation will worsen. Following the delivery of a late rent notice, the past-due rent should be paid immediately. You may even be able to charge your tenant a late fee for missed rent, depending on where your property is located.
In the absence of a past-due rent notice, the landlord may face the following avoidable consequences:
Monetary loss for hiring lawyers to begin the eviction procedure and to pay court costs to file an eviction lawsuit.
Time lost to pursue a tardy tenant and to investigate how to evict a tenant.
Anguish in letting someone dwell for free on your property and perpetually collecting money due.
What to Include in a Late Rent Notice
In general, a late rent notice should include the following information:
Tenant's full name, address of the rental property, and contact information
Landlord's full name and contact information
Notice's issue date
Lease-specified due date for rent
Current unpaid balance (including any late penalties)
Mode of payment
Consequences of not paying
Your signature
Here's a more detailed look at where the information fits within the letter:
When & How to Send a Late Rent Notice
Rental laws differ by state and city. Some states, for example, have five-day legal grace periods, while others have caps on late fee amounts. More importantly, certain states have particular rules on how landlords must deliver a late rent notice. Several states require landlords to deliver the notice via certified mail or in person, whereas others allow landlords to send the notice via email.
So, when is it appropriate to use a late rent notice? Send out a late rent notice to your tenants if they fail to pay their rent five to seven days after the due date, if you're considering eviction, and when your tenant does not attempt to pay the rent. If your tenant has no intention of paying back unpaid rent, you must take action.
As for the details on how to deliver a late rent notice, it should be in the lease agreement. You can deliver your late rent notice in several ways, including via in-person, overnight postal service, or with certified or registered mail. But remember to review your agreement and state laws to determine the best way to send the notice to your tenant.
Days to Pay Rent or Quit by State
You can initiate eviction proceedings if your renter does not comply with your notice. Each state has different rules about how much time you must provide a tenant for them to pay what they owe. If the tenants do not pay the past-due rent within that time frame, you have the right to evict them. Keep in mind that most time frames exclude Saturdays, Sundays, and holidays.
View your state in the list below to see the timeline of days to pay rent, and click on your state to read the specific laws and statutes:
3 Days

5 Days

7 Days

9 Days

10 Days

14 Days

None
The Best Way to Collect Rent & Avoid Late Rent Payments
To minimize the likelihood of late rent payments, streamline the rent collection process and use online rent payment services such as Baselane. Tenants can use Baselane to make one-time or recurring rent payments via bank transfer, debit card, or credit card, and easily set up in auto-pay. Baselane also sends tenants automated payment reminders, which helps avoid late rent payments.
Furthermore, the automated bookkeeping and reporting system at Baselane saves time and reduces entry errors. Track your cash flow and obtain insights into your expenses and property performance all in one location. Baselane makes it simple to generate monthly reports, automate tracking of revenue and expenses, and access cash flow data for each property and portfolio.
Bottom Line
If you've been struggling to notify your renters about their missed or late payments, you should have a late rent notice template readily prepared. Always include sufficient information to make your letter clear and compelling, but do not consider the past-due rent notice template a substitute for a formal eviction notice. Creating a highly effective and well-crafted late rent notice template will make it much more likely you obtain the desired tenant compliance.