How to Screen Tenants for a Rental Property in 6 Steps (+ Screening Questions & Income Calculator)
When screening tenants, landlords start by determining the tenant criteria and creating a rental application form. They also run some credit and background checks, verify income of potential renters, and investigate prior residence history. While it may seem like detailed work in the beginning, using the right screening process will ensure landlords protect their investments and increase their profitability. A strong tenant screening process will lead to a more profitable rental property and better tenant relationships.
While you can opt to screen tenants on your own, using a tenant screening software solution like MyRental makes it simple and efficient. It offers a full range of financial and background checks and generates a SafeRent score, which accurately predicts a good future tenant. Applications are free, so you can try MyRental today. In addition, Fit Small Business readers earn 20% on landing pages—no promo code needed.
1. Prescreen Tenants Using a Rental Application
The first step to screening potential tenants is strategically creating a rental application form. The application should be clear about the rules and expectations for all of your tenants. If you don't accept tenants with felony backgrounds, mention that you will run a criminal background check during the application process. If you don't allow pets or smoking, ask if they have pets and whether they smoke to determine if you'll move their application forward to the next stage.
Inform potential tenants about each step of your screening process as some may bow out before submitting an application. By letting tenants know what they can expect from the get-go, you'll save time and energy weeding through unfit applicants.
Here are important questions to include on your rental application:
Basic contact information (name, current address, phone number, date of birth)
Social Security number
Driver's license number
Current employer and monthly income
Additional income sources
Current address and reason for leaving
Family information
Pet information
Smoking information
Criminal background
References
Disclosure and signature of applicant (states that the tenant is giving you permission to run their credit, a background check, and contact employers and landlords for references; it should also mention that you abide by the Fair Credit Reporting Act and the Fair Housing Act)
If multiple people are applying to live in your rental, make sure all residents complete an application. Similarly, if the applicants have a cosigner, make sure to clearly state that the cosigner also needs to complete an application. If any criteria on the application are left blank, return it to the applicant immediately to complete it in full. Get even more details on creating an application and download free templates to use for your tenants—visit our article Rental Application Form.
Pro tip: Looking into an applicant's social media accounts is an insightful addition to the tenant screening process. Do a simple Google search of the candidate's first and last name and click through a few of the top results. If the candidate has uncouth public behavior on their Facebook or Instagram account, you may consider it a red flag. LinkedIn is also a valuable resource for verifying the information in their employment history.
2. Run a Credit Report & Background Check
When you're learning how to screen for good tenants, credit reports and criminal background checks are key. These are the most reliable methods of catching potential problems before they arise. Credit reports should come from one of the top three credit reporting agencies―TransUnion, Experian, or Equifax―or in the form of a FICO (Fair Isaac Corporation) or similar score. Ideally, your credit reporting will include data from all three services.
Other items that landlords should pay attention to on credit reports include:
Debt-to-income (DTI) ratio: This will indicate whether the potential tenant can afford all of their expenses in addition to the rent you will be charging them.
Number of credit cards and types of cards: Experian reported in 2021 that the average American has 3.84 credit cards. If you see that a potential tenant has opened an excessive number of credit cards, especially those for leisure like retail clothing stores, it may be a red flag that they are overspending.
On-time or delinquent payments: A credit report can tell if a prospective tenant has a history of paying their bills on time, which will indicate if they will pay their rent on time. Notice if there are any delinquent payments, how much they are for, and how long they've been delinquent in making a judgment.
Credit maturity: While at first glance, some individuals may seem like they have little to no credit, it's important to look at the maturity of their credit history. If someone is younger and just building credit, their score will be lower. This should signal to landlords that a cosigner could be necessary.
Student loan debt: Today, many people have outstanding student loan debt that will appear on their credit report and affect their DTI ratio. While this does show debt, many landlords do not weigh this as heavily as debt from credit cards because it is paid over years. Check how much they are paying per month for a more accurate picture.
Overall score: Most landlords look for at least a 700 credit score because it shows that the individual has a sound credit history and should be reliable with payments.
In addition to pulling credit reports, you need to know how to screen a tenant's background. Check both state and federal criminal records to determine if the prospective tenant has a criminal history. Sex offender registries and terrorist watchlists are typically included in criminal background checks and are important to consider.
When performing a criminal background check, make sure you double-check your reports. You don't want to deny a tenant for an incorrect report or data error. Check that their names and previous addresses are spelled correctly.
While landlords can perform all these reports by themselves, you should consider using a tenant screening service like Avail to make it easier. As part of the Realtor.com network, Avail is well-versed in helping landlords expedite their screening process and find qualified tenants to fill their properties. Tenants complete their applications online, triggering an automatic credit report and background check that includes federal and state reports. Avail will also provide credit insights to help you make an informed decision.
3. Verify Income & Employment
Another particularly important part of screening rental applicants is verifying their income and employment, determining whether the applicant can afford the rent, and if their job is stable. A common income guideline is the three-times rule. If the applicant's gross monthly income is three times the rent, they can likely afford the property without too much stress.
For example, if you're renting your apartment for $1,500 per month, multiply this number by three to get the amount of money that a tenant must make monthly in order to qualify for your rental, which would be $4,500. To see if your tenants qualify at $4,500, take their gross yearly income and divide it by 12 months to find the gross monthly income.
If their yearly income is $60,000 per year, divide that number by 12 months to get $5,000. Therefore, they qualify financially for the apartment. However, if they made $50,000 a year—that's $4,167 gross per month—they would not qualify. Use this calculator to see if your tenants qualify:
Did you know? Even though the three-times rule is common in many areas, you can decide to increase or decrease this multiple for your tenants. For example, in New York City, tenants are required to make 40 times the rent to qualify for an apartment. So, if you want to rent a $2,000 apartment, you must make $80,000 per year.
There are a few different ways for landlords to verify their proof of income, like pay stubs, tax returns, or bank statements. When possible, contact their current employer to verify their employment status and take any notes on their job performance and history. As you learn how to screen a new tenant, you'll find that job stability is often a more accurate indicator of a good tenant than salary alone.
4. Check Previous Addresses, Landlords & Eviction History
In addition to checking the applicant's employment status, learning about their previous rental experiences will help you screen a tenant accurately. Start by verifying one or more of their previous addresses. Reach out to the landlords and ask some specific questions about their experience.
Some questions to ask previous landlords include:
What did the tenant pay in rent?
Did the prospective tenant pay rent on time?
Did they take good care of the property, with no more than normal wear and tear when moving out?
Were there any complaints from neighbors regarding noise or pets?
Would you rent to them again?
A current or recent landlord most likely has a valuable perspective about whether the tenant is easy to work with or whether they are better to avoid. However, there may also be scenarios where the landlord did not follow the state's landlord tenant law or caused more problems than the tenant. Therefore, learning how to screen renters often includes communicating with multiple landlords, if possible.
Pro tip: As part of the application paperwork, ask for a landlord reference letter that states how long the tenant lived at a previous residence, how much rent they paid, and if they paid it on time.
5. Interview Applicants & Ask Screening Questions
After you've collected the application, reviewed the tenant screening documents, and verified the tenant's information, the next step is conducting an interview. However, you may have enough information to reject the candidate, in which case you can skip the interview and move on to the next step below.
During the interview, go over the documents with the tenant to give them an opportunity to review any findings with you and provide explanations for anything derogatory. There could be potential mistakes in your findings that can be cleared up in this interview.
Make sure that you know how to legally screen tenants without discriminating based on race, gender, religion, disability, national origin, or familial status. Federal fair housing laws protect applicants from discrimination, so asking inappropriate questions or turning away an otherwise qualified candidate can be grounds for a potential lawsuit. Even if you don't think you're discriminating, make sure you do your research and understand what the Fair Housing Act means for your business. It's a good practice to be consistent with the questions you ask every tenant.
Here are a few examples of questions you can and cannot ask when screening tenants:
| Example Questions You Can Ask | Example Questions You CANNOT Ask |
| --- | --- |
| Do you have pets? | Where are you from? |
| Why are you moving? | How many kids do you have? |
| When are you able to move in? | When is your baby due? |
| Can you pay the lease application fee? | Are you disabled? |
| How many people will be living in the unit? | Do you go to church in this area? |
| Have you ever broken a rental agreement? | How old are you? |
6. Accept or Reject the Applicants After Screening
Once you've compiled the credit information and background data, and verified both income and employment, you should be ready to make a decision. The process of screening tenants for a rental property should give you plenty of data that clearly points to an acceptance, a decline, or a tentative situation requiring a judgment call.
This is especially true if you're an experienced investor or landlord who already knows how to screen rental applicants. For newer real estate investors, it can be more difficult or emotional to turn someone away. It's best to develop a clear set of screening criteria, so you can objectively make a smart decision for your investment.
For example, tenant acceptance criteria may include:
Income that meets or exceeds the three-times rule
Stable work history with solid time on the current job
Verifiable income from the current employer and/or tax returns
Credit that meets or exceeds your criteria
Criminal background void of any felonies or misdemeanors
Favorable prior residence and landlord histories
In many cases, you won't find an ideal candidate. Instead, evaluate the strengths and weaknesses and scrutinize the "overall package" of characteristics. If one item isn't perfect, but the others areas are strong, you may still have a good tenant. Avoid making emotional decisions, even if the candidate seems extremely kind and reasonable.
Denying an Applicant After Tenant Screening
When choosing a tenant, it's better to forego a candidate than to rent to a potentially bad one. Although it might not be pleasant, the process of evicting a tenant is much worse. If there are clear indicators that a candidate is problematic, then you are within your rights to decline them. However, make sure you comply with adverse action Fair Credit Reporting Act (FCRA) laws.
Landlords and property managers are bound by the FCRA to supply proper responses if a candidate is denied due to their credit report or related factors. These responses are known as "adverse action letters," and many small landlords and property managers are not even aware they're supposed to send them.
Some legal reasons to deny an applicant after screening include:
Their income can't support the rent
Their credit is too low, or payment history is poor across several accounts
They have a criminal history that indicates potential risk
Employment is unverifiable, they have too little work history, or the employer indicates workplace trouble
Prior residence research turns up evictions, judgments for property damage, unpaid rent, or problems with neighbors or law enforcement
Be prepared with supporting documentation when declining a prospective tenant and stay within the boundaries of the law. Online tenant screening provides the necessary data to ensure you do not make subjective decisions or improperly deny candidates.
Screening software like Buildium generate adverse action letters automatically; others have templates on file for clients to use. Set custom criteria like credit score minimums to quickly weed out unqualified candidates. In addition, Buildium's all-in-one system will organize your tenant screening, maintenance, and rent payment online through their platform.
5 Tips on How to Screen Tenants for Rental Properties
Before you start the screening process detailed above, plan ahead with an actionable checklist to ensure you are covering all your bases. Download our free checklist below, complete with landlord screening criteria, advertisement steps, and screening questions for your potential tenants.
Learning how to screen a tenant takes some trial and error, but it's important to be thorough as your screening process would make your rental property investment a success. Here are five additional tips for how to screen a tenant:
1. Customize Your Tenant Screening Questions
Although it's important to keep your application and interview questions the same for all candidates, you should customize questions according to your criteria. Taking the time to choose relevant application questions will help you gain important information about applicants upfront, saving you time and effort. For example, you may ask about their pets, smoking habits, or negative credit.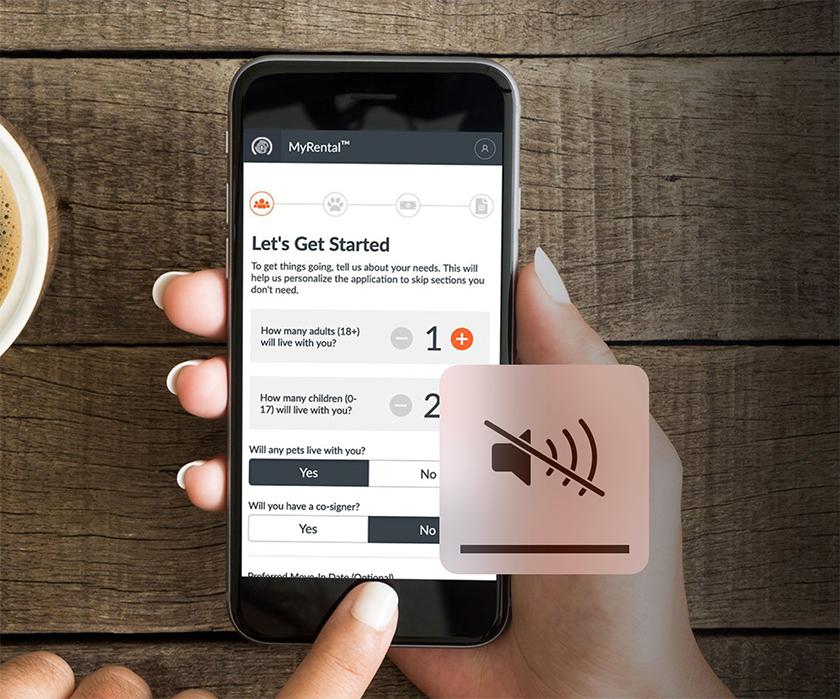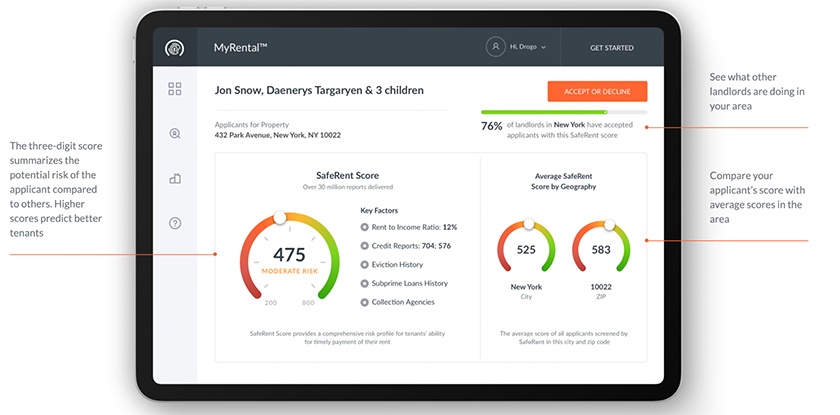 ---
This is particularly easy to do with a tenant screening solution like MyRental. It allows you to provide an online application with customized questions and performs background checks, credit reports, and eviction history. Plus, it automatically analyzes all of the candidate information to generate a SafeRent score, which predicts better tenants. Use MyRental to learn how to screen potential tenants for free—try it today.
2. Make the Screening Process Easy for the Tenant
Having a completed application is absolutely vital to begin screening prospective tenants. However, a long, confusing application or an inconvenient process can easily overwhelm candidates and discourage them from completing it. One way for landlords to simplify the process is by using online applications. When tenants apply online, landlords will receive their applications almost instantly, making the approval and declination process fast and efficient.
3. Work With a Real Estate Agent
If the process of screening tenants is overwhelming or too time-consuming for you, you may choose to work with a real estate agent. A listing agent with knowledge and experience working with landlords can potentially complete all the screening tasks and simply present the top candidates to you. Experienced agents can even write your lease, whether it's a one-year contract or a month-to-month rental agreement. Keep in mind that if you work with an agent, you'll owe them an agreed-upon commission.
4. Market Your Property Online
Once you are ready to start accepting applications, don't simply sit and wait for candidates to roll in. Online marketing is an incredibly powerful and efficient method of getting your property in front of the highest number of renters. Plus, you can list your minimum requirements in your online marketing. For example, you can disclose your application fee, security deposit, and lease terms. This saves both you and the tenant time by filtering out tenants who won't meet your requirements.
Although most people use Zillow as a way to buy or sell properties, there is also a section specifically for rental properties. With over 36 million visitors monthly, Zillow is an efficient method of marketing your property to quickly rent it to a qualified tenant. Join Zillow Rental Manager to list your properties for free and use their messaging and tenant screening tools to find and screen applicants.
5. Use Property Management Software to Screen Tenants
Since screening tenants is a tedious process, it's highly recommended to use screening and property management software to simplify the process and make your decision easier. There are many affordable options for screening, and some include property management tools like online rent payment services.
Start by checking into four of the top tenant screening services:
Software

Best For

Landlords looking for an all-in-one screening solution at the most affordable price

Online, user-friendly applicant forms, templates, and reports

Small landlords and property managers wanting tools for screening and accepting payments

Tenant screening tools within a comprehensive property management program

Key Features

Generates SafeRent score for each applicant
Free option with tenant pay
Paperless application and screening process

Tenant screening checklists
Background checks and credit reports
Additional resources and support

No monthly fees—only a la carte pricing
Online application and document signing
Marketing and advertising tools

Step-by-step walk-through for candidates
Extensive candidate background reports
Additional tools for rent collection and management

Starting Price

$24.99 per applicant

$21

Free; paid a la carte options start at $4

Free; paid services start at $5 per unit, per month

Learn More
Bottom Line
Successful landlords must know how to screen tenants for their rental units, whether they have one or fifty. Proper screening helps landlords avoid major problems down the road, and instead establish strong relationships with tenants. They can do so by running credit checks, criminal background checks, and verifying the candidate's income, employment, and residence history. In the end, with great tenants, you'll increase your profits and be able to send tenant appreciation gifts instead of eviction notices.