Landlords should know how to screen tenants by running credit checks, verifying income, confirming employment, conducting criminal and other background checks, and verifying prior landlord and residence histories to assess whether a prospective renter will make a good tenant. Proper screening helps landlords avoid the common problem of accepting applicants who end up being problematic.
If you have applicants for rental property and need a good tenant screening tool, we recommend MyRental. They offer a full range of financial and background checks to ensure you are selecting from the best candidates. Basic plans start at just $19.99 and applications are free.
Here are the eight steps to take when screening tenants for a rental property:
1. Pre-Screen Potential Tenants
Understand how to screen tenants before they fill out an application. If you don't take pets, ask if they have pets; if you don't allow tenants with felony backgrounds, mention you run a criminal background check as part of the application process. Inform potential tenants about your screening process, as some may bow out before application.
Use Social Media as a Pre-Screening Tool
Looking into an applicant's social media accounts can be amazingly insightful addition to rental applicant screening. Seeing the candidate's uncouth behavior as evidenced on their Facebook or Instagram account should throw up an immediate red flag.
Tenant Screening Software Provides More Information
Some landlords don't have time to pre-screen tenants and may be better off using a tenant screening service rather than doing it themselves. Tenant screening software and services are the best tools because they handle all the research and keep you in legal compliance.
Which Tenant Screening Service is Right for You?
2. Determine What Questions to Ask Potential Tenants
There are at least five areas of a person's history and background a landlord should screen: income, work history, criminal background, credit, and previous eviction and residence history. It is important to ask probing questions when screening tenants. This is your chance to learn more about the tenant's needs and confirm pertinent information.
Deciding on good questions to ask potential tenants helps confirm things like:
Income that meets or exceeds the three-times rule
Good work history with apparent tenure on the current job
Verifiable income from employer and/or tax return information
Credit that meets or exceeds your filtering level (generally 620 or above)
Criminal background check that does not uncover any felonies or a pattern of misdemeanors
Prior residence and landlord checks that show favorable tenancy
As a landlord, you can learn ways to screen tenants yourself. However, that involves making multiple phone calls (which can sometimes be fruitless), paying individually for certain items like credit checks, or causing potential compliance issues. To comply with Fair Housing rules, be consistent with the pre-screening questions you ask every tenant.
How Tenant Screening Software Can Help
Even legal complications can arise during the tenant screening process, related to things like checking credit or asking illegal screening questions. Fortunately, there are tenant screening services available that can help mitigate your legal risk while making the process easy. Tenant screening services are inexpensive and are well worth considering.
Landlords can use tenant screening as part of an overall property management plan. Property management software is used to screen tenants, market listings, coordinate property maintenance, and collect rent online. Avail offers all of these features and more for just $10.00 per month.
Include Co-Applicants in the Tenant Screening Process
Make sure you are apprised of any potential co-applicants. If additional people are going to live in the unit, and are of legal age, they should be considered co-applicants and have their background checked along with the principal candidate.
3. Screen Tenants by Checking Their Credit
A credit report can tell you whether or not a prospective tenant pays their bills on time. It also allows you to assess an applicant's debt and analyze how that relates to their income. Credit reports should come from one of the top three credit reporting agencies (TransUnion, Experian, or Equifax), or in the form of a FICO or similar score. The best credit reporting will include data combined from all three services.
Most landlords or property managers generally accept 620 or better as their credit score minimum. A 620 to 679 score is generally considered average, while a 680 to 699 is considered good. Landlords may want to consider tenants with below-average scores if they can document extenuating circumstances like a medical issue, military deployment, or job loss.
Anyone trying to get credit and background information on another party must comply with the Fair Credit Reporting Act (FCRA) in regards to what is sought and how it is obtained. An inexperienced landlord or manager may run afoul of the FCRA and not even know it.
Topping the list, credit reporting agencies (CRAs) require companies—including landlords—pulling credit data to be "accredited." This can actually involve an onsite inspection of the inquirer's office, which is intended to ensure the business is legitimate, records are secure, and the entity has a valid reason to pull others' credit data.
Tenant Screening Software Provides Credit Checks
Checking credit is one of the areas most prone to legal issues if done incorrectly. Today, the best way to run a credit check and glean insight from the credit report is to use a tenant screening service such as MyRental. Not only can these be used to check an applicant's credit, but they will also do it legally and keep you in compliance with the law. Plus, for their small fee, they can handle the other background checks.
4. Run Criminal Background Checks
In addition to pulling credit reports, you need to screen a renter's background. You should check state and federal criminal records to determine whether or not the prospective tenant has a criminal history. Sex offender registries and terrorist watchlists are typically included in criminal background checks and are important to consider.
When performing a criminal background check, make sure you double-check your reports. You don't want to deny a tenant for an incorrect report or data error. Check for correct spelling of names, previous addresses, etc., to make sure you interpret the information correctly.
Tenant Screening Services Can Do Background Screening
Tenant screening services such as MyRental can help with federal, state, and local criminal background checking. They also offer FCRA-certified screeners who are trained to know what to look for in a background check and will keep you from making identity mistakes.
Questions to Ask When Negative Results Surface on a Background Check
Sometimes performing a background check will disclose negative results. That may not mean you won't want to rent to the tenant. However, it could mean you want to discuss the results in more detail.
Things to consider when discussing negative background check results:
Circumstances surrounding the offense
Age at the time of the offense
Release date
Rehabilitation efforts
References from current and previous employers and landlords
5. Verify Income & Employment
One of the most important pieces of information to screen is the applicant's income. This will help you determine whether the applicant can afford the rent. A common income guideline is the three-times rule. If the applicant's gross monthly income is three times the rent, they likely can afford it.
Check with the current employer to verify their employment status, job title, and salary. Employer's comments about job performance and history will indicate whether continued employment is likely. Job stability can be as important as the amount of salary. Check out our article for more details regarding verifying rental income.
6. Check Previous Addresses, Landlords, & Eviction History
You should verify one or more previous addresses. Assuming the applicant was a renter, the history with those landlords should be researched. You want to find out what they paid in rent, if those payments were timely, and whether the landlord or neighbors had any problems with the applicant while there.
Questions to Ask Previous Landlords
It's generally good to check at least two prior landlords. Sometimes, the current landlord is so happy to get rid of a bad tenant that they'll tell you anything! Because the previous landlords are no longer vested in the situation, they will normally be more forthcoming with the true story about their experience with your candidate.
Did they pay on time?
Did they take good care of the property, with no more than normal wear and tear at move out?
Were there any complaints from neighbors regarding noise or pets?
Would you rent to them again?
In addition to checking with previous landlords, you can also check local housing court records to see if the prospect has any evictions, and even look for judgments for damages in their court history.
"Knowing where an applicant has previously lived can help you establish a comprehensive applicant history or determine relevant jurisdictions for additional criminal background screens."

– Frank Jachetta, Account Executive, MyRental at CoreLogic Rental Property Solutions
Conduct Checks with Tenant Screening Software
Similar to checking with employers, tenant screening services like MyRental can inquire with current and prior landlords to verify a candidate's previous tenancy. Those services save you from having to make phone calls yourself and know how to legally inquire about a candidate.
7. Interview Prospective Tenant & Co-Applicants
Once you have collected the application, reviewed the tenant screening documents, and verified the tenant's information, it's time to conduct an interview. It's recommended you go over the documents with the tenant to give them an opportunity to review the findings with you and provide explanations for anything derogatory. There could be potential mistakes in your findings that can be cleared up in this interview.
Federal fair housing laws protect applicants from discrimination on the basis of race, national origin, age, gender sexual orientation, family status, or disability. Asking inappropriate questions or turning away an otherwise qualified candidate based on illegal criteria can be grounds for a potential lawsuit. It's a good practice to use the same questions for every applicant.
8. Accept or Reject the Applicant After Screening
Once you've compiled the credit information and background data, and verified both income and employment, you are ready to make a decision. The sum of the compiled data will point to either an acceptance, a decline, or a tentative situation requiring a judgment call.
The goal of screening tenants is to find someone who meets several criteria, including:
Income that meets or exceeds your criteria (suggested as the three-times rule)
A pattern of stable work history with solid time on the current job
Verifiable income from the current employer and/or tax returns
Credit that meets or exceeds your criteria (suggested at 620 or above)
Criminal background void of any felonies patterns of misdemeanors
Favorable prior residence and landlord histories
In many cases, you won't find an ideal candidate, but will rather scrutinize the "overall package" of characteristics. If one item is a bit less than ideal, but the other areas look good, you may potentially have a good candidate.
A Judgment Call After Tenant Screening
If tenant screening shows a mostly-qualified candidate with a few issues, then it ultimately comes down to a judgment call regarding whether or not to rent to them. Some common judgment scenarios include:
Good verifiable income, but it's commission-based or applicant is self-employed. If all the other factors are good, this might be a good candidate.
Good income and time on the job, but credit is below your criteria. If the source of the bad credit was a single incident (like the post-2007 mortgage meltdown), but current credit looks like it's being handled well, this might make a good candidate.
There is a court judgment but their payment history looks good otherwise. A good example is a candidate who has a hospital collection resulting from a time when they were uninsured.
Minor criminal violation

. P

erhaps a candidate well into their career has a DUI from when they were in college. They may be beyond that now.
Problems with a prior landlord even all other data are positive. There are instances where the landlord is the real culprit, or there's just a personality conflict. This could still be a good candidate, and previous landlords could substantiate it.
Denying an Applicant After Tenant Screening
When choosing a tenant, it's better to forego a candidate than to rent to a bad one. If there are clear indicators that a candidate is problematic, then you are within your rights to decline them. However, make sure you comply with adverse action FCRA laws.
Landlords and property managers are bound by the Fair Credit Reporting Act (FCRA) to supply proper responses if a candidate is denied due to their credit report or related factors. These responses are known as "adverse action letters," and many small landlords and property managers are not even aware they're supposed to send them.
Some reasons to deny an applicant after screening include:
Their income can't support the rent.
Their credit is too low or payment history is poor across a number of accounts.
They have a criminal history that indicates potential risk.
Employment is unverifiable, they have too little tenure on the job, or the employer indicates workplace trouble.
Prior residence research turns up evictions, judgments for property damage, unpaid rent, or problems with neighbors or law enforcement.
Be prepared with supporting documentation when declining a prospective tenant and stay within the boundaries of the law. Tenant screening provides the necessary data to ensure you are not making subjective decisions or improperly denying candidates. Some screening software will generate adverse action letters automatically; others have templates on file for clients to use.
Tips for How to Screen Tenants for Rental Property
Taking a complete application and performing background, address, and employments checks are important tenant screening steps. There are other steps that add value to tenant screening, making the application process easier and faster for both the tenant and the landlord.
Four tips for how to screen tenants for rental property are:
1. Customize Your Tenant Screening Questions
Create customized uniform questions for your tenant applications. Knowing if they have pets, smoke, or have negative credit upfront can help you sift through applications quickly. Asking the same questions on every application ensures you follow fair housing laws.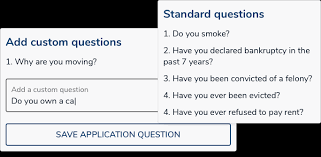 2. Make the Screening Process Easy for the Tenant
Having a completed application is an important step in the tenant screening process. Landlords will benefit by making the process easy and efficient for potential tenants by using online applications. When tenants apply online, landlords will receive their applications within a few minutes. This makes the approval and declination process quick so you can move forward or move on.
"The benefits of using an all-in-one property management service include fluid movement through the renting processes, clear transparency, and communication around all areas of your properties in one easy view, thus allowing the landlord to take a more holistic approach to their management. Additionally, it makes your tenants' lives easier by allowing for only one account and tool set to service all their renting needs from start to finish."

– Christine Small, Community Manager, Avail
3. Market Your Property Online
When you market your rental property online, you have a chance to list your minimum requirements. For example, you can disclose your application fee, security deposit, and lease terms. This saves both you and the tenant time by filtering out tenants who won't meet your requirements.
4. Use Property Management Software to Screen Tenants
Screening tenants is just one part of managing your rental property. Landlords also need to market their property to find applicants, sign and manage leases, accept online payments, manage property maintenance requests, and more. Good property management software, like Avail, will allow you to do all of this for one low monthly payment. You can get started with one unit for free.

How to Screen Tenants Frequently Asked Questions (FAQs)
Hopefully this article has answered your questions about how to screen tenants for rental property. If you still have questions, below are some of our most frequently asked questions regarding screening tenants.
1. How Does a Landlord Pick a Tenant?
Most landlords pick a tenant by reviewing previous rental history, how they cared for their previous property, verifying the tenant's employment, and performing credit and criminal background checks. Once a landlord compiles all the background information, they will make a decision based on those facts and if a prospect can afford the property.
2. What Are Illegal Questions to Ask Potential Tenants?
Questions regarding race, color, religion, sex, national origin, disability (mental or physical), and familial status (including children under 18 living with parents/custodians and pregnant women) should be avoided as they are protected by Federal Fair Housing Laws. Think through each question; don't accidentally ask "How old is your daughter?" or "Where are you from?"
3. How Do I Find Renters for Rental Property?
There are many ways to list your rental property, including sites like Zillow and Rent.com. Many property management software companies offer free listings when you're a member. Check out our Best Property Management Software article for more in-depth information.
4. How Do I Do a Background Check on a Tenant?
The best way to perform a background check on a prospective tenant is to hire a dependable service to perform the screening. Companies like MyRental can perform these tasks, helping you interpret the meaning and validating the accuracy of the information.
Bottom Line
When learning how to screen tenants, you should run credit checks, verify income and employment, conduct criminal and related background checks, and investigate prior landlord and residence history on all potential residents to determine whether prospective renters will likely make good tenants. Tenant screening software and services can help streamline the process.
Check out MyRental if you are looking for an easy to use and affordable tenant screening software to find the right tenants. You can get started taking advantage of their full range of financial and background checks today. Basic plans start at just $19.99.