How to Evict a Tenant in 7 Steps (+ Free Quit Notices)
Learning how to evict a tenant requires extensive research and understanding of the eviction process and laws. Landlords must follow the proper steps on how to evict someone and have legal grounds to evict the tenant, such as tenants failing to pay rent and causing property damage. If landlords do not act quickly to evict a bad tenant, their property value may suffer due to lost rental income and damage caused by the tenant.
We'll take an in-depth look at the proper steps to evict a renter, how eviction works, and the fastest way to evict a tenant. Also, we provide tips on how you can protect yourself against bad tenants and tenant scams.
1. Learn Your State Landlord-Tenant Laws Related to Tenant Eviction
An eviction is a legal action to remove a tenant from a rental property. Landlord-tenant laws differ by state and will regulate the process. The landlord can evict a tenant for not paying rent, failing to vacate the premises after a lease agreement has expired, or violating a rental contract provision. Furthermore, landlords have the right to evict tenants if they cause damage to the real estate property, resulting in a significant drop in the property's value.
A landlord must go through the legal eviction process before evicting renters. Each state has its rules, but most require the tenant to be given a termination notice before filing an eviction lawsuit. If the landlord attempts to evict the tenant without a court order, the tenant may sue the landlord for damages.
For instance, landlords have the authority in New York to evict tenants for nonpayment of rent. After any applicable grace period, a landlord may give a tenant a 14-day notice to pay. The landlord has the right to start formal eviction proceedings if the tenant continues to be in arrears.
In contrast, landlords in Wyoming have the right to terminate a lease agreement with an unconditional quit notice if the tenant violates a material term of the lease agreement. A landlord must give the tenant three days' notice before beginning eviction proceedings to evict a tenant. The landlord's next move is to serve a summons and complaint if the tenant doesn't resolve the issue or leave the rental home voluntarily.
Study and learn more about landlord-tenant laws by checking out Lorman. It offers training and courses—from real estate and property management laws to contract laws. Subscribe to either of its on-demand courses or live webinars. In addition, Lorman Education Services provides live interaction for its students, and its customer service professionals are available Monday to Friday, 8:00 a.m. to 5:00 p.m. Central Time. They can help you register for a training product and answer any questions.
2. Refer to Lease Agreement & Decide on Grounds for Eviction
To proceed with eviction, you must have a valid reason to evict your tenant. This is an excellent time to review the tenant's signed rental lease agreement and look for apparent violations.
Some common ground for eviction include the following:
Failure to pay rent
Consistent late payment of rent
Staying after the lease has expired
Property damage
Disrupting other tenants
Using the property for illegal activity
Subletting without authorization
The unit is being taken off the market
Owner move-in
Refusal to pay the legal rent increase
Make sure to record any violations with supporting documentation. It is essential to be as thorough as possible with this documentation because you will need to use it as evidence in court. These records include images of the damages, printouts of email or text messages exchanged with the tenant, bank statements, or returned checks. Without evidence, it will be very difficult to prove your case and might prolong the eviction process.
3. Speak to & Reason With Tenants
Before sending an eviction notice, try reaching out to your tenants to discuss the current circumstances. Inform the tenant that the eviction process can be costly and may harm their credit if you sue for past rent or wage garnishment in small claims court. By doing this, they might be willing to vacate on their own accord without a contract, or they might be able to make up any past-due rent.
However, if your tenants refuse to comply and you want the fastest way to evict someone without going through the long eviction process, consider alternatives to traditional eviction, such as offering them cash for keys. Cash for keys is an agreement entered into voluntarily by a landlord and tenant to exchange a set amount of money for the keys to a currently occupied property. Although it takes place outside the legal system, a written agreement outlining the terms of the transaction between the parties is required.
If your tenants agree, create a lease termination agreement that they must sign and date. Also, ensure they fulfill their obligations under the contract and inspect the unit before handing over cash. You can make a cash for keys offer to your tenant before or after the eviction process starts. Most lawyers and property managers recommend that an eviction notice be issued first. This demonstrates your seriousness to the tenant and may increase their likelihood of accepting your offer.
4. Speak to an Attorney
Once the legal system is involved, you must proceed with extreme caution. Tenants have rights and protections that, if violated by you or any representatives acting on your behalf, could result in a serious lawsuit.
There are also some complex evictions in which landlords would need the assistance of an attorney. These circumstances include when the tenant has a lawyer and is fighting the eviction, the tenant files for bankruptcy, the tenant is a member of a state-sponsored housing program, and when the tenant is also your employee.
Having an experienced landlord eviction attorney on your side will ensure that every action you take is within the bounds of the law. Furthermore, an attorney can help to assist and simplify the eviction process, prevent the recurrence of similar situations, and mediate talks with your tenants.
As you learn how to evict a tenant, check out Rocket Lawyer for its customizable legal documents and unlimited electronic signatures with RocketSign. Aside from reviewing the documents, lawyers from Rocket Lawyer can also offer a 30-minute phone call for consultations. Pricing starts at $9.99 per document.
5. Give a Written Eviction Notice With Cause
The next step in the process is to send the tenant an eviction notice. An eviction notice is a written request issued by a landlord to a tenant to vacate their rental property. Most eviction notices, like the pay or quit notice, give the tenant a chance to "cure" the situation, either by paying the overdue rent or stopping the lease violation, or else they will be subject to a formal eviction lawsuit.
But when the time on the eviction notice expires—from three to 30 days, depending on the state and the type of eviction notice—you can file a formal eviction with the housing court. After you win the eviction case, some states give the tenant up to 10 days to move. If the tenant refuses to leave, a sheriff may have them removed and their belongings stored at your expense.
Here are three types of eviction notices you can use and download, depending on the applicable jurisdiction of your case. Before using the documents below, check your local and state regulations to ensure you're complying with the law on how to evict a tenant.
Pay or Quit Notice
Landlords use this eviction notice when a tenant fails to pay the rent. It states that rent is past due and gives the tenant a set amount of time—usually three to five days in most states—to pay the past due rent in full, including any late fees.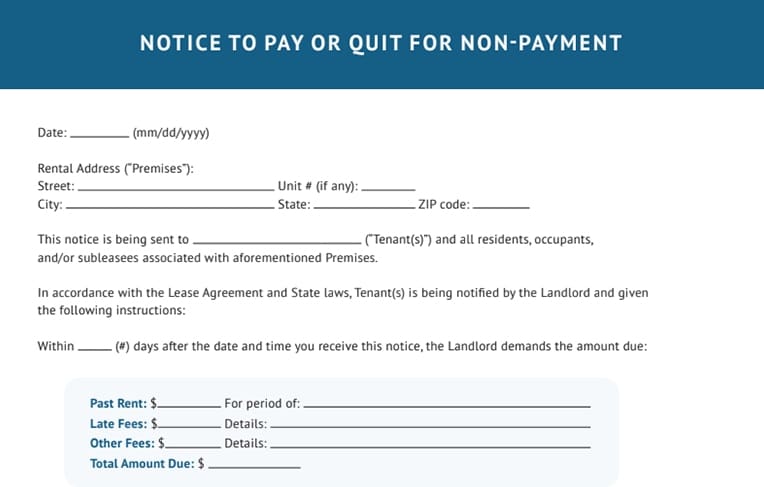 Thank you for downloading!
💡 Quick tip:
Tenant screening software like RentPrep helps landlords get qualified tenants for their rental properties. Review potential tenants' credit scores and backgrounds starting at $21 per applicant.
Visit RentPrep
If your tenant pays the rent, you may be able to avoid the eviction process entirely. Tenants in some states only have this option once. However, if they pay their rent late again in the future, you can evict them for nonpayment, even if they pay the past due rent.
Cure or Quit Notice
Landlords use a cure or quit notice when a tenant violates a lease or rental agreement term or condition, such as having a pet in a building with a no-pet policy or hosting frequent loud parties where tenants are not permitted to host parties on the premises.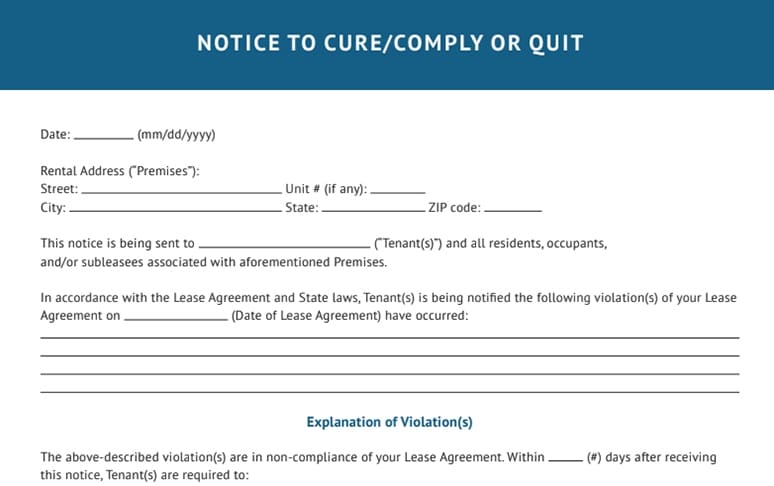 Thank you for downloading!
💡 Quick tip:
Tenant screening software like RentPrep helps landlords get qualified tenants for their rental properties. Review potential tenants' credit scores and backgrounds starting at $21 per applicant.
Visit RentPrep
The tenant will be given a few days after receiving this eviction notice to correct or "cure" the violation. If the tenant doesn't comply, they must vacate the property or face eviction proceedings.
Unconditional Quit Notice
Landlords use the unconditional quit notice when a tenant has repeatedly violated the lease agreement's terms or failed to pay rent on time on multiple occasions. Landlords may also use this eviction notice as a last resort if a tenant commits a crime on the premises, creates a public nuisance, or causes severe damage to the property.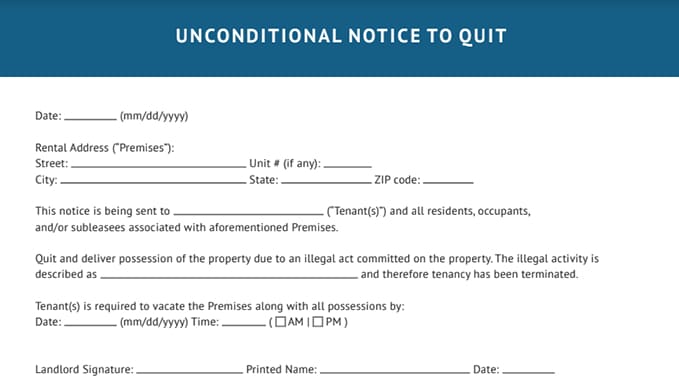 Thank you for downloading!
💡 Quick tip:
Tenant screening software like RentPrep helps landlords get qualified tenants for their rental properties. Review potential tenants' credit scores and backgrounds starting at $21 per applicant.
Visit RentPrep
In this case, the tenant is not required to pay rent or resolve any issues. The tenant is only required to leave the premises within the specified time frame—usually, a 30-day eviction notice form, depending on your state.
6. Prepare Documents & Attend Court Hearing
Since landlords are prohibited from taking matters into their own hands and cannot physically remove a non-paying tenant from the property, your only resort is to file an eviction with the local housing court.
Your attorney will handle all necessary paperwork, oversee the entire process, and defend you in court if the eviction goes to trial. If you represent yourself, you must have credible witnesses, evidence of tenant violations, and the lease agreement signed by you and the tenant. Landlords who do not use leases or rental agreements or who do not have evidence that the tenant has violated the lease frequently lose eviction cases.
Here are the documents you'll need to bring to housing court:
Original lease agreement signed
Records of payments, like a rent roll and bank statements
Copies of your correspondence with the tenant
Evidence of the tenant's lease violation, such as photographs of excessive property damage or witness testimony that the tenant is causing problems with other occupants
A copy of the eviction notice and proof of delivery
Bringing credible witnesses who can attest to a tenant's lease or law violations can also help strengthen your case. Witnesses who can testify could be another building tenant who can confirm illegal or nuisance behavior, a superintendent or property manager who can affirm a tenant's bad conduct, or a contractor or repair person who can verify the unit's damages and repair costs.
Moreover, once you file the eviction, you will be assigned a court date on which your case will be heard. A court date is usually granted within 30 to 45 days of filing the eviction paperwork. It may take longer if there is a backlog or a holiday. This is why landlords must act quickly to address lease violations and nonpayment of rent.
Meanwhile, if you do not have an attorney, you should attend a few eviction proceedings in court to learn how the process works. Unless your case is heard early, you can expect to spend the entire day in court. You cannot choose where your case is assigned on the docket, so plan accordingly.
7. Evict the Tenant
The court can rule in either the tenant's or your favor, or you may go to mediation to come to an agreement. If the judge rules in favor of the tenant and they owe unpaid rent, the judge will issue an order giving the tenant time to pay the overdue rent or face a new eviction.
If, on the other hand, the judge rules in your favor, the tenant should vacate your rental unit within a week or two. If the tenant does not leave voluntarily within seven to 10 days, you will need to serve a notice to vacate through the sheriff's office. This notice usually gives the tenant 48 to 72 hours to leave, or they will be forcibly removed. The sheriff will not move the tenants' belongings but will ensure they vacate the premises. You can change the door locks and reclaim your property once the tenant has left.
Tips to Protect Yourself Against Bad Tenants
Because the eviction process can cost you a lot of time, money, and stress, take precautions to avoid tenant scams and evade bad tenants. While you can't always guarantee you'll have good tenants, there are some things you can do to help prevent bad future tenants, starting with learning your state rental laws and screening your tenants.
Follow these tips to protect yourself from bad tenants and tenant scams in the future:
Consider subscribing to tenant screening services like RentPrep, which provide comprehensive reports, including complete credit reports with a score, nationwide eviction reports, judgments and liens, bankruptcies, and nationwide criminal and sex offender search. Pricing starts at $21 per tenant.
Bottom Line
Almost every landlord will deal with a difficult tenant or eviction at some point in their career. That is why you must legally know how to evict someone from your rental property. Ensure you follow the proper steps and don't get into a legal bind. You should know your state's landlord-tenant laws and understand your lease so that you file a valid and legal eviction.