LegalZoom is an online legal service that assists you with the LLC (limited liability company) registration process. While you can register your LLC yourself through the designated state website, many business owners choose to have an expert, such as LegalZoom, assist with the process.
Throughout LegalZoom's LLC registration, you may see questions and other products for your business that you're unsure you need. We breakdown what LegalZoom provides with an honest discussion of the process and why you should or shouldn't pay for the service.
Before you start reading the information below, it may be helpful to pull up the LegalZoom LLC registration page and follow along:
1. Choose an LLC Name & Confirm It's Available
The first step to set up your LLC with LegalZoom is to enter your desired business name:
If the name is available, you'll be able to continue with your LLC registration. If it isn't available, you will need to enter another business name.
Here are requirements you'll typically need to adhere to when naming your business:
Be unique: Your LLC's name shouldn't be similar to an existing LLC in your state.
Don't confuse customers: Do not give your LLC a name similar to a competitor's with the intent of confusing the public and trying to get their customers.
Avoid restricted terms: Your LLC name should not include restricted words, like "bank" or "insurance." Check your Secretary of State's website for a list of restricted words.
Tip: If you haven't selected your business name and want to confirm it's available, LegalZoom has a free service where they will contact your state government to ensure the name is available. After they've made the determination (which takes about 15 minutes), a LegalZoom rep will call you.
2. Define the Purpose of Your LLC
Once you receive the great news that your business name is available, you'll be prompted to answer a few questions—when you expect to start your business: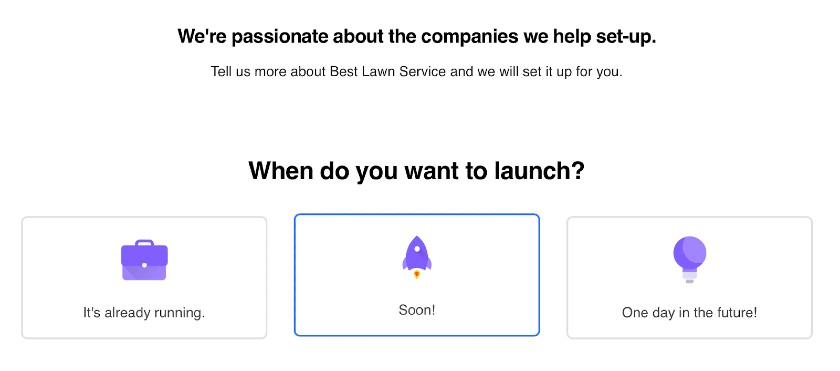 Is this your first LLC:

And what industry your business is in: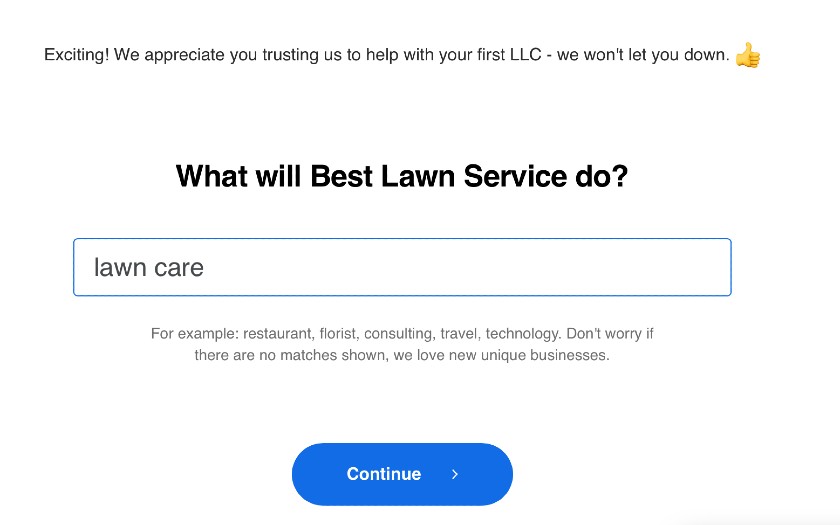 LegalZoom asks these questions to provide you with more relevant information and services throughout the process for your particular business.
3. Indicate Whether You'll Hire Employees
This question is for LegalZoom to learn more about your business and provide additional services. It will not affect your LLC.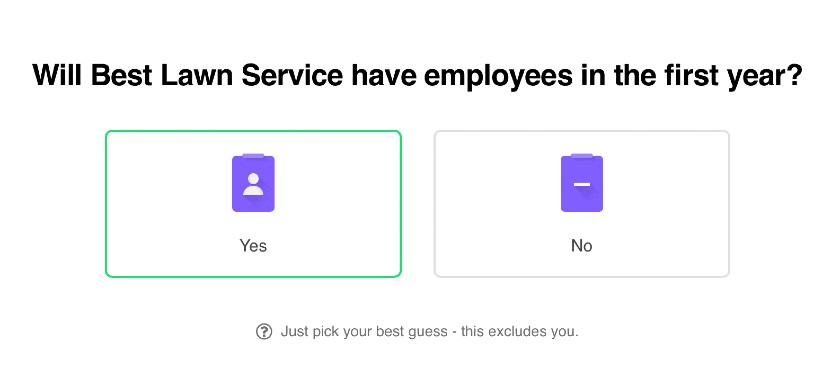 4. Identify a Registered Agent
The next question you'll answer is who you should choose as your Registered Agent (RA)? A registered agent is your business's official contact for legal and state documents.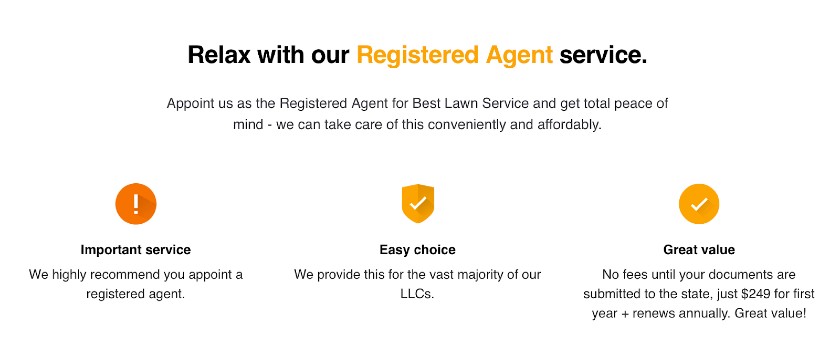 You could choose yourself as your own RA. However, if you do so, you or an employee must be available Monday thru Friday from 8 a.m. to 5 p.m. to receive a legal document such as a summons or subpoena. If you're not available during this time, you could lose your LLC status with the state.
If you won't be available, or you would like LegalZoom to handle this for you, consider using the company as your Registered Agent. For many business owners, having an outside RA gives them peace of mind that they won't miss any necessary business documents. The cost to have LegalZoom act as your Registered Agent is $249 per year.
5. Choose Recommended LLC Documents
The "Essential Documents" portion of the LegalZoom LLC sign-up process comprises three components: Operating Agreement, employer identification number (EIN), and business licenses.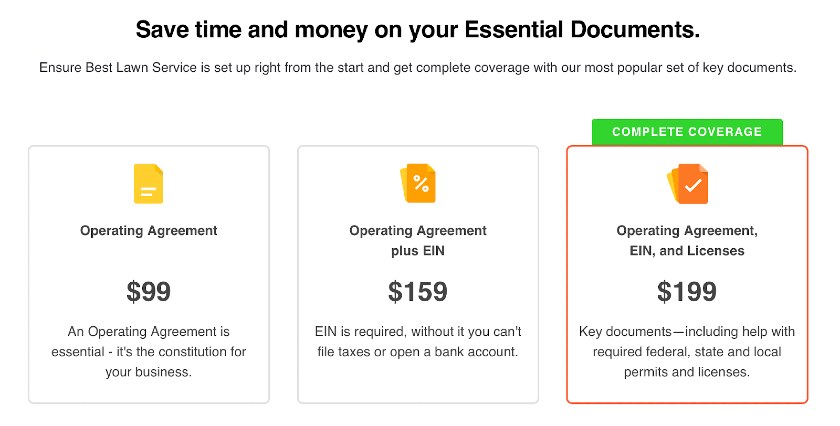 Here's a further breakdown of the "Essential Documents" LegalZoom is offering:
| LegalZoom's "Essential Documents" | Best For | Additional Cost |
| --- | --- | --- |
| Operating Agreement | A business with more than one owner or one that wants to customize the rules that govern their LLC | $99 |
| Operating Agreement and EIN | Small businesses that elect to be taxed as a corporation or plan to hire employees | $159 |
| Operating Agreement, EIN and Licenses | Small businesses that require licenses or permits to operate | $199 |
Operating Agreement
An operating agreement describes how businesses run and help avoid or resolve company disputes. Though most states don't require LLCs to file operating agreements formally, many require you to have one on file with your business.
Regardless of what your state requires, we recommend drafting an operating agreement for your LLC to formalize your management structure and eliminate uncertainty. You can purchase an operating agreement through LegalZoom for $99 when you're filing for an LLC.
However, if you decide later that you'd like LegalZoom to help with your operating agreement, you can always purchase the service through your online account.
Employer Identification Number
The EIN is the number the IRS (Internal Revenue Service) uses to identify your business. It's free to request one through the IRS website. However, if you'd like to skip that step, you can pay LegalZoom to do it for you. Obtaining the EIN is an essential legal step when starting your business—without it, you cannot file taxes.
Business License
If you don't know the type of license or permit your business needs, or if you're unsure how to apply for them, LegalZoom will research the requirements for you. This service can come in handy if your business needs multiple licenses from several local and state government agencies.
6. Choose Additional Business Services
Before selecting your LLC pricing package, the last step is to review LegalZoom's additional business services: Smart Employer and Total Compliance. If you said earlier in the registration process that you won't have employees, you likely wouldn't see the Smart Employer services.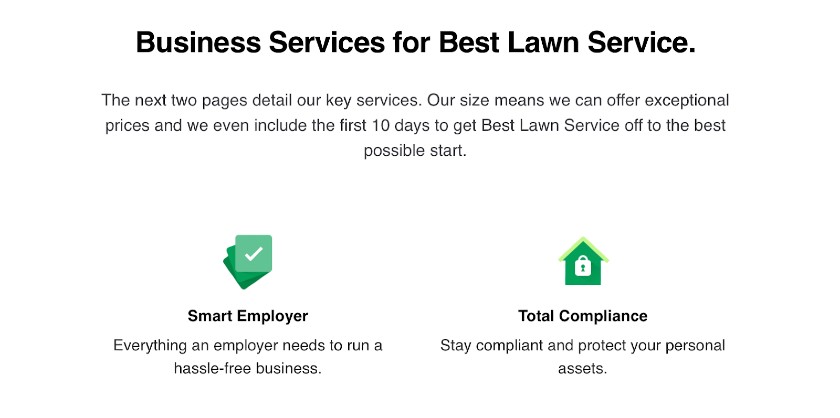 Smart Employer
The Smart Employer is a legal package that includes legal advice, consultations with tax professionals, and unlimited legal forms. There is a 10-day free trial, and then the Smart Employer legal package is $39.99 per month.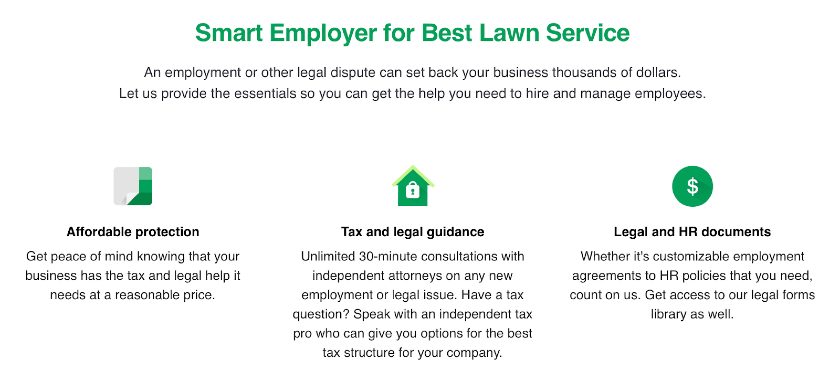 If you believe you will have legal questions for an attorney, or if you will need to create customized legal forms, this may be the right package for you. You could use the legal forms for employment, client, or vendor contracts.
Total Compliance
The Total Compliance package is a safeguard against missing any LLC renewal deadlines. If you miss a deadline, you may be charged a late fee by the state. And if you miss your LLC renewal date by several months, you may lose your LLC status with the state.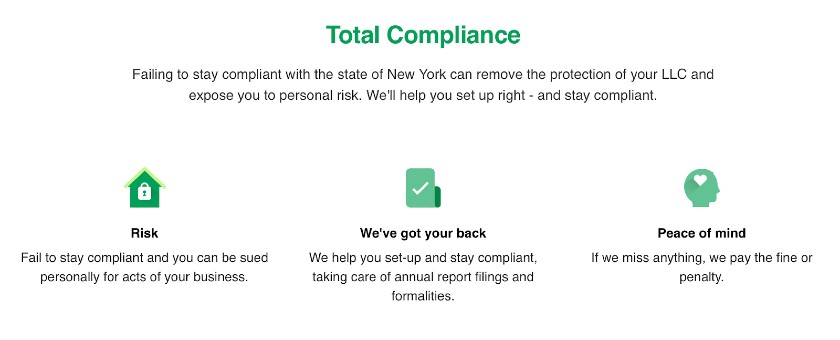 7. Select an LLC Package and Pay
The LegalZoom LLC cost varies depending on how fast you'd like your documents filed and your stats filing fee. The state filing fee ranges from $40 in Kentucky to $500 in Massachusetts.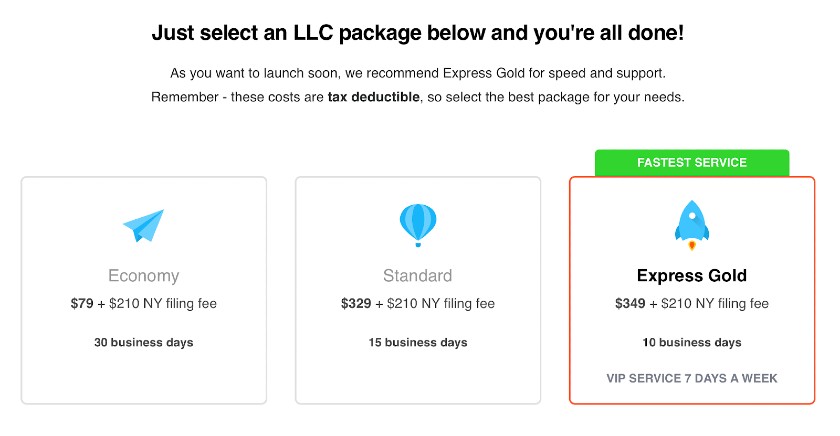 If you're already in business and have customers, you likely want an expedited filing to get your personal assets protected as-soon-as-possible. If you haven't started your business and can wait for your filing, choose the Economy package.
LegalZoom LLC Packages at a Glance
| | | | |
| --- | --- | --- | --- |
| Pricing | $79 + State Filing Fees | $329 + State Filing Fees | $349 + State Filing Fees |
| Name Check and Business Filing | ✔ | ✔ | ✔ |
| Articles of Organization | ✔ | ✔ | ✔ |
| LLC Next Steps Guide | ✔ | ✔ | ✔ |
| Peace of Mind Review™ | ✔ | ✔ | ✔ |
| Lifetime Customer Support | ✔ | ✔ | ✔ |
| Financial Account Authorization Letter | ✔ | ✔ | ✔ |
| Deluxe Organizer | N/A | ✔ | ✔ |
| Official Certificates and Seal | N/A | ✔ | ✔ |
| LegalZoom VIP Processing | N/A | ✔ | ✔ |
| Rush Processing with Secretary of State | N/A | N/A | ✔ |
| Express Shipping | N/A | N/A | ✔ |
| | | | |
8. Provide Final Details About Your Business
Once your pricing package is selected, you'll need to provide the final details required to set up your LLC. The information required varies across states, but generally, it's your personal and business information. Additionally, LegalZoom will ask you to provide a payment method.
Information LegalZoom will request after you select a package includes:
Business address: Provide the address of your primary place of business. If there are state-specific requirements, LegalZoom will list them.
Whether you're a licensed professional: If you're a licensed professional in a field like medicine, law, accounting, or architecture, you'll need to form a Professional LLC.
End of your fiscal year: Choose a date on which your fiscal year will end. Generally, this is Dec. 31. However, if your business receives a large portion of its revenue at a specific time of year, another date may be appropriate.
Dissolution date: If you have a short-term business, such as one formed for a specific event, choose a dissolution date. Otherwise, your LLC does not need an established dissolution date.
Owner names: Provide the names of each owner of your business. If it's just you, enter your name only.
Ownership interests: Detail whether ownership is measured in percentages or units. Then list each owner's interest and choose the type of owner consent required for transfer of ownership.
Management structure: Indicate whether your LLC will be member-managed or manager-managed by a group of owners or a third-party manager. This will determine who can open bank accounts, write checks, sign contracts, and otherwise bind the LLC.
EIN information: If LegalZoom is obtaining an EIN for your LLC, provide information about the nature of your business. If you choose to obtain an EIN on your own, you'll provide this information as part of that process.
Contact information: Provide the name, phone number, and Social Security number of one of the LLC's owners, managers, or president for the IRS.
After filling out this information, hit submit, and LegalZoom will start preparing your documentation. Once prepared, it will send it off to your Secretary of State's office. When approved, LegalZoom will notify you via email. Then, after you receive the notification, your LLC is set up, and you're ready to start your business!
Pros & Cons of Using LegalZoom To Form an LLC
LegalZoom is an excellent tool for forming an LLC, but it isn't the best choice for every small business. Though LegalZoom can save you time and money, the process may still be confusing, and it can't replace an experienced attorney.
Pros of Using LegalZoom To Form an LLC
Full service: If you choose LegalZoom's add-on services, the website can help you with everything from your initial filing to tax, legal, and compliance matters down the road.
Saves time: By handling the paperwork for forming your LLC and providing additional support services, LegalZoom saves you time and allows you to dedicate your energy to building your business.
Less expensive than hiring an attorney: Attorneys often charge anywhere from $150 to $500 or more per hour. Using LegalZoom to organize your LLC and handle other legal matters can save you and your business money.
Provides additional support and important reminders: LegalZoom's add-on services can help you remember important filing dates and answer questions about operating your business.
Cons of Using LegalZoom To Form an LLC
Limited expertise: Nothing can replace the expertise of a qualified business attorney.
More expensive than some other services: The cost of forming a LegalZoom LLC ranges from $79 to $359 plus filing fees. Other websites provide similar services for filing fees only (as part of a trial) or from $49 plus filing fees.
Longer turnaround times: Though LegalZoom offers seven to 10 business day turnaround times with their Express Gold package, many customers report long processing times and slow service.
Potentially confusing: LegalZoom's add-ons are helpful but can be confusing if you're not sure what services you need to form your LLC. Plus, the pricing structure can be confusing if you opt for add-on services like a registered agent or tax consulting.
Limited customer support: Customer reviews reveal that customer support can be unhelpful or challenging to reach.
Bottom Line
To set up an LLC, you'll need to understand state-specific requirements, tax obligations, and other complicated issues like management structure and licensing. You can register your business yourself, but the process is time-consuming and confusing. Save money on potential legal fees by forming a LegalZoom LLC in about 15 minutes for $79 to $359 plus filing fees.