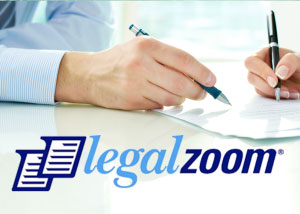 LegalZoom.com was founded in 2001 by a group of attorneys as an online service to handle common legal matters. Creating your LLC with LegalZoom is a simple process that, depending on your state filing fees and the attorney fees in your area, can save you hundreds of dollars vs. using an attorney and a few headaches vs. doing it yourself.
Click Here To Form Your LLC With LegalZoom Today
There are three basic steps to starting an LLC on LegalZoom.
First, you must create an online account and complete the LegalZoom LLC questionnaire. You are not required to make payment or enter your credit card details in order to complete the questionnaire. Here are some questions you will need to be ready to answer:
Don't pick the wrong business structure. Click Here to find out how to pick yours the right way.
Would you like LegalZoom to apply to the IRS for a federal tax identification number (also known as the employer identification number)? Note that you can do this yourself without cost by visiting here.
What state would you like to file in? The process is easiest if you file in the state where you live. Some companies file as LLCs in Delaware or Nevada, for example, because those states have laws and fees that may benefit the business owner. However, if you do not live there, you will need to have a registered agent with a physical address in that other state where any company documentation can be sent.  Here is an article to help you decide in what state to file your LLC.
What is the legal name of your LLC? Will the LLC operate under a different name than your service or business? It's a good idea to have a few pre-determined back-up names in case LegalZoom finds your name choice has already been taken. LegalZoom will also help you if you are using a DBA.  See our article on choosing a business name here.
What is your LLC's business address?  Keep in mind that, depending on your business, there may be zoning restrictions for operating your business out of your home address. Check with your local zoning office if you are unsure. You may not use a post office box as an address but you can use a mailbox at a mailing center. The mailing center becomes the needed physical address, and your box number becomes a suite number.
Who will manage the company? Will one partner run the company or will you hire a manager? Be ready to list the members of your LLC, their capital contribution and their percentage ownership of the company.
How will the LLC be taxed? You can create a pass-through entity such as a partnership or sole proprietor or a corporation. Here is a helpful article.
How and when will profits be distributed?
Under what terms can members leave the LLC?
Who contributes what if the LLC needs more capital?
When you create a LegalZoom account, you are able to save your questionnaire answers if you are unable to complete them during one visit to the site.
The next step in setting up your LegalZoom LLC is to select a service option. You can choose from three different LLC formation packages.
The economy package starts at $99 and includes: preliminary clearance of your LLC name, the filing of your LLC's Articles of Organization and an individualized operating agreement, including provisions protecting your LLC officers from liability.  Learn more here.
The standard package starts at $289 and includes the economy package service plus a kit printed with your company's name, a company seal and 20 membership certificates.  These additional add ons are ceremonial in nature, and not necessary.
The express gold package starts at $359 and includes everything in the standard package plus expedited seven to 10 business day service, Federal Tax ID (EIN) application, a 30-day trial to LegalZoom's business attorney plan, dozens of business forms and a three-month subscription to QuickBooks online accounting software.
Applying for your EIN number is relatively simple and can be done for free here, so this really comes down to whether or not you need your LLC formation expedited.  If you can wait the 30 business days, then the economy package is the package to go with.
Keep in mind that in addition to the LegalZoom package fee, you must also pay your state's filing fees, the majority of which are in the $50-$200 range. NY is $200. FL is $138.75. CA is $85. TX is $300. Expedited fees are additional in most states.
After you submit your questionnaire and the fees for your LegalZoom LLC, they will file the paperwork for you. If you did not choose the gold package plan, the process will take an estimated 25 to 30 business days to complete. LegalZoom will send you e-mail updates about the status of your account during this waiting period.
The Big Advantage of A LegalZoom LLC
The final step is when you receive a package in the mail showing your LLC is official.  The big advantage of LegalZoom (or another online legal documentation service) is that you can save substantial money on legal fees. Some attorneys can charge up to $2,000 for a basic LLC setup. Another advantage is that the application process is quick and relatively easy to complete through LegalZoom.
Don't pick the wrong business structure. Click Here to find out how to pick yours the right way.
The Big Disadvantage of LegalZoom
If you have partners in your business then one of the most important things you can do when setting up your LLC is putting together a well thought out operating and buy sell agreement.  Because there are many variables with these documents that are specific for each business, having an attorney draft them is advisable.  As many people cannot afford the $1000 + fee for this however, using LegalZoom is a good alternative.  Just make sure you read through our operating agreement guide to make sure that you have all your bases covered.
If you do decide to go with LegalZoom, we recommend the $99 economy package.  We feel that the time saved over filing everything yourself is worth more than $99, and reduces the chances of errors significantly.  However, if you can't spare the $100, you can file the necessary forms yourself. Contact your Secretary of State's office for instructions and forms.
Click Here To Form Your LLC With LegalZoom Today
View This Article As A Slideshare: