6 Best Matterport Competitors 2023
Matterport is one of the best tools for creating virtual real estate tours and 3D photography, but it's not always an ideal solution because of the cost of supplies and the subscription price. Fortunately, there are several Matterport competitors to help you create virtual tours efficiently and affordably. We researched dozens of tools to identify the six best Matterport alternatives for real estate agents based on specific criteria like pricing, features, equipment, and customer support.
The best Matterport competitors for 2023 are:
Best Matterport Competitors Comparison Table
Software

Starting Price

Third-party Integrations

Equipment Required

Customer Support

Free

✓

Smartphone
360-degree cameras

Phone, email, and live chat

$15 per property

✓

With fee

Smartphones
Digital single-lens reflex (DSLR) cameras
3D cameras

Phone, email, and live chat

Varies—it depends on how and when you use the solution

✓
With fee

Email

Free

✓

Smartphone
Ricoh Theta 360-degree camera

Email

$149.95

✕

Phone, email, and live chat

$299.95

✕

Phone, email, and live chat

499€ (Approximately $530)

✓

Email
Which best Matterport competitor is right for you?
Matterport Summary

Pros
Offers a free trial and free plan
Has a user-friendly interface
Doesn't need technical skills to set up and operate the interface
Cons
Doesn't have a downloadable software
Lacks 24/7 customer support
Images take time to load
Pricing
Matterport is a 3D space and collaboration software that makes generating immersive 3D digital twins simple and quick for back-to-work planning, listing or appraising properties, and recording renovation projects. Create a Matterport digital twin of different sizes, scales, and complexity using 3D cameras, 360 cameras, and iPhones.
This is the best tool for creating real estate virtual tours and 3D images because Matterport Capture, available on Android and iOS and any supported camera, allows you to capture any area to a 3D twin on Matterport Cloud. Edit the digital twin in Matterport Workshop, measure it, customize it, and share it. Matterport Showcase enables the user's audience to view it in walk-through mode or VR (virtual reality).
The Matterport 3D digital twin platform has features that make it simpler and quicker for you to complete tasks linked to your business or profession. Schematic floor plans, 3D virtual tours, 3D point clouds, 4K print-quality images, GIF animations, and PDF files are just a few of the media assets that Matterport automatically creates. Import these media assets into BIM software to examine and evaluate the characteristics and conditions of existing facilities and improve their designs.
The software lets you quickly locate particular objects inside a building. This will allow you to easily compile an accurate list of all the facility's assets and equipment. Equipment and assets can also be given digital labels or tags to provide staff with instructions and information for maintenance and repair tasks.
Matterport creates a precise and realistic 3D digital twin or model of the physical area by automatically processing the visual imaging and all the pertinent data you recorded. Edit and customize the 3D digital twin by adding tags, media, and annotations—measuring critical features of the area and making it viewable in a virtual reality setting. 3D digital twins can be posted on your website, on third-party websites like VRBO and Google Street View, and social media platforms.
Additional Matterport Features:
Trim and blur sensitive content: Protects your privacy by allowing you to remove secure places from your 3D digital twin and create a more pristine customer touring experience.
Measurement mode: Enables you to accurately measure anything in the area, from room sizes to furniture.
Property intelligence: Matterport's robust and proprietary artificial intelligence (AI) analyzes any property or portfolio at scale to yield insights tailored to your needs.
Schematic floor plan: This will be delivered within two business days. The ready-to-use floor plan from Matterport will be accessible as PNG, PDF, and SVG files.
Matterport TruePlan: Removes the need for manual property sketching, speeds up the estimation process, and reduces claim cycles within 48 hours.
Matterport Pricing:
Free plan: $0 for one active space and two users
Starter plan: $9.99 per month for five active spaces and two users
Pro and Business plans: $69 per month for 25 active spaces and five users
Enterprise plan: Contact Matterport for a quote
Matterport Reviews:

Matterport garnered a 4.4 out of 5 customer review rating. Many users said that Matterport is the perfect and complete solution for 3D virtual tours. Users are impressed with the 360-degree view, capturing and showcasing each space and allowing them to easily present the property to customers. One user commented that the platform is simple and easy to use, has a good system and integration, provides constant updates, and offers an excellent experience.
On the other hand, Matterport obtained negative comments about the limited animations, floor plan alignment errors, and expensive pricing. If you wish for more affordable software, consider EyeSpy360 with a starting price of $15 per property for the virtual tour, 3D model, floor plan, teaser video and live remote viewings, unlimited hosting and use of all features.
EyeSpy360: Best Overall Matterport Alternative
Cupix: Best Video Editing & Collaboration Tools
Pros
Hotspots, tags, shoppable links
Segment and combine 3D tours
Branded 3D tours
Cons
Not compatible with mobile devices
It can be difficult to learn
Frequent technical issues
Pricing
Cupix is a Matterport competitor that provides tailored packages to professionals in various industries, such as real estate, retail, architecture, and construction. This platform has the most comprehensive back-end editing tools and team collaboration features. Use hotspots, tags, and multimedia pop-ups to guide potential buyers through your virtual tours and highlight property features, just like EyeSpy360.
Cupix supports 360-degree videos and 360-degree photographs to create virtual tours. It tracks the camera path and recognizes key photo frames by uploading 360-degree footage before finally providing you with the 3D tour. Cupix streamlines the creative process and frees you up to concentrate on the other elements of your presentation, making it the best video editing solution.
Cupix is only compatible with 360-degree cameras. Various cameras will work with Cupix, but they recommend the Ricoh Theta, Insta360, Mi Sphere 360, Yi 360, or GoPro Fusion. If you don't have the budget to purchase a 3D camera, ranging from $300 to $3,500, Zillow 3D Home Tour may be a better choice for your needs.
There are many editing tools and capabilities within the Cupix web editor, including 3D text, photo framing, pushpins, cover photos, highlight reel, and the ability to brand the tour with your logo and watermark. Cupix will send information about user events (views, interaction, and so on) to up to two Google Analytics accounts, giving you deeper insights into how viewers engage with your tours.
Cupix allows you to change the lighting, add animation, connect to Google Maps, and even add your own branding. All of its plans include standard features like segmenting and combining 3D tours—making it easier to create full 3D virtual tours of your properties and highlight specific items or areas. Cupix offers interactive floor plans and virtual tours, all saved in a simple, easy-to-share workspace.
Additional Cupix Features:
Unified 3D digital twin platform: Allows you to import point cloud data, including terrestrial and handheld LiDAR scanners, robots, drone photogrammetry, and custom-built reality capture systems.
Track Progress: Indicates when and how work is completed. Remotely monitor conditions at your project job site by comparing multiple Cupix 3D Digital Twins from different dates.
Cupix 3D Digital Twins: Provides a logically organized historical snapshot log of your job site, organized by location. It also allows you to virtually inspect, annotate, and measure any project from the comfort of your home.
Cupix's spatial intelligence: Enables advanced comparisons between as-designed BIM models and as-built 3D Digital Twins.
Cupix Pricing:
The Cupix price is based on three factors: the size of your project site, the frequency of capture, and the optional software features you need. Start from per-project licensing and scale up to corporate licensing and volume discounts as needed. Get a quote to learn the exact pricing for your project.
Cupix Reviews:

Although there aren't a large number of online Cupix reviews, the majority of customers had positive experiences. According to Capterra Cupix reviews, users love the hospitality industry's virtual tours, self-generated 3D models of the space, and the ability to automatically align the shots where they are taken and make a proposed path.
Some customers noted that the app has a confusing interface and that software bugs can be frustrating. Although technical issues are unavoidable, consider opting for downloadable software, like EasyPano, which isn't prone to updates or internet connection issues.
Zillow 3D Home Tour: Best Free 3D Tours
EasyPano: Best for Panorama Creation
Pros
Extremely easy to use
Step-by-step tutorials
Compatible with all camera types
Cons
It doesn't sync to the cloud
No refunds or satisfaction guarantees
Lacks third-party integrations and easy-sharing tools
Pricing
EasyPano supports multiple languages, provides an unlimited free trial, and includes downloadable software to help real estate agents create panoramic photos and virtual tours. For a one-time fee, purchase software and use it indefinitely. EasyPano's professional panoramic software, Panoweaver, makes panoramic photos from static images. Photos will automatically be stitched together to create spherical, dome, cubic, or cylindrical panoramas.
EasyPano is the ideal tool for panorama creation because its panoramas can be imported for VR tours. Users can add films, maps, background music, pop-up windows, and hotspots when making their VR tours. They can also rearrange the scenes. Apply the gyroscope effect, day-to-night transition, and 3D effects for more immersive films on their tours.
EasyPano's Panoweaver can stitch images from all camera types, so there are no required camera types to use the software. However, a tripod is recommended. Since EasyPano provides downloadable software, it is not connected to the internet or cloud. However, it has a publishing platform where you can easily share your panoramic real estate photos on multiple media.
Since creating a panorama is inherently less complex than creating an interactive virtual tour, Panoweaver does not have as many editing tools as other Matterport alternatives, like Cupix. However, it is easy to upload photos from any camera in any format, and there are basic editing functionalities like lighting, coloring, and saturation.
EasyPano's one-time fee provides you complete access to all of the tools and features within the software. It provides realtors an easy way to offer high-quality panoramic photos to interested buyers without buying expensive equipment or paying a hefty monthly fee. Aside from these, you can synchronize your project to EP-Sky, Facebook, Twitter, and Google+ and be recognized as panoramic viewing.
---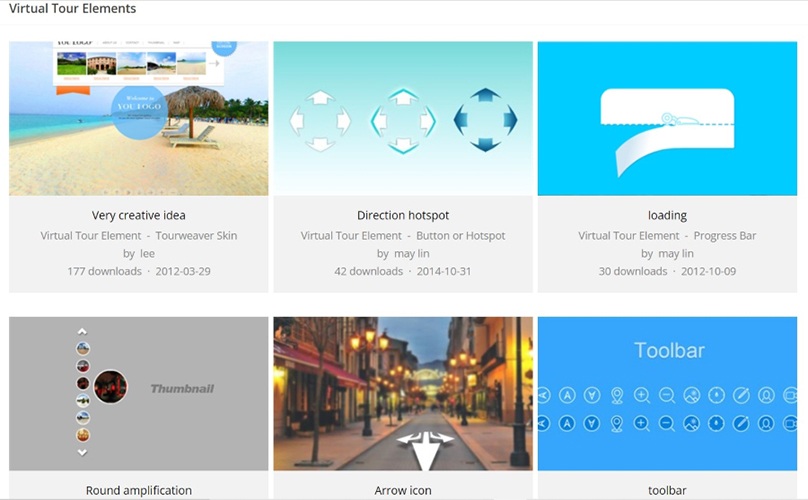 ---
Additional EasyPano Features:
Panorama software: It has an intelligent recognition and auto-stitching feature that can batch process 300 panoramas at once.
VR virtual tour software: This enables you to play virtual tours on all devices. It also supports smartphone VR mode and a free hosting platform for your tour.
Virtual tour software: It has awesome content you can add to your tours. It also supports 3D objects, online YouTube videos, pop-up windows, and EXE SWF publishing formats.
APP maker: It is a free APP packing tool to convert your panorama and virtual tour into local applications for iOS and Android devices.
EasyPano Pricing:
Free trial: Unlimited
Panoweaver 10 Standard Edition: $149.95
Panoweaver 10 Professional Edition: $399.95
VRTourMaker 1: $399.95
Tourweaver 7 Standard Edition: $299.95
Tourweaver 7 Professional Edition: $899.95
Studio Ⅰ – Panoweaver10 + Tourweaver7: $1,099.95
Studio Ⅱ – Panoweaver10 + VRTourMaker1: $699
Studio Ⅲ – Panoweaver10 + Tourweaver7 + VRTourMaker1: $1,299
EasyPano Reviews:

There are only a handful of reviews for Panoweaver online. Reviewers rated the EasyPano tool highly for its easy-to-use user interface, which helped them stitch the images quickly without any loading time or lapse. One user said that the best part about the platform is that it supports all kinds of pictures, lag-free. Another good thing about the platform users praised is that it has two variants you can get according to your preference and a batch stitching tool.
Some users wished for a cheaper software variant, and some noted that the interface could be more attractive. A few users remarked that the editing tools could be more extensive. However, if you want an eye-catching interface and make more adjustments to your real estate photography, EyeSpy360 is a better fit, with pricing starting at $15 per property.
Tourweaver Standard: Best Embedded 3D Modeling
Pros
Supports audio and video
Hotspot icons and pop-ups
Embedded 3D modeling
Cons
Virtual tours aren't as smooth as higher-end programs
Downloadable software not backed up by the cloud
No third-party integrations
Pricing
Tourweaver Standard is downloadable virtual tour software offered by EasyPano. It helps real estate agents create 3D floor plans and walk-through tours and uniquely allows them to embed 3D models of objects. Other editing features, like GPS positioning, view limitation, and radar indications, are included to show the scene's location on a map.
The Tourweaver platform is great for agents who want to take the extra time to add objects like cars, spaces, or decor to their virtual tour or highlight existing elements with 3D visuals. Although Matterport can provide 3D objects, Tourweaver delivers the same capabilities at a lower, one-time price point.
Tourweaver Standard allows agents to easily take panoramic images with a DSLR camera and connect them with a room label to create a virtual tour and accompanying 3D floor plan. By including previews of virtual tours of rooms throughout the house with this floor plan, buyers can click around without getting lost walking through the property.
Along with a DSLR, you may also need a fisheye lens and a pano head. A pano head, or panoramic head, is tripod-mounted photographic equipment that lets you shoot a series of photos to create a panorama. A fisheye lens is a wide-angle lens that produces a broad, panoramic view.
The editing and revision capabilities of Tourweaver are mixed. To fix an image that isn't clear, you will need to upload a new image. However, you can easily change the mapping of the image to the appropriate place in the floor plan, the file format, and stylized changes like day to night, hotspot perspective, and multimedia content.
Tourweaver 7 Edition HTML5 tours support adding videos, texts, images, TextArea, multi-resolution, and anchoring functions for all components. Its publish settings include multi-language tours, Facebook Share on Facebook, Flash VR, EXE format, and SWF format virtual tour publishing, allowing you to share your project with your clients worldwide online.
Additional Tourweaver Standard Features:
Scene types: Provides 360 panoramas and still images, partial panorama, and one-shot images.
Scene: It has a play loop and snow and rain effect.
Tour components: Provides movie controller for a specified movie, speed controller, zoomable hotspots in scale with FOV, and a copy-and-paste hotspots between different scenes controllers.
Slideshow: Allows you to edit a slideshow, including adding, deleting frames, and altering frame properties.
Tourweaver Standard Pricing:
Free trial: Unlimited
Tourweaver 7 Standard Edition: $299.95
Tourweaver 7 Professional Edition: $899.95
Studio Ⅰ – Panoweaver10 + Tourweaver7: $1,099.95
Studio Ⅲ – Panoweaver10 + Tourweaver7 + VRTourMaker1: $1,299
Tourweaver Standard Reviews:

As of this writing, there are no reviews for Tourweaver Standard online. However, based on the EasyPano reviews available information, users love how easy the software makes it to generate interactive floor plans, tours, and presentations. It's also easy to save and export your tour, which is particularly important regarding downloadable software. However, if you'd prefer to put your money toward a Matterport competitor with many positive reviews, check out EyeSpy360.
3DVista: Best for Hosting Live Guided Tours
Pros
Live guided tours
Downloadable software
Hotspots and tags with photo, video, and audio
Pros
Not compatible with smartphone video
Most expensive option
Customer support only available via email
Pricing
3DVista is downloadable software for creating virtual and live guided tours. Invite multiple people to a virtual tour or virtual open house and walk them through the tour while communicating via video chat. You can also add your video tour to Google Maps to increase searchability and property visibility.
Although Matterport offers virtual tours with video chat, 3DVista takes this to a new level with additional features that make the experience seamless for agents and users. It synchronizes where you look, allows you to switch user access, and doesn't prompt visitors to register or complete setup. This makes 3DVista an ideal Matterport alternative for real estate agents or brokers who offer virtual open houses.
Along with 3DVista's advanced capabilities comes a need for advanced tools. The platform is compatible with panoramas from all 360-degree and DSLR cameras like Insta 360 One X and Qoocam 8k. 3DVista's Stitcher program combines photos from a DSLR camera into a panorama, but you must take all virtual tour videos with a 360-degree camera.
3DVista has editing tools and features that go well beyond the basic offerings of other Matterport competitors. Use your 360-degree footage to create 3D transitions, animated panoramas, and live panoramas, and add live 360-degree hotspots to your tours. However, the drawback to having so many extensive editing tools is a steep learning curve for users unfamiliar with video or design software.
Thanks to the 3DVista custom skin plugin, which enables you to add or use premade button templates, agents and real estate businesses can produce distinctive virtual tours for their clients. 3DVista's customization features also let you design beautiful elements for the graphical user interface to make virtual tours more personalized and simple for your clients to understand. With 3DVista's dynamic virtual tour application, you may add your logos to virtual tours to increase brand recognition and reach a wider audience.
Additional 3DVista Features:
Downloadable apps: 3DVista offers free mobile, tablet, and virtual reality (VR) apps to display and advertise your virtual tours both on and offline.
Hosting services: It is available for purchase, which allows you to have seamless integration with the 3DVista mobile app and do direct sharing and embedding.
3DVista cloud: This optional add-on service combines hosting with useful extra features and tracking tools to help you build the ideal environment for uploading, managing, and evaluating your virtual tours.
Live guided tours: Enables you to share virtual tours via video conference and allows guests to follow the host or explore rooms, multimedia hotspots, and info typical for 3DVista tours on their own.
3DVista Pricing:
Virtual tour pro: 499€ (approximately $530)
Mobile, tablet, and VR apps: Free
Branded mobile app: 799€ (approximately $849)
Branded VR app: 799€ (approximately $849)
App bundle: 1,499€ (approximately $1,594)
Hosting services: Starting at 8€ per month (approximately $8)
TURN service: Starting at 9€ per month (approximately $9)
Notes: Starting at 10€ per month (approximately $10)
3DVista Reviews:

3DVista garnered a 4.6 out of 5 stars customer review rating. Most 3DVista reviews are from users who rave about the software's customer support, updates, and output. A user commented that he is pleased with 3DVista because it allows their company to create virtual tours that stand out among the competition by enabling them to embed various learning aspects and 360 videos and customize the tour.
Yet, there were unfavorable comments about the interface, saying that it takes a bit to understand and users wish for a team-sharing feature, which enables them to share a project and work on it simultaneously. For more user-friendly editing features, consider using less robust virtual tour software like Zillow 3D Home Tour or EasyPano.
How We Evaluated the Best Matterport Competitors
Virtual home tours are an effective real estate marketing strategy for generating leads and buyer interest. It is also advantageous and beneficial to attract buyers and higher offers. However, virtual tour software often requires expensive equipment or monthly subscription fees, like Matterport. Even though Matterport is one of the best virtual tour creation platforms, some software like EyeSpy360 and Cupix may be a better fit.
Virtual tour software and apps can also be challenging for real estate agents who don't have experience using design and editing tools. That's why we sought out the best Matterport alternatives based on affordability, ease of use, overall features, and customer support.
Here are the criteria we used to evaluate the best Matterport competition:
30% of Overall Score
Virtual tour software is either priced on a subscription model or downloaded onto a computer for a set price. We included both pricing formats and evaluated each Matterport competitor for its value instead of its price tag alone. We also considered whether providers offered a free trial or a free version.
25% of Overall Score
The primary feature we looked for is the ability to use a smartphone, DSLR, or 3D camera to create images that the software will stitch together into a virtual tour. Additional features like design customization were noted as well.
15% of Overall Score
Virtual tour software and applications range from easy to use to complex, with advanced features like 3D model embedding. For consideration in our review, each solution had to be simple enough for a novice to learn. Some offer more complex features, but these don't hamper the ease of basic use.
10% of Overall Score
Customer service for the Matterport alternatives on our list is available during regular business hours through phone, email, or chat to help users with technical and operational issues. Support documentation like videos was considered a bonus.
10% of Overall Score
We used real customer reviews to gauge user satisfaction with the 3D tour software or solution. We considered third-party independent review sites like G2 or Facebook, supplemented with testimonials supplied by providers.
10% of Overall Score
The expert score includes additional considerations that are vital when using any kind of software or tool to become successful in real estate. We evaluated any particularly standout or detailed features, including its ease of use, as well as the platform's overall value for the price.
*Percentages of overall score