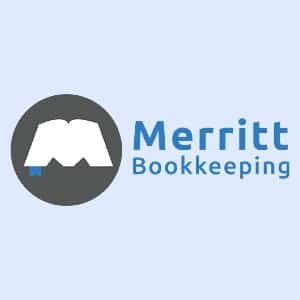 Merritt Bookkeeping provides professional remote bookkeeping services to small businesses located anywhere in the United States. Established in 2009, it is best for small businesses with basic financial needs. By simplifying the bookkeeping process, Merritt provides an effective solution for business owners to streamline their record-keeping practices and increase productivity. The company provides a cost-effective solution with flat-rate pricing to keep your books organized.
What We Recommend Merritt Bookkeeping For
Merritt Bookkeeping is an online bookkeeping service that is best for businesses that are on a tight budget and are looking for an affordable and straightforward price each month. Merritt works with businesses that use QuickBooks, and its bookkeepers will perform basic bookkeeping tasks while using automatic bank statement retrieval to reconcile your accounts. Although it doesn't offer many of the advanced tools that other bookkeeping services include, such as payroll or invoicing, its service is easy to use and great for businesses on a budget.
Who Merritt Bookkeeping Is Best For
Small businesses that want to track income and expenses for their tax return: If you don't plan on using your financial statements for anything other than preparing a tax return, then Merritt's very basic, affordable service is ideal for you.
Small businesses or freelancers that use QuickBooks: If you're a small business owner who currently uses QuickBooks but prefers to let your bookkeeper handle the file, Merritt Bookkeeping is a good option.
Businesses on a budget: If you're looking to save money, Merritt Bookkeeping is not only affordable, but the services are available at one flat rate, regardless of your monthly expenses or transactions.
Businesses that are behind on their books: Catch-up bookkeeping is offered by Merritt for an additional fee.
Who Merritt Bookkeeping Is Not a Good Fit For
If you're not sure assisted bookkeeping is right for you, read our guide to the best small business accounting software for great do-it-yourself (DIY) accounting software options.
Merritt Bookkeeping Pros & Cons
PROS

CONS

100% money-back guarantee if you're not satisfied with its services
Only basic bookkeeping services are offered and don't include payroll, tax, or invoicing
Budget-friendly flat-rate pricing with no setup charges
Accrual-based accounting is not available
Catch-up bookkeeping available for an additional fee
No dedicated bookkeeper
Fast setup and initiation process
No personal access to your QuickBooks files
No software learning curve: clients use a client portal that links to summary reports
Customization isn't available beyond the chart of accounts and some financial reports
Merritt Bookkeeping Pricing
Unlike other online bookkeeping services with variable rates, Merritt Bookkeeping charges a flat rate of $190 per month. The price is the same regardless of business size, transactions, accounts, monthly expenses, or number of employees.
Merritt Bookkeeping Features
90-day money-back guarantee: Although Merritt doesn't offer a free trial, you can test it out for three months with zero risk. If you're not satisfied with the service within that time, you can ask for a full refund.
Seamless integration with QuickBooks: Once you connect your bank and credit card accounts, your bookkeeper can download your account statements directly into a QuickBooks file that they set up for you. If you're already using QuickBooks, you can provide them with your QuickBooks file. This makes it easier to organize and manage information.
User-friendly web interface: The easy-to-access client portal lets you review reports and how your transactions are categorized. If there are any errors, you can make the correction yourself.
Flat-rate pricing: Merritt offers a comprehensive service package for a flat rate, which is not common with online bookkeeping services.
1099 filing: Merritt provides a simplified issuance and electronic filing of 1099s to your subcontractors. This service is provided at an additional cost of $75 for the report preparation and $8 per form.
Financial reports: You will receive your profit and loss (P&L) and balance sheet reports on a monthly basis. In addition, you can access the available reports yourself via the client portal.
Merritt Bookkeeping: Working With Your Bookkeeper
Merritt Bookkeeping is run by a small team in San Diego. The company outsources the actual bookkeeping to several overseas contractors. The San Diego team monitors quality and is available to answer client questions.
When you sign up, a Merritt employee will assist you with setting up your bank and merchant accounts. The bookkeepers will manage your financial data using QuickBooks, which will import read-only versions of your bank statements automatically using LedgerSync, which is free, secure, third-party software. It will categorize your transactions based on the chart of accounts, reconcile your QuickBooks file with the bank statements, and then send you PDF reports of your financial data on a monthly basis. If you don't already have a QuickBooks file, Merritt will create one for you.
After setup, contact with your bookkeeper will be minimal. Each month, once Merritt finishes updating the bookkeeping, they will email you a link to your Dashboard. The Dashboard includes links to your financial reports, transaction details, and links to the support center. It is up to you to review the transaction detail sheet. If you see anything that needs to be fixed, type the change in the sheet, and it will be updated.
If you have questions for your bookkeeper, you can contact them by email or phone during regular business hours. Merritt doesn't offer video meetings.
Merritt Bookkeeping Reporting
Each month, Merritt Bookkeeping will send you a cloud-based spreadsheet that details all of your transactions so that you can verify that they have been categorized correctly. You will also receive the following reports:
Balance sheet
Income statement, showing yearly comparison during the last three years
P&L statement, showing monthly comparison during the last 12 months
Graphical representation of income and expenses during the last 12 months
Unlike other bookkeeping services, which allow you to customize your reports, there is limited customization available with Merritt Bookkeeping. It also does not use subaccounts, so the categories will be more general. Additionally, you will not be provided with access to the bookkeeping software, so you won't be able to view real-time financial reports—only once a month.
Merritt Bookkeeping Alternatives
| | | | |
| --- | --- | --- | --- |
| Best For | Businesses that need invoicing assistance | Accrual-based businesses or businesses using Xero software | Businesses looking for more advanced reporting features |
| Service Fee | Starting at: $285 per month | Starting at: $399 per month | Starting at: $200 per month |
Bottom Line
Merritt Bookkeeping is an online bookkeeping service for cash-based businesses, which uses QuickBooks as its bookkeeping platform. It offers a basic package that includes automated monthly downloads of bank statements and monthly financial reports. This service is ideal for businesses with basic bookkeeping needs as Merritt doesn't assist with taxes, payroll, or invoicing. The affordable flat-rate pricing also makes it a great option for those who are self-employed or freelancers on a budget.