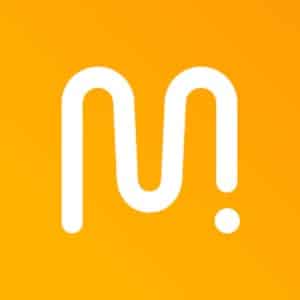 MileIQ is mileage tracking software that features mileage tracking and reporting for both its mobile app and web version. As one of Microsoft's products, subscribers of Office 365 Business can enjoy free unlimited tracking from MileIQ. Using MileIQ is free for the first 40 drives each month. Unlimited tracking starts at $5.99 per month.
What We Recommend MileIQ For
Because of MileIQ's simplicity, we recommend this app to users who don't need auxiliary features aside from mileage tracking. Though there are apps that include expense and time tracking, MileIQ is not entirely far behind because of its strong features like its data visualization and reporting capabilities.
MileIQ's pricing plans give it an advantage over its competitors. Its plans are flexible depending on your needs. We highly recommend MileIQ if the price is a significant factor in your decision.
MileIQ Is Especially Good for
Short-term projects and occasional driving: MileIQ's monthly subscription plan is best for individuals or businesses who don't need a mileage tracker for a whole year. The monthly pricing is ideal if you have a temporary project or engagement that requires mileage tracking.
Individuals looking for a straightforward mileage tracker: MileIQ is simple to use. Its features focus on mileage tracking and reporting. You will like MileIQ if recording mileage is all that you need.
Companies with Office 365 Business subscriptions: Subscribers of Office 365 Business Standard, Premium, E1, E3, and E5 get free unlimited tracking with MileIQ. You only need to register your Microsoft account with MileIQ, and you can enjoy this free perk.
MileIQ Is Not a Good Fit for
QuickBooks users: QuickBooks has a mileage tracking feature embedded in the software. It can track your mileage via GPS, classify your expenses, and generate detailed reports. QuickBooks has the advantage over MileIQ because of its expense tracking and bookkeeping features, making it our best small business accounting software.
Companies who want approval workflows: MileIQ doesn't include the approval workflow feature in popular mileage tracking apps today. Alternatively, you can opt for TripLog, our best overall mileage tracker app. We recommend TripLog because of its organized approval workflow.
Self-employed individuals who need tax and tracking reporting: MileIQ's reports can be used for tax compliance. However, Hurdlr is more beneficial for self-employed individuals. We recommend Hurdlr because it estimates your quarterly tax payments by tracking your income and tax deductions.
MileIQ Pros and Cons
PROS

CONS

Ideal for subscribers of Microsoft Office 365 Business products
Fixed time limit before MileIQ stops tracking
Monthly billing is excellent for short-term projects
No tax tracking features
Excellent reporting features for tax compliance
No expense tracking features
MileIQ Pricing
| | BASIC | UNLIMITED | TEAMS |
| --- | --- | --- | --- |
| Monthly Price If Billed Monthly | Free | $5.99 | Volume discounts |
| Monthly Price If Billed Annually | Free | $4.99 | Volume discounts |
| Subscribers of Microsoft 365 Business Premium, Microsoft 365 Business Standard, E1, E3, or E5 | Free | Free | Volume discounts |
| Number of Trips per Month | 40 | Unlimited | Unlimited |
| Automatic Mileage Tracking | ✔ | ✔ | ✔ |
| Mileage Classifications | ✔ | ✔ | ✔ |
| Add Purposes, Custom Locations & Work Hours | ✔ | ✔ | ✔ |
| Generate Detailed Reports | ✔ | ✔ | ✔ |
| Customizable Reports | ✔ | ✔ | ✔ |
| Mobile & Web Access | ✔ | ✔ | ✔ |
MileIQ Features
When it comes to straightforward mileage tracking, MileIQ's features hit the right spot. Let's see MileIQ's notable features.
Classify Drives
Classifying drives is an essential feature for a mileage tracker. You wouldn't want a business trip classified as a personal trip. On MileIQ, you can classify trips via the mobile app or through the web dashboard.
Classifying via Mobile App
There are three ways to classify drives on the app:
Business or personal classification Swipe right for business or swipe left for personal.
Custom purpose classification: You can add a custom purpose based on the category with either a long swipe to the left or right. For iOS users, a grid will appear. For Android, you'll see a list instead.

Subcategories for Business

Between offices
Customer visit
Meeting
Errand/Supplies
Meal/Entertain
Temporary site
Airport/Travel

Subcategories for Personal

Commute
Medical ($)
Charity ($)
Moving

iPhone and iPad exclusive: For iOS users, MileIQ has an exclusive widget that can help you classify drives without even opening the app. For users of iPhone 7 and above, you can classify drives from your Notifications.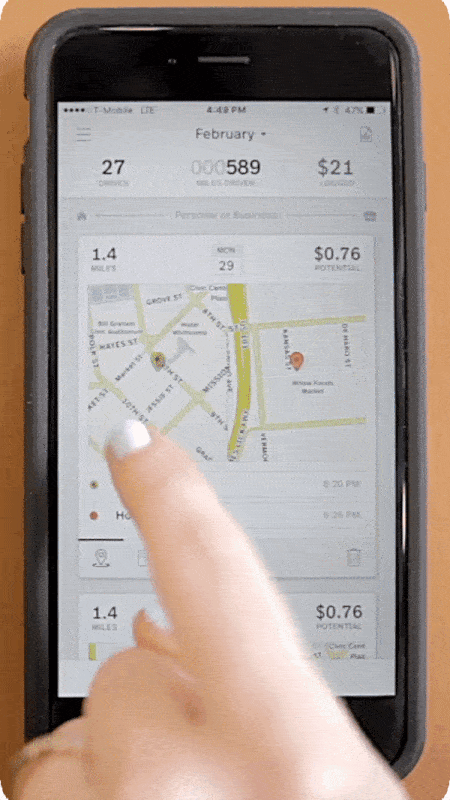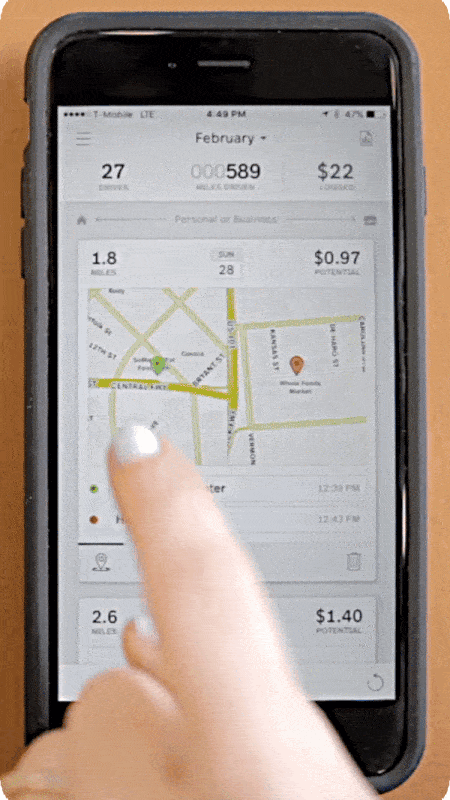 Personalize MileIQ
You can personalize MileIQ in many different ways. You can use these features to make MileIQ work the way you want it to be.
Vehicles
You can add several vehicles on MileIQ. Whether a vehicle is personal or company-owned, you can add it for your convenience. Additionally, you can add information to help you identify the vehicle, such as the make, model, and year, as well as assigning it a nickname.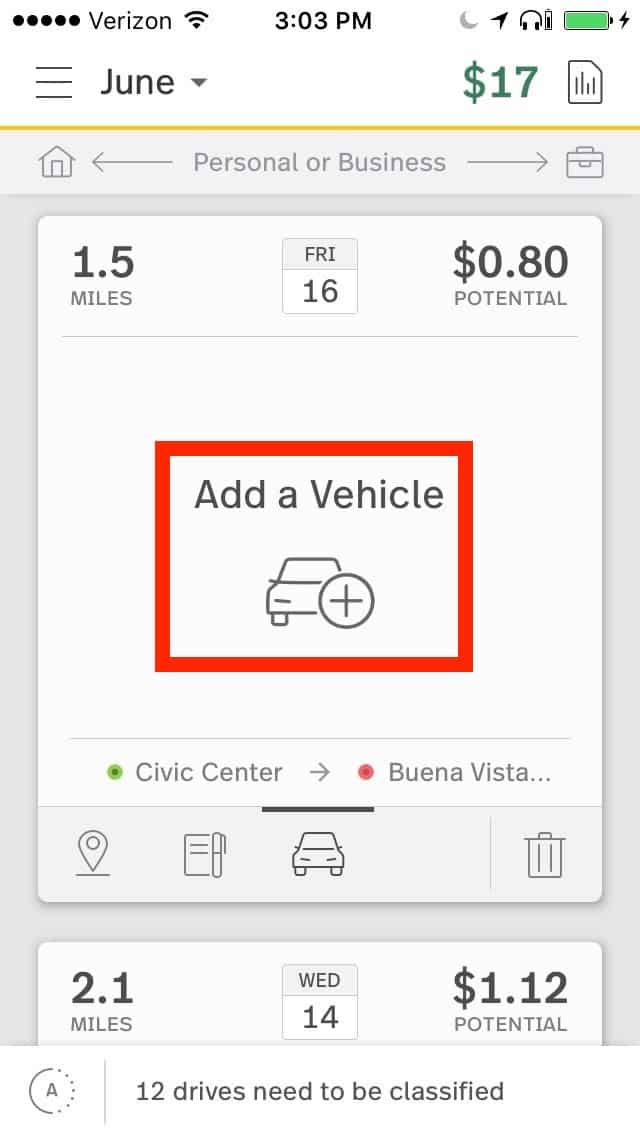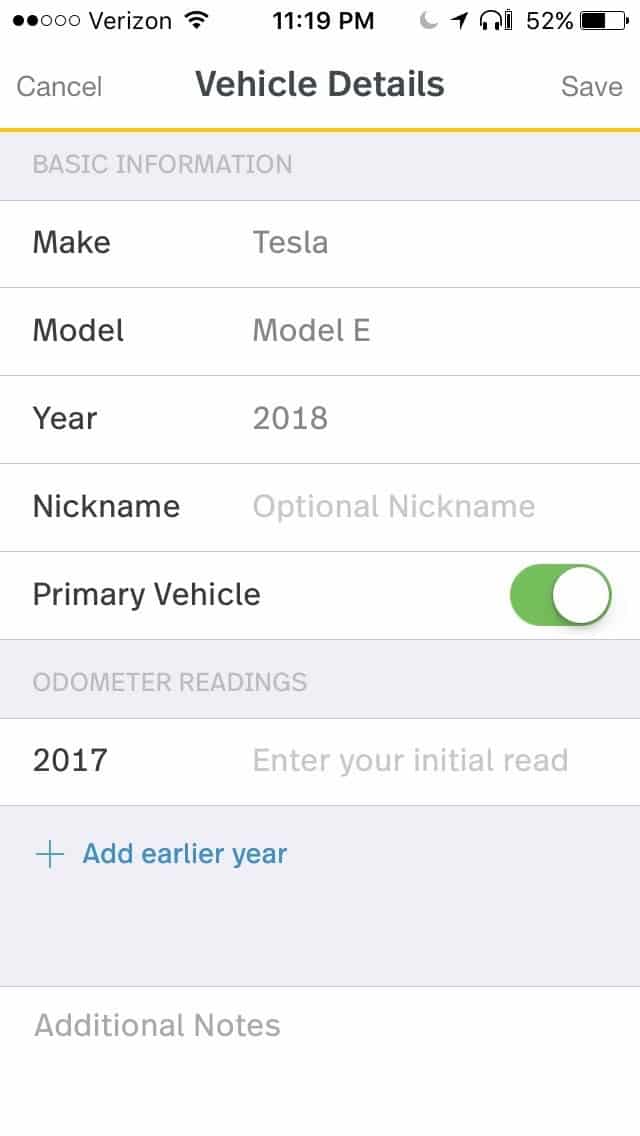 You can also add a vehicle to your account via the web dashboard. Go to the MileIQ web dashboard and click Settings. From there, go to Vehicles & Odometer, then click Add New Vehicle:
Drive Detection
MileIQ reports and recognizes a new trip if you traveled at least a half-mile from your current location. The variance for drive detection is less than a mile. MileIQ may occasionally disregard drives less than a mile depending on your last-known location.
Stuck in Traffic
MileIQ has a 15-minute grace period before it stops tracking your trip. If you're stuck in traffic, MileIQ will continue recording your trip unless you've been idle for more than 15 minutes. In that case, MileIQ will record a new trip once you start moving again.
MileIQ Dashboard: The Drives View
The MileIQ web dashboard is another way to manage your company's drivers and driving history. Unlike on the mobile app, you'll see a detailed history of your past driving and generate detailed reports as well:
The Drives View in the MileIQ dashboard can help you review, classify, and edit your drives. You can enter changes individually or in bulk. You'll see the Drives View by default once you log in. If you want to see driving history, you can click the drop-down menu on the upper left corner to see the calendar. To filter the classification, click the drop-down menu beside the date filter to see classification categories.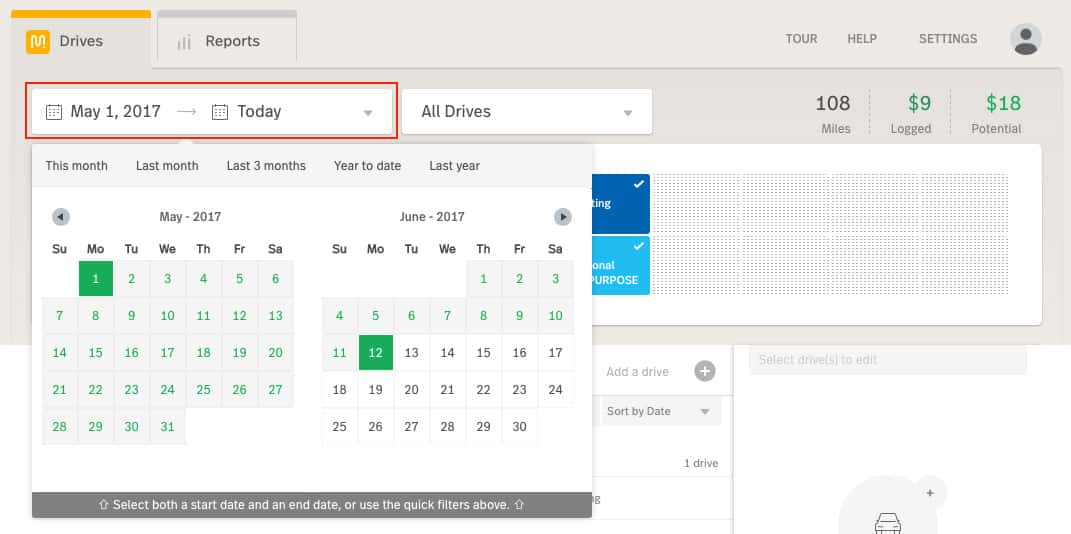 Aside from date and category, you can also filter by purpose. On the Drives Summary panel, you can see the data represented in a pie graph with the custom categories on the boxes beside it. This information can help you see your progress in classifying drives and the purpose of the drives:
While in the MileIQ dashboard, you can continue classifying drives. However, it works differently than the mobile version. For business drives, click the suitcase icon, click the home icon for personal drives. If you want to make changes, click on a driving record and a window will appear on the right side of the screen. From there, you can edit your drive by changing the distance traveled, adding a parking or toll fee, selecting a vehicle, and including some notes about the drive:
In case you forgot to add a drive before the trip, you can make a catch-up record through the MileIQ dashboard. Click on "Add a drive," and a popup window will appear. Enter the starting point, and destination and MileIQ will compute the miles traveled and their corresponding value automatically:
MileIQ Dashboard: Reports View
From the Drives View, go to Reports View to make and review reports. You can find MileIQ's report builder in this view that can help you generate accounting or tax compliance reports.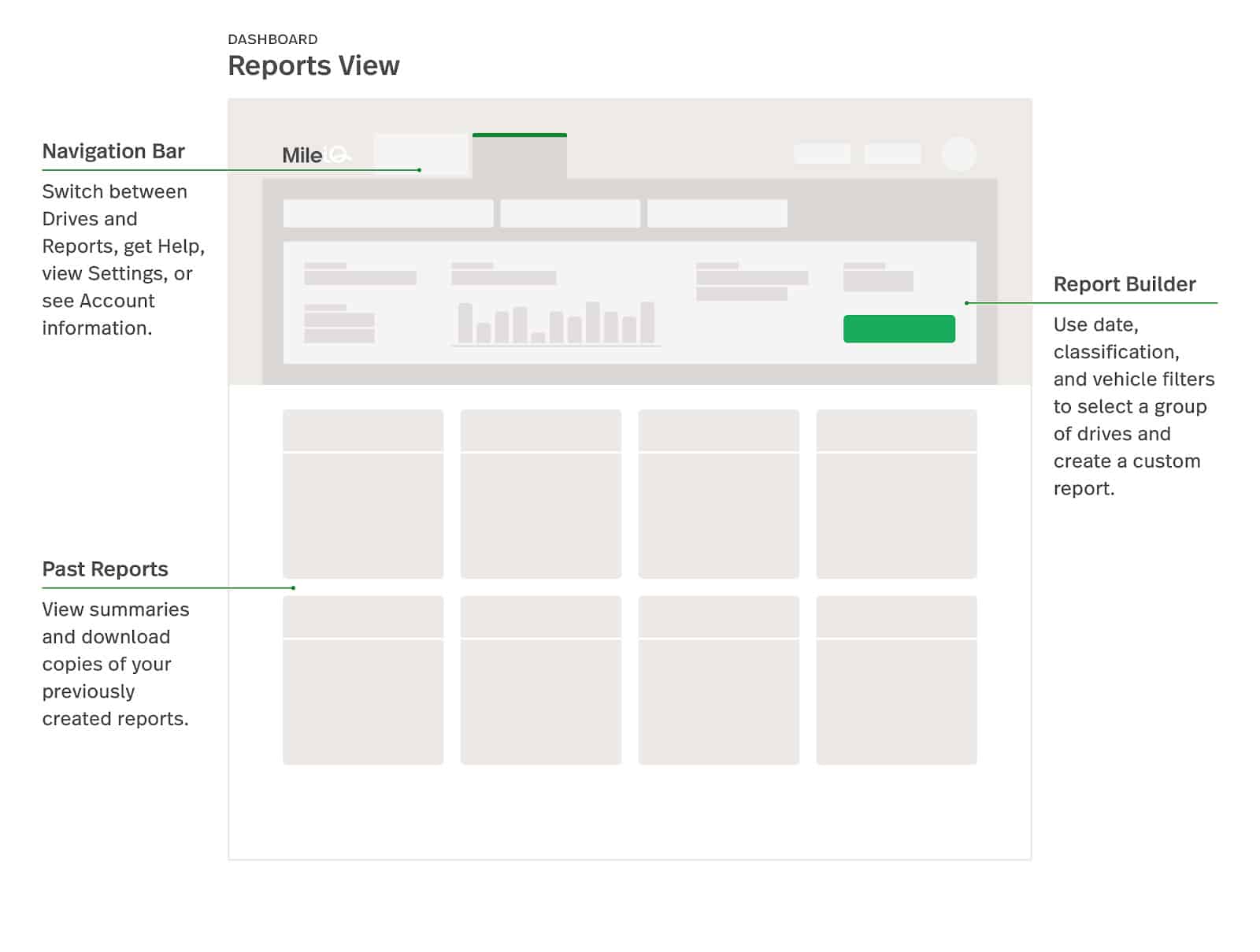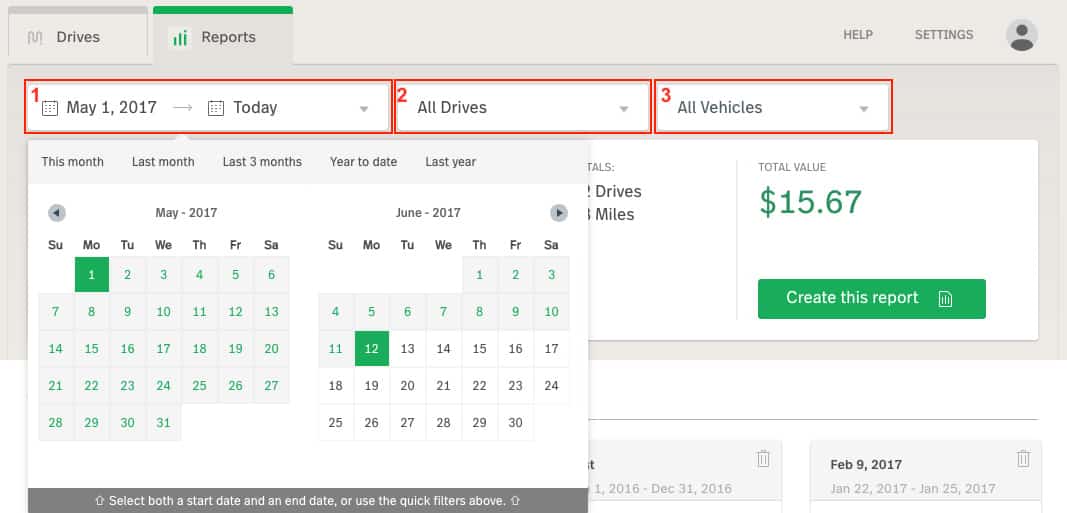 If you want to create a report, adjust the parameters like date filter, category filter, and vehicle filter. Once everything is set, click "Create this report" to generate the report. A window will appear prompting you to do the following:
Name your report
Send the report to email, Concur, or Freshbooks
Send a copy to an email address
Name of the submitter
Name of the project
Name of the client or customer
Business rate
Don't forget to click the toggle button 'Mark as reported' to yes. Then, click "Create report" to generate your new report.
Once you've created a report, you can view it at the Past Reports panel. Here, you can see newly created and past reports that are downloadable as comma-separated values (CSV) file for a spreadsheet or PDF.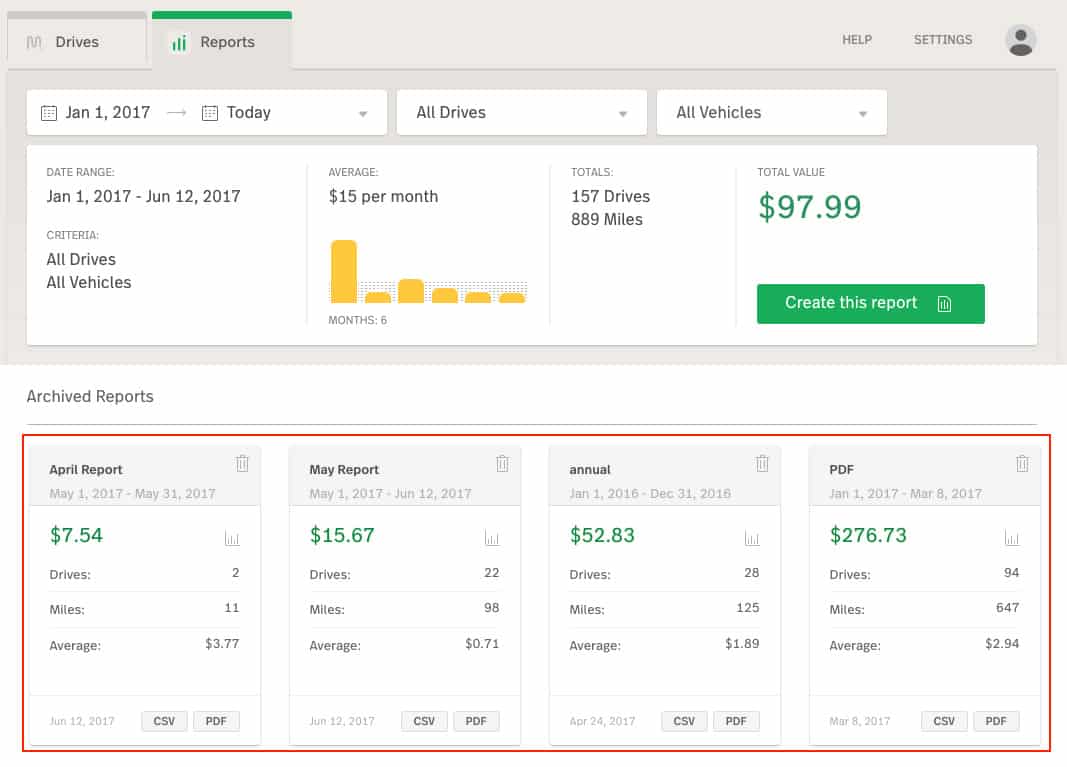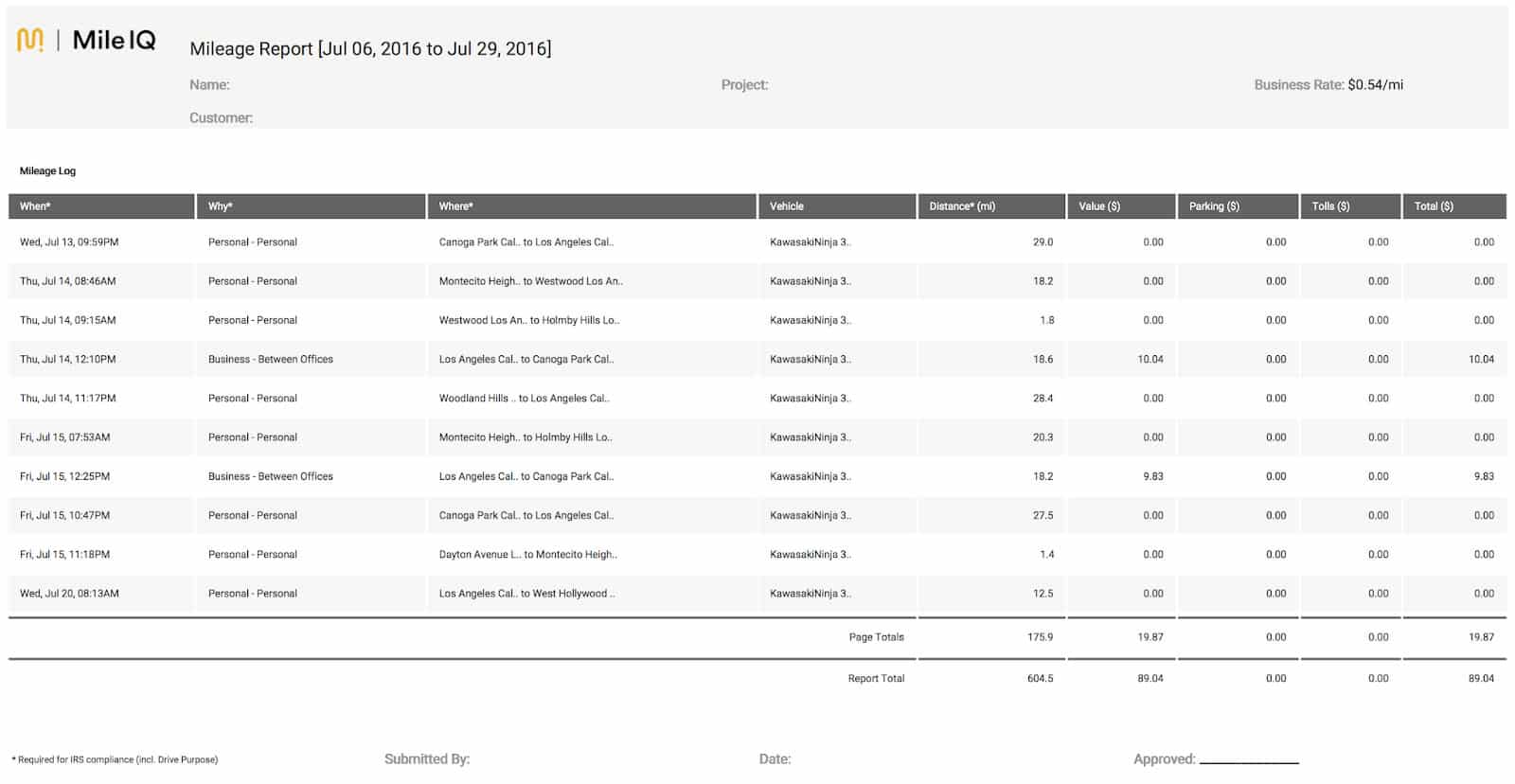 MileIQ Alternatives
Best for: Companies looking for accounting software with mileage and expense tracking features

Best for: Companies looking for mileage tracking software with organized approval workflows

Best for: Self-employed individuals or rideshare drivers in need of a mileage tracking app with tax tracking

Starts from $25 to $180

Starts from $0 to $7.99

(with custom pricing option)

Starts from $0 to $16.67
Bottom Line
Overall, MileIQ's features make it one of our best mileage tracker apps. The best highlight of MileIQ is its reporting and data visualization features. We believe that it can help decision-makers and managers assess cost-efficiency in mileage costs and productivity. Moreover, we also like its clean interface. It's easy to use and not intimidating for first-time users. Hence, we highly recommend MileIQ if you're looking for a straightforward mileage tracker.