If you're concerned about worker safety and minimizing workers' compensation insurance costs, it's important to avoid the most common workplace injuries. Any injury that is the result of an employee's job can turn into a workers' comp claim. The more claims you have, the more likely your insurer is to raise your premium.
It is up to small business owners to establish an environment that fosters safety for employees. Knowing what the most common work-related injuries are, and identifying the ones your employees most likely face, means you can put safety procedures in place to protect your workers. While accidents can still happen, implementing workers' compensation best practices can help you avoid the most common work-related injuries. Take the quiz below to find out which workers' comp provider is right for you.

Which Workers' Compensation Insurance Provider is Right for You?
Most Common Workplace Injury Types
While these are the most common injuries small business owners and workers' comp claims departments see, there are infinite ways people get hurt on the job. Employers should always be mindful of potential hazards in the workplace.
Ten of the most common workplace injuries include:
1. Slip & Fall Accidents
A slip-and-fall accident is where a person literally slips on slick or wet flooring and falls. In the fall, the person may hit their head, hurt their back, or otherwise suffer injury. Many small business owners think of slip-and-fall accidents as they pertain to general liability insurance and third-party claims, but these are as big of a risk to employees, too.
Preventing Slip & Fall Accidents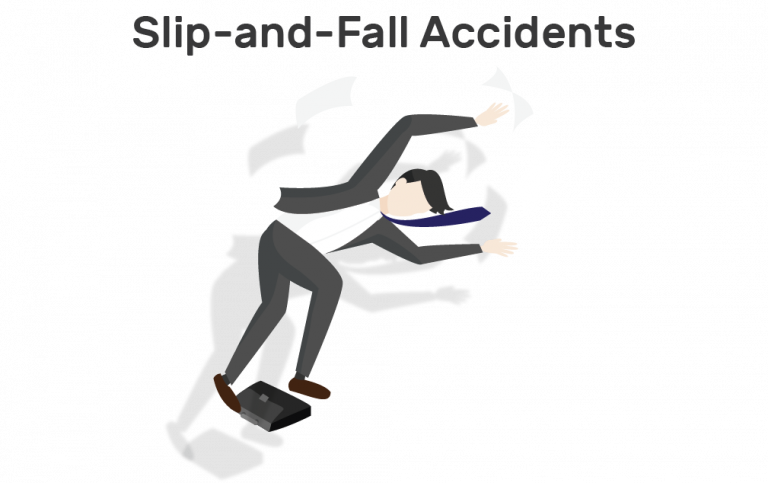 2. Back or Neck Strains
One of the most common workplace injuries is someone straining their back or neck—sometimes to the point of throwing a disc out of alignment. Strains usually happen when an employee is trying to pick up a box of supplies or a delivery. Extreme cases require surgery with significant rehabilitation. Even light weight scenarios can lead to a strain. Neck strain is also one of the most common workplace injuries with employees on the phone all day without the right ergonomics in place.
Preventing Back or Neck Strains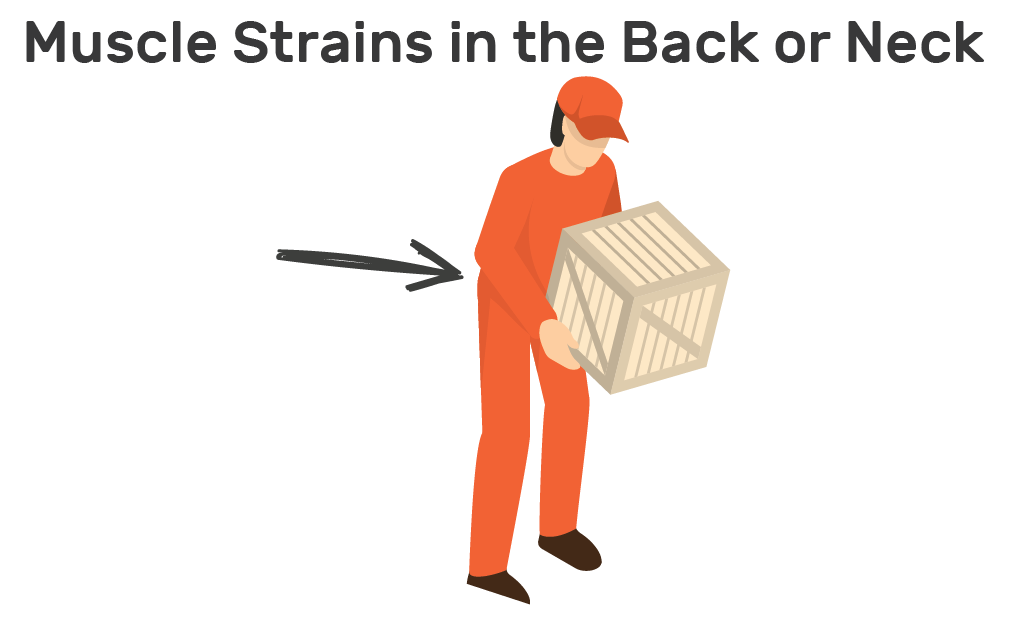 3. Repetitive Use Injuries
Believe it or not, typing can lead to one of the most common workplace injuries and workers' compensation claims: repetitive stress injuries. Carpal tunnel, for example, accounted for 6.3 of every 10,000 workers' comp claims in California workers' comp claims between 2007 and 2014. Any movement done all day, every day, without proper physical conditioning, rest, and ergonomics can lead to repetitive use injuries. Administrative tasks, manufacturing, and food processing pose the highest risk for this type of injury.
Preventing Repetitive Use Injuries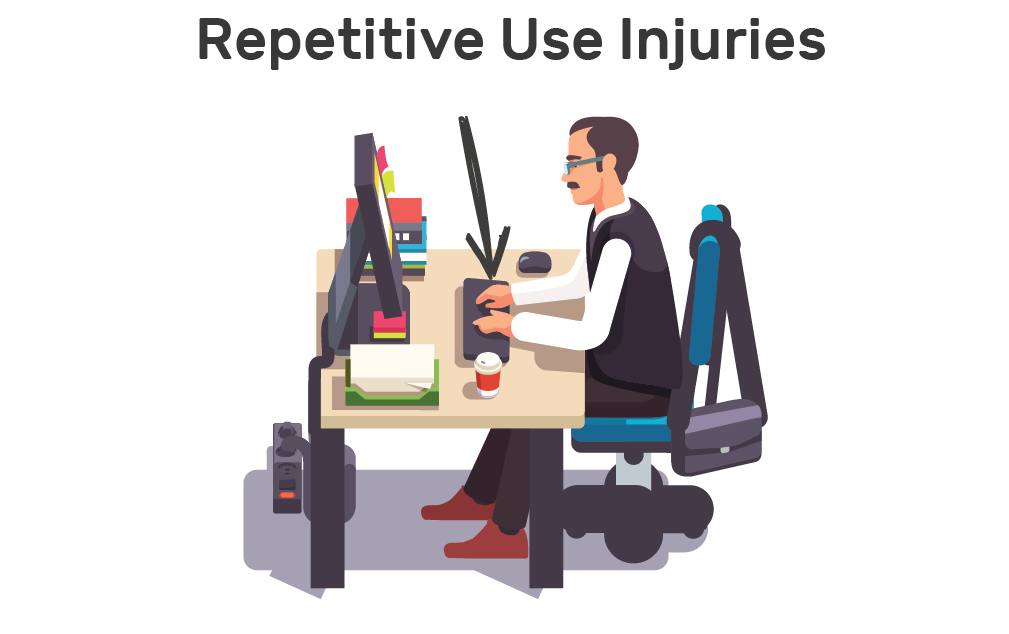 4. Injury From Falling Objects
The sky is falling! Not really, but those books hastily tossed on the top of the cubicle file cabinet could. While a place of business shouldn't be an obstacle course, poor office organization and a lack of step stools (or choosing not to use them) can result in objects slipping directly onto employees' heads.
Preventing Injury From Falling Objects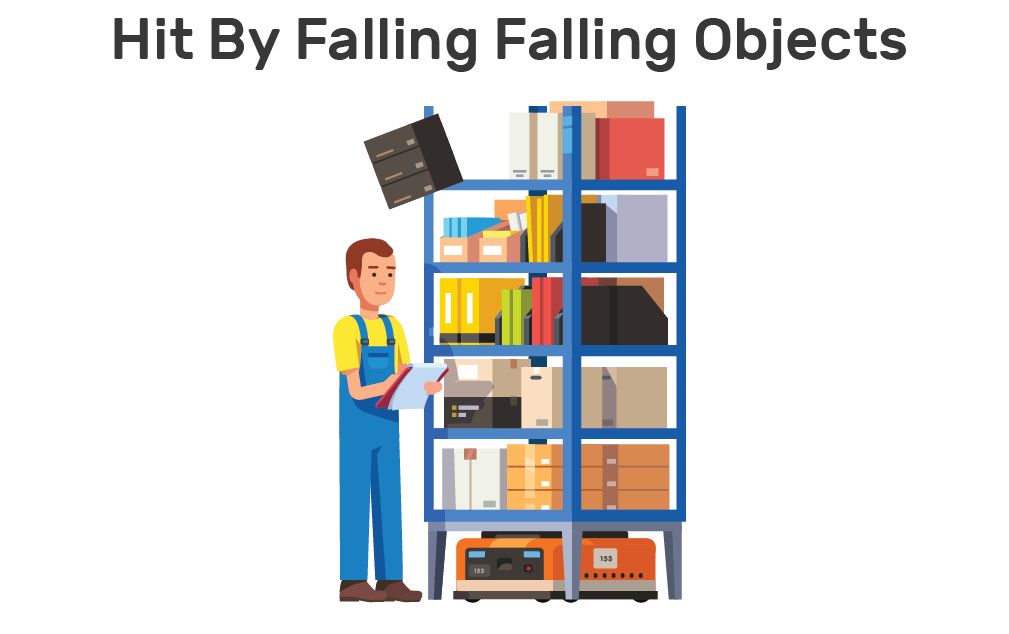 5. Cuts & Lacerations
Letter openers, box cutters, sharp edges on office machines, and even paper can lead to a cut or laceration workers' compensation claim. Reports of someone needing six stitches from a Popsicle stick used for a school craft project are proof enough that employees can get a cut or laceration from just about anything.
Preventing Cuts & Lacerations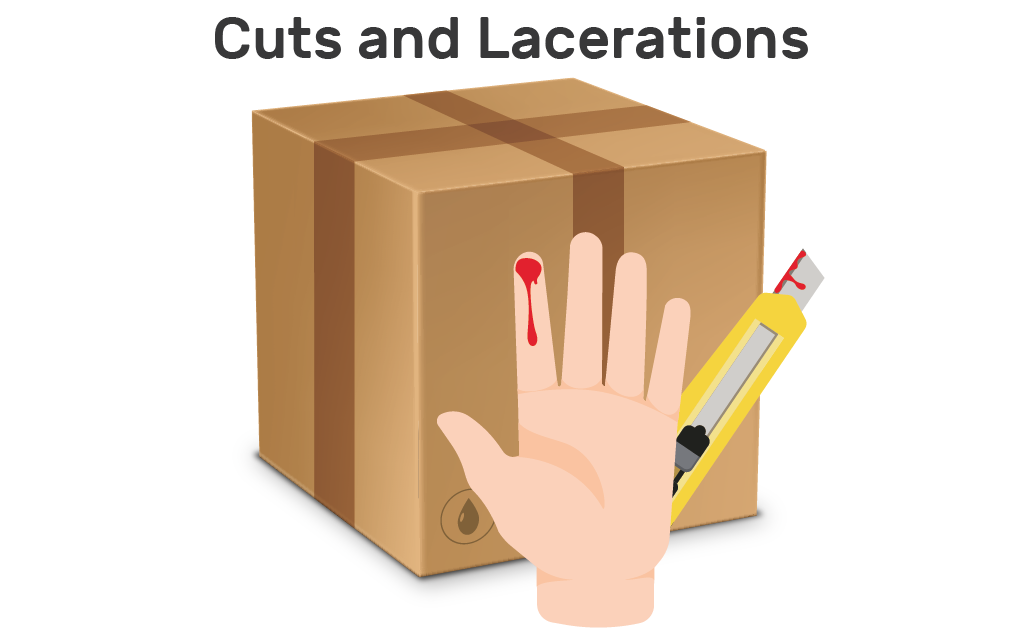 6. Collisions & Crashes
Collisions and crashes in vehicles or small mobile machinery are common workplace injuries not covered by commercial vehicle insurance if the injured person is on the job. Employees driving forklifts in warehouses, sales representatives visiting clients in personal or company cars, and tractor trailer operators are prime candidates for collision claims that can increase workers' compensation insurance costs.
Preventing Collisions & Crashes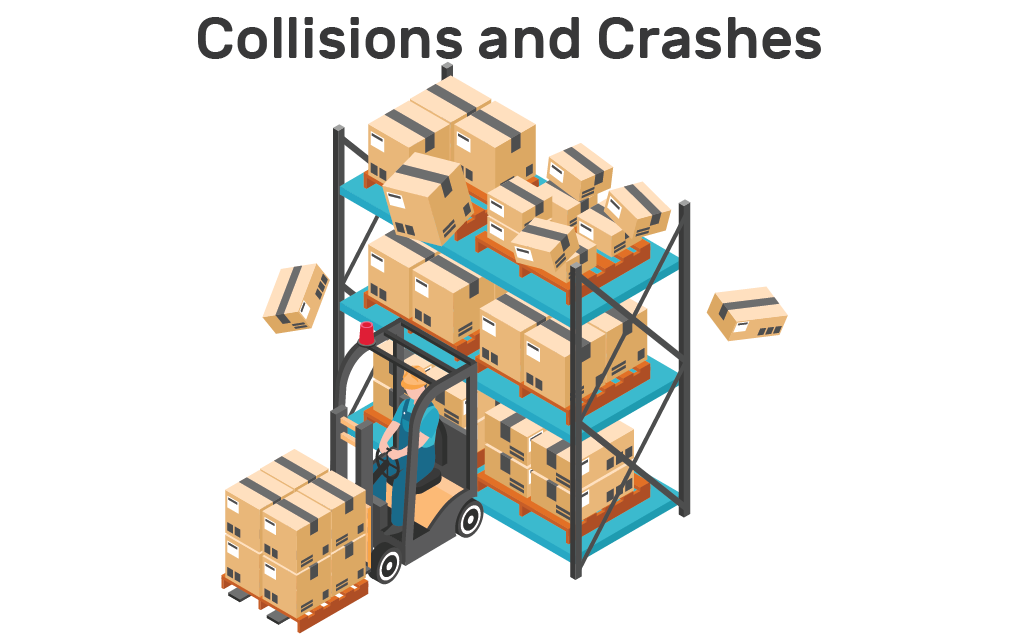 7. Fumes or Chemical Inhalation
Chemicals such as pesticides, cleaning products, and dyes can cause short- or long-term health effects. Employees may get lightheaded or fight headaches with short-term exposure to fumes, while long-term effects include chronic conditions such as emphysema or chronic obstructive pulmonary disease (COPD).
Sick building syndrome is also common for all sorts of businesses, including libraries or offices where a "chemical stew" of building materials and office function mixes in a small closed ventilation environment. The Environmental Protection Agency (EPA) suggests sick building syndrome costs businesses billions every year in employee down time and claims.
Preventing Fumes or Chemical Inhalation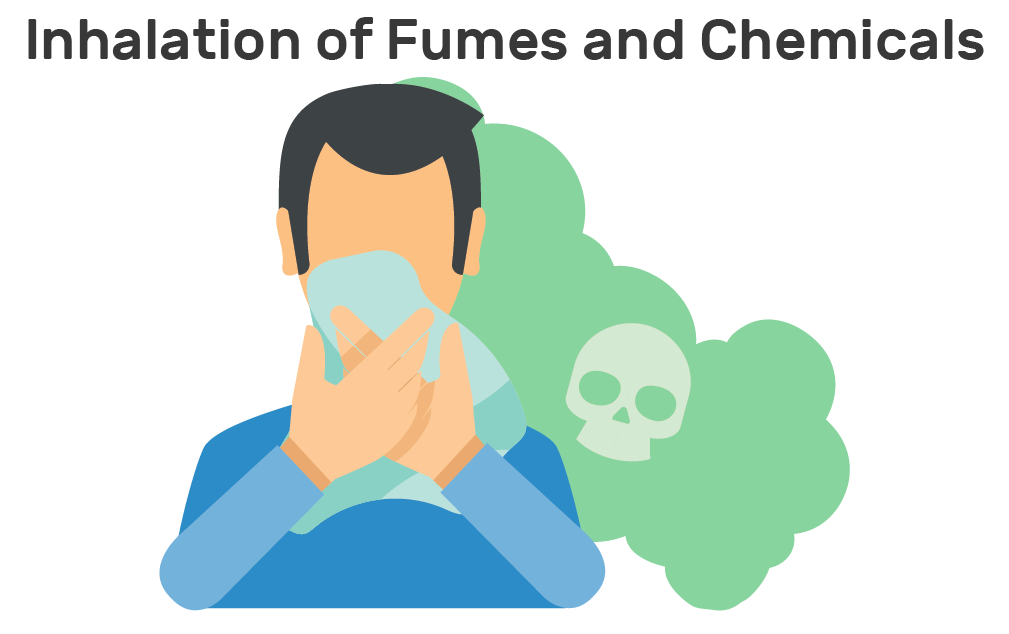 8. Workplace Fights
It's human nature that some people get along while others don't, and sometimes disagreements lead to fights. Workplace fights are more common than many small business owners think thanks to personality differences, job competition, or derogatory comments. If two employees get into a fight at work and someone gets hurt, chances are a workers' compensation injury claim will follow.
Preventing Workplace Fights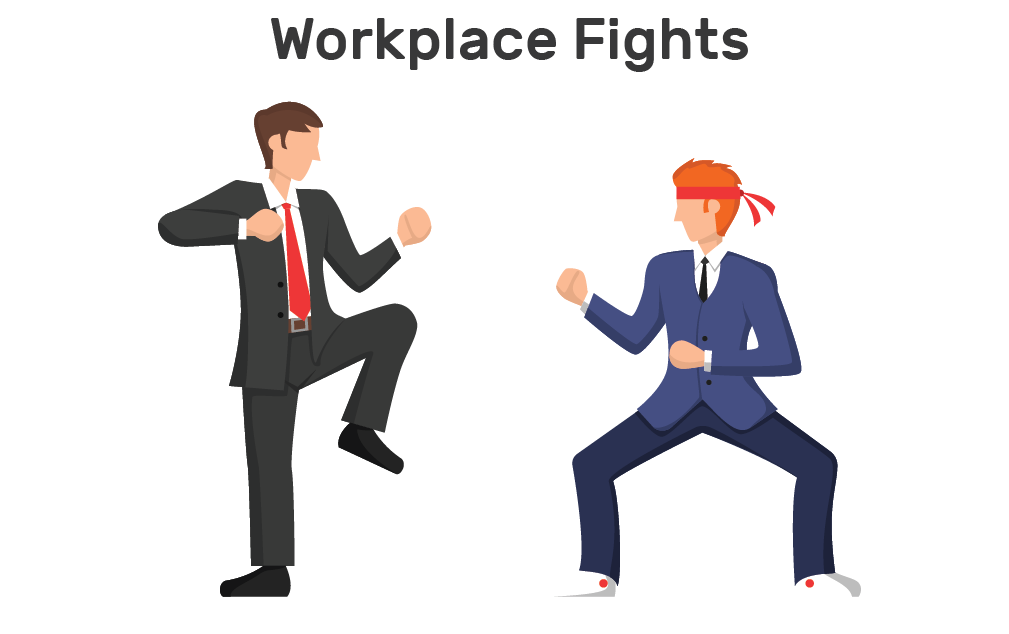 9. Exposure to Loud Noises
Working in industrial factors, airports, or near saws or lawn care machines can lead to workplace injuries, resulting in short- or long-term hearing issues. Industrial deafness is an actual term used by insurance carriers when processing claims resulting from excessive exposure to loud noises over time.
Preventing Exposure to Loud Noises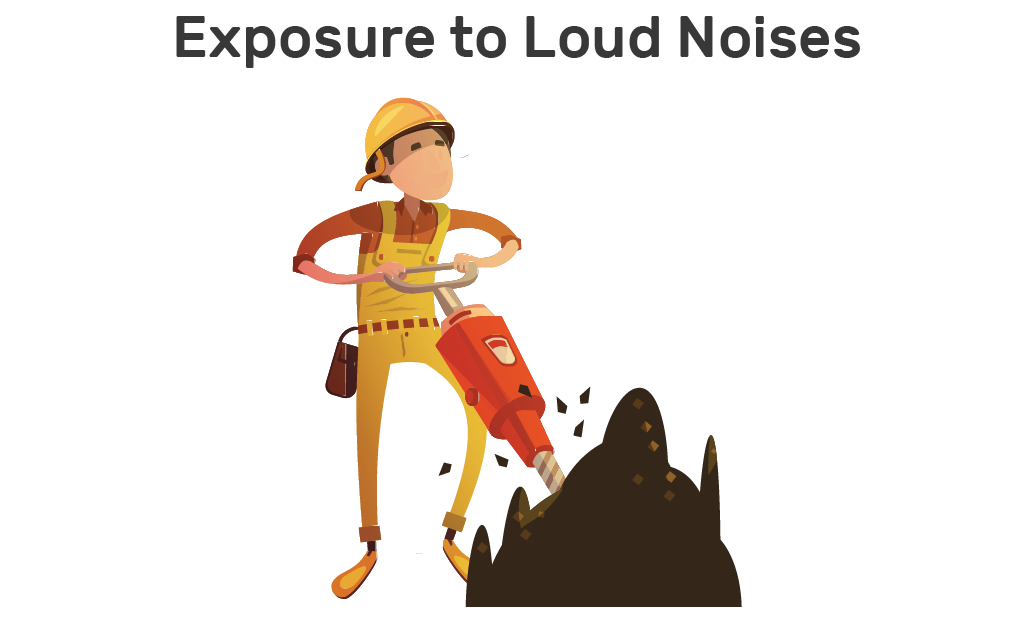 10. Walking Into Objects (or Co-workers)
Mom always said to look where you are going, but that seems to be easier said than done at work some days. Employees with their eyes looking down into their phones, rushing into a conference room not realizing the glass door is closed, or coming around a corner with a stack of files obstructing visibility can lead to collisions. Potential injuries include concussions, lacerations, and other fall injuries.
Preventing Walking Into Objects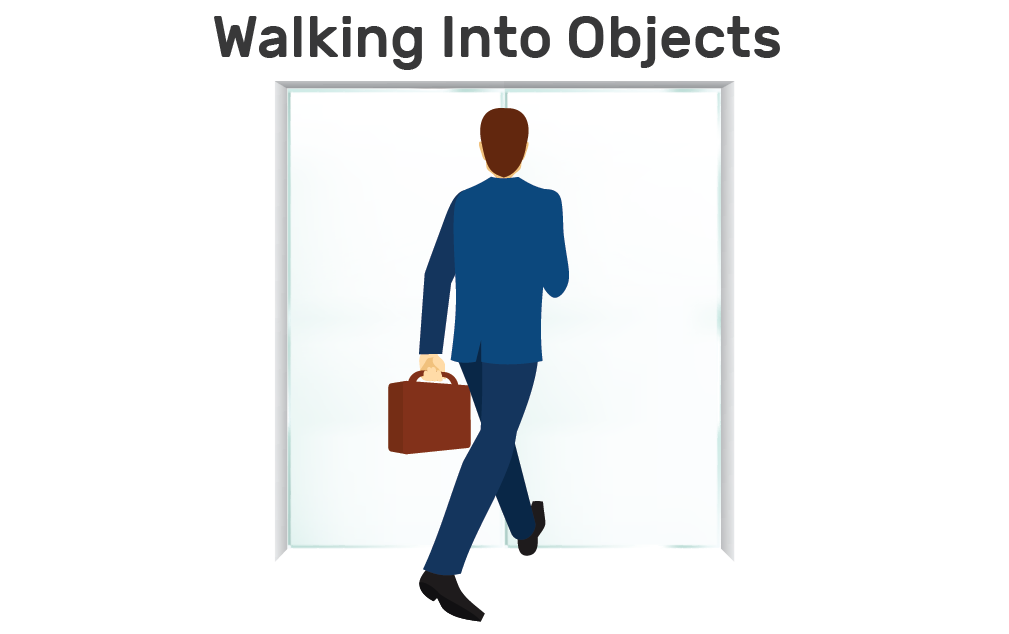 The Oddest Workers' Compensation Claims Incidents
Many of the common workers' comp claims result from some very uncommon incidents. Learn from the following examples about how real employees got real injuries to help set policies and plan for the odd-case scenarios. Here are our five choices for the oddest workers' compensation claims scenarios taken from real-life scenarios.
1. Women Has an Allergic Reaction From Co-worker's Lunch
In 2013, a Southern California woman had an allergic reaction when her co-worker brought his lunch leftovers into the office. The aroma of peanuts in his Pad Thai noodles was enough to generate a potential anaphylactic shock, which required the use of her EpiPen and paramedics to take her to the hospital for observation.
Small business owners should keep a record of all employee allergies and specific medical conditions that may lead to an incident at work. Policies for lunch rooms and common areas should be implemented to help avoid incidents.
2. Woman Trips Over Her Dog at Home
A decorator for national department once sued over a work-related injury occurring at home. While working remotely, the decorator went to her garage to get some fabric, tripped over her dog, and broke her wrist. Because  working from home was a regular part of her job, her garage was considered part of her "work environment," making the injury work related and eligible for workers' compensation insurance.
Small business owners need to set clear parameters with remote employees regarding what constitutes work hours, work locations, and activities. This won't eliminate all claims, but it helps define expectations about working from home.
3. Man Breaks Hip on Vending Machine
A 18-year-old Circuit City employee was trying to shake a bag of potato chips loose from a company vending machine for another employee. In the process, he injured his leg and was awarded his workers' compensation claim based on the reasoning that he was "injured while coming to the aid of a co-worker seeking personal comfort."
Small business owners should have regular maintenance performed on vending machines with clear instructions about what to do if a problem occurs with getting their snack. When it is easy to get resolution to a problem, employees are less likely to fight with the vending machine.
4. Delivery Man Assaulted by Panhandler
An Iowa pizza delivery man incurred a punctured lung just outside of the pizzeria when he returned from deliveries as an aggressive panhandler was being chased out of the restaurant. A fight ensued and the employee was stabbed, requiring him to be delivered to the emergency room for medical attention.
Small business owners who have employees who do any type of delivery or work outside of the business' location should set policies prohibiting employees from engaging in activities not directly related to work. They should additionally incorporate conflict resolution and even self-defense training to help employees prevent attacks when out of the office.
5. Woman Injured During Sex in Hotel Room on Business Trip
In 2007, a woman filed a workers' compensation claim after hitting her head with a lamp while having sex in a hotel on a business trip. Because the trip and the hotel was paid for by her company, it was deemed a normal activity and was not excluded since "no approval, express or implied, of the respondent's conduct was required."
The court that upheld the claim as a workers' compensation case made it clear that because the employer didn't set conduct parameters, the claim was legitimate. A small business owner should have clear travel conduct guidelines set for all employees who are required to travel.
What Workers' Compensation Covers
Workers' compensation insurance covers the costs associated with an employee getting injured on the job. Claims coverage for workers' comp includes emergency response, medical care, rehabilitation programs, and lost wages to the injured employee. State labor laws, with the exception of Texas, require all employers to maintain workers' compensation insurance.
Key areas of claims coverage for workers' compensation insurance include:
Medical expenses: Emergency health care, surgery, first aid, and doctor visits
Rehabilitation expenses: Physical therapy and rehabilitation experts such as speech therapists
Retraining benefits: Vocational programs to help injured workers build skills they can find employment with regardless of long-term injuries.
Disability payments: Short-term and permanent disability benefits replace part of an injured worker's weekly wage.
Beneficiary expenses: Funeral expenses are paid as well as stipends for minor dependents who relied on the worker's income.
Employer liability: Lawsuit defense for fraudulent and erroneous claims.
OSHA's '$afety Pays'
The Occupational Safety and Health Administration (OSHA) determined that nearly $1 billion every week is paid by U.S. employers for workers' compensation claims. If you are concerned about what direct and indirect impacts there are to the financial health of your company, OSHA has developed a great calculator called "$afety Pays" that helps business owners assess the impact that workplace injuries and illnesses have on the profitability of businesses.
OSHA: Workers' Compensation Claims vs Recordkeeping
OSHA sets rules and regulations to ensure that employees are treated fairly and appropriately in a workplace injury scenario. Employers are not allowed to discourage employees from making claims, but not all workplace injuries result in workers' compensation claims.
Recordkeeping for all workplace injuries should be maintained with notations in the employee's file regarding any incident. Incident reports, even responding with Band-Aids for a minor cut, need to be documented should something later arise out of a minor incident. Think about a minor cut that perhaps gets infected with MRSA, leading to serious illness and hospitalization.
Typical recordable incidents per OSHA's standards include:
Death, loss of consciousness, or diagnosis of severe injury or illness
Injury resulting in one or more days away from work, assigned to restricted job duties, or requiring a job transfer
Medical treatment beyond first-aid
Potential sharps contamination such as needle pokes with another person's blood
Medical removal per OSHA health standards rules
Occupational hearing loss
Tuberculosis infection
All claims must have an incident report recorded in employer files. However, employers are not required to call and make a claim for every incident that happens, but any incident where first responders arrive or an employee seeks medical attention for the injury should have a claim filed.
Further, employers should contact OSHA should any of the following incidents apply:
Any hospitalization
Amputations
Eye loss
Death
Contacting OSHA is another step small business owners must take on top of working with the insurance carrier to open the appropriate claim. Failure to do say may result in fines and legal action.
Reducing & Avoiding Workers' Compensation Claims
The best way to keep workers' compensation insurance costs down and keep company morale up is to reduce or avoid workplace injuries. Many insurance carriers offer discounts for small business owners that have safety programs established with clear implementation and training. In fact, more insurance carriers are implementing risk mitigation programs to help business owners do a better job of reducing claims.
Working with an insurance carrier or a human resources risk specialty helps small business owners create tailored safety programs. These programs are designed, written, and distributed to the workforce, followed by training and operations changes. It is the responsibility of every employer to provide as safe a working environment as possible for all employees.
Workers' Compensation Insurance Fraud
Approximately 1% to 2% of all workers' compensation claims are fraudulent. This results in a staggering $6 to $7 billion claim payouts where the injured party shouldn't have been paid. If you suspect fraud is occurring, work with your insurance carrier to investigate the claim.
Fraudulent claims are broken down into three basic categories:
False Claims: The injury never happened.
Working while collecting benefits: Injured party collects wages while supposedly being unable to work.
Exaggerated claim: A small injury is dragged on to get more money and potential long-term benefits.
Insurance carriers have fraud departments with private investigators who will review security footage of injuries, social media of the claimant, and do further investigating of medical providers and specialists. Keeping fraudulent claims down is critical to keeping the costs of workers' compensation insurance down for everyone.
Bottom Line
Accidents and injuries happen. Often they happen in ways that you didn't anticipate. The best way for small business owners to protect themselves from dealing with any of the most common workplace injuries is to train your workforce to be safer. What may seem like common sense to one person is not to another. Teach employees how to be safe on the job to avoid insane workers' compensation stories best left for the tabloids.