Nimble Property is an all-in-one cloud-based accounting software developed with hotels in mind. It offers a robust combination of easy-to-use features, automation, integration, and budgeting. It allows you to monitor daily sales, check occupancy, compare budgets, and monitor revenue per available room. It also lets you handle any day-to-day accounting activities, such as paying bills, invoicing customers, and reconciling bank accounts.
Best for growing hotel businesses and those managing multiple properties, its plans start at $250 per month This price is according to one of Nimble Property's blogs.  with the option to cancel at any time. You can also sign up for a free demo on its website to try out its features today. Our Nimble Property review will help you determine whether it's the right platform for your business.
The Fit Small Business editorial policy is rooted in our mission to provide small businesses with the best answers to their questions. We offer accurate, impartial, and helpful information that you can trust when choosing hotel accounting software.
That said, we developed an internal scoring rubric that allows us to properly score each software across a predetermined set of categories. This helps us provide in-depth analysis and insights into the hotel accounting software's performance and present you accurate recommendations based on your business needs.
---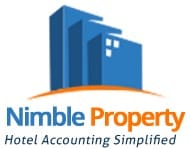 Pros
Manage multiple properties
Scalable and customizable
iOS and Android mobile app
Prompt support and service
Cons
No receipt capture
No transparent pricing
No booking engine
No free trial
Limited product information on website
Pricing & Scalability

Pricing is not published on its website, but Nimble Property mentioned in one of its blogs that pricing starts at $250 per month.

Discounts

✕

Free Trial

✕

Free Demo

✓

Money-back Guarantee

✕

Standout Features

Access to industry research for gathering customer feedback
1099 reporting of contractor payments
Door lock system for hotel security

Customer Support

Average User Reviews

Mostly negative; users find that the technical support team isn't responsive or helpful.
Businesses with multiple properties: The software is quick and easy to set up and can be used to manage multiple properties at once. An intuitive dashboard generates day-to-day combined and independent reports of all of your hotels.
Hotel businesses anticipating growth: It is both scalable and customizable and allows you to manage the company's bookkeeping, accounting, and operations. Daily sales automation allows you to simplify daily sales tracking as well.
Hotel businesses looking to outsource their bookkeeping: If you want to outsource your bookkeeping, Nimble Property's dedicated bookkeeping experts will handle your books while also serving as a point of contact for any questions that may come up.
Nimble Property Alternatives & Comparisons
Pricing

Booking Engine

Mobile App

Budgeting

✕

✓

✓

Quote-based

✓

✕

✕

Quote-based

✕

✕

✓

Starts at $90 per month for Plus

✕

✓

✓
|   | Best For | Learn More |
| --- | --- | --- |
| | Online booking: A good feature in hotel accounting software would be a booking engine or system. This feature, which Nimble Property lacks, helps you keep track of hotel revenues and reservations. For this, we recommend Cloudbeds for its booking engine. | |
| | Tracking hotel construction costs: Nimble Property has no construction accounting features, if your hotel plans to continuously expand, M3 Accounting Core can help you account for construction costs. | |
| | Small hotels with basic accounting needs: Nimble Property has complexities in its hotel accounting features and may not be suitable if you manage small boutique hotels. QuickBooks Online is more suitable for small hotels for its simplicity and robustness in essential accounting features. | |
Nimble Property Reviews From Users
Users Like

Users Dislike

Hotel portfolio management
Poor customer support
Bill and daily sales automation
A lot of manual entry
Ease of use
Users who left a Nimble Property review mentioned that it's good software for managing your hotel portfolio. Since it can handle bookkeeping for multiple hotels, users see Nimble Property as a single software to track all hotels. Those who gave negative reviews highlighted Nimble Property's poor customer support. Some said that the technical support team doesn't act on customer tickets.
Due to the very few reviews of Nimble Property, we can't provide an expert opinion about the software based on customer feedback. We also discourage you from solely basing your buying decision on these reviews. It's best to contact Nimble Property for a product demo.
Here are its scores in popular review websites:
Hotel Tech Report[1]: 4.6 out of 5 based on around 15 reviews
G2.com[2]: 1.8 out of 5 stars based on about than five reviews
SoftwareAdvice[3]: 2.5 out of 5 stars based on around than five reviews
Nimble Property vs Competitors
As part of our best hotel accounting software buyer's guide, we reviewed and compared Nimble Property with its top competitors in the industry.
Nimble Property vs Competitors FSB Case Study
Touch the graph above to interact Click on the graphs above to interact
Nimble Property Starts at $250 per month

Cloudbeds Custom-quote

QuickBooks Online Starts at $90 per month for Plus plan
Overall, Nimble Property is above average in our evaluations but slightly lower than Cloudbeds and QuickBooks Online. Accounting and hotel management features are Nimble Property's best features, but Cloudbeds wins hotel management, while QuickBooks Online takes the lead in accounting.
Nimble Property also has a low ease of use score because of limited customer support and integrations. It remains a good pick if you're looking for essential accounting features but excellent hotel financial planning and revenue reporting.
Nimble Property pricing information isn't readily available on the provider's website, but its blog post from December 2021 makes a reference to a variety of subscription plans that start at $250 per month. It also promises that you can cancel your subscription at any time if you are unhappy with its platform and that there's no cost for additional users. You can sign up for a free demo of the software for more information.
Nimble Property Features
Nimble Property's software has many useful features for both accounting and hotel management. Some of its most powerful accounting features include real-time reporting, 1099 payment tracking, and a budgeting module.
Hotel management features, such as a key performance indicator (KPI) dashboard and a door lock system, help streamline your business and view important financial metrics. If you're seeking assistance with your bookkeeping, you can opt to outsource it with Nimble Property's dedicated bookkeepers.
Our evaluation of Nimble Property's accounting features reveals that it possesses some essential features but misses on the others, such as fixed asset tracking. Overall, Nimble Property is still a good platform that hoteliers may consider. Here are its salient accounting features:
Nimble Property lets you compare your actual revenue and expense figures with budgeted amounts in real-time. This allows you to analyze and control your multi-hotel property business with single-screen access to budget and forecast comparison reports.
---
Using its built-in analytics tools, you can access more than 60 powerful reports and industry-specific statements. These include customizable revenue and expense statements and maintenance reports.
---
The reporting features allow you to record, track, and manage your hotel's 1099 vendors with just a few clicks from the dashboard. You can create a 1099 payments report with a specified period that shows the vendor's name, Social Security number or tax ID number, payment type, method, and account information.
---
You can simplify your inventory management while increasing your company's profits by tracking and forecasting based on room occupancy. This feature is extremely useful for hotels because it allows hoteliers to track hotel suppliers used during housekeeping.
---
Nimble Property's hotel management features are above average. It has great hotel financial planning features but we'd highly appreciate it if they could include a booking engine in the software.
Nimble Property's intuitive dashboard displays your company's crucial financial metrics in real time, providing you with a thorough view of real-time occupancy, average daily rate, and revenue per available room. It also alerts you to checks to be printed, recurring dues, transactions to be approved, and the banking summary.
---
This allows you to assign a specific ID to each person who has access to your property. This enables you to grant or restrict their access to particular areas according to their needs.
---
Nimble Property enables Guest Satisfaction Survey (GSS) and Smith Travel Research (STR) Input to provide a detailed view of guest comments, feedback, and competitor analysis. You'd find this feature useful to gather feedback and address problems about your hotel.
---
We find Nimble Property's ease of use to be average due to several factors. First, it has limited customer support. Though it has a toll-free number and email, it doesn't have other support channels like in-app live chat support, a knowledge base, or a chatbot—having a knowledge base or help center would be a big plus in our evaluation.
However, we're pleased that Nimble Property offers software onboarding and assisted bookkeeping services. These two improve the ease of use since it makes the customer experience easier and lighter.
We hope that Nimble Property will add integration options to its product. Based on the very limited information on its website—which also deserves an upgrade—and other promotional materials, there are no integration options available.
Overall, Nimble Property's ease of use is one step forward but two steps back. We hope that the provider would improve the system and, if the negative user reviews were true, address these concerns in future updates.
How We Evaluated Nimble Property
As part of our best hotel accounting software buyer's guide, we evaluated Nimble Property in four key areas: pricing, accounting features, hotel management features, and ease of use.
20%
Hotel Management Features
20% of Overall Score
Price is an important component of every small business decision. In our evaluation, we placed more emphasis on providers that have a transparent pricing structure. However, we don't discredit providers who'd like to keep their pricing confidential or those that offer a custom pricing model.
40% of Overall Score
The best hotel accounting software should have enough accounting features to cater to a hotelier's daily accounting needs. We considered the following subcriteria: general features, A/P, A/R, fixed assets, inventory, and basic financial reporting.
20% of Overall Score
While our focus is hotel accounting, having hotel management features included in the software is a big plus. Therefore, we award points to providers that include features, such as hotel booking, housekeeping, hotel financial planning, and revenue management.
20% of Overall Score
Our ease-of-use evaluation revolves around customer support, integration, and expert analysis. For customer support, we'd like to see multiple support channels that enable users to contact the provider in case of problems. Users should be able to contact the support team by phone, email, or live chat. If direct contact is unavailable, there must be alternatives like a detailed knowledge base or help center and chatbot for quick assistance.
Having the ability to integrate the software with other apps is a good addition to overall ease of use. Customer feedback from user review websites is also included in our rubric to corroborate our findings with actual user feedback. However, we remain neutral and fair in considering reviews as some tend to be one-sided or focused on the negative.
Lastly, we include our expert analysis score based on our evaluation of the software and on the information made available to perform a full review.
*Percentages of overall score
Frequently Asked Questions (FAQs)
Based on its website, there is no free trial. Contact Nimble Property for more information.
---
Its blog indicated that prices start at $250 per month, but we do not have definite information on what the price will be based on your needs.
---
Bottom Line
With its customizable and easy-to-use interface, scalable functionalities, and industry-specific metrics, Nimble Property has many of the features that will help you efficiently manage your hotel's finances. Its robust reporting, inventory management, budgeting module, and access to bookkeeping experts make it a strong choice for businesses with multiple properties and those anticipating future growth.
---
User review sources:
1Hotel Tech Report
2G2.com
3SoftwareAdvice