6 Best Hospitality & Hotel CRM Software
This article is part of a larger series on CRM.
Customer relationship management (CRM) software for hotels and restaurants provides tools to engage potential customers, schedule reservations, and manage event-based projects. The best CRM systems for the hospitality industry also offer features such as ticket generation and payment processing functionalities. We evaluated dozens of hotel CRM providers to identify the top options based on pricing, features, ease of use, and user experience.
The top CRM software for hotels or the hospitality industry and their best use cases are:
Best CRM Software for the Hospitality Industry Compared
Provider

Free Plan

Free Trial for Paid Plans

Starting Price for Paid Plans

Special Hospitality CRM Features

Help & Support

Yes (unlimited users)

21 days

$15 per user, per month*

None

Self-help resources
24/5 support via phone, chat, and email
Dedicated account manager (Enterprise)

N/A

30 days

$99 per month (billed monthly)

Food delivery, event venue, and catering management

Knowledge base
24/7 email support and ticket submission
Phone support (M-F 9:30 a.m. to 5:00 p.m. Eastern Time)

N/A

N/A

$112 per month (billed annually)

Hotel reservation and customer loyalty management

Product tours
Blogs
Customer support via email and web form submission

N/A

N/A

Customized pricing

Guest feedback and hotel email marketing management

Resource library
Help center
Customer success stories
Email campaign examples
Hotel email marketing certification courses
Customer support via web form submission
24/7 technical support

N/A

N/A

Customized pricing

Content management system (CMS)

Knowledge base
Resource library
Personalized demo
Newsletters, and customer
Email support
Online form submission

N/A

N/A

Customized pricing

Event planning and hotel booking features

Tripleseat community
Events
Blogs and podcasts
Tripleseat University
Knowledge base
Online form submission
*Based on annual billing. Monthly pricing is also available at slightly higher rates.
Looking for general use CRM systems that are easy to learn and use? Check out our guide to the best simple CRMs for startups and small businesses.
Freshsales: Best Overall Hospitality-ready CRM
What We Like
Built-in marketing tools for generating and managing email subscribers
Native integration with Freshdesk provides an easy-to-use service ticket management platform within Freshsales
Free option is available for an unlimited number of users
What's Missing
Free version has limited dashboard customization options
Lacks project management tools for planning events
Doesn't have any built-in tools for managing reservations and bookings
Freshsales Pricing at a Glance*
Free: Unlimited users
Growth: $15 per user, per month
Pro: $39 per user, per month
Enterprise: $69 per user, per month
Free trial: 21 days
Add-ons
Additional workflows: $5
Phone credits: Starts at $25
CPQ (configure, price, and quote): $19 per user, per month
*Based on annual pricing. Monthly pricing is also available at slightly higher rates.
Freshsales ranked as the top CRM option for marketing hospitality businesses because of its tools for designing, deploying, and automating email campaigns. It also has preference management tools for email subscribers, making it an excellent choice for businesses that generate revenue from recurring customers, like hotels, bars, restaurants, and travel agencies.
While Freshsales offers many strengths, its glaring disadvantage is the lack of hospitality industry-specific functions like event planning and booking management. However, you can integrate it with third-party apps such as Eventbrite and Cvent. If you need a CRM system that comes with hospitality CRM functions, consider using Guestware for smaller hotels and Tripleseat for event planning at restaurants, hotels, and other venues.
Freshsales Features
Core CRM features: Contact management, account management, contact lifecycle stages, tasks, appointments, notes, and sales activities
CRM customization: Rename modules, custom fields, profile avatar, record tags, product catalog, email template tags, workflows, and auto-assignment rules
Sales automation: Auto-assignment rules, sales sequences, web forms, territory management, holiday routing, auto-profile enrichment, email templates, workflows, and chat campaigns
Communication: Two-way email sync, cloud telephony, live chat, WhatsApp integration, Apple Business Chat, short message service (SMS) integration, and Zoom meetings
Sales pipeline management: Multiple sales pipelines, product catalog, configure, price, and quote (CPQ), sales goals, and deal stage probabilities
Freddy AI (artificial intelligence assistant): Next action, deal insights, data deduplication, out-of-office detection, predictive contact scoring, lead generation bot, calendar event suggestion, and sales forecasting
Reporting and analytics: Prebuilt reports, custom reports, sales cycle and velocity reports, and sales activity reports
Mobile app: Android and iOS apps, voice notes, sales activity check-in and check-out, offline mode, analytics dashboard, notifications, Zoom meetings, individual and bulk SMS, automatic call logging, Google Maps and Uber integrations, and bulk emails
Help and support: Self-help resources (case studies, product tour, product updates, and blogs), 24/5 customer support (phone, chat, and email), and access to dedicated account manager (Enterprise subscribers only)
Find out if this platform is the right fit for your business needs by reading our Freshsales review.
CaterZen: Best Hospitality CRM for Small Food Delivery & Catering Businesses
What We Like
Built-in call center and phone ordering management system
Overall easy-to-use, drag-and-drop interface for food delivery management and menu creation
Reporting features are built in for a day-to-day delivery schedule
What's Missing
Critical integrations with QuickBooks, Google Calendar, and Gmail are only available on the highest-priced plan
Customer support is only available during standard business hours
Email marketing tools and custom lead capture forms are only available at the highest-priced plan
CaterZen Pricing at a Glance*
Online Ordering Plus: $99 per month
Pro: $149 per month
Pro Plus: $199 per month
Marketing Pro Plus: $229 per month
Add-ons
Start-up Support: $299 one-time fee
Rapid Reply (automatic message sending): $99 per location, per month
Notifications: 8 cents to 2.5 cents each
Call Module: 5 cents to 6 cents per minute
Direct Mail: $1.39 to $1.51 each
*Monthly pricing only
CaterZen offers marketing and operational features useful for businesses involved in delivering food either through a catering service or as a restaurant with food delivery options. These include customized menus, delivery address management, and an ordering platform. You can also generate leads through webforms and email campaigns, as well as design systems for referral generation and loyalty programs.
One of the downsides of using CaterZen is the absence of email marketing tools, custom lead capture forms, and critical integrations such as QuickBooks and Google Workspace in its lower-tier plans. Its phone support is also available only during standard business hours on weekdays. Freshsales, on the other hand, offers the abovementioned features starting with its lowest-priced plan. You can also reach its support team 24/5 via phone, chat, and email.
CaterZen Features
CRM database: Client stats, highlighted notes, customer service management, delivery address management, prospect management, groups, email archive, meeting scheduling, calendars, and file attachments
Menus: Unlimited menus, categories, items, modifiers, menu customization, drag-and-drop creator, custom display time, permission-based menus, and catering rentals
Client online ordering platform: Customizable interface and branding, photos of menu items, mobile-enabled interface, upselling module, online payments, cake options, dietary restrictions, repeat orders, and item inventory levels
Back-office ordering features: Unlimited order types, corporate discount module, items in partial quantities, mobile order taking, duplicate recurring orders, day-before email notifications, basic loyalty program, catering venue management, electronic signature contracts, unlimited custom proposal templates, and item inventory levels
Delivery: Drag-and-drop routing and mapping, custom delivery zones and fees, driver app, driver tracking, app-based signature capture, app-based event pictures
Reporting: Delivery schedule report, sales reporting, lost clients, and sales activity tracking
Kitchen and event reporting: Rapid recipe builder, kitchen production report, supplier reports, customized catering supplies list, order labels, and unlimited Banquet Event Order (BEO) templates
Accounting: Auto-batch credit card processing, custom payment types, refund management, sales journal reports with breakdowns, sales tax matrix, quick payment recording, invoicing, and deposit management
Marketing: Snail mail marketing letters, rebooking reminder system, email marketing, marketing calendar, library of catering marketing resources and templates, and custom lead capture forms
VoIP call module: Click-to-call, call forwarding, record and track call activity, list cleaning module, and outgoing call management
Help and support: Knowledge base, phone support (Monday to Friday 9:30 a.m. to 5:00 p.m. Eastern Time), and 24/7 online form submission, ticket submission, and email support
Guestware: Best Reservation Management Software for Small to Mid-sized Hotels
What We Like
Comprehensive hotel CRM that offers features for servicing guests, facilities management, and marketing
Mobile application can be used for room inspections, viewing task schedules, and seeing reporting analytics
Reporting and analytics features offer automatic analysis of guest experiences
What's Missing
Marketing features for loyalty program management and email marketing are only available on the highest-priced plans
No built-in tools for event planning
Lacks direct integration capabilities with commonly used email marketing apps like Mailchimp, Drip, and Constant Contact
Guestware Pricing at a Glance*
Guestware Select: $112 to $513 per month
Guestware Suite: $200 to $775 per month
Guestware Plus: Contact sales for customized pricing
*Based on annual pricing
Guestware is an ideal hotel operations management tool for small to mid-sized hotels with 50 to 200 rooms. Its direct integration with room booking apps and loyalty program management functionality helps optimize guest service and experience. In addition, its built-in Incident Tracking system allows you to efficiently manage guest complaints and property servicing. This platform integrates with property management systems (PMS) such as Oracle and Protel.
Guestware may not be the right solution for your business if you are looking for a hotel CRM with event planning capabilities. We recommend Tripleseat as an alternative, as it has a set of specialized features for booking and managing events at hotels.
Guestware Features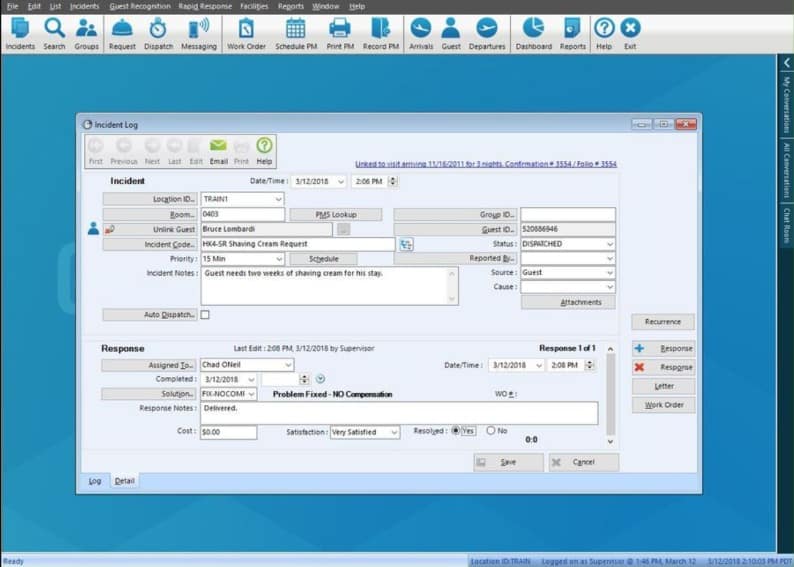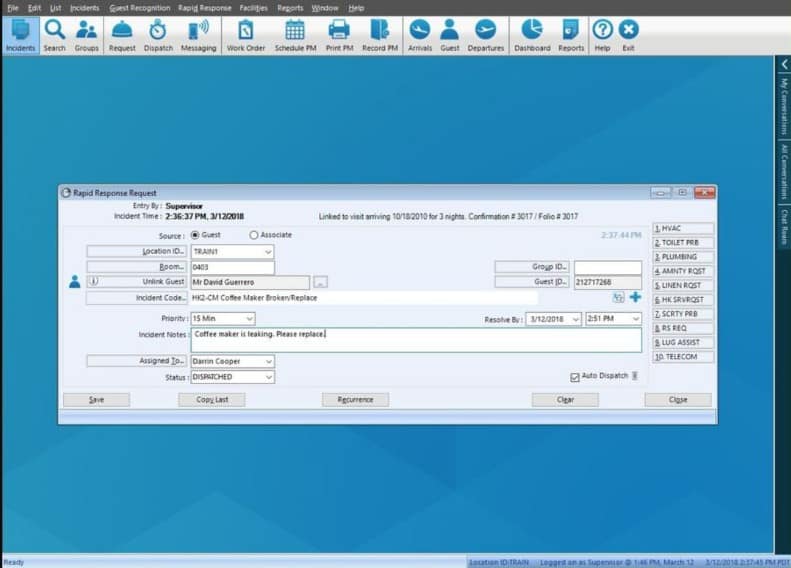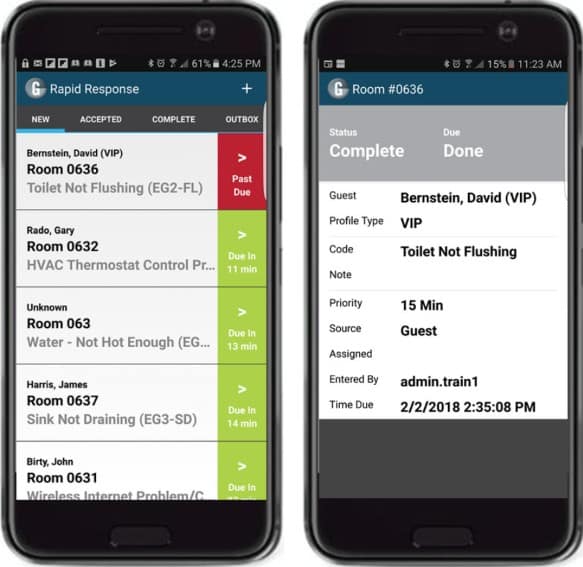 Guest response: Incident tracking (track issues, resolutions, reviews, surveys, and compensation), rapid response forms, automated staff assignment, mobile apps, and recurring issue identification
Facilities: Preventive maintenance of rooms and equipment, maintenance task work orders, housekeeping interactive voice response (IVR) system, mobile room inspections, and process improvement
CRM and loyalty: Guest Recognition logic (personalized services based on guest history), shared profiles and preferences among all properties in the portfolio, property management system (PMS) and central reservation system (CRS) integrations, loyalty program management, and email marketing
Service: Software-as-a-Service (SaaS), implementation services with onsite and online training, and success management
Help and support: Self-help resources (product tours and blogs) and customer support via email and web form submission
Revinate: Best Email Marketing Management Tool for Hotels With Multiple Locations
What We Like
Multihotel capabilities to manage all customer and property information in one centralized system
Reputation management features to monitor, respond to, and resolve online reviews
Built-in reporting analytics of guest behavior-related information
What's Missing
No pricing transparency; each plan is priced separately based on the size and needs of the business
Does not have any telephone features either built-in or through an integration
Doesn't offer event management tools
Revinate Pricing at a Glance*
Marketing Plans: Starter, Pro, and Custom
Guest Feedback: Reputation, surveys, and custom
*Contact the sales team for customized pricing of each plan based on business size and needs
Revinate provides features for managing multiple hotel properties and centralizing lead information from various locations. This makes it an excellent tool for multilocation hotel businesses. It also offers guest feedback management solutions and tools for email marketing, market segmentation, and upselling.
What Revinate is missing are telephonic features for placing, receiving, and monitoring phone calls through their CRM. If these functionalities are important to you, try Freshsales, which provides viable phone solutions for hospitality businesses. Tripleseat is also a great alternative that offers event planning and management features, which Revinate also does not have.
Revinate Features
Hospitality CRM: PMS data integration, rich guest profiles, guest revenue attribution, and profile synthesis
Hotel email marketing: PMS segmentation and targeting, campaign automation, flexible template editor, email template management, room and amenity upselling, email testing, A/B testing, and dedicated internet protocol (IP) address
Campaign and revenue analytics: Campaign and revenue reporting, link tracking and attribution, performance data, upsell reporting, and database insights
Guest feedback: Reputation management, custom dashboards, workflow management, competitive benchmarking, revenue insights, post-stay surveys, mobile responsive surveys, and Tripadvisor and Google publishing
Help and support: Access to resource library, help center, customer success stories, email campaign examples, hotel email marketing certification courses, customer support via web form submission, and 24/7 technical support
Cendyn: Best for Content Management Solutions
What We Like
Easy-to-use email campaign editing through drag-and-drop functionality
Up-to-date reporting analytics for property market trends, revenue performance, and pricing recommendations through Revintel tool
Built-in content management system (CMS) and web design capabilities
Cendyn Pricing at a Glance
Contact the sales team for customized pricing based on business size and needs
Cendyn offers a suite of products for the hospitality industry, such as platforms for managing hotel sales, marketing, reservations, revenue, and intelligence. It also has a built-in content management system (CMS) and tools for website design within the platform, making it a highly recommended solution for hospitality businesses that want a CRM system with content management capabilities.
Cendyn has recently merged with hotel reservation and distribution platform Pegasus to add several other solutions to its list of offerings. This includes a call center, voice services, and a booking engine. However, like Revinate, Cendyn still does not have built-in tools for event planning management. Consider Tripleseat if your business regularly needs event management tools.
Cendyn Features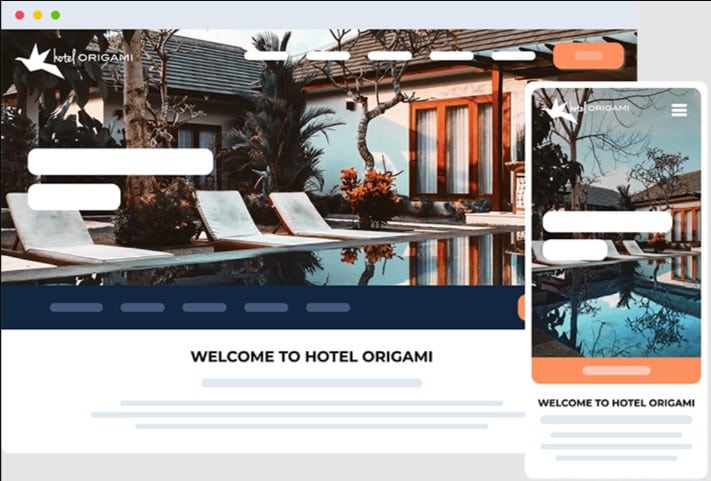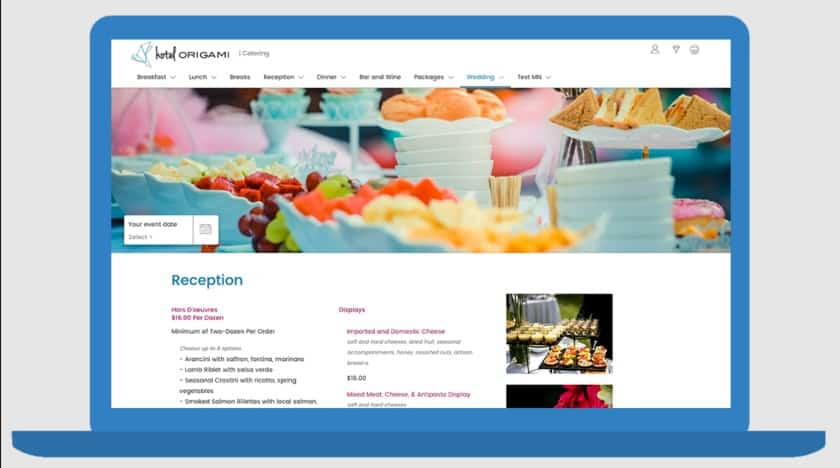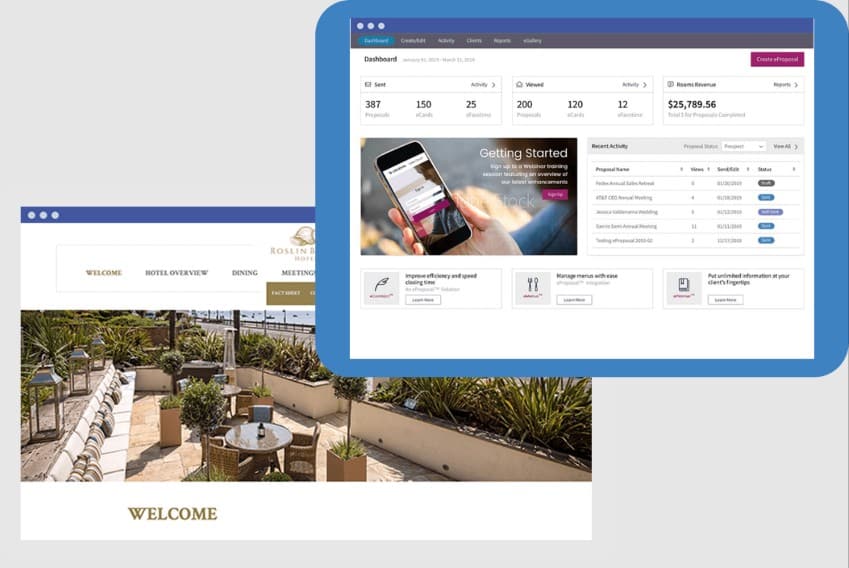 eInsight CRM: Guest profile, audience targeting and segmentation, marketing automation, email marketing, business intelligence, and call center and front desk services
eLoyalty: Personalized content for loyalty program management, member portal, rewards for loyal members, and customized communication
Digital marketing: Digital strategy, programmatic marketing (via automated bidding and placement platforms), metasearch (artificial intelligence (AI)-driven technology), paid search, social media, and search engine optimization (SEO)
Website design: Content management system (CMS) for hotels, content personalization engine, and integration with booking engines
FleXi (personalized upselling): Centralized platform for time-based inventory and pricing management, revenue management, and campaign reporting
Sales: eProposal (rapid response proposal forms), eMenus (interactive menus), and lead management and sales automation
Help and support: Solution-based knowledge cloud, resource library, personalized demo, newsletters, and customer support via email and online form submission
Tripleseat: Best Hotel CRM With Event Planning Capabilities
What We Like
Specialized CRM products for restaurants, hotels, and event planning at unique venues
Built-in event planning tools for creating and managing events
Tripleseat Booking Network makes it easy for customers to book venues while integrating with event planning and event management functions
What's Missing
No pricing transparency; quotes are provided upon request
Most supplemental capabilities, such as lead generation and property management, are not built into the platform and require third-party integrations
Customer support is only available via online form submission and email
Tripleseat Pricing at a Glance
Contact the sales team for customized pricing based on business size and needs
Tripleseat offers specialized CRM products for event planning at restaurants, hotels, resorts, and other unique venues. Use its online lead generation forms to acquire leads and customers. It also allows leads to book a venue and check out with payment and e-signature. Plus, you can leverage its built-in event management tools to convert new events into a set of automated tasks for both your hotel team and guests.
One of the disadvantages of using Tripleseat is the need to integrate it with third-party apps to use lead generation and property management capabilities. Another downside is the lack of options for customer support aside from email and online form submission. Meanwhile, Freshsales has built-in lead generation tools and offers 24/5 support via phone, chat, and email. Revinate is also a solid alternative if you need a CRM with property management features.
Tripleseat Features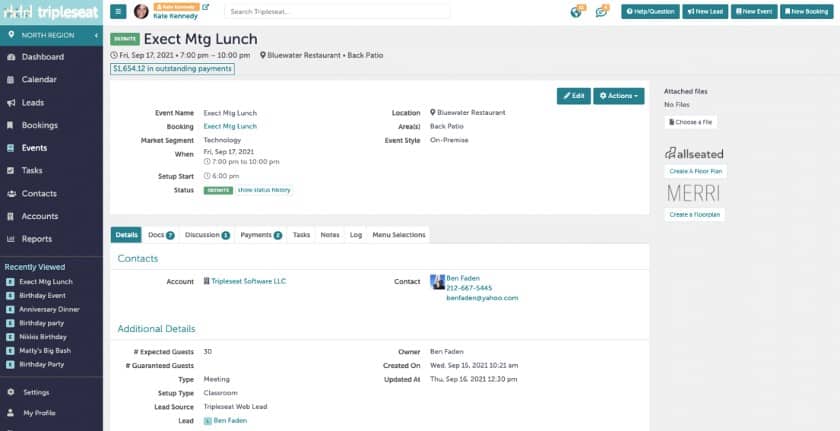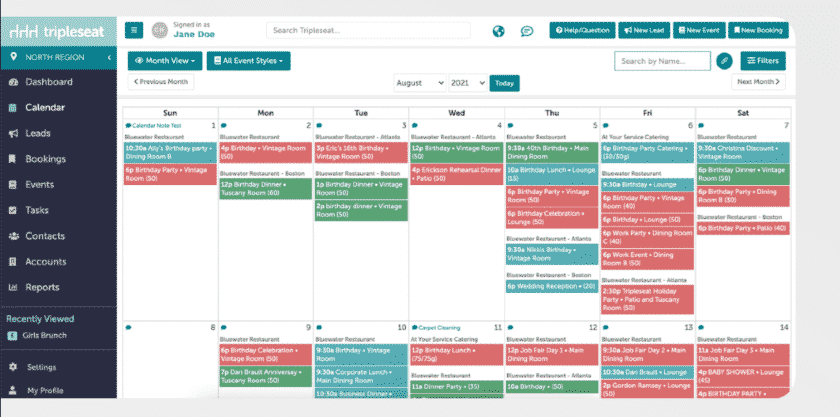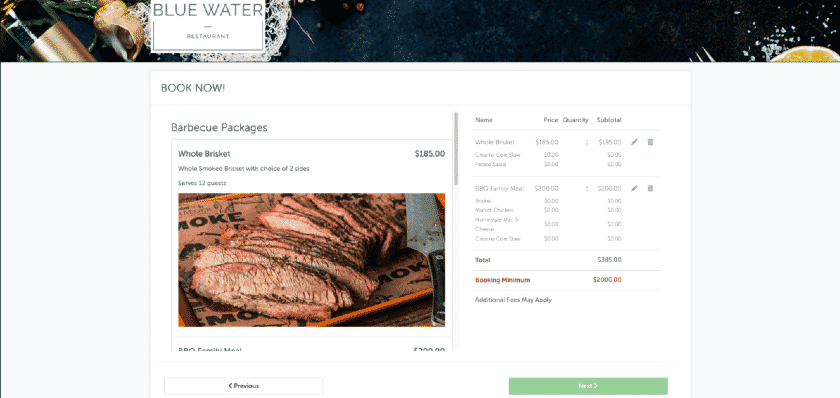 Tripleseat Restaurants (restaurant CRM): Bookings calendar, branded documents and proposals, guest portal for e-signature and payments, automated tasks for team and guests, quick response forms to leads and inquiries, and sales and event reporting
Tripleseat Hotels (hotel CRM): Hotel and catering management, group bookings, sales tracking, and automating tasks and data entry
Tripleseat EventUp (venue directory): Appear at the top of Google search results for venue listings, media upload (venue photos, floor plan, and videos), venue descriptions and highlights, amenity tags, message portal, automatic email response templates, and custom taglines
TripleseatDirect (online event booking platform): Catering, take-out and delivery catering, on-premise events, no commissions or booking fees, marketing campaigns, and customer feedback management
Help and support: Tripleseat community, events and webinars, blogs, Tripleseat University, magazine subscription, podcasts, and knowledge base; customer support via online form submission
How We Evaluated the Best Hospitality CRM Software
CRM systems for hospitality industry should provide solutions addressing unique industry-specific needs. To determine the best options, we evaluated costs and capabilities specific to businesses in hospitality, such as direct marketing tools, collaboration capabilities for various projects, and built-in functions for servicing customers. In addition to that, we also considered factors such as ease of use, quality of customer support, and expert score.
With an overall score of 4.14 out of 5, Freshsales is our top CRM choice for those in the hospitality industry due to its overall broad range of marketing capabilities. It offers automated email campaign generation, email subscriber management functions, the ability to segment various target markets, and lead generation through online webforms and advertisements.
The tabs below offer insight into our evaluation process for choosing the best CRM software options for hospitality businesses and hotels
25% of Overall Score
Total costs and various pricing options are typically the most important criteria for any small business decision, so it was heavily weighed when reviewing the CRM providers for hospitality businesses. We considered the availability of a free plan, varying subscription options, and whether or not there are monthly billing plans available.
20% of Overall Score
The purpose of any CRM is to provide functional solutions associated with sales, marketing, customer service, and project management. Specifically, we looked at features we consider necessary in a solid hospitality CRM, including inventory management, reservation tracking mechanisms, and marketing to direct consumers. We also checked the availability and quality of its collaboration tools, reporting tools, integrations, and mobile app.
20% of Overall Score
The functions of any application are only as beneficial as they are usable. These criteria were analyzed by knowledge required to set up the CRM, skill needed to operate the platform, and intuitiveness of navigating the user interface.
20% of Overall Score
Extensive support and service can prevent issues that a user might encounter when using the platform. Most of them provide access to self-help resources, but a few stand out by offering support 24/7. They were also evaluated in terms of customer service hours and availability of support through various channels like phone, live chat, and email.
15% of Overall Score
In addition to our firsthand experiences with the providers, we evaluated what other users are saying about each CRM and noted common issues that the users had. These criteria consider how customers feel based on their reviews to gauge overall popularity, ease of use, value for money, and how helpful some of the built-in features are to users.
*Percentages of overall score