Online ordering systems allow restaurants to receive orders from customers' computers and smartphones. There are three main options for adding online ordering to your restaurant operation. You can create a branded online ordering website, use a Point of Sale (POS) with online ordering functions, or partner with a third-party delivery platform. Most restaurants use a combination of these options to create the most cost-effective online ordering system for their business.
The best online ordering system for your restaurant is the one that allows you to retain a profit on the orders you receive. There are solutions at every price point, so even small restaurants can easily expand into online ordering. Some online ordering tools charge a monthly subscription fee, while others retain a commission on all orders placed through their system. Monthly fees for these tools range from $9 to $199. Commission-based fees start at 5% and go up to 35%.
Top 7 Restaurant Online Ordering Systems
| Online Ordering System | Best For |
| --- | --- |
| | (Best Overall) Restaurants that want direct control of a completely branded, online ordering experience |
| | Restaurant owners who want beautifully branded menus with professional photography |
| | Restaurants looking for a low-cost, high-impact online ordering solution |
| | Restaurants that need a POS with online ordering functions & powerful customer management |
| | Full service restaurants in the market for a robust POS with online ordering and advanced reporting |
| | Restaurants that want to build their brand via a third-party platform |
| | Restaurants that want a plug-and-play option with delivery drivers |
How We Evaluated Online Ordering Systems for Restaurants
The best online ordering systems for restaurants have order tracking, basic analytics reporting, and some sort of notification system. Advanced features include delivery zone customization, Facebook ordering, customer accounts, and integrations with the best POS software.
To choose the best online ordering system, we considered the following factors:
Price: Some online ordering systems are free to get started, charging a percentage on top of each order. Others come with a monthly fee, ranging from around $30–$199.
Ease of use: It's important that restaurant owners, employees, and customers can easily use the online ordering system.
Integrations: Some online ordering platforms do not integrate with other systems; one that communicates directly with your POS, however, will prevent a lot of headaches.
Ordering features: Ordering features like modifications, group ordering, catering, and scheduling orders allow an online ordering system function for many styles of restaurant.
Order tracking: Any ordering system should notify the restaurant of pending orders, and allow owners to track orders through the system.
Customer accounts: Some solutions allow customers to create profiles with payment information and order preferences, which streamlines orders and gives your restaurant valuable information for future marketing promotions.
User reviews: We looked at the user reviews available to see how actual restaurant users feel about the software.
Considering the above, we concluded that ChowNow is the best overall online ordering system for small restaurants. It allows for a completely customized, branded web and mobile experience. It also enables ordering from multiple platforms. It's reasonably priced and offers valuable insight into your restaurant.
ChowNow: Best Overall Online Ordering Systems for Restaurants


ChowNow is a completely customizable online ordering system. This platform is "white-labeled," which means that it enables restaurants to build a branded online ordering experience on their own website, social media profiles, or mobile apps. ChowNow allows you to accept orders, send estimated time available (ETA) notifications to customers, gain insights into your business, and partner with experts to optimize your revenue.
ChowNow plans start at $99 per month, plus a $199 installation fee. ChowNow offers options to add delivery drivers. Delivery options and pricing vary by location; in some markets integrated delivery service is available, while in others, ChowNow will recommend a third party courier service. Interested restaurants should reach out to ChowNow for a demo and customized quote.
ChowNow Pricing
ChowNow has three pricing tiers. Rather than limiting features on the more affordable tiers, ChowNow scales the cost based on the length of your commitment. A two-year contract is $99 per month, one-year contract is $119 per month, and month-to-month is $149 per month. Contract options come with a $199 setup fee per location, while month-to-month installation is $399 per location.
ChowNow Pricing Structure
| Contract Length | Monthly Charge | Installation fee |
| --- | --- | --- |
| Two Years | $99 | $199 |
| One Year | $119 | $199 |
| Month to Month | $149 | $399 |
ChowNow does not charge commissions on orders placed through your restaurant website or your website social media platforms. The platform does charge a 30% commission, however, on orders that are placed through the ChowNow website. This commission is, essentially, a referral fee for ChowNow sending your restaurant a new customer.
ChowNow Features
ChowNow allows restaurants to customize website, Facebook, and mobile app ordering with their logo and brand colors. ChowNow also offers hands-on customer support and consulting to help restaurants optimize and boost their online sales. Unlike Uber Eats or Grubhub, which control the customer experience and keep all customer information, with ChowNow the customer data belongs to your restaurant. This allows you to gain insights into your market, as well as design promotions tailored to your customers.
Ordering Features and Tracking
ChowNow allows restaurants to add online ordering functions to their website or add online ordering buttons on their Facebook page. Mobile apps are available for an added fee and are compatible with both iOS and Android devices. The ChowNow Dashboard provides a bird's eye view of current order status, order location, and sales.
Integrations
This is where ChowNow can be limited. ChowNow does not currently integrate directly with POS systems or other third-party platforms. They attempt to make up for this, however, by offering a suite of add-on features, some at an additional cost.
ChowNow Discover: This feature promotes your restaurant on the ChowNow app and website, so you can reach new customers. ChowNow collects a 30% referral commission on orders placed through the Discover function.
Branded Mobile Apps: For an additional fee, restaurants can create a fully customized mobile app complete with mobile ordering functionality.
Online Orders via Google: For an additional monthly fee, restaurants can link their ChowNow account to Google's native online ordering system, so the "order now" button that appears in Google searches will direct customers to your online menu.
Wireless Data Connection: ChowNow's LTE-enabled tablet is a great option for food trucks that don't have stable internet connection; ChowNow leases them for $20 a month.
Wireless Receipt Printer: A companion piece to the mobile-enabled tablet, ChowNow also leases wireless receipt printers for $29 per month.
Restaurant Website: If you currently lack a website for your restaurant, for $14 a month ChowNow will build and customize a website with your menu, location, and online ordering.
User Accounts
ChowNow allows customers to create accounts with their delivery details and payment information. This makes placing future orders with your restaurant as seamless as any of the third-party platforms. The credit card processing fees for payments made from these user accounts are the same as ChowNow's standard processing fees. Orders placed via a user account are not subject to the 30% referral fee unless the user orders via the ChowNow website.
ChowNow Payment Processing
All ChowNow orders are pre-paid in the app using ChowNow's built-in payment processor. The rates for Visa, MasterCard, and Discover are 2.8% + 10 cents per transaction. American Express transactions are charged at 3.5% + 10 cents.
What ChowNow is Missing
As mentioned, ChowNow's lack of third party integrations is a real limiting factor for restaurants that do a high volume of online orders. Re-entering every order from ChowNow into your POS takes a lot of staff bandwidth and can lead to errors. High volume restaurants may be happier with end-to-end solutions like Toast POS or a third-party delivery platform like DoorDash.
ChowNow Reviews
Overall, users love ChowNow. Merchants have reported an increase in sales, as they're able to keep up with digital trends. Some even said it has improved the customer experience because they don't have to wait in line to order. They also like that you can use ChowNow and another online ordering tool to add revenue streams and boost overall sales.
MenuDrive: Best Online Ordering System for Menu Presentation

MenuDrive is a comprehensive online ordering system with beautifully branded menus. It comes with robust CRM capabilities, including a customer loyalty program, email marketing campaigns, and coupons. MenuDrive lacks built-in payment processing—for that, check out ChowNow— but it does integrate with Lavu, Clover, and several other POS systems. MenuDrive pricing starts at $90 per month.
MenuDrive Pricing
MenuDrive has two plans to choose from, a monthly plan and an annual plan. Monthly memberships are $99 per month while annual memberships are $90 per month. The major price difference between the two options is the menu setup fee. Subscribers who pay month-to-month must pay a $399 menu set up fee, while annual subscribers pay only $199 for the same service.
Both plans come with unlimited orders and the same features, and there are no transaction fees. There is, however, an additional setup and recurring fee if you opt for the POS integration.
MenuDrive Features
MenuDrive has a fair amount of features, making it one of the more comprehensive online ordering systems on this list. In addition to basic order management features and payment processing, MenuDrive includes a customer loyalty program and the ability to set a delivery area if you want to expand your operation from pickup orders to delivery.
Ordering Features and Tracking
MenuDrive allows restaurant workers to view orders in real time from a connected iPad, which will also sound an alert when new orders are placed. You can also set up orders to print directly to MenuDrive printer.
Automated alerts and email notifications: These functions allow you to keep track of orders, even if your restaurant is offline.
POS integration: This function sends orders directly to a compatible POS, which in turn sends the order directly to your kitchen, keeping all your sales information in one place.
Delivery customization: MenuDrive allows you to set custom delivery zones and offer multiple delivery types, including pickup, delivery, curbside, and dine-in.
Integrations
MenuDrive integrates directly with several POS systems, including the popular, competitively priced Lavu system. It also has direct integrations with Clover, Digital Dining, and the popular pizza shop POS Speedline.
User Accounts
MenuDrive users can create their own user accounts that save delivery and payment information to make future orders. This makes re-ordering more efficient, which can increase repeat sales. In addition, MenuDrive has loyalty program features so you can create deals to reward your most loyal customers. There's also a built-in customer feedback tool so you can learn what you're doing well and where you're coming up short.
What MenuDrive is Missing
While you can set a delivery area in MenuDrive for online ordering purposes, the app does not offer driver management functions. If you want to expand from online ordering to delivery, you will have to add another system. MenuDrive's menu editing function is a little clunky and can take some time to learn.
MenuDrive Reviews
MenuDrive user reviews are middling. Positive reviews mention the robust menu management features, including the option to add photos. Some users, however, feel that customer support isn't helpful. Some potential MenuDrive customers have been turned off by slow response times from installation teams.
GloriaFood: Best Low Cost Online Ordering System

Online ordering system GloriaFood offers a simple platform that works on your website, mobile app, or Facebook page. GloriaFood also has a function for table reservations for dine-in guests. The best thing about GloriaFood, however, is its price: This platform is absolutely free. Optional add-ons come at an added cost, but the pricing through this system is competitive.
GloriaFood Pricing
GloriaFood is free if you stick with its base package, which comes with standard online ordering features like menu customization and real-time order confirmation. The platform also offers add-on tools like an optimized restaurant website, payment processing, and a branded mobile app ranging from $9 per month to $59 per month.
Optional add-ons include:
Online and credit card payment processing: $29 per month
Advanced target marketing: $19 per month
Optimized restaurant website: $9 per month
Branded mobile app: $59 per month
GloriaFood Features
GloriaFood's standard features include unlimited orders, menu customization, and real-time order confirmation. GloriaFood also has a direct plug-in on WordPress to quickly add online ordering functions to your website.
If you don't currently have a website, GloriaFood can create one for you, for an additional fee. GloriaFood's built-in payment processing, and run highly targeted marketing campaigns also come at additional costs. The pricing remains competitive throughout the platform. Aside from Upserve and Toast, GloriaFood has most comprehensive CRM features of other online ordering options listed here.
Ordering Features and Tracking
With GloriaFood, restaurants can set up online ordering on their own website, mobile app, or Facebook. The platform allows you to confirm orders in real time from any connected device. Single-page checkout streamlines the ordering experience and reduces friction to encourage more orders.
Integrations
Besides the price, the best quality of GloriaFood is its customizability. The platform has an open API so restaurants can build their own custom integrations to suit unique needs. Beyond that, the program has built-in integrations with several delivery management platforms like Tookan and QuestTag that enable restaurants to manage their own fleet of drivers. A simple integration with middleware app ItsaCheckmate further allows restaurants to connect GloriaFoods to their POS system.
What GloriaFood is Missing
The customizability and low cost of GloriaFoods can be a blessing and a curse. While GloriaFood offers great targeted marketing campaigns, a good loyalty program is only available as an additional integration. Restaurants that want an end-to-end online ordering and delivery management system that communicates with their POS may find the "build-your-own" nature of GloriaFood to be a bit tedious.
GloriaFood Reviews
In online restaurant industry pages on reddit and Facebook, GloriaFoods users review the system favorably. Users love the low cost, and high customizability. Some critical reviews want a system that fits their restaurant right out of the box. Restaurants that are looking for this, however, may be happier with a fully integrated POS like Toast or a third-party ordering and delivery platform like Uber Eats.
Upserve: Best Online Ordering Systems for Established Restaurants


Upserve is a restaurant POS with a full suite of features, one of those being Upserve Online Ordering. With it, restaurants can manage all restaurant menus and orders in a single place, maintaining seamless operations for dine-in and online orders. Upserve pricing starts at $59 plus $60 per terminal per month with online ordering as an add-on for an undisclosed extra fee.
Upserve Pricing
There are no commission fees when you use Upserve Online Ordering, though you will pay a flat rate payment processing fee. This specific rate is not disclosed on their website, but we were recently quoted a rate of 2.99% + 15 cents per transaction. Restaurants must choose from one of three pricing plans:
| | Core | Pro | Pro Plus |
| --- | --- | --- | --- |
| One-time fee | $59 | $119 | $359 |
| Monthly fee | $60 per terminal per month | $50 per terminal per month | $40 per terminal per month |
| Online ordering | Add-on | Included | Included |
Upserve Features
Upserve is a full spectrum POS with a ton of features, including inventory management and analytics tracking. When it comes to online ordering, Upserve gives restaurants the option to build and customize menus and add beautiful photography to boost sales. Because everything is tightly integrated with the POS, changes are synced across platforms and devices.
Ordering Features and Tracking
With Upserve, restaurants can embed a fully functional online ordering widget directly on their website. It also integrates with Facebook and Google login, which makes the ordering process easier for repeat customers. Messaging functions allow you to send customers notifications via email or text. Guests can also choose to order up to seven days in advance, which allows restaurants to accommodate large orders outside of normal operating hours.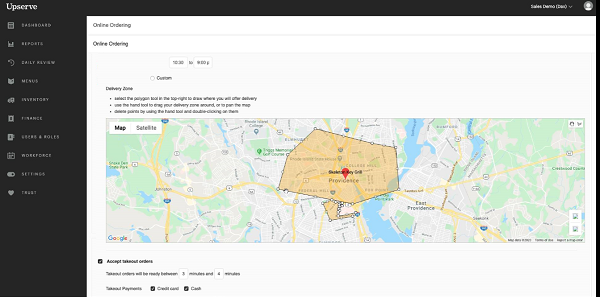 Integrations
Upserve is a POS first, with online ordering as an additional feature. This means the online ordering features are tightly integrated with Upserve POS, so you have a completely streamlined, centralized command center. Upserve also features more than 45 third-party integrations, including Menufy, Grubhub, Restaurant365, and Compeat. This system has more integration choices than other online ordering systems on this list.
User Accounts
Customers can log in with their Facebook or Google credentials for simple repeat orders. Upserve also creates a customer database, or guestbook, where restaurants can learn more about loyal customers. View order history, compare online spend to in-house spend, and build a customer loyalty program. Upserve has the most robust user account offerings on this list.
What Upserve is Missing
In terms of online ordering, Upserve doesn't lack much. Unlike DoorDash or Uber Eats, however, it won't put your restaurant in front of a new audience. Instead, it's better for restaurants that already have a web presence and need a way to streamline online orders. Since it is a POS, Upserve is also more expensive than other online ordering options listed here.
Upserve Reviews
Upserve user reviews are generally positive. Users comment on the constant upgrades to the platform, valuable analytics reporting, and ease of use. Some have commented on glitches and problems with connectivity, but sentiment is mostly positive.
Toast Online Ordering: Best Online Ordering System for High Volume Restaurants

Toast is a cloud-based POS with an optional online ordering system for restaurants. The online ordering platform is tightly integrated with the POS system, offering a centralized location to manage orders. Other features include a mobile responsive ordering experience, saved credit cards and user profiles, and customizable delivery hours and zones. Toast starts at $79 per month.
Toast Online Ordering Pricing
Toast Online Ordering is more expensive than other options on this list. The software alone is $79 per month per terminal, plus installation starting at $499 in addition to any hardware costs. Payment processing fees are charged at a flat rate, which is great for restaurants that have high AOV. Unlike DoorDash and Uber Eats, Toast doesn't take a commission for each order.
Toast Online Ordering Features
Toast Online Ordering is tightly integrated with the POS, so any menu updates you make from your POS are automatically pushed to the online ordering database. Other features include order modifiers, branded interface, mobile-responsiveness, and user profiles.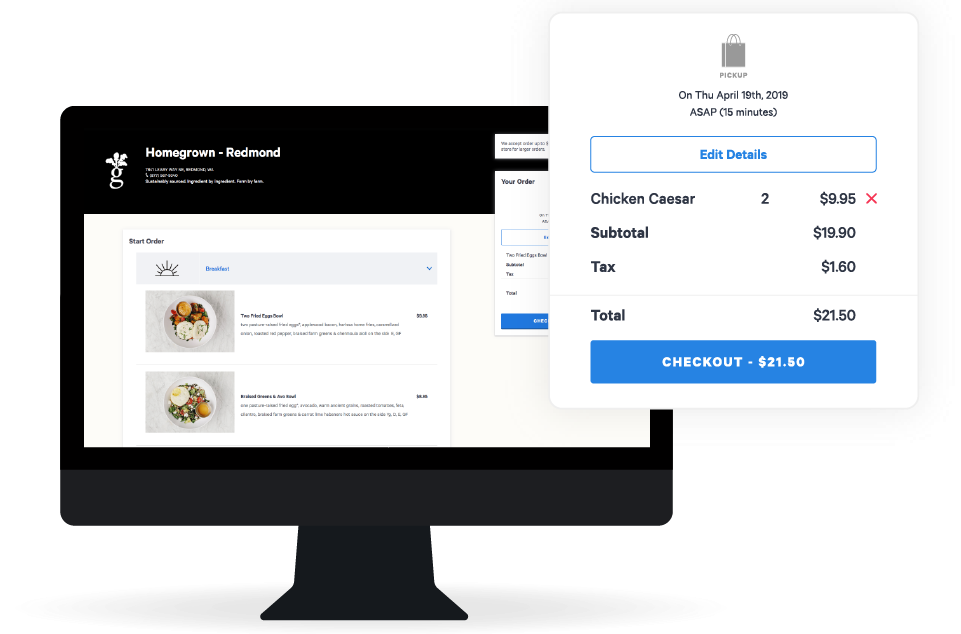 Ordering Features and Tracking
When it comes to managing online orders, Toast centralizes all dine-in and online orders in a single place so your restaurant can keep smooth operations. Customize online ordering hours and zones so you can accommodate busy and slow hours at the restaurant. Real-time menu syncs with your inventory data, so you'll mitigate the risk of displeased customers due to stockouts. You can also add pop-up modification or upsell prompts to increase customer satisfaction and sales.
Integrations
Toast Online Ordering has comprehensive, seamless integrations with Toast POS. Toast POS, itself, offers a massive amount of add-on modules like employee management, scheduling, reservations, and ingredient level inventory tracking. There's also an open API for custom-built integrations, as well as a whole slew of third-party tools including scheduling tools, reservation frameworks, and inventory tracking tools.
User Accounts
Like MenuDrive, Toast Online Ordering allows guests to create profiles and save credit cards and order preferences. This makes future orders quick and easy. It also has robust customer management features built into the POS.
What Toast Online Ordering is Missing
Toast Online Ordering isn't the most affordable option on this list. While there are no commissions, there's a hefty startup cost when you consider monthly fees on top of installation and hardware investments. For that reason Toast is truly best for restaurants that are in the market for a POS system. Restaurants that already have a POS partner can get online ordering for a lot less money by using ChowNow or GloriaFood.
Toast Online Ordering Reviews
Toast user reviews are mostly positive with restaurants citing ease of use and a powerful tech stack among their favorite attributes. Customer support is extremely accessible and proactive. Features offer deep insight into business performance and operations.
DoorDash: Best Online Ordering System for Brand Building

Doordash is a third party platform that organizes online ordering and delivery for restaurants. The app promotes restaurants in its online marketplace and connects restaurants with independent delivery drivers to deliver orders to customers. For this service, DoorDash charges restaurants a 30% commission on every order placed.
The benefit of a third party platform like DoorDash is twofold. First, the app handles all of the tedious logistics of getting your menu in front of customers and delivering the food to them. Second, the app showcases your restaurant to an active group of new customers. Currently DoorDash is the leading third-party delivery platform in the US. DoorDash alone accounted for 38% of all US delivery sales in January 2020.
DoorDash Pricing
DoorDash offers restaurants a two-week free trial. If you choose to continue with the platform after your trial, there is a startup fee of $300 to $500 that covers the costs of photographing your food and uploading your menu. Once you are up and running, DoorDash will take a commission of 30% of every order that comes to your restaurant through its platform.
DoorDash Features
Restaurants should keep in mind that DoorDash is, first and foremost, a technology platform that leverages its database of customers to restaurants. So Doordash retains all the customer data from its names and locations to its payment information and dining preferences. Most of the features DoorDash offers outside of the basic service of online ordering and delivery are aimed at helping restaurants promote themselves in the DoorDash marketplace.
It is important to note that a relationship with DoorDash is not exclusive. Restaurants that partner with DoorDash are free to run an in-house ordering and delivery system, or use the DoorDash platform alongside other third-party platforms like Uber Eats. Many restaurants use DoorDash to supplement other online ordering and delivery strategies.
Ordering Features & Tracking
After you sign up with their platform, DoorDash sends your restaurant an Android tablet with the DoorDash app pre-installed. This tablet allows you to easily track incoming, outgoing, and completed orders. To get these orders to your kitchen and track them for sales and tax purposes, you will need to input them into your POS as well. There are, however, ways to integrate DoorDash into your POS to streamline this step.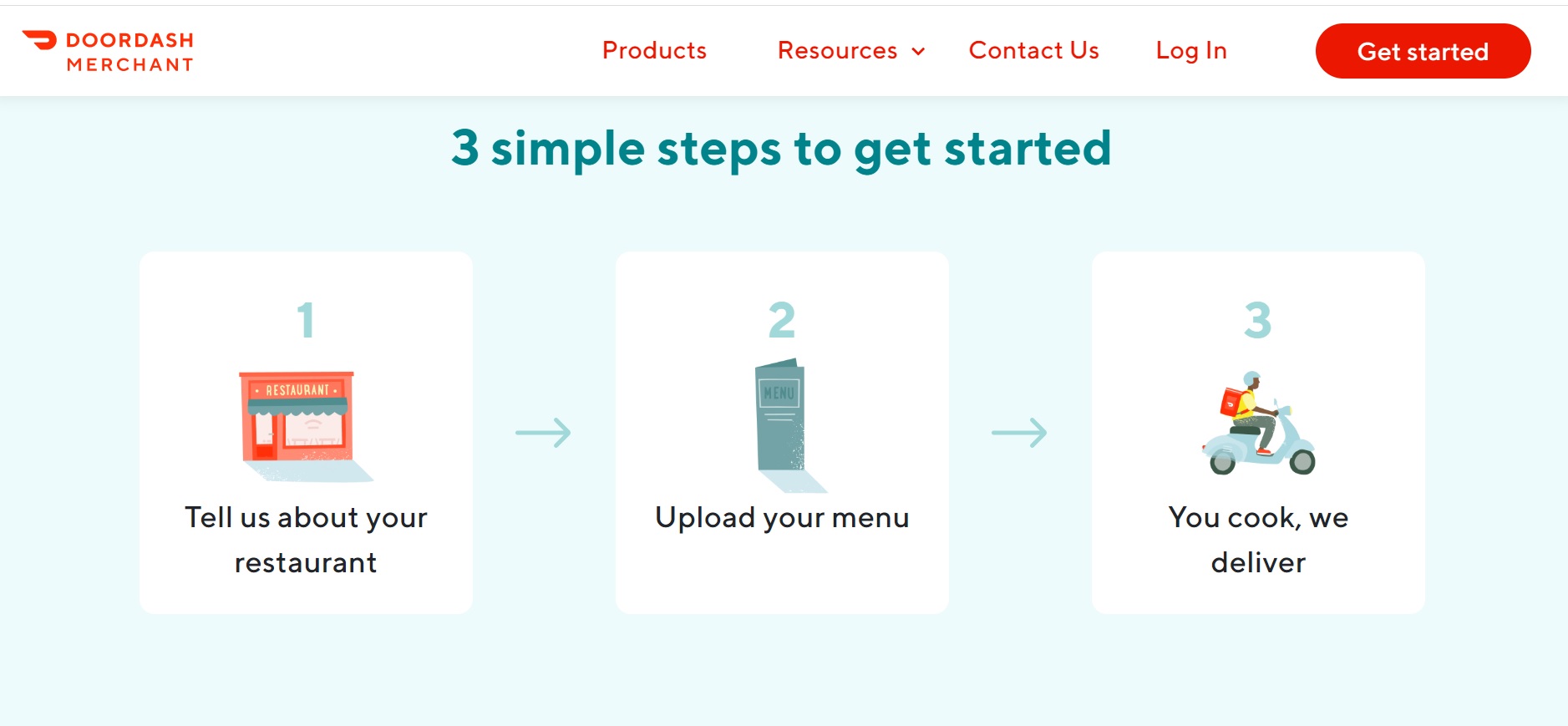 DoorDash Integrations
DoorDash directly integrates Square POS. Middleman apps like ItsaCheckMate and Chowly can integrate Doordash with a wide range of additional POS systems. DoorDash's online ordering and delivery system is pretty streamlined so there is no need for additional integrations like scheduling or driver dispatch modules.
Marketing tiers
DoorDash offers tiers of membership that unlock more favorable in-app placement for your restaurant. Its DashPass option, for example, promotes restaurants to a group of elite DoorDash customers that order frequently. Pricing for these additional tiers may vary based on location, interested restaurants should contact a DoorDash Merchant Growth representative for a customized quote.
DoorDash Payments
With most of the other options on this list, your restaurant receives direct payment at the time of the sale. Third party platforms, however, handle payments for online orders themselves. Rather than send your restaurant each payment at the time of sale, platforms like DoorDash send a weekly direct deposit to your bank account, minus their commission fees. For some restaurants, a week between payments can be painful.
DoorDash and apps like it handle the payment processing, but they do not handle the sales tax payments to local authorities. Restaurants themselves are responsible for keeping track of the applicable sales taxes in their area and making those payments themselves.
User Accounts
DoorDash makes it very easy for customers to create user accounts for frictionless re-ordering. On one hand, this is great for restaurants. It increases the likelihood that customers will order through DoorDash, and orders from DoorDash arrive in your restaurant pre-paid. On the other hand, however, increased customer engagement with the DoorDash app does not always translate to more sales for your particular restaurant.
What DoorDash is Missing
The DoorDash platform performs as promised; it sends online orders to restaurants and connects them with drivers. What your restaurant will miss from using a service like DoorDash, however, is an element of control over your products and payment timeline. You will also lose the ability to compile customer data that could be used for marketing and promotions.
DoorDash Reviews
DoorDash reviews are mixed. Many restaurants that use this service appreciate how easy it is to get started on the platform. Many also note an increase in online and delivery orders. Restaurants can struggle, however, with the high commission fees and the fact that their restaurant is displayed alongside their major competitors on the DoorDash platform. Some restaurants worry that the independent drivers fail to present a positive image for their restaurant brand.

UberEats: Best Online Ordering System with Delivery

Uber Eats is a technology company that gives restaurants the opportunity to market themselves to Uber customers. The Uber Eats platform then connects those restaurants with independent delivery drivers. The platform charges a commission on all orders placed through its app. The commission may vary from restaurant to restaurant depending on location and sales volume. The maximum Uber Eats commission rate is 35%.
UberEats Pricing
Uber Eats makes money in two ways: by charging a commission to restaurants and charging delivery and service fees to customers. Many restaurant owners have stated that they were able to negotiate a lower commission rate with Uber Eats when they signed up for the app. According to Uber Eats Terms of Service, however, the app reserves the right to adjust commission rates at any time.
If you have extra budget, you can also boost your restaurant listing in the Uber Eats app. You can also create and manage your own marketing campaigns and promotions in the Uber Eats platform. The control over marketing features is the feature that sets Uber Eats apart from other third-party delivery operations.
Uber Eats Features
Uber Eats puts your restaurant into a database where app users can browse restaurants based on filters like pricing, star rating, delivery time, and more. This broadcasts your restaurant to new customers, making it a great acquisition tool. You can also partner with Uber Eats experts to optimize delivery times as well as track all your current orders in a single dashboard.
Ordering Features and Tracking
With Uber Eats, customers place an order and restaurants can see all current orders and their status. The Uber Eats app also tracks deliveries by GPS location on a map. The restaurant partner app also allows restaurants to rate drivers with a simple thumbs-up or thumbs-down to help ensure high performance from the fleet of drivers.
Integrations
Uber Eats integrates directly with Lavu and Lightspeed Restaurant POS. The platform's Order API also allows a restaurant with some tech know-how to integrate the Uber Eats order stream directly with other POS systems, which can save time in your daily operations. The Uber Eats website contains full, step-by-step instructions for how to build this integration.
User Accounts
Like DoorDash, Uber Eats allows users to create accounts where they can save order preferences like payment and delivery information. They can also earn rewards, which incentivizes further engagement with the app. However, this can be a potential drawback; customer engagement with Uber Eats does not always translate to more orders for your restaurant.
What Uber Eats is Missing
Uber Eats does an excellent job at its primary mission of promoting restaurants on its app and connecting restaurants with independent delivery drivers. What Uber Eats lacks is transparency. The platform can change rates whenever it chooses, and it retains customer data that restaurant owners have grown accustomed to having. By using a platform like Uber Eats, restaurants lose some control over the customer experience.
Uber Eats Reviews
Restaurant owners express mixed opinions about the platform. Many are relieved to have an online ordering and delivery system that does not require their direct management. Critical reviews, however, cite the painfully high commission fees and lack of customer data. Some restaurant owners also dislike being featured on a site directly alongside their major competitors.
Bottom Line
Online ordering software is becoming an integral part of restaurants' strategy. When choosing an online ordering strategy, the most important element to consider is profitability. You want to make sure that you are able to retain a profit on your online orders, especially if you plan to expand into delivery. Luckily, restaurants have lots of options at every price point.
Overall, we believe ChowNow is the best online ordering software for small businesses. It comes at a reasonable price with built-in payment processing and compatibility with web, mobile, and social media ordering.