Best Kitchen Display Systems (KDS)
This article is part of a larger series on POS Systems.
Kitchen display systems (KDS) are digital kitchen monitoring screens that display incoming orders in restaurant kitchens. KDS route orders from the point-of-sale (POS) system to the correct kitchen stations. An excellent kitchen display system streamlines kitchen communication, reduces human error, and monitors cook times for each dish. The best restaurant KDS systems show a dish's ingredients at the touch of a button and text customers when orders are ready.
The best KDS systems for 2022 are:
Best Kitchen Display Systems Compared
KDS monthly fees

Hardware type

Touch screen or bump bar

Integrated automated messaging

Offline functionality

Compatible POS systems

$25

Toast HD LCD touch screens

Touch screen*

✓

✓

Toast

Custom-quoted

iPad or smart display

Both

✓

✓

Revel Systems

Varies by reseller

Viewsonic smart display

Both

✕

✓

Cake, Focus, Future, Lavu, PosiTouch, Revel, Revention, and more

$19–$35+

iPad and Android tablets; PCAP touch-screen terminals

Both

✓

✕

Square, Clover, Infor, Linga, Talech, Union; developing integrations with Lightspeed, Brink, Toast, Revel, TouchBistro, Aloha, Lavu

$0–$20

iPads

Touch screen

✓

✕

Square for Restaurants, Square POS

Custom-quoted

iPads

Both

✓

✕

Lightspeed Restaurant
Most kitchen display systems are built into restaurant POS systems and offered at an additional fee for hardware and software. We examined each kitchen display system and its corresponding POS systems based on price, ease of use, and features to arrive at our top recommendations.
Which KDS Is Right for You?
Answer a few questions about your business, and we'll give you a personalized product match.
Toast: Best Overall Restaurant KDS
Toast POS is one of our top-rated cloud-based restaurant POS systems, and its KDS offering is likewise a top performer. Toast's KDS is the most customizable system on this list. You can highlight individual ingredients and common allergens. Plus, users can choose their font size and how information is arranged on order tickets. This system also sends text messages to customers when their orders are ready, and alerts servers in the POS app when they have food waiting in the kitchen.
Pricing for the Toast POS starts at $0 per month; the KDS is an add-on at a custom-quoted price.
Toast

Overall Score:
4.52
OUT OF
5
RATING CRITERIA

Price
3.00
OUT OF
5
Order Management
5.00
OUT OF
5
Advanced Functions
5.00
OUT OF
5
Reporting
5.00
OUT OF
5
Expert Score
4.59
OUT OF
5
What We Like
Highly customizable ticket layouts and alerts
Industry-grade hardware withstands hot kitchen environments
Underlying POS offers free baseline subscription and Pay-as-you-Go hardware
Automated SMS text alerts let customers know their order is ready
What's Missing
Only operates on Toast POS
Underlying POS requires two-year contract
Toast Deciding Factors
Software Pricing:

POS:

Starter – $0
Essentials – $165
Growth – Custom-quoted

KDS: $25 per terminal, per month
Installation fees: Remote guided installation included; in-person installation optional at custom-quoted fees

Hardware costs: $499 per screen
One-time Installation fees: Optional, custom-quoted. Self-installation support is included.
Features:

Customizable alert and modifier colors
Ticket and item recall
Automated order-ready text messages
In-app messaging
Multiple language support
Auto-firing by prep time
Recipe look up
Kitchen productivity reporting
Toast's KDS earned a 4.52 out of a possible 5 on our scoring criteria. It earned high marks for price—the underlying Toast POS offers both a free Starter software subscription and Pay-as-you-Go options for hardware. It also earned perfect scores for order management, advanced functions, and reporting.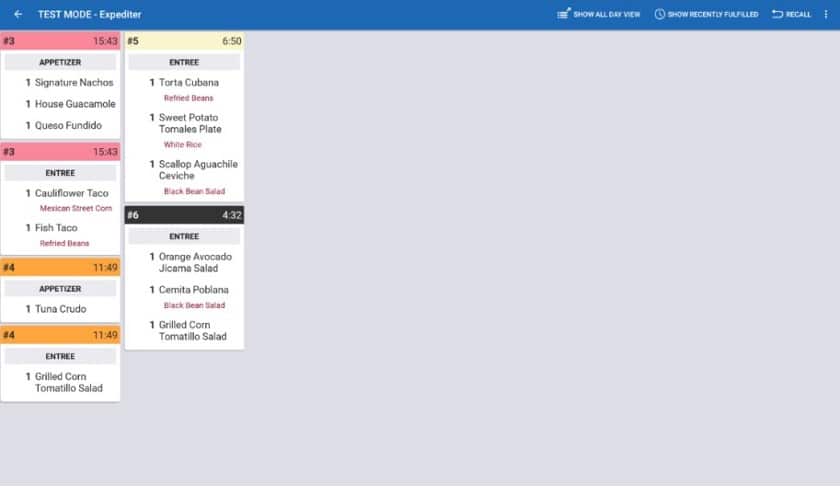 ---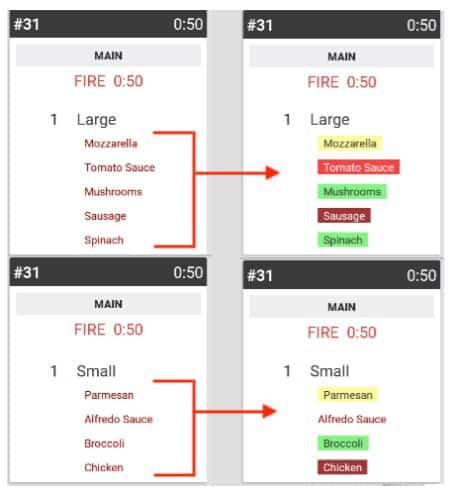 ---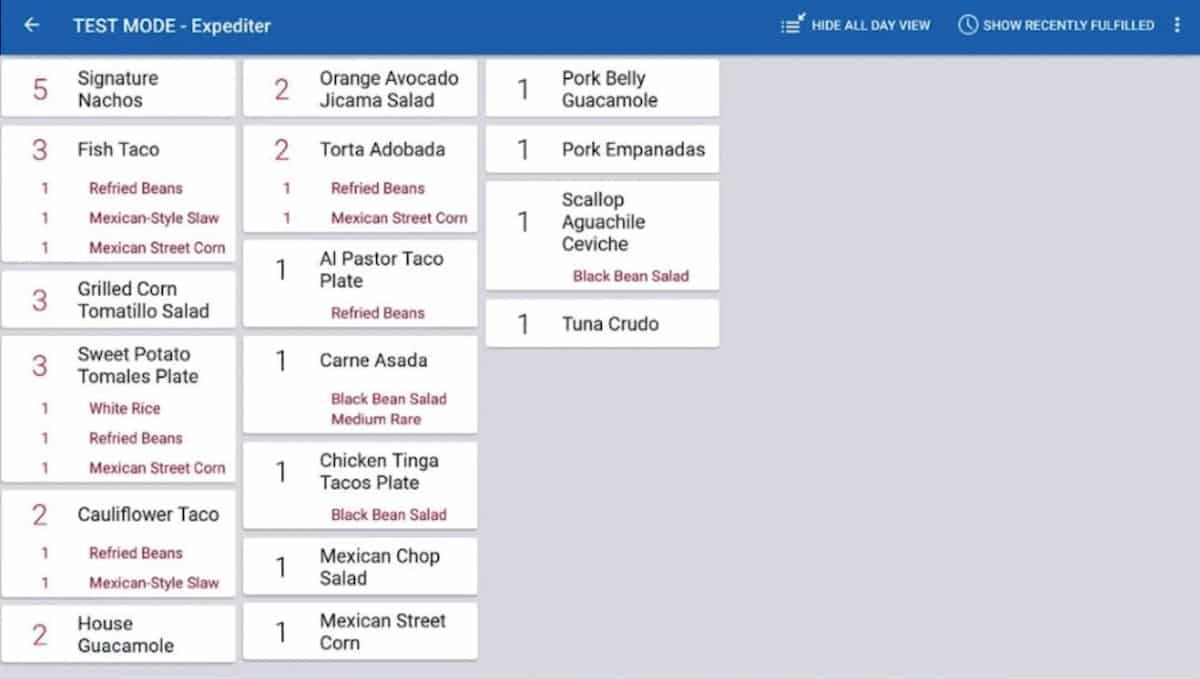 ---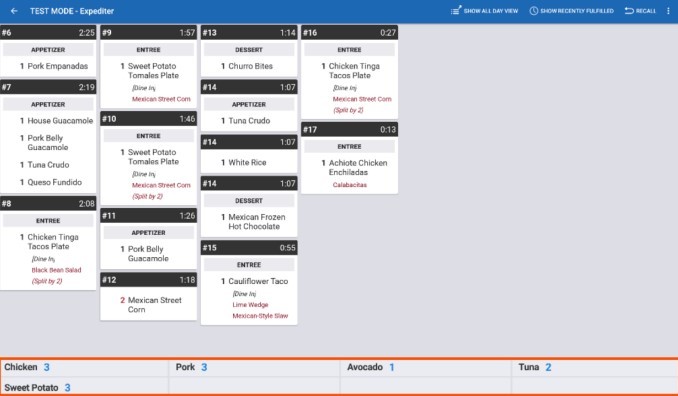 ---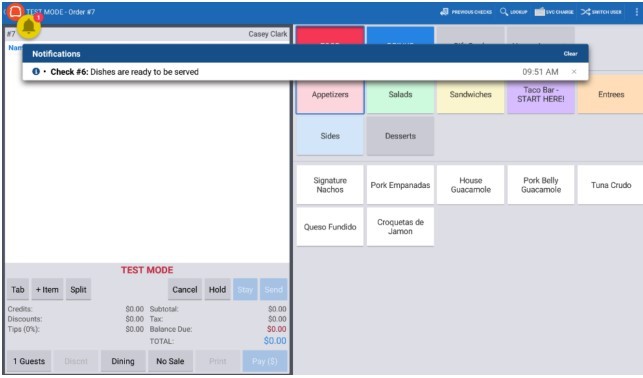 ---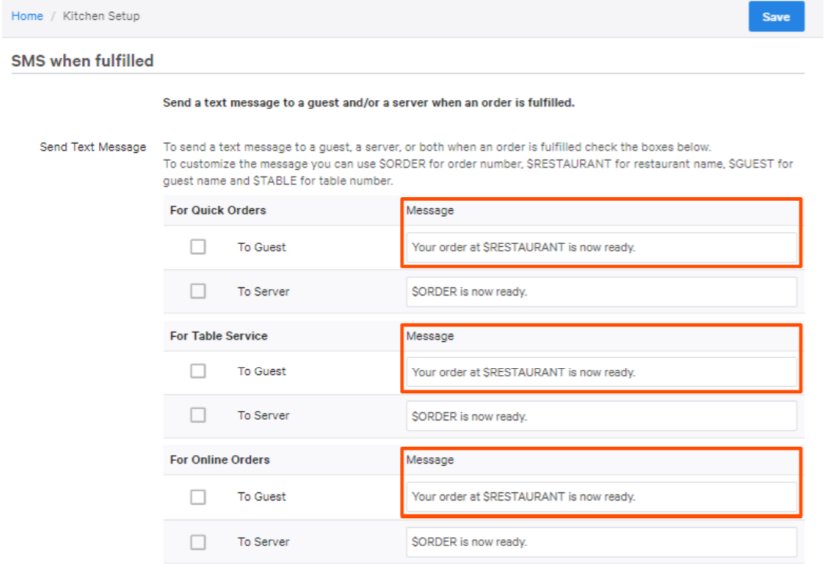 ---
Hardware
Toast's KDS operates on industry-grade hardware built to withstand the steam, grease, and hot temperatures of a restaurant kitchen. Toast's touch-screen KDS tablets are rated at IP-54 for resistance to dust, steam, and water droplets. Apple's iPads, on the other hand, are not IP-rated at all. iPads can also struggle in temperatures above 95 degrees Fahrenheit.
IP Rating: IP stands for Ingress Protection. IP ratings are two-digit codes established by the International Electrotechnical Commission to rate how well electronic devices withstand dust and water intrusion. The first number rates dust avoidance on a scale of 1 to 6; the second digit rates water-tightness on a scale of 1 to 9.
Flex for Kitchen (wall-mounted)

Flex for Kitchen (on stand)

$499 + $25/ month

14-inch HD LCD, IP-54 rated touch-screen kitchen monitor
Features
Touch-screen navigation
Quick access buttons on the top right corner of the screen allow you to Show All-Day View. You can also show fulfilled orders or recall fulfilled tickets. Accessing the overflow menu allows you to see device connectivity status, adjust text size, or switch users.
All-day count view
"All day" is restaurant-speak for "total" or "altogether." Cooks say "all day" to refer to the total number of an item they need to prepare to fill all open orders. As in "how many burgers all day?" Toast's All-Day count screen shows your all-day counts at a glance, so your kitchen team is never second-guessing what orders they have on deck.
Auto-firing by prep time
If you input cook times with your recipes in the Toast POS, you can configure your Toast KDS to organize newly-ordered items by their cook time to ensure all dishes on a ticket are ready at the same time. When an order is "fired" in the POS, your KDS will show a running timer on each ticket. This way, you always know how long a customer has waited for their order.
Automated order-ready messages
You can set your Toast KDS to send automated messages when you mark an order as complete on the KDS. Send SMS text messages to customers who ordered online, letting them know their takeout order is ready. Or, send an in-POS alert to your server staff to let them know their table's order is up. These alerts help keep your kitchen flowing smoothly and keep cooked food from dying in the window.
Rush button
Toast recently added a Rush order button to the KDS that automatically shifts rush tickets to the front of the order queue, marked with a red RUSH label. So your expediters and cooks can quickly get on the same page when plans change.
Epson integration
Toast is one of the many POS systems that integrates with the Epson KDS system. If your kitchen prefers a bump bar configuration, you have the option via this integration.
---
Pricing
Toast's KDS software is currently offered at $25 per screen, per month. If you need multiple screens, however, Toast will likely work out a lower per-terminal price for you. To get the best pricing, reach out to the Toast sales team for a custom quote.
---
Revel Systems: Best KDS for Drive-thrus
Revel Systems is a hybrid POS that operates on iPads. Though, like Toast, Revel users have the option to use a touch-screen KDS or rely on the Epson KDS integration if they need more robust hardware or bump bars. Revel's KDS only operates on the Revel POS, which has the strongest drive-thru management tools of any cloud POS on the market.
Revel Systems

Overall Score:
3.92
OUT OF
5
RATING CRITERIA

Price
0.00
OUT OF
5
Order Management
5.00
OUT OF
5
Advanced Functions
5.00
OUT OF
5
Reporting
5.00
OUT OF
5
Expert Score
4.59
OUT OF
5
What We Like
Bump bar and touch-screen hardware available
Highly customizable tickets and alerts
Multiple screen views
Supports custom-facing "order ready" display
What's Missing
Underlying POS requires three-year contract
Pricey
Integrated SMS messaging requires a third-party integration
Revel Systems Deciding Factors
Software fees:

POS – $99 per terminal, per month
KDS – Custom-quoted

Hardware costs: Custom-quoted
One-time Installation fees: POS requires a one-time $674 installation fee
Features: Color-coded order types

Multiple screens viewing options
All-day counts
Customer-facing order-ready display
Choice of iPad or non-iPad KDS screens
SMS text notifications via Twilio integration (starting at $0.0075 per message)
Revel's KDS earned a 3.92 out of 5 on our KDS scoring criteria. It earned points for its advanced features like customizable ticket layouts and screen views. However, it lost points for price. Revel was the only option on this list that received no points for price. The POS does not offer a free subscription or free trial, and the KDS does not operate on more than one system.
The KDSs is so functional, though, that even with no points for price, Revel still came in at No. 2 on this list.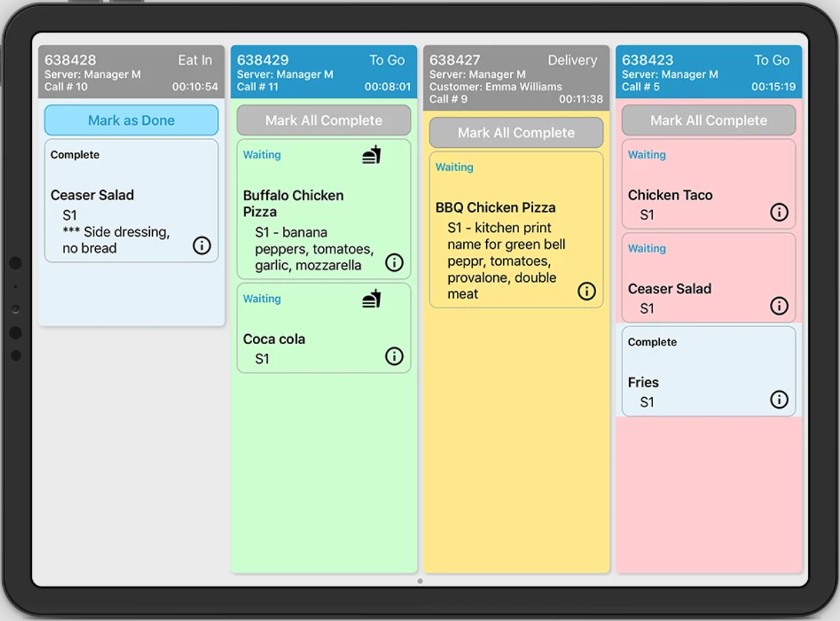 ---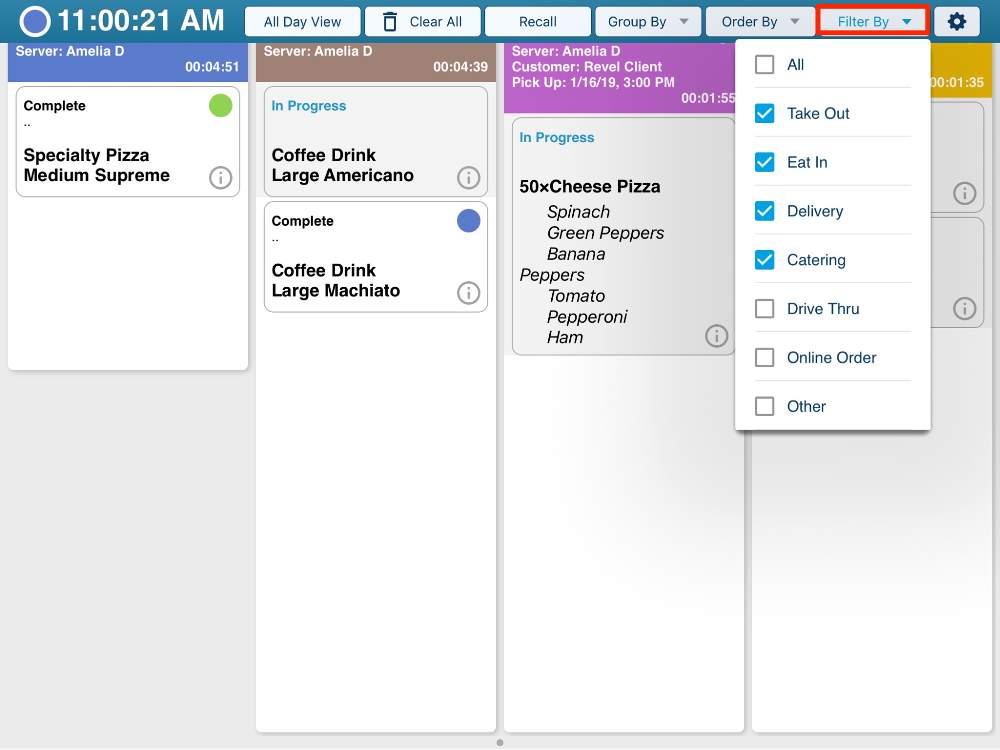 ---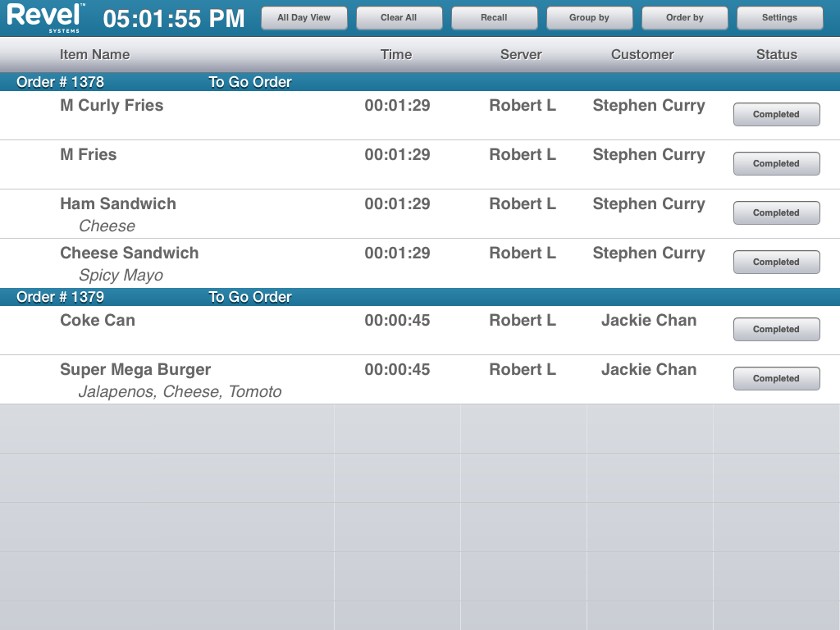 ---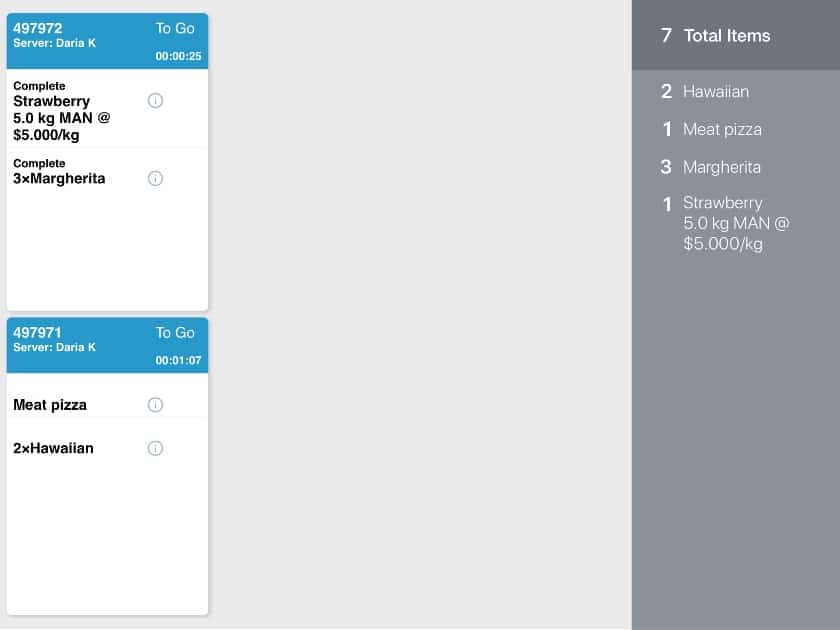 ---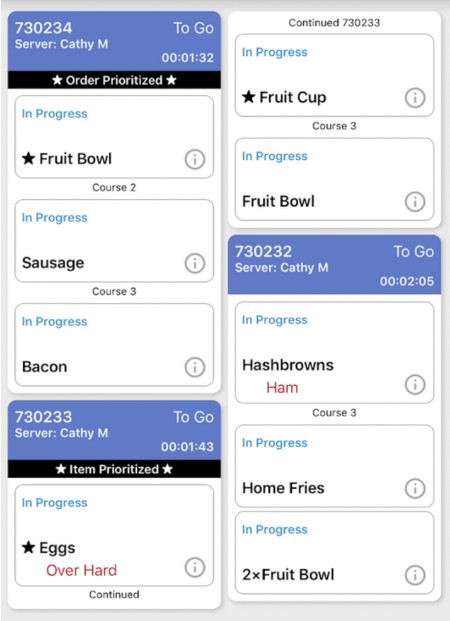 ---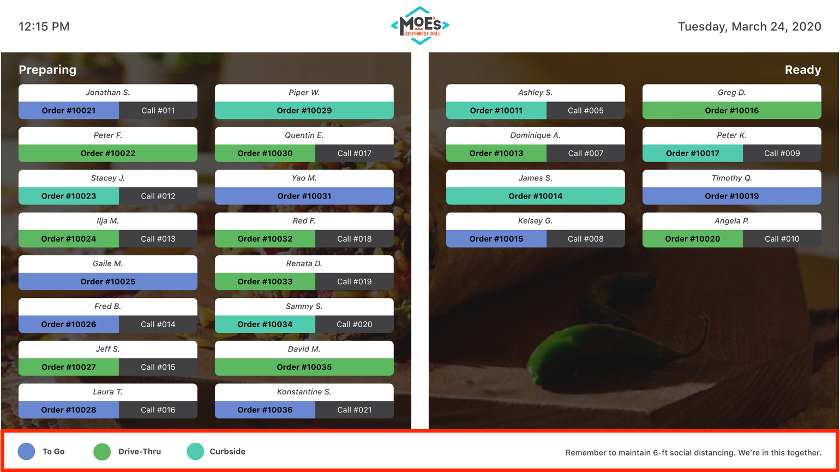 ---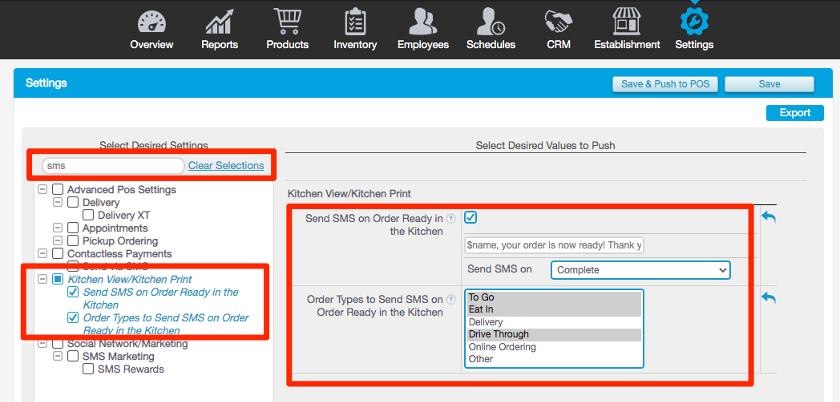 ---
Hardware
ViewSonic VSD243

Bump bar

ViewSonic wall mount

24" smart KDS display

20-button, sealed bump bar

Full motion tilt arm for KDS display
Features
Multiple screen views
Revel Systems' KDS offers several dynamic viewing options: Expedite, Expedite Tile, Kitchen Screen, Production View, and Order Display, so cooks and expeditors can choose their preferred view. Revel Systems also supports a customer-facing Order Ready screen to display orders by customer name to identify which orders are ready for pick up. Orders on this screen can be further color-coded to separate to-go, drive-thru, and curbside pickups, a massive timesaver for restaurants that rely on multiple third-party delivery platforms.
Choose your hardware
Like most systems on this list, Revel runs its KDS on iPads. But if you want more rugged hardware or a larger screen, you can opt for a ViewSonic VSD243 smart display instead. Like Toast, Revel users need to purchase their KDS hardware directly through Revel, even if they plan to use iPads. Revel does not support hardware that is purchased through third parties.
All-day count
Like Toast, Revel Systems' KDS supports an All-Day view, so cooks know exactly how much of a menu item they have on deck. Revel Systems can also assign a color to each prep station, so you can see which cook is preparing an individual menu item at a glance.
SMS text integration
Revel integrates with the third-party messaging app Twilio to support automated text messaging from the KDS screen. You can create custom messages for in-house, takeout, curbside, or delivery orders. The system will automatically text customers when your cooks or expediter marks the order as "complete" in the KDS.
Order Ready screen
Revel's built-in Order Ready screen is customer-facing and shows real-time order status. This is an excellent tool for communicating with delivery drivers or for keeping things organized in a high-volume, quick service environment. Orders can be flagged with order numbers and customer names and will be color-coded by order type.
Drive-thru tools
The Revel POS includes a detailed workflow for drive-thru restaurants it calls Drive Thru XT. This module condenses order and payment screens to reduce button presses and logs vehicle information to ensure the correct orders are given to the correct customers. You can also track drive-thru orders separately from in-house orders on the Revel KDS.
---
Pricing
Revel does not publicly list the cost of its KDS hardware and software. Contact Revel for a full-price quote.
---
Epson: Best for Offline Functionality & POS Integrations
Epson's KDS is a freestanding hardware solution that partners with several POS brands. Epson is well known for its workhorse receipt and kitchen printers. In addition to their standard printers, Epson also designs and manufactures printers that support a robust KDS system. With printer-driven, ethernet-connected screens, Epson's KDS does not need an internet connection to work, making this system the best for offline functionality.
The Epson KDS is available as touch-screen monitors with integrated printers, or as monitors outfitted with bump bars. This system also operates with virtually any restaurant POS system that accepts Epson printers. So if your POS supports Epson printers and you need a KDS, Epson likely has you covered, making this system the best for POS integrations.
Epson

Overall Score:
3.77
OUT OF
5
RATING CRITERIA

Price
0.50
OUT OF
5
Order Management
5.00
OUT OF
5
Advanced Functions
3.75
OUT OF
5
Reporting
5.00
OUT OF
5
Expert Score
4.59
OUT OF
5
What We Like
Industry-grade hardware withstands high-volume use
Printer-driven screens provide printed tickets labels when needed
Integrates with several popular POS systems
Bump bar and touch-screen hardware available
What's Missing
Must purchase through a third-party reseller
High upfront cost
No automated text message updated for customers or staff
Epson Deciding Factors
Software fees: Vary by reseller/ POS brand
Hardware costs: Vary by reseller
One-time Installation fees: Vary by reseller
Compatible POS Systems: Lavu, Cake, Upserve, Focus POS, Future POS, MICROS, Mojo, PAR, PosiTouch, Revel, Revention, Rpower, Shift4, Speedline, Talech, Toast, Touch Dynamic and more
Features:

Color coded order status, modifiers, and more
Recipe look up
Touch-screen and bump bar hardware options
Epson's KDS earned a 3.77 out of 5 on our scoring criteria. It earned points for integrating with multiple POS systems and offering both touch-screen and bump bar hardware. However, it lost some points for price and ease of use. You have to purchase the system through a third-party reseller (which may be your POS company), which means that pricing and contract terms can vary widely.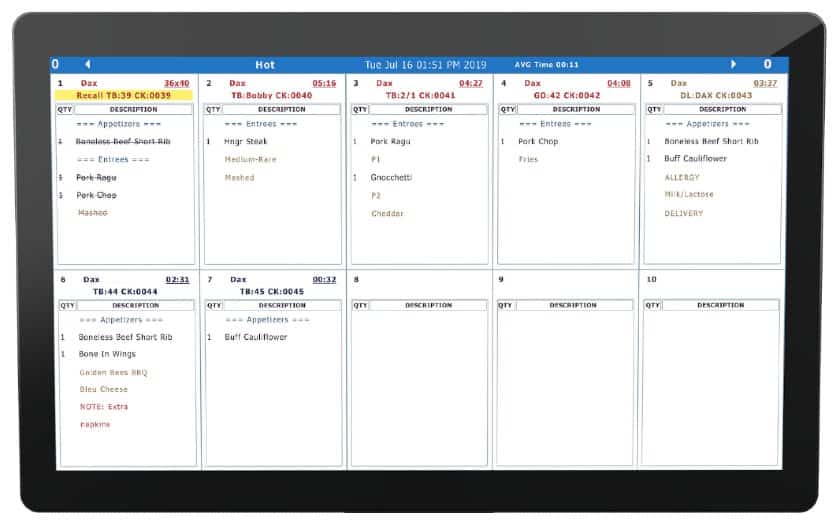 ---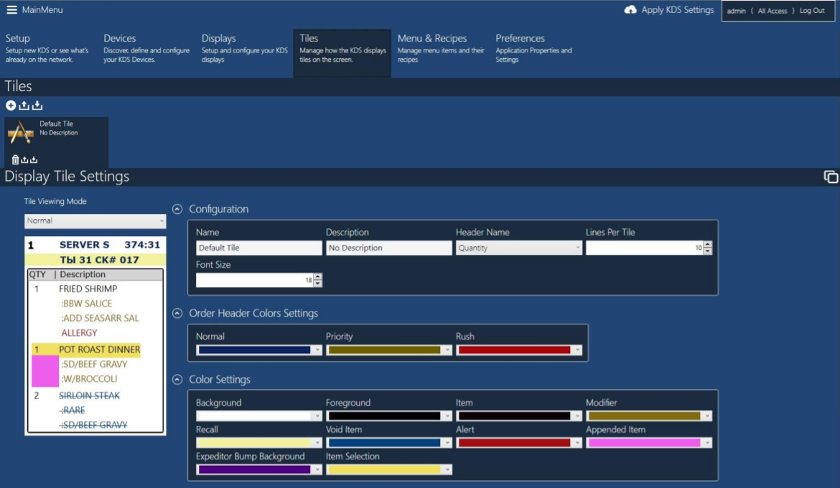 ---
Hardware
Because Epson's KDS leverages the information routed to your kitchen printers, it functions as more of a hardware than a software solution. In most cases, the only cost to add an Epson KDS to a compatible POS system is the hardware cost. However, your POS provider may charge a separate software fee for adding the KDS integration—so be sure to ask.
Basic KDS Kit

Bump Bar

OmniLink TM-L90 Plus-i Intelligent Printer

KDS screen, wall mounting bracket, bump bar, KDS driver-enabled impact kitchen printer

Bump bar navigation panel

Prices vary by resellerLinerless label printer with built-in KDS driver

Prices vary by reseller
Features
Strong offline functionality
Epson's KDS is installed via hardwired ethernet connections. It does not need the Cloud to operate. If you lose internet connectivity, your KDS will still operate.
Commercial-grade hardware
Like Toast, Epson's KDS operates on commercial-grade hardware. Epson monitors are rated IP-54, the exact same level of water and dust protection as Toast's hardware. Commercial-grade hardware will likely function better than an iPad if your kitchen is particularly hot or steamy—like an Italian spot with a wood-burning oven and lots of boiling pasta water.
Label printing
Epson's KDS screens are driven by the printers they are attached to. You can print paper tickets on demand, or even linerless sticker labels—which are ideal for labeling takeout and delivery orders.
Touch-screen and bump bar options
Epson's black-and-white, grid-based user interface is a little old-school. Plus, some cooks find bump bar navigation a bit dated. However, others prefer bump bars because they are easier to operate with gloved hands or damp fingertips. Epson includes options for both bump bar enabled and touch-screen monitors.
Recipe lookup from KDS
Like Lightspeed and Toast, Epson allows your staff to access recipe information directly from the KDS screen so there are never any mistakes from the kitchen. You just need to be sure to attach a recipe to each dish.
---
Pricing
You cannot purchase the Epson KDS directly from Epson; you'll need to go through a third-party reseller. This might be one of the many POS brands that integrates with the Epson KDS, or it might be a standalone POS hardware seller like POS Guys. Pricing and terms will vary from seller to seller, but you can typically expect to pay between $1,400 and $2,500 upfront. There may be additional monthly service or software fees.
---
Epson makes some of the hardest-working printers in the restaurant industry. See our guides to the best thermal receipt printers to find the best printers for your restaurant.
Fresh KDS: Best Freestanding Touch-screen KDS
Fresh KDS is a standalone, iPad-based KDS system that integrates with several popular POS systems like Square and Clover. There are currently more integrations in the works, with industry stalwarts Toast, Revel, Lightspeed, TouchBistro, and Aloha.
With pricing starting at $19 per month and a seven-day free trial that allows you to test the system before committing, Fresh KDS is a strong choice for restaurants that want a touch-screen KDS that integrates with their existing POS system.
Fresh KDS

Overall Score:
3.32
OUT OF
5
RATING CRITERIA

Price
3.50
OUT OF
5
Order Management
3.50
OUT OF
5
Advanced Functions
3.75
OUT OF
5
Reporting
1.25
OUT OF
5
Expert Score
4.58
OUT OF
5
What We Like
Integrates with several major POS brands, with more in development
Includes custom text communications and customer-facing Order Tracker screen (with Advanced subscription)
Seven-day free trial
Multiple hardware configurations
What's Missing
Needs internet access to work
Only operates on iPads
Fresh KDS Deciding Factors
Software subscription fee:

Basic: $29 per month
Advanced: $49 per month
Subscription includes software for up to two screens; additional screens are $5 each per month

Hardware costs: Operates on iPads; users can bring their own hardware
Features:

Integrates with the following POS systems: Square, Clover, Infor, Linga, Talech, Union
Integrations in development: Lightspeed, Brink, Revel, Toast, TouchBistro, Aloha, Lavu
Color-coded order tickets
Order timers
Optional sound alerts
Option to print from KDS screen
Fresh KDS earned a 3.32 out of 5 in our KDS evaluation. This system scored well for price—the seven-day free trial gave it a boost—and number of POS integrations. Advanced features like customer text messaging and an integrated order-ready display also earned points.
However, Fresh KDS could have scored higher if it offered recipe lookup tools (like Toast, Revel, and Epson) or had the ability to operate without an internet connection (like Toast, Revel, and Epson). Currently, like Lightspeed Kitchen and Square KDS, Fresh KDS needs a strong internet connection to function.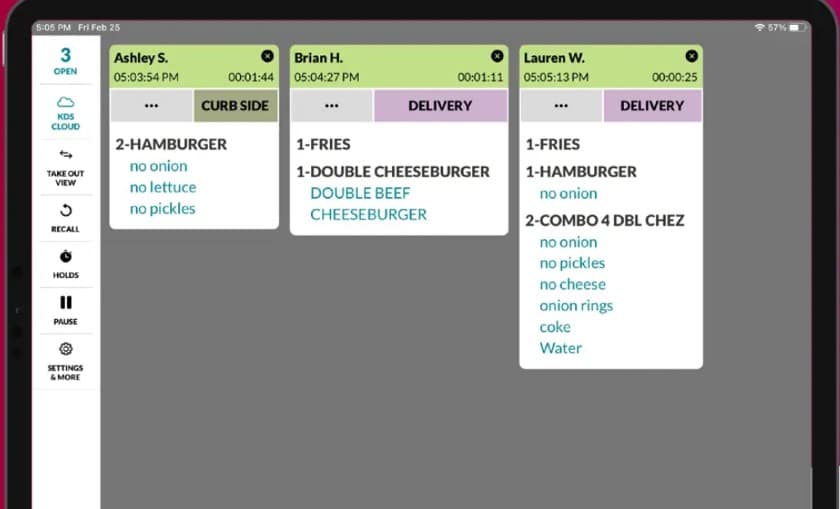 ---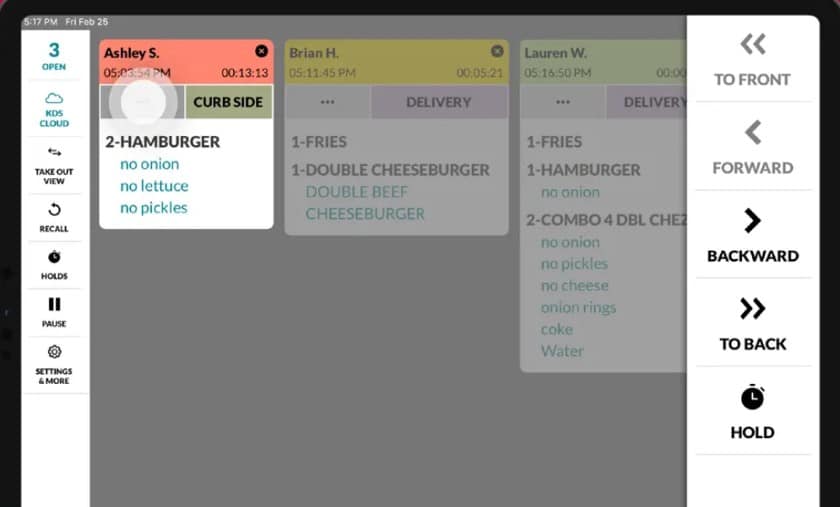 ---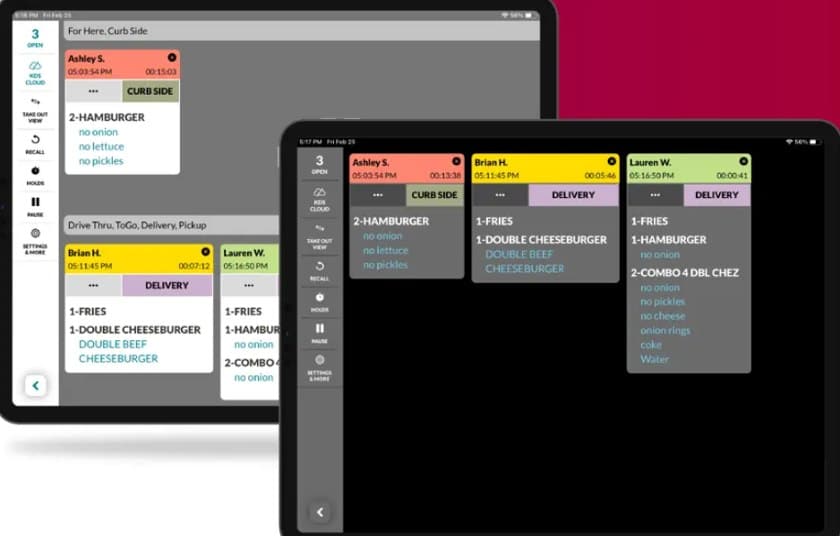 ---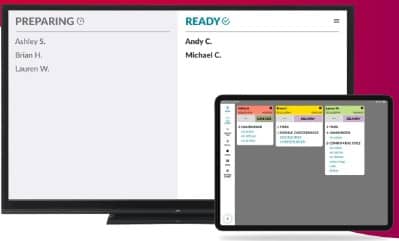 ---
Hardware
Fresh KDS operates on iPads running iOS 13 or later and Android 6.0 or later tablets. Simply download the KDS app from Google Play or the Apple App store onto tablets you already own. For industry-grade hardware, Fresh KDS supports projective capacitive (PCAP) touch-screen monitors and offers an optional bump bar.
| KA-2200 Kitchen Monitor | Logic Controls KB1700 |
| --- | --- |
| | |
| $895 | $169.81 |
| 22" Touch-screen monitor with stainless steel sealed edges | USB-enabled, 17-button Bump bar |
| | |
Features
Customizable colors
As with Toast, Fresh KDS lets you customize virtually every color on the screen. Choose which colors you want to label your ticket status, order type, and order modifications. You can even choose a light or dark mode for the entire KDS screen.
Customizable screen views
You can choose to arrange your Fresh KDS tickets in neat, individual columns or squeeze tickets into all available screen space with the Tile view. Split View allows you to separate your screen into two order streams, helpful for separating eat-in orders from to-go or pickup orders from delivery orders.
Custom text notifications
Like Toast and Revel, Fresh KDS sends automated SMS text alerts when you mark orders as complete. With Fresh KDS, however, you have even more messaging options. You can set messages for when new orders are received and when your team begins preparing orders. You can also set custom messages for different order types—eat-in, curbside, pick-up, or delivery.
Customer-facing order tracking screen
Like Revel, Fresh KDS includes an optional customer-facing order tracking screen. This is ideal for counter-service restaurants or those that do a high volume of takeout orders. When your kitchen marks a KDS ticket as completed, the order status on the tracking screen automatically updates to show customers their food is ready.
---
Pricing
Fresh KDS offers three subscription tiers: Basic, Advanced, and Enterprise. Basic starts at $19 per month, Advanced comes in at $35 per month, and Enterprise requires a custom quote. Each subscription includes software for two KDS screens, though the system can support up to 10 screens at a single location.
At the Advanced subscription level, Fresh KDS includes standout features like automated customer SMS text messaging (like Toast and Revel) and a customer-facing order tracking screen (like Revel). Though you'll also need the Advanced level if you simply want to print tickets from the KDS screen; Basic subscriptions do not include ticket printing functions.
---
Square for Restaurants: Best for Restaurants on a Budget
Square for Restaurants is a cloud-based POS system best suited for restaurants on a budget, as the POS software has a forever free plan and an advanced plan that's just $60 per month. In particular, we recommend Square for Restaurants for food trucks, QSRs, cafes, slice shops, and bakeries.
If you're using the free version of Square for Restaurants, the KDS is just $20 per device. If you're on Square for Restaurants Plus or Premium, KDS software for unlimited devices is included for free.
Square for Restaurants

Overall Score:
3.22
OUT OF
5
RATING CRITERIA

Price
4.13
OUT OF
5
Order Management
4.25
OUT OF
5
Advanced Functions
1.88
OUT OF
5
Reporting
3.50
OUT OF
5
Expert Score
4.58
OUT OF
5
What We Like
Underlying POS offers free baseline subscription
Operates on iPads
Unlimited KDS terminals included for free in Plus and Premium level subscriptions
Automated order-ready text messaging
What's Missing
Requires strong internet connection; cannot work offline
No options for industry-grade hardware
Does not have recipe lookup tools
Square for Restaurants Deciding Factors
Software pricing:

POS: Free
Plus: $60/month
Premium: Custom-quoted
KDS: $20 per terminal for Free users; unlimited KDS terminals included in Plus and Premium subscriptions

Hardware costs: Operates on iPads running iOS 13 or higher; can use hardware you already own
Features:

Customizable color coding
Customizable timers and alerts
Customizable ticket layouts
Kitchen productivity reports
Square earned a 3.22 out of 5 on our KDS scoring system. Square's affordable pricing—it outscored the other systems on this list for price—and the ability to use hardware you already own make Square for Restaurants the best KDS for restaurants on a budget.
While you can customize your KDS views in dozens of ways, from the ticket size to the alert colors, Square is not overwhelmingly customizable. So it's an excellent fit for small restaurants that want a simple KDS solution. If you want more customization options, you should try Toast (for a POS option) or Epson (for a freestanding solution).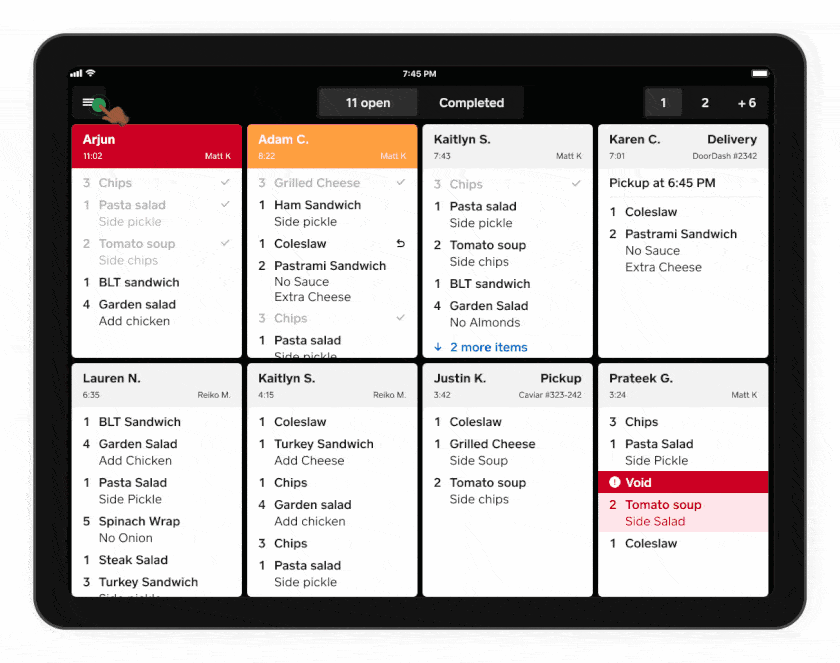 ---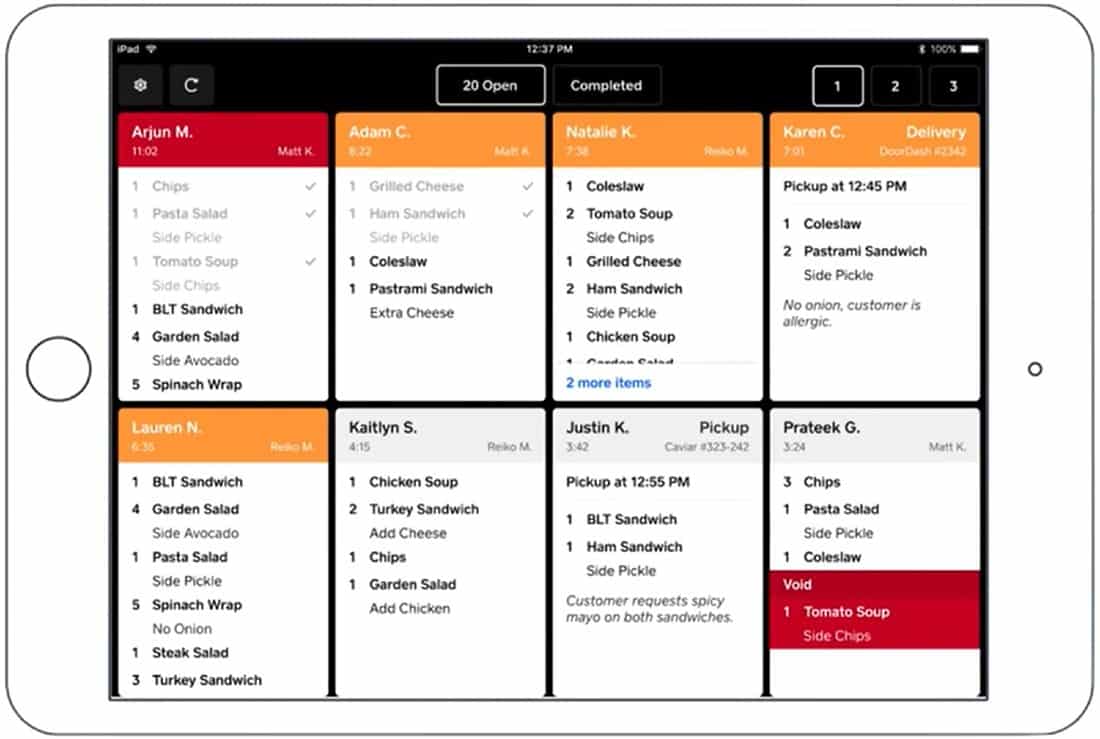 ---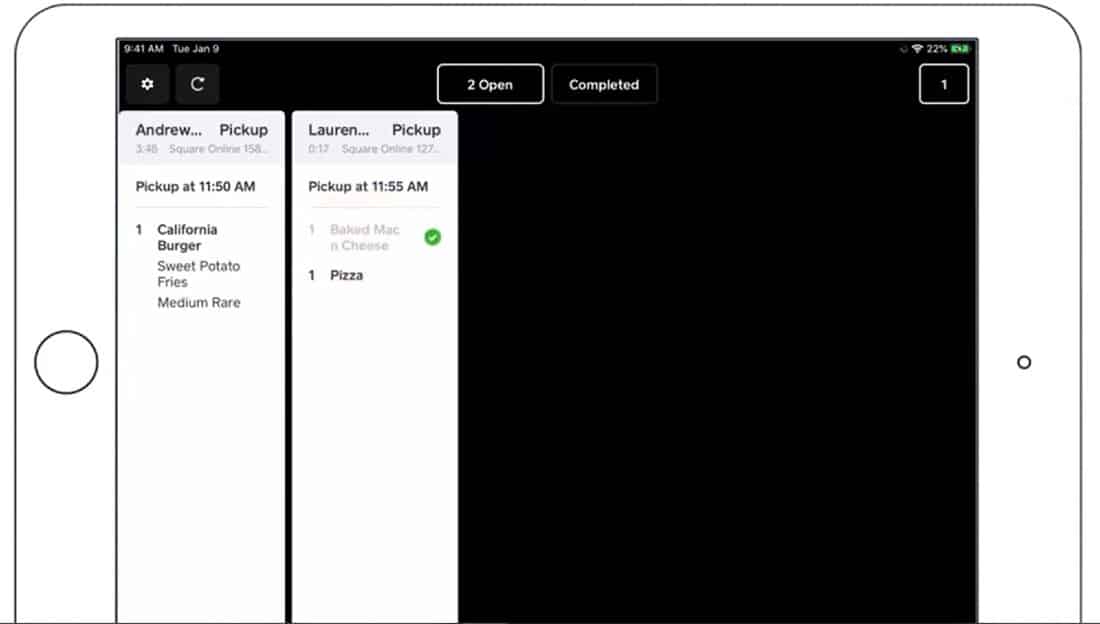 ---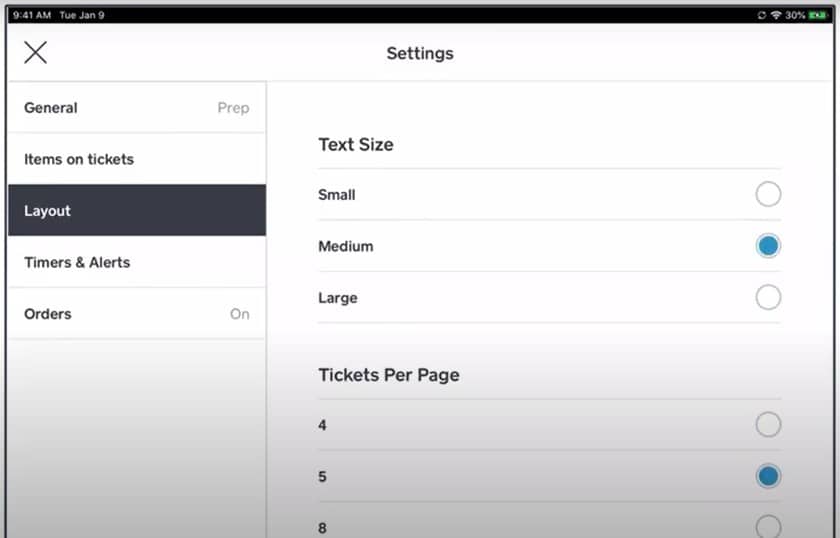 ---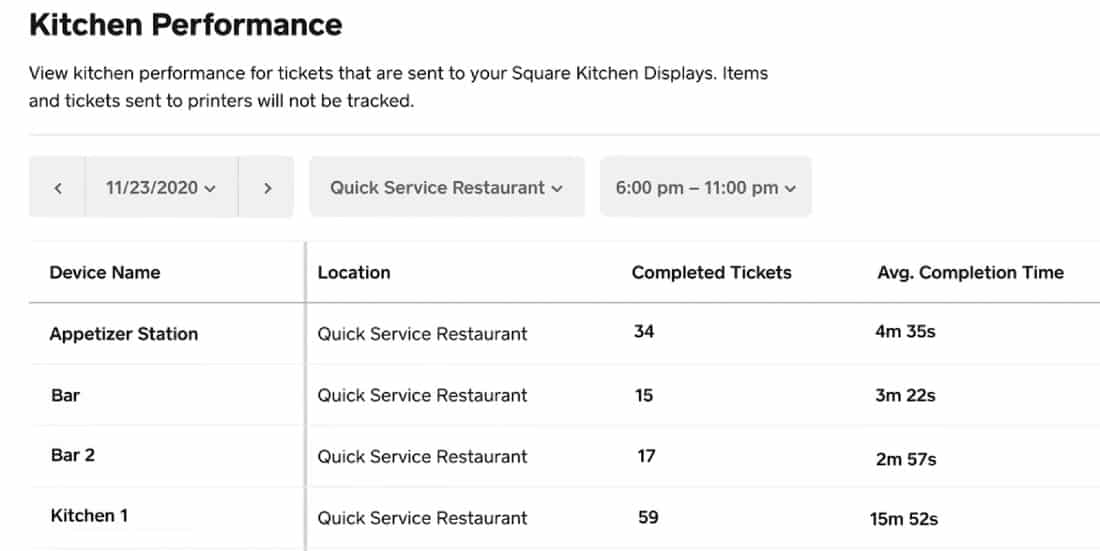 ---
Hardware
Square's KDS operates on iPads running iOS 13 or later. You can download the KDS software from the Apple App Store, then operate the KDS on iPads you already own. Alternatively, you can purchase iPads from Square. The Square KDS can receive orders from Square for Restaurants operating on Square Register or iPads, Square POS operating on iPads, Android devices, Square Register, and Square Terminal devices, orders from the Square Online store, and any third-party delivery partner or kiosk partner sending orders to your Square POS.
Square Stand

Square Stand Mount

Square Register

$149

($14/month for 12 months)

$149

($14/month for 12 months)

$799

($39/month over 24 months)

Countertop iPad POS terminal with built-in card reader*

Countertop or wall mounting bracket for iPad in Square Stand case*

POS terminal with built-in card reader and customer-facing display

* iPad not included. With iPad, add an additional $329
Features
All-Day View
Like other systems on this list, Square supports an All-Day count view. Plus, Square goes the extra mile and adds color coding to the All-Day count, so your cooks and expediters only need to glance to see which tickets are waiting on popular dishes.
Voids on tickets
Every other KDS on this list processes voided items as separate tickets. These tickets will typically be marked with the same ticket or table number as the original ticket, but this can still lead to over-prepped food on a busy night. Square displays voided items in red directly on the original ticket. So, if table 25 cancels their soup order, your cooks will see it in real time.
Customizable views
On each Square KDS, you can individually adjust the text size, the number of tickets displayed per page, and notification settings for new orders. This way, your cooks can view orders the way they prefer.
Free online ordering
All of the systems on this list display online orders in the KDS. But Square for Restaurants is the only POS that includes a free online ordering site. In addition to receiving online orders directly in your KDS order stream, Square users have the comfort of knowing they aren't paying any extra fees for those orders.
---
Pricing
For Free Square for Restaurants users, the Square KDS costs $20 per tablet, per month. Plus and Premium subscribers can use the KDS for free on unlimited devices.
---
Lightspeed Kitchen: Best KDS for Growth
Lightspeed POS is a cloud-based POS that operates on iPads. Like the underlying POS, Lightspeed's KDS module—called Lightspeed Kitchen—also runs on iPads. Pricing for Lightspeed Restaurant's POS starts at $39 per month. The KDS software is an additional custom-quoted price. In the past, the KDS was available for just $12 per screen, per month.
With four available subscription tiers and both user-friendly templated reports and advanced analytics, Lightspeed offers the widest range of tools. So small restaurants won't pay for tools they don't use, but large restaurants don't need to find a new POS provider when their business grows. This system can grow as your business grows so you don't lose the tools you love.
Lightspeed Kitchen

Overall Score:
3.19
OUT OF
5
RATING CRITERIA

Price
2.63
OUT OF
5
Order Management
2.50
OUT OF
5
Advanced Functions
3.75
OUT OF
5
Reporting
2.50
OUT OF
5
Expert Score
4.58
OUT OF
5
What We Like
Operates on iPads
Show and Tell function displays images and ingredients
Blinking alerts add to color coding options
What's Missing
Does not support automated order-ready messaging
Needs strong internet connection to operate
Lightspeed Kitchen Deciding Factors
Software Subscription fees:

POS: $39 to $289 per month
KDS: Custom-quoted (previously $12 per screen, per month)

Hardware costs: Custom-quoted from Lightspeed, or you can bring your own iPads
Features:

Show and Tell recipe lookup function
Multiple screen views
Color-coded order status
Optional audio alerts
Third-party platform orders tagged on KDS
Optional bump bar configuration
Lightspeed Kitchen earned a 3.19 out of 5.00 on our KDS ranking, putting it right on Square's heels. It earned points for its recipe lookup "Show and Tell" functions and for its affordability. But Lightspeed Kitchen is not quite as customizable as Toast and Revel's KDS (though restaurants looking for a simplified solution might prefer this).
Since Lightspeed Kitchen operates via a browser-hosted app, it needs an internet connection to work (unlike Toast, Revel, and Epson). Overall, however, the streamlined nature of Lightspeed Kitchen is excellent for keeping quick service restaurants and small, independent restaurants organized.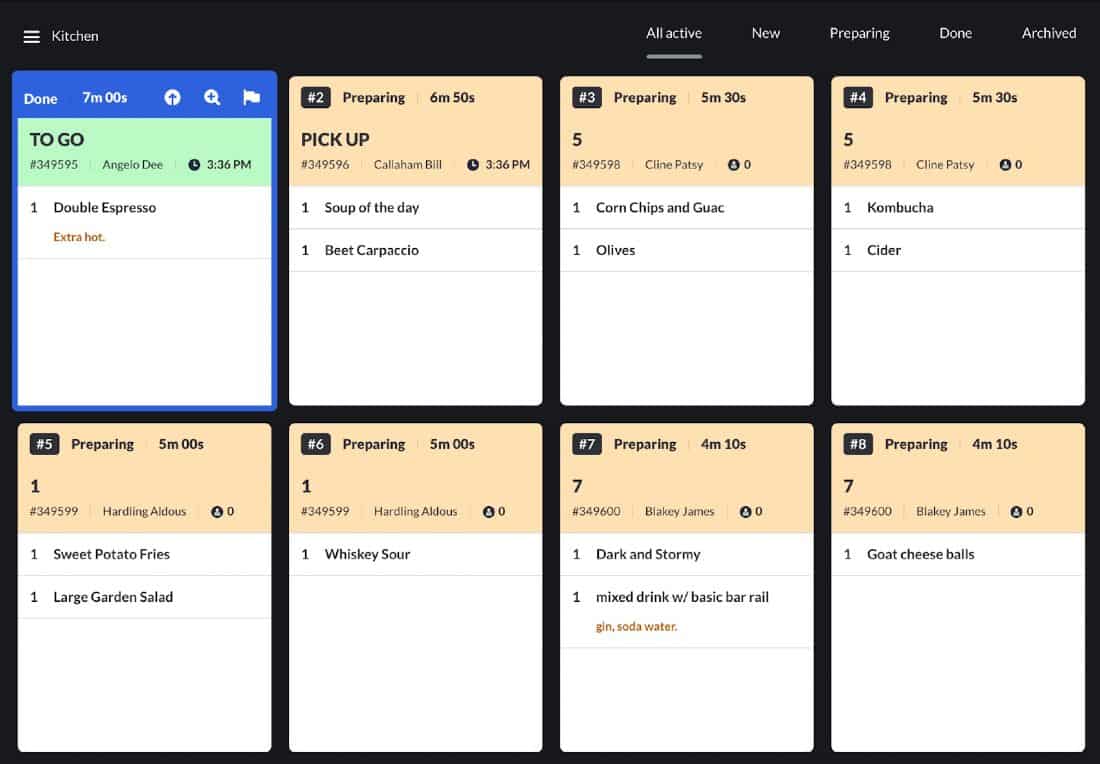 ---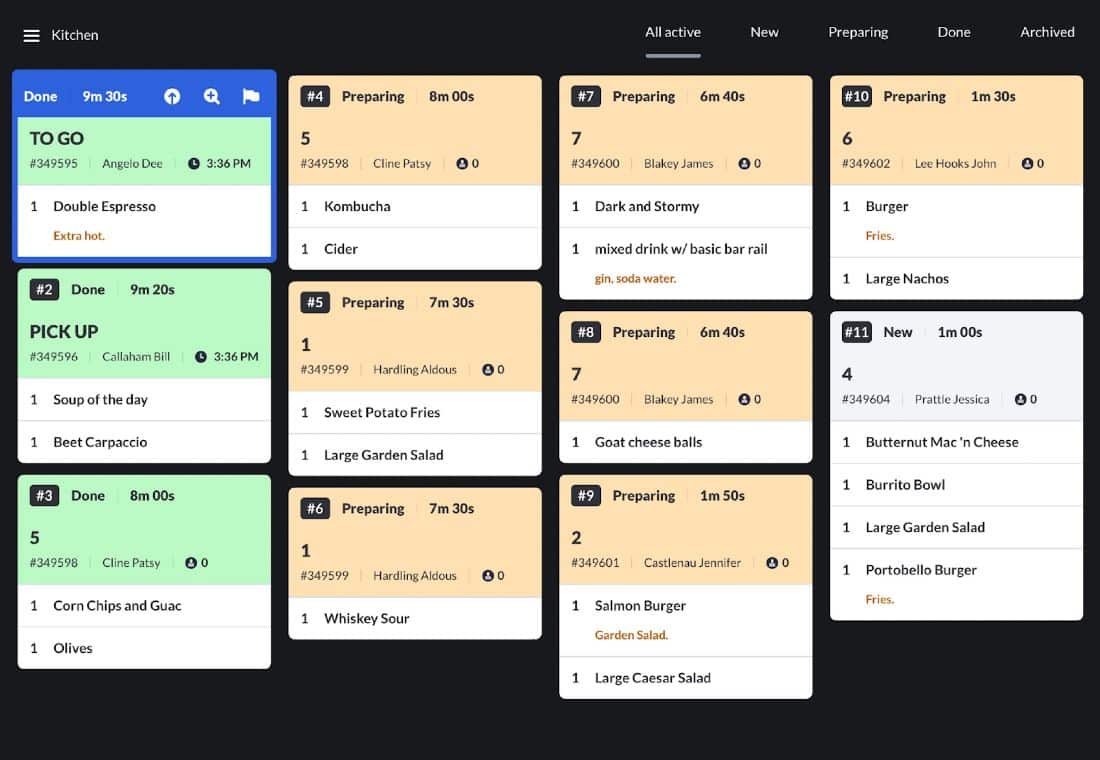 ---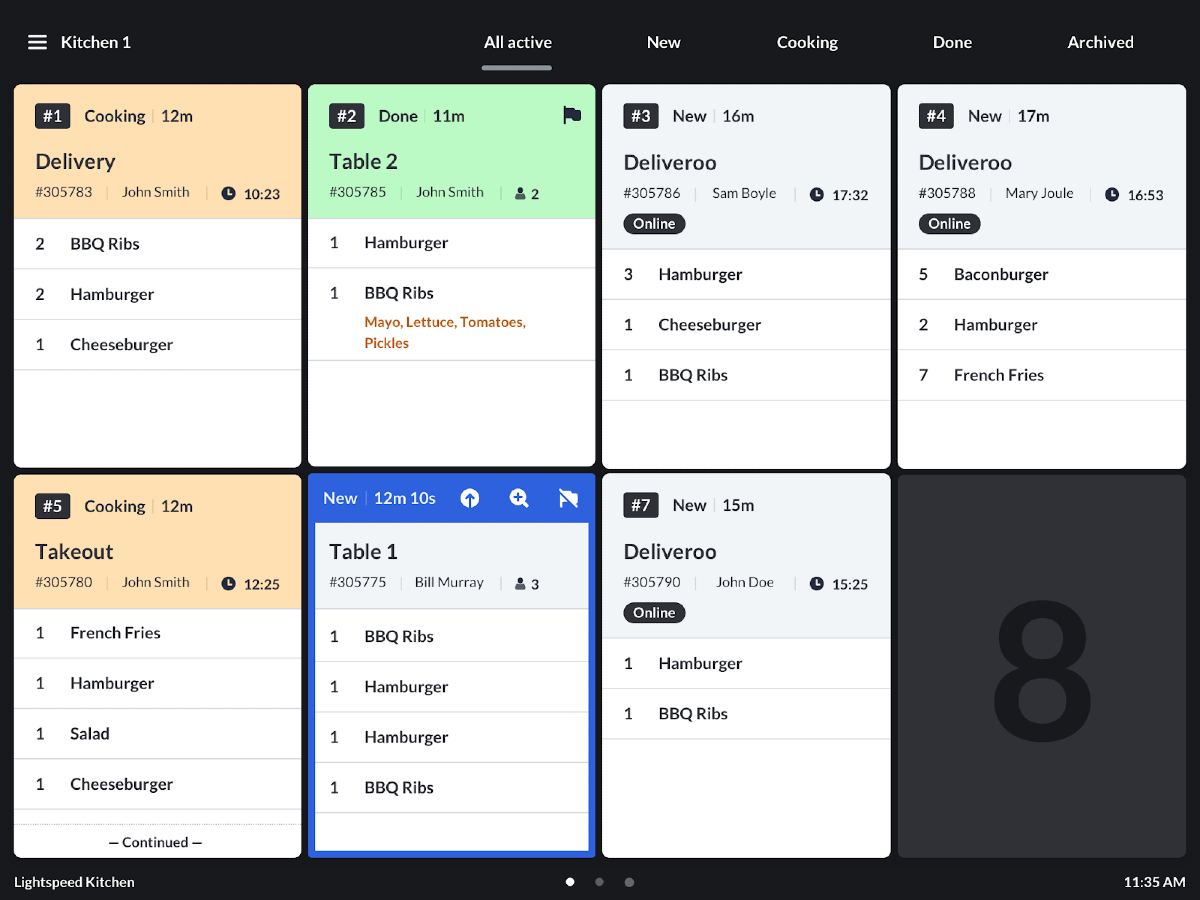 ---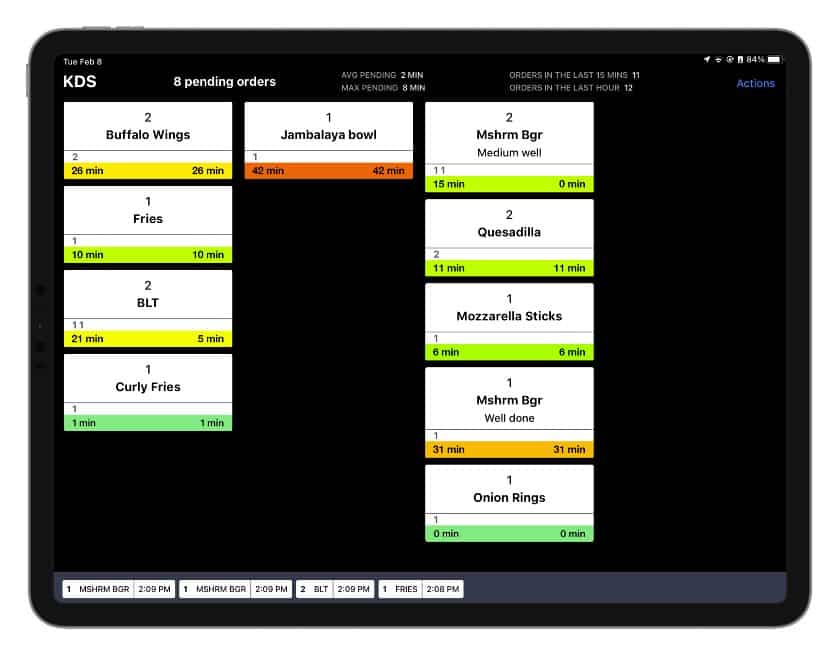 ---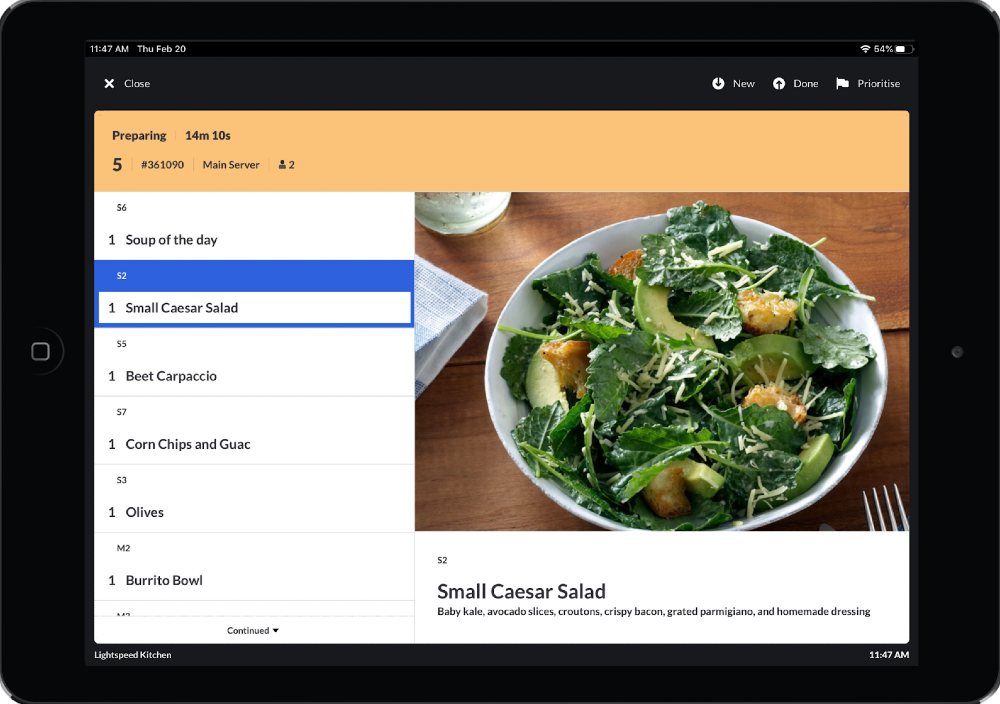 ---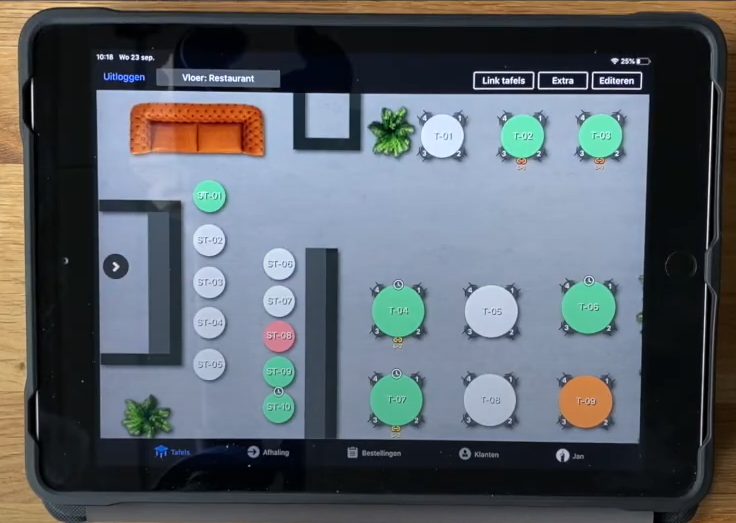 ---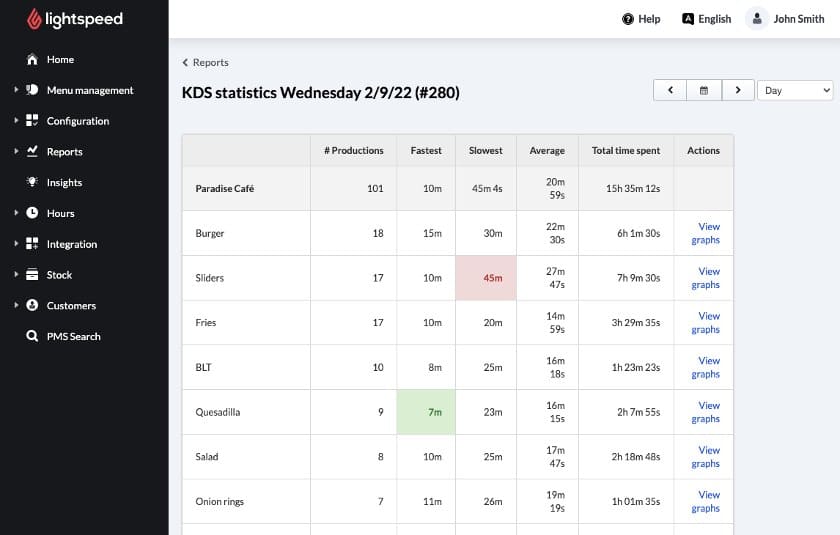 ---
Hardware
iPad KDS

Bump bar

Touch-screen iPad KDS terminal

Optional 23-button bump bar for KDS navigation
Features
Free trial
Lightspeed offers a 14-day free trial of the underlying POS so you can test all of Lightspeed Restaurant's POS functions before you commit to the system. Unfortunately, the KDS is not included in the free trial. Contact Lightspeed for a demo of the KDS.
Color-coded order status
Tickets in different stages of the preparation pipeline appear with pre-configured colors: gray for New or Archived, orange for Preparing, green for Done, and red for Voided. Unlike Toast, Revel, and Epson, however, you cannot customize these colors; they are programmed into the KDS.
Filtered ticket views
From the top left corner of the Lightspeed Kitchen screen, you can filter tickets by active, new, preparing, done, or archived status. Tickets can be moved from one order phase to the next with single or double taps.
Order tags
Lightspeed labels online orders with the name of the referring platform. And—via a Deliverect integration—Lightspeed integrates with virtually every third-party platform you can imagine. You can keep your third-party orders organized, even if you partner with several platforms.
Show and Tell function
Lightspeed Kitchen's KDS includes a Show and Tell function that shows a detailed image and item description on the KDS screen when a cook clicks on the menu item. This stops short of the recipe look-up function supported by Epson and Toast, but ensures your cooks are reminded how to plate a dish and review a list of its ingredients.
---
Pricing
Lightspeed Kitchen is a paid add-on to the Lightspeed Restaurant POS. The software is offered at a custom-quoted price from Lightspeed. Contact their sales department for full pricing.
---
Methodology—How We Evaluated Kitchen Display Systems
We compared 10 of the most popular kitchen monitoring systems based on the most frequently cited kitchen pain points. We weighed each KDS's available hardware, offline functionality, ticket layout, and customization options. We also considered each system's overall price. Based on these criteria, Toast emerged as the clear winner, with an overall score of 4.48 out of 5.00.
Click through the tabs below for our full restaurant KDS evaluation criteria:
20% of Overall Score
We rewarded KDS systems that are included in the cost of your restaurant POS. For systems that operate with more than one POS, we looked for free trials, free baseline subscriptions, or a monthly cost of $20 or less for the KDS software.
20% of Overall Score
We considered how much each KDS can be customized, and looked for systems that accept in-person, online, and third-party orders. We awarded points for systems that allow you to recall whole tickets and individual menu items, as well as systems that track all-day counts.
20% of Overall Score
We prioritized tools that send automated text updates to customers when their orders are ready or support multiple hardware types. We also looked for kitchen monitoring systems that include recipe lookups and menu images at the click of a button.
20% of Overall Score
We looked for systems that log preparation times and provide reports that measure your kitchen's productivity. We also awarded points for KDS screens that work during an internet outage in offline mode.
20% of Overall Score
Finally, we considered our restaurant expert's evaluation of each system's overall features, value for money, and ease of use.
*Percentages of overall score
Bottom Line
Toast POS has our favorite KDS module. With options like text message notifications, customizable alerts, and kitchen-specific features like all-day counts, Toast's KDS supports the widest range of restaurant styles. Combined with Toast's excellent online ordering, delivery management, team management, and reporting functions, the Toast KDS creates a full spectrum restaurant management solution at a competitive price. Visit Toast for a demo, or to get started for free today.