Kitchen Display Systems (KDS) are digital order viewing screens that can replace printers and paper tickets in a restaurant kitchen. These systems route orders from the point of sale system (POS) to the correct kitchen stations. A good kitchen display system streamlines kitchen communication, reduces human error, and monitors cook times for each dish. The best systems show a dish's ingredients at the touch of a button and text customers when orders are ready.
Most kitchen display systems are built into restaurant POS systems and offered at an additional fee for hardware and software. We examined dozens of kitchen display systems and their corresponding POS systems based on price, ease of use, and features to arrive at the top six kitchen display systems, including the best overall:
All of the above KDS are part of a larger point-of-sale (POS) ecosystem. For a standalone KDS, we recommend Fresh KDS. It works with Clover, Shopify, Square, and Talech and can connect with other systems via Zapier.
How We Evaluated Kitchen Display Systems
The ideal kitchen display system for your restaurant will depend on your restaurant type and your budget for restaurant software. Since KDS are typically attached to a restaurant point of sale system, the kitchen display options available will depend on which POS system you use.
To determine the best KDS for various restaurant styles, we considered several features:
Price: We looked at how much each system costs, including hardware pricing, monthly software fees, and installation fees.
Ease of use: We considered how easy each screen is to read and navigate and what time-saving features each system offers.
Order coursing and timing: A high-functioning display system should have the ability to manage coursing and time management.
Additional features: We also looked at whether each system has bonus features like recipe lookup, label printing, text messaging, or the ability to sync with customer displays.
Insights and reporting: If a KDS is attached to a POS system, it should support reporting functions. Logging order fulfillment times, order accuracy, and kitchen productivity help restaurants troubleshoot service delays and forecast future sales.
After comparing dozens of KDS and underlying POS systems, we determined Toast offers the best overall restaurant kitchen display system. The Toast KDS is highly customizable to support many restaurant service styles and restaurant worker preferences. In addition to the KDS, Toast's overall POS system is well-reviewed by customers and a consistently top-performing restaurant POS.
Toast: Best Overall Kitchen Display System

Toast POS is one of our top-rated cloud-based restaurant POS systems, and its KDS offering is likewise a top performer. Toast's KDS is the most customizable system on this list. It has features to support any kind of kitchen, from a quick-service burger joint to a fine dining restaurant. This system will even send text messages to customers when their orders are ready. Pricing for the Toast POS starts at $59 per month; the KDS is an add-on at a custom-quoted price.
PROS

CONS

Incredibly customizable to fit any style restaurant
Customization options might be overwhelming
Multiple ticket organization options streamline your kitchen workflows
Offers more functions than small restaurants will use
Tons of kitchen-specific features like "All Day" mode
Pricing is not transparent
Toast Pricing
Toast's underlying POS system is available at three price tiers that offer varying levels of functionality: Starter, Essentials, and Growth. You can add the KDS software and hardware to any of these packages for an additional, custom-quoted price.
Baseline POS: Pricing starts at $69 per month for the Starter system when paid annually. Essentials are priced at $99 per month, and the multi-location supporting Growth tier is $189.
KDS software: The KDS software is an add-on to the Toast POS and is offered at a custom-quoted price based on your restaurant's needs.
KDS hardware: The Toast KDS operates on Toast Flex tablets that can be purchased directly via Toast at a custom-quoted price.
Installation: The Toast POS must be configured and installed by the Toast team and requires a one-time, mandatory installation fee that starts at $499.
Required peripherals: Printers are not required to operate the Toast KDS, but most kitchens use a KDS in conjunction with at least one printer at the expediter station. Toast's KDS communicates seamlessly with Toast-compatible kitchen printers.
Toast offers 0% interest financing for hardware purchases. Payment processing rates will also vary for card-not-present transactions and American Express payments. A Toast representative can give you a custom quote. To get a full picture of what your costs with Toast would be, you'll need to schedule a demo through Toast's website. Toast does not offer a free trial.
Toast Features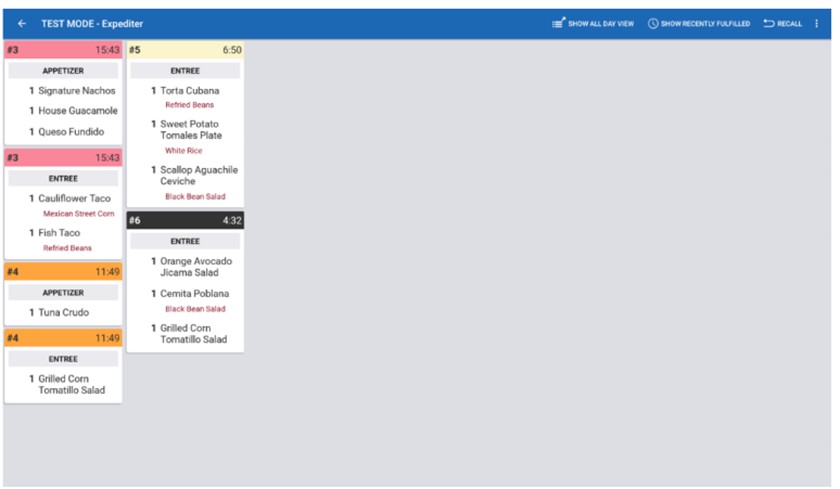 On Toast's KDS, restaurants can customize how they want menu items to be arranged. You can group modifiers together, opt to list every item separately, or list the same menu items by quantity count. You can customize your items and modifiers' background color, so cooks and expediters see size differences and other modifications at a glance. You can choose to arrange order tickets by order number for quick service or table number for full-service restaurants.
KDS Display: Toast has the most customization options of any KDS on this list.
Navigation: Quick access buttons on the top right corner of the screen allow you to Show "All Day" View. You can also show fulfilled orders, or recall fulfilled tickets. Accessing the overflow menu allows you to see device connectivity status, adjust text size, or switch users.
Extras: "All Day Mode" shows the total number of a menu item that a cook needs to make. Toast KDS alerts your servers when their orders are ready and also allows you to send automatic text messages to customers.
All Day: Restaurant-speak for "total" or "altogether." Cooks say "all day" to refer to the total number of an individual menu item they need to prepare for all open orders. As in "how many burgers all day?"
With Toast, you can also customize your KDS tickets to automatically change color to alert your kitchen team to orders that are taking a long time. If you input cook times with your recipes in the Toast POS, you can also configure your KDS to organize newly ordered items by their cook time to ensure that all dishes on a ticket are ready at the same time.
What Toast Is Missing
The only feature that Toast's KDS appears to be missing is a dark mode viewing option. While this isn't a problem in well-lit kitchens, it is a nice option for expediters that go back and forth between the bright kitchen and dimly lit dining rooms. Admittedly, this is a very nitpicky criticism. This highly customizable system can genuinely fit any restaurant-style, but a small spot looking for a simple plug-and-play solution might be overwhelmed by so many options.
To learn more about all of Toast's offerings, read our full Toast review.
Square for Restaurants: Best Low-Cost Kitchen Display System

Square for Restaurants is a cloud-based point-of-sale (POS) system best suited for businesses on a budget, as the software has a forever free plan and an advanced plan that's just $60 per month. In particular, we recommend Square for Restaurants for food trucks, QSRs, cafes, slice shops, and bakeries. If you're using the free version of Square for Restaurants, the KDS is just $10 per device. If you're on Square for Restaurants Plus, KDS software is included for free.
PROS

CONS

Extremely affordable and easy to use
Requires internet connection - no offline functionality
Manage in-person, online, and third-party app orders all in one place
KDS only works on iPads
Operates on iPads
Not very customizable
Square for Restaurants and Square KDS Pricing
Square for Restaurants and its corresponding KDS software are extremely affordable. Square has two main pricing tiers: Square for Restaurants (free) and Square for Restaurants Plus ($60 per month). Unlimited KDS software is included for free for Plus subscribers. Restaurants using Square's free plan can purchase KDS software for $10* per month per device. Square offers a 30-day free trial for Plus plans and KDS software.
Baseline POS: $0–$60 depending on the plan you choose.
KDS software: $0–$10* per month per device depending on your plan.
KDS hardware: Square KDS operates via the cloud on iPads. Note there is currently no option to hardware the KDS to increase offline functionality. This system relies on a stable internet connection.
Installation: Like TouchBistro and Lightspeed, Square KDS installation is DIY. Through your Square Dashboard, configure your KDS settings, and you'll be prompted to download the KDS app. From there, you can customize settings.
Required peripherals: The only things required to operate Square KDS are an iPad and the underlying Square for Restaurants POS to connect it to.
*$10 per month special introductory pricing available through 12/31/2021. In 2022, Square KDS pricing will increase to $20 per month, per device.
Square KDS Features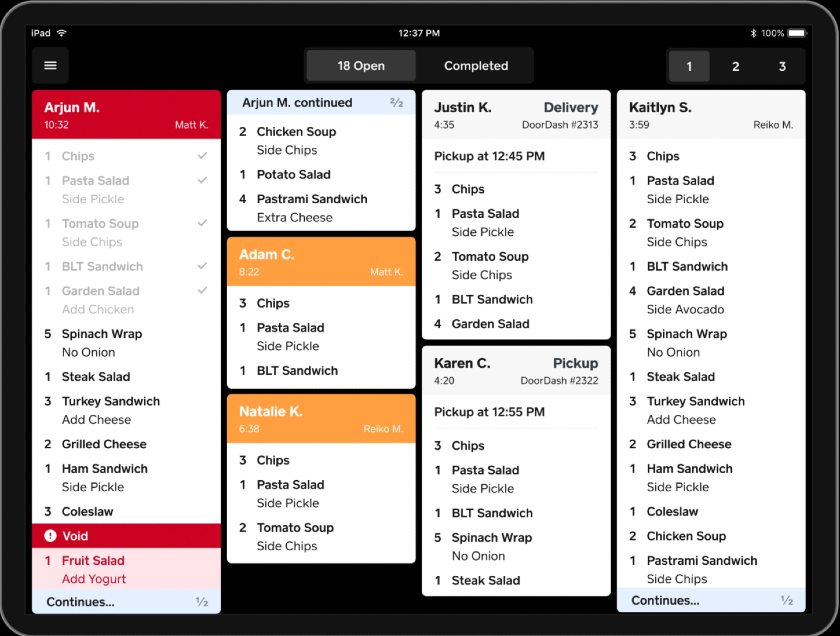 The Square KDS interface is straightforward: New orders come in displayed as a white ticket and turn yellow then red as time passes. Set how much time should pass before a ticket get a yellow alert, and how long before a yellow ticket turns red to indicate that it needs immediate attention. Note, voided tickets also appear red.
When an item on a ticket is completed, tap that item and it will gray out. When an entire ticket is completed, tap the banner at the top of the ticket and it will be marked as completed. Enable notifications for new tickets, and enable online orders so orders placed through your website (Square for Restaurants comes with free online ordering), third-party apps, or local delivery appear in the KDS.
KDS Display: Tickets are routed based on item categories, so you can set up different stations and have individual items from each order automatically sent to the proper KDS such as appetizers or bar. On each KDS, you can individually adjust the text size, the number of tickets displayed per page, notification settings for new orders, and whether or not to display online orders.
Navigation: Since Square KDS is touch screen-based, you can adjust order tickets with a simple tap. Like with Revel Systems, in Square KDS, you can mark individual items or entire tickets as they are completed. View completed orders in a separate tab.
Extras: KDS reports are available through the Square dashboard. See data by shifts, including the total number of completed tickets and average completion time. Square also comes with a free online ordering platform, which integrates with its KDS.
What Square KDS Is Missing
Overall, Square KDS is not very customizable. While you can set up multiple stations and adjust settings for timers, notifications, and text size, you can't configure how tickets are displayed on the screen.
Perhaps the biggest downside of Square KDS is that it relies on a strong internet connection. There is currently no option to hardwire a connection or increase offline functionality with a hybrid installation. However, Square KDS, and its corresponding POS, still offer a great value and low price point.
Check out our full review of Square for Restaurants to learn more.
Lightspeed Kitchen: Best Quick Service KDS

Lightspeed POS is a cloud-based POS that operates on iPads. Generally, we recommend this system for quick service restaurants and restaurants needing a customer-facing kiosk. Like the underlying POS, Lightspeed's KDS module—called Lightspeed Kitchen—also runs on iPads.
In addition to color-based alerts, Lightspeed Kitchen uses blinking and sound alerts to call attention to pending orders or tickets that are taking a long time. Pricing for Lightspeed Restaurant's POS starts at $59 per month. The KDS is an additional, custom-quoted monthly charge.
PROS

CONS

Show and Tell function displays dish image and ingredients on-screen
iPad tablets may struggle in incredibly hot or steamy kitchens
Blinking tickets and sound alerts draw cooks' attention
Fewer customization options than some other KDS
Multiple hardware options
Needs internet access to function
Lightspeed Kitchen Pricing
Lightspeed Restaurant pricing starts at $59 per month for a single terminal. Software for additional terminals is $34 per month. Most of Lightspeed's pricing is listed transparently on its website, but adding Lightspeed Kitchen or other modules requires contacting Lightspeed for a custom quote.
Baseline POS: Pricing starts at $59 per month. Payment processing is available via Lightspeed Payments, TSYS, or Vantiv.
KDS software: Priced a custom rate based on your restaurant's needs. Prices for Lightspeed's baseline add-on modules start at $12 per month.
KDS hardware: Lightspeed recommends Apple's iPad Pro and the Google Chrome browser to operate Lightspeed Kitchen. The system also works on a simple display monitor.
Installation: Lightspeed does not list any installation fees.
Required peripherals: Using Lightspeed Kitchen on a non-iPad monitor requires purchasing a processor to connect the monitor to the internet and a "bump bar" that acts as a sort of remote control to navigate through the touchless screen.
Bump bar: A bump bar is a tool that connects to a kitchen display screen to enable restaurant staff to move digital order chits around non-touch enabled screens. Some cooks prefer bump bars because they are easy to use with wet or gloved hands.
Lightspeed offers a 14-day free trial if you want to take a deeper look at the POS system. To look at Lightspeed Kitchen more in-depth, you'll need to schedule a demo via Lightspeed's website.
Lightspeed Kitchen Features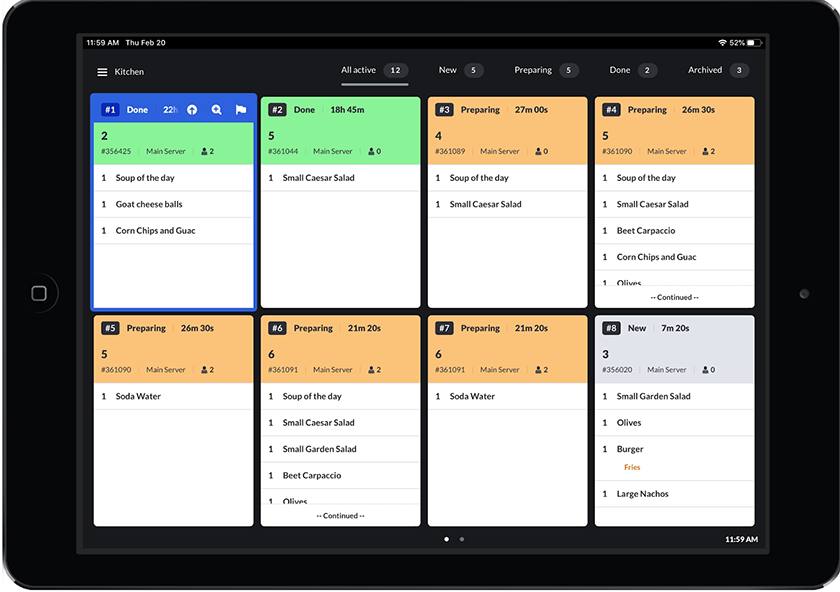 Lightspeed Kitchen operates through a web-based app. When an order is placed through the Lightspeed POS app, an order ticket is sent to the Kitchen monitors. Kitchen tickets are filtered into five order phases: New, Preparing, Done, Voided, and Archived.
KDS Display: Lightspeed Kitchen displays light tickets on a dark background. Tickets in different stages of the preparation pipeline appear with pre-configured colors; gray for New or Archived, orange for Preparing, green for Done, and red for Voided.
Navigation: From the top left corner of the Lightspeed Kitchen screen, you can filter tickets by active, new, preparing, done, or archived status. Tickets can be moved from one order phase to the next with single or double taps.
Extras: Lightspeed Kitchen's Show and Tell feature allows you to display tickets in full screen and view ingredients and images of each dish with a simple tap.
You can display tickets in either Grid or Dynamic view. Grid view means tickets are a consistent size and displayed in rows, while Dynamic view means tickets are sized according to the number of ordered items and displayed in columns.
What Lightspeed Kitchen Is Missing
Lightspeed Kitchen is not nearly as customizable as Toast's KDS. Restaurants looking for a simplified solution might prefer this, though. Since Lightspeed Kitchen operates via a browser-hosted app, it needs an internet connection to work. Overall, however, the streamlined nature of Lightspeed Kitchen is great for getting quick-service restaurants up and running.
Upserve by Lightspeed: Best for Offline Functionality
Upserve's KDS is a little bit old-school compared to others on this list. Upserve's system uses ethernet-connected Epson monitors, configured with or without printers. Like Lightspeed Kitchen, Upserve's KDS can operate on touch-screen monitors or non-touch enabled monitors with attached bump bars. Pricing for the Upserve POS starts at $59 plus $60 per terminal, per month.
PROS

CONS

Commercial-grade hardware stands up to the kitchen environment
Customization changes must be made through Upserve's support team
Ethernet connectivity gives this KDS great offline functionality
The KDS must be configured and installed by the Upserve Team
Upserve team handles installation, configuration, and customization work
Pricey
Upserve by Lightspeed Pricing
Like many of the POS brands on this list, Upserve POS offers three subscription tiers. In Upserve's ecosystem, those tiers are named Core, Pro, and Pro Plus. Since Upserve is a hybrid POS—combining cloud-based communications with locally installed routers—the costs for installation and hardware are a bit higher than purely cloud-based POS systems.
Baseline POS: Pricing for the Upserve POS starts at $59 per month plus $60 per terminal for the Core tier. The Pro tier includes inventory and loyalty features and is priced at $199 plus $50 per terminal, per month. Pro Plus weighs in at $359 and $40 per terminal.
KDS software: Offered at an additional, custom-quoted price.
KDS hardware: Upserve offers kits or individual KDS components. A single KDS kit containing a monitor, wall mount, kitchen printer, and bump bar starts at $919. Individual KDS touch screens are priced at $325 to $450 each.
Installation: Upserve's underlying POS and the additional KDS must be configured and installed by the Upserve team. The Upserve website lists the average installation costs starting at $1,700.
Required peripherals: Upserve's KDS is locally networked via an ethernet connection, so multi-screen KDS systems will require expansion modules ($420 each) to route order information to multiple station screens.
Upserve POS installation fees are decidedly higher than Toast, Revel Systems, or purely cloud-based systems like Lightspeed. For the expense, though, restaurants get a team from Upserve to handle a lot of tedious administrative tasks. Restaurant owners that don't have the bandwidth to input every menu item and program every tablet might consider this a worthwhile expense.
Upserve by Lightspeed Features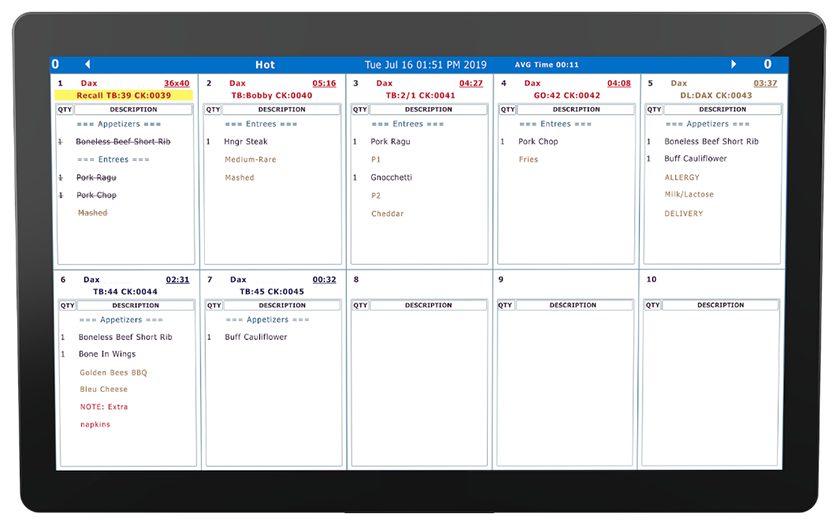 Upserve's KDS operates on Epson tablets and printers, which have been supporting restaurant kitchens for decades. These are single-task machines, without any frills. The KDS user interface is a similar story.
KDS Display: Order tickets are displayed on a white background in a simple gridded format. Pre-configured colors call attention to completed orders and to-go orders.
Navigation: Upserve's touch-screen KDS screens function with swipe, scroll, and tap movements that are familiar to anyone with a smartphone. Non-touch screen KDS monitors are navigated through a bump bar with a numbered keypad and buttons to Bump, Recall, or Scroll through tickets and basic function keys for Mode, Home, and Summary screens.
Extras: Upserve's KDS is designed for simplicity, so there are no cutting edge features like Lightspeed's Show and Tell function.
Where Upserve's KDS has the competition beat is in offline functionality. This KDS is fully functional in an internet outage. The touchless monitors with bump bar connections may be low-tech, but especially hot or steamy kitchens may prefer them.
What Upserve by Lightspeed Is Missing
Fast-paced kitchens will find the bump bar-enabled KDS clunky. Wiring the system through ethernet cables can add clutter to your countertops. It's this ethernet connectivity, though, that allows Upserve's KDS to operate even in an internet outage.
You can get a detailed look at Upserve POS in our full review of the system.
Revel Systems: Best KDS for Online Ordering and Delivery

Revel Systems cloud-based POS is one of our top recommendations for high-volume takeout restaurants. Revel Systems's built-in KDS combines Toast's customizability with the convenience Lightspeed's pre-configured settings to create a streamlined KDS solution. This offers lots of insightful features to support takeout and delivery orders, including a customer-facing display to show customers when their order is ready. Pricing for Revel Systems starts at $99 per month.
PROS

CONS

Streamlined system for takeout and delivery orders
Best pricing requires a three-year contract
Updates individual items separately to track kitchen productivity
Pricey
KDS operates on iPads or more rugged ViewSonic Touch screens
More bells and whistles than a small restaurant needs
Revel Systems Pricing
For the price, though, Revel Systems includes modules that cost extra on other platforms, like customer relationship and inventory management, and employee scheduling. The systems inbuilt online ordering and in-house delivery management functions are also best in class.
Baseline POS: Revel Systems POS software starts at $99 per month for one register. Pricing is contingent on a three-year service contract, enrollment in Revel Systems Advantage as your payment processor, and fees are billed annually.
KDS software: Available at an additional, custom-quoted price.
KDS hardware: Revel Systems' KDS operates on iPads for convenience. If you want a more rugged tablet that can withstand an especially hot kitchen, Revel Systems also sells configured ViewSonic VSD243 smart displays at a custom quoted price.
Installation: Revel Systems charges a mandatory, one-time installation fee that starts at $649.
Required peripherals: The Revel Systems KDS operates with or without the support of kitchen printers or optional bump bars.
Revel Systems offers payment plans and leasing options for its hardware. Revel Systems does not currently offer a free trial, but you can schedule a full demo of the system through the Revel website.
Revel Systems Features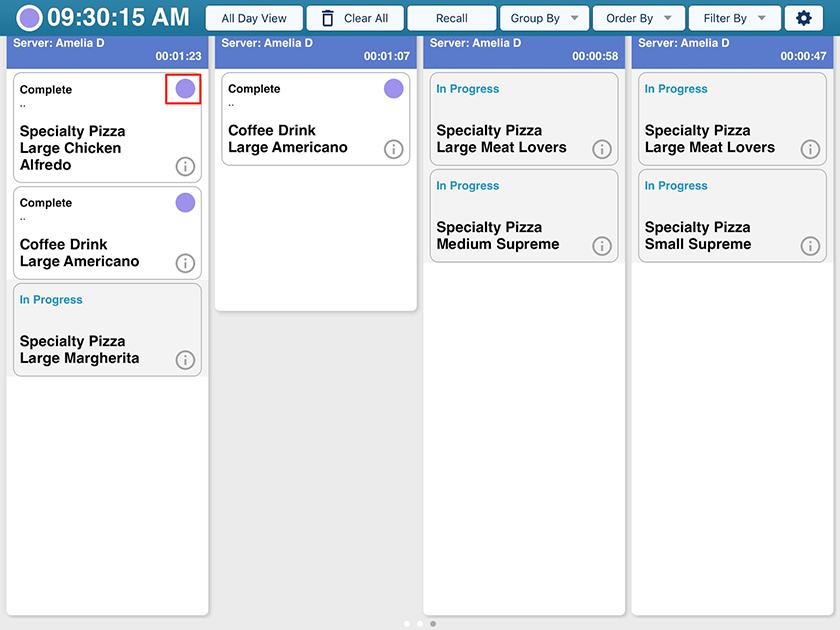 Color coding identification in ticket headers shows the order type—Eat In, Take Out, or Delivery—so cooks know whether to plate items or bag and box them. Revel Systems also supports a customer-facing Order Ready screen to display orders by customer name to identify which orders are ready for pick up. Orders on this screen can be further color-coded to separate to-go, drive-thru, and curbside pickups; a massive timesaver for restaurants that rely on multiple third-party delivery platforms.
KDS Display: Revel Systems' KDS offers several dynamic viewing options: Expedite, Expedite Tile, Kitchen Screen, and Order Display, so cooks and expeditors can choose their preferred view.
Navigation: Revel Systems KDS screens use swipe, tap, and double-tap gestures, just like smartphones. Buttons for All Day, Clear All, Recall, and various filtering drop-down menus are arranged at the top of the KDS screen.
Extras: Like Toast, Revel Systems' KDS supports an "All Day" view, so cooks know exactly how much of a menu item they have on deck. Revel Systems can also assign a color to each prep station, so you can see at a glance which cook is preparing an individual menu item.
In Revel Systems' KDS ecosystem, individual items can be updated separately on each ticket. As cooks mark individual items as "done," the expediter's screen updates with this information so the whole team can see an order's progress. Like Lightspeed, Revel Systems' colors are pre-configured and cannot be changed.
What Revel Systems Is Missing
The biggest drawback to Revel Systems' KDS is the price, though it is lower than Upserve. The full-spectrum features are also best suited to high-volume restaurants with multiple order streams. Smaller operations probably won't use all of the features.
For a detailed breakdown of all of Revel Systems' strengths and weaknesses, see our full review.
TouchBistro: Best High-Volume KDS

TouchBistro is an iPad-based restaurant POS that was built by former restaurant employees specifically for the foodservice industry. The total software ecosystem includes a point-of-sale system, inventory management, and a kitchen display system at a mid-range price point.
PROS

CONS

Operates on iPads
Not as customizable as Toast or Revel Systems
Intuitive user interface
Add-on modules pricing can add up
Can choose your payment processor
Can struggle with offline functionality
TouchBistro Pricing
Since the KDS feature is an additional quote-based price on top of the monthly POS fee, TouchBistro KDS pricing depends on your existing TouchBistro POS license. TouchBistro kitchen display runs on any iPad with iOS 6 or later, which can be purchased for under $400.
Baseline POS: POS plans range from $69 per month to $399 per month based on how many terminals you need.
KDS software: The KDS is offered at an additional, quoted rate, you'll need to contact a TouchBistro sales representative.
KDS hardware: Restaurants can use any iPad with iOS 6 or later.
Installation: TouchBistro installation is do-it-yourself, so there are no installation fees. TouchBistro provides comprehensive video tutorials to walk you through the process.
Required peripherals: All that is necessary to operate the KDS with the TouchBistro POS is at least two iPads; one to run the POS and one to run the KDS program.
TouchBistro does not list hardware prices publicly. You'll need to contact its team directly for a custom quote. To test drive the TouchBistro POS, you can sign up for a free trial via the TouchBistro website.
TouchBistro Features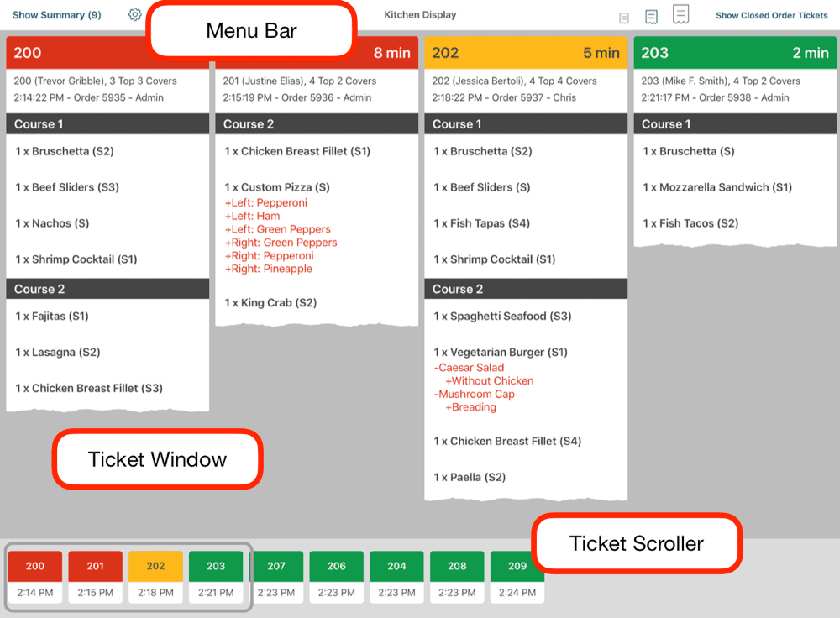 TouchBistro KDS tracks individual cook times for each item, so managers can see which items or workstations are slowing down-ticket times. Unlike Toast or Lightspeed, TouchBistro does not have recipe viewers or other analytics built into the KDS itself. Overall, TouchBistro's streamlined interface, easy ticket re-arrangement, and summary views make this KDS an excellent tool for high-volume restaurants.
KDS Display: TouchBistro's user interface is incredibly user-friendly, with intuitive touch-screen navigation.
Navigation: In addition to basic menu buttons at the top of the screen, TouchBistro's KDS includes a ticket scroll bar at the bottom of the screen, so you can easily rearrange tickets between screens.
Extras: When an order ticket item is "fired," it will turn yellow and start a running timer how long it's been in preparation. You can also show a "summary" view on the screen's left side, similar to Toast and Revel Systems' "All Day" count.
What TouchBistro Is Missing
The system is missing extras like the ability to print labels directly from the KDS like the standalone Fresh KDS or send text messages to customers like Toast. Since it is cloud-based, offline functionality is limited.
For a detailed look at the TouchBistro ecosystem, you should see our TouchBistro POS review.
Bottom Line
Kitchen display systems streamline communications, decrease ticket times, and help eliminate order errors. The kitchen display system you choose almost exclusively depends on which point of sale your business uses, as kitchen display systems are often an in-built, add-on feature. The best option is to choose a restaurant-specific POS software that includes a KDS feature.
Toast POS has our favorite KDS module. With options like text message notifications, customizable alerts, and kitchen-specific features like all-day counts, Toast's KDS supports the widest range of restaurant styles. Combined with Toast's excellent online ordering, delivery management, team management, and reporting functions, the Toast KDS creates a full spectrum restaurant management solution at a competitive price. Visit Toast for a free demo and estimate.