Best Kitchen Display Systems (KDS) for Restaurants
This article is part of a larger series on POS Systems.
Kitchen display systems (KDS) are digital order viewing screens that can replace printers and paper tickets in a restaurant kitchen. These systems route orders from the point-of-sale (POS) system to the correct kitchen stations. A good kitchen display system streamlines kitchen communication, reduces human error, and monitors cook times for each dish. The best systems show a dish's ingredients at the touch of a button and text customers when orders are ready.
Most kitchen display systems are built into restaurant POS systems and offered at an additional fee for hardware and software. We examined dozens of kitchen display systems and their corresponding POS systems based on price, ease of use, and features to arrive at the top seven kitchen display systems, including the best overall:
Top Restaurant KDS Compared
| | Minimum monthly fee | Runs on | Touch screen or bump bar | Integrated automated messaging | Requires internet access to work | Available POS integrations |
| --- | --- | --- | --- | --- | --- | --- |
| | Custom-quoted | Toast IP54 rated tablets | Touch screen | ✔ | ✔ | Toast |
| | Custom-quoted | iPads | Both | ✔ via Twilio integration | ✔ | Revel |
| | $12 | iPads | Both | ✕ | ✔ | Lightspeed |
| | $20 per device | iPads running IOS 13 or higher | Touch screen | ✕ | ✔ | Square |
| | Custom-quoted | iPads | Touch screen | ✕ | ✔ | TouchBistro |
| | $29 | iPads | Both | ✔ | ✔ | Square, Clover, Shopify, and more |
| | Depends on your POS provider | Epson IP-54 rated monitors | Both | ✕ | ✕ | Upserve, Lavu, Aloha, Micros, and more |
Why Use a KDS
If you've used kitchen printers and paper tickets without incident, a KDS might seem like a needless expense. Depending on your restaurant type and order volume, a KDS might not be the right tool for you. But a KDS is not merely a digital version of a kitchen printer. It does a lot more.
High-volume order support: A KDS can spool many more order tickets than a typical kitchen line can hold. If you have trouble keeping all your paper tickets visible during a service rush, a KDS can solve this pain point for you.
Kitchen productivity tracking: A KDS tracks every stage of the order process. You can see how long each ticket takes to complete and even how long each dish takes to prepare. Productivity reports can also show the average prep speed of each kitchen station, so you can identify training opportunities or see if a station is frequently overwhelmed and update your menu to spread the workload.
Real-time order status alerts: Most KDS show an order's prep time directly on the ticket. So you always know exactly how long a table or customer has waited for their meal. This can help you identify negative customer experiences before they happen and take proactive steps to turn the experience around.
Automated messaging: Many KDS systems support in-app SMS messaging to alert customers when their takeout or delivery orders are ready. This simple function can save time and confusion in busy takeout and delivery restaurants.
Recipe and plating guides: Several KDS include recipe look-up tools in the KDS. So if your new line cook struggles to remember how your Caesar salad is plated, they can find out with a single click.
You can also use KDS systems to supplement your kitchen printers. TouchBistro, in fact, recommends a dual approach, combining printers with touch screens to keep your kitchen line running efficiently. As younger, more tech-savvy cooks enter the restaurant workforce, you may also find that your staff prefers the familiar, app-based order stream of a KDS.
---
Toast: Best Overall Restaurant KDS System
Toast

What We Like
Automated SMS text alerts let customers know their order is ready
In-app alerts tell servers when orders are ready
Operates on commercial-grade hardware
Highly customizable tickets
What's Missing
Does not have an order tracking screen view
You must purchase hardware through Toast
Pricing is not transparent
Toast Pricing & Features
Software subscription fee:

POS (monthly): Starter – $0, Essentials – $165, Growth Custom-quoted
KDS: Custom-quoted

Hardware costs: Custom-quoted
Features:

Digital ordering integration
Kitchen productivity reporting
Multiple language support
Color-coded modifiers
Customizable ticket formats
Automated order firing by prep time
Automated SMS and in-POS alerts
Toast POS is one of our top-rated cloud-based restaurant POS systems, and its KDS offering is likewise a top performer. Toast's KDS is the most customizable system on this list. You can highlight individual ingredients and common allergens. You can choose your font size and how information is arranged on order tickets. This system also sends text messages to customers when their orders are ready, and alerts servers in the POS app when they have food waiting in the kitchen. Pricing for the Toast POS starts at $0 per month; the KDS is an add-on at a custom-quoted price.
Most of the KDS systems on this list operate on iPads (only Toast and Epson don't). While that means you'll need to purchase KDS screens from Toast directly, it is also a strength. Toast's touch-screen KDS tablets are rated at IP-54 for resistance to dust, steam, and water droplets. Apple's iPads, on the other hand, are not IP-rated at all. iPads can also struggle in temperatures above 95 degrees Fahrenheit, which may be a problem in hot, steamy restaurant kitchens.
IP rating: IP stands for "Ingress Protection." This two-digit number rates digital devices on their resistance to dust and water. The first digit refers to a device's dust resistance on a scale of 0 to 6; the second digit rates the water-resistance on a scale of 0 to 9. So the highest IP rating a device can achieve is IP-69.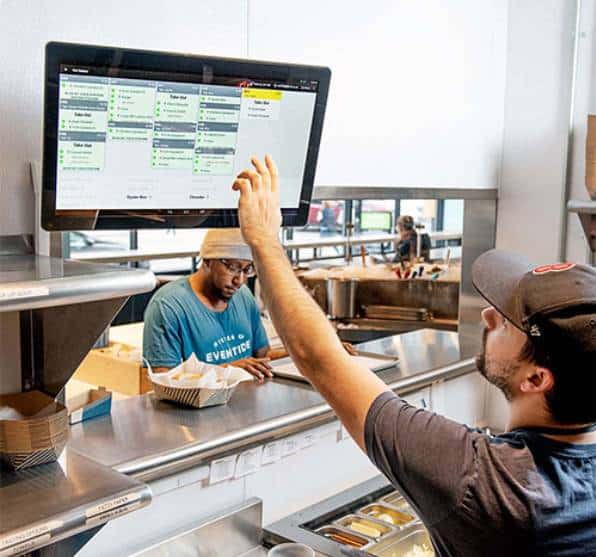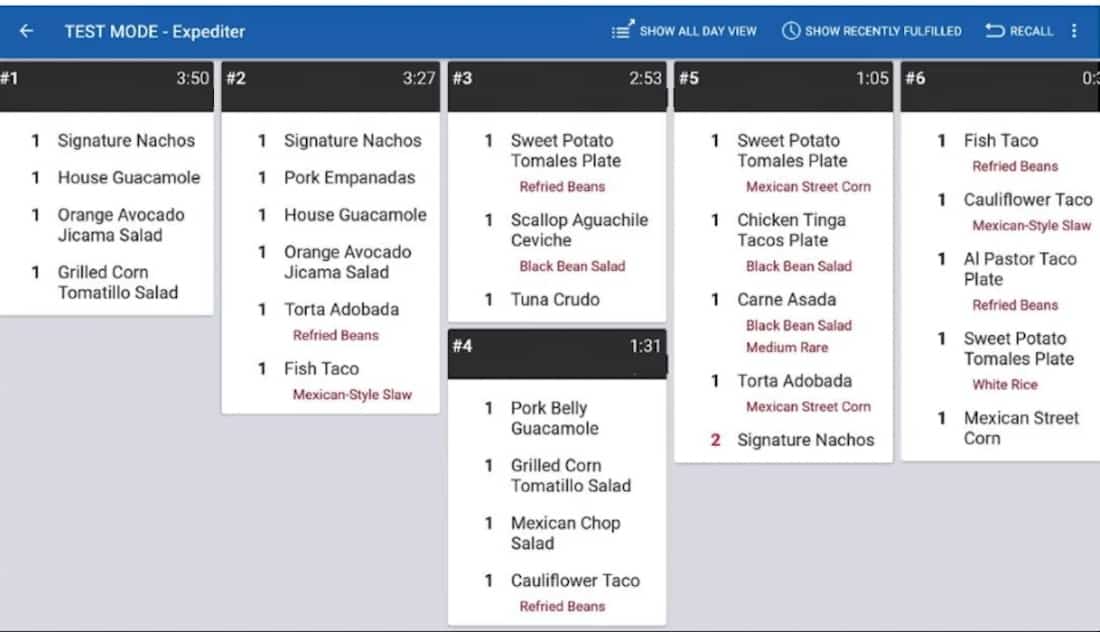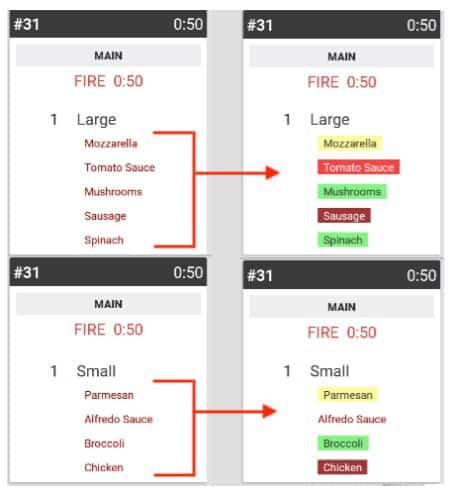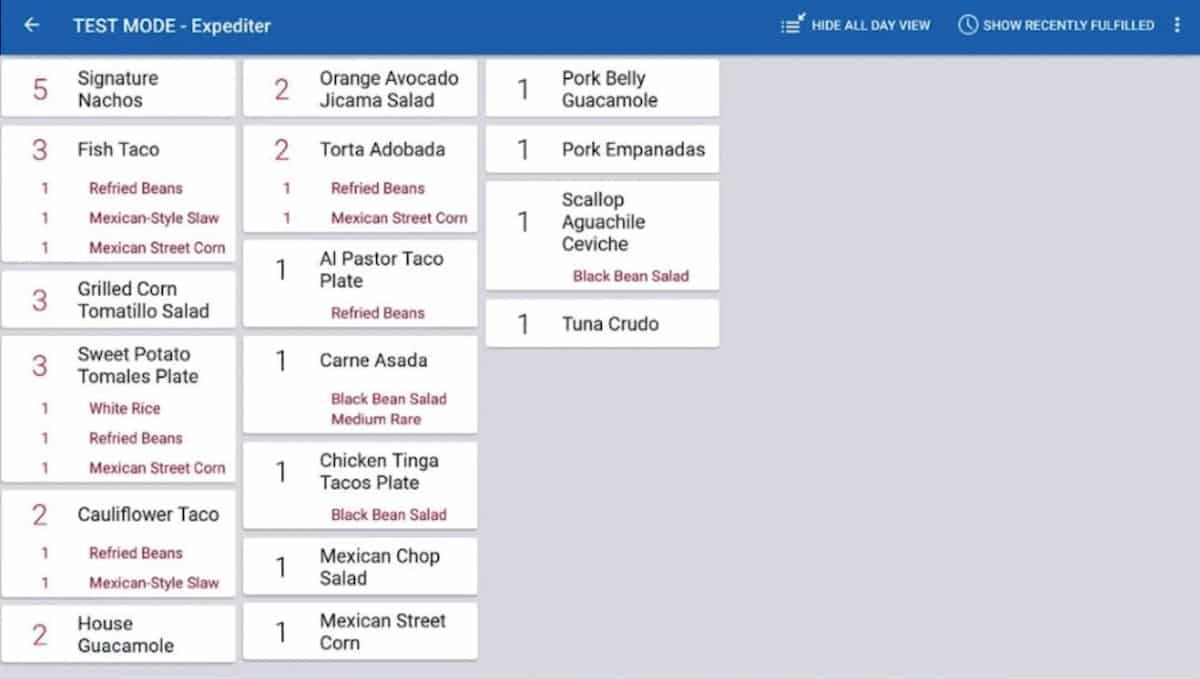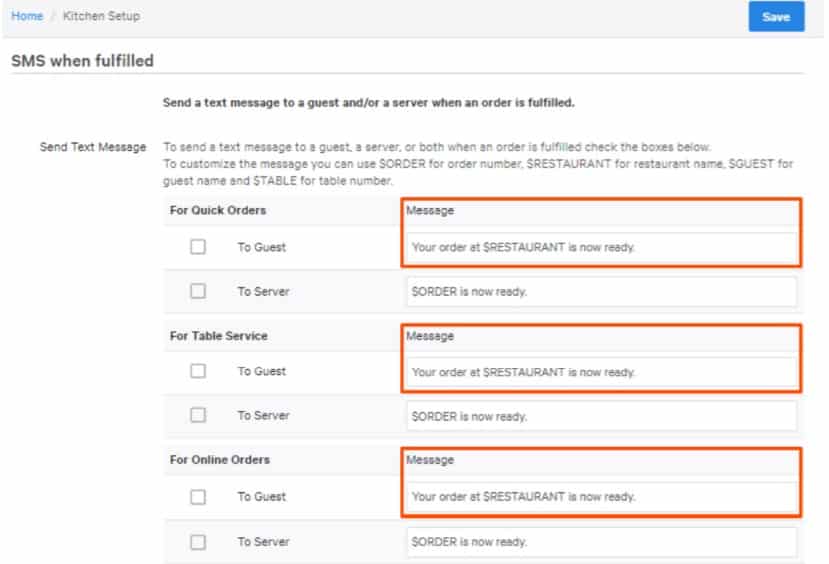 Toast Standout Features
On Toast's KDS, restaurants can customize how they want menu items to be arranged. You can group modifiers, opt to list every item separately, or list the same menu items by quantity count. You can customize your items and modifiers' background color, so cooks and expediters see size differences and other modifications at a glance. You can choose to arrange order tickets by order number for quick service or by table number for full-service restaurants.
Toast's standout features include:
Touch-screen navigation: Quick access buttons on the top right corner of the screen allow you to Show "All Day" View. You can also show fulfilled orders or recall fulfilled tickets. Accessing the overflow menu allows you to see device connectivity status, adjust text size, or switch users.
All-day count: "All day" is restaurant-speak for "total" or "altogether." Cooks say "all day" to refer to the total number of an item they need to prepare to fill all open orders. As in "how many burgers all day?" Toast's All Day count screen shows your all-day counts at a glance, so your kitchen team is never second-guessing the orders they have on deck.
Prep timers: If you input cook times with your recipes in the Toast POS, you can configure your Toast KDS to organize newly ordered items by their cook time to ensure that all dishes on a ticket are ready at the same time. When an order is "fired" in the POS, your KDS will show a running timer on each ticket. So you always know how long a customer has waited for their order.
Automated messages: You can set your Toast KDS to send automated messages when you mark an order as complete on the KDS. Send SMS text messages to customers who ordered online, letting them know their takeout order is ready. Or send an in-POS alert to your server staff to let them know their table's order is up. These alerts help keep your kitchen flowing smoothly and keep cooked food from dying in the window.
Revel: Best for High-Volume Takeout Operations
Revel

What We Like
Choose from iPads or more rugged ViewSonic hardware
Supports a customer-facing "order ready" display
Multiple screen views let your team track orders with their preferred view
What's Missing
POS requires three-year contract
Pricing is not transparent
Integrated SMS messaging requires a third-party integration
Revel Pricing & Features
Software subscription fee:

POS: $99 per terminal, per month, plus a $674 installation fee
KDS: Custom-quoted

Hardware costs: Custom-quoted
Features:

Color-coded order types
Multiple screen viewing options
All-day counts
Customer-facing order-ready display
Choice of iPad or non-iPad KDS screens
SMS text notifications via Twilio integration (starting at $0.0075 per message)
Revel Systems' cloud-based POS is one of our top recommendations for high-volume takeout restaurants. Its built-in KDS combines Toast's customizability with Lightspeed's pre-configured settings to create a streamlined KDS solution. This system offers many insightful features to support takeout and delivery orders, including a customer-facing display to show customers and delivery drivers when their order is ready. Pricing for the Revel Systems POS starts at $99 per month.
For the price, though, Revel Systems includes modules that cost extra on other platforms, like customer relationship management, inventory management, and employee scheduling. The system's built-in online ordering and in-house delivery management functions are also excellent. Revel frequently ranks as our top pick for a high-volume, in-house delivery POS system.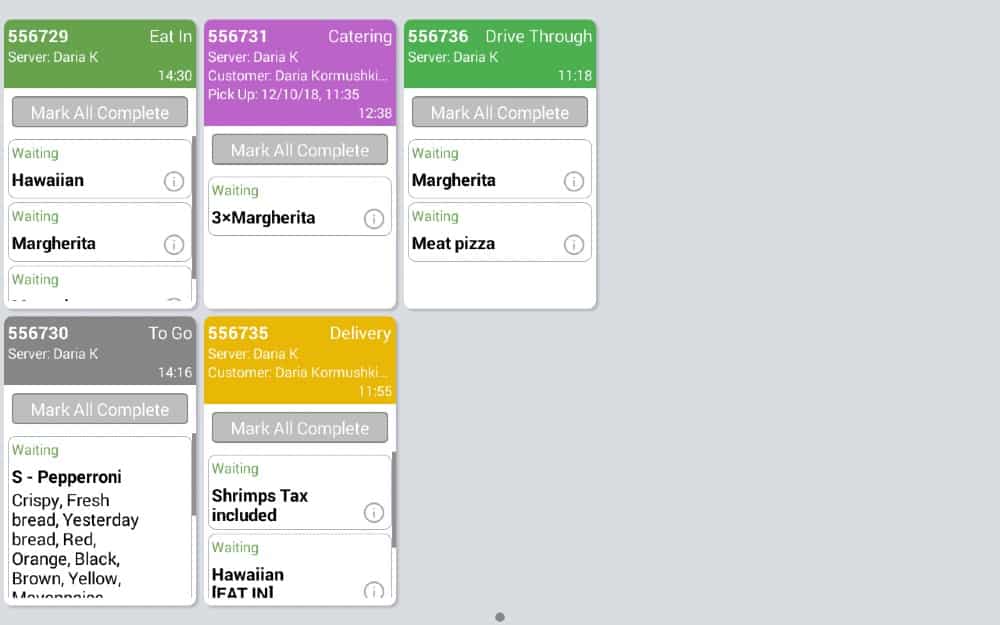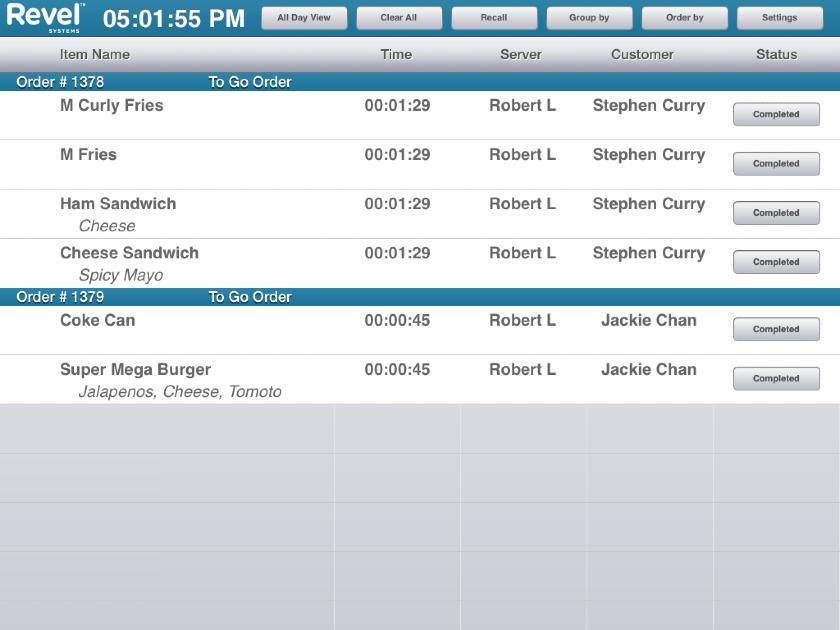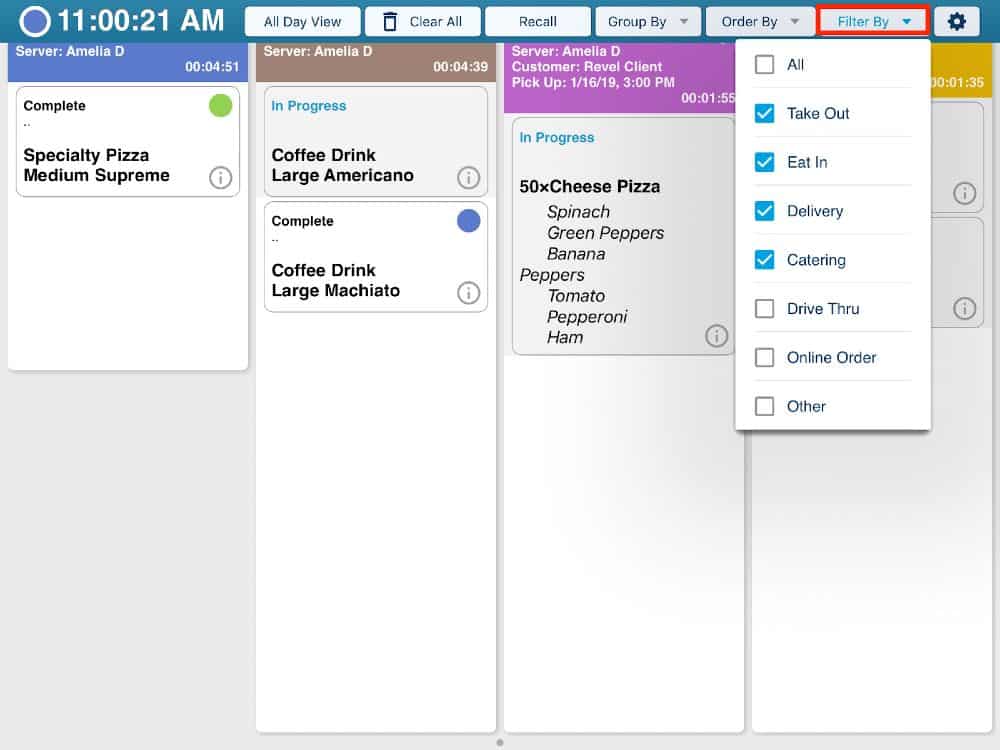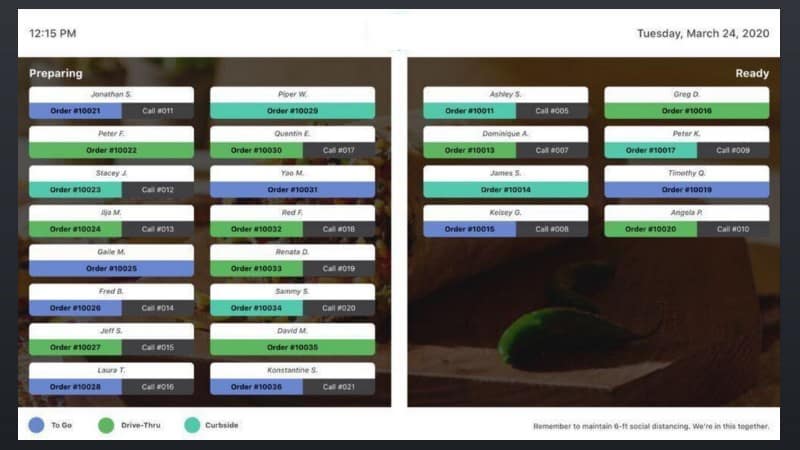 Revel Standout Features
Like Toast, Revel's KDS allows you to send automated SMS text messages to customers from the KDS, although it requires integration with third-party messaging app Twilio to do this. Revel's full-spectrum restaurant features are best suited to high-volume restaurants with multiple order streams. Smaller operations probably won't use all of the features and may find it challenging to learn all the system's ins and outs.
Revel's standout features include:
Multiple screen views: Revel Systems' KDS offers several dynamic viewing options: Expedite, Expedite Tile, Kitchen Screen, and Order Display, so cooks and expeditors can choose their preferred view. Revel Systems also supports a customer-facing Order Ready screen to display orders by customer name to identify which orders are ready for pick up. Orders on this screen can be further color-coded to separate to-go, drive-thru, and curbside pickups, a massive timesaver for restaurants that rely on multiple third-party delivery platforms.
Choose your hardware: Like most systems on this list, Revel runs its KDS on iPads. But if you want more rugged hardware or a larger screen, you can opt for a ViewSonic VSD243 smart display instead. Like Toast, Revel users need to purchase their KDS hardware directly through Revel, even if you plan to use iPads. Revel does not support hardware that is purchased through third parties.
All-day count: Like Toast, Revel Systems' KDS supports an "All Day" view, so cooks know exactly how much of a menu item they have on deck. Revel Systems can also assign a color to each prep station, so you can see which cook is preparing an individual menu item at a glance.
Color coded order types: Color coding identification in ticket headers shows the order type so cooks know whether to plate items or bag and box them.
Lightspeed: Best for Restaurants Using Third-Party Delivery Platforms
Lightspeed

What We Like
Show and Tell functions displays dish image and ingredients on KDS screen
Blinking tickets and sound alerts draw cooks' attention
Transparent software pricing
What's Missing
Fewer customization options than others on this list
Browser-based system needs a strong internet connection to function
Does not support automated order-ready messaging
Lightspeed Restaurant Pricing & Features
Software subscription fee:

POS: $59 per month for the first terminal. Additional terminals are $34 each per month
KDS: $12 per screen, per month

Hardware costs: Custom-quoted from Lightspeed, or you can bring your own iPads
Features:

Recipe lookup function
Multiple screen views
Color-coded order status
Optional audio alerts
Third-party platform orders tagged on KDS
Lightspeed POS is a cloud-based POS that operates on iPads. Like the underlying POS, Lightspeed's KDS module—called Lightspeed Kitchen—also runs on iPads. This streamlined system integrates with a wealth of third-party delivery platforms, tagging third-party orders by platform in the KDS. In addition to color-based alerts, Lightspeed Kitchen also uses blinking and sound alerts to call attention to pending orders or tickets that are taking a long time. Pricing for Lightspeed Restaurant's POS starts at $59 per month. The KDS is an additional $12 per screen, per month.
Lightspeed Kitchen is not quite as customizable as Toast's KDS. But restaurants looking for a simplified solution might prefer this. Since Lightspeed Kitchen operates via a browser-hosted app, it needs an internet connection to work. Overall, however, the streamlined nature of Lightspeed Kitchen is excellent for keeping quick-service restaurants and small, independent restaurants organized.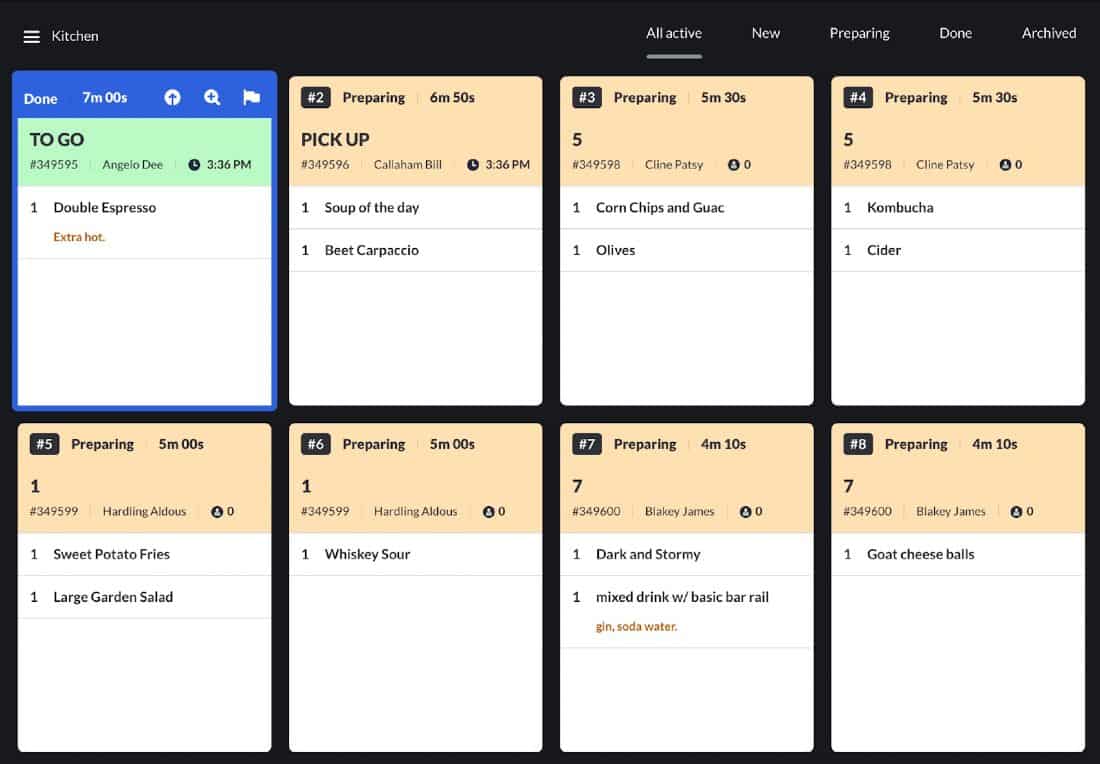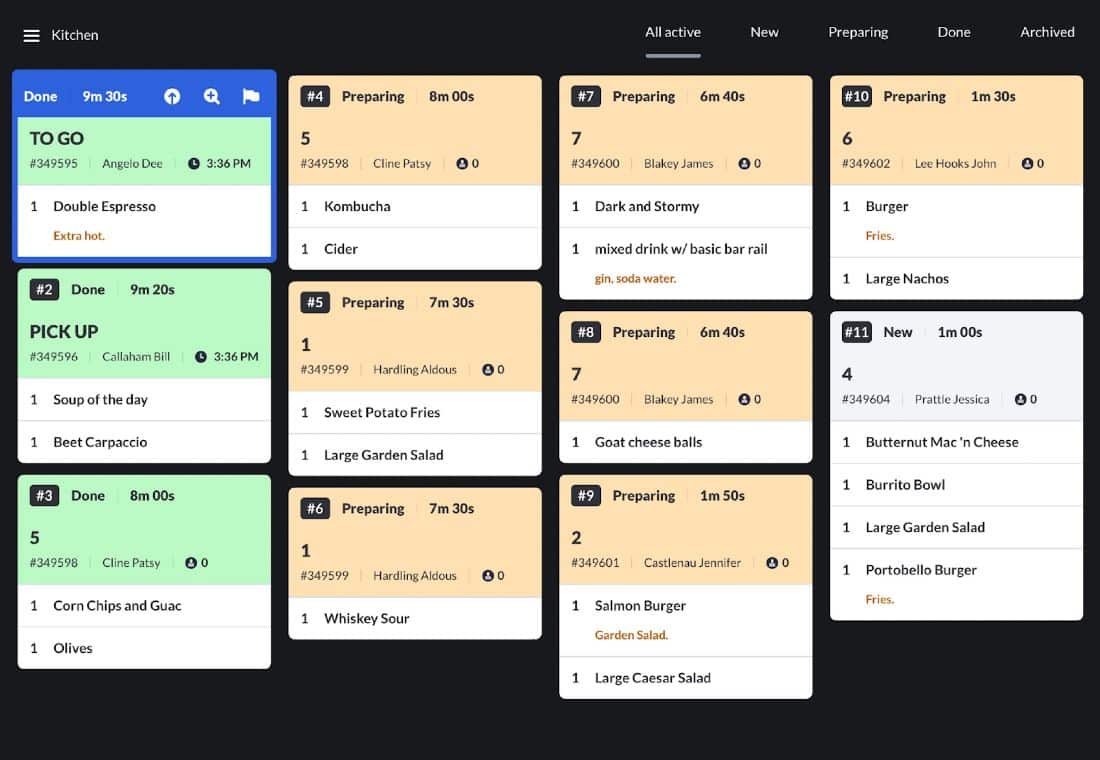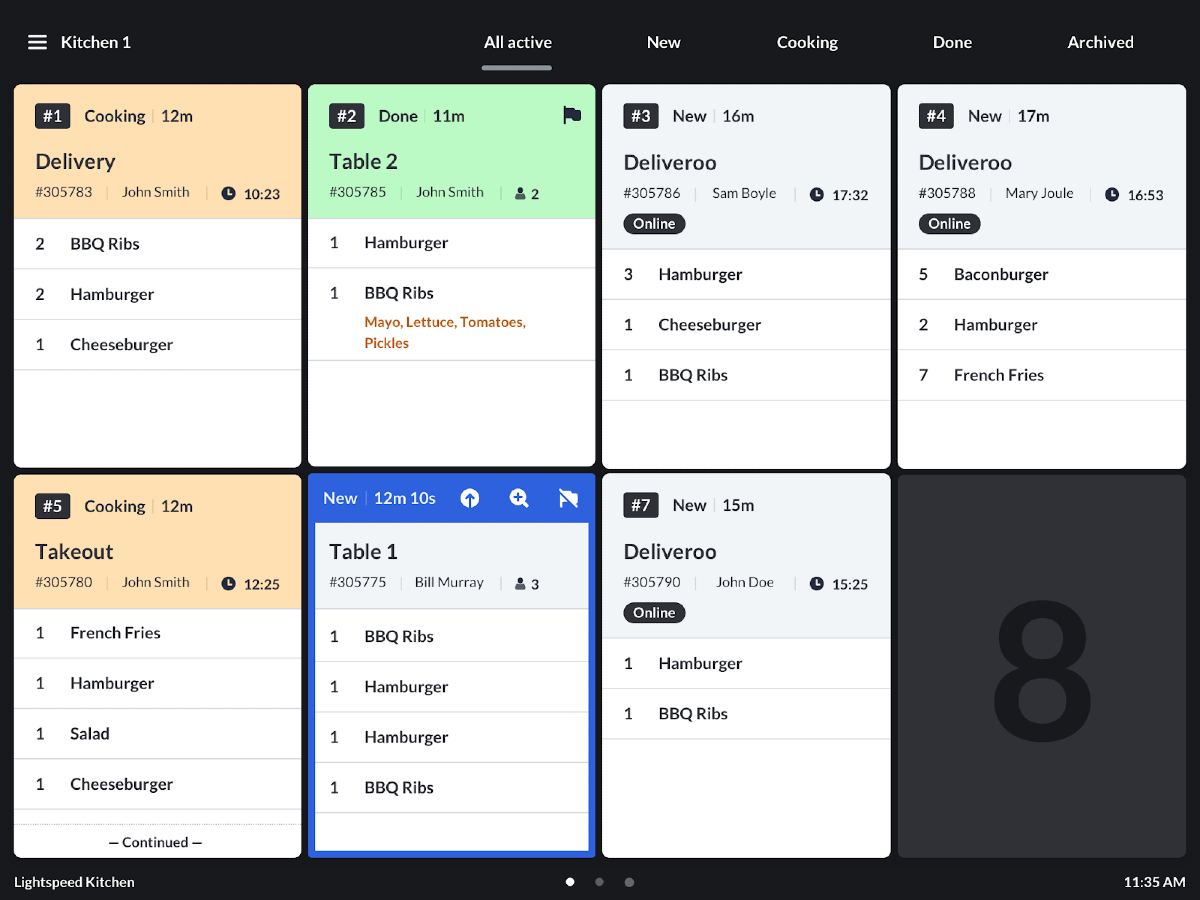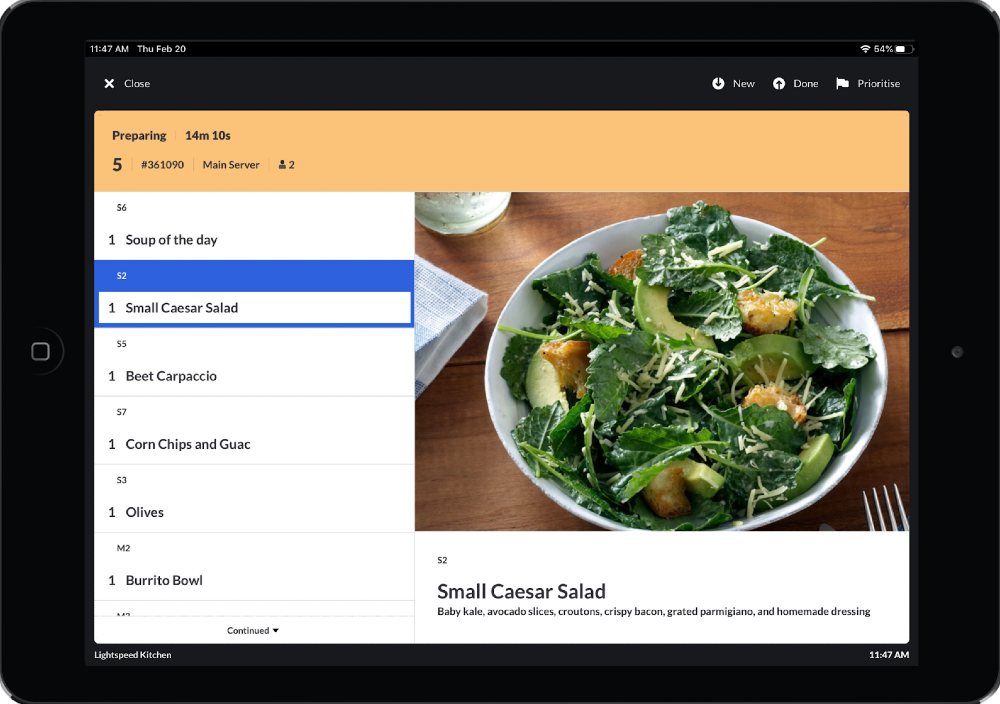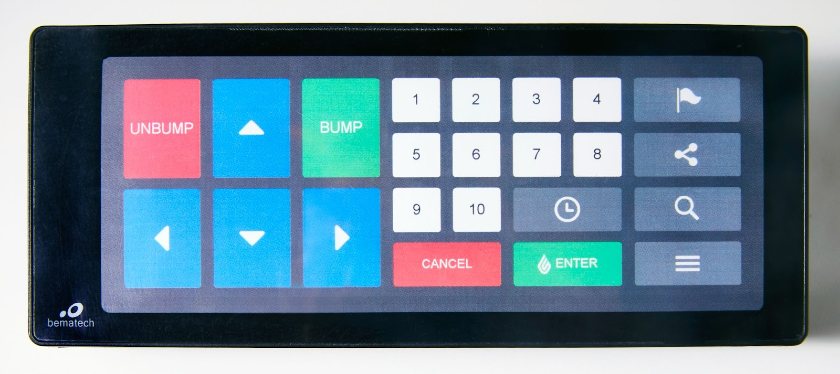 Lightspeed Standout Features
Like Revel, Lightspeed offers Lightspeed Kitchen on both iPads and non-iPad monitors. In Lightspeed's case, the non-iPad monitors are not touch screens. Instead users navigate them using a bump bar, a tool that connects to a kitchen display screen to enable restaurant staff to move digital order chits around non-touch enabled screens. Some cooks prefer bump bars because they are easy to use with wet or gloved hands.
Lightspeed's other standout features include:
Free trial: Lightspeed offers a 14-day free trial. So you can test all of Lightspeed Restaurant's POS functions before you commit to the system.
Color-coded order status: Tickets in different stages of the preparation pipeline appear with pre-configured colors: gray for New or Archived, orange for Preparing, green for Done, and red for Voided.
Filtered ticket views: From the top left corner of the Lightspeed Kitchen screen, you can filter tickets by active, new, preparing, done, or archived status. Tickets can be moved from one order phase to the next with single or double taps.
Order tags: Lightspeed labels online orders with the name of the referring platform. And—via a Deliverect integration—Lightspeed integrates with virtually every third-party platform you can imagine. You can keep your third-party orders organized, even if you partner with several platforms.
Square: Best for Restaurants on a Budget
Square

What We Like
Baseline POS subscription is free
Users can bring their own iPads
30-day free trial
Frequent promotions to reduce software costs
What's Missing
No offline functionality
Does not support automated order-ready messaging
Not highly customizable
Square Pricing & Features
Software subscription fee:

POS (monthly):

Free – $0
Premium – $60
Advanced – Custom Quote

KDS (monthly)

Hardware costs: Can use your own iPads or purchase registers from Square for $169 to $799
Features:

Customizable color coding
Customizable timers and alerts
Customizable ticket layouts
Kitchen productivity reports
Square for Restaurants is a cloud-based POS system best suited for businesses on a budget, as the software has a forever free plan and an advanced plan that's just $60 per month. In particular, we recommend Square for Restaurants for food trucks, QSRs, cafes, slice shops, and bakeries. If you're using the free version of Square for Restaurants, the KDS is just $20 per device. If you're on Square for Restaurants Plus, KDS software for unlimited devices is included for free.
Square is currently running a promotion through 12/31/21, offering the KDS to Free users for $10 per terminal, per month.
This affordable pricing and the ability to use hardware you already own make Square for Restaurants the best KDS for restaurants on a budget. While you can customize your KDS views in dozens of ways, from the ticket size to the alert colors, Square is not overwhelmingly customizable. So it's an excellent fit for small restaurants that want a simple KDS solution.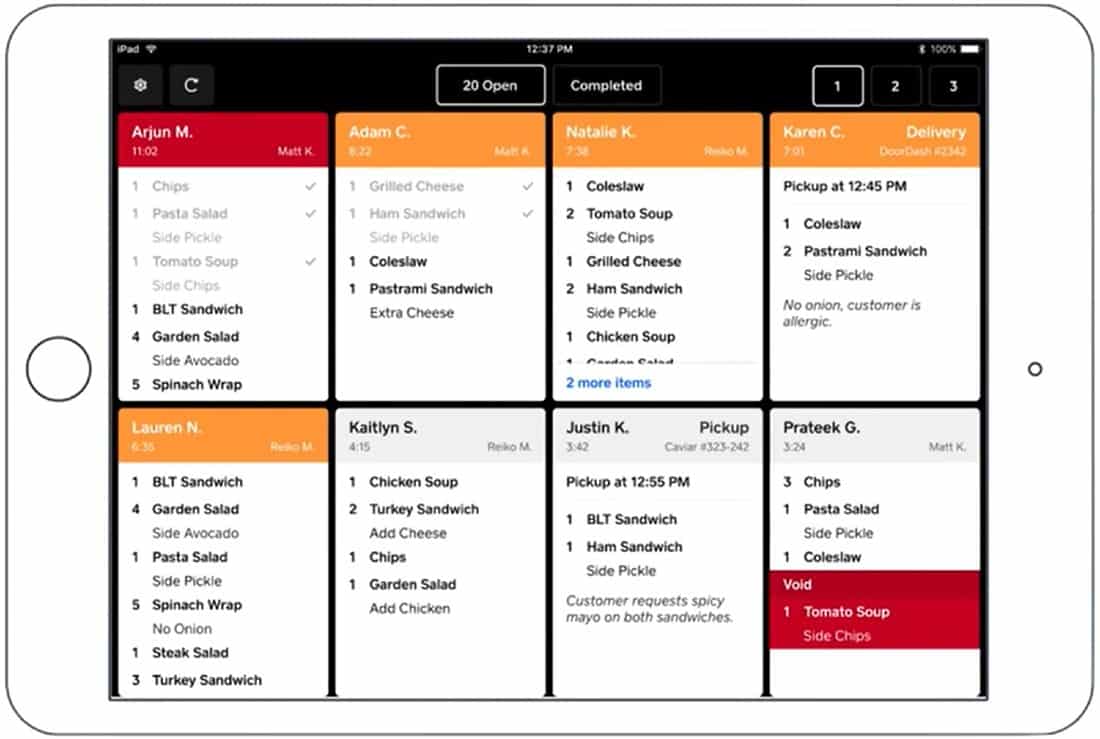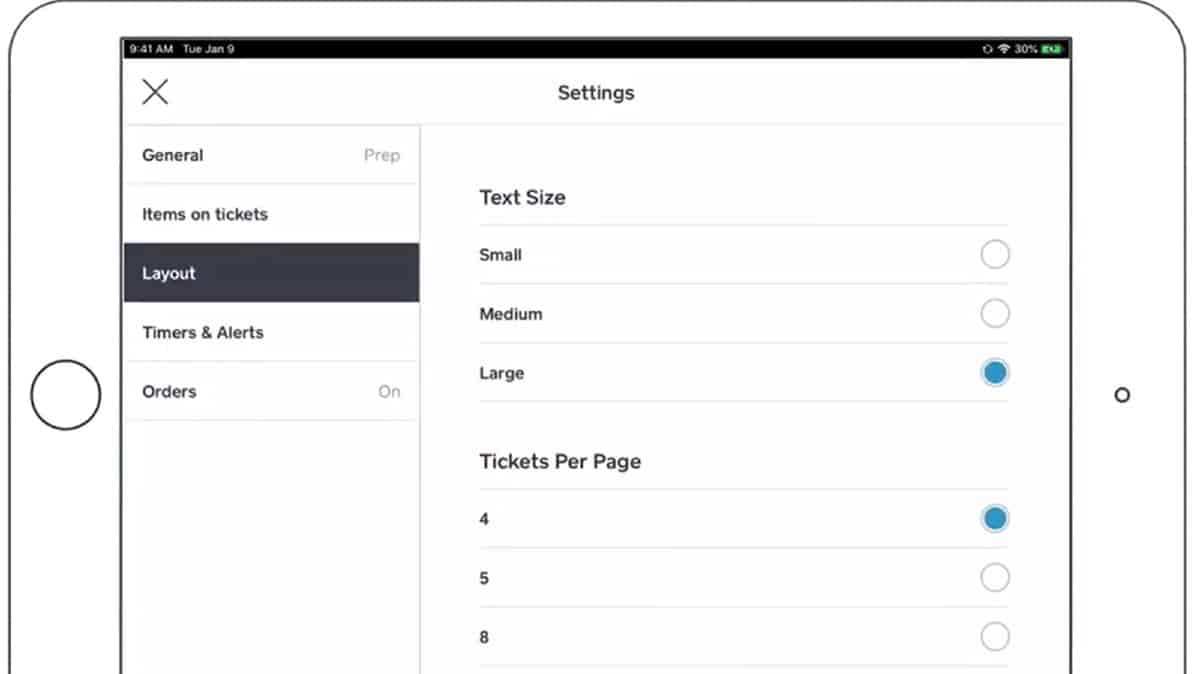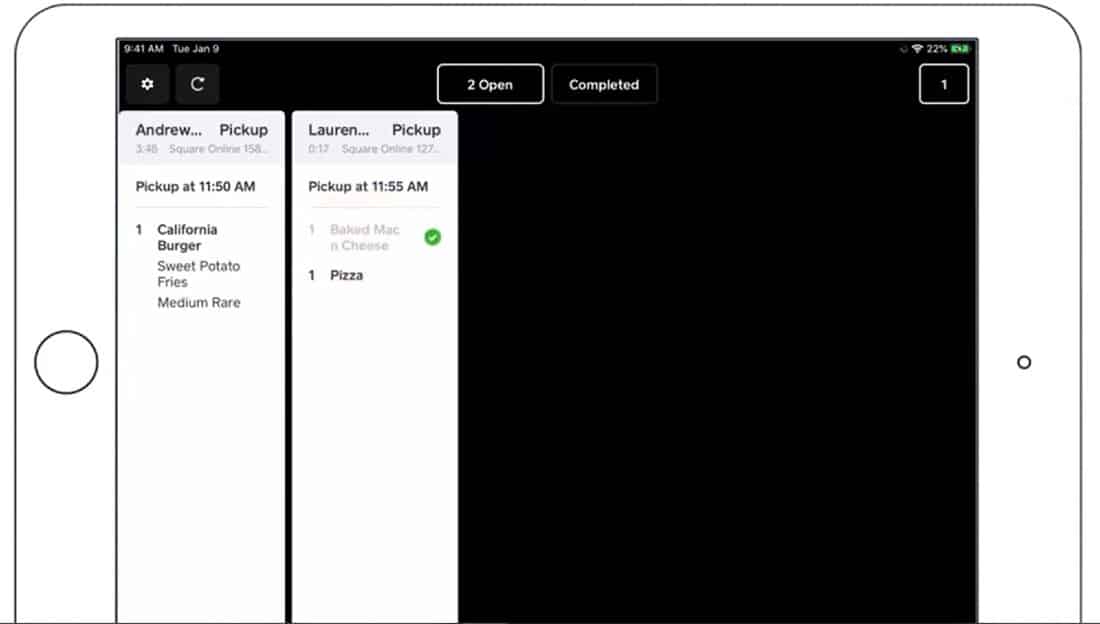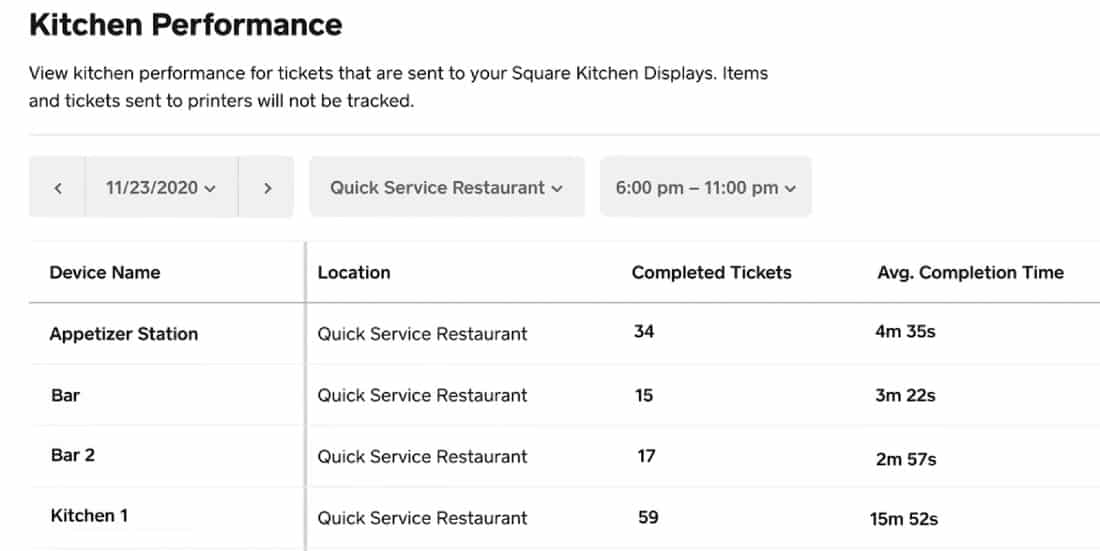 Square Standout Features
Perhaps the only weakness of the Square KDS is that—like Lightspeed—it relies entirely on a strong internet connection. Currently, there is no option to hardwire a connection (like Epson) or increase offline functionality with a hybrid installation (like Revel and Toast). However, Square KDS and its corresponding POS still offer a great value and low price point.
Square's KDS also has some great standout features:
Voids on tickets: Every other KDS on this list processes voided items as separate tickets. These tickets will typically be marked with the same ticket or table number as the original ticket, but this can still lead to over-prepped food on a busy night. Square displays voided items in red directly on the original ticket. So if table 25 cancels their soup order, your cooks will see it in real time.
Customizable views: On each Square KDS, you can individually adjust the text size, the number of tickets displayed per page, and notification settings for new orders. So your cooks can view orders in the way they prefer.
Free online ordering: All of the systems on this list display online orders in the KDS. But Square for Restaurants is the only POS that includes a free online ordering site. So in addition to receiving online orders directly in your KDS order stream, Square users have the comfort of knowing they aren't paying any extra fees for those orders.
TouchBistro: Best for Busy Quick-Service Restaurants
TouchBistro

What We Like
Smart onscreen navigation tools make this KDS incredibly user-friendly
Includes all-day count tracking
KDS only requires hardware purchase; there are no ongoing monthly software fees
What's Missing
Not as customizable as other systems on this list
Lacks standout functions like recipe lookup, print from KDS, and automated text messaging
Hardware pricing is custom-quoted
TouchBistro Pricing & Features
Software subscription fee:

POS: $69 per terminal, per month
KDS: Hardware costs only

Hardware costs: Custom-quoted
Features:

Order Summary view (shows all-day counts)
Prep timers
On-screen ticket scroll bar
Color-coded tickets
On-ticket prep timers
TouchBistro is an iPad-based restaurant POS that former restaurant employees built specifically for the foodservice industry. The total software ecosystem includes a point-of-sale system, inventory management, and a kitchen display system at a mid-range price point. The system starts at $69 per month for a single terminal. Adding the KDS only requires paying custom-quoted hardware costs; there are no ongoing monthly software fees.
The system is missing extras like printing labels directly from the KDS (like the standalone Fresh KDS) or sending text messages to customers (like Toast). Since it is cloud-based, offline functionality is limited. But overall, TouchBistro's streamlined interface, easy ticket re-arrangement, and summary views make this KDS an excellent tool for quick-service restaurants that see a high volume of in-person orders.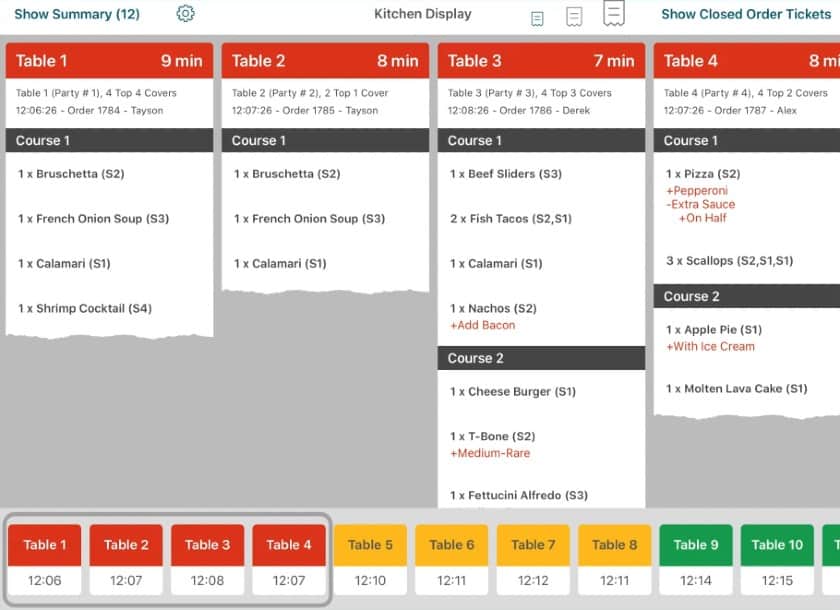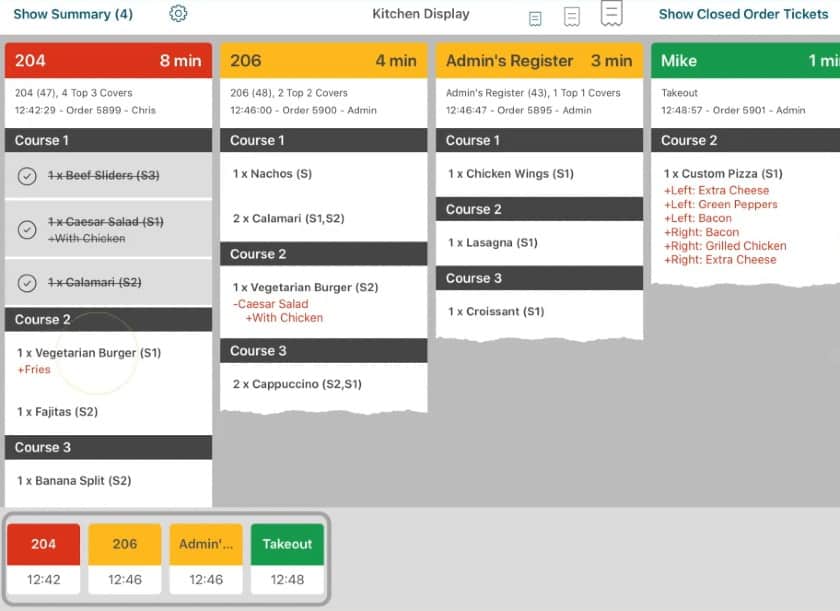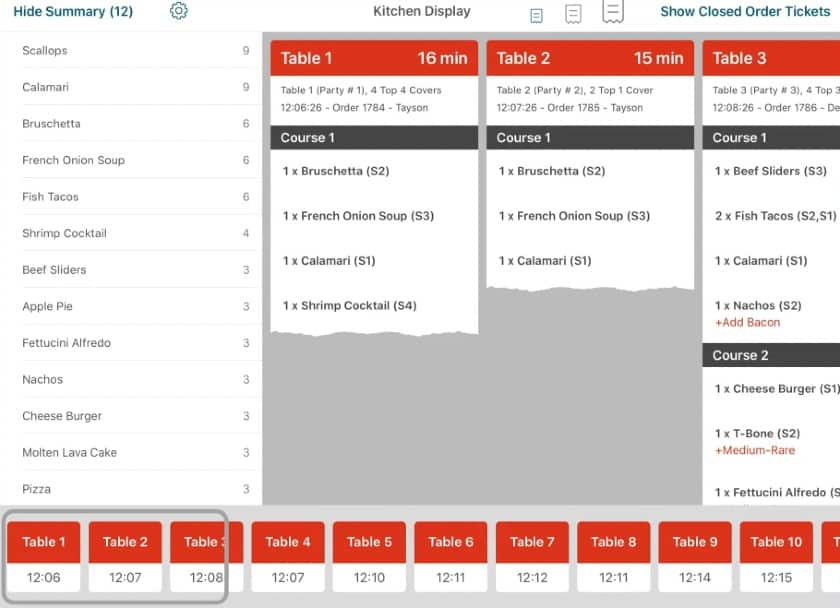 TouchBistro Standout Features
You can use any of the systems on this list in conjunction with kitchen printers, but TouchBistro explicitly recommends that users include printers in their KDS package. They see the screens as a way to boost your kitchen printers—not replace them. Using printers alongside KDS screens is not uncommon. Adding printers allows you to print tickets to staple to takeout bags. Printed tickets also help you identify waiting for orders at the kitchen pass, ensuring that each dish goes to the correct customer.
TouchBistro's standout features include:
Easy navigation: TouchBistro's user interface is incredibly user-friendly, with intuitive touch-screen navigation. The ticket ticker at the bottom of the KDS screen helps you quickly locate a specific ticket if questions or changes arise during service.
Order timers: When an order ticket item is "fired," it will turn yellow and start a running timer showing how long it has been in preparation.
Summary view: You can easily access TouchBistro's Summary view at the top left corner of the KDS screen. Like Toast and Revel's "All Day" counts, TouchBistro's Summary view shows your team the total number of each dish the kitchen needs to prepare to fulfill all open orders.
Color-coded modifiers: Like Lightspeed and Toast, TouchBistro shows order modifiers in red type so your cooks can see them at a glance. This slight difference helps your cooks make each dish to customers' specifications.
Fresh KDS: Best Freestanding Touch-Screen KDS
Fresh KDS

What We Like
Includes custom text communications and customer-facing Order Tracker screen (with Advanced subscription)
Multiple POS integrations
Offers seven-day free trial
Optional bump bar configuration
What's Missing
No offline functionality; requires strong internet connection
Only works on iPads, no options for commercial-grade hardware
Integration fees can be pricey for restaurants that rely on Zapier for POS integration
Fresh KDS Pricing & Features
Software subscription fee:

Basic: $29 per month
Advanced: $49 per month
Subscription includes software for up to two screens; additional screens are $5 each per month

Hardware costs: Operates on iPads; users can bring their own hardware
Features:

Integrates with the following POS systems: Square, Clover, Northstar, Talech, INVU, Linga, Shopify, WooCommerce, and any system that integrates with Zapier
Color-coded order tickets
Order timers
Optional sound alerts
Option to print from KDS screen
Fresh KDS is a standalone, iPad-based KDS system that integrates with several popular POS systems like Square and Shopify. You can unlock additional integrations with any system that also integrates with Zapier, though that middleman plug-in comes with its own monthly and per-task fees, so your costs can add up quickly.
Fresh KDS has all the basic KDS features accounted for, including color-coded tickets by order status, tickets labeled by order type, color-coded order modifiers, and prep time reports. Like Square and Lightspeed's KDS, this completely wireless system requires a strong internet connection to work.
It offers two subscription tiers, Basic and Advanced, priced at $29 and $49 per month, respectively. Each subscription includes software for two KDS screens, though the system can support up to 10 screens at a single location.
At the advanced subscription level, Fresh KDS includes standout features like automated customer SMS text messaging (like Toast and Revel) and a customer-facing order tracking screen (like Revel).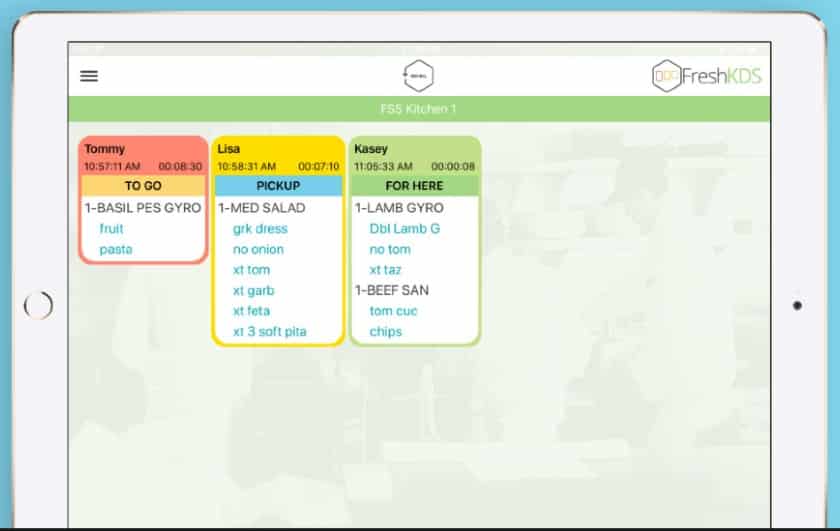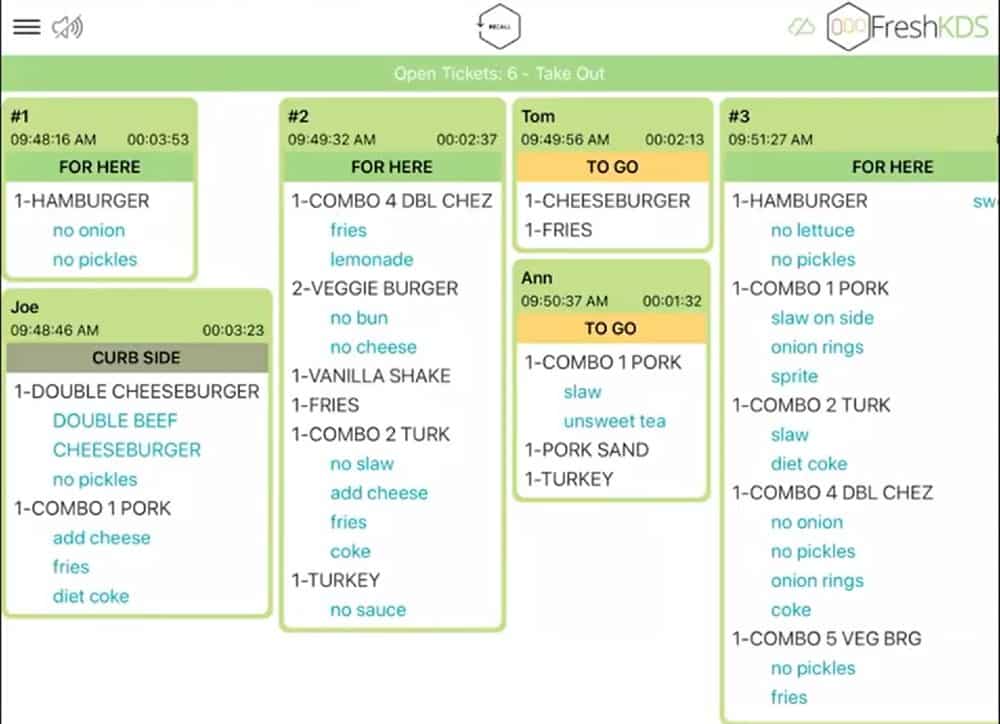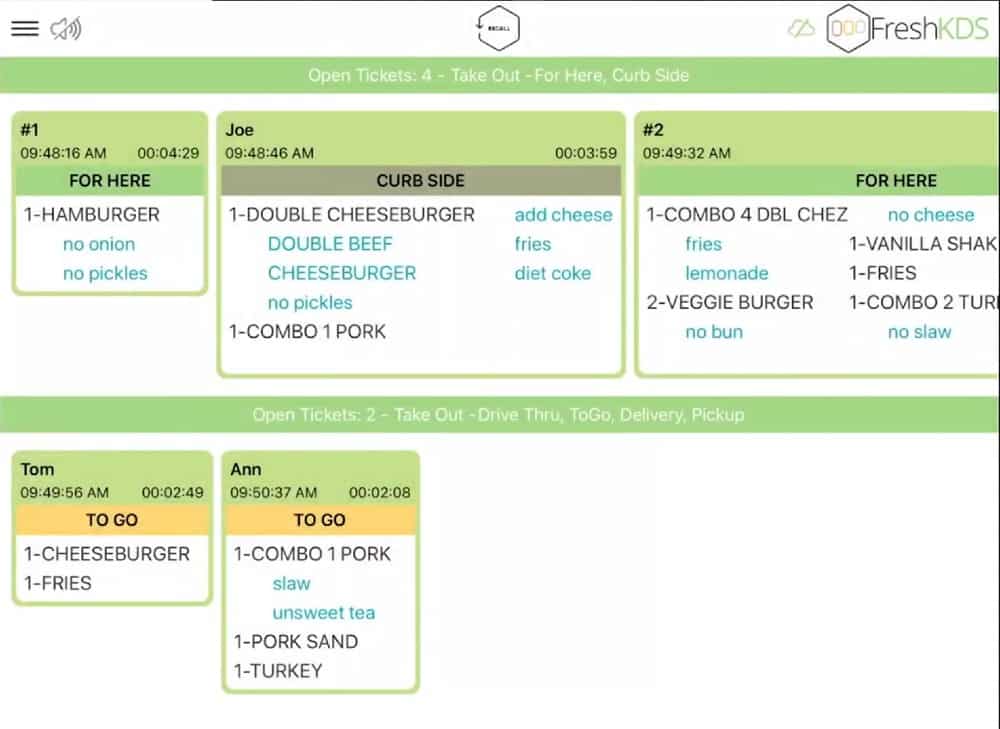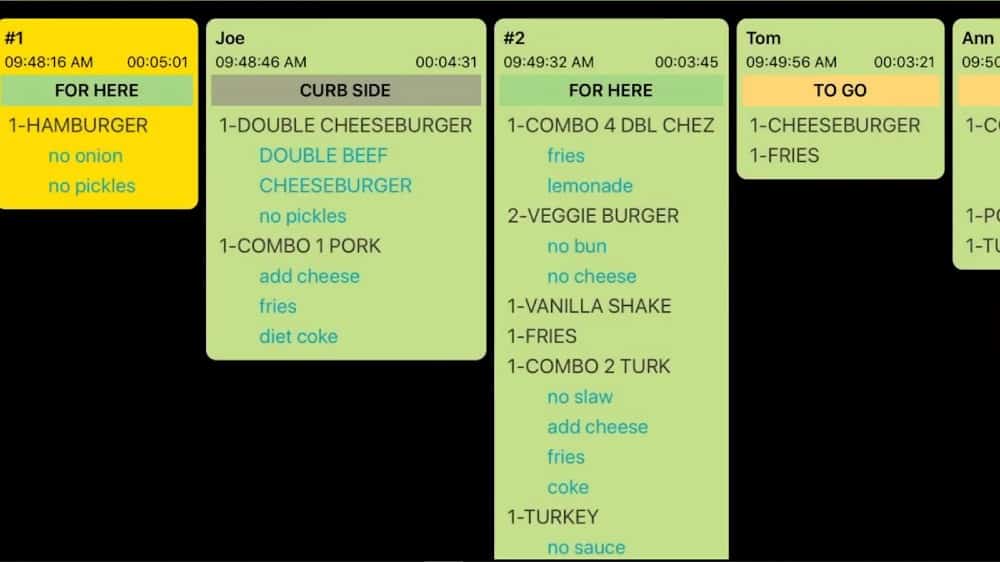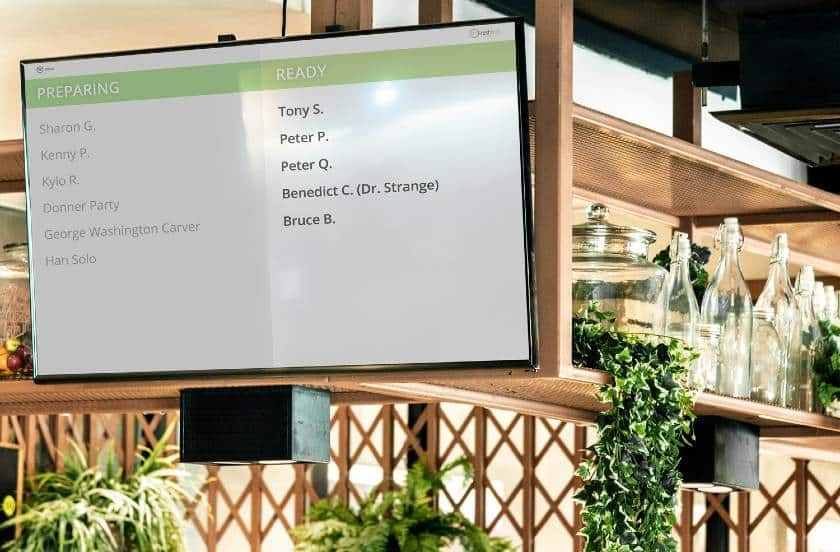 Fresh KDS Standout Features
Fresh KDS supports an entirely paperless kitchen ecosystem. You can add a label or ticket printer if you like to selectively print tickets or sticky labels on demand. This feature helps busy takeout operations label to-go orders and avoid mix-ups. Fresh KDS offers a seven-day free trial if you want to test the system before committing to a full subscription.
Fresh KDS's standout features include:
Customizable colors: As with toast, Fresh KDS lets you customize virtually every color on the screen. Choose which colors you want to label your ticket status, order type, and order modifications. You can even choose a light or dark mode for the entire KDS screen.
Customizable screen views: You can choose to arrange your Fresh KDS tickets in neat, individual columns or squeeze tickets into all available screen space with the Tile view. Split View allows you to separate your screen into two order streams, helpful for separating eat-in orders from to-go or pickup orders from delivery orders.
Custom text notifications: Like Toast and Revel, Fresh KDS sends automated SMS text alerts when you mark orders as complete. With Fresh KDS, however, you have even more messaging options. You can set messages for when new orders are received and when your team begins preparing orders. You can also set custom messages for different order types—eat-in, curbside, pick up, or delivery.
Customer-facing order tracking screen: Like Revel, Fresh KDS includes an optional customer-facing order tracking screen. This is ideal for counter-service restaurants or those that do a high volume of takeout orders. When your kitchen marks a KDS ticket as completed, the order status on the tracking screen automatically updates to show customers that their food is ready.
Epson KDS: Best for Offline Functionality
Epson KDS

What We Like
Integrates with several legacy and cloud-based POS systems
Locally networked installation configuration functions without an internet connection
Operates on IP-54 rated, commercial grade hardware
What's Missing
Setup requires lots of cords and power outlets
Higher-priced hardware than a basic iPad based system
User interface is dated
Epson Pricing & Features
Software subscription fee: Varies depending on your POS provider
Hardware costs: Varies by the reseller, ranges are based on prices from various resellers

Individual components (screens, printers, bump bars, etc.): $170 to $649 each
KDS station kits (including printer, monitor, and bump bar): $1,443

Features:

Integrates with the following POS systems: Aldelo, Aloha, Cake, Casio 6000, Casio 6600, Digital Dining, Dinerware, Duet, Epson, Galaxy, Lavu, LineSkip, Linga, Media Mix, Micros 3700, Micros E7, Micros Simphony, NCC USA, Positouch M5, Shift4, Skywire, Squirrel, Talech SE, Talech, Tavlo, Upserve
Recipe lookup
Order timers
Color-coded order status
Epson's KDS is a freestanding, POS agnostic, locally networked KDS that is driven by Epson kitchen printers. This configuration is unique on this list: The Epson KDS screens and bump bars are routed through locally networked Epson kitchen printers, so each of your KDS stations will have a backup printer if your display fails. Since the system is installed using ethernet connections and a central communication hub, Epson's KDS does not need the internet to operate. Like Toast, Epson's KDS screens are also IP-54 rated, so display failures are unlikely.
The Epson KDS hardware integrates with several POS systems, mostly legacy, locally-installed systems like Micros and Aloha. So if you have a legacy POS, you can get a high-functioning KDS. Epson also works on cloud-based POS systems like Upserve and Talech, so you're not tied to an old-school system. However, if you like to keep it old-school, Epson supports bump bar enabled screens alongside touch-screen KDS options.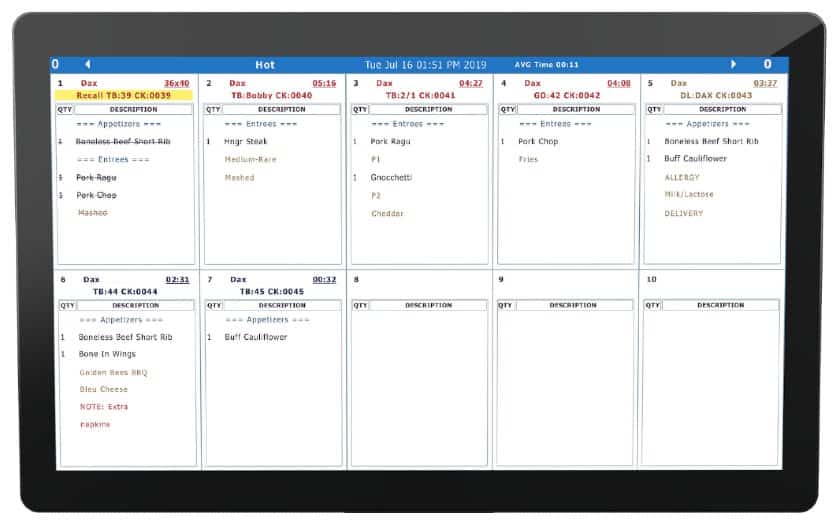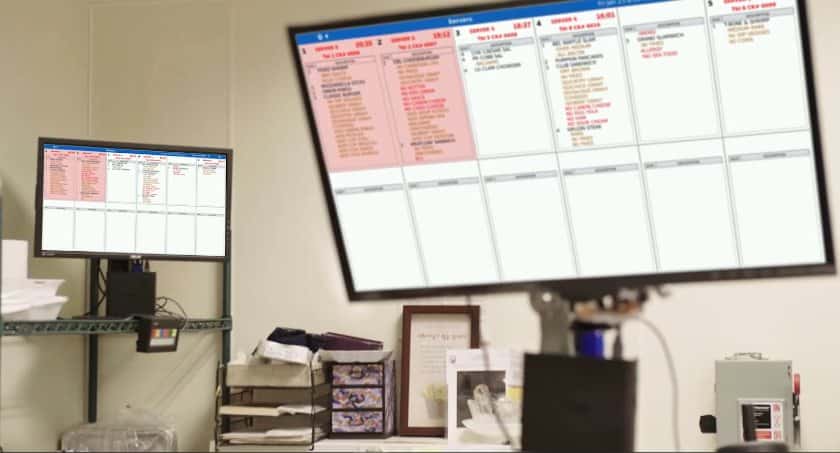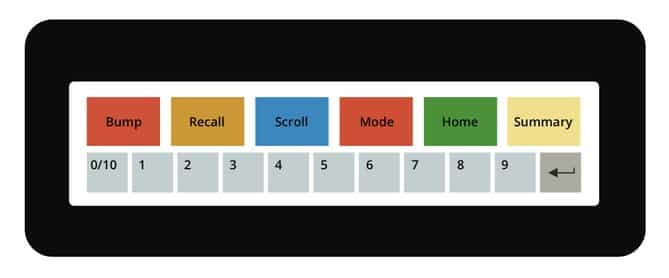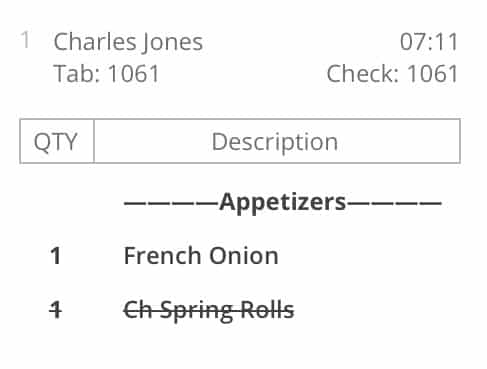 Epson KDS Standout Features
Because Epson's KDS leverages the information routed to your kitchen printers, the Epson KDS is more of a hardware than a software solution. In most cases, the only cost to add an Epson KDS to a compatible POS system is the hardware cost. But your POS provider may charge a separate software fee for adding the KDS integration, so be sure to ask.
Epson KDS's standout features include:
Robust offline functionality: Epson is locally networked. So your printers, monitors, and bump bars are hardwired to one another. Unlike the other systems on this list, Epson's KDS operates completely without an internet or Wi-Fi connection. So if you can't keep a strong Wi-Fi signal in your kitchen, no problem—your KDS will still work.
Commercial-grade hardware: Like Toast, Epson's KDS operates on commercial-grade hardware. Epson monitors are rated IP-54, the exact same level of water and dust protection as Toast's hardware. Commercial-grade hardware will likely function better than an iPad if your kitchen is particularly hot or steamy—like an Italian spot with a wood-burning oven and lots of boiling pasta water.
Touch-screen and bump bar options: Epson's black-and-white, grid-based user interface is a little old-school. And some cooks find bump bar navigation a bit dated. However, others prefer bump bars because they are easier to operate with gloved hands or damp fingertips. Like Lightspeed, Epson includes options for both bump bar enabled and touchscreen monitors.
Recipe lookup from KDS: Like Lightspeed, Epson allows your staff to access recipe information directly from the KDS screen. You just need to be sure to attach a recipe to each dish.
How We Evaluated Kitchen Display Systems
The ideal kitchen display system for your restaurant will depend on your restaurant type and your budget for restaurant software. Since KDS are typically attached to a restaurant point-of-sale system, the kitchen display options available will depend on which POS system you use.
To determine the best KDS for various restaurant styles, we considered several features:
Price: We looked at how much each system costs, including hardware pricing, monthly software fees, and installation fees.
Ease of use: We considered how easy each screen is to read and navigate and what time-saving features each system offers.
Order filtering and order timers: A high-functioning display system should support multiple screen views, allow you to filter tickets by order type, and show how long each ticket has been in the order queue.
Standout features: We also looked at whether each system has bonus features like recipe lookup, label printing, text messaging, or the ability to sync with customer displays.
Insights and reporting: If a KDS is attached to a POS system, it should support reporting functions. Logging order fulfillment times, order accuracy, and kitchen productivity helps restaurants troubleshoot service delays and forecast future sales.
Bottom Line
After comparing several KDS and underlying POS systems, we determined Toast offers the best overall restaurant kitchen display system. The Toast KDS is highly customizable to support many restaurant service styles and restaurant worker preferences. This easy-to-use KDS also includes automated order alerts for staff and customers. In addition to the KDS, Toast's overall POS system is well-reviewed by customers and a consistently top-performing restaurant POS. To get a closer look at Toast its KDS, visit Toast for a demo.