2022 Square Online Review: Free Online Ordering Solution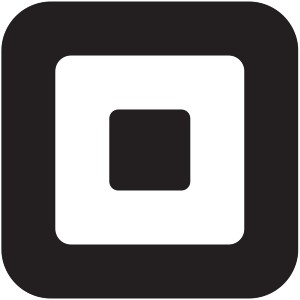 When to Use Square Online
Square Online is our top pick for the best free ecommerce website builder, scoring a 4.38 out of 5 based on our evaluation. We have personally found that Square Online is one of the easiest solutions to use, allowing you to create an online store in just a few minutes. It also gives you the option to create a website, incorporate checkout pages, and send direct checkout links to customers—all the while maintaining online and offline sales in sync with its POS system.
However, while Square is free and easy to use, it has significant limitations compared to more sophisticated ecommerce platforms like Shopify. Square's simple, user-friendly toolset makes it ideal for storefronts wanting to add an online ordering solution for pickup or delivery.
Based on our reviews, we recommend Square Online for:
Offering curbside delivery and click and collect options: Square is one of our top picks for best cafe POS system and would also benefit small shops, food trucks, and coffee shops by generating a webpage that allows customers to order in advance and decide delivery options (such as pickup, curbside delivery, and click and collect). You automatically get notified when orders are placed on your website through your Square POS system.
Businesses on a budget: Square Online has a forever free plan that allows you to accept payments offline and online. Plus, Square offers solutions specifically for retailers, restaurants, and appointment-based businesses with industry-specific features like QR code menus and shipping label integrations. This flexibility also makes Square one of the best multichannel POS systems.
Solo proprietors (such as massage therapists, fitness instructors, makeup artists, and hairstylists): Square Online's checkout function lets you easily accept prepayment for your services and automatically charge for monthly services.
Businesses that already use Square POS and want to add an online store to reach customers: If you already use Square POS and are not ready to focus on online selling as of yet, you can use Square Online as a simple checkout page for customers who would like the option to pay online or in advance.
When to Use an Alternative
Looking for something different? Read our guide to the best ecommerce platforms for small businesses to find a service or software that's right for you.
Square Online Overview
PROS

CONS

Offers a free plan
Free option is filled with Square ads and branding
All-in-one ecommerce and payment processing solution
Multiple languages not supported
Easy to set up and use
Limited customization options
Includes POS software for in-person sales
No advanced inventory management features
Sell on Instagram, Facebook, and Pinterest
Shipping tools only available on higher subscription plans
Square Online Store Examples
Square Online is best for storefronts that want to expand their presence online. The brands we cite below are perfect examples of brick-and-mortar stores that added an online store functionality to their businesses.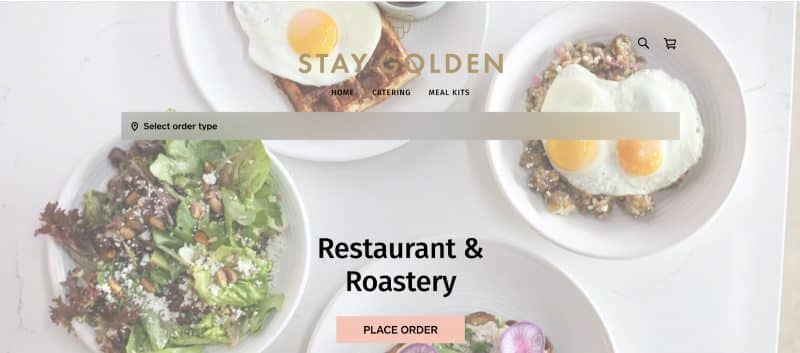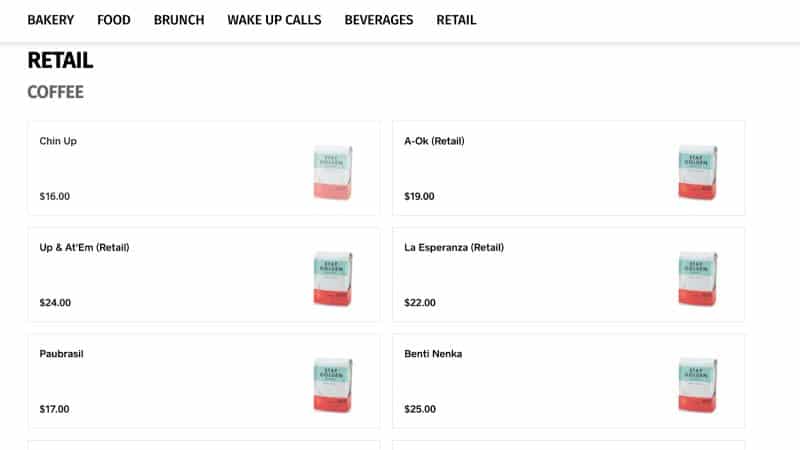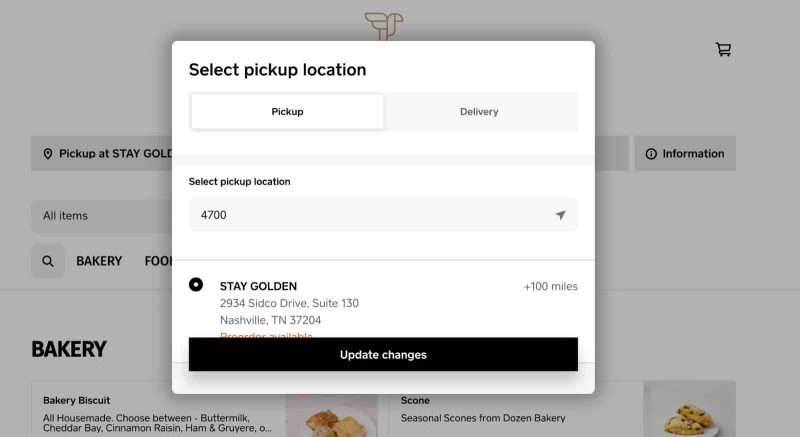 Stay Golden is a Nashville-based bar, restaurant, and coffee shop that set up a Square Online ordering page to adapt to the needs of the COVID-19 pandemic. It was so widely accepted that they will adopt it in the long term. Customers can order online and do curbside pickups.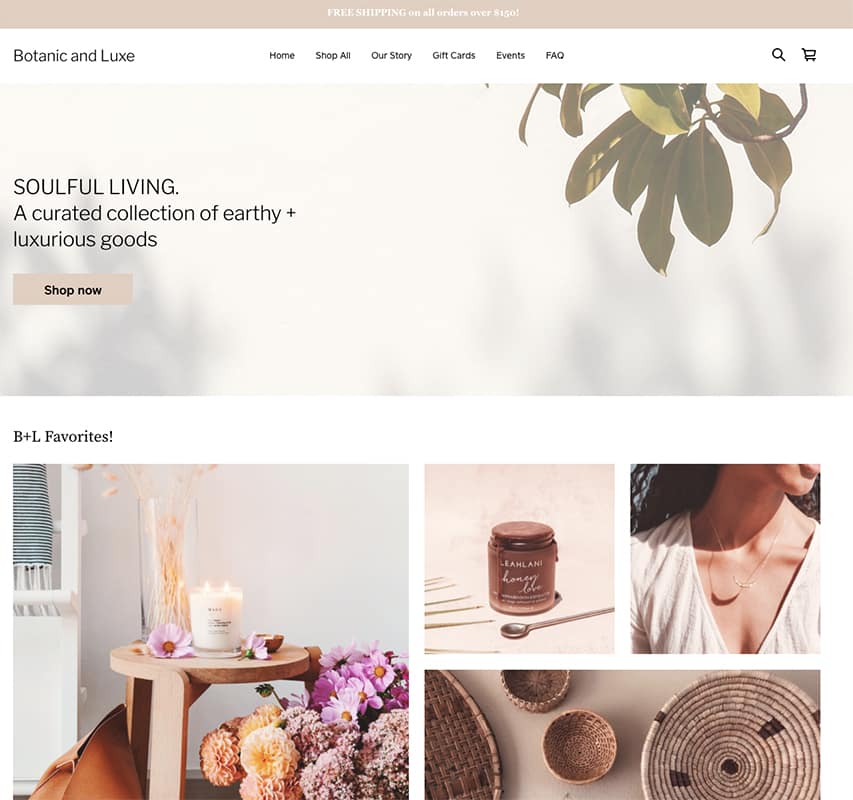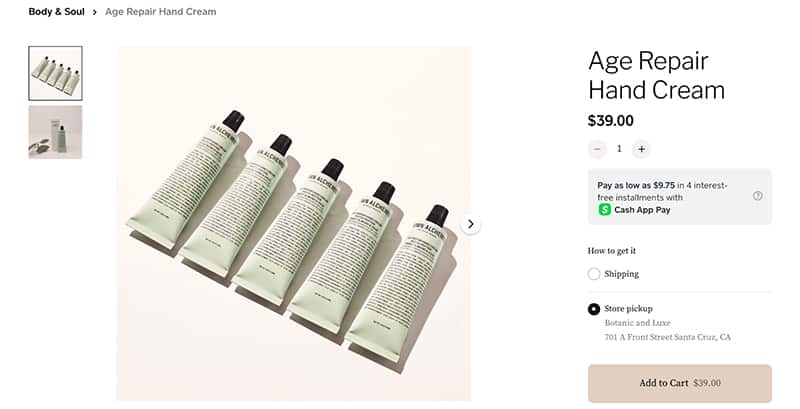 For Botanic and Luxe, a boutique offering beauty and wellness products, high-quality photos and stellar product descriptions are important to help it present its curated items. It noticed that customers often buy products with detailed product descriptions and photos.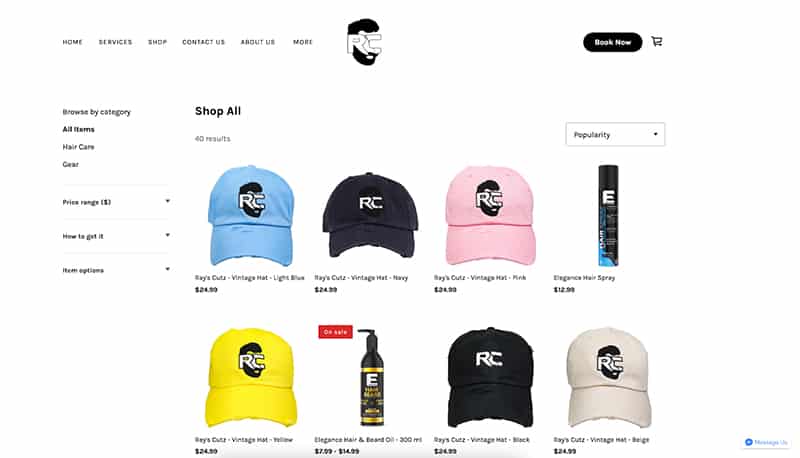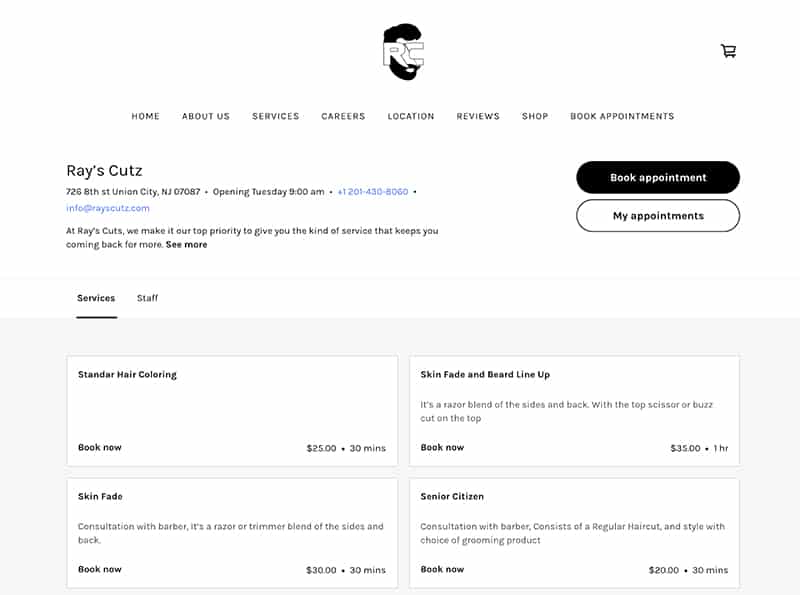 Ray's Cutz is a barbershop that expanded its presence online using Square, allowing clients to book appointments and buy branded merchandise and hair products. Its owner admits that clients still buy more products in-store, but adding an online component gives them options in case they want to try something new or want to restock their items.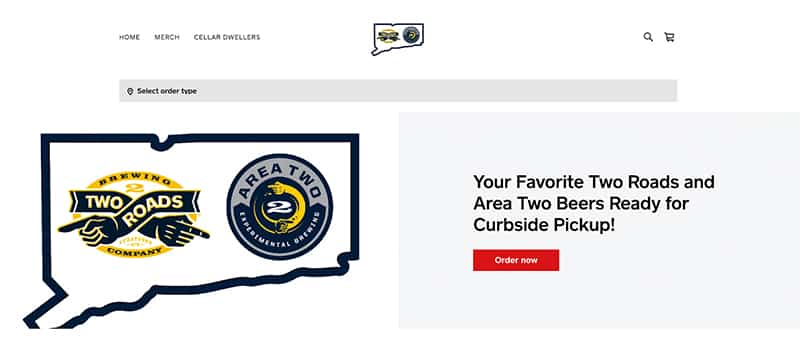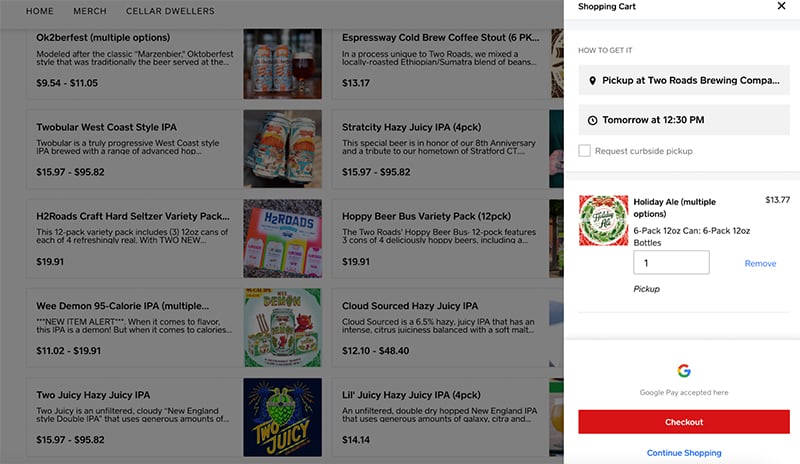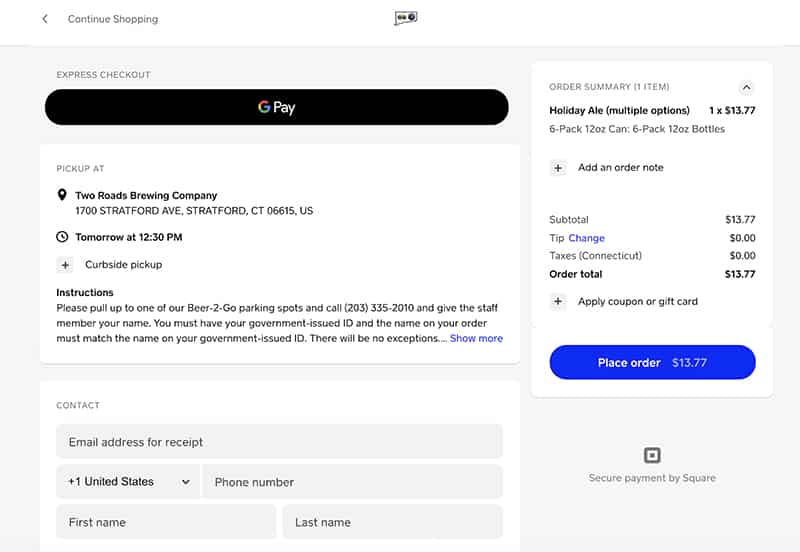 Two Roads is a large craft brewery that uses Square Online to offer online ordering for beer and merchandise. Although Two Road's main website is built with WordPress, the company opted for Square for online product sales. Customers can order beers that can be picked up in-store or curbside, while merchandise can be picked up or shipped.
Square Online Pricing
Square Online pricing has four tiers: Free, Professional, Performance, and Premium. All tiers include unlimited products (digital goods, physical products, services, and events), hosting bandwidth, and storage. They also come with integrations with Instagram and Square POS, a free SSL certificate, a one-click checkout option, and the ability to accept payments made via Square, Apple Pay, and Google Pay.
Square Online Pricing Plans
| | Free | Professional | Performance | Premium |
| --- | --- | --- | --- | --- |
| Monthly Fees* | $0 | $12 | $26 | $72 |
| Processing Fees (per transaction) | 2.9% + 30 cents | 2.9% + 30 cents | 2.9% + 30 cents | 2.6% + 30 cents |
| Bandwidth and Storage | < 500MB | Unlimited | Unlimited | Unlimited |
| Unlimited products | ✓ | ✓ | ✓ | ✓ |
| Apple Pay, Google Pay, and integrated payments | ✓ | ✓ | ✓ | ✓ |
| One-click checkout options | ✓ | ✓ | ✓ | ✓ |
| PayPal payments | N/A | ✓ | | ✓ |
| Custom domain | N/A | ✓ | ✓ | ✓ |
| Marketing tools (product reviews, abandoned cart emails) | N/A | N/A | ✓ | ✓ |
| All-in-one shipping tools | N/A | N/A | ✓ | ✓ |
*Lump sum billing
Square Online's free plan includes all the basic features you need to build your ecommerce website. However, if you want to use your own custom domain and remove Square branding from your website, then you will have to subscribe to a Professional plan or higher.
Signing up for Performance gives you more marketing features such as product reviews and abandoned cart recovery, and entitles you to priority customer support and discounted postage labels. Premium adds a shipping calculator to your dashboard, on top of every feature included in other plans.
Square Online Features
Square Online's strongest advantage is its all-one-platform—user-friendly POS software, online store with inventory management and ecommerce functionalities, and integrated payment processing with industry-leading omnichannel and contactless payment tools. You can read more about its standout features below.
Website Builder
Square Online is one of our top free website builders as it lets you manage your online store, accept payments, and create a website with multiple pages—contact forms, email sign-ups, and more—complete with your logo and branding colors.
Square acquired Weebly to strengthen its online store solution. As such, navigating and setting up a Square Online store is straightforward. Your dashboard offers video tutorials and step-by-step instructions on building your single-page or multi-page online store. You can choose the features you need, such as pickup orders, collecting emails, shipping products, or displaying a contact form.
You can add sections or features to your pages from the available blocks provided by Square Online. It is easy to just drag and drop too. However, you cannot fully edit the layout or add integrations as you can with Shopify. You also do not have access to coding to adjust anything if you want to. If you are on a free plan, Square branding is also displayed on your website footer.
You can create and publish your online store with the help of Square's site builder and immediately start selling on the internet. You can also ship orders to customers, offer local delivery, or provide curbside pickup, all while ensuring that both in-store and online sides of your operations are in sync.
---
Payment Processing Options
The only drawback with Square Online is that you can only use Square as your payment processor. However, PayPal, Google Pay, and Apple Pay payments are fully supported by Square. You'll also have the benefit of accepting Cash App payments, including Cash App Pay interest-free installment options.
Though Square's payment processing fees aren't the most competitive on the market, they are fairly average. And, once your business grows to process more than $250,000 annually, you may be eligible for custom rates.
---
Products and Inventory Management
The integration with Square POS automatically keeps online and in-person purchases and inventory in sync. Square Online's inventory features are very rudimentary. You can update your stock to reflect the following changes: stock received, inventory recount, restock return, and loss of stock due to damage or theft.
However, Square Online does offer the ability to add unlimited products, variants, and modifiers—even the free version. Most free website builders have a cap on the number of products you can sell.
There are no barcode, supplier, or purchasing features in the basic Square Online store. If you need advanced tools (such as kitting or bundling items, vendor and purchase management, COGS tracking, and cross-location inventory tracking), we recommend you go with Square for Retail ($60 per month). Read our full Square for Retail review to learn more about the platform's advanced retail features.
We still consider Square to be the best fit for retailers looking to manage inventory for free and sell in-store, online, via invoice, or through mobile.
---
Click and Collect and Delivery Options
What's great about Square Online is the seamless experience you can provide your customers whether they are shopping in-store or online. You can set up click and collect options (like curbside pickup), specific pickup hours and order windows, order prep times, customer notifications for when their order is ready, and whether or not shoppers can schedule pickup times. You can also send order-status text alerts to customers with details such as order confirmation, pickup location/time, and shipping carrier.
---
Shipping Tools
Square Online's shipping tools are not as comprehensive as other platforms since it requires you to set up your own shipping rates (which can be flat-rate or based on weight)—unless you upgrade to the Premium edition ($72 per month), which lets you charge the actual prices from mail carriers. US-based merchants can get discounts with USPS and DHL.
---
Order Management
You can manage the order status for your products in bulk or individually. You can print a shipping label, mark items as "canceled" or "shipped," and even process refunds. All of these need to be done manually.
If you would like to process orders automatically, integration with a shipping platform such as ShipStation can be a good solution—it can automatically manage and track online orders for you. If your business gets high-volume orders, you may be better off considering other ecommerce platforms like BigCommerce.
---
Ecommerce Sales Tax
You can configure and manage taxes straight from the Square app and Square Online dashboard. With Square Online, payment processing fees are taken out of each transaction, including tax and tips. You can also track your taxable and non-taxable sales in your dashboard.
You have the option to create multiple tax rates, set up sales tax per item, and disable taxes for custom amounts. If your business is based in the US, Square Online's automatic tax calculator will charge sales tax based on all store addresses you have configured (when you were setting up your settings) and where you ship an order to. (Note: Tax-exempt items in Square only apply to Square Online pickup, delivery, or self-serve orders.)
---
Square Online Checkout
Use checkout links to enable your customers to purchase anything you want to sell online without having to create an ecommerce website. You can send clients a checkout link through email, your Square Marketing campaign, a QR code, a checkout button on your website page or by posting on social media or your blog. Using the service is free, and you will only need to pay the standard processing fee of 2.9% + 30 cents per transaction.
---
Multichannel Selling
You can connect your item library to your Instagram account to make your posts shoppable and eventually turn your followers into buyers. To start, you will need an Instagram Business account. Square Online also offers integrations with Facebook and Pinterest but doesn't have native integrations to marketplaces such as Amazon, eBay, and Walmart. If you plan on expanding to these marketplaces, BigCommerce is a better option.
---
Marketing Tools and SEO
Your website is mobile-responsive—which is essential for Google ranking—and SEO headers and descriptions can easily be set up per product. Square Online's SEO tools are basic but are enough to help your pages get indexed on Google.
You can generate coupons, accept gift cards online and in person, and send order-status text alerts to customers. Contact forms can also be used to collect email addresses and survey responses. The only drawback is that common marketing features like abandoned cart emails and product reviews are only available on higher plans.
---
Square Online Ease of Use
Intuitive user interface
Easy set up and guided prompts
Seller community forum
Comprehensive help guides
Developer platform
Customer support: Email, live chat, and phone support are available weekdays from 9 a.m. to 9 p.m. Eastern time, and Saturday and Sunday from 11 a.m. to 8 p.m. Eastern time. Email responses take 24 to 48 hours, as per its website.
Square Online's dashboard is easy to navigate, intuitive, and straightforward. Once you sign up, you are given a setup guide, easily viewable from your dashboard. The guide outlines the steps you need to launch your store in the form of automated prompts—allowing you to build your store without any technical assistance. You can choose to watch video tutorials before setting up your store (all of which are accessible from the user dashboard) or go straight to building the website using the setup guide.
Building a Square Online website requires no technical knowledge. You are given choices to add or remove from an existing template, with real-time changes reflecting—so you can easily change your choices if needed. In our guide, we outline the steps on how to set up a Square Online store.
Top Square Online Alternatives
| | | |
| --- | --- | --- |
| | | |
| | | |
| Best for: Small businesses with ecommerce as its backbone | Best for: Growing online businesses that need a scalable platform | Best for: Small businesses that have an existing website |
| Monthly fee starts at: $29 | Monthly fee starts at: $29.95 | Monthly fee starts at: $15 |
| | | |
Square's top competitor is Shopify, especially when it comes to multichannel retail software. Read our Square vs Shopify comparison to see how they stack up.
What Users Think About Square Online
Users agree with our assessment of Square Online being one of the best ecommerce platforms, highlighting its ease of use and great payment processing fees. Its biggest drawbacks, however, are limited customization and inconsistent customer support. At the time of publication, Square Online reviews earned the following scores on popular user review sites:
When reading through user reviews, I noticed these trends:
| Users Like | Users Don't Like |
| --- | --- |
| Easy to use platform | Limited customization |
| Low cost all-in-one platform (for website, ecommerce sales, and payment processing) | Few payment processing options |
| Can include a checkout link on social media pages | Customer support is not as helpful when it comes to editing templates |
Bottom Line
Square offers some of the best POS systems for small businesses, and Square Online is an easy-to-use, low-cost, all-in-one ecommerce and payment processing solution. It is best for those that want to add online ordering to brick-and-mortar stores such as cafes, retail outlets, and professional service shops.
In its free plan, Square Online has very few limitations compared to other budget ecommerce solutions. It's our top recommendation if you want to create a complete and professional online store without needing to enter a credit card.
You May Also Like …