Toast POS Review: Is It Right for Your Restaurant in 2022?
This article is part of a larger series on POS Systems.
Toast is a popular point-of-sale (POS) system for cafes, bars, and all types of restaurants. Toast combines comprehensive menu and workforce management systems in its free plan alongside expanded options for built-in digital ordering and delivery tools. Unlike most cloud POS systems, Toast's hardware is industry-grade, drop-tested, and designed to withstand more use than a typical iPad. Toast offers financing options for hardware and gives smaller restaurants the option to pay for hardware with their payment processing fees.
Toast POS

What We Like
Free starter POS
Pay-as-you-go hardware packages
Strong online ordering and delivery tools
24/7 customer service and robust online knowledgebase
What's Missing
Cannot bring your own hardware
Toast Payments it the only payment processor
2-year contracts are standard
Deciding Factors:
Software monthly pricing:

Starter: $0
Essentials: $165
Custom: Custom-quoted
(See detailed pricing below)
Installation fee: Optional, custom-quoted
Contract length: 2 years
Available payment processors: Toast Payments
Customer support: 24/7 via phone, email, and in-app chat
Standout Features:

Robust contactless ordering tools
Multiple delivery management configurations
Comprehensive workforce management including custom permissions, scheduling tip pooling, and payroll tools
Strong customer management and loyalty
Integrated inventory with vendor and purchase order management
When To Use Toast
Toast is specifically designed to support restaurants, so it's no surprise that it performs well in many of our rankings of the best restaurant POS systems. Its many built-in software tools are also standouts.
In particular, we recommend Toast for:
Restaurants of all types: Toast regularly appears on our annual rankings of POS systems for cafes, pizzerias, quick service restaurants, and even food trucks. No matter your restaurant style, Toast likely has the tools you need.
Bars: Toast is currently our top recommendation for a bar POS system. With durable, drop-tested handheld order and payment terminals, excellent offline functionality, and pre-authorized bar tabs, Toast keeps bars running.
Restaurants that offer delivery: Toast has multiple built-in delivery management options and ranks on our list of the best delivery POS systems. You can manage your own drivers, hail third-party drivers on demand, accept orders or delivery from third-party platforms, or combine these strategies.
When To Use an Alternative
Toast has covered pretty much every base when it comes to restaurants, but there are a few cases where Toast won't be your best fit:
Seasonal restaurants: Toast requires a two-year contract. So if you run a seaside cafe in the summer or a coffee shop in a ski town through the winter, you'll be better off with a system like Square for Restaurants that does not require long-term contracts.
Restaurants that want an iPad POS: Toast only runs on its proprietary tablets and terminals. If you want a POS that runs on iPads, check out our ranking of the best iPad POS systems for restaurants.
Restaurants that want to shop for processing rates: Toast only supports the built-in Toast Payments, which provides you with a custom-rate quote based on your sales volume and card mix. If you prefer to shop for rates, you'll prefer a system like Revel or Lightspeed Restaurant, both of which support multiple processors.
Toast Video Review
Toast Pricing
Toast POS pricing has three tiers: Starter, Essentials, and Custom. Hardware is sold separately, and you must purchase it through Toast.
Toast Pricing Plans
| | Starter | Essentials | Custom |
| --- | --- | --- | --- |
| Monthly Software Fee | $0 | $165 | Custom-quoted |
| Best for | Small restaurants that only need two terminals | Independent restaurants that need more than two terminals | High-volume or multilocation restaurants |
| Reporting and Analytics | ✓ | ✓ | ✓ |
| Menu Management | ✓ | ✓ | ✓ |
| Digital ordering | Optional add-on | ✓ | ✓ |
| Delivery Services | Optional add-on | ✓ | ✓ |
| Loyalty | Optional add-on | Optional add-on | ✓ |
Toast offers assisted installation, either via one-on-one virtual guidance or in-person installation for complex cases. Virtual assistance is typically included, but you may need to pay a one-time custom-quoted fee for in-person installation.
New Restaurant Basics
Toast recently started offering an add-on package that it calls New Restaurant Basics. This software package includes Lite versions of Toast Payroll and Scheduling, alongside business insurance, Vestwell 401(k), and the Toast PayCard. Pricing for New Restaurant Basics is currently $110 per month, plus $4 per employee. It gives small, independent restaurants access to tools that are typically only accessible to larger operations.
The Toast PayCard is especially interesting. The PayCard lets employees opt to receive their wages on a prepaid debit card, rather than via direct deposit or on a paycheck. The PayCard is accepted anywhere that Mastercard is accepted. Toast PayCard users can elect to access their wages daily, as soon as they are made available via a PayOut in the payroll module. This could be enticing to tipped employees who are used to getting their tips in cash at the end of a shift.
---
Toast Hardware
Toast's POS hardware is industry-grade and IP-rated to withstand steam and dust intrusion. The handheld terminals are also drop-tested to withstand a high-volume restaurant environment. You can get countertop and handheld terminals for no upfront cost if you are willing to pay slightly higher transaction fees. Toast lists its hardware options and pricing transparently on its online store so you can customize your hardware configuration before committing. For restaurants on a budget, Toast also offers a unique Starter Kit option.
Starter Kit
Toast's Starter Kit hardware option is available for Starter POS users and can be applied to up to two terminals. The Starter Kit bundles both software and hardware, plus Toast payment processing. It offers pay-as-you-go and standard paid plans, in which you can choose between a zero upfront cost with a higher payment processing fee or an $799 upfront cost and $69 monthly software subscription with standard transaction rates. Both options will tie you to Toast's standard two-year contract.
Features

Pay-As-You-Go Plan

Standard Paid Plan

Upfront cost

$0

$799

Monthly software cost

$0

$69

Card not present processing

2.99% + 15 cents per transaction

(platform rate)

3.50% + 15 cents per transaction

Card present processing

2.49% + 15 cents per transaction

Add-on software cost

Add 0.40% per transaction

$50–$75/mo.

Contract length

2-year term

2-year term

Self-installation support

Included

Included
*Prices listed reflect pricing at the time of publication. For current pricing, contact Toast.
The upfront cost is for the hardware kit bundle, which includes a Toast POS Flex terminal, Toast Tap payment device, and router. The card-present and card-not-present transaction rate for the pay-as-you-go plan is included in the platform rate. The standard paid plan subscription can be billed monthly or annually. The pay-as-you-go option allows you to pay for your kit as a percentage of your sales.
Toast also offers pay-as-you-go options for the popular Toast Go 2 handheld devices. Additional hardware options include:
Countertop Terminal Starter Kit

Customer-Facing Display

Handheld Terminal Starter Kit

Pay upfront: $799 + $69 per month

Or

Pay-As-You-Go: $0 and 2.99% + 15 cents per in person transaction

$200 (when added to a Terminal)

Pay upfront: $589 + $50 per month

Or

Pay-As-You-Go: $0 and 2.99% + 15 cents per in person transaction

Countertop Terminal, Toast Tap card reader, Router

Customer-facing display to attach to terminal

Toast Go 2 order and payment device, Wireless Access Point, Router
Kitchen Display System

Toast Printer

Cash Drawer

$499 + $25 per month

$199

$119

Touch-screen KDS Screen

Toast branded thermal receipt printer

Integrated cash drawer
Toast Payments
Built-in: Payment processing is supported by Toast Service and Support Team.
Flat rate: A single flat rate per transaction makes it easy to track your costs.
Custom quote: This is based on your card mix and sales volume.
EMV and PCI compliance: Also comes with active fraud monitoring.
Offline payment: Spool seamlessly in the POS when you lose internet access.
Toast is designed as an all-inclusive POS package. Toast subscribers are locked into Toast Payments as well. Toast Payments offers a single flat rate for processing all types of credit and debit card payments, with custom-quoted rates that depend on your card mix and sales volume. Toast Payments is backed by Toast's customer support team and seamlessly spools offline payments if you lose internet connectivity.
Our experts confirm that Toast Payments' processing rates are in line with industry standards. If you switch to Toast from another POS and payment processor, Toast is likely to match your current rates. However, if Toast will be your first restaurant POS, get rate quotes from other payment processors before signing up. Toast will usually try to match a rate if you can back it up with documentation.
Toast's rates for Standard Starter POS users start at 2.49% + 15 cents for in-person swiped, dipped, and tapped transactions. As noted above, users that opt for pay-as-they-go for hardware will pay a slightly higher processing fee of 2.99% + 15 cents for in-person transactions. From there, Toast's standard processing rates look something like this:
| Payment Type | Processing Rate |
| --- | --- |
| Manually keyed transactions | 3.50% + 15 cents |
| American Express swiped, dipped, or tapped | 3.29% + 15 cents |
| American Express manually keyed | 3.89% + 15 cents |
Keep in mind that these rates are current at the time this article was written. For the most current rates you'll need to contact Toast. If you are a high-volume restaurant, or are switching from another system and have a sales history, Toast will likely quote you a lower rate.
Toast Standout Features
Toast has long been at the forefront of groundbreaking cloud POS technology. The Toast team has spent the past year listening to its customers and building in functions that users request. So you'll find all the usual POS functions present and accounted for: forced and optional menu modifiers, custom floorplans, unlimited user permissions, table, seat, and course management, and check splitting.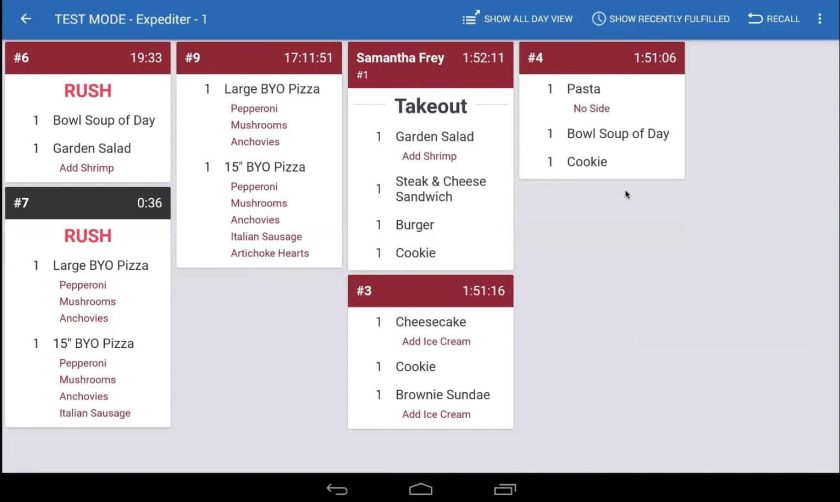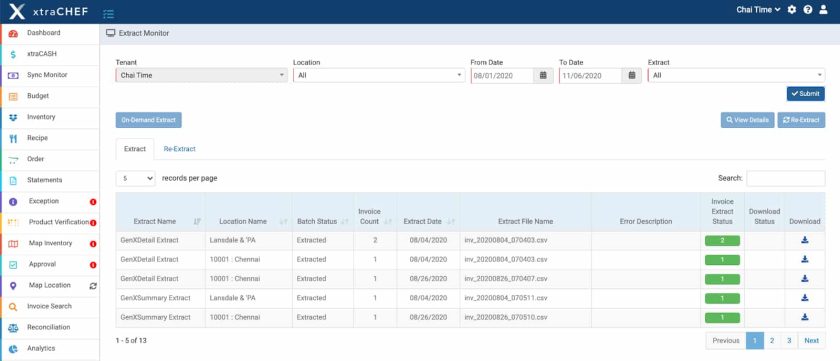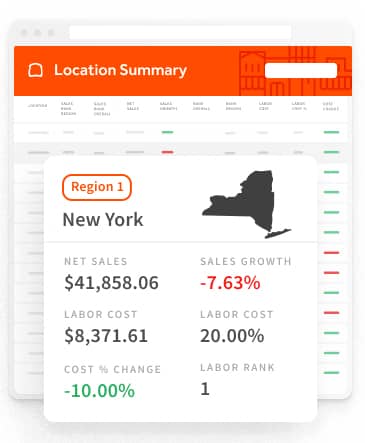 But beyond those basic functions, you also get built-in comprehensive workforce management, online ordering and delivery tools, email marketing, and excellent loyalty features. We'll explore all of these below. In addition to those features, these other Toast tools are worth noting:
All-in-one baseline POS: Toast users have a single point of contact for their POS and payments operations. The Toast POS includes detailed reporting, table, menu, course and seat management, and an intuitive user interface.
Inventory by xtraCHEF: Toast has discontinued its built-in inventory management system and replaced it with xtraCHEF by Toast, a tool that they purchased in 2021. xtraCHEF integrates with QuickBooks and includes real-time ingredient tracking, vendor and purchase order management, and accounts payable automation. Users will need to contact Toast's sales team for pricing.
Multilocation tools: Toast is great for growing restaurant brands, with the ability to track multiple locations from a single dashboard. It also supports multiple revenue centers so you can track in-house sales, catering, drive-thru, takeout, curbside, delivery, or any other order type your restaurant offers.
Kitchen Display System (KDS): Toast has one of the most user-friendly KDS screens available. Its color coded tickets display order status and order type (for here, takeout, delivery, etc.). The hardware is more robust than a standard iPad and built to withstand hot and frequently steamy kitchen environments.
Digital Ordering
Digitally dominant: Supports online and mobile app orders.
Supports QR codes: Guests can order and pay on smartphones using QR codes.
Traffic control: Throttle digital orders off when your kitchen is busy.
Centralized inventory: Syncs with real-time inventory, so you never sell 86'd items.
If you want to manage online ordering and self-ordering options, you'll need Toast Online Ordering. This tool lets customers place takeout and delivery orders from your website, the Toast TakeOut website, or the Toast TakeOut mobile aggregating app. You get the bonus of commission-free online orders along with the marketing boost that a third-party aggregating site offers. Customers can schedule future orders and you can track order status in real time.
Toast Online Ordering is the foundation for Toast's QR code order and payment tool. You can create a QR code for counter-style quick service, or create QR codes for individual tables in a full-service restaurant. Many full-service restaurant Toast users use the QR code tools in conjunction with Toast Go 2 handheld terminals to reduce floor staff while simultaneously increasing sales. Toast's internal research indicates that this combination can increase check size by 15% and increase staff wages by 20% to 30%.
Starter users can add digital ordering al
---
Delivery Management
Delivery Mode: Manage a team of in-house drivers.
Maps integration: Get live driver mapping and dispatch tools via an integration with ShipDay.
Toast Delivery Services: Hail on-demand third-party drivers for flat-rate delivery fees.
Automated messaging: Customers receive automated SMS messages informing them of their order status from receipt to delivery.
Third-party integrations: Integrate directly with third-party platforms like DoorDash, UberEats, and Grubhub. More available via Chowly and ItsaCheckmate.
Toast supports three options for delivery management: Toast Delivery Mode, Toast Delivery Services, and third-party delivery integrations. Toast Delivery Mode includes basic tools for establishing a delivery area and managing drivers. It stops just short of maps-based driver dispatch, but if you want the Uber-like ability to see your drivers in real time, you can add a ShipDay integration to get live driver tracking and automated route optimization. Toast does not publicly list pricing for Delivery Mode; you'll need to contact Toast for details about adding this module.
Toast Delivery Services is a little different. It allows you to hail third-party drivers on demand. Instead of relying on a team of staff drivers, you direct the delivery task to DoorDash Drive drivers. You will only pay a flat fee per delivery—no commissions—and you can pay these fees yourself or pass them on to customers. You will still own all of your customer information. Toast does not charge monthly fees for Toast Delivery Services, the only costs are the delivery fees. Users will need to sign a separate contract with DoorDash to get started.
Lastly, you can choose to integrate directly with popular third-party ordering and delivery platforms like DoorDash, Grubhub, and UberEats. All of these platforms come with their own contracts and fees that vary based on your desired services. Toast does not charge an additional fee to integrate with these platforms. Toast users can receive orders from additional third-party platforms via integrations with Chowly and ItsaCheckmate. These middlemen aggregating apps come with their own monthly fees; you'll need to contact each platform directly for current pricing.
---
Toast Reporting
Flash reports: Pull up real-time data to make informed decisions during service.
One reporting tier: All Toast subscriptions—even Starter subscriptions—include Toast's comprehensive reports.
Available anywhere: Accessible via any web-enabled device.
Automatable nightly reports: Auto-email nightly summary to all managers and owners.
Taggable logs: Manager log can tag specific managers or check numbers referred to in the report.
Toast supports real-time flash reporting for labor and cost of goods sold (COGS), so you can adjust staff levels and sales strategies when they will make a difference to your bottom line. The Nightly Summary feature allows you to customize your nightly reports along with your manager log. Then you can automatically email the whole package to your management team at a set time. Even better? You can use "@" and "#" symbols to tag specific managers or check numbers where they are relevant so everyone stays on the same page.
Toast reports cover everything from staff productivity to menu management. Adding optional modules like Toast Loyalty and the KDS unlock even more reporting functions, allowing you to track customer rewards and kitchen ticket times, for example.
---
Toast Loyalty & Marketing
Seamless sign-up process: Easy signup from the checkout counter or online.
Simple: Points-based rewards program with customizable offers.
Easy rewards: Credit card-linked rewards—no loyalty cards needed.
Convenient: Includes a rewards lookup tool so your guests can check their points at any time.
Customizable templates: Design and automate email campaigns.
Personalized messages: Create tailored messages based on your customer's purchase history.
Metrics: Track your email campaign performance with clear reporting and analytics.
Toast's restaurant loyalty program offers a seamless and personalized way of building guest loyalty. Signup can be done at the point of checkout and points can be directly linked to their credit card so there's no need to carry a loyalty card or sign in every time they visit. You can easily customize sign-up bonuses and set accrual and redemption rates, dollar to points exchange, and birthday rewards. This feature is available in Toast's Custom subscription plan or as an add-on at $50 per month if you opt for a Starter Kit with a standard paid plan.
You can leverage your customer data by adding the Toast Email Marketing module. Email Marketing is a built-in feature that directly integrates with your Toast POS system. This means you get to build your email list, run your marketing campaign and measure its performance, straight out of your POS platform. Toast Email Marketing is included in the Custom subscription plan, can be added onto a Starter plan for $75 per month, or can be added by increasing your processing fees by 0.40%.
---
Toast Workforce Management
Compliance checks: Automatically calculate tip make-up amounts when tipped staff fall short of local minimum wage and track breaks where required by state law.
Scheduling: Build schedules and send to employee smartphones directly from your back office dashboard.
HR Hub: Electronically onboard new hires for paperwork such as W-2s and payroll enrollment.
Regulation updates: Toast will update with local prevailing wage and labor laws based on your address.
Tips: Set up tip calculations in Toast, bulk import pooled tips via .csv file, or manage complex tip pools and send tips directly to payroll.
Toast's comprehensive Payroll and Team Management module is available as an optional add-on at a custom-quoted price. This add-on acts as a full-spectrum human resources tool, allowing you to onboard new employees digitally and even auto-calculate additional wages required for restaurants that take a tip credit. The module is updated with the relevant labor laws based on your location, helping you comply with regulations like California's meal break requirements and New York's Spread of Hours law.
Toast Payroll users gain some additional tip management tools, though. With the Toast Payroll module you can create and manage complex tip pools for various parts of your restaurant, calculate the tips for a specific shift, and immediately report those tips to payroll so they appear on tipped employee's payroll checks. At the time of this writing, users could add Toast Payroll and Workforce management tools for $110 per month, plus $4 per employee. That price can change at any time at Toast's sole discretion, so you should reach out to Toast for the most current price.
Toast's baseline employee management options are substantial, even without the Payroll and Team Management module. The system can still act as your time clock, and you can configure tip percentages by role, hours worked, or a percentage of sales, then print the expected tips on server and bartender shift reports, so they are transparent. The system further allows negative tip reporting, so servers and bartenders are not taxed money they tip out.
---
Toast Ease of Use
Clean screens: Nested menus and modifiers enable uncluttered screens that are easy to read.
Tap for more: Additional options are revealed with intuitive swipes and screen taps.
Talk to a human: Customer support is available 24/7 year-round via phone, email, or online chat.
School is in session: Comprehensive training resources via Toast Central are always available online in English and Spanish.
Personal service: A Toast representative can be on-site the day your system goes live. In-person support is available any time (by request, for a fee) to help you master the Toast ecosystem.
According to our evaluations, Toast is one of the most intuitive restaurant POS systems available. Virtually every button on the POS screen displays additional options when you tap on it. Modifier menus can be nested and forced in progressions that both keep your screens tidy and ensure that customizations like meat temperatures and sauces are never forgotten. These complex menus are initially set up by the Toast team, based on a menu template you send them, which saves you administrative time.
If you are comfortable operating a smartphone, the Toast ecosystem will feel like home. I have personally trained staff on the Toast POS in a single shift. My teams took longer to memorize the restaurant phone number that it took them to learn Toast.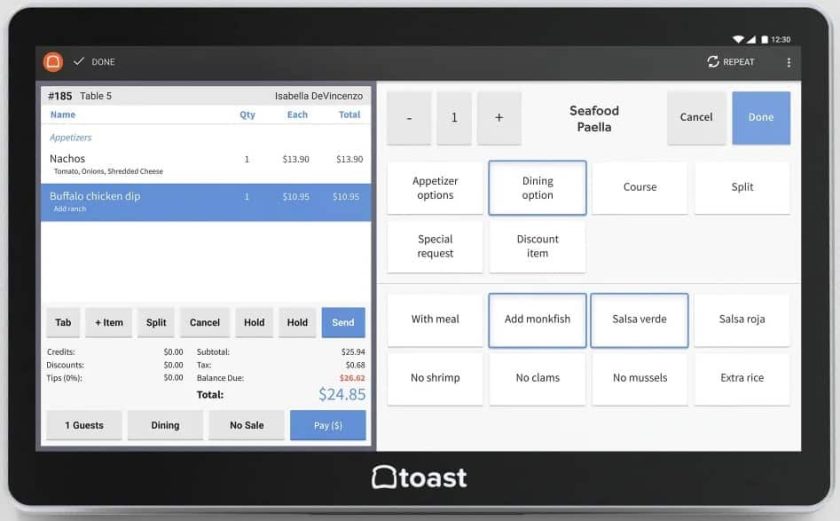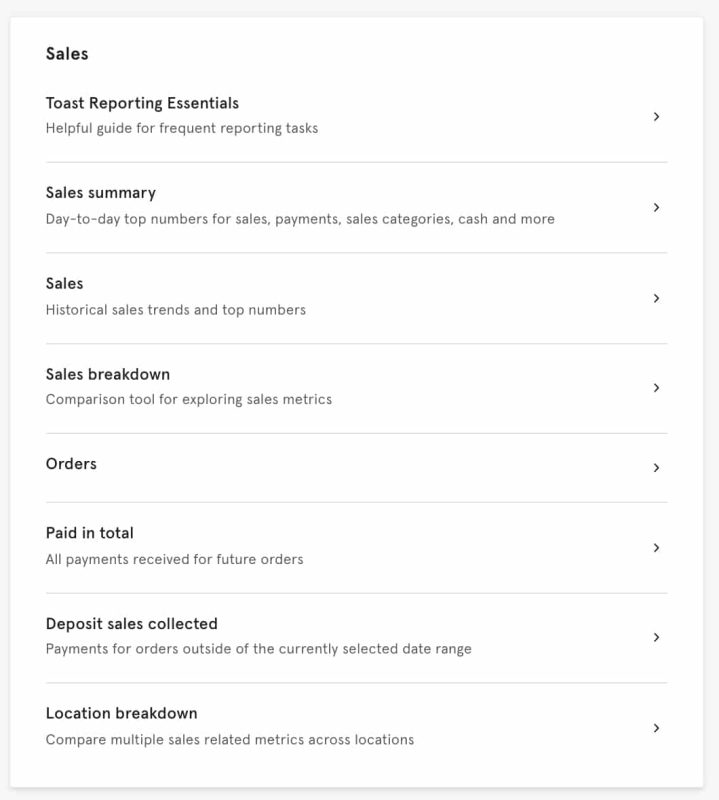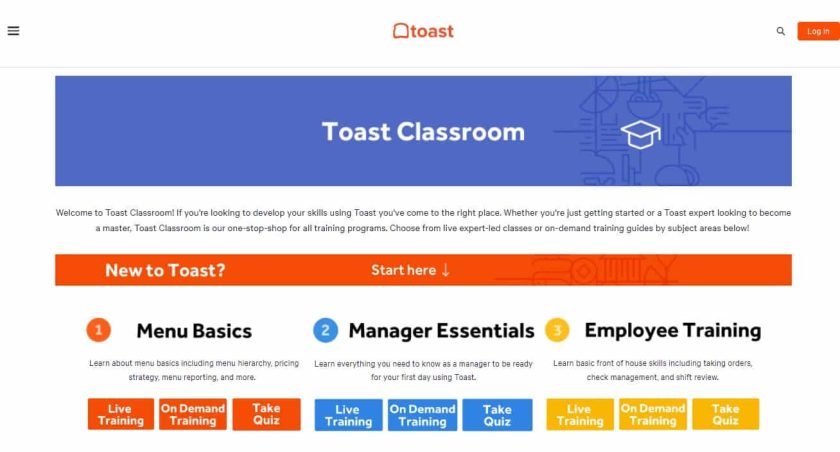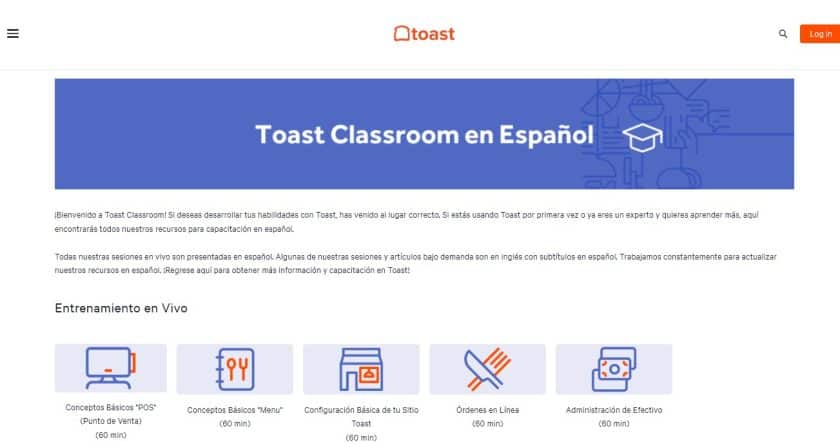 Toast's back office is only slightly trickier to navigate, because there aren't multiple colors to call your attention to things. Once you are comfortable with the vocabulary—for example, if you're looking for a log of voids and discounts, you want the "Exceptions" report—you'll easily find everything you need. When entering large amounts of data, whether tip pools or vendor invoices, you can typically bulk upload .csv spreadsheets to speed the process.
If you ever have any questions about where to find a report or how to operate a new module, Toast's customer support representatives are available 24/7 every day of the year via phone, email, or webchat. You can also find answers to virtually any question in Toast's comprehensive online knowledge base, Toast Central. Many of the articles have videos to accompany them, and many resources are available in both English and Spanish. You can also drop in on one of Toast's regular online training sessions via the Toast Classroom to learn from a live Toast instructor.
Toast Alternatives
Toast is designed to work as an all-in-one software, hardware, and payment system. That's appealing if Toast gives you a good rate for payment processing, but if you prefer to shop around for the best rates, it might not be a fit. Toast also only runs on Toast-provided tablets, so if you want to use equipment you already own, you're out of luck. The system also requires a two-year contract. If you want something shorter—or month-to-month—you'll be happier with an alternative.
If any of those are deal breakers for you, you have other options:
| | | |
| --- | --- | --- |
| | | |
| | | |
| Best For: Users looking for a low-cost POS and month-to-month contracts | Best For: Users who prefer their own payment processor | Best For: Restaurants that want an affordable iPad POS |
| Monthly fee from: $0 | Monthly fee from: $99 | Monthly fee from: $39 |
| | | |
What Users Think of Toast
Overall, Toast users love the POS software. Positive reviews mention the detailed reporting, ease of use, and overall functionality. Many users specifically say that Toast's QR code ordering features and integrated handheld devices have enabled them to reduce staffing levels and increase sales.
Across the board, experts and users alike give this system high marks:
Some negative reviews say that some customer support representatives have been less than helpful. Many of these are dated during the COVID-19 pandemic when Toast had reduced staffing levels.
Several reviews mention that one area Toast could improve is offering current users more advance notice so they can sign up to test beta modules. That's a pretty good indication that users like Toast's approach to constantly developing new features. In fact, another commonly cited drawback is that some Toast integration partners don't deliver as good an experience as the Toast platform; users would prefer to see Toast build more modules and integrate less.
PROS

CONS

Easy setup process with optional in-person installation and training
Customer service is uneven
Fast, detailed reporting
Add-on features can get pricey
Software that continually evolves to meet new business needs
Must use Toast-designed terminals and tablets and no payment processor flexibility
Hybrid setup provides excellent offline functionality
Can be difficult to sign up for beta modules before they launch
Digital ordering and delivery tools reduce staffing needs
Bottom Line
Toast POS has a laser focus on restaurant businesses and consistently drives innovation in restaurant software. This POS is an excellent fit for restaurants of any style. It is exceptionally intuitive, easy to use, and provides robust reporting functions in its baseline system. Our Toast POS review finds it an excellent tool for restaurants that want to expand into digital ordering, delivery, and contactless service models. To see if this system is right for you, visit Toast for a full demo.