Online real estate courses can provide aspiring Texas agents with necessary prelicensing and continuing education (CE) credits via the web or mobile app. We reviewed 10 schools that offer these courses in Texas and chose the top six, including the best overall, based on price, curriculum, money-back guarantees, and ease of use.
Top 6 Online Real Estate Courses Texas 2020
| Online Real Estate School Texas | Best For |
| --- | --- |
| | (Best Overall) Agents seeking a live online, instructor-led real estate prelicensing course |
| | Realty professionals seeking topic variety in continuing education (CE) classes |
| | Future agents wanting an app to study on-the-go from any device |
| | Future agents seeking all-in-one prelicensing coursework bundles with exam prep and coaching |
| | Students wanting to focus on real estate math as part of their exam prep |
| | Aspiring agents seeking webinars and study aids developed exclusively around passing the licensing exam |
How We Evaluated Online Real Estate Courses for Texas
The Texas Real Estate Commission (TREC) requires aspiring real estate agents complete 180 hours of coursework prior to taking the licensing exam. Then real estate agents and brokers have to meet additional continuing education requirements in order to retain their license. While online real estate courses offer a convenient way to meet TREC requirements, the best schools also offer additional benefits to students.
To determine the best online real estate courses in Texas for 2020, we evaluated the following:
Pricing for bundles for prelicensing, sales apprentice education (SAE), and individual continuing education (CE) courses and cost of additional exam prep
Length of access to course materials
Curriculum variety and supported course formats
Average pass rates based on public information
Available money-back guarantee
Supplemental study tools or access to additional educational resources
Student satisfaction and ease of use
Given the criteria above, Kaplan Real Estate offers the best overall online real estate courses in Texas. They offer courses for aspiring real estate professionals, current agents, and current brokers in the largest variety of course formats. Not only that, they also offer students access to their courses for nine months, giving professionals even more flexibility when it comes to meeting their education requirements.
Kaplan: Best Overall Provider of Online Real Estate Courses for Texas

Kaplan is an accredited real estate school that combines the best of instructor-led courses with the convenience of online training. The Kaplan platform is unique because students do not need to pick between independent online study and instructor-led classes; Kaplan delivers the best of both worlds. Its courses are also competitively priced, making Kaplan a great value and an ideal solution for Texans who perform best with the guidance of an instructor.
Pros of Kaplan

Cons of Kaplan

Largest variety of course format options

Online platform can be glitchy

The highest customer review ratings

In-person classes are the most expensive on this list

Largest variety of package options

Courses do not include study aids
Kaplan Pricing
Prelicensing course packages based on Texas requirements range from $389 to $1,089
Individual prelicensing courses range from $105 to $174
SAE individual courses and packages range from $119 to $439
CE courses for agents and brokers are priced individually and cost between $19 and $59
Exam prep options range from $29 to $169
Broker prelicensing courses are $105 individually or $389 to $889 for packages
Kaplan Features
Offers instructor-led online classes
Live prelicensing classes include coursework and practice tests
Offers a comprehensive mix of courses for prelicensing, first-time renewals (also known as sales apprentice educations (SAE)), continuing education, and courses for upgrading your license from agent to broker
Course access lasts nine months
Accredited by ARELLO and IDECC
What Students Say About Kaplan
Kaplan has an excellent rating on Trustpilot, with many students saying they are loyal Kaplan users and love the engaging, in-depth course material. A few negative reviews said they had trouble with the platform restarting.
The CE Shop: Best Provider for Continuing Education Online

The CE Shop is an online real estate school offering prelicensing, CE courses, exam prep, post-licensing, and professional development for aspiring agents and brokers in Texas. However, it stands out for its continuing education course variety and length of access to materials. This makes The CE Shop a good choice for established real estate agents who want to purchase unique individual courses and for those who don't want to worry about course expirations.
Pros of The CE Shop

Cons of The CE Shop

Largest variety of course topics

All courses are text-based

12-month access to courses

No access to live instruction

Prelicensing package options include exam prep
The CE Shop Pricing
Prelicensing packages based on Texas requirements range from $419 to $644
Individual prelicensing courses cost $104
CE courses range from $29 to $139
Exam prep options cost between $51 and $89
Broker prelicensing costs $731
Broker CE courses
Frequent promo codes offered
30-day money-back guarantee
The CE Shop Features
Upper-level prelicensing package option includes exam prep and SAE packages
Exam prep course includes unlimited practice exams
Select CE courses fulfill the Texas and National Association of Realtors (NAR) member requirements
Offers 29 CE courses with unique topics
Courses access is 12 months in all states except for North Carolina, Oklahoma, District of Columbia, and Iowa
Accredited by ARELLO
What Students Say About The CE Shop
Reviewers on Trustpilot gave The CE Shop platform excellent ratings. They said the platform is easy to follow and that the information is easy to understand and in-depth. Negative reviews stated that there can be glitches that require students to contact customer service.
Aceable Agent: Best Online Course Provider for Mobile Study

Aceable Agent is an online real estate school offering prelicensing and CE coursework for Texas and other states. Unlike other providers on our list, Aceable Agent offers a well-designed mobile app that helps realty professionals study and pass the licensure exam from any device. Given this unique mobility, Aceable Agent is an ideal option for tech-savvy future agents who want an app to study from anywhere, at any time.
Pros of Aceable Agent

Cons of Aceable Agent

Platform is designed for mobile use

No instructor access

Money-back guarantee if you purchase and take the practice test

Does not offer package options

Affordable prices

Does not offer SAE or broker courses

Pass rate: 79%
Aceable Agent Pricing
Prelicensing course costs $497
CE courses cost between $26 and $30 when priced individually, or between $45 and $89 when bundled as packages based on Texas requirements
Professional development courses range from $79 to $247
Texas real estate practice test is $39
Ace the test money-back guarantee if you pass the practice exam
Aceable Agent Features
Offers professional development courses at an affordable price
Courses include videos and images
Course access for six months
Accredited by ARELLO and IDECC
What Students Say About Aceable Agent
Reviewers on Trustpilot reported that the cross-device platform was easy to use and reliable. Users noted the information was very thorough, with simple navigation that promoted learning on the go. Finding negative comments about Aceable Agent is extremely rare.
Real Estate Express: Best for Prelicensing Real Estate Course Bundles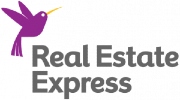 Real Estate Express is an online real estate school that offers courses for students in dozens of states across the U.S. It stands out by offering bundles that include study aids, built-in exam prep classes, and access to a coach in addition to required coursework. For these reasons, Real Estate Exam Prep is ideal for aspiring agents who want a single source for all their prelicensing and exam prep needs.
Pros of Real Estate Express

Cons of Real Estate Express

Offers practice tools like flashcards, dictionaries, and practice exams

Exam prep materials aren't included in the basic package

Pass or don't pay guarantee

Course access expires after six months

Frequent discounts on courses

Course offerings beyond prelicensing are limited

Pass rate: 65%
Real Estate Express Pricing
Prelicensing packages based on Texas requirements range from $507 to $797
Individual prelicensing courses are $99
Continuing education (CE) courses available through McKissock for $120 to $156
Broker prelicensing course is $888
Frequently offer discounts for 30% off or more
"Pass or Don't Pay" guarantee with any exam prep course
Real Estate Express Features
Exam prep courses include study aids like textbooks, a real estate dictionary, practice exams, flashcards, and more
Packages include 90 hours of post-licensing Sales Agent Education (SAE)
Upper-level packages give you direct access to instructors and experts
What Students Say About Real Estate Express
Real estate express students frequently comment about the ease of use and the comprehensive course materials. A few commenters noted that getting in touch with customer service took more time than they'd like. Learn more about Real Estate Express pricing and reviews.
Mbition – Learn Real Estate: Best for Math-focused Prelicensure Prep

Mbition – Learn Real Estate is an online real estate school offering required prelicensing coursework for Texas along with exam prep and continuing education classes. However, Mbition – Learn Real Estate is unique due to their MathMaster prep exam materials, which help to prepare agents for the real estate finance component of the licensing test. Agents who struggle with math or financial concepts and need extra focus to pass this part of the test will benefit from Mbition – Learn Real Estate.
Pros of Mbition – Learn Real Estate

Cons of Mbition – Learn Real Estate

MathMaster course focuses on math and finance concepts in real estate

No personalized instructor support

Most affordable individual courses

No courses for real estate brokers

Supplemental study aids

Course material lacks depth

Pass rate: 74%
Visit Mbition – Learn Real Estate
Mbition – Learn Real Estate Pricing
Prelicensing packages based on Texas requirements range from $489 to $879
Individual prelicensing courses are $99
Individual CE courses are priced between $26 and $39
Exam prep courses are between $79 and $129
Frequent discounts available
Mbition – Learn Real Estate Features
MathMaster included with all prelicensing packages
Bookstore offers a variety of textbooks on specialty real estate topics
Study aids include flashcards, practice tests, test-taking tips, and audio review of important topics
Access to course materials for 180 days, with extensions available upon request
Accredited by ARELLO and IDECC
What Students Say About Mbition – Learn Real Estate
Mbition – Learn Real Estate has a rating of 4.4 on Indeed. Previous students stated that the course was helpful and the material was easy to follow, but it wasn't extremely in-depth. If you want live instructor support, you may prefer Kaplan.
PrepAgent: Best Comprehensive Study Aids for Exam Prep

PrepAgent is an online real estate exam prep solution designed as an add-on to the state-required prelicensure coursework. It is unique because it delivers licensing exam study aids in many different formats, like flashcards, videos, audios, and practice tests. With a clear focus on exam prep, PrepAgent is perfect for Texans who need extra help studying for their licensing exam beyond what is offered by their primary course provider.
Pros of PrepAgent

Cons of PrepAgent

Exam prep package options

Does not offer real estate courses like CE or prelicensing

100% money-back guarantee

Only upper-level packages offer additional study aids

Offers one free national practice exam

Basic package only provides access for seven days

Pass rate: Public data is not available
PrepAgent Pricing
Exam prep packages for aspiring agents and brokers range from $59 to $99
Frequent promo codes
100% money-back guarantee
PrepAgent Features
All packages include national and Texas-specific questions
More than 75 exam prep videos
Live webinars
Hours of recorded audio and video lessons
Online interactive flashcards
Exam prep e-book
Length of access to materials depends on your package choice, but ranges from one week to one year
What Students Say About PrepAgent
PrepAgent's online reviews are almost all 5 stars. Students say that the information is engaging, informative, and helped them pass the first time. Even though all of the 1,700 reviews for PrepAgent are 5 stars, they are all found on the website and Facebook page.
Bottom Line
The best online real estate school in Texas helps future agents complete required prelicensing coursework, pass the licensing exam, and complete required classes for license renewal. We reviewed 10 online real estate schools and picked the six best based on prelicensing coursework, study aids, ease of use, and user reviews.
Our best overall pick for online real estate schools in Texas is Kaplan Real Estate. This well-reviewed education provider combines live instruction with online classes, and provides courses for aspiring agents, current agents, aspiring brokers, and current Texas real estate brokers. Find out more about Kaplan's courses on their website.