Hosting an open house for potential buyers to walk through a home and ask questions is a consistently effective method of selling houses. While these events have changed and evolved, you can still market and host an open house successfully, both traditionally and online. To help you spread the word, we gathered 26 of the best open house invitation templates to bring the right people to your event with tips to help get your listings noticed.
1. Show Both Interior & Exterior Images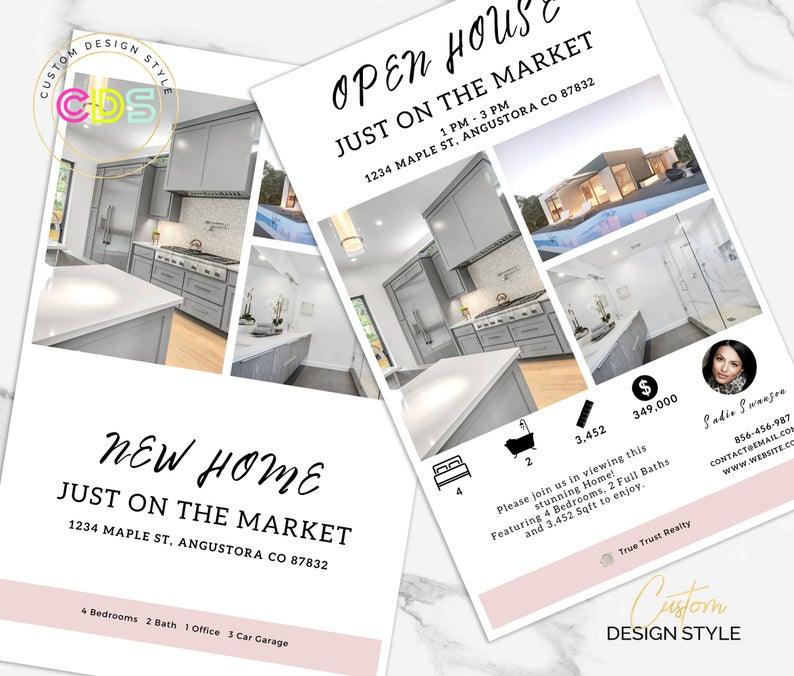 Make sure to include interior and exterior images in your open house invitation. Potential buyers like to see various areas of the property. Mix up your images, showing off all the property's best features to attract potential buyers with diverse interests.
When creating flyers, use high-quality photos. Check out our top real estate photography tips and mistakes to avoid to help your team capture and choose the best photos.
2. Present the Home as a Tranquil Retreat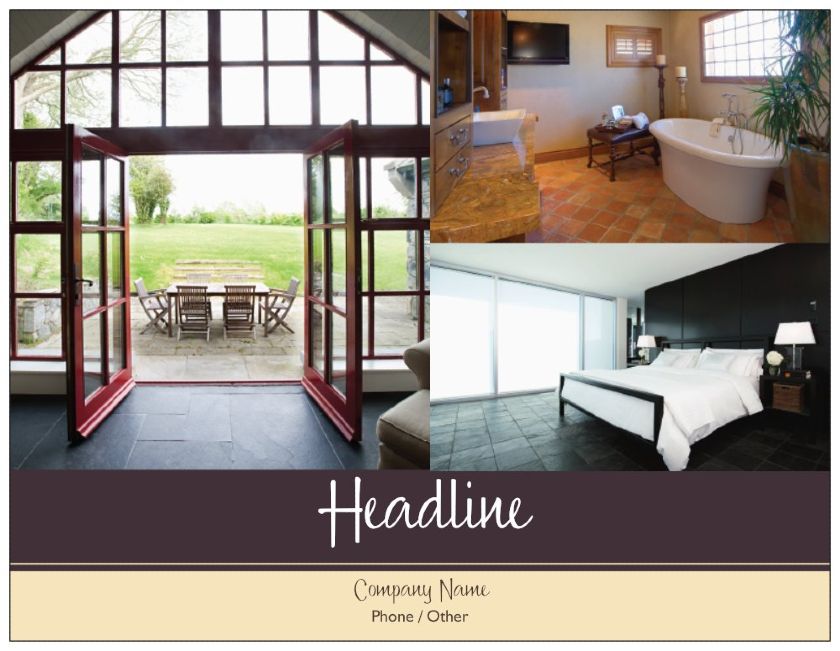 Appeal to the hectic life of homebuyers by presenting an open house invitation that makes your listing appear as a retreat. Choose your listing photos intentionally to present a message of relaxation and escape. The open house template above from Vistaprint can be completely personalized and does a wonderful job of showing how you can position your home for sale.
3. Sell a Lifestyle, Not Just a Home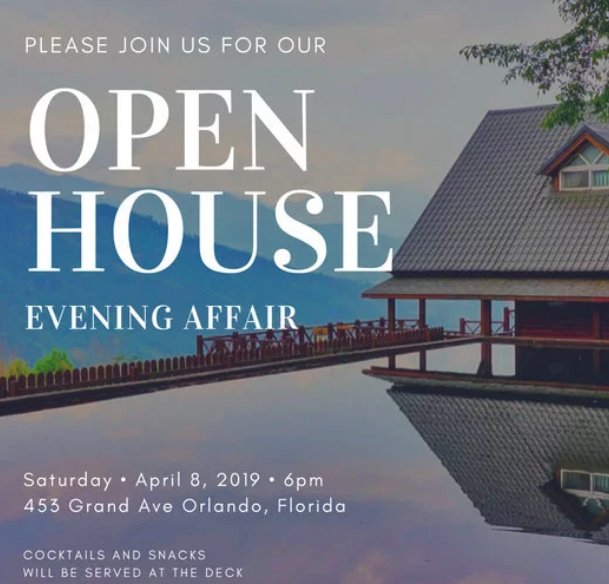 This template is designed to showcase a single listing image that communicates the lifestyle of a property. By focusing on one listing photo, you can prompt the potential buyer to come and feel the possibility of the property. This open house invitation conveys the lifestyle the property offers could provide.
You should also make your attendees feel the same quality of lifestyle during the event. Learn the best tips to host an open house and get a free checklist.
4. Communicate a Clear Message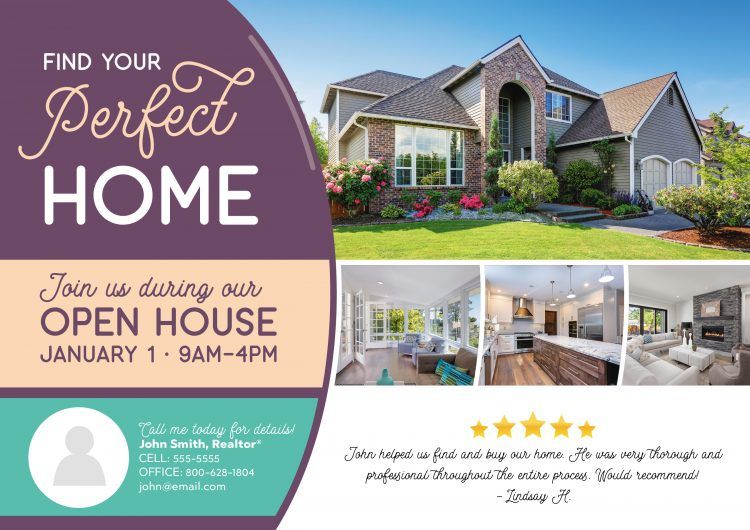 When individuals are sorting their mail, you only have a few seconds to capture their attention, so make sure the invitation is clear at first glance. Notice that on this real estate postcard template, the real estate agent information is in the smallest area on the bottom left. This was done intentionally so that the prime area of the postcard is left to capture the recipient with the intended message.
5. Use Color to Stand Out From the Crowd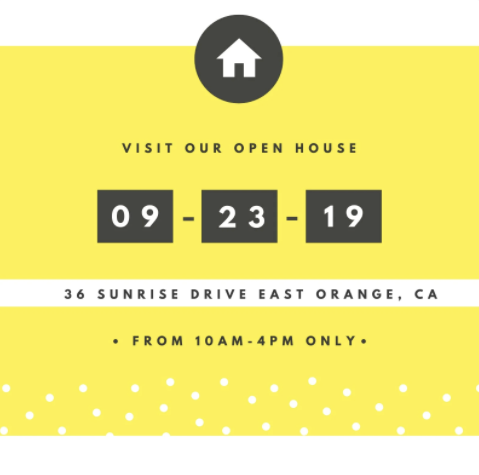 Going bold in your color choices helps grab attention in a sea of boring black and white envelopes. This real estate lead generation flyer template by Canva immediately stands out from the white backdrop of most direct mail. It helps to give your open house invitation a second glance by its intended audience. This digital image is also ideal for a social media post and could include the details for a virtual open house.
6. Display Welcoming Images That Invite Buyers In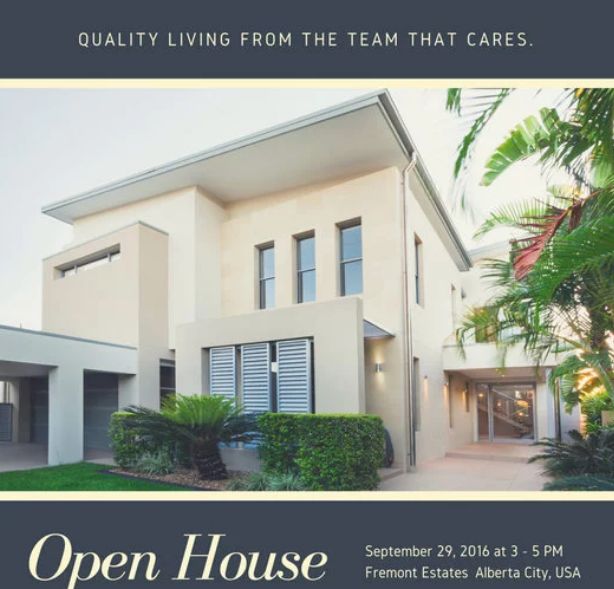 This open house template is designed with minimal text so that you can highlight one particular appealing photo of the property. When creating your open house invitation templates, be sure that you select images strategically that help the potential buyer see themselves in the home.
7. Focus on the Home's Best Features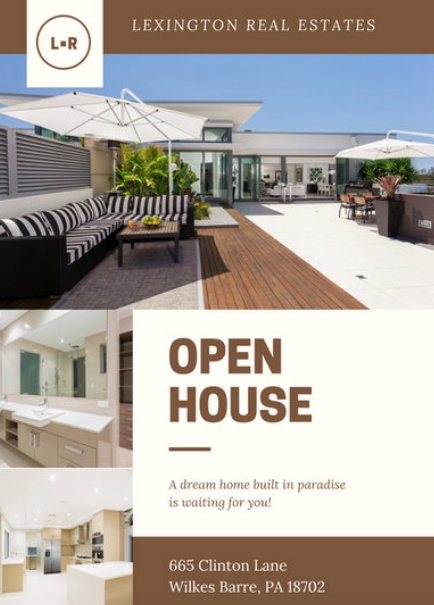 Be sure that whatever features are most appealing in the home are displayed front and center. In the case above, the outdoor entertaining space is stunning, and it makes sense to highlight this to capture buyer interest. In addition, the bottom two images are small, so using images of these bright, clean, and open rooms is ideal.
8. Show Off the Block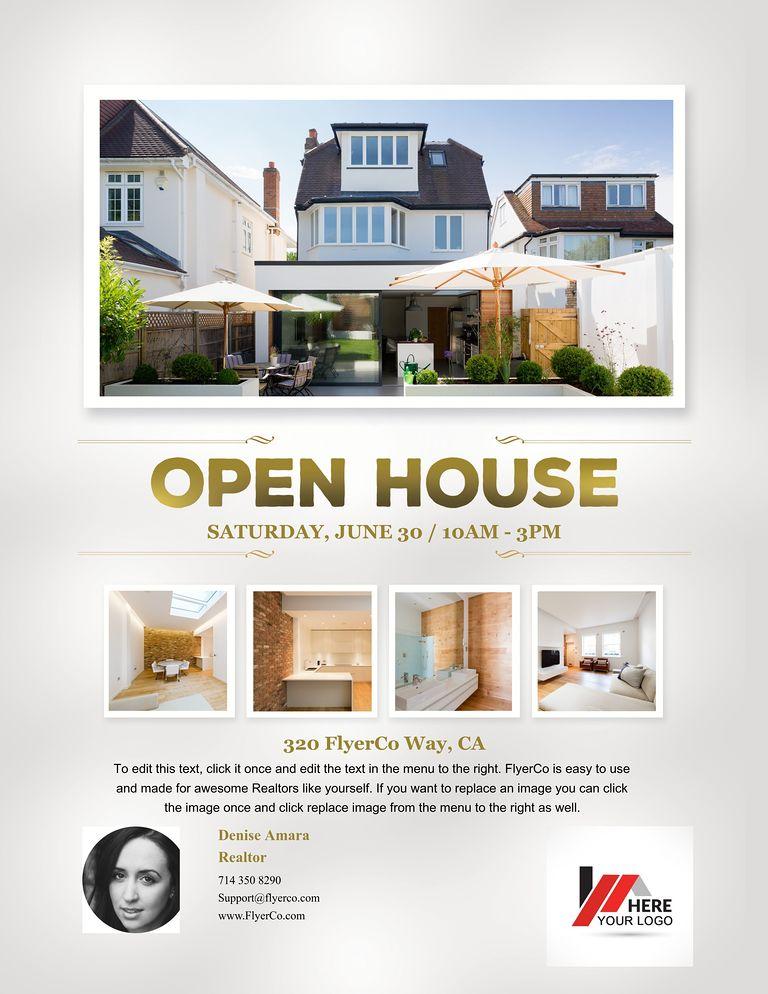 If your listing is positioned in a prestigious neighborhood block, be sure to showcase the setting like what's shown in the top image. By setting the scene, you allow potential buyers to get a fuller picture of the neighborhood surrounding the house and imagine themselves as part of the community.
9. Provide Important Information Upfront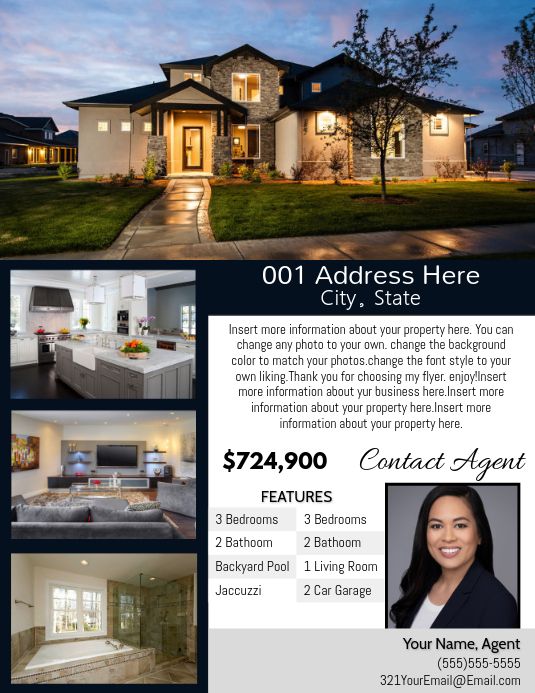 Open house invitation templates that offer property details tend to generate more targeted attendees. When people know the details of the listing upfront, they are far more likely to disqualify themselves if they are not a good fit. In the end, those who come to the open house will be more likely to put in an offer. This kind of open house invitation could be especially useful in a competitive seller's market.
10. Canvas the Neighborhood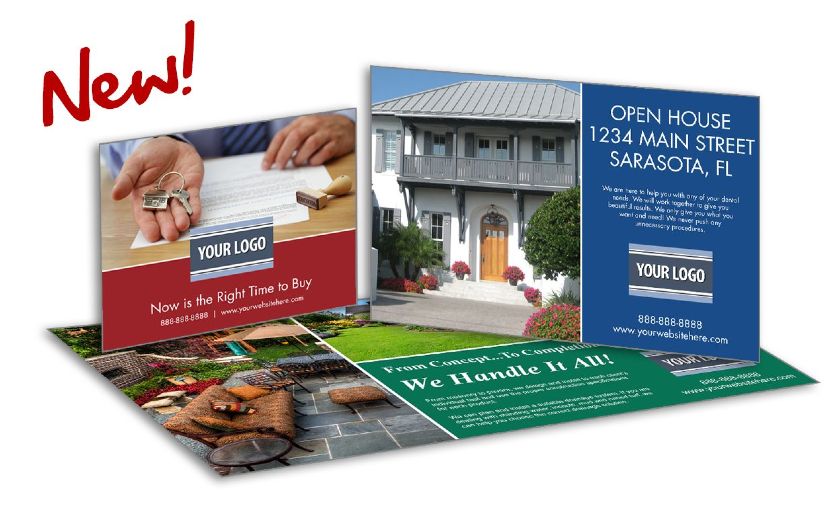 You can generate local interest in an open house by knocking on doors leaving postcards like these in your entire farm area. With open house invitation postcard templates from ProspectsPLUS!, you can get them printed for as little as 37 cents a card, depending on the quantity selected. You can even have the postcards shipped directly to your customers for an additional fee.
11. Flaunt the Intangibles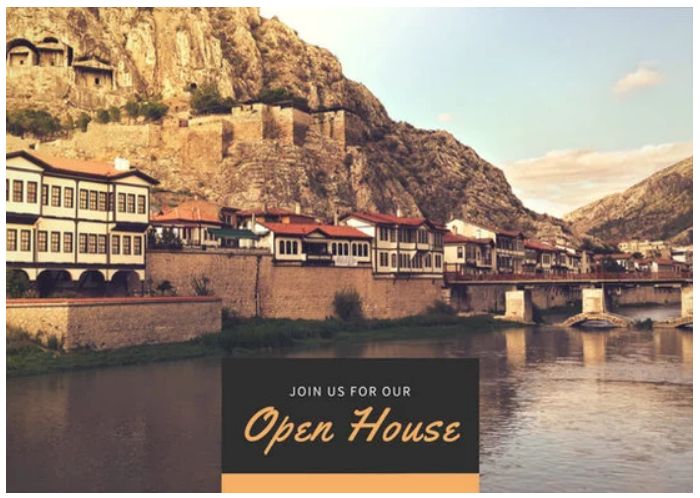 In some cases, you can lure potential buyers without any interior photos at all. If your listing is close to a mountain, ocean, beautiful river, or stunning bridges, then flaunt that setting. Although interiors can be altered, settings are intangible. Take advantage of these features to attract interest.
12. Speak to Your Target Demographic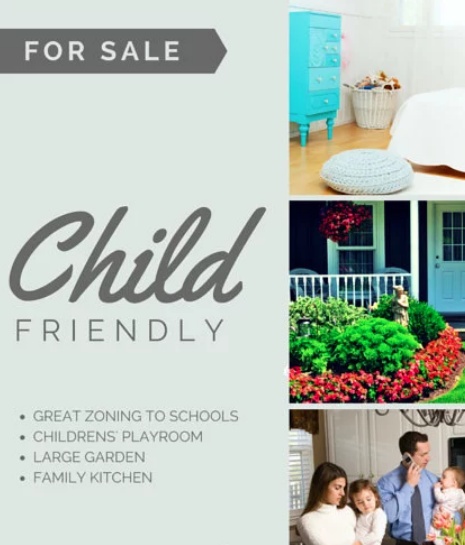 While this template isn't a specific open house invitation just yet, it could easily become one replacing "for sale" with "open house." If you're listing a property that fits the needs of a young family, this open house invitation is a great way to market to specific types of buyers.
13. Underscore Interesting Architecture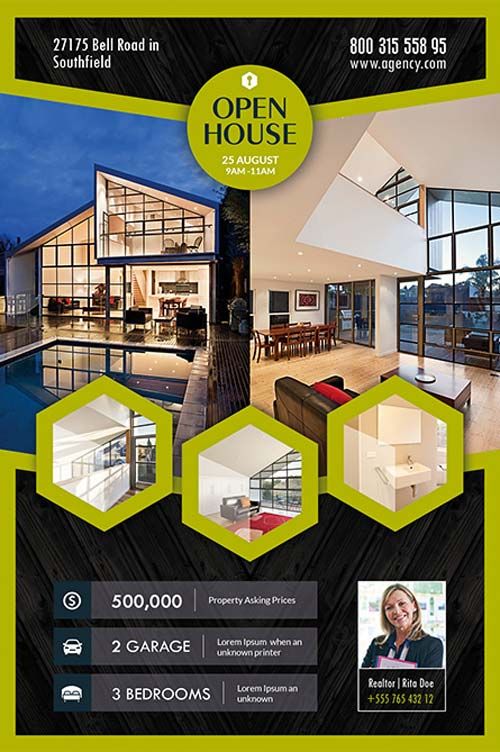 If you are fortunate enough to be marketing a property with stunning architecture, be sure to show it off on your open house invitation. Notice on the flyer template above how even the pull-out graphics are suggestive of the architecture highlighted, with interesting and eye-catching shapes and designs. While not much of the home is given away on these images, open house invitation templates that show a few stunning features can loop in curious homebuyers to learn more.
14. Set the Mood in Your Copy & Colors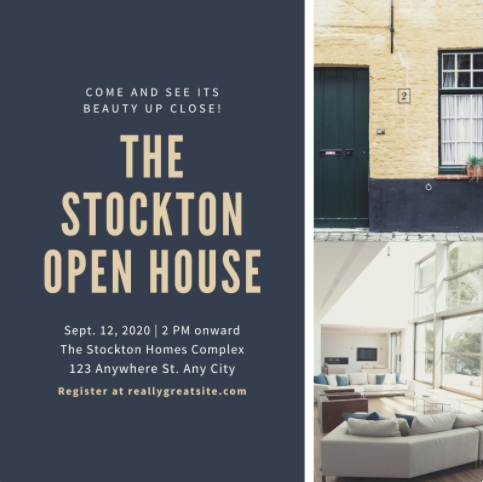 By simply naming your open house, invitees immediately feel that the home is more elegant. This open house invitation creates a positive image of the listing before the potential homebuyer ever sets foot on the property. Don't be surprised if you notice your open house title being used by those who attend.
15. Pull Out Interesting Features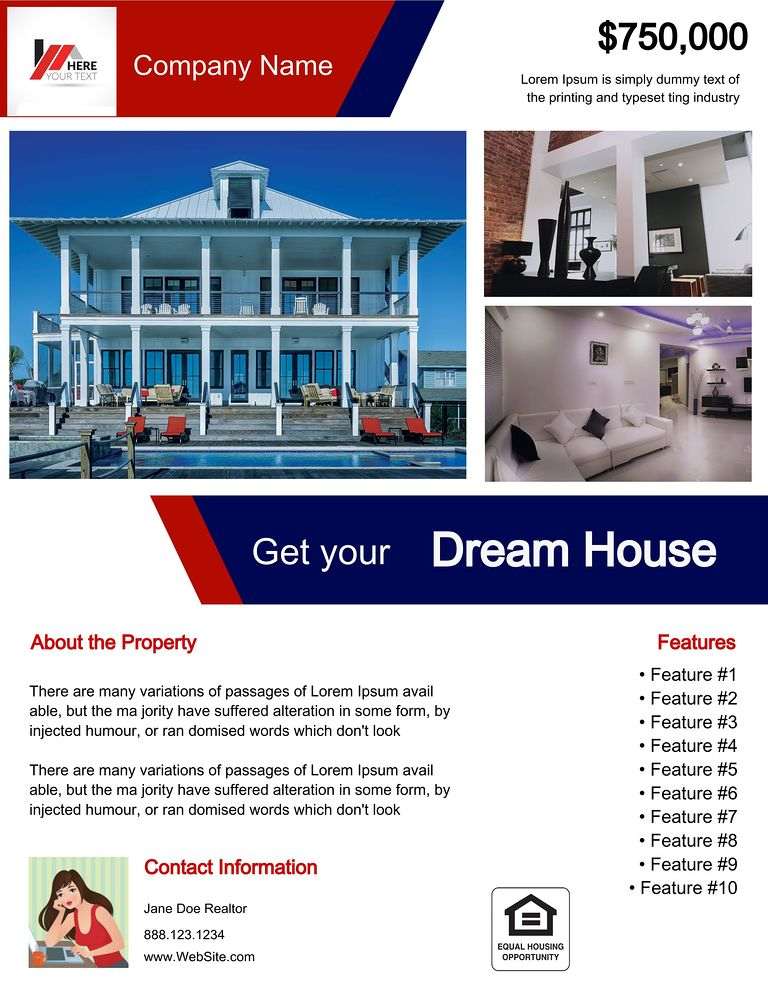 You don't have to hint—you can directly call out the benefits and features of a property for potential buyers. This is particularly necessary when using direct mail or grabbing attention on a cluttered news feed. In the open house invitation above, there is a location designed specifically for a bulleted list of the property's features.
16. Customize Everything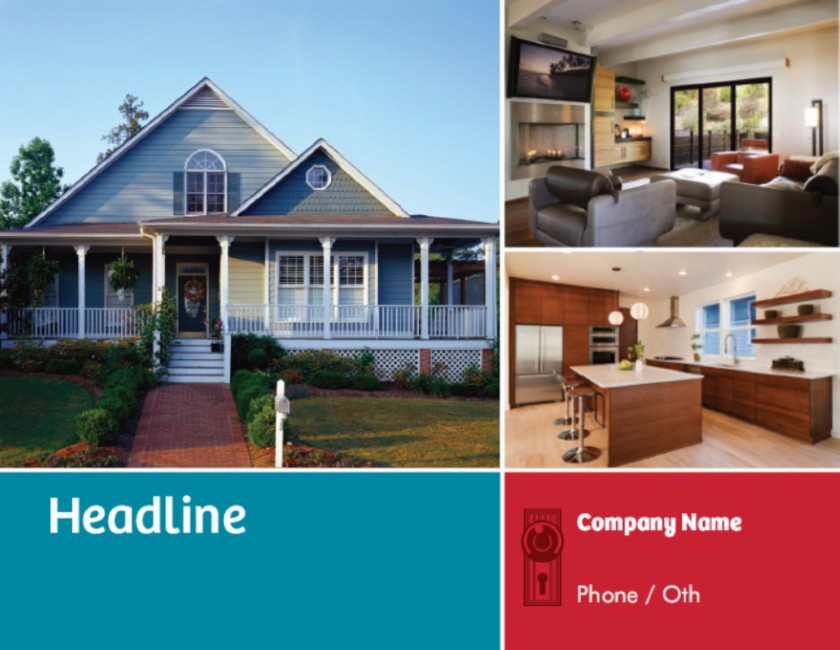 Examine the layout of each open house invitation template but adjust everything necessary to create the best invitation for your event. In the postcard above, it is fairly apparent that you can customize images, headlines, and your company information. But customize it further by adding your company logo, personal image, a short URL to the virtual open house, or using your own font instead of the one provided.
17. Invest in Photography for the Best Images Possible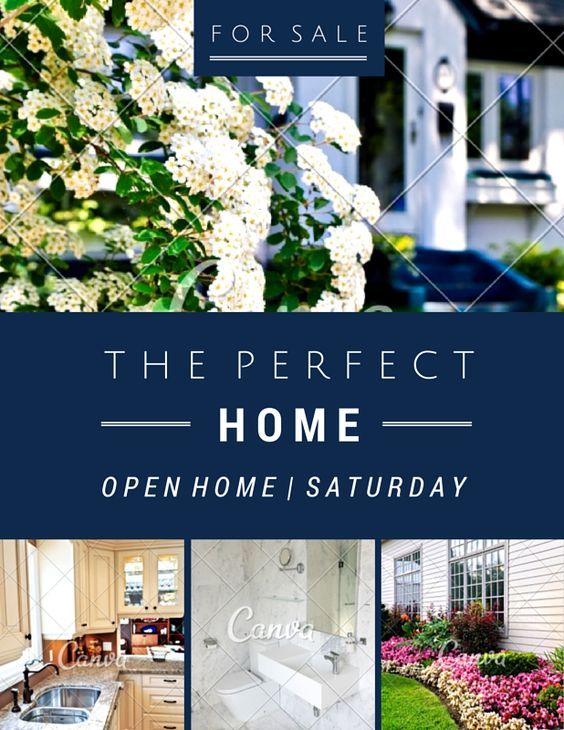 Fill your open house invitation with the most beautiful images of the home—they don't have to be pictures of rooms. In this open house invitation template, they showcase gardens at the peak of full bloom. While this method won't directly sell the house, it will grab more attention and create more interest.
If you want to wow flyer recipients with an expansive property open house, be sure to include drone photography. If you've never used drones before, check out our real estate drone photography and video guide.
18. Highlight Rooms of Interest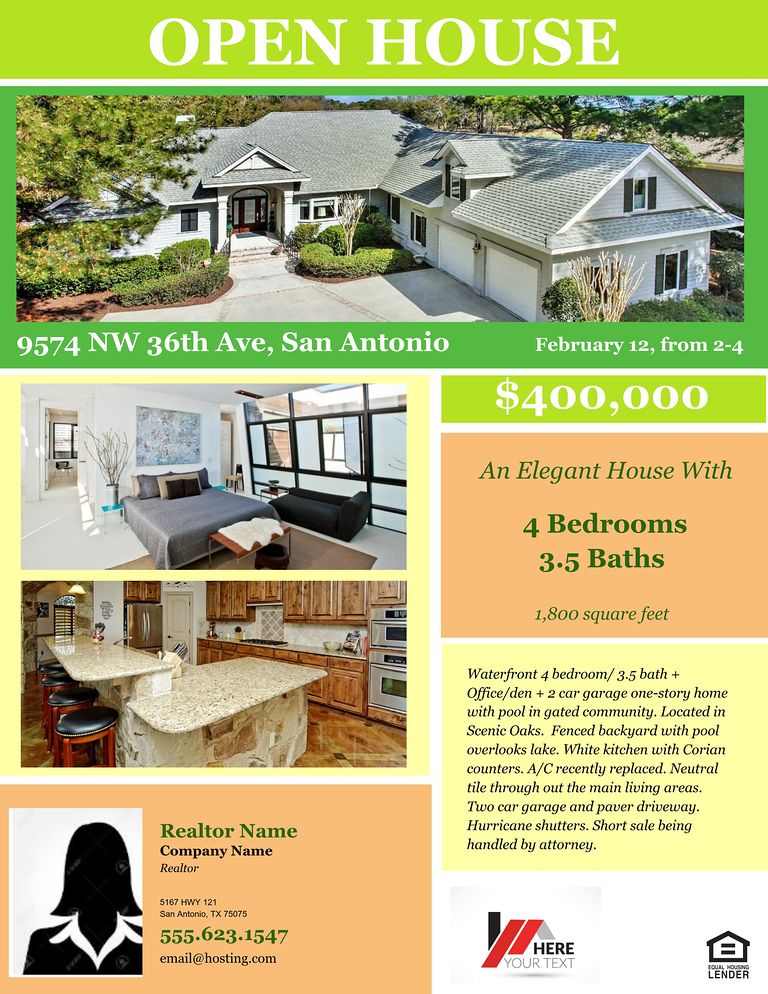 Use your open house invitation to write brief but descriptive information about a few of the most appealing spaces in the home, and then use images to showcase those specific spaces. Focusing prominently on a few particular rooms that are important to buyers will help them get a full picture of the property.
19. Keep It Simple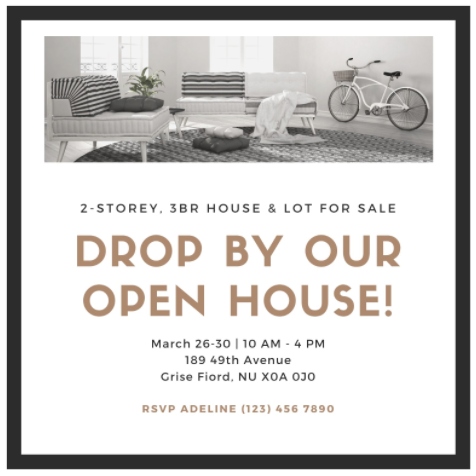 When you don't have time to select multiple images or design a brochure that calls out specific features, it's best to at least produce something simple and professional to advertise the coming open house. The template above provides a very clear example of what this could look like, a clear title and solid image of the property as well as some brief details.
20. Display Perfection (or as Close as You Can Get)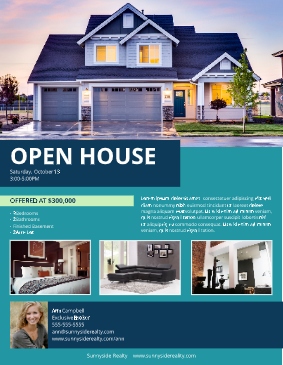 If you're going to take the time and effort to send or deliver open house invitations, make sure that the image portrayed is perfected. In this example, this image was taken at dusk, and the house is maintained well. You can achieve this without professional photography by using image enhancement or virtual staging from a photo editing company like BoxBrownie.
21. When in Doubt, Go Traditional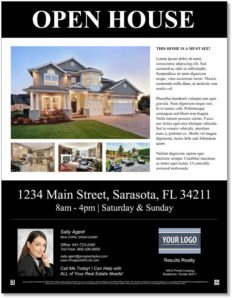 Depending on the property and audience, you may want to stick with classic open house invitation templates that allow you flexibility in images and print but provide a framework that potential buyers would expect. This open house invitation flyer by ProspectsPLUS! allows the agent to customize but provides a classic backdrop that lends authority to the agent and their listings.
22. Treat it Like a Personal Invitation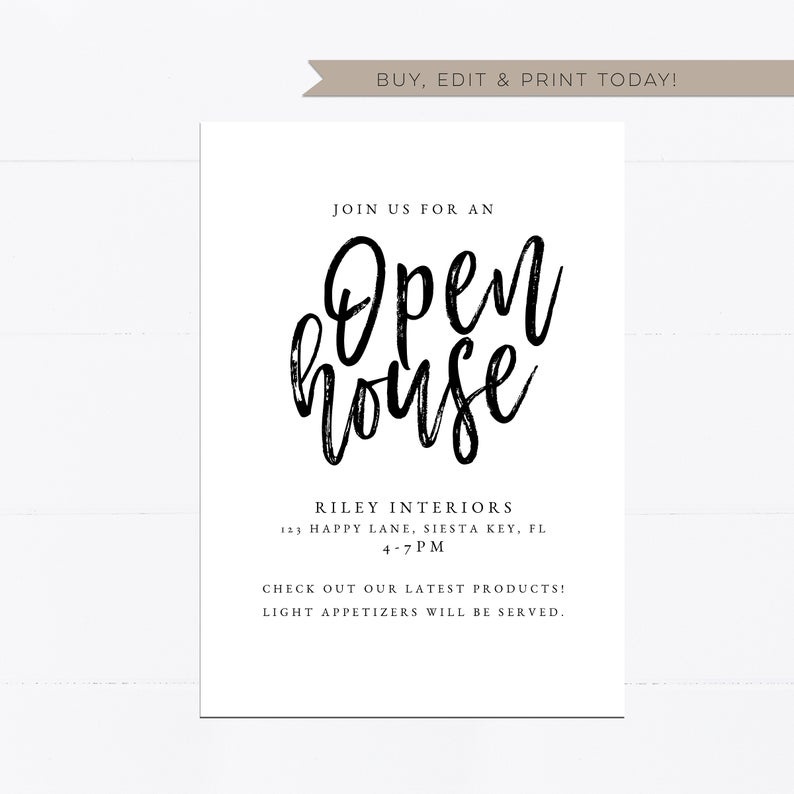 Consider using a template that feels more like a birthday party or personal invitation rather than the typical open house flyer design. This can make invitees feel like they have been personally invited. Plus, the use of this large script font is more likely to grab their attention in a sea of magazines and advertisements.
23. Be an Ideal Host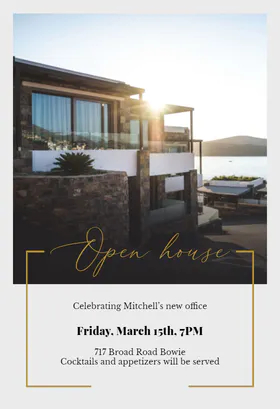 Many homebuyers who attend your open house are looking for a home that offers space and amenities to host dinner parties. By hosting an open house with cocktails and appetizers—and sending this fancy golden invitation—you'll show potential buyers how they could host parties and events in this home. This is a particularly effective strategy if you are targeting a specific type of buyer, but it's most successful if you keep the attention on the home and not on the free drinks.
24. Incorporate Video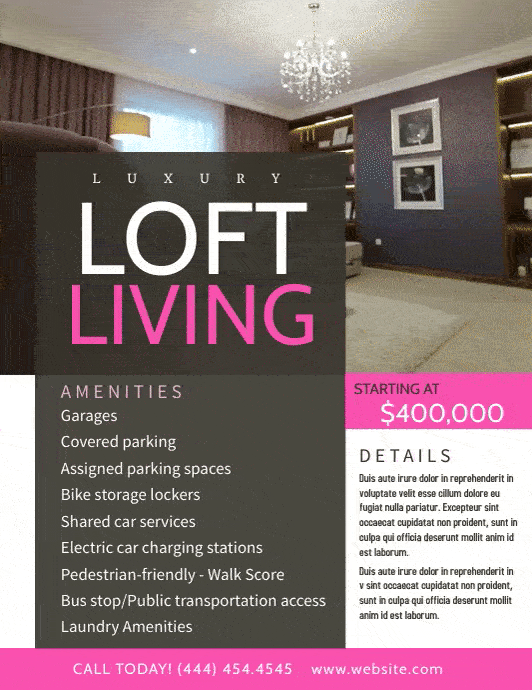 This open house invitation will immediately stand out from the rest because it includes a short video of the property instead of a still image. Of course, this one can only be used online, but it could be promoted on social media, on your website, and through email.
25. Make it Graphic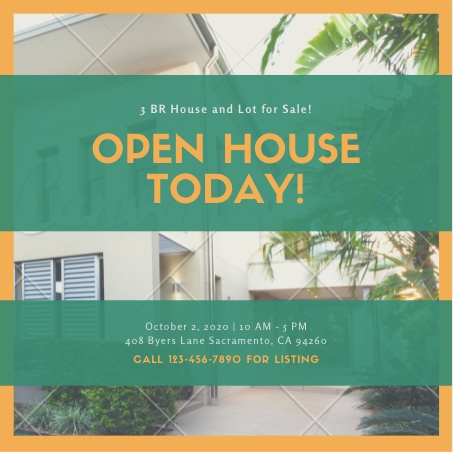 Another way to grab the attention of your invitees is by using graphic shapes and bright colors. This open house template is especially useful if your listing images aren't particularly appealing. It allows you to still show an image of the house without focusing the invitation on the image.
Graphic invitations like this one are also effective to use as you promote your open house online. You can share this image on your social media profiles, in groups, or even run ads to increase views even further.
26. Convey a Sense of Urgency
Creating a sense of urgency around your open house can stir interest more quickly. Many real estate agents will add phrases like "this one won't last long." This template says, "reserve your spot now," which conveys a sense of high demand. This requirement and social media icons on this template make it perfect to use for a virtual open house or for limiting the number of people in the same space while still attracting buyer attention.
Bottom Line
Open house invitation templates should do more than look beautiful. Above anything else, they should allow you to promote the event effectively. Your open house invitation should reflect your unique style and perspective. Choose your open house invitation wisely by considering the property, your real estate marketing strategies, and the potential buyers.