Open house invitations notify prospective buyers of the details of your upcoming open house, clearly display the key features and images of the listing, and bring more individuals to your doorstep. We reviewed the top 25 open house invitation templates to look at what features bring interest and warm leads knocking when the open house arrives.
Here are 25 open house invitation templates, and what features you can replicate in your own:
---
Showing interior as well as exterior images in your
open house
invitation has the potential to draw larger numbers because there is a greater likelihood of showcasing an area of interest. While one potential buyer might be interested in an expansive backyard, another might be drawn in by the large kitchen for entertaining. Mix it up, show off the best features of the property, and grab potential buyers with diverse interests.
If you are the person taking the photography that will be displayed on your flyers, see our article on the top real estate photography tips and mistakes to avoid.
---
Appeal to the hectic life of homebuyers by presenting an open house invitation that makes your listing appear as a retreat. While open house invitation templates can display a variety of images, have your open house invitation present a message of relaxation and escape. The template above from Vistaprint can be completely personalized, and does a wonderful job of showing how you can position your home for sale.
---
By creating a lifestyle in your open house invitation templates, you can prompt the potential buyer to come and feel the possibility of the property. This open house invitation offers an experience, not simply a tour. While properties can be positioned in many ways on the invitation, using an open house template that can convey the lifestyle the property offers can bring clients looking to upgrade their own everyday experience and who might also be open to other properties in your offerings.
---
When individuals are sorting their mail, you have only seconds to capture their attention, and you want to be sure the invitation is clear in what it conveys. Notice that on this real estate postcard, the real estate agent information is the smallest area on the bottom left. This was done intentionally so that the prime area of the postcard is left to capture the recipient with the intended message.
---
Going bold in your color choices helps to grab attention and consideration in a sea of mail that most people receive. This
real estate lead generation
flyer template by ProspectsPLUS! immediately stands out from the white backdrop of most direct mail, and helps to give your open house invitation a second glance by its intended audience.
---
This home looks pristine and welcoming, ready to accommodate a new family with no evidence of the old. When creating your open house invitation templates, be sure that the images you select create an image that helps the potential buyer see themselves in the home. There is little more off-putting to buyers than seeing a home that strongly represents another family or owner.
---
Be sure that whatever feature is best about the home is front and center to interest potential buyers. In the case above, the outdoor entertaining space is stunning, and so highlighting this makes sense to capture buyer interest and present the home in the most favorable light. Notice in this image that the home appears staged in the exterior spaces, which is a smart strategy for highlighting its best use.
---
8. Show Off the Block
If your listing is positioned in a prestigious neighborhood block, be sure to showcase the setting to entice potential buyers with the surroundings. Often homes on well-known streets are hard to come by, and by setting the scene, you allow them to image themselves as part of the community. The template above is customizable, but showcases a lovely setting while not forgetting about the details in the smaller images below.
---
9. Give them Important Information Up Front
Open house invitation templates that offer specific information, such as price, create more targeted attendees. When people know the details of the listing up front, they are far more likely to rule themselves out if they are not a good fit, and so those you do get in attendance will be more likely to fit homes in that price range and who are looking for the particular features you advertise.
The particular home on the template above is advertised at $300,000 and includes a pool as well as five bedrooms. You can expect that visitors who know this information up front are far more likely to want similar features as they are browsing homes, making them a great group to add to your Rolodex moving forward.
---
You can canvas your entire farm area to generate interest with open house invitation postcard templates from ProspectsPLUS! for as little as 17 cents a card, depending on quantity. Just customize online and have the postcard shipped to you, or for an additional fee (depending on quantity), have them direct mail your postcards for you. Customize these image-intensive open house invitation postcards and get the whole neighborhood talking about your listing.
---
Settings like the one above can lure potential buyers without any interior photos at all. If you have a backdrop that highlights a mountain, ocean, beautiful river view or stunning bridges, then flaunt that setting. Potential buyers know that although interiors can be altered, settings are intangible, with values that range far beyond the price of the property itself.
---
Creating a sense of urgency around the great pricing or amenities offered can stir interest. While many real estate agents will add phrases like "this one won't last long," this template uses the "best deal" mock sticker at the top as a nice touch that might bring potential buyers to the open house to learn more. This easy template allows you to add quick content and images, capture attention with color, and create a sense of urgency with your new listing.
---
While this template isn't a specific open house invitation just yet, this template could easily become one replacing "for sale" with "open house." If you know that young families are moving into the area, and have a special home that speaks to that audience, this open house invitation would certainly speak to you. While not all farm areas have such specific populations purchasing homes, many areas or properties might be heavily focused toward one group, making the
real estate marketing
easier and the decision to target that group a no-brainer.
---
14. Underscore Interesting Architecture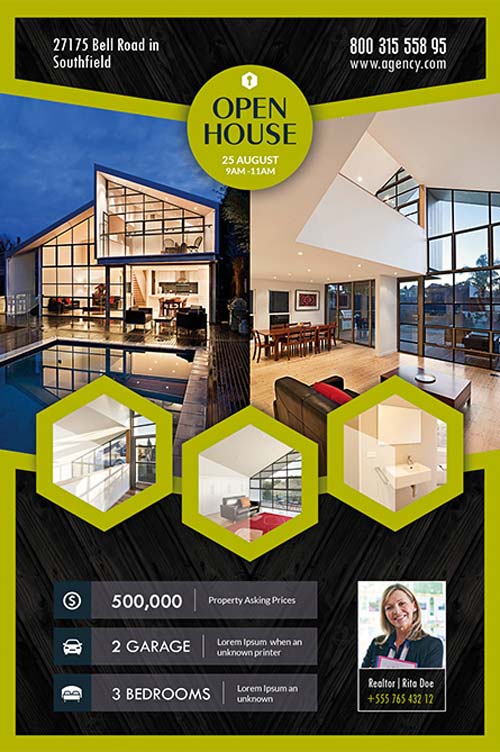 If you are fortunate enough to be marketing a property with stunning architecture, be sure to show it off on your open house invitation. Notice on the flyer template above how even the pull-out graphics are suggestive of the architecture highlighted, with interesting and eye-catching shapes and designs. While not much of the home is given away on these images, open house invitation templates that show a few stunning features can loop in curious homebuyers to learn more.
---
Telling potential clients directly about benefits and features is sometimes necessary, particularly in direct mail where individuals will be reading quickly. In the open house invitation above, we loved that this template pulled out three features about the property, put them in red, and drew the eye directly their way. Underscoring elements like "amazing kitchen" catches attention and is something that could easily be replicated in your own use of open house invitation templates.
---
16. Show the Possibilities of the Home
The approach of showing home possibilities in your open house invitations encourages the visitors to see themselves hosting a similar party, and be more inclined to view the house positively. By hosting the neighborhood for "cocktails, music and mingling," this agent is attempting to illustrate the home's use for entertaining.
---
By defining the home for the flyer recipient as "elegant," this open house invitation helps to create a positive image of the listing before the potential homebuyer ever sets foot on the property. Be sure to use words that help to create an image of the listing for those who attend, so they arrive seeking out confirmation of what you've suggested. Don't be surprised if you notice that those who attend end up using similar words to your flyer to describe the property themselves.
---
18. Make the Dream Attainable
Perfectly position your property as the dream home within their grasp when designing your open house invitation templates. Allowing potential buyers to have an attainable fantasy can be a fantastic strategic approach for the right property. Looking at the template above, you can see how marketing that particular home would be well-served using this approach, and really ties in elements like the outdoor entertaining area, pool, and multiple balconies.
---
Examine the layout, but make it your own. There are many open house invitation templates out there
—
don't be tempted to allow some items to go uncustomized. In the postcard above, it is fairly apparent that you can customize images, headlines and your company information. But further customize by adding your company logo, personal image, or using your own font instead of the standard one provided.
---
Fill your open house invitation with the best images imaginable for the home. In the open house invitation template above, we see that the photographs used capture the home gardens at the peak of full bloom, so much so that you hardly notice the lack of actual home photographs included. There are certain seasons of high rain or barren winter gardens that would have made these images quite different, so make the home as appealing as possible with solid imagery and capturing it at its peak.
If you really want to wow flyer recipients with an expansive property open house, be sure to include drone photography. If you've never used drones before, check out our real estate drone photography and video guide.
---
21. Highlight Rooms of Interest
Prominently displaying rooms that people value most can help bring people to your open house. For example, in the open house invitation above, the kitchen is one of the rooms prominently displayed and appears recently updated. This is a great model to follow when we know that kitchens can make or break the purchase of a home. Find ways of anticipating and alleviating your homebuyer's concerns.
---
When you don't have time to select multiple images or design a brochure that calls out specific features, it's best to at least produce something simple and professional to advertise the coming open house. The template above provides a very clear example of what this could look like, a clear title, a solid image of the property, as well as some brief details.
---
23. Display Perfection (or as close as you can get)
Set the scene of your property open house invitations by making the property appear well-tended and perfectly maintained. In the open house invitation template above, the lawn is trimmed, the lights are at a perfect hue, and the sun is setting in the backdrop. While not all homes are perfect, you want to be sure that the exterior and interior convey a pristine image as much as possible for the listing.
---
Whether urban or rural, showing a bit of the setting that the property gives you access to can be a game-changer. They say, "location, location, location" in real estate because sometimes even when the property isn't perfect, its setting can sell the home. In NYC, for example, some people might prefer a shoebox in Tribeca over a roomier apartment in midtown. If you have wonderful views, and the location is just right, it can be smart to give it more room on your open house invitation than even the property itself.
---
Depending on the property and audience, you may want to stick with classic open house invitation templates that allow you flexibility in images and print, but provide a framework that potential buyers would expect. This open house invitation flyer by ProspectsPLUS! allows the agent to customize, but provides a classic backdrop that lends authority to the agent and their listings.
---
The Bottom Line
Open house invitation templates should not only inspire you, but allow you to customize to your own listing, personality, and farm area. We hope your open house invitation is able to reflect your unique style and perspective, and that you've been able to gain some inspiration from the templates listed above.