ProspectsPLUS! Review: Is It Right for Your Real Estate Business?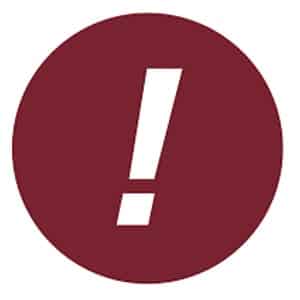 What We Recommend ProspectsPLUS! For
ProspectsPLUS! has the tools available for agents looking to practice real estate farming to generate niche leads. Farming is a real estate strategy to position agents as the go-to representative in a targeted neighborhood utilizing effective marketing. Agents need to be strategic in how they deliver their marketing message and to whom. With ProspectsPLUS!, agents can receive mailing lists and numerous templated direct mailing items, such as postcards, newsletters, and flyers, to help market their services.
Who ProspectsPLUS! Is Good For
Agents who haven't built out their contact lists: New agents who don't have many past customers or enough lead generation traffic to build out their contact lists should use ProspectsPLUS!'s targeted mailing lists to jump-start their marketing efforts. That's why ProspectsPLUS! is one of our top picks for best direct mail services.
Agents looking to establish a niche: With ProspectsPLUS! agents can utilize marketing to reach a diverse group of clients like sales, rentals, and foreclosures, with mailers directed toward a niche audience. For other tips on sending mailers to a niche clientele, look at our top 25 real estate mailer tips and examples.
Salespeople with a limited marketing budget and no access to a marketing team: ProspectsPLUS!'s affordability to launch a campaign allows budget-conscious real estate agents the opportunity to send direct mail. For agents who don't have the resources within their brokerage, this is an easy platform to assist with getting real estate clients.
ProspectsPLUS! Is Not a Good Fit For
Agents who want mailers integrated with their website and landing page lead forms: ProspectsPLUS! doesn't have integrations with outside platforms to pull in leads submitted through a website form. Agents looking for customer relationship management (CRM) and email integrations should consider Postal.io or look through our list of the best lead generation platforms, especially for targeting a specific prospective lead type.
Reaching a demographic highly influenced by social media: Although direct mail is still effective, ProspectsPLUS! doesn't leverage social media to increase the impact of their product. PostcardMania provides both online and offline marketing to connect postcards with matching Google, Instagram, and Facebook real estate leads.
Targeting commercial real estate or investor-owned properties: The mailing lists on ProspectsPLUS! may not fully target the key decision-makers for commercial or investment properties given the available filters. Although ProspectsPLUS! has some templates with appropriate language to market to this lead type, an agent's effort and budget could be utilized better by connecting with other lead sources specializing in commercial real estate business like PropertyRadar.
ProspectsPLUS! Overview
PROS

CONS

Affordability for low quantity of mailers
Lack of digital marketing tools
Variety of templates to keep content engaging
Requires recipient to initiate communication
Prospect for buyer, sellers, and renter leads
Limited custom design capabilities
Verified mailing list for accurate addresses
Not mobile-friendly for on-the-go mailing
Free ground shipping on orders over $49
No bundled pricing across different products
ProspectsPLUS! Pricing
The multiple product offerings with ProspectsPLUS! have their own pricing structures. Postcards and postcard campaigns are the primary marketing tool, but agents can create door hangers, folders, and newsletters to market their services. Each product can be combined with the mailing lists add-on, which charges by the number of records.
We've listed pricing by product, however, within each category, there are a variety of tiers based on desired physical product size and paper materials.
| Product | Postcards | Flyers & Newsletters | Brochure & Magazine |
| --- | --- | --- | --- |
| Who the Product Is Best for | Agents with limited budgets or just starting farming marketing efforts | Agents who have experience prospecting and can field client questions resulting from mailer content | Agents with more marketing messaging and content to provide to their clients |
| Mailed First Class Postage | 73 cents each | $1.90 each | $2.83 each |
| Mailed Standard Class Postage | 88 cents each | $1.70 each | $2.67 each |
| Every Door Direct Mail (EDDM) Full Service | 82 cents each | N/A | N/A |
| EDDM Doesn't Include Postage | 61 cents each | N/A | N/A |
| Shipped to You | 37 cents each | 64 cents each | 93 cents each |
| Dominator Magazine | N/A | N/A | $2.61 each |
ProspectsPLUS! is currently offering the best value guarantee, where it'll refund a real estate agent the difference in cost if an agent finds an alternative product that costs more than 10% less than its products.
ProspectsPLUS! Add-ons
Business cards: Upload your own art or create business cards using their templates. Cost starts at $30 for 250 cards.
Door hangers: Printed on 100# Gloss Cover cardstock, and includes doorknob cutout, protective ultraviolet (UV) coating, and bottom tear-off perforation. Cost starts at 58 cents each.
Folders: Printed on 100# Gloss Cover cardstock. Single-sided printing starts at $3.06 per folder.
Notecards: Premium bifold notecard pricing starts at 92 cents each.
For more information on ProspectsPLUS!'s product offerings, choose from the drop-down menu below:
Postcards
Sending postcards with ProspectsPLUS! includes over 80 categories of postcards with themes varying from holidays to recruiting to listings. It provides the capabilities to select artwork geared toward target audiences, such as sellers, buyers, expired listings, and niche markets. Within each category, there are multiple design options to choose from to keep mailers interesting and new to the recipient.
Agents can choose from the following postcard sizes if it's available for the selected template:
Standard: 5.5 x 4.25 inches
Jumbo: 8.5 x 5.5 inches
Mega: 11 x 8.5 inches
Panoramic: 11 x 5.5 inches
Super-Mega: 15 x 12 inches
Agents may also upload their own custom artwork through the postcard portal. Once a postcard is selected, agents can choose a shipping option, paper option, and may upload their own mailing list or purchase one through ProspectsPLUS!.
Flyers & Newsletters
Creating flyers and newsletters on the ProspectsPLUS! website is similar to creating a postcard. Choose from multiple categories and designs to create your mailer. The templates are pre-filled with real estate content as well as other sections, like community news, recipe ideas, and gardening tips. Agents can use the already created content or fill in their own to cater to their clients.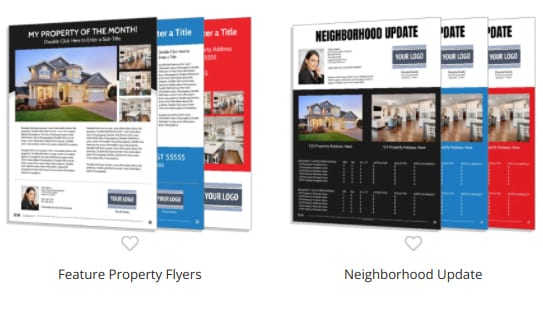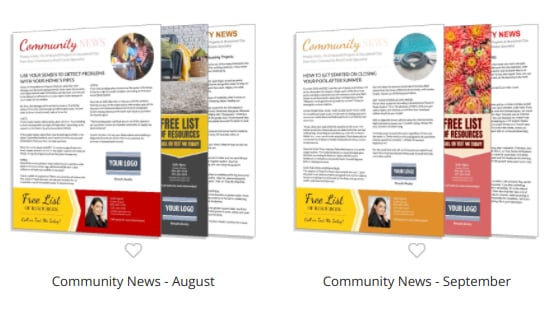 Example flyers and monthly newsletters (Source: ProspectsPLUS!)
Flyer and newsletter sizes and paper options will reflect in the costs of the mailer. The options to choose from are:
Flyer Sizes

Newsletter

Mega ( 11" x 8.5" )
Super-Mega ( 15" x 12" )
100# Gloss Text Single-Sided
100# Gloss Text Double-Sided
100# Gloss Cover Single-Sided
100# Gloss Cover Double-Sided
Digital Download
Magnetic Vinyl

100# Gloss Text Single-Sided
Magnetic Vinyl
Digital Download
Brochure & Magazines
Brochures come in bifold or trifold options. Similar to flyers and newsletters, brochure templates come pre-filled unless agents choose to upload custom art or make edits to a template. Template categories include for sale by owner, objection handling, neighborhood specialist, and commercial.
Brochures come in the following sizes:
Mailed Bifold: 8.5 x 11 inches
Mailed Trifold: 10.5 x 15 inches
Mailed Bifold: 11 x 17 inches
Bifold: 17 x 11 inches – 100# Gloss Cover Double-Sided
The MarketDominator is a giant custom postcard designed as a magazine and can be sent out to a specified route using USPS EDDM. The postcard is connected to an online digital magazine pre-set with already created content. Agents who decide to commit to MarketDominator are assigned a dedicated team member to help execute your mailer every month.
ProspectsPLUS! Features
Direct mail marketing has an extremely high return on investment (ROI), making it the third most effective marketing platform primarily due to its low cost and high effectiveness. If done correctly, the benefits of prospecting for clients using ProspectsPLUS! campaigns outweigh the current digital marketing world, given that direct mail has a response rate of up to 5.3% compared to email marketing's response rate of .06%.
Other included features like an ROI calculator and training videos provided by ProspectsPLUS! contribute to growing an agent's real estate business in addition to prospecting for leads through direct mail.
Key features to support mailers to farm for prospective leads:
General Features
Postcard campaigns
Targeted mailing lists
EDDM
Live training
Calculators
Business plan
Real estate marketing planner
The key to direct mail is repetition and ProspectsPLUS! provides the ability to schedule continuous pre-scheduled mailers. Postcard campaigns are sent automatically at selected intervals to increase the likelihood that you'll catch potential clients at the right moment and keep you top of mind for real estate services. Real estate agents can also access resources, such as marketing plans and business plans, to support overall agent growth.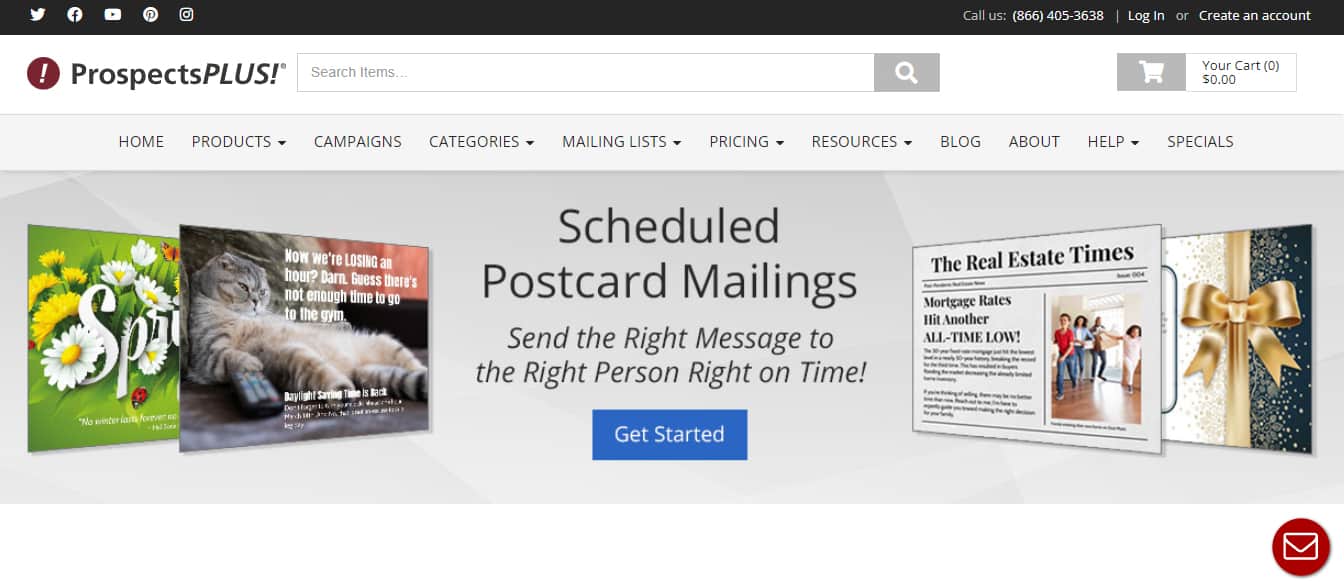 Postcard Campaigns
Postcard campaigns combine high response rates and creativity while also being budget-friendly. Although this method may seem a bit archaic in a modern digital world, approximately 67% of people believe mail is more personal than digital space. This makes a regularly scheduled direct mail campaign quite effective.
Whether you'd like a specific number of emails or phone calls generated from this form of marketing, this information should help you generate the marketing messaging for the campaigns to direct a call to action from your postcard recipient. ProspectsPLUS! has pre-set postcard campaigns that optimize the targeted audience.
The just sold campaign consists of 12 postcards sent in monthly intervals, spanning an entire year to prospect new sales listings. Possible mailing list from ProspectsPLUS! to target for listings would be its Fence Sitters list containing homeowners who have owned their home for over nine (9) years.
Postcard messaging for just sold campaigns have the following messages:
Amazing Opportunities Don't Last
Buyer Desire Is High
Buyers Want Your Home
Demand For Homes
Hungry Buyer
Opportunity Is Knocking
---
Targeted Mailing Lists
A targeted mailing list will narrow down contacts that fall into specific criteria to be a representation of your ideal client and allow you to cater a specific marketing message to them. ProspectsPLUS! provides three mailing list options:
MapMyMail: Over 128 million mailable addresses. Agents can easily draw an area on a map and the list will identify the addresses you can mail to within the selected area. The list will also remove any vacant or "do not mail" addresses.
Demographic mailing list: Allows agents to select recipients based on key indicators like income, age, homeowners looking to upgrade or downgrade their homes, and long-term homeowners.
A lifestyle and interest mailing list: Indicates potential clients with a personal interest that may include exercising, aviation, arts, or home improvement, to name a few.
Once a ProspectsPLUS! mailing list is purchased, it becomes available to easily select while creating a postcard campaign. A highly-targeted mailing list will help agents establish relationships with clients, increase customer loyalty and receive better conversions and higher ROI.
---
Every Door Direct Mail
Every Door Direct Mail (EDDM) is a program led by the U.S. Postal Service through the ProspectsPLUS! platform. ProspectsPLUS! has two EDDM options. One is full service which will mail the materials on your behalf and the other which does not include postage. It helps businesses market to every home in the neighborhood without a specific target list. The service comes with a discounted rate of $0.20 per mailer compared to regular postage for postcards starting at $0.35, and they deliver direct mail along a specific mailing route.
The service is beneficial because agents can focus on content. They can dedicate more time in creating the marketing material, and focus less on the distribution of them. With distribution covered, real estate agents can spend more time connecting with prospective clients and scheduling listing meetings than curating a targeted mailing list.
---
Live Training
Live training gives users of ProspectsPLUS! the support to use their products and increase lead generation successfully. Knowledge of best marketing practices increases an agent's confidence in sending direct mail to their sphere of influence (SOI), especially if employing a new marketing strategy. ProspectsPLUS! hosts live daily training sessions on Monday to Friday. Training topics vary from using your SOI, connecting your messaging to your market, and keeping relevant with your SOI.
---
Return On Investment & Sphere Of Influence Calculators
Using ProspectsPLUS!, the return on investment (ROI) evaluates the cost of producing the direct mail and the results an agent may see from executing the mailers. Having a good understanding of your ROI can help determine if you continue your efforts, change marketing tactics, or pivot your focus on other lead generation options. The ROI calculator shows how much you'll need to spend on postcards and how much additional revenue was generated with the campaigns.
The SOI calculator indicates how many people you need in your sphere to achieve your financial goals. Since 66% of your business will come from the people you know, it's important to leverage your SOI to gain new clientele and referrals. It not only helps you create engagement with the people around you, but it also incentivizes them to become a promoter for your services.
---
Business Plan
A business plan is essential to growing a successful real estate business. The free interactive business plan from ProspectsPLUS! will help you set yourself up for long-term success. The plan helps agents identify their annual income goals. It also allows them to work backwards to show how many closings, sales listing, and new listing appointments are required to meet that income goal. Just having a written business plan will increase your chance of success by at least 12%.
---
Real Estate Marketing Planner
ProspectsPLUS!'s real estate marketing planner is another free resource provided to help guide your marketing efforts through a twelve-month period. It highlights what actions to take throughout the year and suggests weekly tasks to maximize their direct mail campaigns.
The planner helps agents stay organized and focused. It provides guidance on action items to prospect for new business. For each week of the month, the free marketing planner identifies what postcard campaign should be sent, who you should call in your sphere of influence, and which contacts you should see.
The planner also includes customer relationship management (CRM) action items to remind agents to add contacts to their lists. These actions items are important—helping agents set goals and time frames for your marketing activities. It's the ultimate blueprint for how you will execute marketing to grow your business and keep agents accountable.
---
Consumer Reports
ProspectsPLUS! provides a number of consumer reports that you can use to send to clients or leave as marketing collateral after listing appointments and open houses. These reports provide tips and strategies to help agents create brand awareness for the specific targeted audience. Some of the consumer reports also include free postcard templates. Topics include mortgages, first aid, and cash buyer checklists.
The BusinessBASE System will give you pointers on prospecting using 3-7-27 Law of Prospecting so you can make a plan and start your lead generation journey. The system is meant to leverage your sphere of influence and selected farm areas by creating consistent contact with prospective clients every 30 to 40 days. These free materials are not only beneficial to building your business, but also provide you with educational material for your clients.
---
Ease of Use
With the variety of products and templates available, creating mailers on the ProspectsPLUS! website is simple and easy to navigate. Once a mailing list is defined, campaigns can be sent and scheduled immediately or for a later date. Additionally, they don't charge for costs of mailers until they're sent out, allowing agents to manage marketing expenses accordingly.
With live support, videos, and customer service representatives, real estate agents can receive the support needed to be successful. However, the customization ability is lacking on the ProspectsPLUS! website as you'll have to upload your own artwork entirely and cannot make major changes to an already created template outside of changing the text.
ProspectsPLUS! Alternatives
Best for: Real estate farming using a predictive algorithm

Best for: Connecting direct mailing with digital and social platforms

Best for: Combining lead generation and direct mail strategy

Key Features:

Data-backed predictive seller leads
Landing pages converting visitors to leads
Reach150, its online reputations and referral marketing tool, drives referrals and reviews for business

Key Features:

Social media ads matching postcard messaging
Application programming interface (API) connections to automate mailers
Website visitor retargeting with direct mail

Key Features:

Provides lead generation advertising on social and website platforms
Available CRM connects to mailing lists
Assigned regional account manager

Starting price: Depends on targeted area

Starting price: 12 cents for low volume postcards

Starting price: $269/month
What Users Think of ProspectsPLUS!
Clients of ProspectsPLUS! were satisfied with the website's user-friendly interface. The delivery time of the projects was quick and of high professional quality. Clients who needed to reach out to support received excellent customer service. Representatives went beyond to ensure the end product would be effective without any design errors.
In one ProspectsPLUS! review, a client mentioned the conversion rates of her postcard campaign were low in the targeted mailing area. Another client mentioned the lack of ability to filter the mailing list prior to purchasing the contacts. Some mentioned there were smudges on their mailers due to the machinery required to process the postcards. For agents looking to have more control of the mailing lists, you may want to consider using Wise Pelican's list builder.
Bottom Line
Sending direct mailers with ProspectsPLUS! to farm targeted areas is an effective way to obtain new clients and sales listings. With the ability to be specific about the slogans, design, and locations, ProspectsPLUS! is a great way for agents to increase their opportunities, build a client base, and nurture their current clients. Direct mailers, in conjunction with digital marketing strategies, will maximize prospecting opportunities and set agents up for a successful real estate career.