6 Best Real Estate Direct Mail Services in 2023
The best real estate direct mail companies provide agents and brokerages with design, print, and mail services to send marketing materials to potential and current clients. These companies offer a range of items like letters, flyers, newsletters, catalogs, postcards, and packages that build brand awareness and generate leads for your real estate business.
We've reviewed dozens of print products and service providers to identify the six best direct mail companies for real estate:
Best Real Estate Direct Mail Services at a Glance
Companies

Pricing Starts At:*

Custom Design

Delivery Options

Customer Support

Postcards: 30 cents

Flyer: 35 cents to $19.95

Brochure: 62 cents to $9.43

✓

Overnight
First class
Standard
EDDM

Phone, live chat, and email

Postcards: 2 cents

Flyer: 2 cents to $2.90

Brochure: 4 cents to $12.35

✓

With fee

Overnight
First class
Standard
EDDM

Phone, email, and live chat

Postcards: 10 cents

Flyer: 2 cents to $2.90

Brochure: 11 cents to $2.04

✓

With fee

Phone, email, and live chat

Postcards: 27 cents

Flyer: 49 cents to $2.31

Brochure: 44 cents to $2.66

✓

With fee

Overnight
First class
Standard
EDDM

Phone and email

Postcards: 3 cents to $1.72

Flyer: 3 cents to $3.83

Brochure: 2 cents to $6.05

✓

With fee

Overnight
First class
Standard
EDDM

Phone and email

Postcards: 5 cents to 35 cents

Flyer: 13 cents to 20 cents

Brochure: 12 cents to 20 cents

✓

With fee

Phone, email, text, and live chat
*Prices are approximate; exact pricing depends on customizations, such as size, design, paper stock, finishes, and amount of product purchased.

Using real estate direct mail services as a lead generation tool can save you time, money, and effort by providing ready-made templates or professional design services and mail options to ensure your mail is delivered. Take our quiz below to determine the best real estate direct mail service that fits your needs.

Which Real Estate Direct Mail Service Is Best for You?
ProspectsPlus!: Best for Farm Area Expertise
Pros
Specify a market by niche, geography, lifestyle, and property type
Done-for-you campaigns
BusinessBase system for building a book of business
Cons
Limited cardstock options for door hangers, notecards, and business cards
Outdated design interface
Added fees for carrier routes in full-service shipments
ProspectsPLUS! is one of the few direct mail marketing services exclusively for real estate professionals, with the widest variety of real estate-specific options and support. It includes tools to help real estate agents grow their businesses, such as training videos, podcasts, a business plan template, and a marketing planner. Customers can choose a target market by geography, lifestyle, demographics, or stage of the buying/selling process.
We chose ProspectsPLUS! as the all-time best real estate postcard mailing service with its exclusive Market Dominator program that automatically sends direct mail to your farm area every month. All you have to do is mail its premade content or customize it to match your niche's interest, brand, or property type.
ProspectsPLUS! lets you purchase mailing lists according to geography, demographics, or lifestyle. It also offers Every Door Direct Mail (EDDM) services, a targeted advertising strategy to promote your business to a chosen community. ProspectsPLUS! has hundreds of templates, or you can make your own custom designs. Either way, you can design postcards that draw prospects to your website to learn more.
Choose from a broad range of postcards, flyers, brochures, door hangers, and newsletters. Create niche campaigns for your sphere of influence (SOI) and send postcards with recipes, jokes, content cards, and real estate information. To target a home's selling type, specify for sale by owner (FSBO), expired listings, and absentee owners.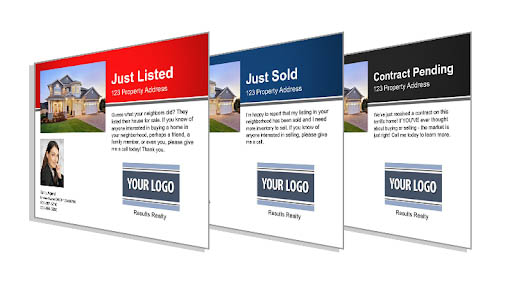 ---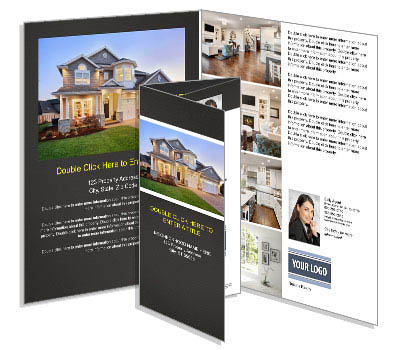 ---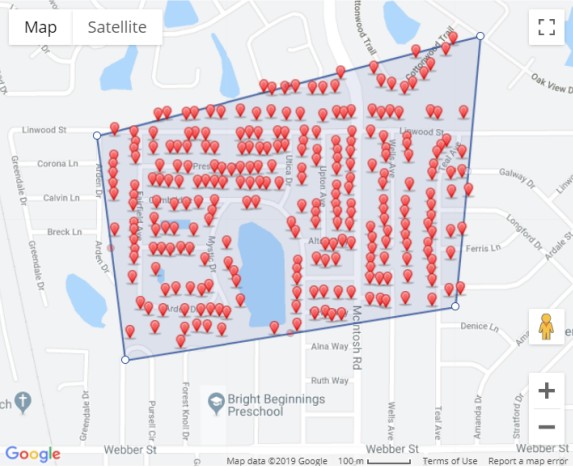 ---
Additional ProspectsPLUS! Features
Automated postcard campaigns: Offers eight campaigns to target different spheres and keep you top of mind.
MapMyMail list builder: Helps you choose your farming territory by entering a starting address and specifying the radius you want to cover.
Premade mailer templates: Let you choose topics, such as Do It Yourself (DIY), absentee owners, or niche, and input your information into a predesigned template.
EDDM shipping: Every Door Direct Mail helps your mail get into every door in your market with your custom message.
Comprehensive training: Includes a video library, podcasts, blog posts, and occasional live webinars.
Market Dominator: Monthly marketing program spanning a year. It bypasses spam filters and defines you as the neighborhood expert.
ProspectsPLUS! Products
ProspectsPlus! offers every print mail marketing tool you need to stay in touch with your prospects. Products come in different sizes with various topics. It's easy—simply choose what content you want to send and to whom. Here is a sample of some of the products you can send:
Postcards
Campaigns
Brochures
Door hangers
Flyers
Magazines
Newsletters
Notecards
Business cards
Gift cards
Folders
ProspectsPLUS! Shipping Options
ProspectsPlus! provides overnight, EDDM, standard, and first-class shipping, making it easy to schedule when your direct mail is received. When projecting delivery dates, check with customer service to determine the shipping date since some reviews mentioned the shipping took longer than anticipated.
ProspectsPLUS! Pricing
Postcards: Starting at 30 cents
Greeting cards: Starting at $1.20
Market Dominator: Starting at 99 cents
Flyers and newsletters: Starting at 35 cents
Brochures: Starting at 62 cents
Magazines: Starting at 89 cents
Business cards: Starting at $35 for 250 cards
Door hangers: Starting at 29 cents
Notecards: Starting at 80 cents
Presentation folders: Starting at $3.44 for 100-plus
ProspectsPLUS! pricing begins at just 9 cents per item and goes up to $19.95 per item, depending on the quantity, quality, shipping speed, and type of direct mail products you choose. The more you buy, the lower the price per item.
ProspectsPLUS! Reviews
ProspectsPLUS! has one of the highest reviews, 4.74 out of 5, based on 3,458 reviews. It receives rave reviews for its premade templates that make it easy to choose, design, schedule, and send postcards without needing to customize them. Reviewers also love the convenience of establishing recurring campaigns. Customer service received positive reviews for their timely replies and troubleshooting support.
ProspectsPlus! has some negative reviews for the quality of the paper, and the website seems outdated and challenging to navigate. A few reviewers state that the ink ran and messed up the lettering on some of their postcards. If you want real estate direct marketing services that offer custom paper finishes, consider PsPrint, which offers specialty finishes like foil stamping and die-cuts.
UPrinting: Best Every Day Direct Mail (EDDM) Services
Pros
User-friendly editor
EDDM templates and process
Free sample kit to preview its quality
Cons
No real estate-specific templates
High shipping costs
Pricier than some of the alternatives
UPrinting offers a wide range of printing services, including customizable postcards, flyers, brochures, and business cards for businesses of all sizes. It delivers thousands of on-demand graphic and custom printing orders using high-quality press printing and an easy-to-use online ordering system, resulting in high-end printing services. Printing services include standard and custom designs, thick cardstock, specialty paper coating options, and die-cut cards to add pizazz to your mailers.
UPrinting uses EDDM to deliver your mailers to your chosen territory. It can send postcards and brochures directly to your customers' homes and handle the printing, addressing, and USPS drop-off. These options ensure your mailers get in every door in your territory so you don't miss out on connecting with a single prospect. Its direct mailing process makes it the best real estate postcard mailing service for its EDDM.
UPrinting's EDDM capabilities place it among the best real estate mailing services. EDDM campaigns include free mailer templates, setup, and review to ensure your mailers print correctly. Download EDDM-specific templates and edit them in your graphic design software. UPrinting's USPS mapping tool lets real estate agents define their territories so as not to waste time digging up addresses.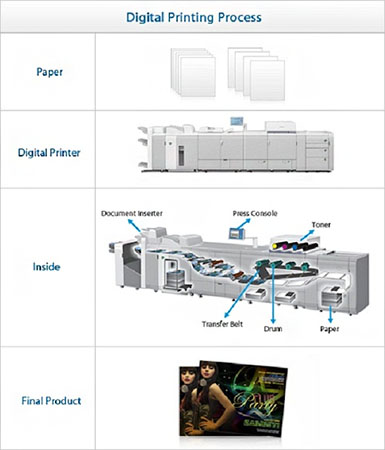 ---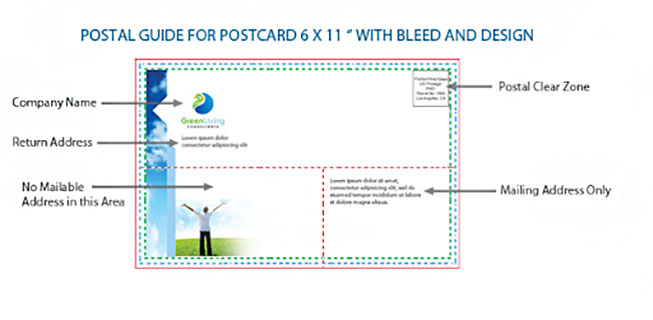 ---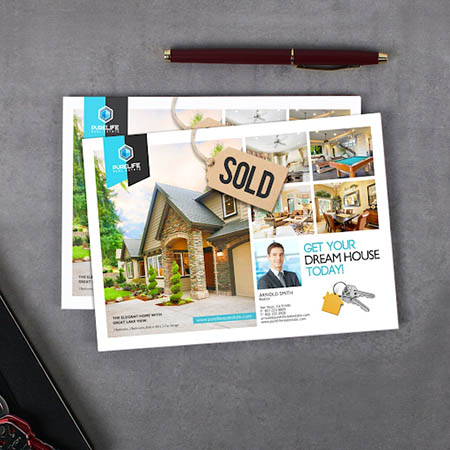 ---
Additional UPrinting Features
Specialty features: Die-cut, foil, metallic, raised spot UV, silk, painted edge, plastic, and velvet postcards and business cards.
Mini and pocket brochures: Four panels, 10″x4″ folded to 2.5″x4″ size, premium gloss or matte paper.
Car magnets: Durable 30 pt. magnet, weather resistant, standard and custom sizes.
Promotional products: Pens, face masks, golf balls, blankets, totes, apparel, drinkware, health and wellness, technology, and outdoor and leisure.
UPrinting Products
UPrinting has numerous promotional and direct mail products, including business cards, real estate newsletters, brochures, catalogs, magnets, and direct mail postcards from which to choose, making it a one-stop shop for your real estate marketing and direct mailing needs.
Booklets
Brochures
Door hangers
Flyers
Mini brochures
Newsletters
Pamphlets
Sales sheets
Table tents
Business cards
Stationery
Folders
Rack cards
Postcards
UPrinting Shipping Options
UPrinting offers standard, overnight, first-class, and EDDM. With EDDM, you can reach a targeted group of leads most likely to use your business. It automatically adds EDDM indicia marks, so you don't have to add individual postage stamps.
UPrinting Pricing
The UPrinting pricing model is per item, size, quantity, quality, and style. It doesn't include shipping and handling. We've shared the base pricing on the marketing materials commonly used by real estate agents. This pricing structure allows you to choose the number of items you wish to send. UPrinting requires a minimum of 250 postcards.
Brochures: Starting at 4 cents each
Postcards: Starting at 2 cents each
Door hangers: Starting at 4 cents each
Flyers and newsletters: Starting at 4 cents each
Business cards: Starting at 4 cents each
UPrinting per item pricing ranges from 2 cents to $8.39. The higher-end pricing reflects products, such as t-shirts and other custom apparel, which typically isn't via direct mail, but these items make great gifts with your custom branding.
UPrinting Reviews
We like UPrinting's exceptional EDDM and the quality of unique features to add to your mailers. It has a rating of 3.3 out of 5 stars based on 875 Facebook reviews. Positive reviews state they were pleased with the printing quality and how quickly items were delivered. Some say that the previews of their designs were identical to what they received in hand.
Some UPrinting negative reviews report that the orders were left outdoors in inclement weather and that customer service is unhelpful. Another dissatisfied reviewer states that the shipping charges cost half the order price. A few reviewers are unhappy with the time between the order and delivery. If you prefer overnight shipping with highly rated customer service, check out ProspectsPLUS!, which received excellent reviews for both features.
VistaPrint: Best for the Widest Variety of Marketing Materials
Pros
Quality design tools
Widest variety of materials
Reasonable prices
Quick response (QR) code generator
New Vista plus Wix website option
Cons
Real estate direct mail services are limited to postcards
Lower quality templates
Customer service needs improvement
VistaPrint offers direct mail marketing products, like brochures, postcards, business cards, signs, and a plethora of promotional materials, to market your brand and attract new leads. Its wide array of products gives agents everything they need to market their brand and attract new buyers and sellers.
VistaPrint has one of the best real estate direct mail campaign options due to its vast offerings. It has real estate products and other products that can be formatted for your real estate needs, so there's no limit on what to create to grow your brand. Although its direct mail services are limited to postcards, and it doesn't offer overnight or EDDM shipping, it still is a top contender with its reasonable costs and easy-to-use design tools.
VistaPrint has more product types than we can list, from postcards to promotional items, home decor, and apparel, so it's a great option for one-stop shopping for busy real estate agents. Its newest features enter the digital realm with custom Wix websites, digital business cards, promotional USB drives, social media templates, and custom domains.
It offers design services with a professional designer, or you can choose among dozens of templates or create your custom designs. The do-it-yourself VistaPrint Studio is easy to use. Once you've chosen a design or uploaded yours, its intuitive design tool lets you edit text fields, add or change images, include QR codes, and change template colors. It also has a live chat if you get stuck.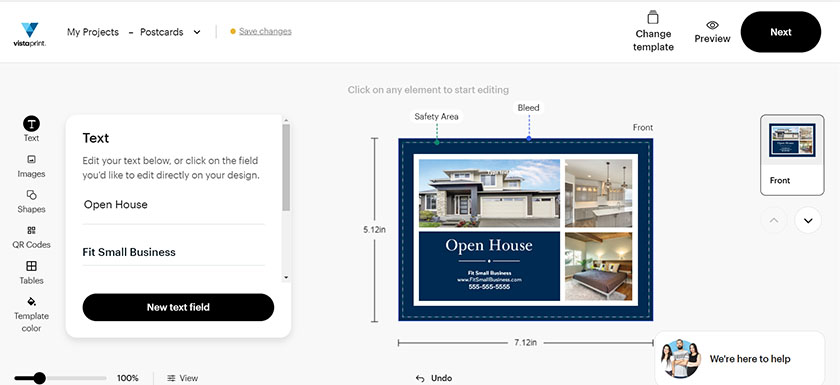 ---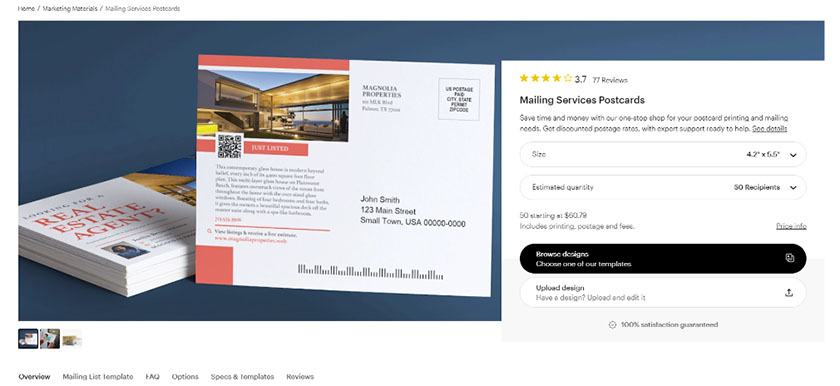 ---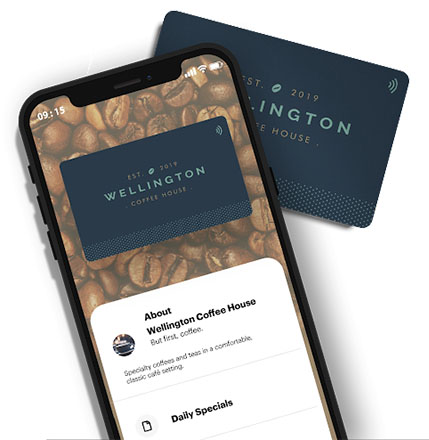 ---
Additional VistaPrint Features
Free business sample kit: Includes postcards, brochures, door hangers, rack cards, business cards, roll labels, and a presentation folder.
Professional design services: Choose a product, create a brief, connect and work with a VistaPrint designer, and use VistaPrint services to print and mail the finished product.
Digital marketing: Wix website builder, free domain, and search engine listing manager.
Postcard mailing services: Design your postcard, upload your mailing list, and VistaPrint does the rest.
VistaConnect NFC business cards: Plastic cards with NFC chips direct customers to your chosen online content. NFC service is free.
VistaPrint Products
It bears repeating that VistaPrint has more products than we can list, so you'll be able to create a marketing campaign with multiple prospect touchpoints, which leads to more referrals and sales. Take some time browsing the VistaPrint website, and you'll quickly fill your shopping cart with everything you need to promote your business. Here is just a sample of some of the cool things you can buy for your real estate business:
Car door magnets
Car door decals
Bookmarks
Stickers
Notebooks
Mugs
Custom Post-it notes
Ballpoint pens
Keychain can openers
Magnetic clips
Paper coasters
Stamps and ink
VistaPrint Shipping Options
VistaPrint offers three shipping options, including Standard (eight business days), Priority (six business days), and its fastest speed, Express (three to four business days). All items ship to one location except for its postcard mailing service, where you upload your mailing list after you design your postcards, and VistaPrint will send your mailers to your list.
VistaPrint Pricing
VistaPrint pricing depends on the products you buy. It can range from 2 cents to $5.55 per item, depending on the quantity and quality. These prices do not include shipping. Pricing is slightly higher than some other services, but it's not unreasonable.
100 postcards: Starting at $27
100 brochures: Starting at $105
100 flyer templates: Starting at $18.60
100 business cards: Starting at $18
100 door hangers: Starting at $50.70
Postcard direct mailing services: Starting at $88.54 for 100 pieces, and includes printing, postage, and fees
VistaPrint has so many products from which to choose, so we provide pricing based on the products real estate agents use most frequently. We've chosen 100 per item. Not all items need to be purchased in this quantity. The quantity depends on the type of item and required minimums.
VistaPrint Reviews
VistaPrint received a score of 3.39 out of 5 based on 426 reviews with its wide range of direct mailing products and reasonable prices. Positive VistaPrint reviewers love how easy the web interface is to use. They also like the variety of products they can use for their businesses. One reviewer said she liked that she could save her designs on the platform, making it easy to reorder as needed.
Some VistaPrint negative reviews spoke of disappointment with customer service. A few reviewers said they didn't appreciate predatory upselling tactics. Others wished they had more real estate mailing services besides postcards. If you want a variety of direct mailing service options, look at UPrinting, which offers standard, overnight, first class, and EDDM.
Modern Postcard: Best Direct Mail Services for Multi-location Brokerages
Pros
Custom direct mail services
Extensive design and marketing options
Email and SMS text marketing integration
Cons
No option to do it yourself
No real estate-specific templates
Expensive for agents with a small budget
Modern Postcard offers design, printing, and mailing for multi-location or multi-agent real estate offices. It also offers digital marketing to complement your real estate direct mail campaigns to get your brand in front of as many eyes as possible.
We chose it as one of the best real estate mailer companies due to its excellent quality mailers and expert designers, despite its higher prices and complexity of services. Multi-location and multi-agent offices can save time by having their direct mail created and sent on their behalf. Plus, it puts you in contact with the professionals you need to design the campaigns you want.
Modern Postcard has professional designers and marketers to assist you in your direct mail campaign. Its team follows best practices for print mailing, from your call to action to choosing fonts and designs that match your audience. These done-for-you services are excellent if you're not tech-savvy.
If you enjoy doing it yourself, it offers tools to help you create effective campaign briefs, like a live direct mail crash course, a free marketing guide, and customer support available by phone or e-mail. It can combine digital marketing services with your direct mailing campaign to keep you in front of your target audience.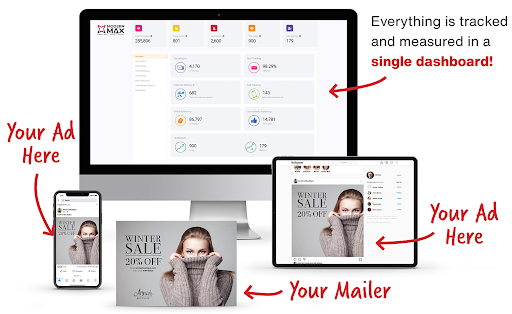 ---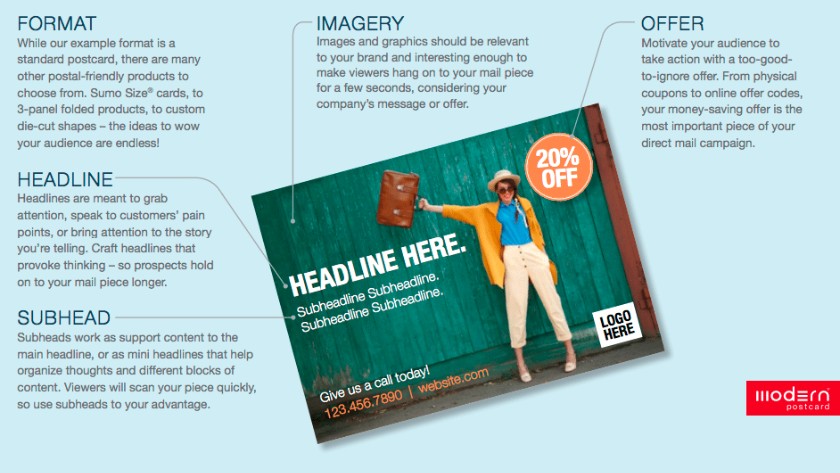 ---

---
Additional Modern Postcard Features
Modern MAX: Integrates direct mail, mail tracking, Informed Delivery e-mail, Google retargeting ads, social media ads, and social match.
Marketing consultation: Seasoned experts lead you through the process of a successful direct mail campaign while tracking, evaluating, and making recommendations to improve the process.
Design services: Provide your ideas or use a free ready-made template, and the Modern Postcard team will turn it into a professional-looking, high-impact, high-quality piece.
Digital marketing: Offers website retargeting, e-mail marketing, digital display advertising, addressable geofencing, mobile, and SMS advertising.
Knowledge base and education: Includes templates with instructions, crash course seminars, videos, tips, webinars, frequently asked questions (FAQs), consultancy, and chat.
Modern Postcard Products
In addition to postcards, Modern Postcard provides flat cards, folded cards, booklets, and business stationery. Within these four categories are various options from which to choose. It also offers options to customize your designs. Use these items at events, open houses, in the office, and in your daily work to communicate efficiently within your sphere.
Flat cards: Include postcards, square cards, rack cards, catalog sheets, posters, bookmarks, and door hangers.
Folded cards: Consists of folded postcards, tri-fold postcards, panoramic folded cards, and table tents.
Booklets: Offer 5×7 booklets, deluxe booklets, sumo booklets, square booklets, catalog booklets, panoramic booklets, and calendars.
Business stationery: Comprised of business cards, envelopes and letterhead, presentation folders, newsletters, and brochures.
Custom options: Incorporate die-cuts, spot coating, accordion folds, round cards, cross folds, and coupon perforations.
Modern Postcard Shipping Options
Direct mail shipping options include EDDM, international shipping, UPS Ground, Next Day Air, and Second Day Air. After your materials are received, and your final proof is approved, it will ship between four to six days, including print production time.
Modern Postcard Pricing
Modern Postcard pricing depends on which services you purchase and the complexity of your campaigns. For up-to-date pricing, you'll want to directly contact Modern Postcard and discuss your project to get an estimate. We got some introductory pricing with per-item costs for a few of its products. They don't include design and mailing services.
Flyers and newsletters: Starting at 49 cents
Brochures and magazines: Starting at 44 cents
Business cards: Starting at 8 cents
Door hangers: Starting at 29 cents
Miscellaneous: Starting at $1.44
Modern Postcard pricing ranges from 8 cents to $6.17 per item. Of course, there are additional costs for the complexity of your campaign and which professional services you choose. If you have a large budget, you can sit back and let their experts do it for you.
Modern Postcard Reviews
Modern Postcard received ratings of 4.9 out of 5 based on 2,193 reviews. Customers stated that the process was smooth, the materials top-shelf, and the teams they worked with were helpful and professional. Other positive reviews said that their direct mail arrived in mailboxes on schedule.
Negative Modern Postcard reviewers are unhappy with the lengthy process, sometimes taking four weeks to complete the cycle. One reviewer says that after over 2,000 postcards were mailed, she didn't get a single response, and she expected better results for the price. If you want a faster turnaround time, we recommend ProspectsPLUS!, which has a quick turnaround and overnight shipping.
PsPrint: Best for Custom Printing & Finishing Options
PostcardMania: Best for Postcards for New Real Estate Agents
Pros
Free direct mail planning
EDDM
Solutions for Realtors, property managers, and real estate investors
Cons
Basic no-frills postcards in various sizes
Limited product types
Most common 14-point cardstock
PostcardMania is a full-service postcard direct mail marketing company that offers customers postcards, design services, and direct mail. It serves dozens of industries and has specific real estate direct mail services, including EDDM. The company's services include graphic design, printing, mailing list acquisition, and mailing services. It's best for real estate agents with a small budget who want simple postcards to get their message out to buyers and sellers.
We chose PostcardMania as the best for postcard direct mail services because these are its primary products. Agents who want a variety of no-frills postcard sizes on standard cardstock will find that it's less expensive than some of the other providers on our list. It's ideal for new agents who want to send out direct mail without the significant expense.
PostcardMania makes postcards for 95 specific industries, including real estate, investing, and property management. It allows you to design your cards or hire them to do it for you. Its retargeting feature offers EDDM and will send direct mail to people who visit your website and vice versa.
It will even design your website and blog. Its postcards print on 14-point glossy cardstock, which is fairly standard for the industry. It doesn't offer unique papers or features like metallic lettering, painted edges, and laminated cards. It's a no-frills option.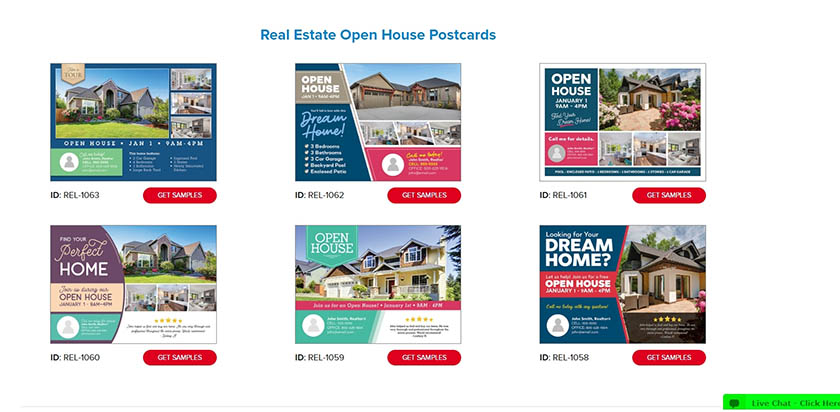 ---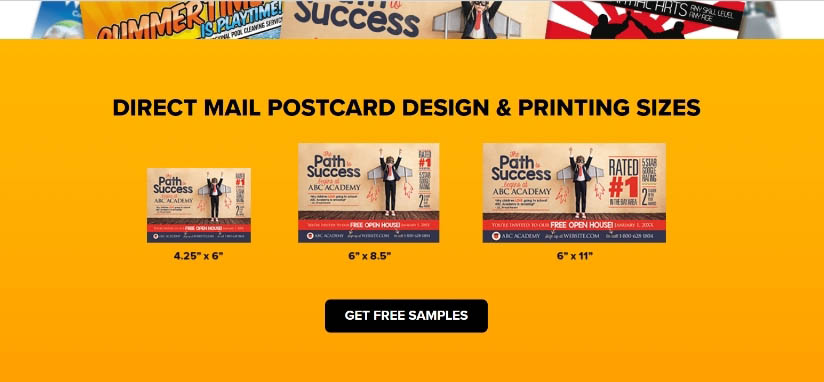 ---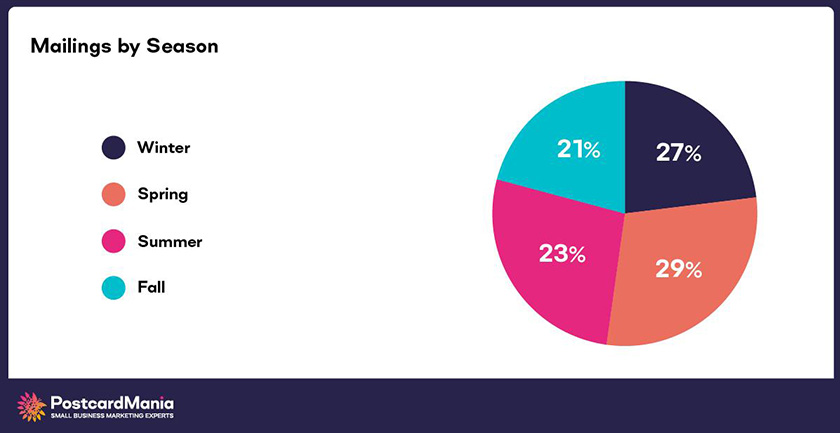 ---
Additional PostcardMania Features
Postcard design: Professional graphic design team or create your own.
Postcard printing: Full-color, glossy, customized postcards in three sizes.
Mailing list: Highly targeted mailing lists from reputable vendors.
Social media integration: Mail tracks with a barcode, so prospects get funneled into an ad system on Google, YouTube, Facebook, and Instagram.
PostcardMania Products
PostcardMania sells mostly postcards and a minimum of other products. It has three sizes of regular postcards, four sizes of EDDM postcards, two types of newsletters, and four types of brochure templates. It also carries door hangers, rack cards, business cards, reply cards, magnet cards, and folders. It is a good option for those overwhelmed by too many choices.
4.25"x6" standard postcards
6"x8.5" jumbo postcards
6"x11" colossal postcards
Tri-fold 8.5"x11" brochures
Quadfold 11"x17" brochures
Bi-fold 8.5"x11" brochures
Door hangers 4"x9"
Full-page flyers 8.5"x11"
Business reply cards
Rack cards 4"x9"
Business cards 2"x3.5"
PostcardMania Shipping Options
PostcardMania shipping options include first class, standard, and EDDM. Its EDDM postcard sizes comply with USPS strict regulations. The regulations say that these sizes cannot include 4×6 or 5×7, so if you want postcards in those sizes, you won't be able to use EDDM. It doesn't have overnight shipping, so items will take longer to arrive, and its EDDM is limited to postcards.
PostcardMania Pricing
PostcardMania direct mail pricing comes in two tiers: low volume per piece and high volume per piece. We contacted them to ask how many pieces are high and low volumes. They said the low volume is several thousand pieces but couldn't offer an exact number due to the cards' many variables from which to choose.
Postcards: Starting at 5 cents
Flyers: Starting at 13 cents per item
Brochures: Starting at 12 cents per item
Business cards: Starting at 3 cents per card
Door hangers: Starting at 9 cents each
Rack cards: Starting at 9 cents each
PostcardMania pricing is also based on the type of items purchased. Larger, more complex designs cost more than standard designs. Its print minimum is 1,000 pieces, but these can include a mix of designs, so you could get four designs of 250 each in one order if you don't want every household to get the same thing.
PostcardMania Reviews
PostcardMania has a score of 4.7 out of 5 based on 1,448 reviews, with its positive reviews about customer service, print quality, and beat any price guarantee. One reviewer said that they have been using the service for years, the team is responsive, and the communication is clear. Another stated that the customer portal was easy to use. A few said their design proofs were perfect on the first try.
Negative reviewers were disappointed they had to keep sending postcards because the service would continue to bill them even if the company sent no cards. Other reviews focused on not getting the results from the direct mailing service they anticipated. If you want a real estate direct mail service with transparent pricing and pay-as-you-go, check out ProspectsPLUS!.
How We Evaluated the Best 6 Real Estate Direct Mail Services
We evaluated the above-mentioned best real estate direct mailing companies based on five points. These include price, features, types of delivery and time frames, the mailing options like mailing lists and EDDM, and the availability and effectiveness of customer support.
Here are details of the criteria used to determine the best direct mail companies for real estate in 2023:
25% of Overall Score
The best real estate direct mail marketing solutions should be affordable and effective. We looked for solutions with a measurable tracking system to determine the return on investment (ROI) to help real estate agents gauge results.
30% of Overall Score
If all direct mail were the same, it wouldn't get responses. We looked for platforms that offered additional features like custom designs, tracking, bulk discounts, and satisfaction guarantees.
20% of Overall Score
Direct mail requires timely delivery. We favored platforms that offer next-day delivery, but the primary element is reliable delivery with tracking.
15% of Overall Score
The ability to purchase and send direct mail fast is critical, as well as the option to have the company send your mail directly to your contacts. In addition, some agents need a mailing list for their direct mail campaigns, so we favored platforms with EDDM and options for creating mailing lists.
10% of Overall Score
Customer support should handle every question or concern, whether you need help uploading your mailing list or creating direct mail postcards. We sought companies offering support across various channels.
*Percentages of overall score
Frequently Asked Questions (FAQs)
According to an article from SBA, direct mail is said to be more effective than email. It has a higher average response rate of 2.7% to 4.4% compared to 0.06% for email. People get bombarded with dozens of emails every day, whereas they receive fewer pieces of direct mail daily. If you send unique and relevant mailers, you're more likely to get a response.
---
Direct mail marketing is not illegal. However, the Deceptive Mail Prevention and Enforcement Act (DMPEA) prohibits some types of direct mail, such as schemes, solicitations pretending to be a governmental agency, lotteries for personal or real property, and false representations.
Direct email marketing also has some restrictions based on the CAN-SPAM Act, which includes "any electronic mail message the primary purpose of which is the commercial advertisement or promotion of a commercial product or service." This law includes email promoting content on commercial websites and business-to-business (B2B).
---
A major disadvantage of sending out direct mail is that it is often considered junk mail to many homeowners, so it gets recycled or thrown in the trash. It costs money for printing and shipping direct mail, whereas email and telephone marketing services are typically free. There are also environmental implications with paper waste and cutting down trees.
---
The best sites for real estate mailers will be the ones that fit your needs and budget and align with your real estate goals. Our evaluation criteria cover the crucial mailer elements agents look for when deciding which real estate direct services to choose. You can bookmark this article and refer to it for specific types of direct mail products and services.
---
There are a few ways you can save money with direct mail for real estate. One way is by keeping your designs simple and with a clear call to action. Also, remember that sales are a numbers game. The more direct mail postcards you buy, the cost per-item decreases, so buying and sending more will reach more people, leading to greater conversions. USPS EDDM is the most cost-effective postcard shipping method because it is guaranteed to be delivered to every door in your farm area, so you won't have to worry about postcard waste.
---
Bottom Line
Real estate direct mail is an easy way to market your services and helps agents find prospects and increase sales. Although online communication is prevalent, direct mail stands out for having an excellent open rate and long-lasting brand exposure. We recommend ProspectsPLUS! as the best choice for real estate agents, brokers, property managers, and investors who want quality and speed to govern a specific farm area.