Zillow has over 240 million monthly visitors, garnering more than 40% of the online real estate marketplace. Real estate agents can take advantage of this viewership by learning how to create a Zillow agent profile that builds their brand, converts leads, and gains listing and business exposure. Learn how to create an optimized Zillow agent profile that includes your headshot and contact info and showcases your background, professional experience, and niches with these eight steps.
1. Sign Up for a Free Zillow Account
On the Zillow Premier Agent (ZPA) landing page, click the blue "Get Started" button below the text. A window opens with a login screen to enter basic contact information, and choose agent or broker, buyer or seller, or other professionals. Fill out the details in each window and click "Submit." When you reach the confirmation screen, you can access the dashboard and request reviews, add data about your past sales, or check out how advertising on ZPA can increase your visibility and help you generate more leads.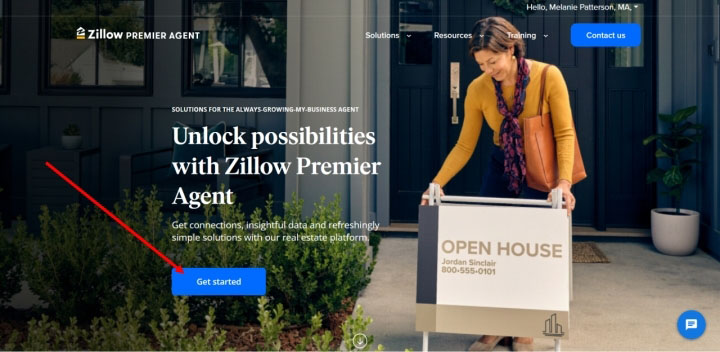 ---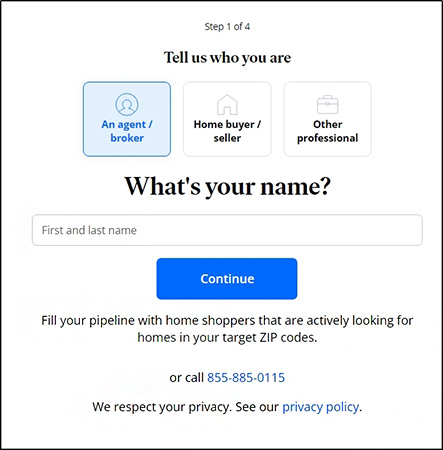 ---
2. Input Basic Information
In the dashboard, you will be able to complete your ZPA profile. Although this is optional, it's highly effective because it allows you to be the primary contact agent listed on the property. This increases visibility and the potential to generate real estate leads, especially among active buyers searching the platform.
Start with these steps to create your basic profile:
Click the down arrow in the blue menu bar at the top of the screen.
Fill out the form with your name, profile photo, professional background, specialty services, and social media URLs.
Click "Submit" to save your information.
3. Add Your Professional Realtor Headshot
Every agent knows that a real estate agent's headshot is vital for attracting buyers and developing a professional brand. To add your team's or your headshot to your ZPA profile, click the "Upload Photo" button and find the photo on your computer using the dialog box that appears.
4. Fill Out the Contact Information
Add your name, professional title (e.g., realtor, licensed real estate agent, salesperson, or broker), the name of your brokerage, address, time zone, and phone number. Successful real estate agents intentionally make it easy for potential buyers and sellers to find and contact them. These are the foundational details for prospects who find your profile through Zillow to reach out to you.
5. Input Real Estate Background Details
The next step is adding details about your real estate background to your profile. Include where and when you received your agent license and your license number. Don't forget to add other relevant professional licenses, designations, or certifications like Luxury Home Marketing or Accredited Buyer's Representative (see our guide to the top 10 real estate certifications and designations). Listing your accomplishments shows your expertise and provides additional keywords that might help niche buyers find you.
Add your farm areas, languages spoken, and years of real estate experience. Include all the towns you serve since these pop up when prospects search a given area. Even if your location is metro, residents in the region's smaller towns want to work with someone who knows the landscape. Although several of these fields of your realtor bio are optional, they all help attract leads and convert them to clients, so take the time to complete your profile.
Pro tip: Adding your spoken languages is vital for non-English speaking leads. Add a few sentences within your bio in your additional languages to ensure non-native speakers know you can help.
6. Check Specialty Niche Services
It's good to highlight additional services in your Zillow profile to promote your niche to potential buyers and sellers. Click up to four specialties you want to spotlight in your profile by checking the boxes next to them on your profile page.
Pro tip: Many agents focus on serving a real estate niche, such as foreclosures, short sales, property management, vacation homes, or appraisals. This helps them hone in on their area of expertise and attract the clientele who are interested in those properties.
7. Add Social Media Links
To help people learn more, add links to your YouTube profile video, website, blog, Facebook, Twitter, and LinkedIn. While these are optional, they give potential clients numerous ways to learn more about your services and connect with you online. After adding links, click the blue "Submit" button at the bottom.
Check out these articles about how to set up and maximize your realtor social media pages:
8. Add Past Sales
Buyers and sellers want to work with agents with solid sales records, so adding past sales can entice prospective clients to contact you. Although adding past sales is optional, it can be an effective way to generate additional leads for your real estate business.
To add your real estate sales history, click on the down arrow in the blue menu in the header and select the "Past sales" option. A screen will appear with a field to enter the address of a recent sale. Fill in the field, and then click "Add sale."
If you have several past sales, upload a spreadsheet with their complete addresses to make the process faster. To do so, click on the "Upload sales by sending us a spreadsheet" link above the input box—this will give you detailed upload instructions and guidelines. Notice the example below that highlights the sales volume in this team's profile header. This is a subtle way to show visitors your success and instill confidence as a real estate professional.
Pro tip: If you lead a real estate team, consider adding their transactions to your profile or create a profile to combine your team's sales. It will automatically display the number of sales in the last 12 months on your Zillow real estate agent profile. High sales numbers and positive reviews catch buyers' and sellers' attention.
Tips for Creating Eye-catching Zillow Agent Profiles + Examples
Now that you've created your Zillow.com agent profile, the next step is to optimize it. Check out these tips below to effectively attract potential clients on Zillow:
The "About Me" section of your Zillow agent profile is a valuable opportunity to communicate with potential leads. Consider this section as your realtor bio that displays your personality to the Zillow audience. Be concise and enthusiastic about what you do, who you serve (and their locations), and how buyers and sellers benefit from working with you.
Consider including the following in your "About Me" section:
Your real estate story: Without writing a novel, tell prospects why you're in the real estate industry and, ultimately, why it should matter to them.
Unique selling proposition (USP): Your USP is integral to your real estate business and should be a consistent theme throughout your "About Me" section.
Sales statistics and reviews: In addition to using the "Past Sales" portion of your Zillow agent profile, highlight your most impressive sales, reviews, and accomplishments or awards. Make sure they align with your USP.
Targeted keywords: Increase your visibility by including real estate keywords your ideal clients are searching for.
Pro tip: Break up text blocks by creating spaces between paragraphs, and use bold headings to divide the information. Consider using bullet points, bold letters, or headings to differentiate each section and make this section scannable for the quick reader.
---
By using different headings, highlights, and alignment in your bio, you can make strategic parts of it stand out. Use this method to showcase your specialties, brand reputation, or anything else that you deem integral to demonstrating your abilities as a real estate agent.
In this example, the agent lists her specialties and accomplishments and uses a memorable tagline: "YOUR Property, OUR Priority!" Further down in the profile, she divides her bio into separate sections for buyers and sellers. This is a great way to build authority and attract specific clientele.
---
A unique selling proposition (USP) differentiates you from other agents in your area. Agents sometimes assume potential clients will automatically see the differences between agents, but that's rarely the case. Instead, you must clearly define how you are different and how it impacts your clients. In this example, #TEAMFAST highlights that it is the top-reviewed real estate team in the area and describes what clients receive and can expect from the group.
If you have not defined your USP to determine your value to real estate clients, read through our article Real Estate Marketing Plan Template & Strategy Guide for more details about how to define your USP.
Your USP can be your ability to list and sell homes faster than competitors, interior design or staging experience, or that you help more first-time homebuyers than any other real estate team in your area. Include this information in the "Specialties" and "About Me" sections.
---
Video is a powerful marketing tool that adds another way to connect with prospects. Although many real estate agents are uncomfortable with video, it's a great addition to your Zillow agent profile. Seeing you on camera helps potential leads instantly connect with you, making you more approachable and accessible for them to reach out to.
There are several ways to use video on your Zillow profile. For example, you can do an autobiographical video to introduce yourself to page visitors and include personal and professional information, or you can have client testimonial videos with reviews of their experience working with you to provide social proof of your expertise, making you more trustworthy.
---
---
Zillow automatically generates real estate listings from the Multiple Listing Service (MLS). Once your Zillow agent profile is set up, claim your listings so interested buyers contact you. If you're a Premier Agent, your listings automatically link to your profile. Zillow will place a map and current listings under your profile. This feature enables homeowners and buyers to compare your properties and see the types of homes you represent.
---
Don't leave potential leads with only a Zillow contact form. Some leads may be ready to contact you after viewing your profile, but others might want to learn more about you before reaching out. You can direct users to your other social profiles or additional resources by hyperlinking your social media and IDX website. This is also a great way to build your brand across all platforms so you become recognizable in your area.
---
An essential part of being a real estate agent is knowing your territory to serve clients to the best of your abilities. Like the screenshot below, display how well you know your market by focusing on your passion and enthusiasm for the region. Whether you've lived in the area or discovered it later, profile visitors must experience your depth of location knowledge.
---
Knowing how to create a Zillow agent profile with a call to action (CTA) will educate your visitors on what to do next. It doesn't have to be complex. The example below says, "Contact Francis to serve you and your real estate interests." Having a clear CTA and a fully optimized Zillow profile is vital to getting visitors to take action.
---
One of the most effective paths to growing your business is investing in real estate ads. However, creating a successful ad campaign from scratch takes marketing expertise and a substantial financial investment. Advertising with Zillow doesn't require marketing, design, or copywriting skills. Since Zillow is the most-used real estate platform, it automatically puts you in the path of the largest source of active buyers and sellers.
Learning more about becoming a Zillow Premier Agent could drastically increase your leads, sales, and income by reading our Zillow Premier Agent review.
---
Zillow Alternatives
In addition to Zillow, there are many alternatives to promote your business and your listings with comparable pricing and features. We've compiled a few of these alternatives to get you started.
Alternative

Best For

Experienced agents looking for lead nurturing through automated email drip campaigns

Agents and brokers who want an accurate and updated listing platform that is affiliated with the NAR

Real estate rental agents and property managers who want syndicated exposure on rental sites

Agents who want an elegant layout that prominently features their web address, name, and brand

Key Features

Customizable IDX website
Third-party integrations
Drives leads through social media

Buyers can search homes by school districts
Location-based agent search
Property management through Avail affiliation

Exposure to nine different popular rental sites
Industry's largest professional research team
Responsive website and iOS and Android apps

Powerful lead generation tools
Built-in search portal with real-time data
Marketing insights

Starting Price

$299 per month

$200 per month

$199 per property, per month

$199 per listing

Learn More
Read more about the above alternatives and other options to share listings and promote your brand in the article 6 Best Zillow Alternatives.
Bottom Line
Learning how to create a Zillow agent profile is easy for agents of all experience levels. Use your profile to tell a compelling story, highlight your specialties and accomplishments, and give new leads the steps to connect with you. In addition, you'll automatically receive new, active buyer leads as a Zillow Premier Agent.
Frequently Asked Questions (FAQs)
If you're a Zillow Premier Agent and want to view your active profile on the consumer-facing site from the Zillow.com home page, click "Agent Finder" in the top left menu bar and type in your name and location. Whether you're a Premier Agent or not, if you want to access your live profile, log in to your Zillow professional account and click on the profile bar in the center of the screen. It will redirect you to your active profile.
---
Zillow allows agents to deactivate their accounts and hide them from the site. If you anticipate using the platform in the future, this is the ideal option. To permanently remove your account, go to the Zillow Premier Agent login page and sign in. Choose "Account" from the menu, then "Close Account" to confirm your account closure.
---
The short answer is "yes." Zillow Premier Agent provides tools and resources on its platform to help you promote yourself as an agent and your listing, and also to generate leads. However, you're responsible for building your brand using its tools.
Try to view it from the client's perspective. If you're looking for an agent and land on a profile with no active listed and sold properties, no reviews, and minimal information about the agent, you'd likely try to find a different agent. To get the most out of Zillow Premier Agent, fill out your entire profile and keep it updated.
---