Zillow is the leading real estate marketplace on the internet. A great Zillow agent profile is essential for capturing leads while thousands of potential customers search in your area. Effective profiles are compelling, have wonderful reviews, and include a call to action. We'll show you how to create a great Zillow agent profile and close more deals.
The Zillow agent profile we'll create below is absolutely free, but did you know that signing up for Zillow's Premier Agent gives you an edge? Signing up for Zillow's Premier Agent has two benefits: exclusivity on listings (your profile will be the only one to appear on the listing) and a Premier Agent shows on Zillow, Trulia, StreetEasy, and RealEstate.com.
Here's how to build your killer Zillow agent profile and get the process started.
Step 1: Sign Up & Create Your Profile
The first thing you have to do to start the profile process is open an account. If you go to Zillow's home page, click "Join" at the top right-hand corner. This will open a window to get you started by asking for your email, name, and that you create a password.
Fill out the information to open a new account. Be sure to check the "I am a landlord or industry professional" box below the general information.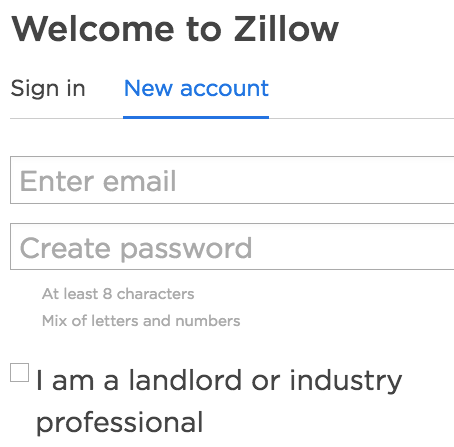 After your registration process is complete, click on "Agent Hub" on the main menu to get started and click "Profile" to begin creating. You'll want to add a profile photo that is clear, welcoming, and professional.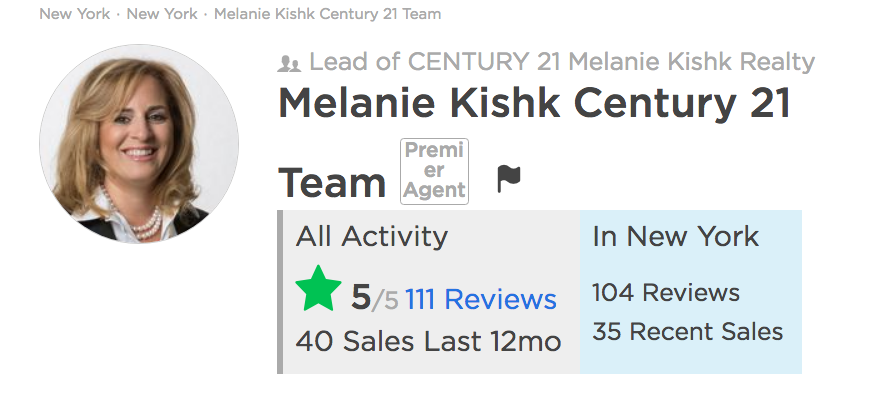 On the profile page, click the "Edit" button on the round photo icon and choose a photo to upload. We suggest using a professional headshot.
As you can see beside the headshot above, Kishk is also a Zillow Premier Agent, meaning that her profile is going to get dominant placements on Zillow and her Zillow agent profile will get increased exposure. Notice that she has 111 reviews and 40 sales in the last 12 months!
Step 2: Promote Yourself with Professional Information
While you're on the Edit Profile page, you can begin filling in your professional information. The best way to use this section is to think about self-promotion. You want to show authority in the field, that you are active in your area, and give users multiple ways to connect with you so that you can always be top of mind.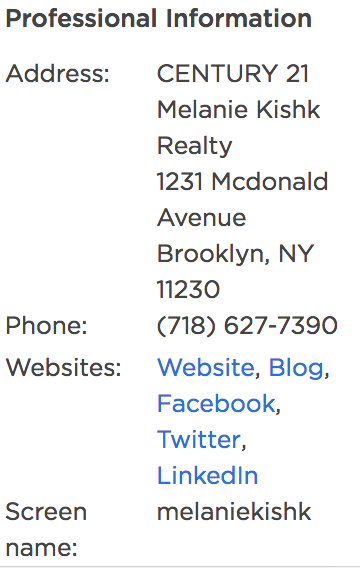 Notice that under professional information, Kishk is straightforward with her contact information, and she includes her social media profiles under the "Websites" category. This is very smart branding for users who may be interested in following what she does or gathering more information before making an agent decision. She clearly knows how to communicate her brand.
After you fill out your professional information, be sure to click "Submit" to save it.
Step 3: Create a Compelling "About Me" Story
How you convey your enthusiasm for what you do, as well as give information about who you serve, happens in the "About Me" section of your profile. Click the edit button on your profile and select "About Me" to begin. Creating a compelling story is best done by being succinct but enthusiastic.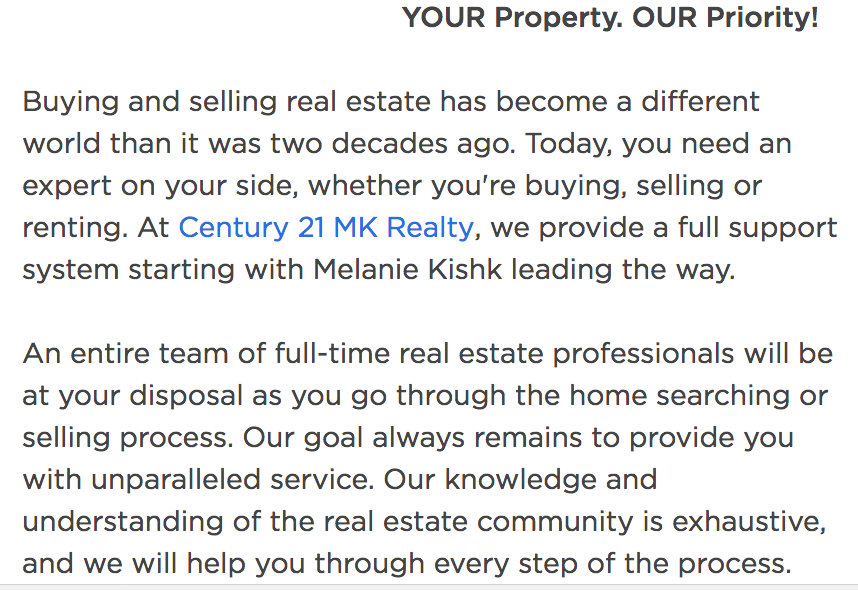 The screenshot above captures one portion of the "About Me" story that Kishk tells, and she hits on a number of important areas. She clearly says who she serves, places a smart link to her website within the section, and has a great tagline—"Your property, our priority"—that she kicks off with. As you write your "About Me" section, remember that those who are reading it are thinking about why they should choose you over another. Make your case.
Step 4: Show Off Your Work by Adding Sales & Reviews
If you've got the closings to show off, your Zillow agent profile is the place to do it. Encourage your previous clients to leave reviews. Potential clients are going to be looking at your profile and you want them to know that not only are you closing deals, but that your clients love working with you.


If you click on the Agent Hub button under your Past Sales header, you can add in your history of transactions. You'll need to know a lot of information about your sale history, such as the address and sold date, but it's worth it. One of the first things we noticed in looking at Kishk's profile was her history of sales, and we anticipate that potential clients would see that too.
The other thing that is immediately apparent when looking at agents is their reviews. Be sure to ask clients to review you on Zillow. You can send a client a link from your Zillow agent profile to write a review for you, but just be aware that they will have to create a profile themselves to do this for you. Don't be shy about asking if you've done great work for them. Agents also have the ability to reply to reviews so they have the ability to provide more context to the transaction and make them look more human.
Step 5: Connect Your Profile to Your Listings
Now that you have a Zillow agent profile setup, you want to hook up your listings so that people can see both what you've sold and what you are currently selling. Zillow will place both a map and current listings under your profile so that potential clients can see what you have on the market.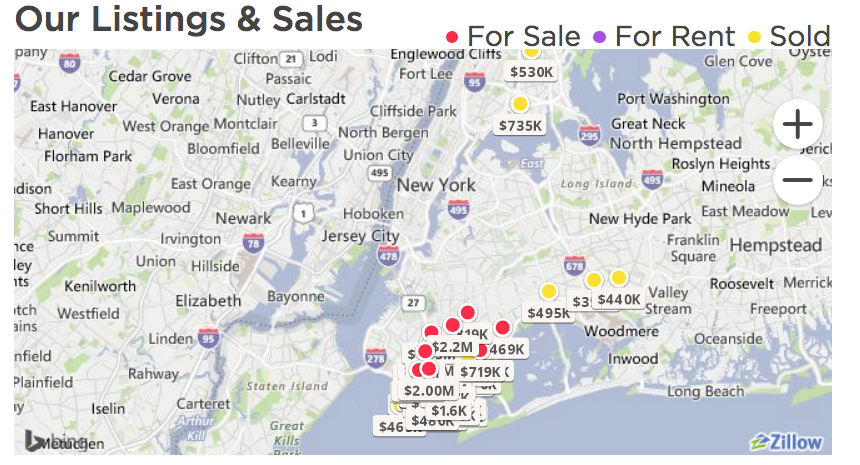 The map is a great tool for clients to see where your past sales have been, your current listings, and the area you tend to do the most business to see if this aligns with their needs. Below this, your Zillow agent profile will also have your current active listings.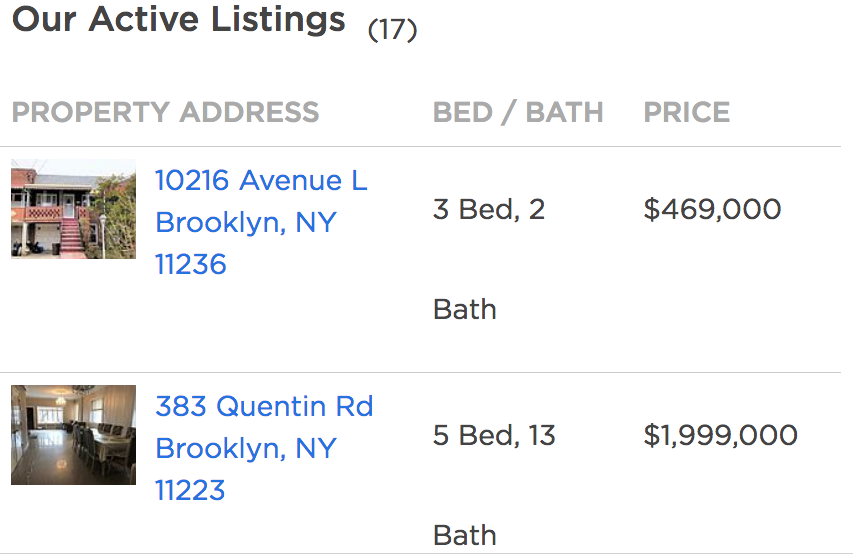 The active listings feature is an important tool to have potential buyers find you. If they like your reviews, they are actively looking in the area, and your listings look appealing, you could very likely be the person they call.
Zillow is the largest real estate platform on the internet, and signing up as a Zillow Premier Agent gives you exposure to every potential client who visits in your area. The Premier Agent program is Zillow's advertising platform, and while there is a price to participate, it is well worth the cost.


The benefits of being a Zillow Premier Agent are many. You become the exclusive agent shown on the listings that you have, you can have a custom MLS-integrated website through Zillow, and have the ability to advertise on non-Premier Agent listings in your area among many other benefits. Our exclusive guide to How Zillow Premier Agent Works can give you all the information you need to know to examine the perks from a real agent perspective.
Be sure to get your Zillow agent profile perfected, and if you need further tips, tricks or inspiration, we have some of the best listed below.
10 Great Examples of Zillow Agent Profiles & Why They Work
Zillow Agent profiles give you the opportunity to present a snapshot of yourself, both professionally and personally, to potential clients. Agents can also list languages they speak so if potential clients are searching the Zillow Agent Finder for an agent that speaks a certain language, they'll come up.
Examining how great performers operate can help you craft your own killer Zillow agent profile. Here are 10 profiles that leverage their profile effectively to attract potential clients, and why they work.
---
1. Use Video to Make a Personal Connection
Sarah Minardi is a Zillow Premier Agent, and she knows how to connect with her clients in East Hampton. What makes her profile great is her wonderful introduction video that focuses on growing up in East Hampton and her experience living there today. Notice how the video makes it feel like a small home town and a wonderful place to live, and it showcases Minardi as someone who knows everyone and has the perfect connections you'd want in an agent. Videos like this can help you make a personal connection with future clients before they ever meet you.
---
2. Prompt Client Reviews for Social Proof
When looking for an agent, would you be more likely to select one with 279 five-star reviews? We would! A trained eye can see that Matthew Bizzarro is not only wonderful at his job, he's likely very effective at getting his clients to post reviews. Don't be shy about asking clients to review their experiences with you—sometimes it can make all the difference to a potential buyer or seller just scanning profiles looking for their next agent. What makes social proofs effective is seeing the evidence of other happy customers who have used your services with great success.
---
3. Tell a Compelling Story
In her "About Me" section, Maureen Folan is masterful at telling the story of why she is the perfect choice for your next selling experience. Describing herself as a listing agent specialist, Folan talks about her history within real estate as a legacy and something in her blood since childhood. Be sure to tell a story that makes you a compelling agent to hire. See the brief snippet from her page as a wonderful example of how to write a story others connect with.

---
4. Brag a Little
We all know that Fredrik Eklund isn't a shy agent, but your profile is no place to be modest. If you've won awards or have accomplished something notable, be sure to talk about it! Clients like telling their friends they've hired the "Top Real Estate Team in Omaha" (or wherever you live), and it often provides them some assurance of your skill set. We might not all be "Broker to the Stars" like Eklund, but usually there are some accomplishments to highlight. Notice that even Eklund is a Zillow Premier Agent, and see his example below.

---
5. List Relevant Skills
You don't always have to be flashy or extravagant to have a point of difference from others. While Judith McKenna has some impressive review statistics, she also includes "staging" in her specialty area, as seen below. This may not seem initially outstanding at first, but when potential clients are looking for the perfect person to sell their home, having a staging expertise can give her an edge over others. While most agents are listing only whether they are primarily a buyer's agent or a listing agent, be sure to include your expertise among your specialties to stand out from the crowd.

---
6. Include Your Team Sales
Craig Hartranft does something very smart by including his team sales statistics (not just his own) as part of his Zillow agent profile. By including the team sales, Zillow marks his profile when others are searching, as seen below. Having the designation as "most sales" certainly catches the eye when someone is browsing, and makes them want to learn more. If you lead a team, be sure to include their sales as well as your own to get the designation below on your profile when others search!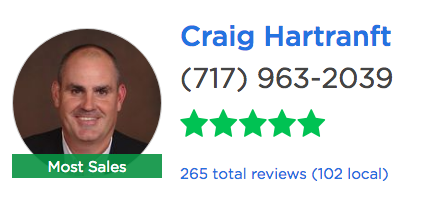 ---
7. Include a Call to Action
At the end of the day, your Zillow agent profile is an advertisement for your services. Joseph Tsomik understands this by both being a Zillow Premier Agent to expand his opportunities to be seen by the right people and by including a call to action early in his "About Me" section. Check out how Tsomik provides a sense of urgency below that you can incorporate into your own profile. A sense of urgency helps to prompt potential leads to action.

---
8. Highlight Your Passion for Your Area
There are a lot of transplants in San Francisco, but Simon Shue provides a point of difference for himself in his Zillow agent profile. Not only did he grow up in San Francisco, but he "lives and breathes" it. He underscores his passion and knowledge of the area again and again in a portion of his "About Me" section. Shue understands that with so many moving to the area, many will prefer an insider to guide them in their purchase.

---
9. Guide Them to Other Resources About You
Not only does Laura Kaufman have an MBA, but she's just as smart with her Zillow Agent Profile as a marketing strategy. What we loved about this profile is that she puts links throughout her "About Me" section, and leads potential customers to an incredible amount of self-promotional resources. You'll see below that she links to her client testimonials, her website, and a video she's created—all within this one section. Very smart marketing.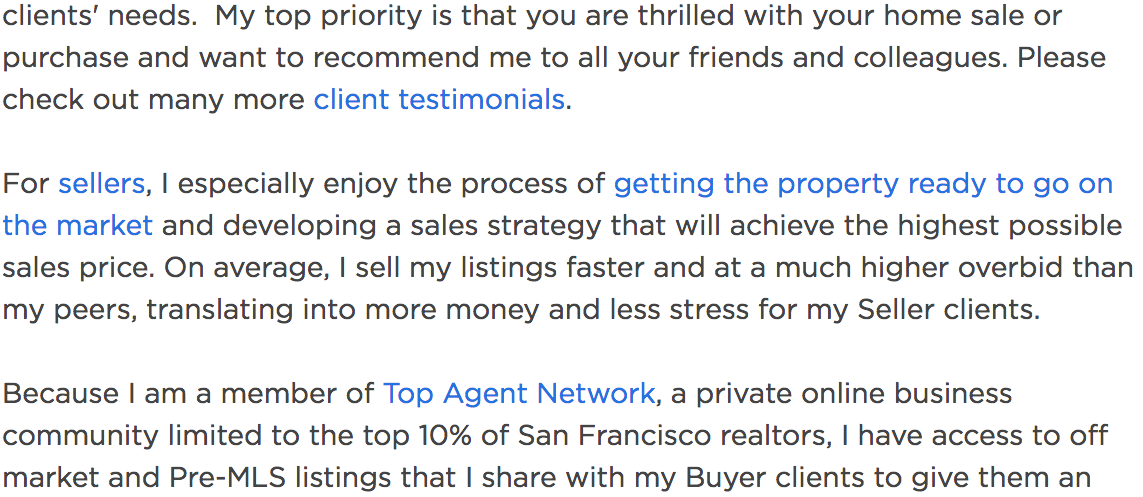 ---
10. Tell Them Why You're Different
Sometimes we assume that potential clients will inherently see the differences between agents, but that's not always the case. Craig Ackerman pulls no punches in telling the reader of his Zillow agent profile why he's a better choice. Don't expect your audience to always know how to spot the differences, and highlight things you do that will attract those in your area. In an area like San Francisco, Ackerman highlights his use of technology, which is sure to appeal to his primary audience.

---
The Bottom Line
Creating a killer Zillow agent profile is something any agent can do. Telling a compelling story and accruing client reviews, along with highlighting your point of difference, can help home sellers or buyers make solid decisions about which agent will best suit their needs. You'll notice that most of the examples above happen to be from those who also use Zillow Premier Agent. If you want to optimize your influence on the largest real estate platform on the internet, note that even top realtors will take advantage of the edge it offers. We encourage you to give it a shot!
If you'd like to learn more about Zillow Premier Agent, the benefits it offers, and how it works, we have a fantastic guide that will take you through the process here.