How to Create a Zillow Agent Profile in 8 Steps (+ Tips & Examples)
Going into 2022, Zillow has 230-plus million monthly viewers, making it the leading online real estate marketplace. Real estate agents can take advantage of this viewership by creating a free Zillow agent profile that showcases your background, professional experience, and specialty niches that can be seen by website visitors or on the Zillow mobile app. Learn how to create an optimized Zillow agent profile to build your brand, convert leads, and gain exposure for your real estate listings and business.
1. Sign Up for a Free Zillow Account
On the Zillow Premier Agent (ZPA) landing page, click the "Join" button in the upper right-hand corner. A window will pop up with a login screen for you to enter basic contact information and whether you are an agent or broker. Fill out these details and click "Submit." You will see a confirmation screen and be invited to learn more.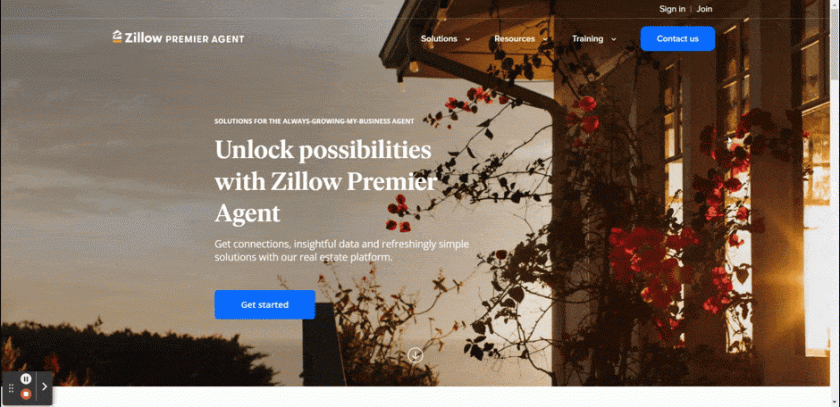 ---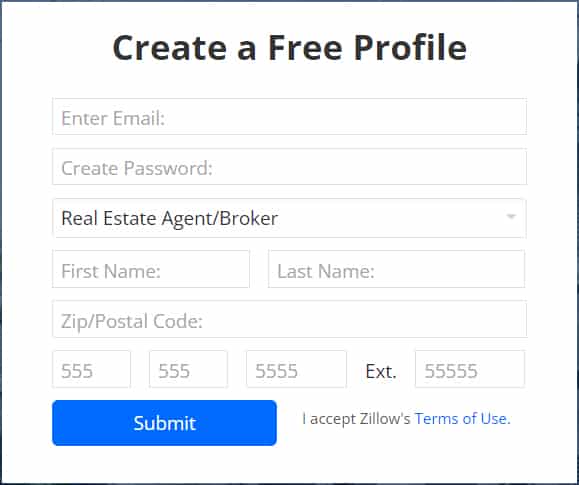 ---
You'll have several options on the confirmation screen, including accessing the dashboard by clicking on "Tell home shoppers about yourself." Additional tasks you can do include requesting reviews, adding data about your past sales, or checking out how advertising on ZPA can increase your visibility and help you generate more leads.
2. Create a Zillow Agent Profile
Within your dashboard, you will be prompted to fill out your Zillow Premier Agent (ZPA) profile. Although this is an optional step, it's highly useful because it allows you to be the primary contact agent listed on the property. This increases your visibility and potential to generate real estate leads, especially among active buyers searching the platform.
To create your Zillow agent profile, click on the down arrow in the blue menu bar at the top of the screen. Fill out the form that appears with your name, profile photo, background, specialty services, and social media URLs. Click "Submit" to save your profile.
3. Add Your Professional Realtor Headshot
Every agent knows that a real estate agent headshot is vital for attracting buyers and developing a professional brand. To add your headshot to your ZPA profile, click on the "Upload Photo" button and find the photo on your computer using the dialog box that appears.
Keep in mind that the file must be at least 180×180 pixels and in JPEG format. Read the top tips for realtor headshots to make sure your headshot is top-notch.
4. Fill Out Contact Information
Input your name, your professional title (e.g., realtor, licensed real estate agent, or broker), the name of your brokerage, address, time zone, and phone number.
As simple as this may seem, successful real estate agents intentionally make it easy for potential buyers and sellers to find and contact them. These are the foundational details for buyers who stumble on your profile through Zillow.
5. Input Real Estate Background Details
The next step is adding details about your real estate background to your profile. Input information like where and when you received your agent license and your license number. Don't forget to add any other relevant professional licenses, designations, or certifications, like Luxury Home Marketing or Accredited Buyer's Representative. Listing these additional accomplishments shows your expertise and provides additional keywords that might help niche buyers find you.
Add your location's service areas (i.e., farm areas), languages spoken, and how many years of experience you have as a real estate agent. Make sure to specifically name as many towns and locations as you can. Even if your farm area, or the location where you focus your marketing, is an entire metro area, members of smaller towns want to work with someone who knows their specific area.
Similarly, adding the languages you speak can be vital for non-English speaking leads. Consider adding a sentence or two within your bio in your additional languages to make sure these leads feel just as important. Although several of these fields are optional, all of them can help you attract leads and convert clients, so make sure you take the time to fill out every section of your profile.
6. Check Specialty Niche Services
Many agents focus on serving a real estate niche, such as foreclosures, short sales, property management, vacation homes, or appraisals. Within your Zillow Agent profile, highlight additional services to promote to potential buyers and sellers. Click on up to four specialties you want to spotlight in your profile by checking the boxes next to them on your profile page.
7. Add Social Media Links
To help people learn more about and connect with you, add links to your YouTube profile video, your website and blog, and links to your social media profiles, such as your Facebook real estate page. While these are optional, they give potential clients numerous ways to find out more about your services and connect with you online. After you're done adding links, click the blue "Submit" button at the bottom.
8. Add Past Sales (Optional)
Buyers and sellers want to work with an agent who has a strong record of closing deals successfully, so adding past sales can entice prospective clients to contact you. To add your real estate sales history, click on the down arrow in the blue menu in the header and select the "Past sales" option. A screen will appear with a field to enter the address of a recent sale. Fill in the field, and then click "Add sale."
If you have several past sales, upload a spreadsheet with the complete addresses of past sales to make the process faster. To do so, click on the "Upload sales by sending us a spreadsheet" link above the input box; this will give you detailed upload instructions and guidelines.
If you lead a team, consider adding their sales into your profile, or create a profile to combine your team's sales. On your Zillow profile, it will automatically display the number of sales in the last 12 months. Having a high number of sales and positive reviews can certainly catch a buyer's eye when browsing.
Tips for Creating Eye-catching Zillow Agent Profiles + Examples
Now that you already know how to create a Zillow agent profile, the next step is to optimize it. Attract potential clients more effectively by checking out the tips below:
The "About Me" section of your Zillow agent profile should be used as a valuable opportunity to communicate with potential leads. Take the time to plan out this section and try a few different options. Be succinct but enthusiastic about what you do, share information about who you serve (and their locations), and focus on why buyers and sellers benefit from working with you.
Consider including valuable information in your "About Me" section:
Your real estate story: Without writing a novel, tell prospects why you're in the real estate industry and ultimately why it matters for them.
Unique selling proposition (USP): Your USP is an integral part of your real estate business and should be a consistent theme throughout your "About Me" section.
Sales statistics and reviews: In addition to using the "Past Sales" portion of your Zillow agent profile to share sales statistics, highlight your most impressive sales, reviews, and accomplishments or awards. Make sure they align with your USP.
Targeted keywords: Increase your visibility by including real estate keywords your ideal clients are searching for.
Make sure your "About Me" section is not a large block of text, which is overwhelming for viewers. Use plenty of spaces between paragraphs, and use bold headings to divide the information. Consider using bullet points, bold letters, or headings to differentiate each section and make this section scannable for the quick reader.
In this example, Melanie Kishk lists her specialties and accomplishments, and uses a memorable tagline: "YOUR Property, OUR Priority!" In addition, she divides her bio into a section for buyers and a section for sellers. This is a great way to immediately build authority and draw in both types of clientele.
---
A unique selling proposition (USP) is what makes you different from the competing agents in your area. Agents sometimes assume potential clients will inherently see the differences between agents, but that's rarely the case. Instead, you need to clearly define how you are different and exactly how it impacts your clients.
In real estate, your USP can be your ability to list and sell homes faster than competitors, interior design or staging experience, or that you help more first-time homebuyers than any other real estate team in your area. Include this information in the "Specialties" section as well as your "About Me" section.
For example, "TEAMFAST" highlights the fact that his team is the top reviewed real estate team in his area. The rest of his profile clearly describes what clients will receive and what they can expect from this team. If you have not defined your USP to determine what your value is to real estate clients, read through our article "Real Estate Marketing Plan Template & Strategy Guide" for more details about how to define your USP.
---
Video is a more powerful marketing tool than ever. Although many real estate agents can be uncomfortable using video, it's a great addition to your Zillow agent profile for multiple reasons. Seeing you speaking to a camera can help potential leads feel connected to you instantly, making it easier for them to actually contact you. It's also a great opportunity to prompt Zillow browsers to click over to your YouTube profile or website.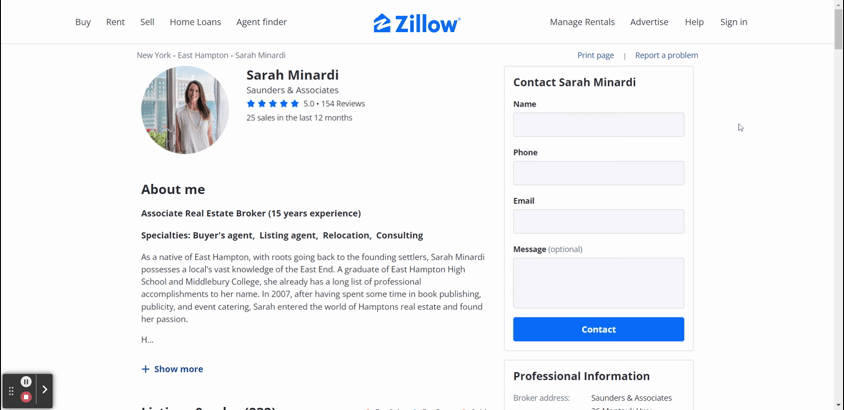 ---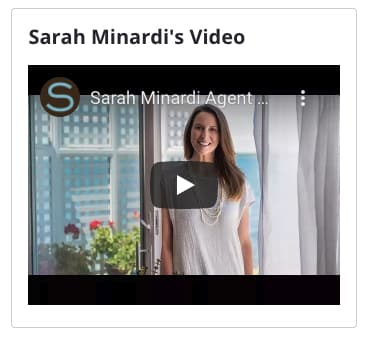 ---
Sarah Minardi has a great example of an introduction video attached to her Zillow profile. In this simple one-minute video, she displays her professionalism, familiarity, and passion for her area, and her authentic relationship with clients. You could even consider using a TikTok video in your profile, depending on who your ideal audience is.
---
Your profile is no place to be modest. If you've won awards or have accomplished something notable, highlight that. It provides immediate proof that you have the skills and experience to help clients, and they may enjoy telling friends they've hired the "Top Real Estate Team in Omaha" (or wherever you live). Often, it provides clients some assurance of your skill set. We might not all be "Broker to the Stars" like Fredrik Eklund, but most agents have notable accomplishments to highlight, even successful sales or editorial features.
Adding reviews is another way to display your history of great service and successful sales. You can add reviews directly into your bio, but don't hesitate to start requesting reviews from previous and current clients after you create your Zillow profile. Most homeowners will naturally gravitate toward an agent with 279 5-star reviews than one with only a few.
To request reviews, click on "Request Reviews" from your agent profile page. Fill out the email addresses of past clients and a simple note asking for their honest feedback on their own home transaction experiences. You can also reply to reviews to provide context around specific transactions.
---
Zillow automatically generates real estate listings from the Multiple Listing Service (MLS). Once your Zillow agent profile is set up, you need to claim your listings in order for interested buyers to get in touch with you. If you're a Premier Agent, your listings will automatically be linked to your profile, but read more details about how to claim your Zillow listings.
Zillow will then place a map and list of current listings under your profile. This feature enables homeowners and buyers to compare your properties and get a feel for the types of homes you represent.
---
Don't leave potential leads with only a Zillow contact form. Some leads may be ready to contact you after viewing your profile, but many others want to learn more about you before reaching out. By connecting your social media and website pages, you can invite users to learn more about you from your profiles or to get more resources.
On Laura Kaufman's profile, she includes all of her social media pages, IDX website, blog, and a video introduction. In one small area, she makes it easy and appealing for interested buyers and sellers to connect with her on and off the Zillow platform.
Even though Zillow is an incredibly powerful tool, your ultimate goal should be to guide leads off of the platform and into your funnel—eventually becoming a client and friend. There are many Zillow alternatives, and it's important to use a variety of marketing tools to generate and nurture new leads.
For instance, Real Geeks is another invaluable marketing platform for growing real estate agents and brokers. It's an all-in-one tool that offers a customizable real estate website, landing pages, online ads, contact management, email and SMS marketing, and hundreds of third-party integrations. See how Real Geeks can help you get more leads more easily.
---
An important part of being a real estate agent is knowing your area in order to serve clients to the best of your abilities. You can show this expertise and attract clients by focusing on your passion and enthusiasm for your city. Whether you've lived in the area for your whole life or discovered it as an adult, it's important to mention your story and why you love your location.
For example, Simon Shue highlights this with language like "live and breathe San Francisco." This is particularly useful for any area with a large number of incoming transplants. His knowledge and passion for the city make him a great resource for buyers who are new to the area.
---
At the end of the day, your Zillow agent profile is essentially an advertisement for your services. After optimizing your profile to clarify your USP and provide additional platforms to connect, make sure you actually tell viewers what you want them to do. It may seem obvious, but most leads won't take action unless it's clearly described.
A call to action (CTA) doesn't have to be complex. Francis Somsel adds just a simple line with "Contact Francis to serve you and your personal real estate interests." Having a clear CTA along with a fully optimized profile is key to generating leads through Zillow and ultimately growing your business.
---
One of the most effective paths to growing your business is investing in real estate ads. However, creating even one successful ad campaign from scratch takes years of marketing expertise and a substantial financial investment.
On the other hand, advertising with Zillow doesn't require marketing, design, or copywriting expertise. Since Zillow is the most-used real estate platform, it puts you in the path of the largest source of active buyers and sellers.
Learn more about how becoming a Zillow Premier Agent could drastically increase your leads, sales, and income by reading our Zillow Premier Agent review.
---
Bottom Line
Creating a standout Zillow agent profile is possible for agents of all levels of experience. Use your profile to tell a compelling story, highlight your specialties and accomplishments, and give new leads the steps to connect with you. Plus, as a Zillow Premier Agent, you'll automatically receive new, active buyer leads. Become a Zillow Premier Agent today.