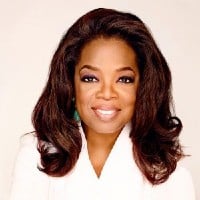 Oprah Winfrey is an American celebrity and philanthropist known for her talk show, "The Oprah Winfrey Show." Winfrey, whose net worth is estimated at more than $2.5 billion, is one of the most sought-after celebrity speakers. These Oprah Winfrey quotes offer inspiration and may be able to help you and your business.
Here are 25 Oprah quotes on hard work, success, and money to inspire you:
Oprah Winfrey Quotes on Hard Work
1. "The big secret in life is that there is no big secret. Whatever your goal is, you can get there—as long as you're willing to be honest with yourself about the preparation and work involved. There are no back doors, no free rides. There's just you, this moment, and a choice."
– Oprah.com
2. "There was no doubt that the seeds of what was to give my life meaning and purpose had been planted. That day, my 'job' ended and my calling began."
– "The Path Made Clear: Discovering Your Life's Direction and Purpose"
3. "Passion is the log that keeps the fire of purpose blazing."
– O, The Oprah Magazine
4. "My life's goal is to be of service to a greater good."
– O, The Oprah Magazine
5. "Your job is not always going to fulfill you. There will be some days that you just might be bored. Other days, you may not feel like going to work at all. Go anyway, and remember that your job is not who you are, it's just what you are doing on the way to who you will become."
– Oprah's commencement speech at the University of Southern California Annenberg
6. "Your calling isn't something that somebody can tell you about. It's what you feel. It's a part of your life force. It is the thing that gives you juice. The thing that you're supposed to do. And nobody can tell you what that is. You know it inside yourself."
– Oprah's commencement speech at Howard University
7. "It's a time for all of us to reflect on not only the progress that has been made—and we've made a lot—but on what we have accomplished and also on the work that still remains before us."
– Oprah's speech on the 50th anniversary of the March on Washington
8. "You're still here and you get another chance this day to do better and be better, another chance to become more of who you were created, and what you were created to fulfill."
– Oprah's lecture at Stanford University
9. "If you do even one small thing every day, you'll be building your own legacy."
– Oprah's speech at the Global Citizen Festival
Oprah Winfrey Quotes on Success
10. "I believe every moment is a building block and another step in your journey to being who you are meant to be, and who you are meant to become."
– Reader's Digest
11. "The No. 1 principle that rules my life is intention."
– Conversation with LinkedIn CEO Jeff Weiner
12. "The answers keep unfolding as your life expands, if you're willing to see things for what they are—and what they can be."
– O, The Oprah Magazine
13. "The truth is, success is a process—you can ask anybody who's been successful."
– Oprah's commencement speech at Colorado College
14. "I don't want to just be successful in the world. I don't want to just make a mark or have a legacy. I want to fulfill the highest, truest expression of myself as a human being."
– Oprah's commencement speech at Spelman College
15. "Everybody who is still exploring where to go next should ask the question: 'How can I be used in the greater service to life?' You ask that question and I guarantee you, the answer will be returned and rewarded to you with fulfillment, which is really the major definition of success for me."
– Oprah's commencement speech at Smith College
16. "There is no such thing as failure. Failure is just life trying to move us in another direction."
– Oprah's commencement speech at Harvard University
17. "This is what I know for sure, you don't get what you wish for, you don't even get what you hope for. You get what you believe."
– Oprah's speech at Essence Festival
18. "Don't hold anything too tightly—just wish for it. Want it. Let it come from the intention of real truth for you and then let it go. And if it's supposed to be yours it will show up and it won't show up until you stop holding it so tightly."
– Conversation with Gwyneth Paltrow for Goop Podcast
Oprah Winfrey Quotes on Wealth
19. "I worked, and consciously aspired, not to be rich, but to be surrounded by beautiful things."
– O, The Oprah Magazine
20. "The biggest reward is not financial benefits, though it's really good, you can get a lot of great shoes! Those of you who have a lot of shoes know having a closet full of shoes doesn't fill up your life. Living a life of substance can. Substance through your service."
– Oprah's commencement speech at Agnes Scott College
21. "But having a lot of money does not automatically make you a successful person. What you want is money and meaning. You want your work to be meaningful. Because meaning is what brings the real richness to your life. What you really want is to be surrounded by people you trust and treasure and by people who cherish you. That's when you're really rich."
– Oprah's commencement speech at Stanford University
22. "There is none worth the price you pay in lost time."
– O, The Oprah Magazine
23. "That's the No. 1 thing you have to do, is to work on yourself and to fill yourself up and keep your cup full. Keep yourself full."
– Conversation at Stanford Graduate School of Business
24. "I think in order to actually do the stuff, money is important. But I also think the thing that I hold dearest is that you have somewhere in the work gained the people's trust. And there is nothing more important to me than having the trust of the people."
– Conversation on the "Van Jones Show"
25. "My father raised me to believe that debt was a terrible thing."
– Oprah.com
Bottom Line
Nicknamed the "Queen of All Media," Oprah Winfrey loves to share her passion for work and life's experiences that made her who she is today. Her wisdom and advice become a source of inspiration to many individuals who yearn to overcome life's challenges and eventually become successful. These Oprah Winfrey quotes should help motivate you in achieving your goals.